The Devil Taco
2003 Toyota Tacoma Double Cab
Automatic 3.4L V6 Prerunner
145,000 miles
Stance as of 6/11/13: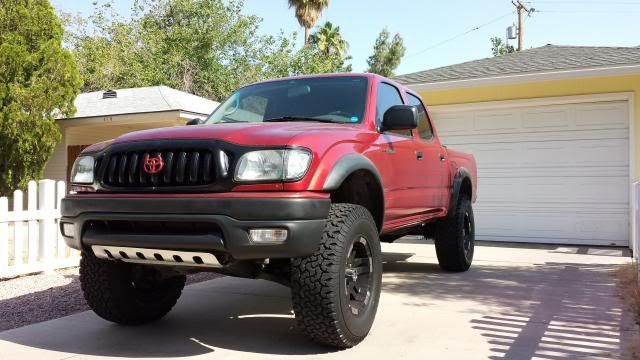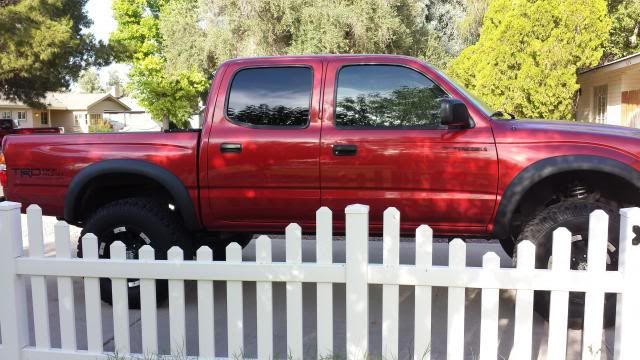 Current Mods
Performance:
Deck Plate mod
AFE Pro Dry drop-in filter
Flowmaster 40 dumped
Front Suspension:
Bilstein 5100's at 0"
Eibach coils
Rear Suspension:
OME Dakar leaf packs
OME Nitrocharger sport shocks
Wheels/Tires:
285/75/16 BFG All-Terrain K/O.. now 265/75/16 Cooper ATP
16x8
Moto Metal
951 Black
Interior:
Alpine head unit
2 8" Pioneer shallow mount subs in custom box behind rear seats
Pioneer 800W Amp
LED Dome/Map lights
Wet Okole seat covers
Exterior:
Devil horns by Andres
Factory black grille bought online
Plasti-dipped front and rear bumpers and side badges
Debadged rear
Used to have tinted tails.. too dark back to stock
Sock monkey bedside decals
Day 1
First Mod: Billet Grille
moar chrome plz
I had a Flowmaster 40 muffler welded on in place of the stock muffler.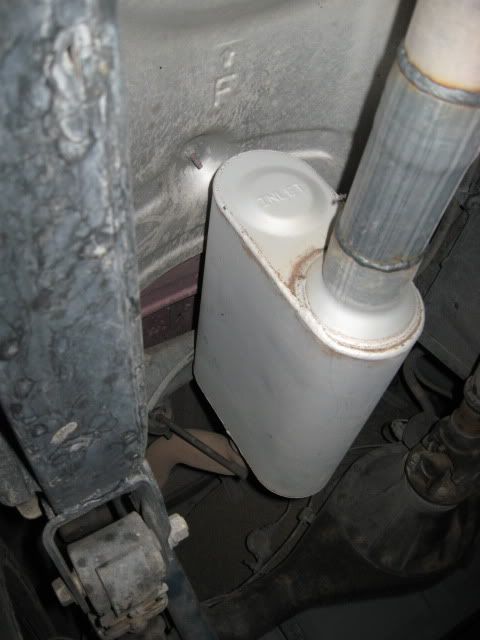 and an exhaust tip for looks
Next I did the deck plate mod combined with an AFE Pro Dry drop in filter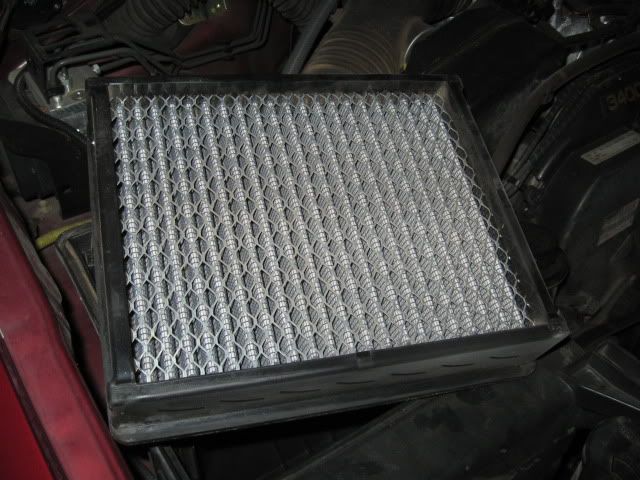 Parents bought me an Alpine Head Unit and Infinity door speakers for Christmas
I then purchased 2 8" pioneer subs and an 800W pioneer amp from a fellow TW member in a box that fit snug behind my back seat.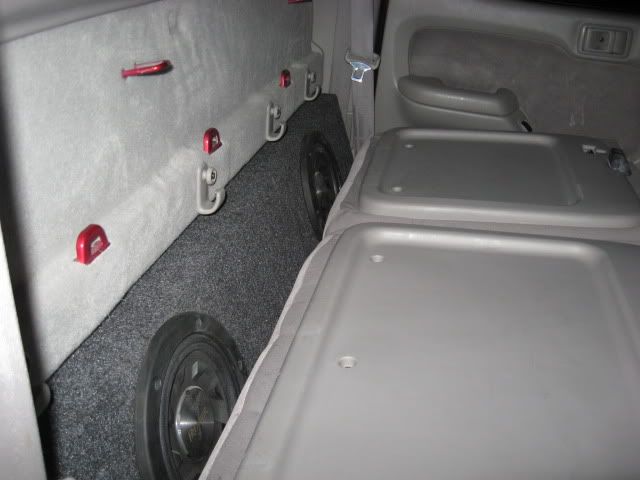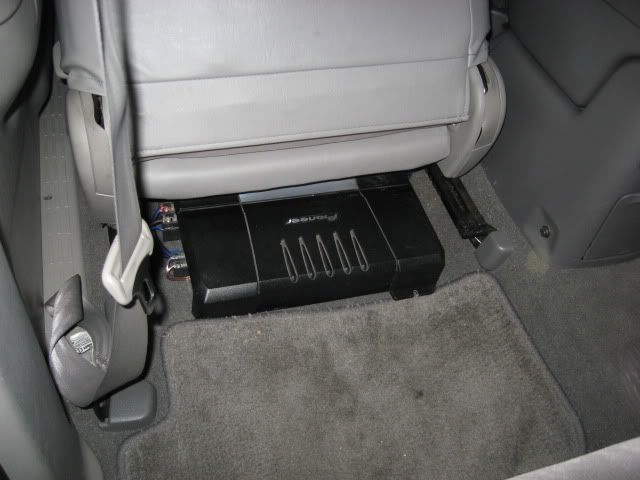 Bought 2 4-LED Map lights (cool white) and 1 9-LED Dome light (red) from superbrightleds.com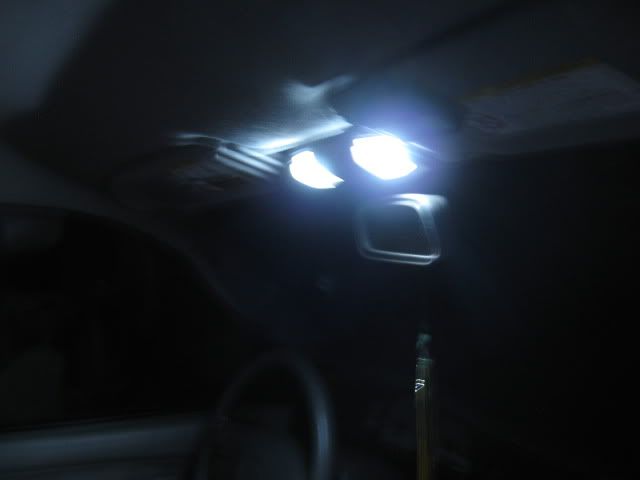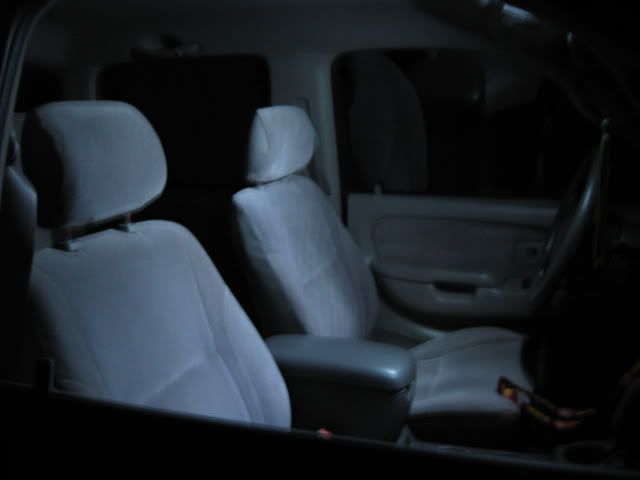 16x8 Moto Metal 951 black wheels awesome graduation present
Few days later the Bilstein 5100's showed up in the mail, set at 2.5"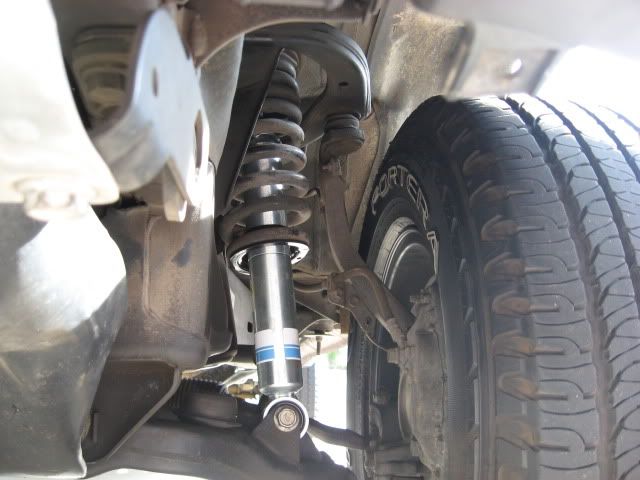 Got bored one afternoon so I purchased some VHT Nightshade and Krylon clear coat and went to town on my tail lights
Looked nice for about 3 years then started to peel off.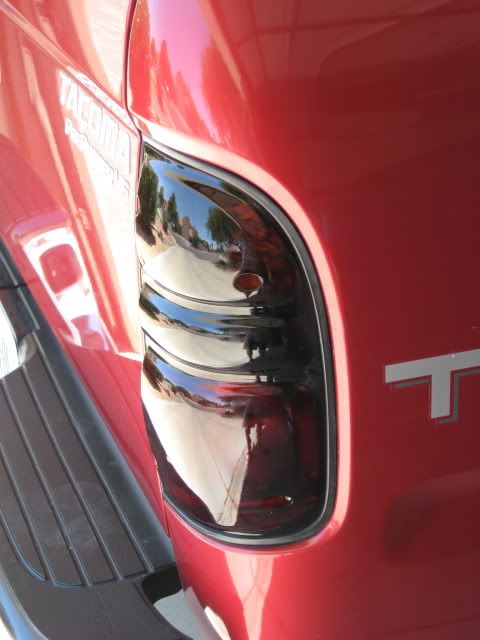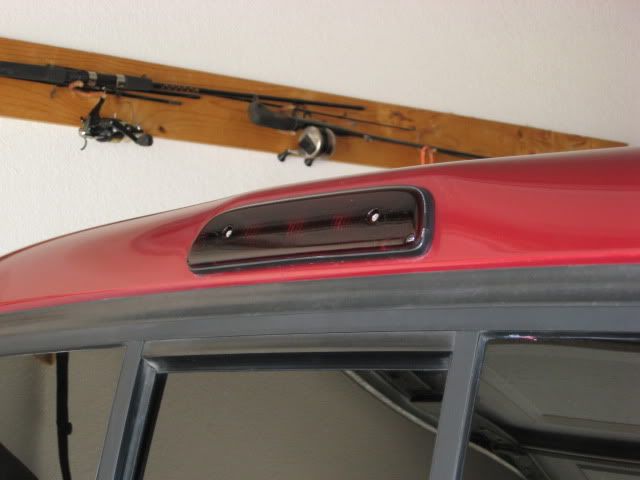 Wheelers 1.5 Inch Add-A-Leaf Kit and rear Bilstein 5100 shocks installed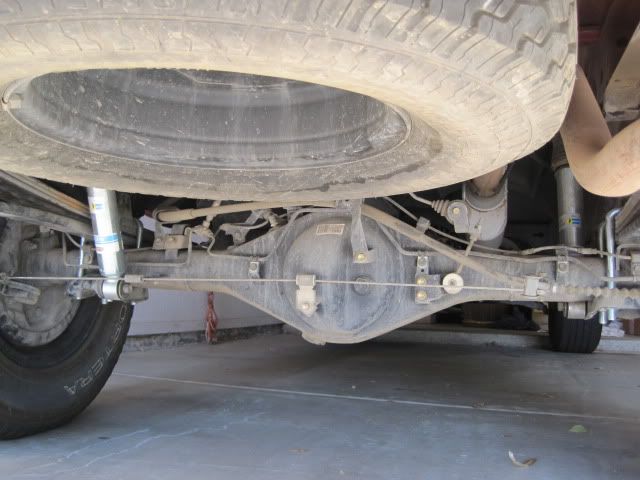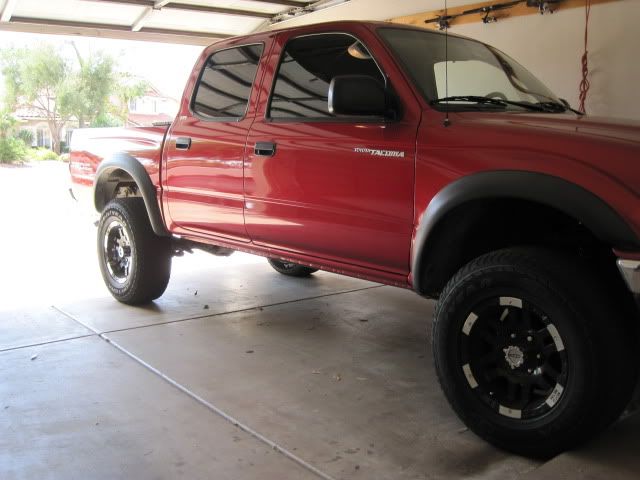 Plasti-dipped my badges and grille. came out great. Also replaced the TRD bedside decals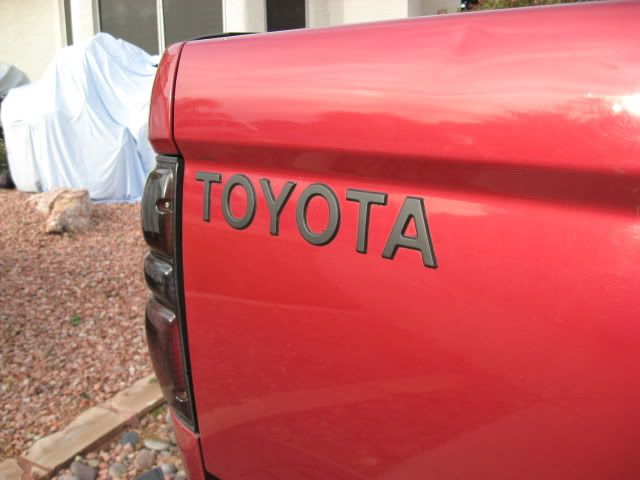 Waiting for my TRD emblem to come in the mail to put on the grille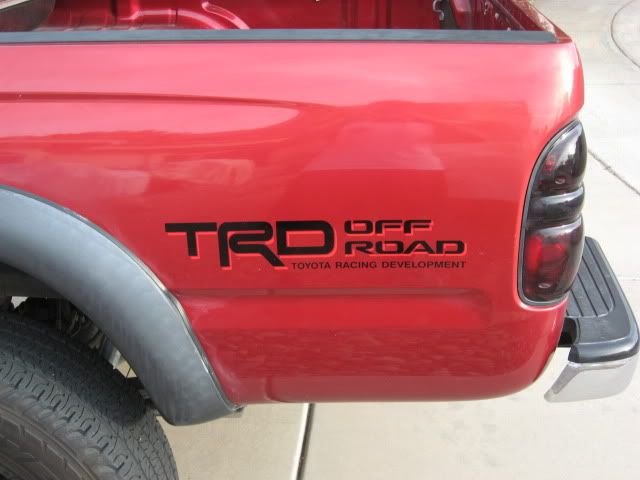 Wet okole seat covers. So comfy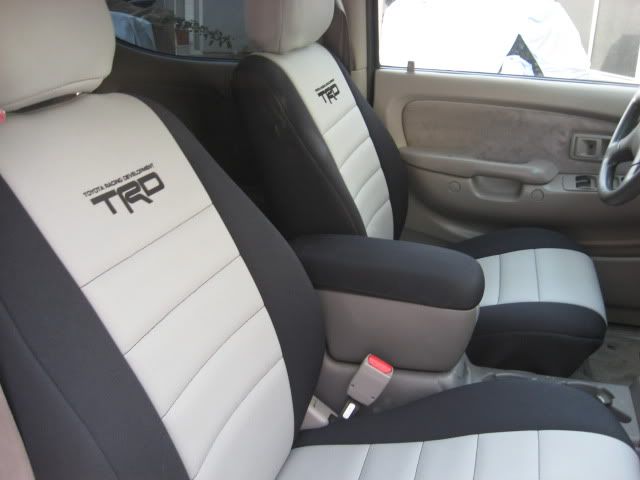 At last 285/75/16 BFG All-Terrains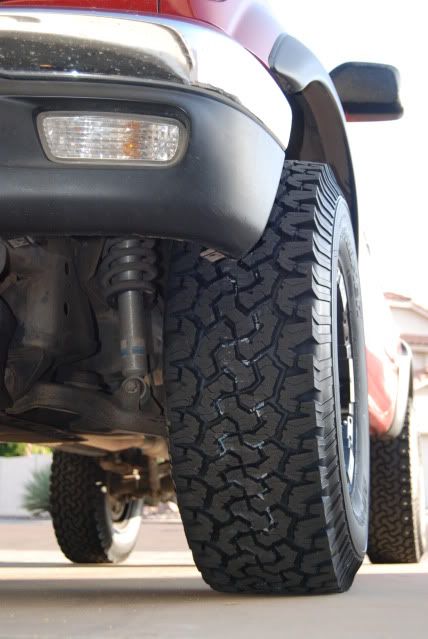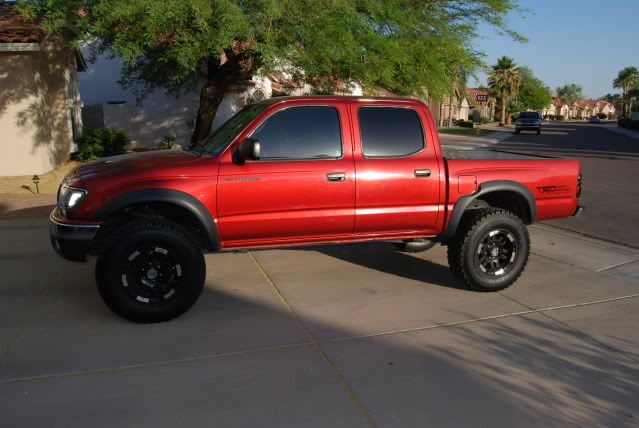 On go the Eibachs, Bilsteins back down to 0"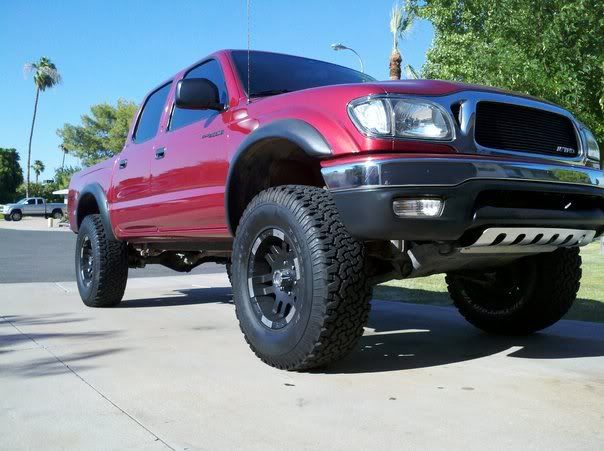 Plasti dipped the bumpers
Dakar Leaf springs and Nitrocharger sport shocks, way better ride than the stock springs with an AAL and 5100s. Dumped the exhaust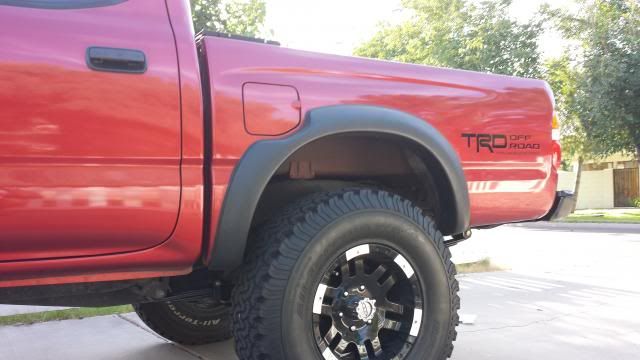 Future Mods:
A good list to leave empty