I picked up this 2003 DC in Feb of 2010. Wanted one for a long time and wanted to get back into a 'minitruck' since I'd had a couple older Toyotas in the past. I've mainly been a Land Cruiser guy but I had an '85 and a '93 SAS pickup too and I loved both of those trucks but needed more seating so the DC Tacoma seemed like a great option.
Currently it's sitting like this as of 10/23/13
Current Mod list:
Engine/Drivetrain:
All stock.
3.4L V6
Stock gearing
Auto Trans
TRD E-locker Rear
Magnaflow
14" muffler/exhaust
Safari Snorkel extended air intake
Suspension:
Old Man Emu 882 front coils
Old Man Emu Nitrocharger Sport front shocks
JK 10mm Trim packer
Cornfed Suspensions front diff drop
Old Man Emu Dakar rear leaf springs
Old Man Emu D6XL Add a leaf
Old Man Emu Nitrocharger Sport rear shocks (relocated with custom crossmember)
All Pro Offroad
1.5" rear shackles
BAMF BPV Relocation Bracket
Extended rear brake line
1" 4Crawler Body Lift
4Crawler axle relocation plates
TG ubolt flip
Wheels/Tires:
33x12.50 R15 Goodyear MT/R Kevlars
15x8 Ultra Motorsport En4cer Type 181 Wheels (rattle canned black)
33x10.50 R15 BFG KM2 spare tire on 15x7 factory steel rim (rattle canned black)
Spidertrax 1.25" wheel spacers
Armor/Protection:
Trail Gear Low Profile Front bumper modified with additional top plate and light tabs
Trail Gear Rock sliders
Box Rocket Fab rear bumper w/ dual tire/fuel/water swing outs
Box Rocket Fab IFS/trans/Belly skids
Box Rocket Fab rear Frame Reinforcement Plates
Interior:
Alpine Head Unit w/iPod connectivity
Uniden 520XL Pro CB Radio w/ external speaker
Maglite
Fire extinguisher
Custom in dash switch panel
Suzuki Reno front bucket seats
SmittyBuilt Carryall seat covers
Rear Expedition platform for Fridge/photo gear (installs in rear seat location)
Box Rocket Fab seat cradle with OEM bucket seats in bed. (Seating for 7)
Exterior Other:
Box Rocket Fab Bedrack
Snugtop XTR Canopy
Thule Load bars
Safari Snorkel
OEM Bugshield (removed)
Painted Grill
Removeable bed deck with mounts for CO2 and ARB Fridge
Tepui Autana Roof Top Tent with Annex
Lighting/Electrical:
Hella Optilux 7" HIDs with internal ballasts
Hella Matador Aux work/camp lamp
OTRATTW Rocker Switches
LED rock lights
Aux power outlet in bed
GoPro
Hero3 Silver
Recovery Gear/Other:
On-board Mobile 20lb CO2
Hi Lift Jack
Shovel
Various tow straps
various recovery shackles
Snatch Block
But back to the beginning.....
Here it is when I got it. 2" spacer lift and 32's.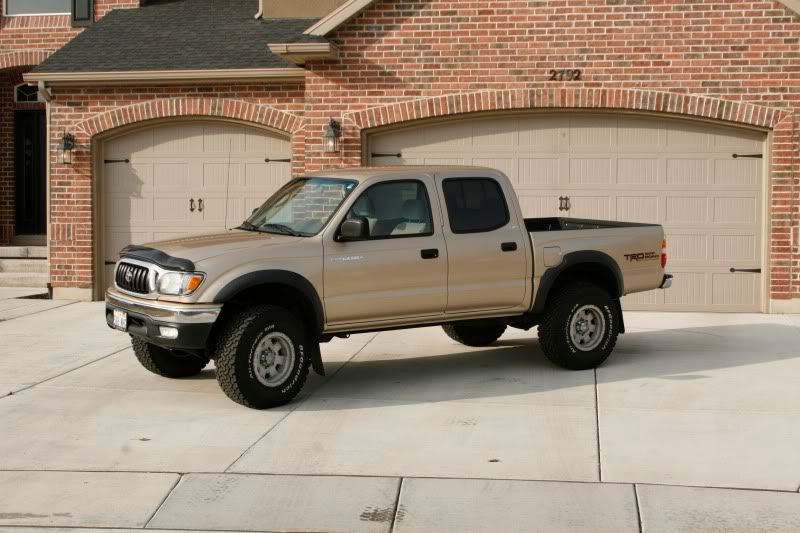 I was planning on using it as soon as I could so the first order of business was some sliders. I got a set of TrailGear sliders and got them welded up in my garage and installed.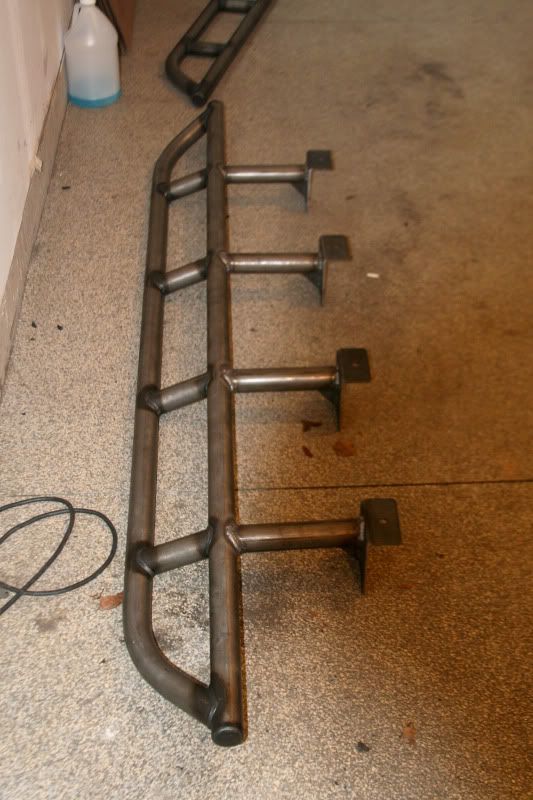 Sliders all finished up.