Hello and welcome! Read as much or as little as you want, but here's the build on the STLharry Truck.
Parts list (As Built)
Looks
'95.5-'97 Style front end, tailgate decal, and tail lights
Sockmonkey 'Yeti Rescue' decals
Too many stickers to count
Armour
ARB front bumper/bar
Rock sliders (NHOR Fab)
Rear tube bumper (NHOR Fab)
Suspension
King Coilovers (OEM style, set at ~2.5" lift)
OME Dakar springs
OME N85 shocks
OME hardware
NWOR greaseable shackles/spring pins
Dif Drop kit
Brake proportioning plate
Power/Drivetrain
Deckplate mod
Wheels
Goodyear Duratrac 265/75/16
Wheeler's Offroad
16" Type B Steelies
OBA
ARB CKMA12 12V Compressor
Viair 90-120PSI pressure switch
Exterior air hookup
Air kit (chucks, impact wrench, fittings, hose, etc)
Lighting
IPF rectangular H4 lenses
IPF 968DCG 100W aux lights
Work
Vanguard Ladder rack
Tool box
Accesories
Jeraco camper shell from an older pickup
This is how it started:
The new one had a few problems, like a crunchy clutch release bearing, rock sliders not cut to the correct width (stuck out too far), and the billet grille (not a fan).
First day back in VT with the truck: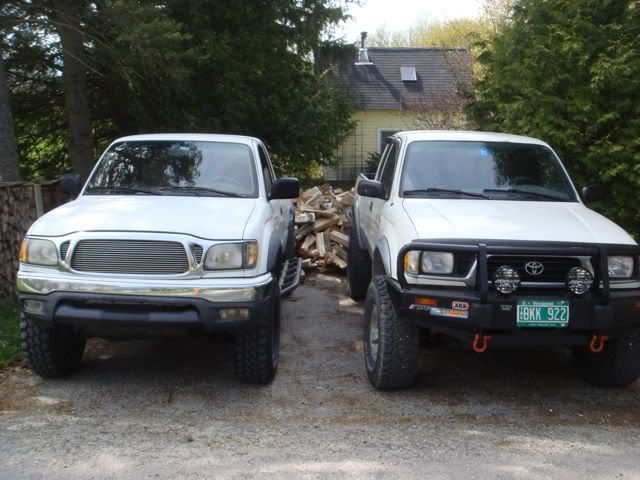 First thing first...The truck needed a front end swap. The write-up for that is
here
.
Quality finish: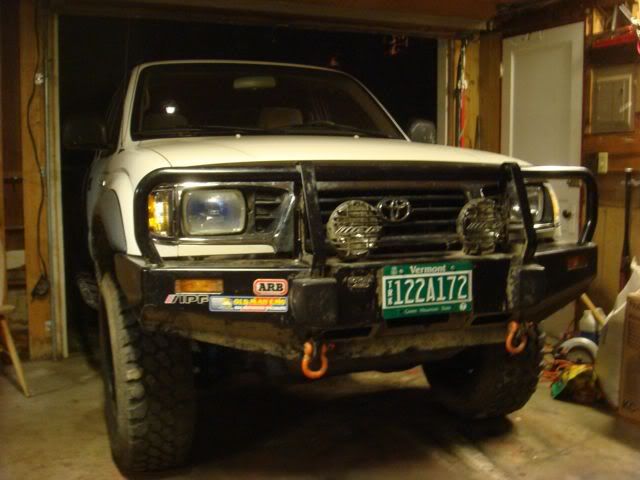 The next part I don't have pictures for, but essentially I swapped the truck's suspensions, putting OME (with new springs) into this one and putting the old stock stuff back into the old truck. A toolbox was also painted black and added to the truck. Here is the truck after the swap:
The rest of the modifications are in posts lower down.