2001 Reg cab Tacoma. 2.7L, 5 speed 4WD. Lifted, locked, armored.
Truck was sold January 9th, 2014. Miss it from time to time and still a Toyota guy at heart, even though I no longer drive one.

Latest pic: (07-07-13)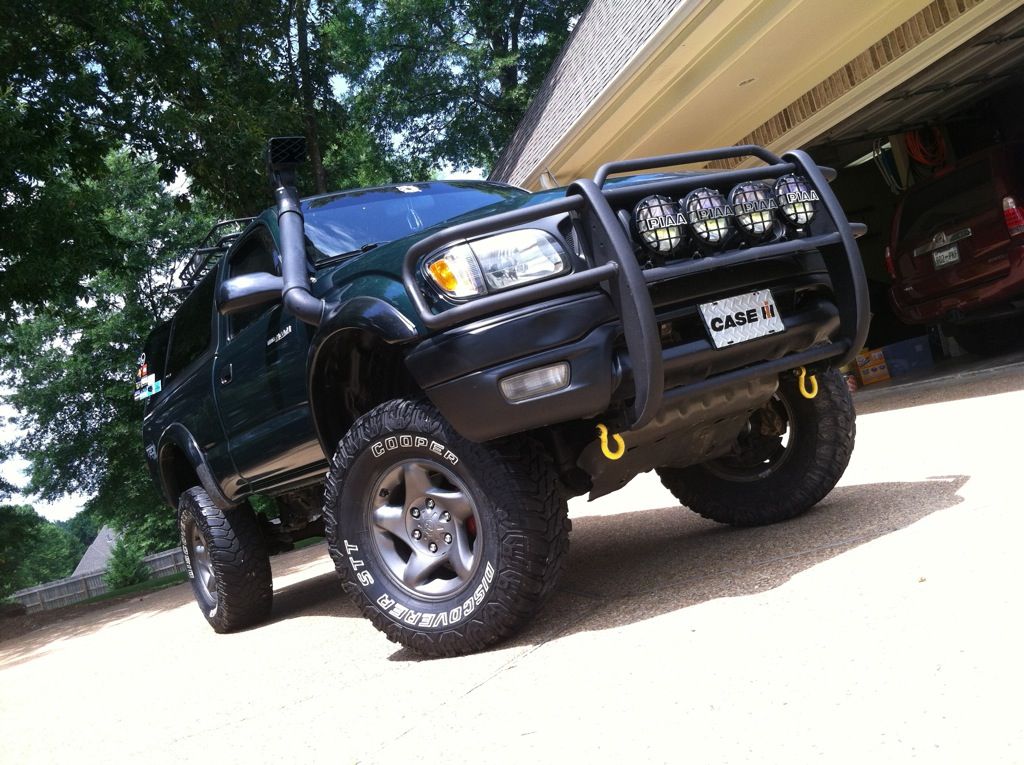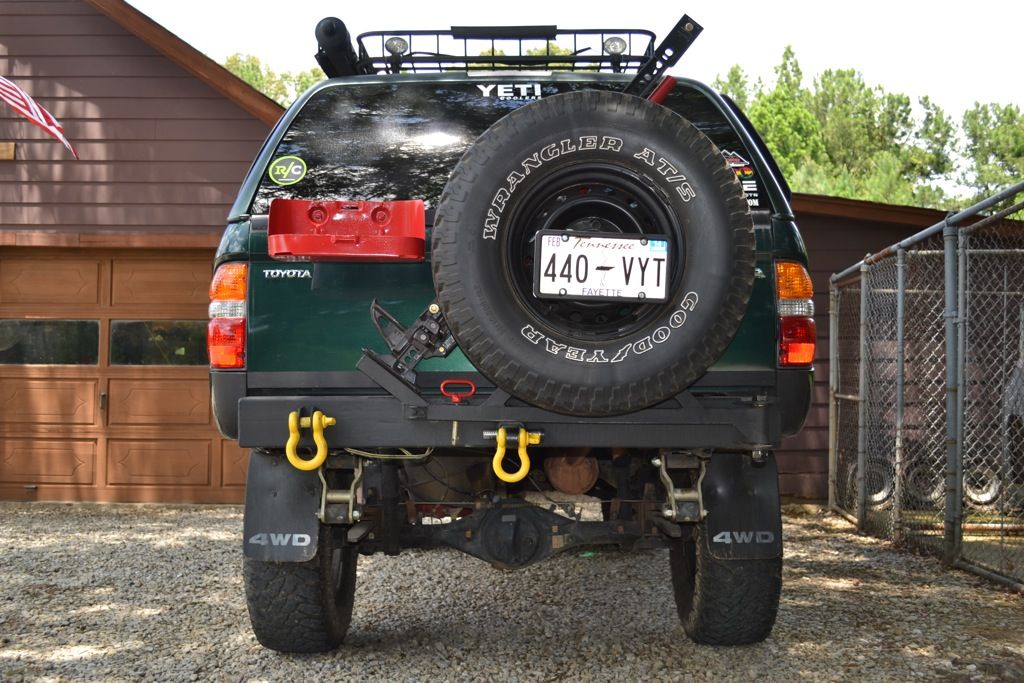 Mods to date:
Engine:


Stock 2.7l 4 cyl
Custom snorkel

Interior:

Bench seat to bucket seats
Mag-light mount
Ultra gauge
TomTom VIA 250
Wally world rubber "catch all" floor mats
Bedliner on kick plates and trim pieces
LED Dash mod

Exterior/lift:


3" Performance Accessories body lift
2.5" Fat Bob's Garage spacer lift
2.5" Fat Bob's Garage AAL
1.25" Daystar greasable shackles
A.R.E. Z Series camper shell
BedRug
Yakima Rail Grabber towers
Valley roof basket
Custom bed/storage boxes for inside the bed
Custom 4'x 8' awning

Armor/recovery:

8,500 lbs Superwinch
Recovery hook in hitch and recovery hooks on brush guard
Hi-clearance rear bumper
Swing out tire carrier w/Hi-Lift mount
Jerry can provisions
30,000 lb Smitybilt recovery straps

Lighting:
5000K Morimoto H1 Retro from TRS
3 PIAA 520 driving lights behind grill
4 55Watt HID converted Wally World lights
2 Wally World reverse lights
4 LED camper lights
"Fog light mod" with 5000K HID
Audio:


Dual touch screen head unit
Memphis 6x9" door speakers
Memphis 10" shallow mount sub
Pioneer 400watt Amp.
iPod mount in the cupholder

Wheels and Tires:
285/75/16 Cooper Discovery STT on factory TRD Toyota rims
265/75/16 BFG A/T on factory TRD Toyota rims
Performance:


TRD factory Locker
Snorkel
Ultragauge
This morning after a light snow. 12/26/2012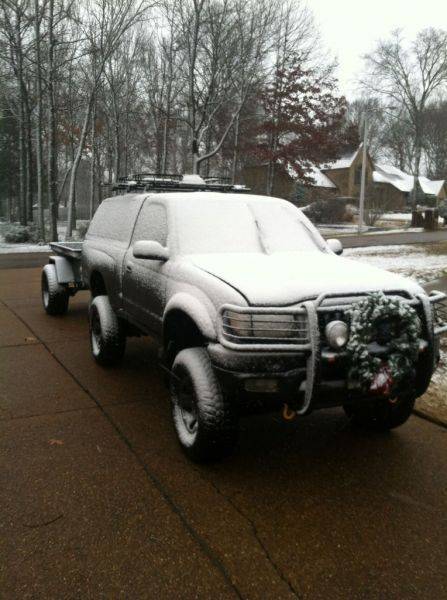 Ever since I was a kid, I dreamed of having a Ford F-150 just like my grandpa's (lifted 6" and rolling on 35" BFGs) but when it came time to buy a truck for myself, the funds just weren't there. So I started looking for alternatives in the paper, craigslist,
autotrader
, etc... I ran across a 2001 4WD 2.7l, 5-speed Tacoma with 72,xxx miles on Autotrader. I instantly wanted it and was going to pay whatever it took to get the truck. When it came time to pick it, the previous owner had purchased a 3" Performance Accessories but never got around to installing it, so he threw it in for free. Enough talk now pictures and mods!
The most stock photo I have. However I had installed the 3" body lift and Tractor Supply tool box and blacked out the stock steelies at this point.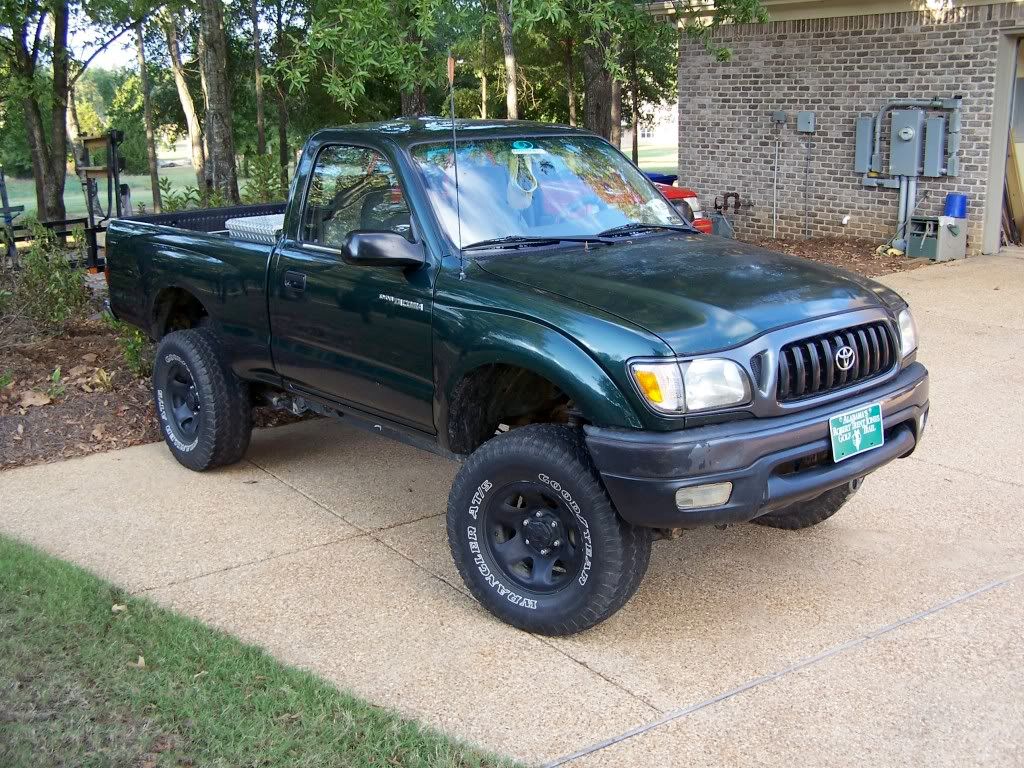 Somewhere down the line I decided to continue with the black out theme and slightly tinted my tail lights along with 20% on the windows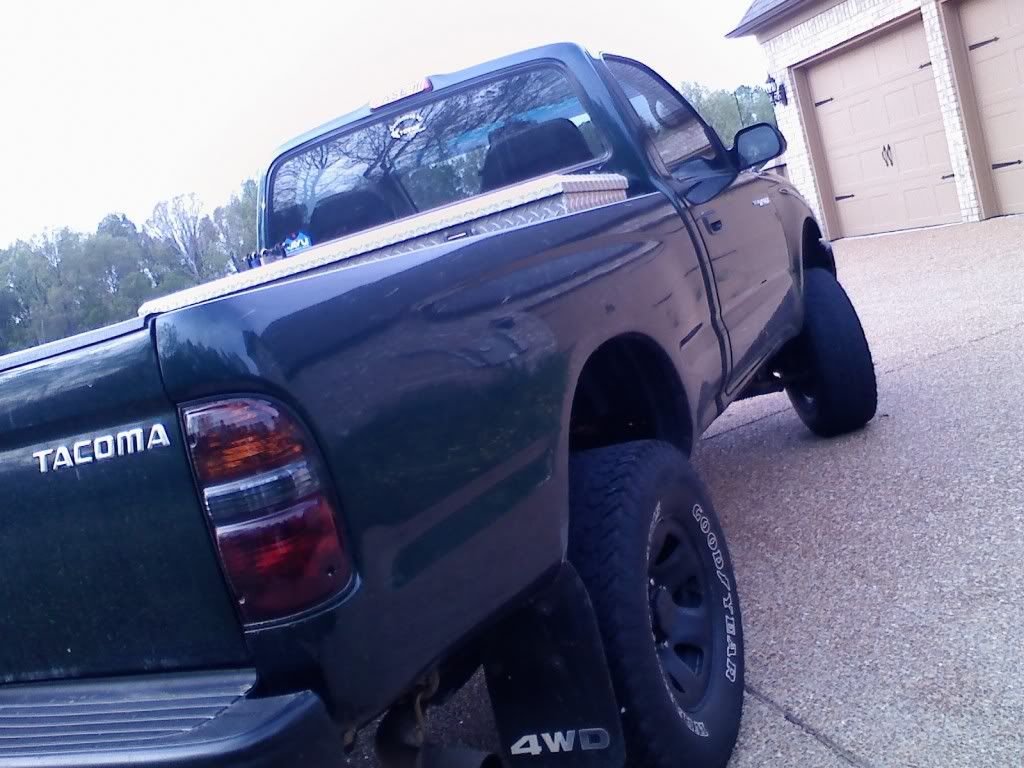 Around this time was when I lifted it the 3" with the body lift. The truck came with 31" Goodyear Wrangler AT/S and that's what I ran after the lift.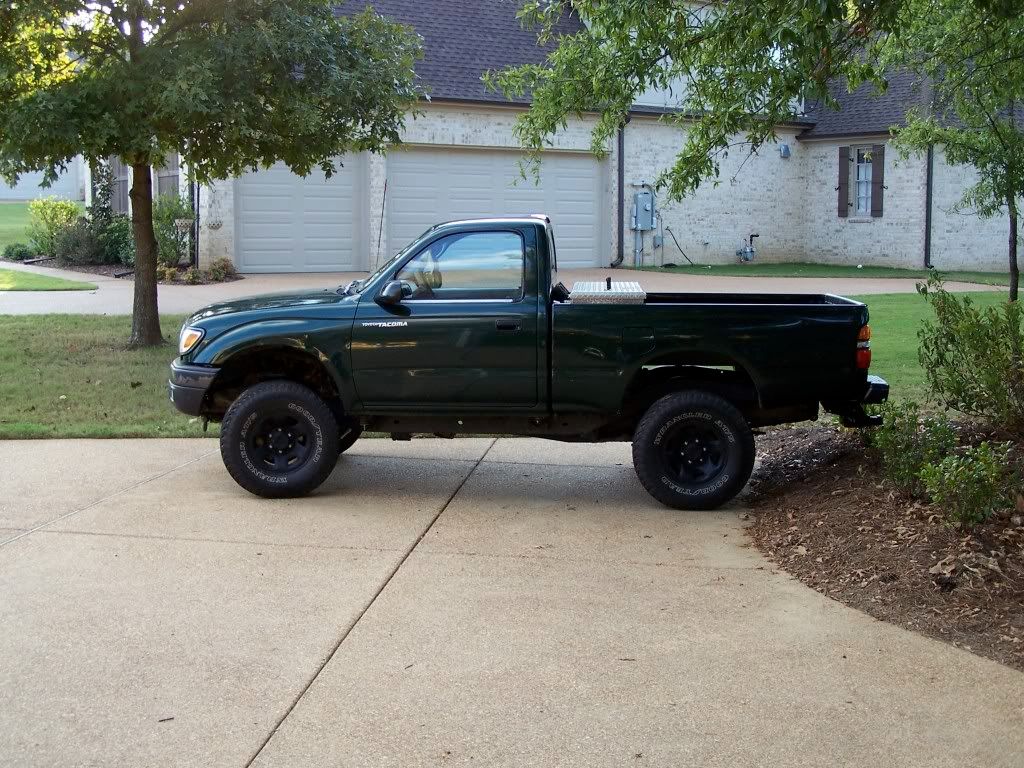 I added two cheapy fog light in the bumper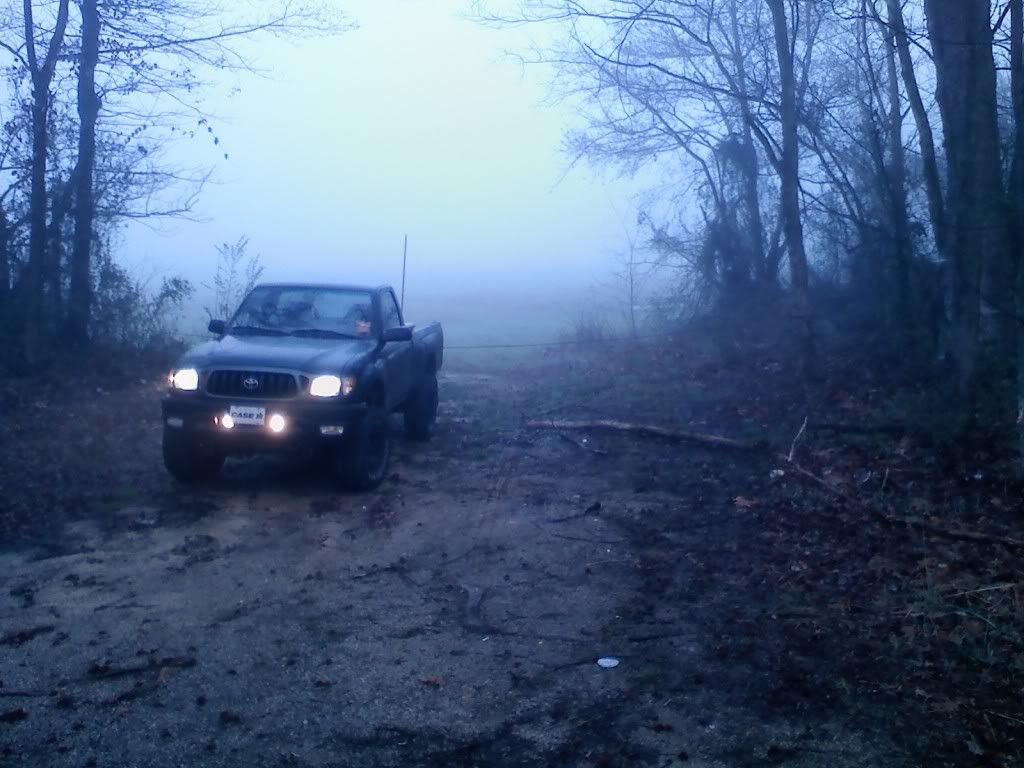 I had to represent our farm equipment and put on the CASE IH license plate and also removed the fog lights and added "D rings" to help with recovery out mudding (Mudding was the stupidest thing I've ever done, silly and childish, but at the time, I was just looking for some fun)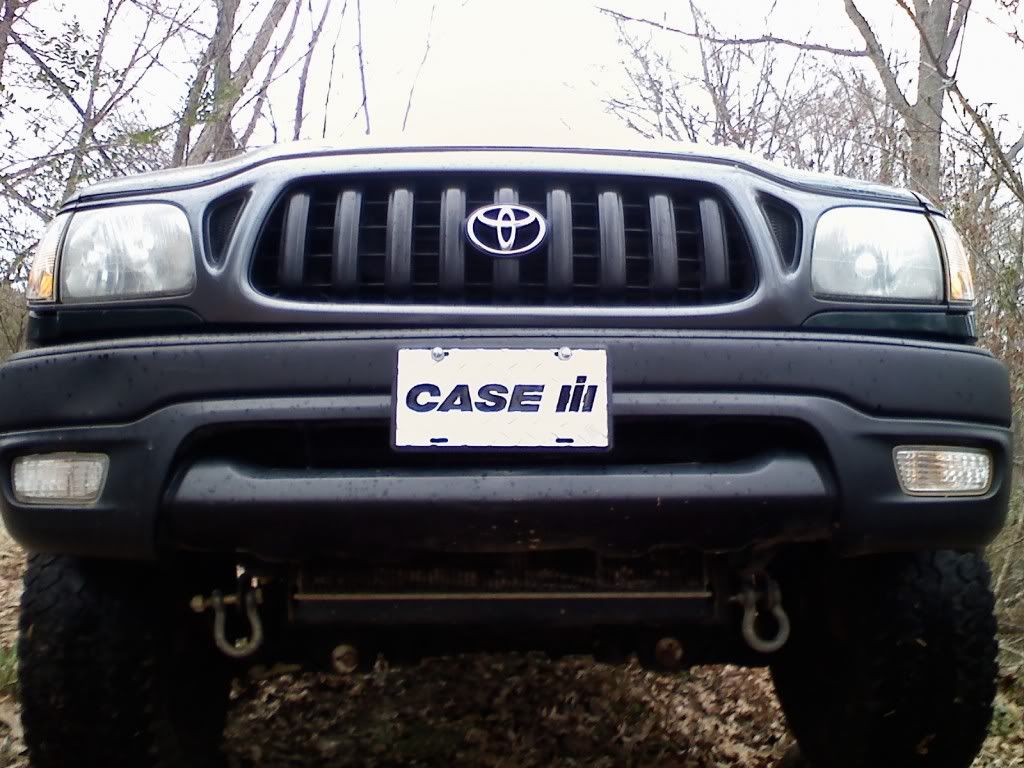 By now I had found TacomaWorld and the real modding began.
I had seen all the 2nd Gen guys doing Satoshi grills. I figured if they can do it on a 2nd Gen, then I can do it on a 1st Gen. So that exactly what I did on a rainy Saturday afternoon.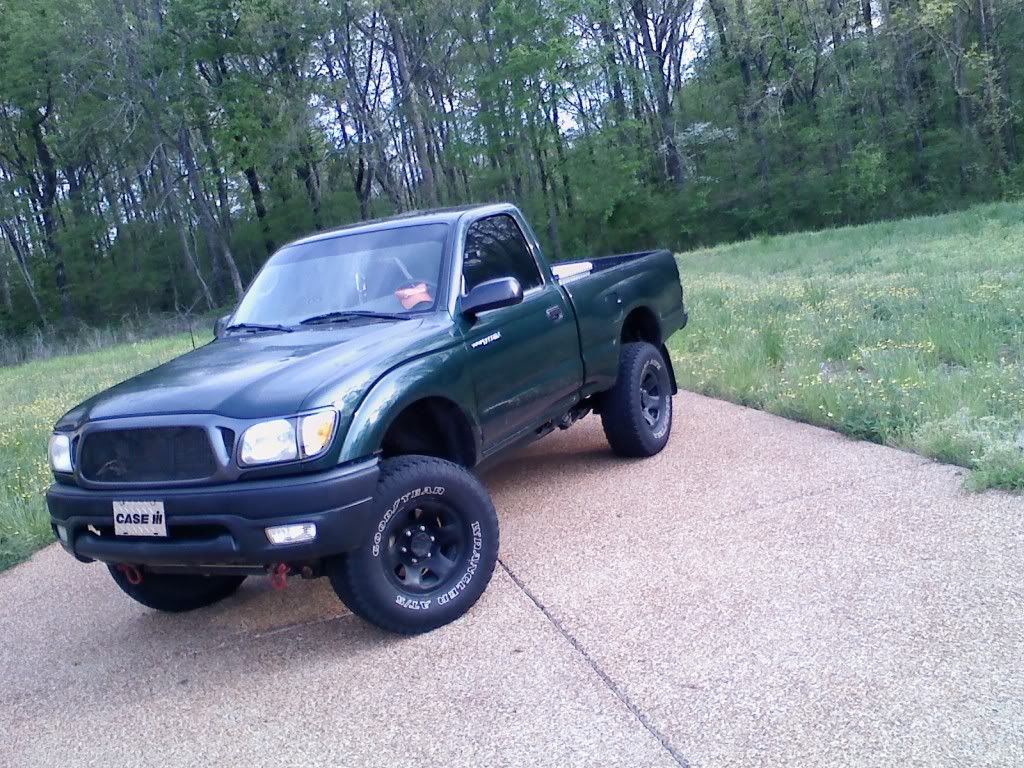 I also added two PIAA's behind the grill after the Satoshi mod and decided to switch up the blinkers and make them into "fog lights"
Ran that for the majority of a summer but then I found Expedition Portal and a lot of the guys over there had campers on their truck so the search began for one.
I checked craigslist daily for 3 months and then one day I found a guy selling a LEER black, 2000 Extra Cab camper for $60! It had the sliding glass on the passenger side and the coveted Windoor on the drivers! Perfect for what I wanted! Needless to say, I went and bought it that day and even though my truck was hunter green the black camper looked good against the black bumpers and rims so I kept it the factory black color.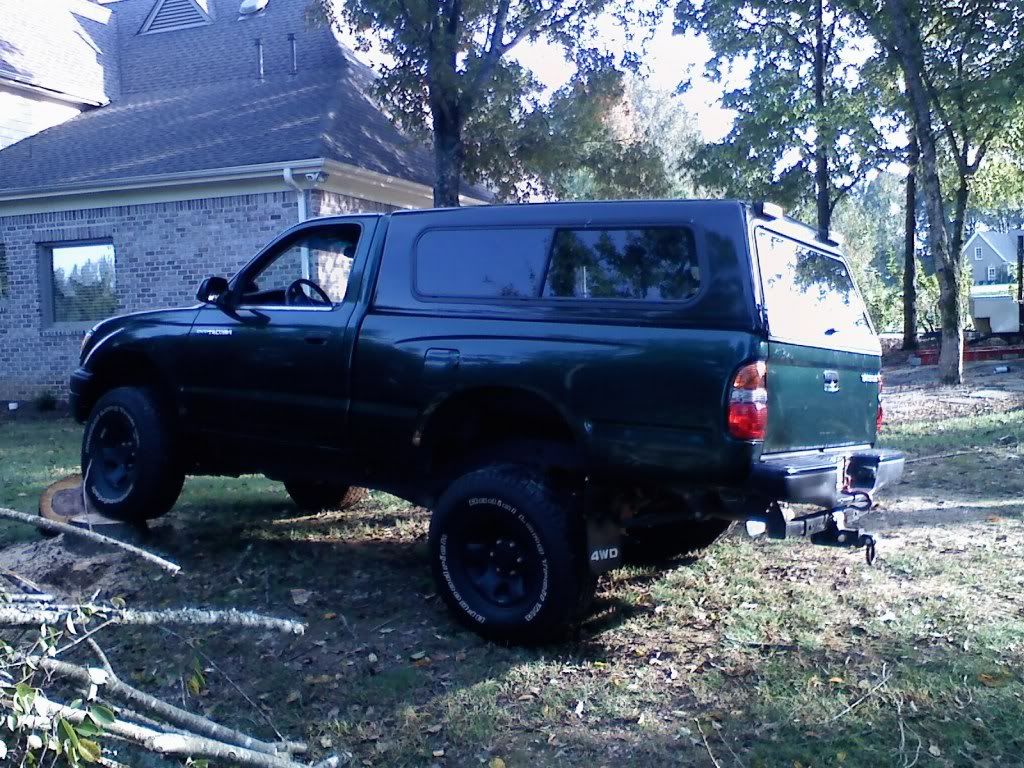 I ran over to my friends house and threw his old light bar up on top to see how it looked and that's when the gears started turning in my head for my next idea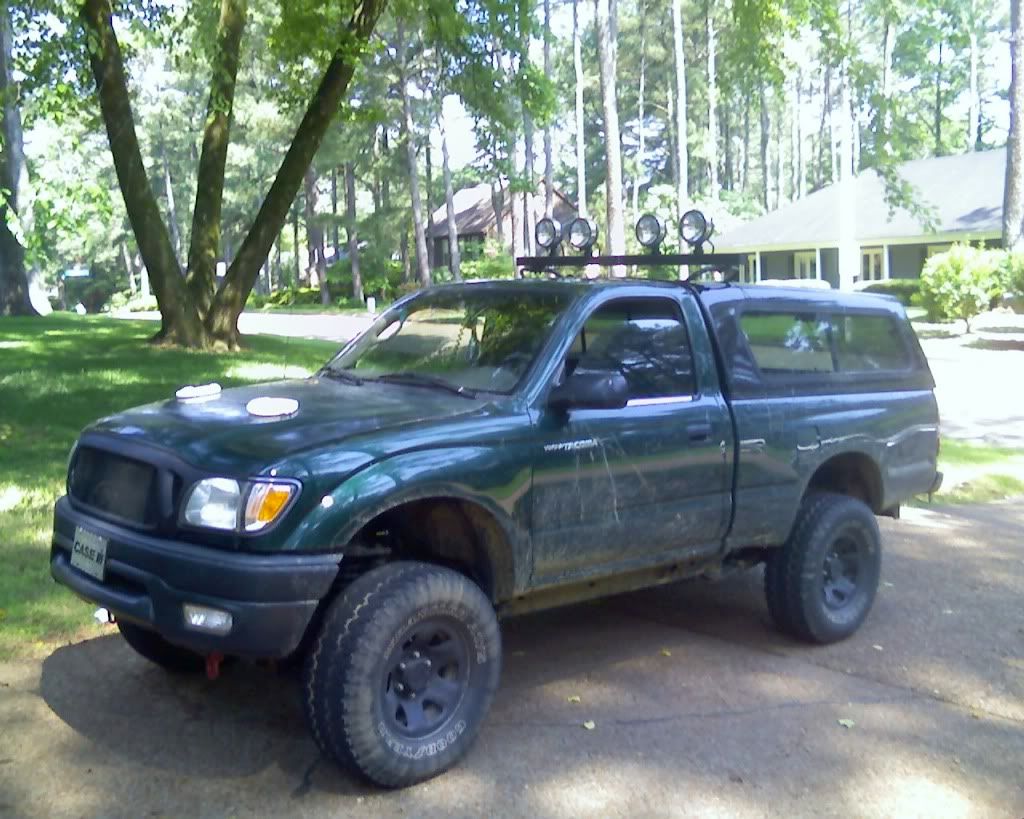 I decided to build a custom roof rack for the camper because I was a junior in high school and all my money was tied up in savings so I could get to it to buy a real roof rack such as Yakima or Surco. Opted to build mine out of 1 1/2" PVC pipe around wooden dowels. Turned out incredible and I was surprised at how sturdy it was and how functional it would soon become.
My buddy was big into automotive modification and one of the things he suggested after seeing my headlights and fog light modification was adding a pair of HID headlights. (By far the best investment I have made on my truck) I purchased a kit from his shop for $75 and it came with a lifetime warranty so I couldn't pass it up. I had read reports about DDM's kit and wasn't too impressed so I stuck with my buddy's expert opinion and got a 8000k slim ballast kit. I loved the way the blue lights grabbed EVERYTHING on the road. I would recommend HIDs to anyone. I don't care if you think it's ricer or whatever, I love them and living out in the country where my driveway is 3/4 miles long surrounded by nothing but farmland and deer, it really gives me the added security knowing that my lights are going to pick them up from much further out that any halogen bulb (I had been running Silverstar Ultras up to this point but nothing compares to the HIDs)
After seeing the 4 KC's on the light bar at my friend's house I decided to buy two more PIAA's and I threw my 4 PIAAs on top of the rack facing forward and threw 2 Hella fog as reverse light on the back end and tied them into my reverse lights so they would come on when I shifted to reverse. I also wired them up so I could turn them on whenever to help with hooking up my trailers or loading the bed. I also threw my spare tire and mounted my 3' Firestik to the back. I loved the look and I kept my truck like this for about a year. (It was by far my favorite set up thus far)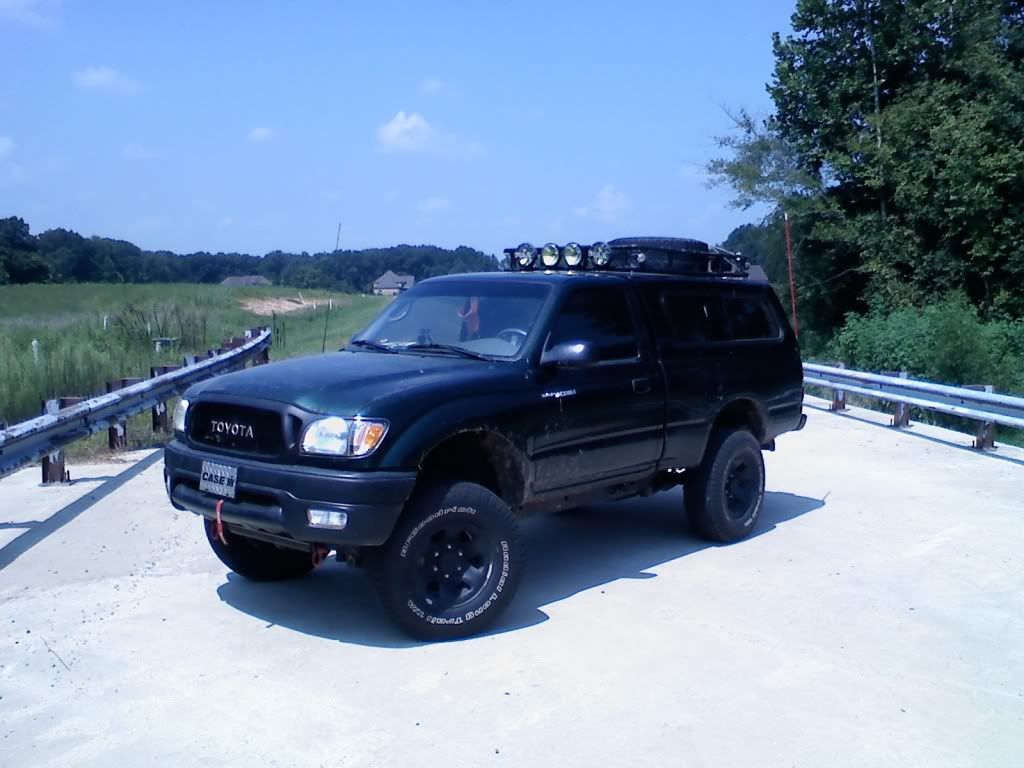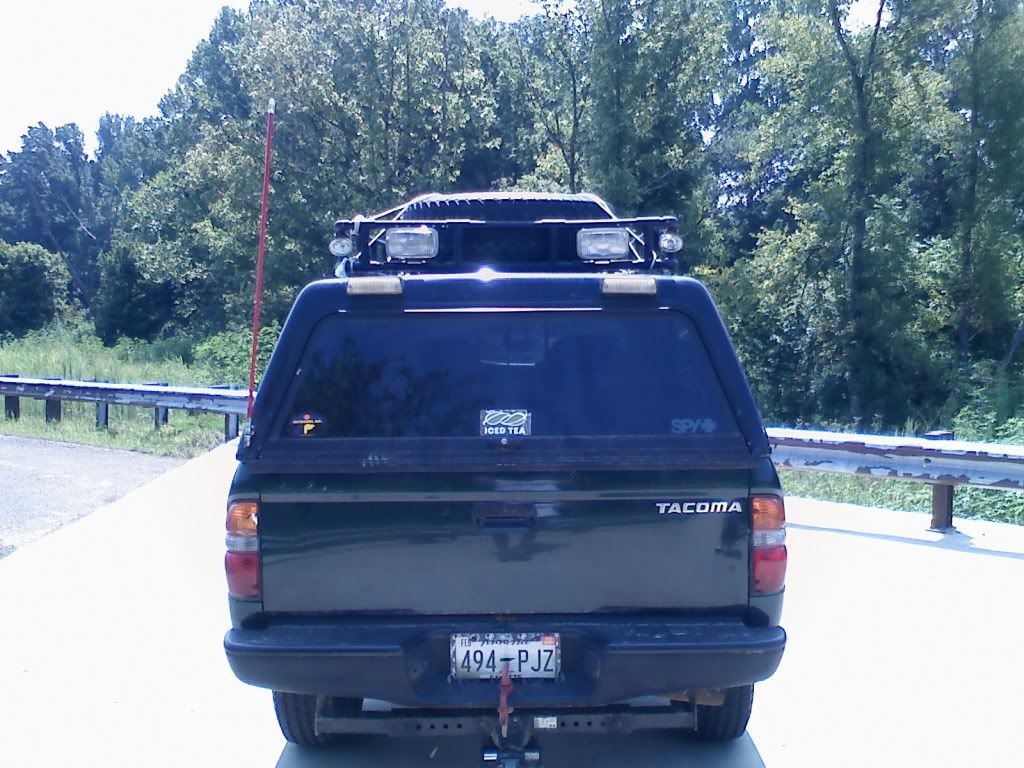 One of my favorite pictures of my truck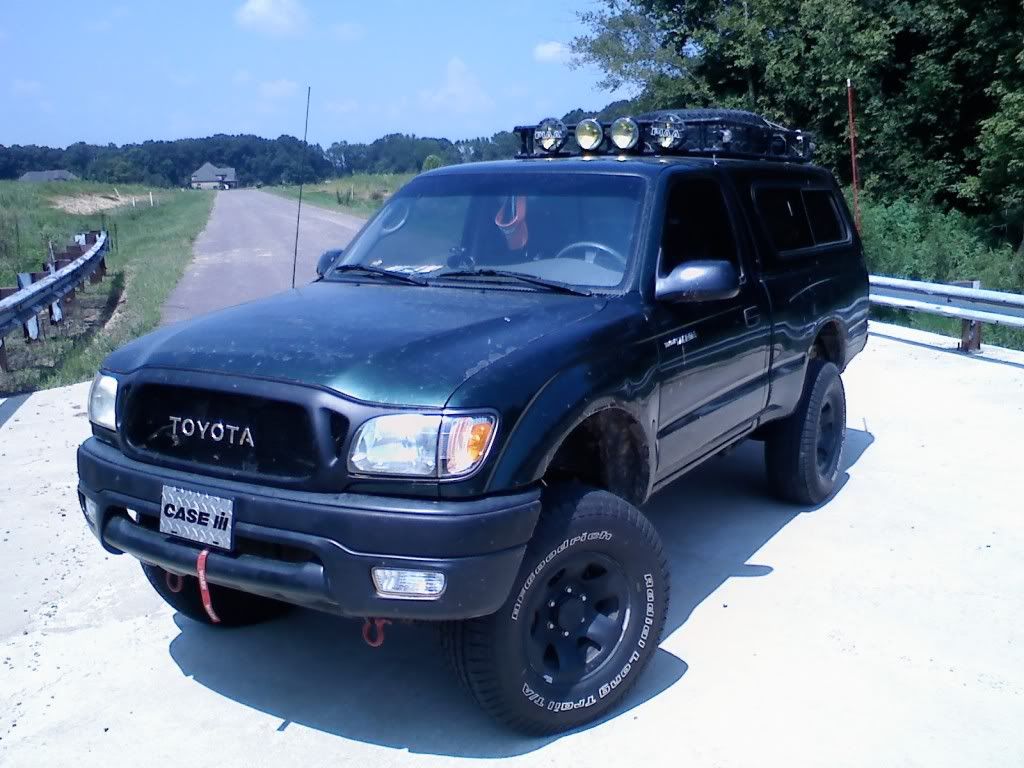 The Goodyears were running really bald and after having them on there for 55,xxx miles (I was very impressed with these tires) I replaced them with some 31" BFGoodrich Radial Long Trails. They were about $10 cheaper than the BFG A/T's and I decided I wasn't doing too much off road at this point so spending the extra $40+ seemed kinda silly and after 20,xxx fairly rough miles they are phenomenal and would definitely buy these again.
The paint on the hood and roof was flaking terribly and for Christmas of 2009 my parents paid to have my truck repainted factory Imperial Jade Mica as my gift! (Thanks mom and dad!!) When Toyota quoted me a price it didn't include the camper top so I took it off while it was being painted. If you remember the camper was previously on an Extra Cab Tacoma and the body lines of the camper weren't the exact same as those on the regular cab so it rubbed at the top near the 3rd brake light. Since my parents were paying to have my truck repainted, they didn't want me to put the camper shell back on the truck and ruin a brand new, expensive paint job. I reluctantly had to sell the camper. I posted it on Craigslist and within 2 hours a guy from Nashville called me and it was sold that weekend for $200. Made a $140 profit, but still, I missed the look of my truck with a camper.
I left the camper off for the remainder of my senior year and towards the end of summer I decided to list it for sale. I was really wanting a 4Runner like my moms (2009 SR5). I was off at Mississippi State and didn't take my truck for the first semester because I didn't need any distractions. Being without my truck gave me the opportunity to sell it. So I listed it everywhere and my parents parked it in the local Wal-Mart parking lot back home and within 20 minutes I had already got 3 calls with interest in
it. I sat on a few offers and entertained them for a few days but the more I thought about it, the more I didn't want to sell it. After much debate I decided to keep it.
Around Christmas this past year, 2010, by friend who I built the Samurai with (build thread in signature) bought me a Grizzly brush guard already modified for a 3" body lift and gave it to me as a present. I had gotten him some HIDs so he returned the favor. Since I didn't have the camper, I had the PIAAs left over so I mounted them up on the brush guard. (I had just spent 3 hours detailing my truck in preparation of taking it back to school with me for the start of second semester)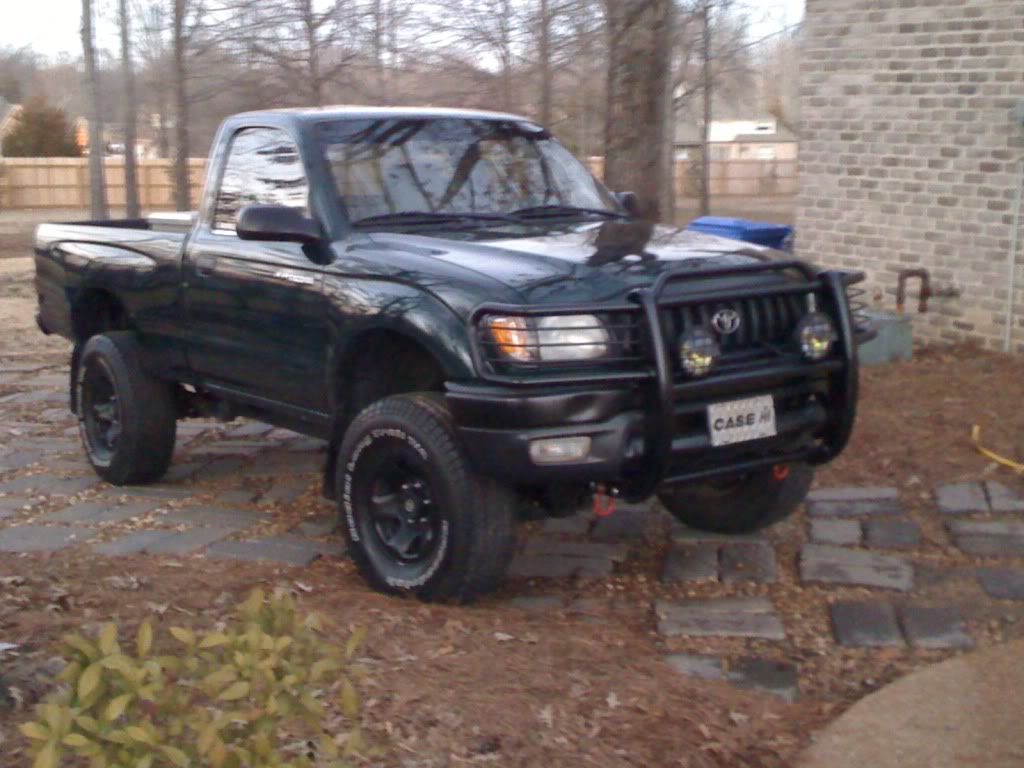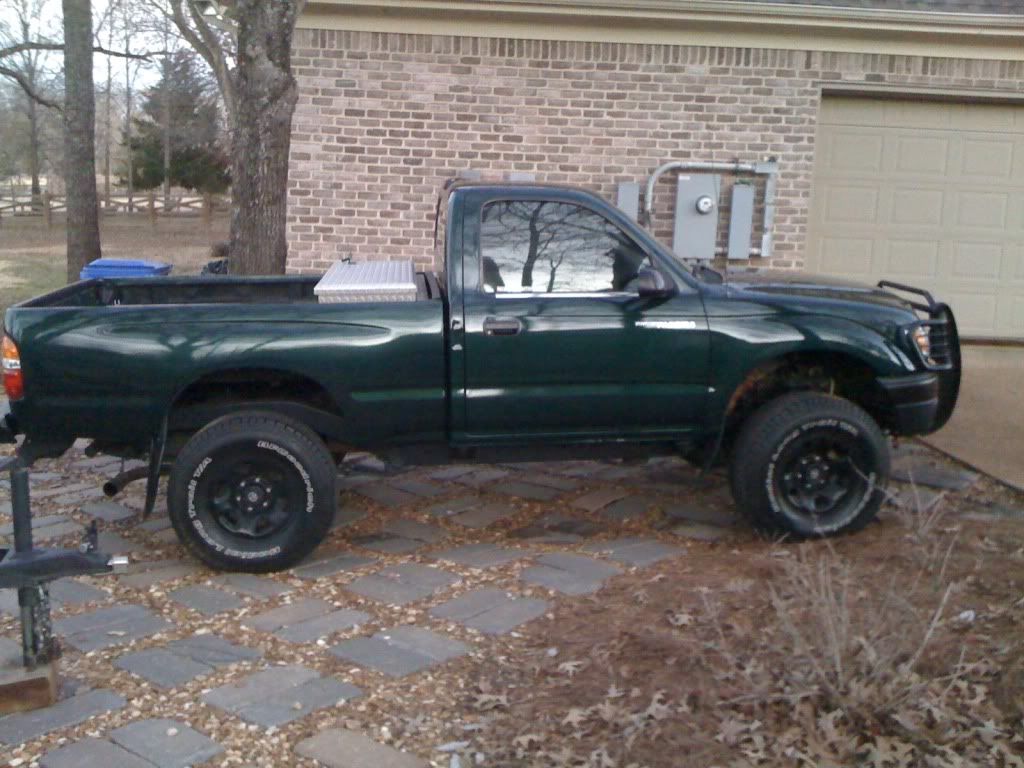 I had asked Bob for a TacomaWorld sticker and had it for months but I just could not think of the right place to put it. I finally decided on the perfect spot. I decided to take an old license plate, paint it flat black and put it on there and mount it on my tool box. This allowed me to put it on front of my truck if i wanted to or display it from the back.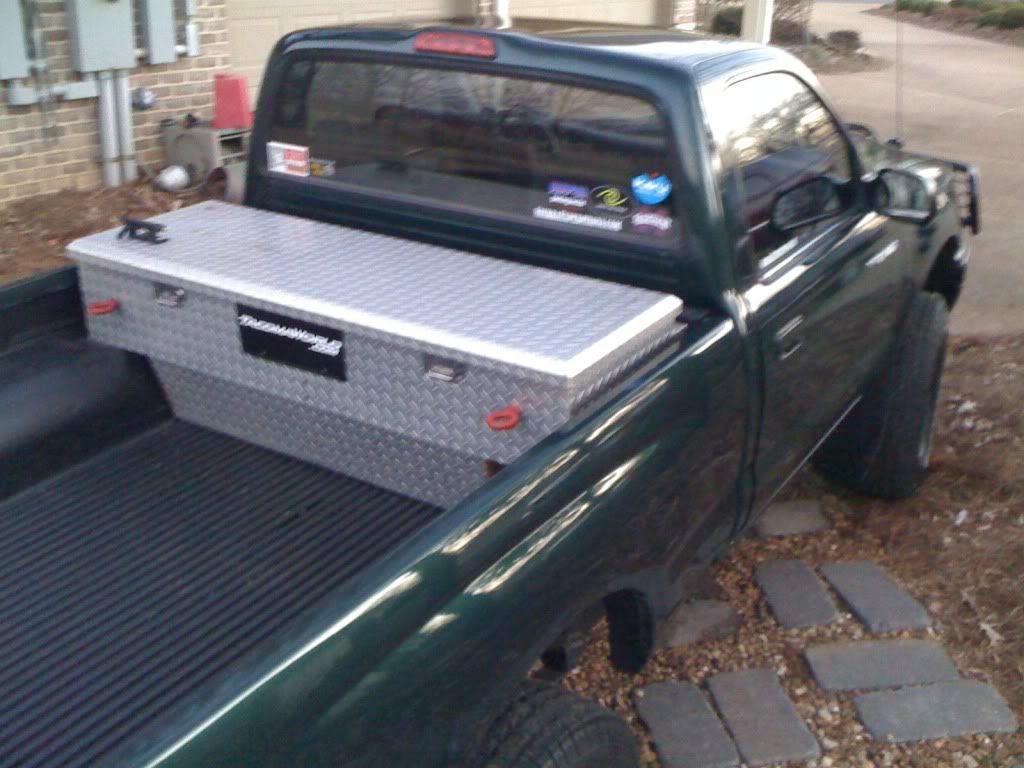 I started to check out
Sierra Expeditions
and saw that they had a deal where if you put one of their stickers on your truck, take a picture of it and email it back to them, they would give you a 10% discount code. So I order up 5 of the stickers and put one on each window and one along the back window.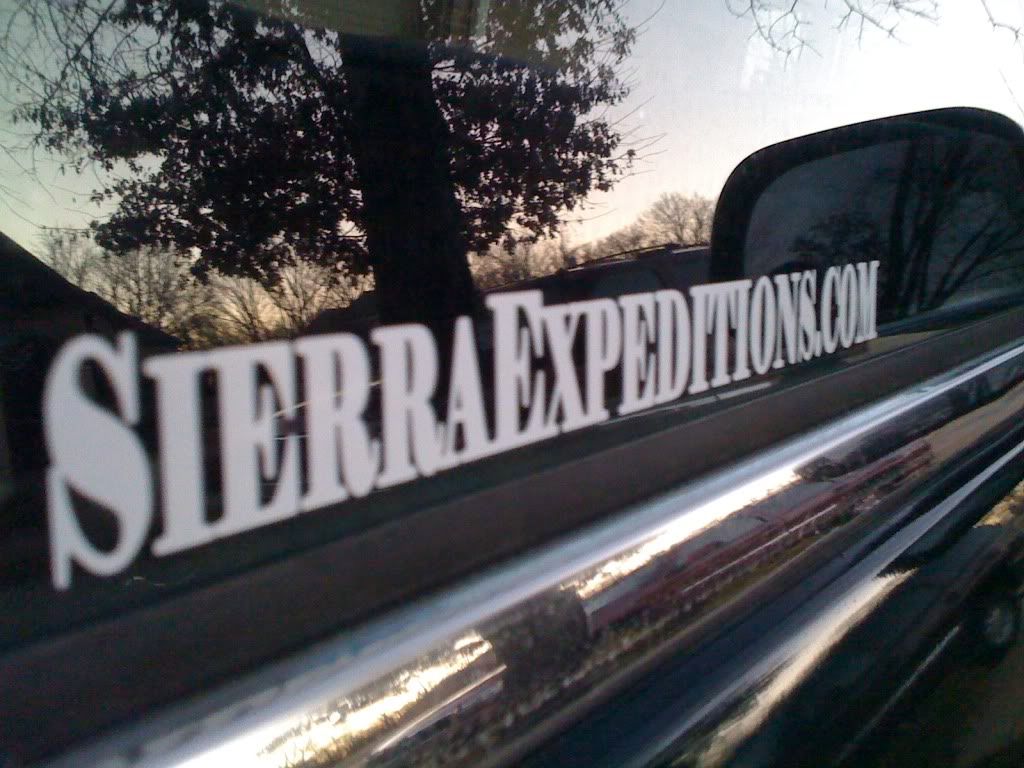 I had ungraded the stereo multiple times throughout my trucks life. No pictures of the various set ups. I changed too often and couldn't keep up with them myself.
Originally the truck came with a Pioneer CD, AM/FM head unit, but I wanted something I could hook my iPod up to and jam out to. I replaced it with a Sony head unit with iPod compatibility. This set up sounded decent but I was a kid who wanted to bump to some rap so I changed it our for a Pioneer Avic D3 with built in navigation. I LOVED THIS STEREO! So easy to use and love the quality of the music. At the time I had a Memphis shallow mount 12" sub powered by a
JBL
500 watt amp behind my passenger seat in a custom sub box I had made because I couldn't find a box that would fit behind the seat of a regular cab. I loved the sound a sub made in the tight enclosure of a regular cab, but I soon outgrew the sub phase and sold the sub and head unit for $500 and replaced the head unit with the Sony that used to be in there. Having run my sub for about 4 months, I blew my door speakers so I replaced them with Memphis 6x9's with built in "mini" subs and to this day, they are still as crisp as they were back when I put them in. The sony head unit took a poop on me one day so I replaced it with a Dual 7" touchscreen in the fall of my senior year. I currently have this head unit in and love it. It plays DVDs, is iPod compatible, AM/FM radio, CD and the sound quality is incredible.
Here you can see my head unit, flash light mount, and various switches for aux lights and such.
I have been a huge mountain biker ever since I was a kid and of course I had to be able to take my bike with me where I went so I bought some Xport fork mounts and threw two up on my tool box back when I first got it but these are the only pictures I have of it with my bike on. The second picture was after a great day long ride this past February when the temps were in the mod 60's
Here you can clearly see the HID and "fog light" mod.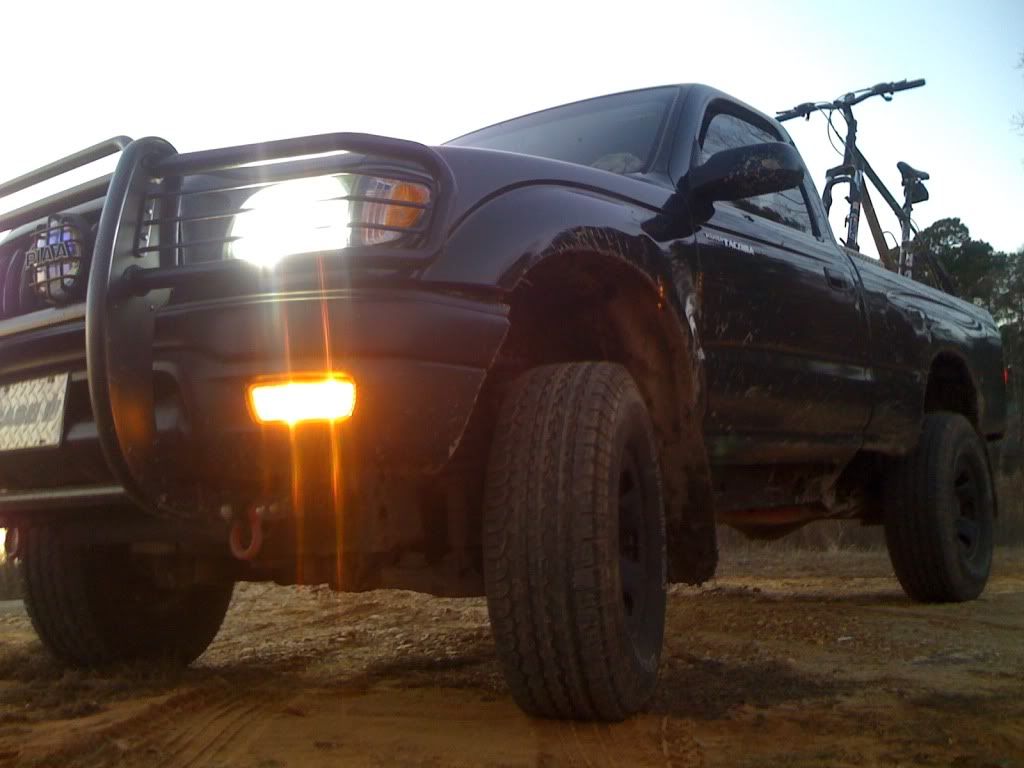 For the longest time I used my iPhone as my GPS but I got sick of having to pick it up and see what was next so I bought a Garmin one a few weeks back and love it!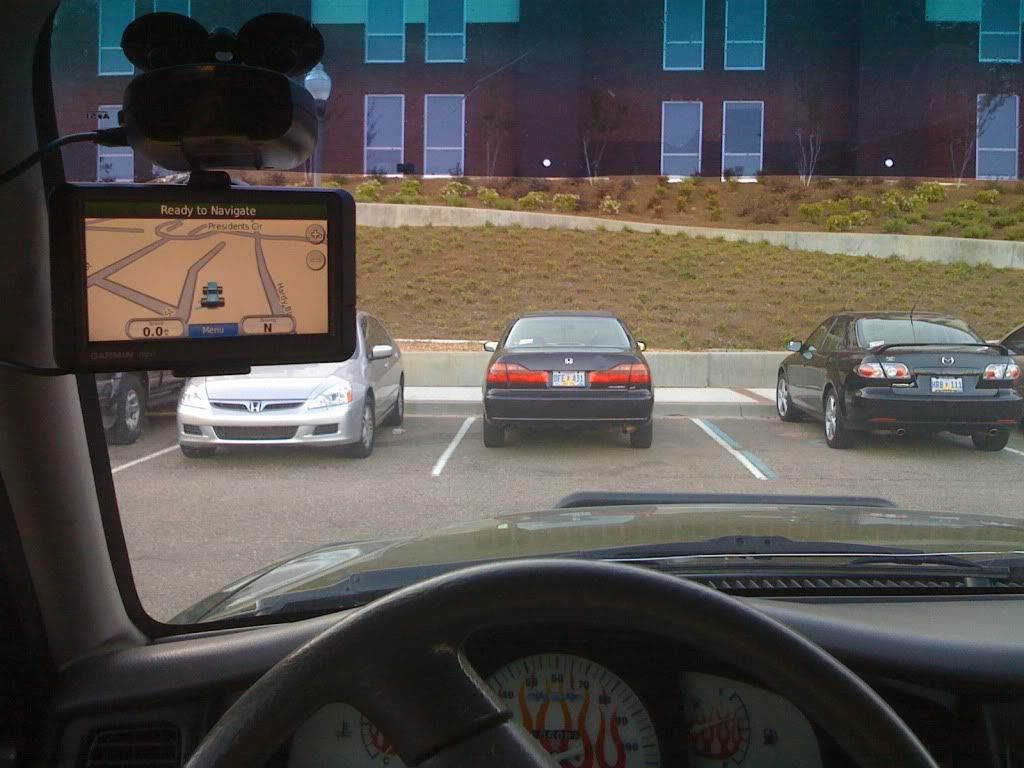 Ever since I sold my camper I have been looking for a replacement and 2 weeks ago I saw one on a regular cab Tacoma in my dorm's parking lot. It wasn't for sale but I was so desperate I wrote a note and left it under the guys wind shield. He called me back that day and said he would sell it to me for $150! I was so stoked! I was finally going to have a camper again and this time it was going to fit my truck!
The only two problems with the camper:
1) It was red
2) Some jerk backed into him in the parking lot, busted up his tail gate and consequently shattered the glass so no rear window currently.
The positives:
1) A.R.E CX series camper with carpeted headliner
2) No holes, cracks or chips in the clear coat
3) Not abused in anyway
4) Flip down front glass
5) Made for MY TRUCK!
I of course was so thrilled that I found a camper that I bought it right away and got it sanded, and repainted it semi gloss black that after noon. The guy who had it installed also got the Bedrug and I had a drop in plastic bed liner and I asked him what he was going to do about the carpet bed liner. He said he was going to buy a new plastic one, that's when I proposed and exchange. My plastic one for his Bedrug. He jumped on it and we made and even swap.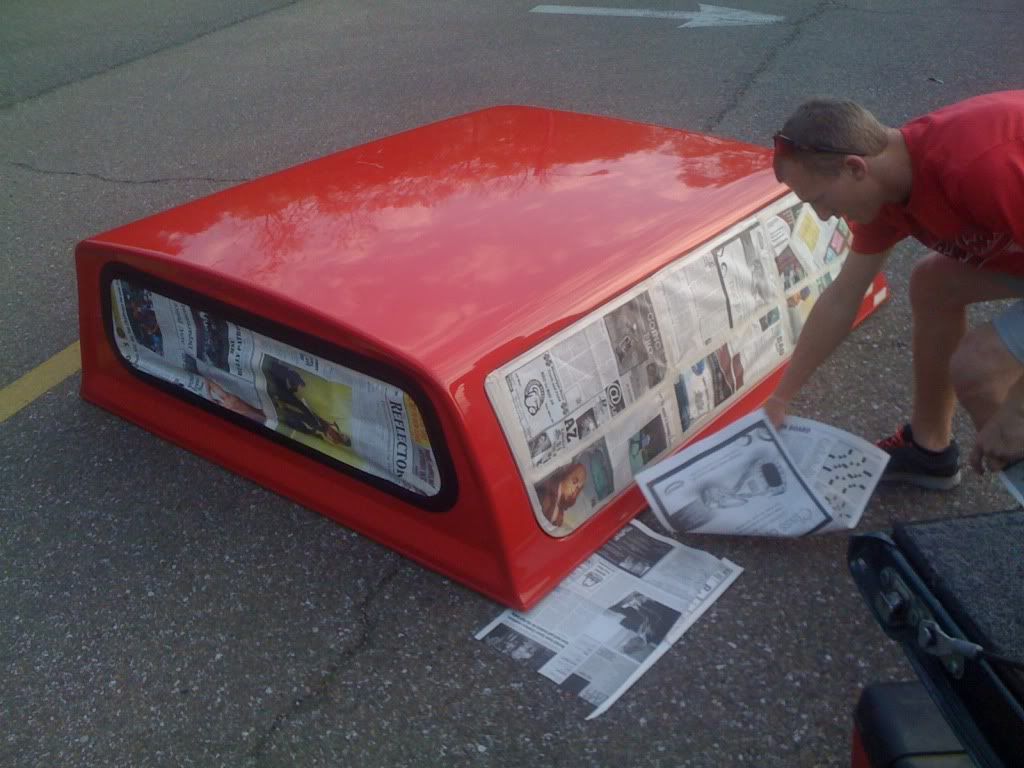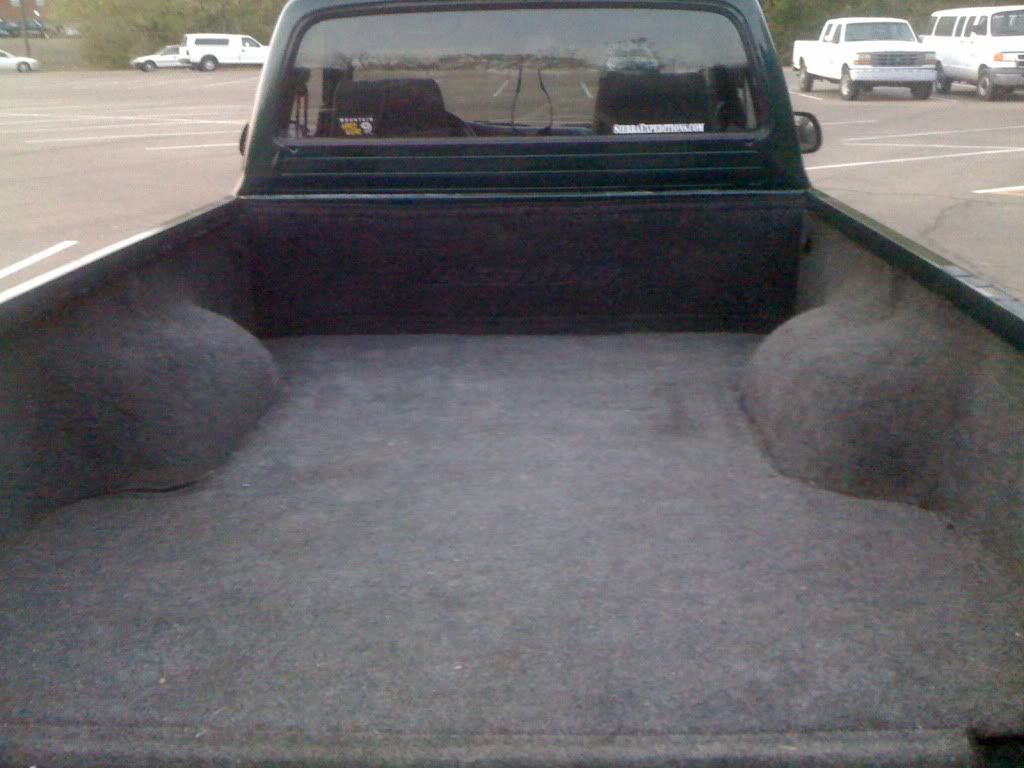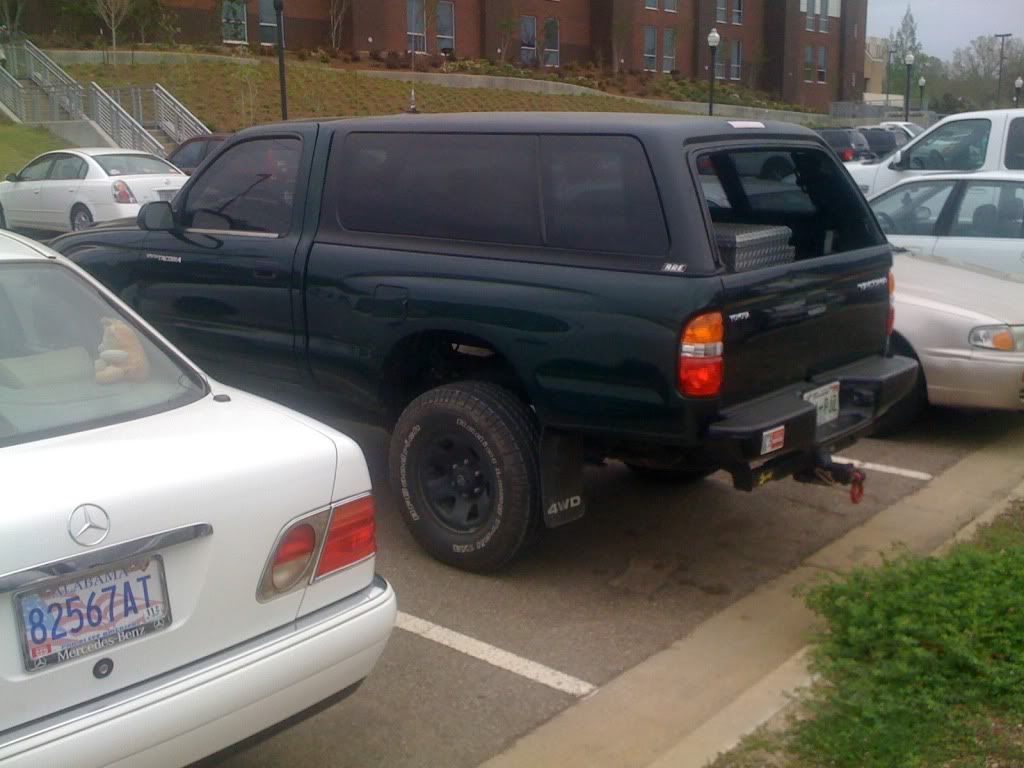 I know most people on here hate mud flaps but when I got the new tires they were 31/10.5/15 and they stuck out way past the body because I don't have fender flares. My truck came with the rear 4WD flaps only so I bought some front ones off a member on TTORA and mounted them up and since putting them on, I have much less road dirt and dust and don't have to clean my truck every day anymore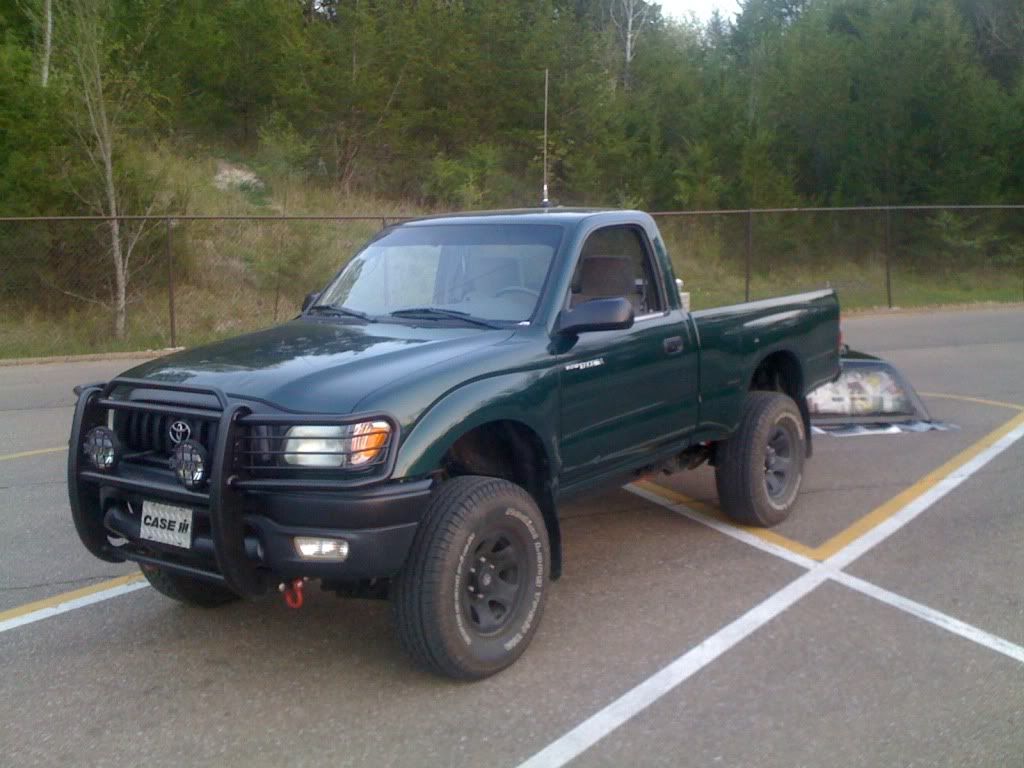 Finally, I had my rig in a place where I want it. I got my camper back, this time even better than last with the carpet and actual model, the interior is perfect, sound system ideal, lift and tires are perfect for my current needs, Everything is just right and I couldn't be happier!
Decided to ditch the black rims and do something similar to that which was my Samurai. So I blackened out the back of the rims and left the face of the spokes gun metal.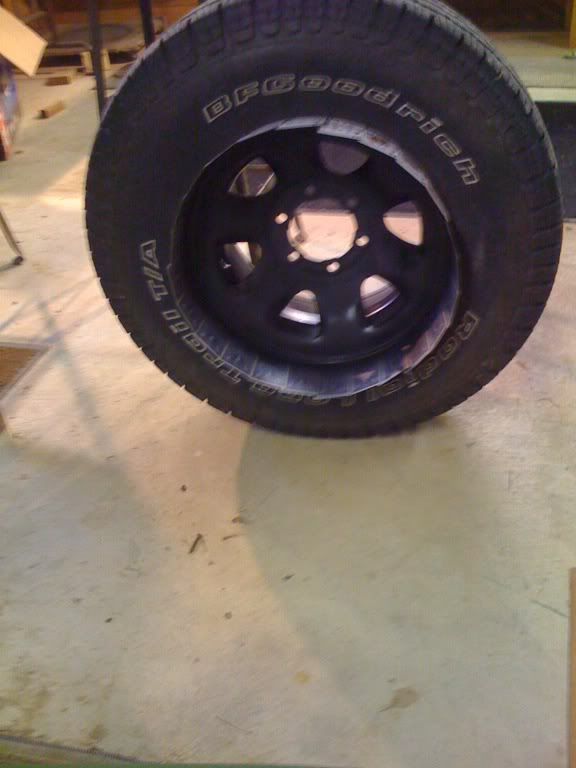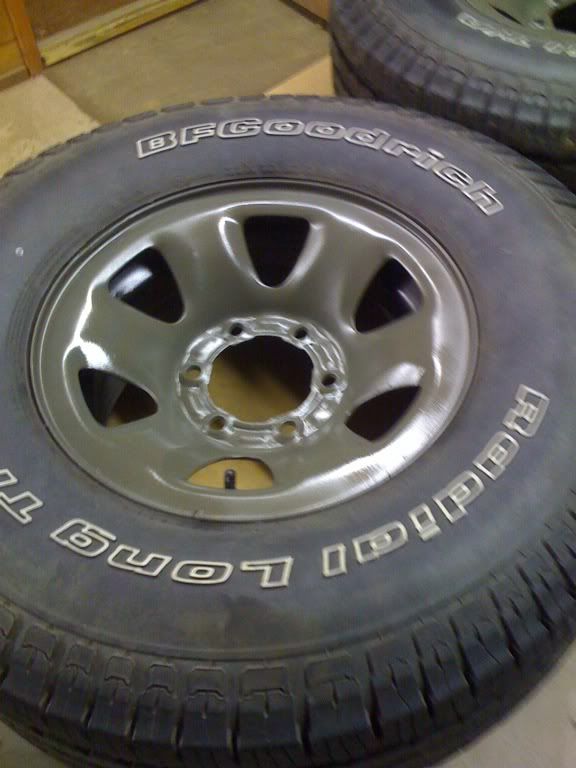 Installed on the truck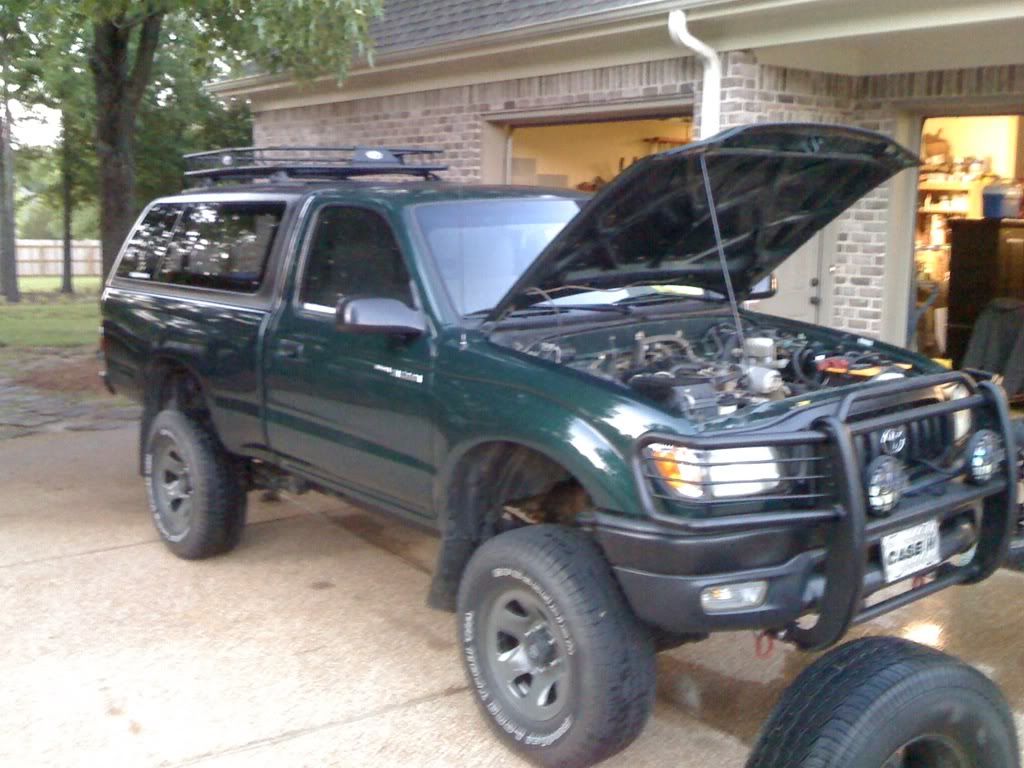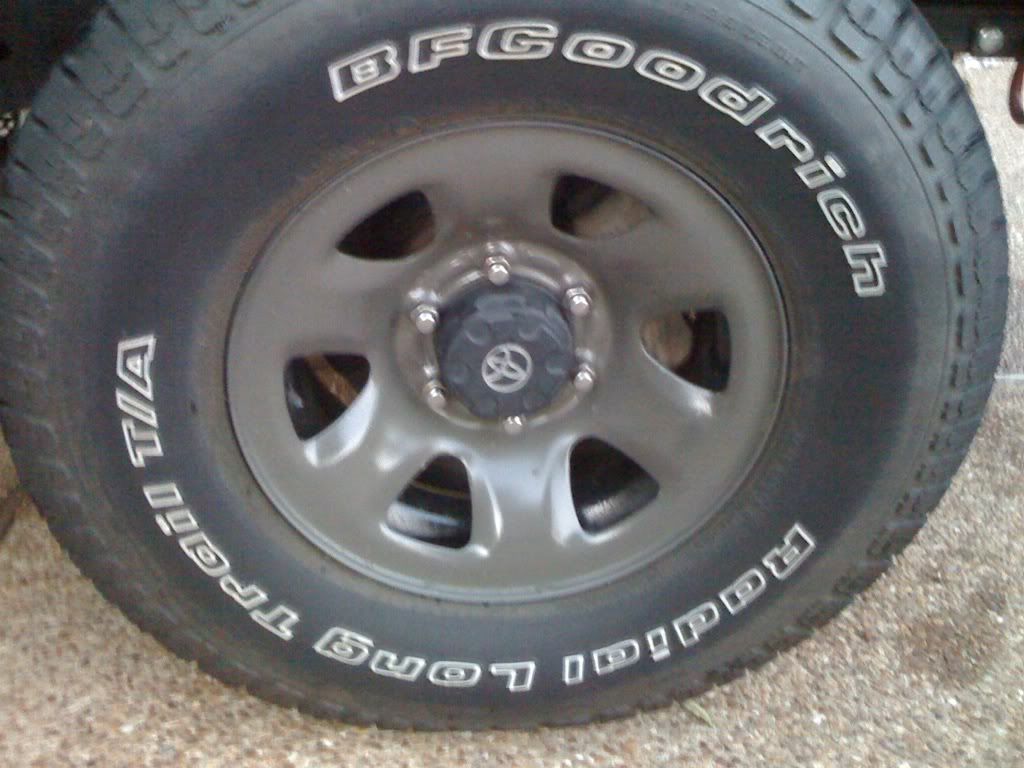 I needed something to mount my basket to so I went to a Pull-A-Part in Memphis and got a roof rack rails from a 1995 4Runner (had to keep the Toyota parts) and walked out of there with some badges, a spare tire tool bag, some other things for just under $20 and it looks sweet. I mounted the roof rails to the camper shell and threw the basket up there the other day too.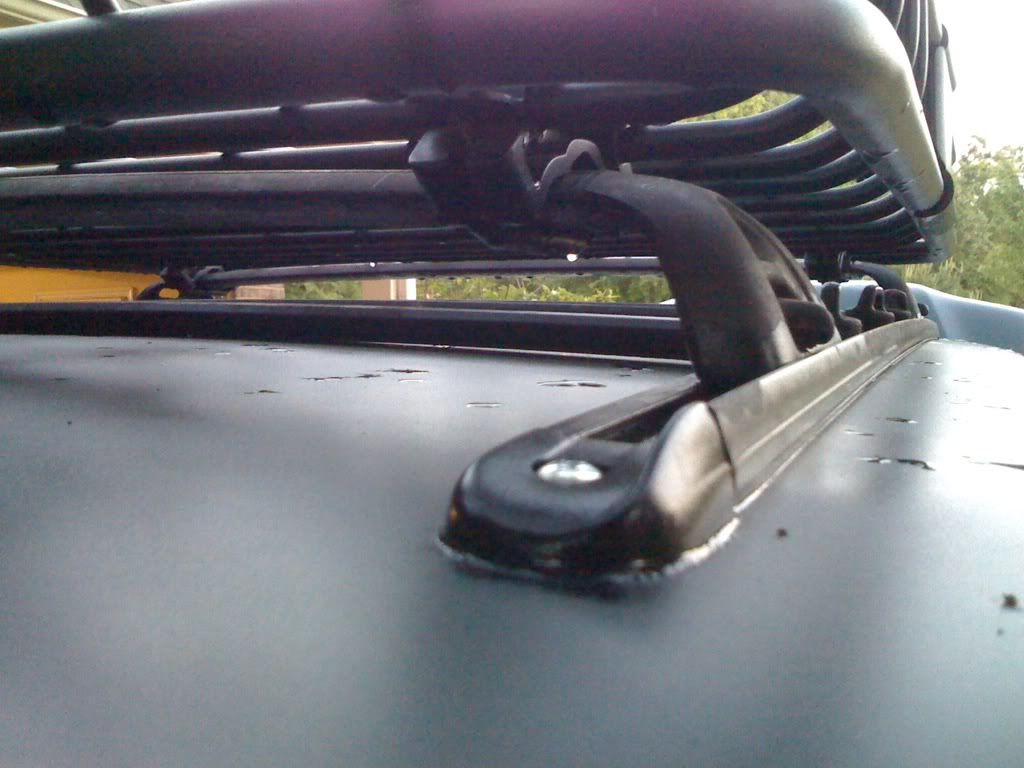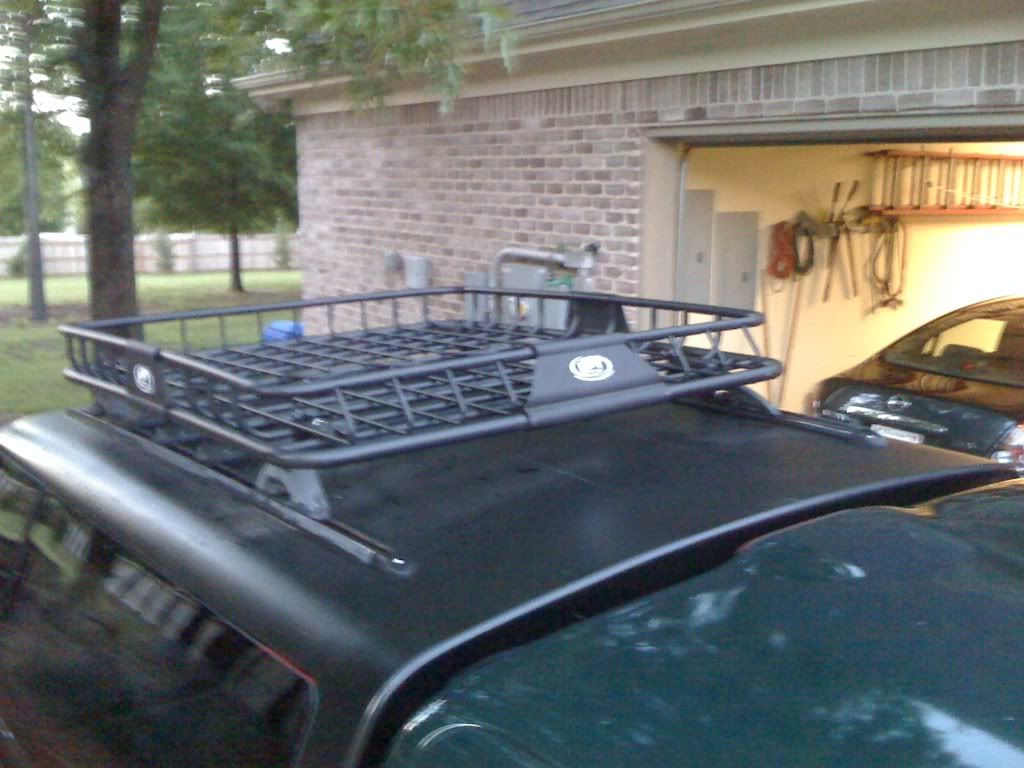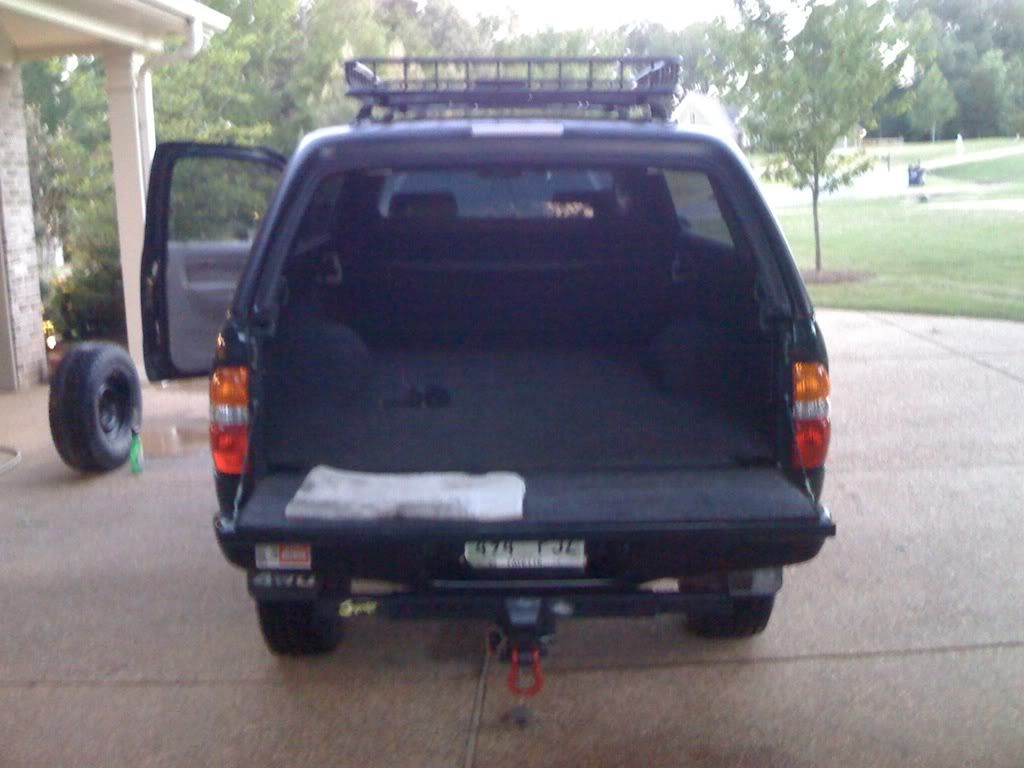 I will post pictures up of the storage box I built this past weekend tomorrow when I get a chance to upload them from my camera
Most recent pictures after a major detailing with wax and tire shine and the whole nine yards (05/08/11) I was towing some limbs we cut up the day before but she is all shiny.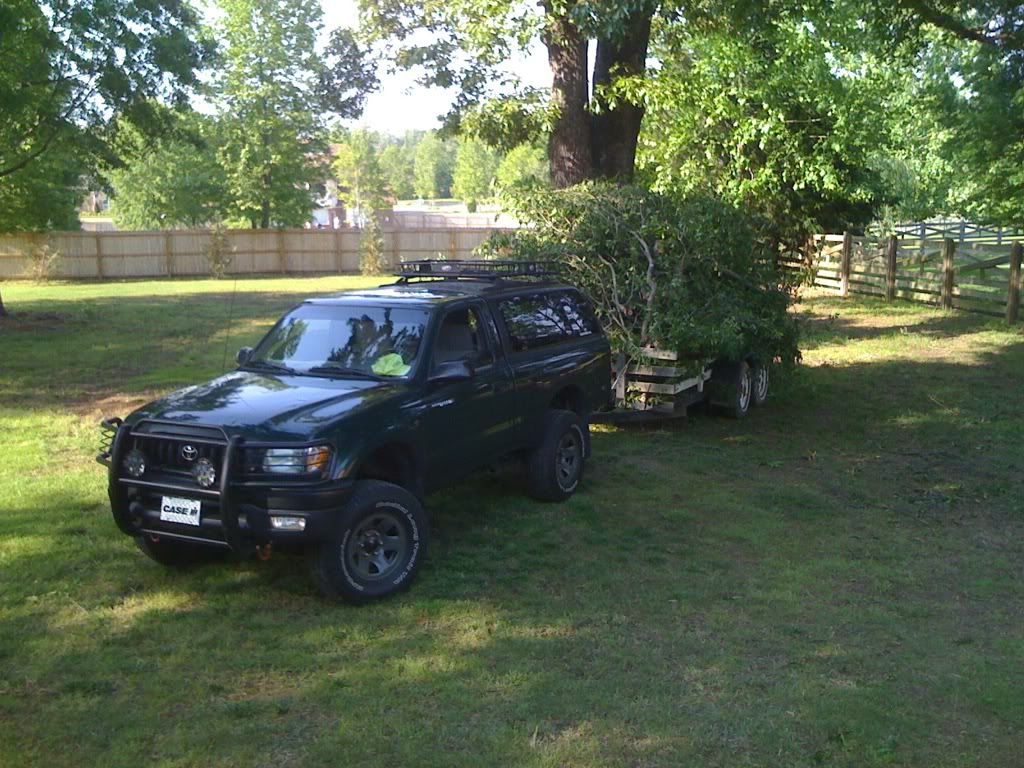 Future plans:
1. Remove body lift and install 5100's or Donahoe CO's
2. Trail Gear sliders
Dreaming stage from here down...
1. Armor the undercarriage
2. Front bumper with hi clearance provisions
3. ???????