Specs:
2004 SR5
Drivetrain
2.7L 4cyl
Automatic
4x4
Wheels & Tires
265/75/16 Goodyear Duratrac tires
Aftermarket 16" wheels
Intake & Exhaust
AFE Stainless steel cat-back with polished tip
AFE Pro DRY S filter
OME exhaust bracket
4" Deck plate mod
Suspension
OME 881 coils
OME Dakar Leafs
OME greasable shackles & bushings
Bilstein 5100s (front)
Bilstein 5125s (rear) 8.6" & 9.24" travel with 255/70
Toyotec 1/4" top plate spacer to eliminate lean.
Revtek diff drop kit
Moog ball joints (upper & lower)
Moog greasable sway bar links
Steering
Wheeler's anti-sway bar bushing kit
Energy steering rack bushing kit
Brakes
Extended stainless braded rear brake line
B.A.M.F BPV bracket
Lighting
Morimoto Mini H1 retrofit
Snobord light bar
Two 100w yellow Powerfist lights
Two 100w clear Powerfist lights
Interior
WeatherTech
floor liners
White LED bulbs in cluster, temperature control, shifter, glove box and ash tray
Kenwood KDC-BT855U head unit
Carling Contura V laser etched rocker switches for fog & driving lights
Exterior
Custom made aluminium back rack
Polished devil horns (Andres)
DeeZee crossover toolbox (black powdercoat model)
Color matched grille and marker lights
Random
Rear differential breather extension
Hayden 678 transmission cooler
The Story
Well I started off in Sept 2010 with an '04 TRD SR5 4cyl automatic with 82,000mi. This is how it looked on day one: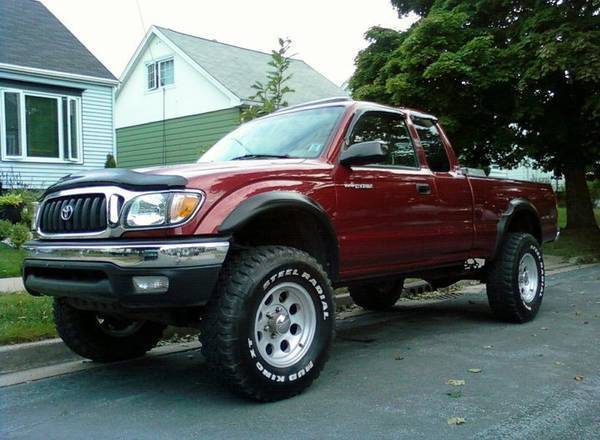 It had a 2" spacer lift in the front, 1.5" shackle lift in the rear and sitting on 285/75/16s.
First thing I did was the deck plate mod. Cost all of about $10 total and 10 minutes of my time.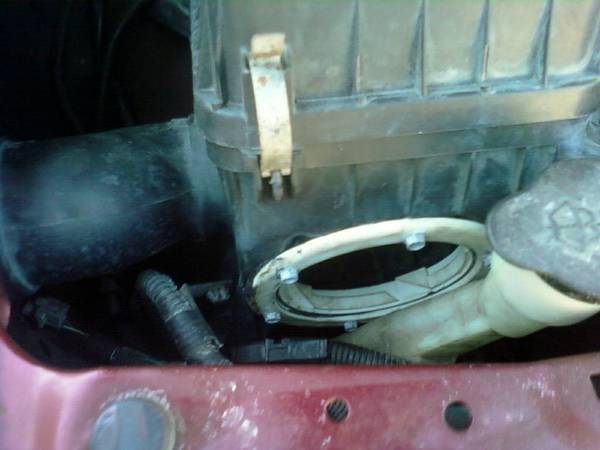 The next thing I did was a light bar from Snobord: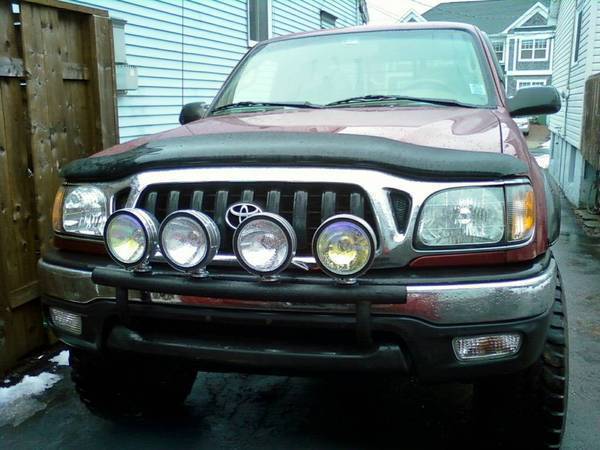 Then I got a Deezee toolbox. I had a homemade aluminium back rack that I painted and modified to work with the toolbox.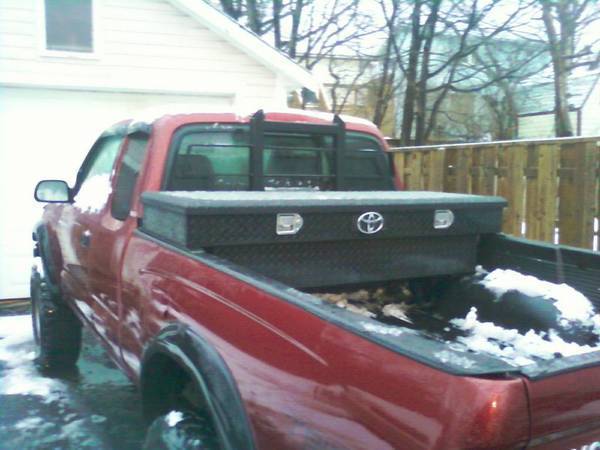 Then came the good stuff. I got a full suspension set up. I went with Bilstein 5100s up front at the 2nd notch and OME 881 coils. In the rear I went with OME Dakar leafs and Bilstein 5125s. Plus a bunch of other little odds and ends.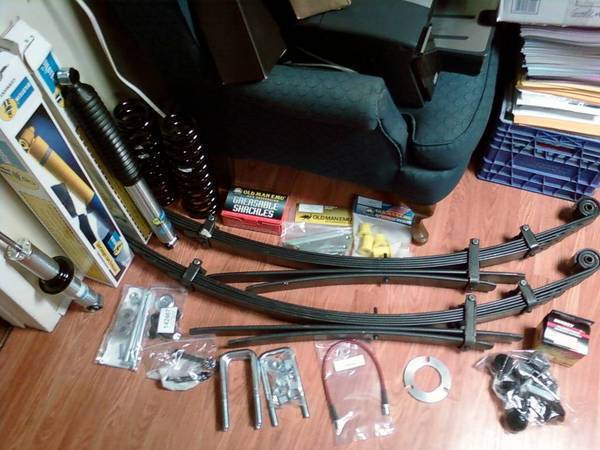 Front installed
Rear installed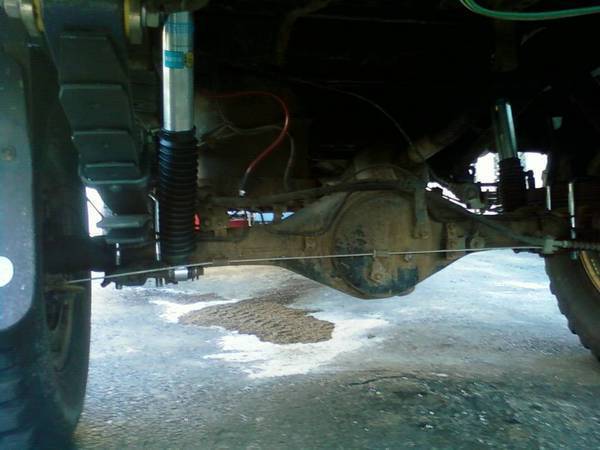 Along the way I hit a guard rail and smashed the front bumper and lower valence. So I replaced the chrome bumper with a black one and just fastened the signal lights to the bottom of the bumper.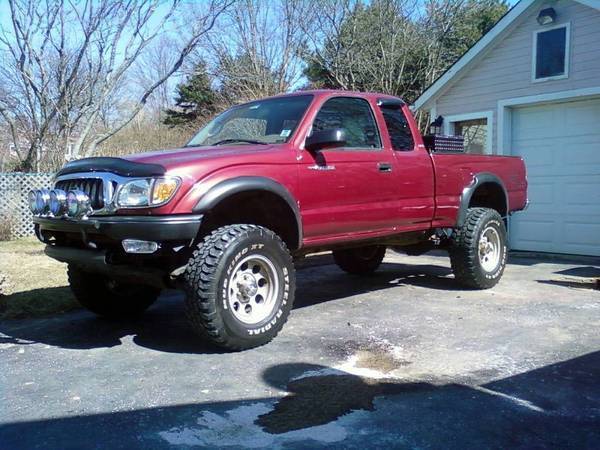 March 2012:
Morimoto Mini H1 Retrofit:
The color matched grille and marker lights. Haven't put the light bar back on yet.