Well I don't have a lot to write about on my build yet. I have had this truck for about 3 months now.
2001 Access Cab with 57,000miles.
Only thing I have really done so far is a 3 inch spacer lift in the front and 3 inch Add A Leaf in the rear. The lift was going to be a little further down the list, but I decided to go ahead and do it.
Before Lift:
After Lift: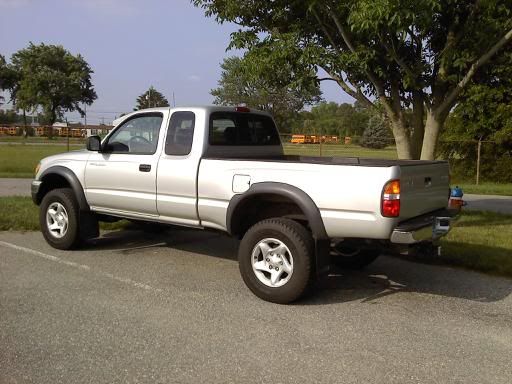 Mods Done in order
3 inch Spacer Lift in the front
3inch Add A Leaf in the Rear
De-Mudflap Front
Plasti-Dipped Hitch
New Tailgate Straps
15% tint on back windows
5% tint on the front windows
18 inch Magnaflow with 3 inch
Magnaflow exhaust
tip
285/75/16 Definity Dakota Mt's
Mods to come:
Bed Bar with lights for reverse and to use in the bed
HIDS
New Grille (undecided)
New Rear Bumper (the stock one has some rust damage)
Some sort of sound system
Possible LEDS in the tails
Possible tinted tails
and of course will most likely think of more
Any ideas let me know!