Figured I would go ahead and make one of these, so here we go!
As of now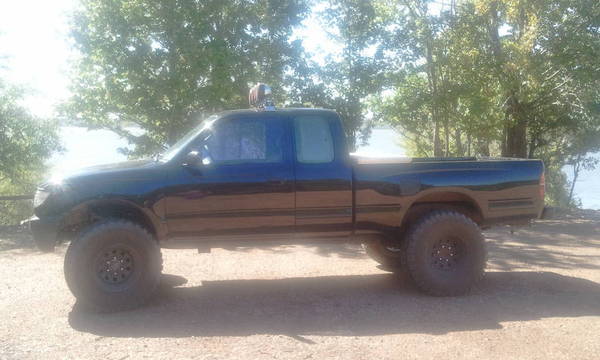 Specs
- 1996 Toyota Tacoma Extended Cab
- 2.7L
- 4x4
Mods
Wheels & Tires:
- Pacer 15" wheels plastidipped
- 33x12.50x15's GT Radial Adventuro M/T's
Suspension:
- 2.5" spacers in front
- 2" AAL in rear
- Stock shocks and coilovers
Exterior:
- Orange L.E.D underglow
- Flowmaster 40 dumped
- Black projector headlights
- 6000k HID kit
- Clear corner and turn signal lights
- Plastidipped bumpers, grille, door handles
- Carr Low-profile light bar
- Four KC Daylighter off-road lights
Interior:
- JVC KD-R300 Headunit
- Kenwood door speakers
- 4 Distinct Audio 10's
- Kenwood amp
- 4 Orange L.E.D's
- Relatively new interior
The reason I got this truck is because I friend of my dad's had bought it for his son, but they needed money to build their house.
So we got it for $1500, and this is what it looked like the day we brought it home.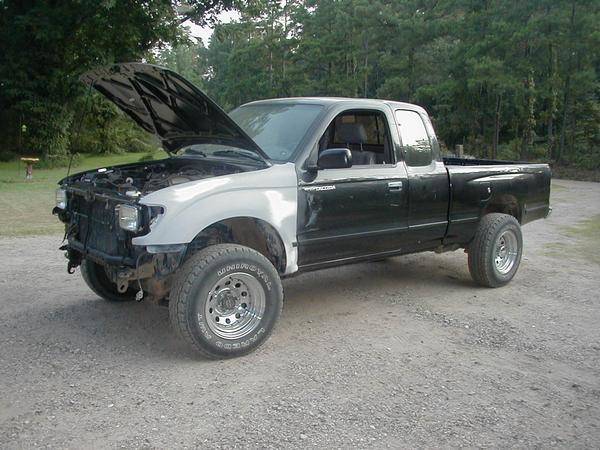 Loaded the bed down with pea-gravel to put under the pool deck that day and got bored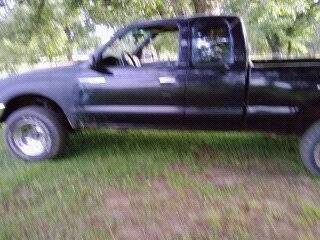 First thing that was needed was a little bit of engine work, we were told it had a bad oil leak but what it was is they cross-threaded the bolts. Fixed that but still has minor leaking to this day.
Next on the list was getting all the brake lines replaced, and after that we had the whole radiator and other parts replaced.
After we got it to the point of running decent we installed the front grill assembly, bumper, and valence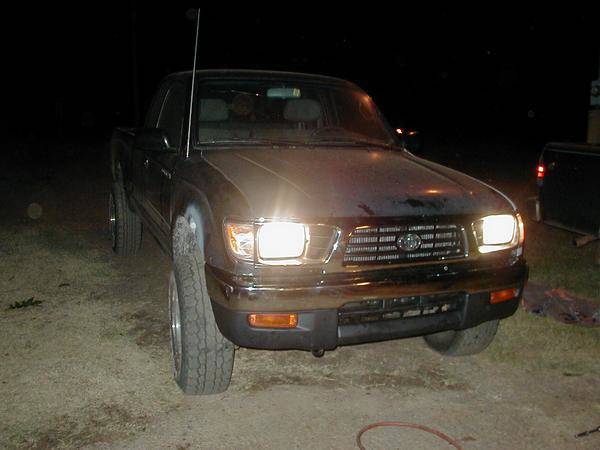 Next step was paint, my dad had been painting cars from when he was 15 until he was about 30, so we did it ourselves in the garage. Very long process with just 2 people on the weekends...
Here's the result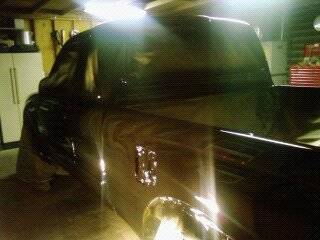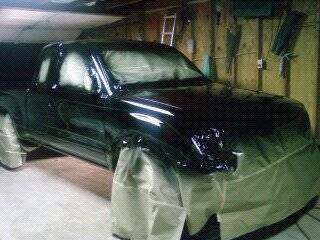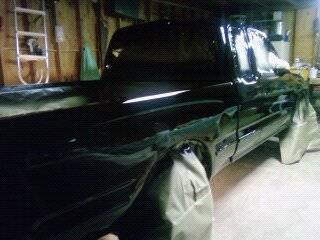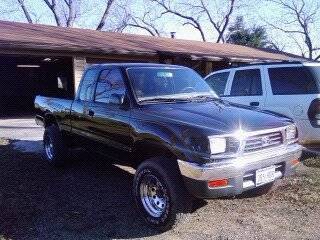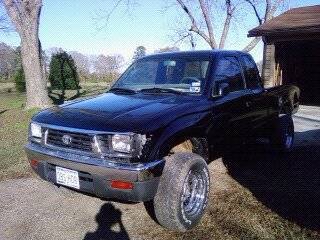 The interior of the truck had a horrible musty odor to it, so we got the seats, and door panels reupholstered. Then we put in new carpet ourselves.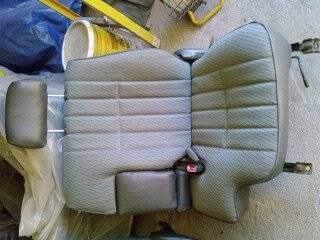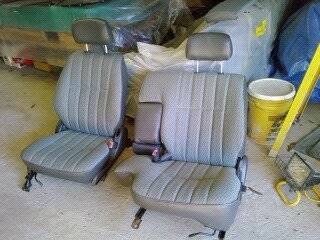 My first mod was a new stereo and speakers, the one it came with wouldn't play cd's correctly and the speakers had all went to crap. So I bought a JVC KD-R300 and 4 Kenwoods for the door speakers.
I drove it for about 10 months like this(Didn't have a job to pay for mods) and in that time I went through 5 valve stems. Still never found out who kept stomping them...
In September 2010 I finally got a job at a restaurant
And my first thing i bought was a Visonik Bass package.
For how cheap I bought it for it was a pretty strong system.
Did a little bit of mudding here and there, and decided it was time for a lift. I looked around trying to find a lift on the cheap... I know, I know that's a bad idea!
But I found the Daystar Suspension lift for $160 and jumped on it. Ended up having to work a lot for a few weeks, and in that time my dad got some BFGoodrich A/T's on stock 1st gen. wheels for his 09 tacoma. Needless to say the wheels wouldn't fit, so he took his tires he had from his tundra he owned a while back and put the wheels and tires on my truck.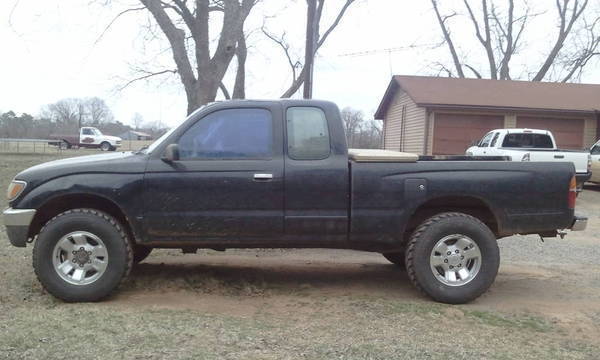 My dad told me they were going to be noisy when driving, but I love the sound of em'
After this I finally got some time to put the lift on, took about 3 days to do it. Mainly because the AAL was a bitch for some reason, but here's the results.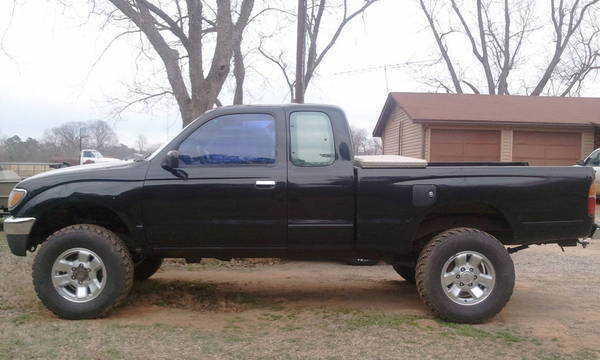 After the lift I decided to "try" and show off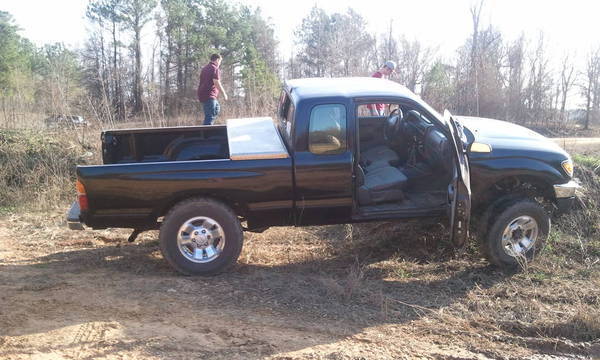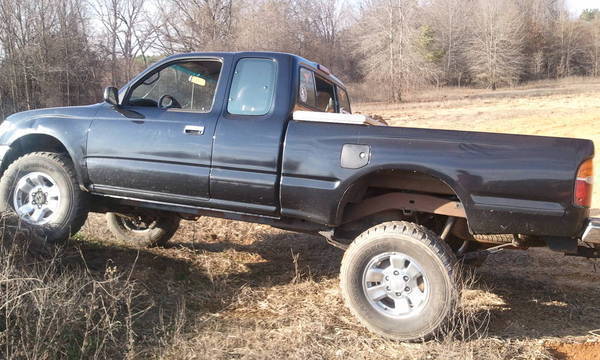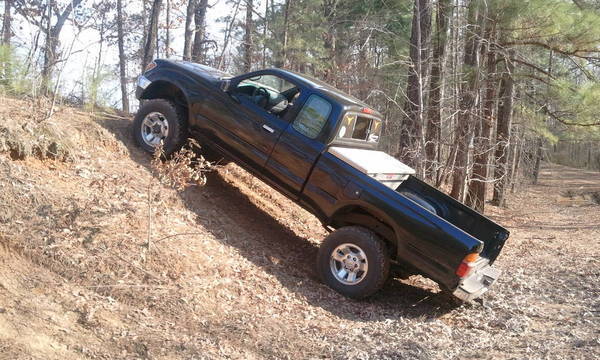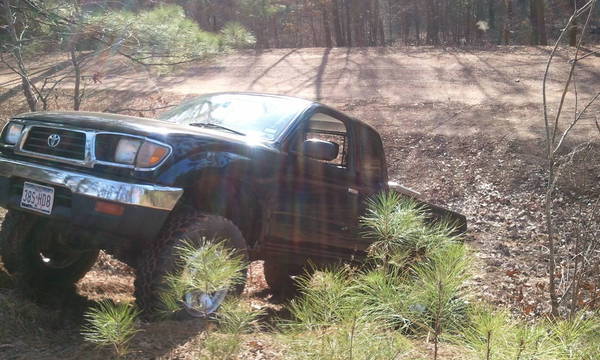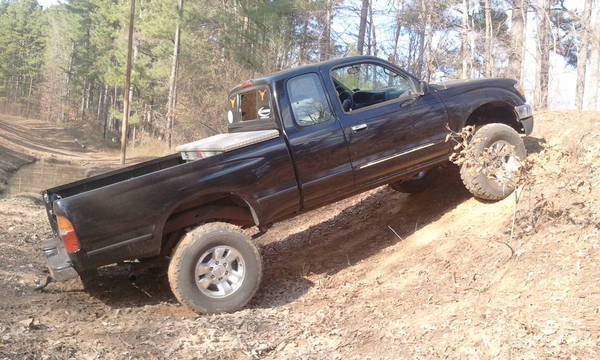 That same day I climbed a pretty good hill and my friends spotted me, wish I would've video'd it!
I decided to add some looks to it by buying me some L.E.D's, 3 hours later and here were the results.
Also have 4 interior's as well.
Decided to bridge my amp one day with a friend to see how hard it would hit, and ended up blowing the amp
So I borrowed somebody's amp for a couple of months, the bought a guys system. Kenwood amp pushing 4 10" Distinct Audio subs in a custom box.
After having my belts squeak for about 6 months I finally changed them out! Lol and the same day I got a Flowmaster 40 installed and dumped over the exhaust.
After this we went to Whitehead's, a mud park in our area. Had a blast and nobody broke anything, other than my friend having to dry out engine bay of his FORD bronco
But on our way back my truck began to overheat, and I found out my radiator had about 2 inches of mud covering both sides... Buddy said that he would just pull me to a car wash, but I warned him that unless my truck is started i have almost no brakes. We did it anyways... I had to keep pushing on the brakes to keep the chain from hitting my tire, and next thing I know he stops and i swerve to try and miss the chain, but I have to go into the ditch beside him to keep from hitting. When I did this my front right tire hit the chain and it stopped my truck. I thought my tire was gonna be torn and everything, luckily nothing got damaged. Needless to say instead I drove 40 mph to the closest car wash after this ordeal.
My next mod was caused by me having an unknown headlight out and getting this
Searched around and noticed I could get a pair of black projector headlights for cheaper than buying one new headlight, so I went with these.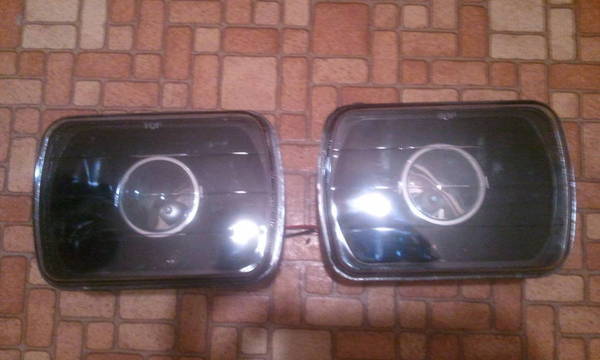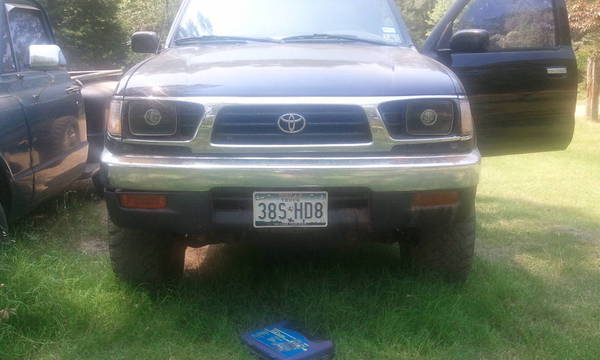 Found out the next night that the black causes the H4 bulbs to have little to no light output at all! The very next day I bought me a 6000K HID kit. So much for just buying headlights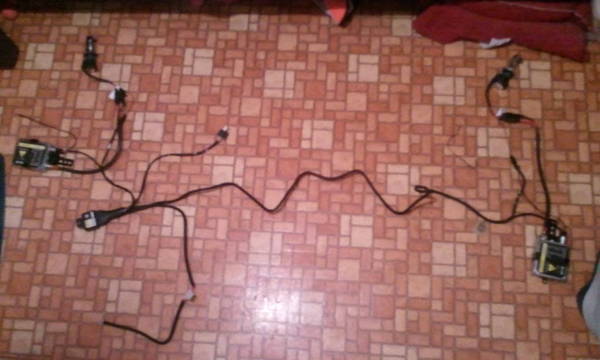 I got tired of seeing all the mud stains in my paint so I figured I would try this.
Before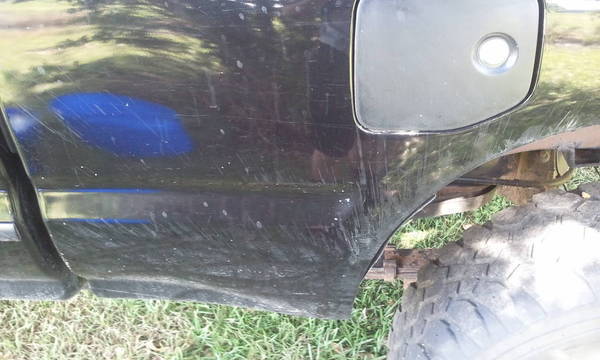 After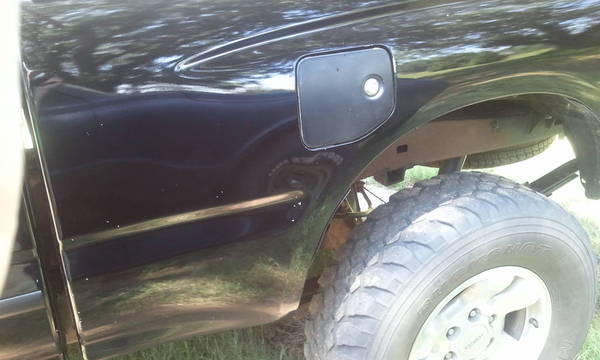 This is it for my truck so far, hopefully new tires will be next!