Mostly already built but I might as well start a thread anyway because I do have things to add/change/fix.
Bought a 1998 Toyota Tacoma TRD Offroad Xtra Cab with 151,933 miles on 08/17/2011
Equipped:
3.4L V6
5 Spd Manual Transmission
Pre Runner Bumper (rhino lined and diamond plating inserts)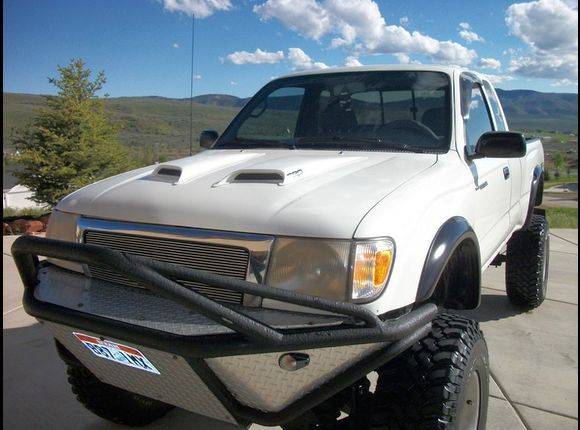 6" Trail Master Suspension lift
3" Body Lift
Tire fenders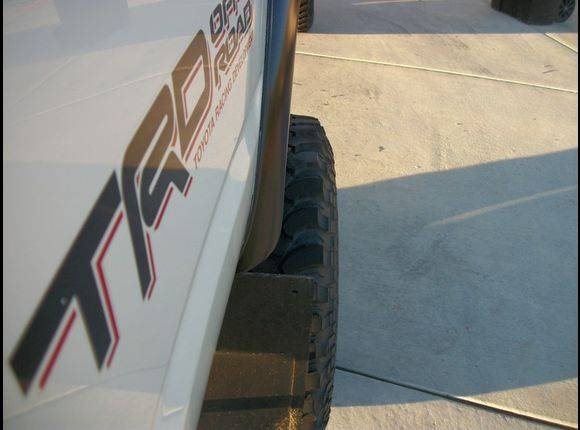 Nice
Fusion
sound system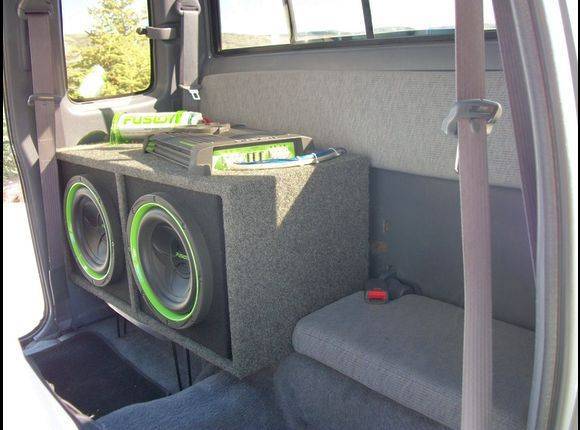 Newer BFG Mud tires 33 x 12.5 x 15 ( 5/8" deep tread... under 3500 miles on them )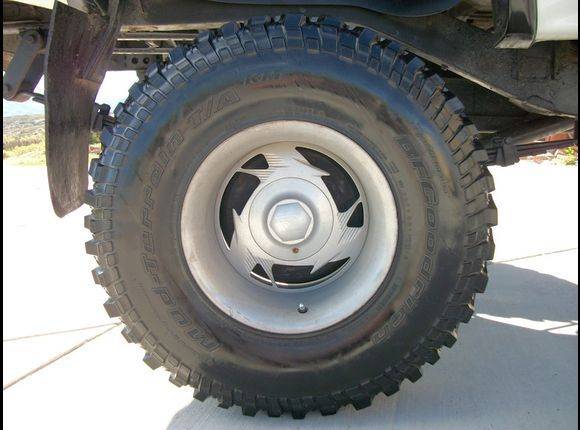 Rhino lined bed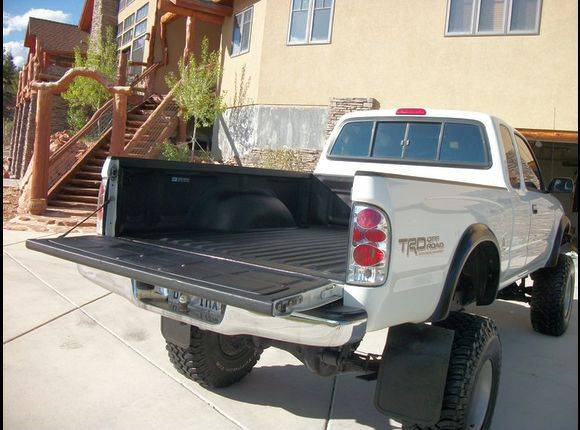 Toyota rear E-locker ( Toyota 4.10 gear ratio)
K&N Cold air intake
Throttle body spacer
Red top Optima battery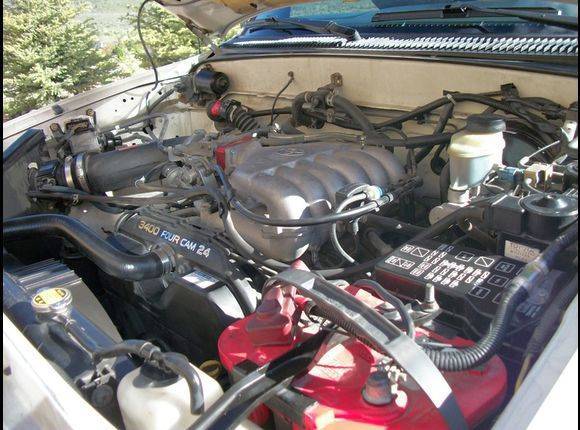 Magnaflow
muffler
Also came with a HIDEOUS color scheme on the interior...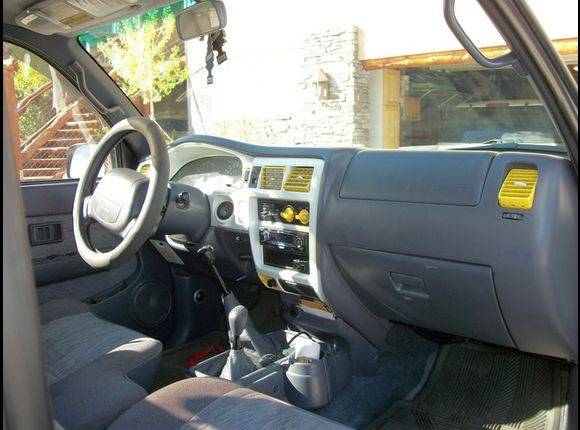 Problems to Fix:
-Replace both rear shocks (BAD)
-Replace Idler Bushing on the driveline (BAD)
-Fix "Airbag light stays on when passenger side enabled" issue
Things to do:
-Replace or repaint horrid interior dash color scheme
-Hella Supertones Horn
-Keyless Entry
-Exhaust Tip
Any *HELPFUL/CONSTRUCTIVE* suggestions or Ideas would be great, thanks guys and gals!
First "Mod"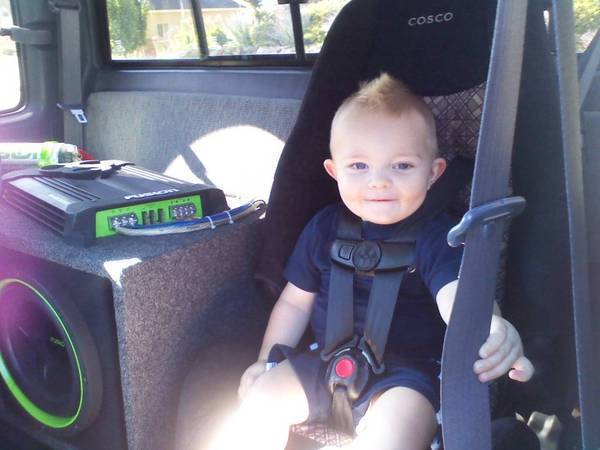 Suspension pics...
lift struts had rubber boots on them which had electrical tape on them...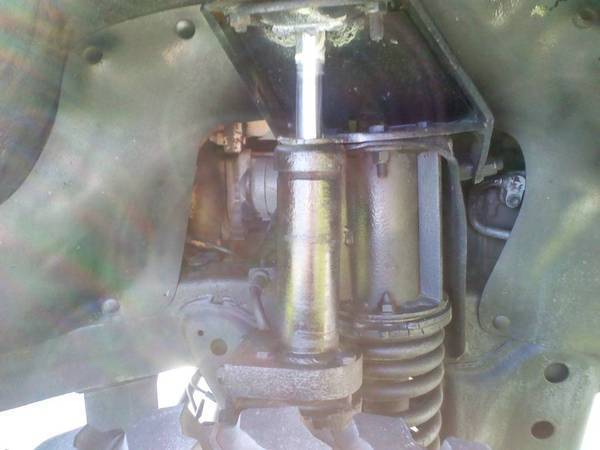 Cut the boots off, wire brushed the rust/corrosion underneath, then gave them a coat of Rustoleum enamel, should have used FLAT instead of Gloss black, oh well...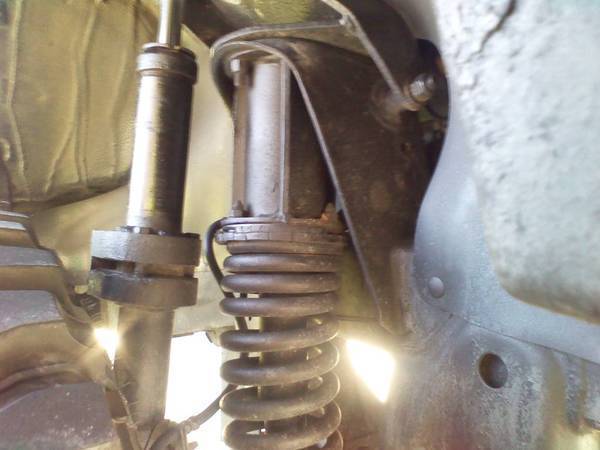 They turned out looking okay, gave everything a bath in white lithium spray grease
View from the rear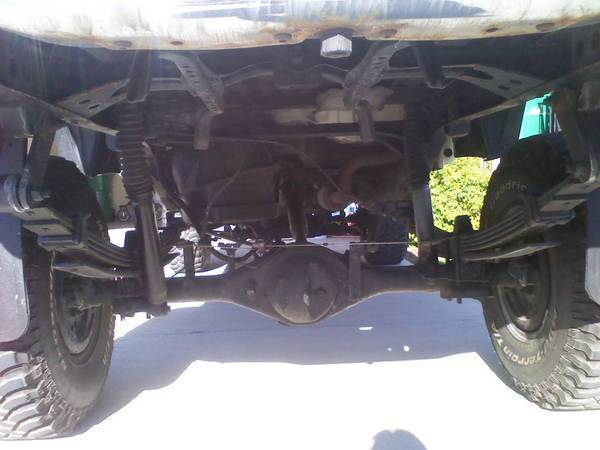 Full size truck leaf springs?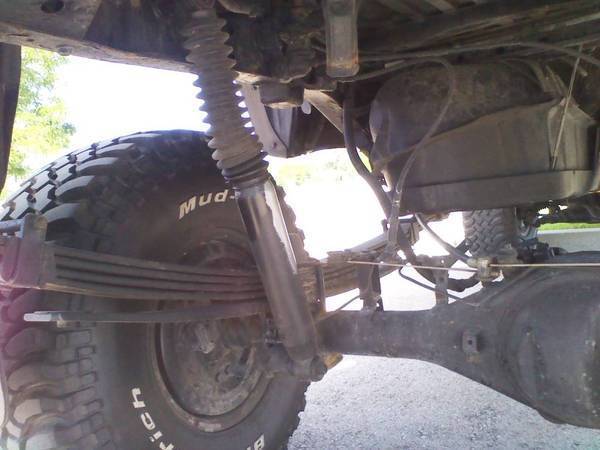 As it sits in my driveway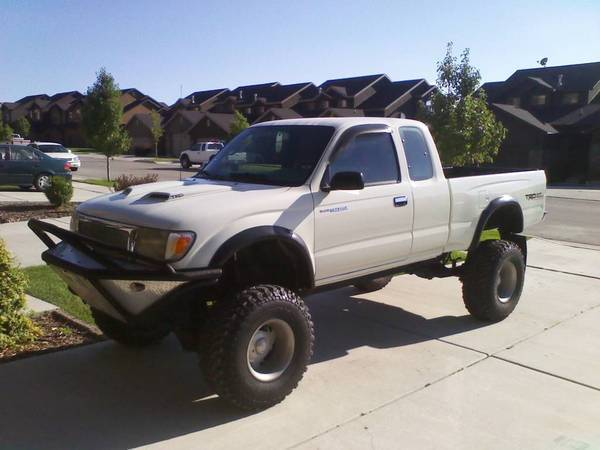 Took it offroad through a creek bed that's been flooded with snow run-off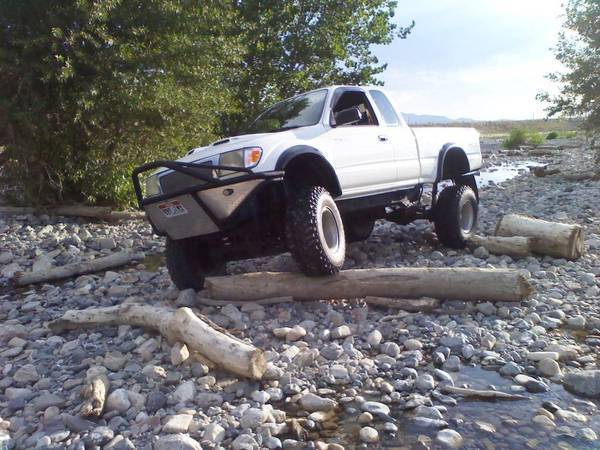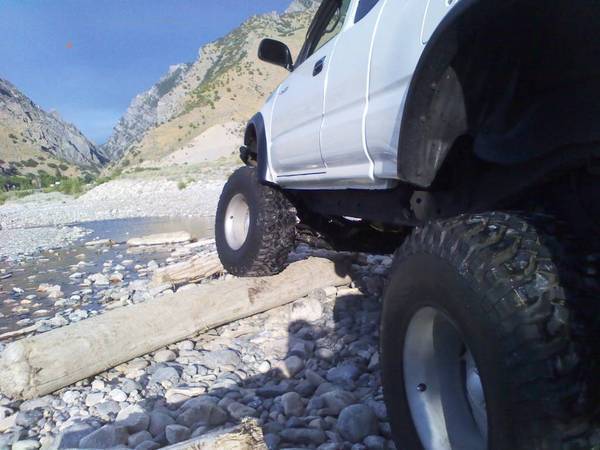 Some flexin, rear passenger tire isn't touching, felt like i was going to tip over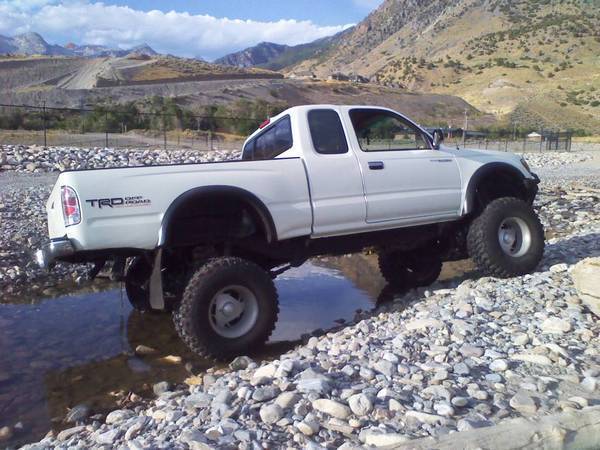 water was up to the hubs, got deeper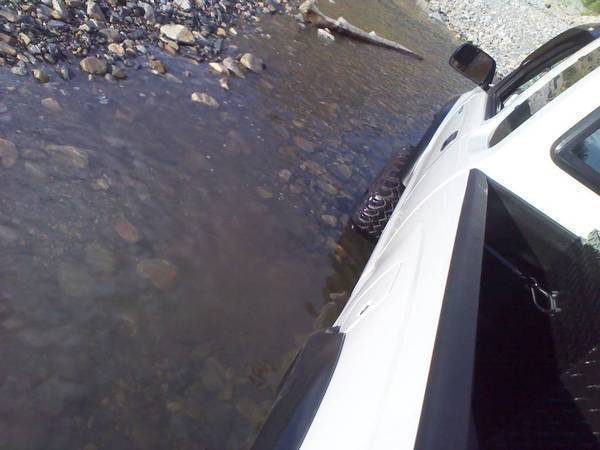 Suspension was just fine, I think once I fix the driveline bushing, balance tires, and get new rear shocks, i'll be golden.
4 High and Lo worked great, I have my doubts as to whether the locker is working do to the light never staying on, it just blinks slowly. Never saw an ABS light?
*09/04/2011 Update*
Bought a hitch receiver for $40 from a guy parting out his 2001 and installed it yesterday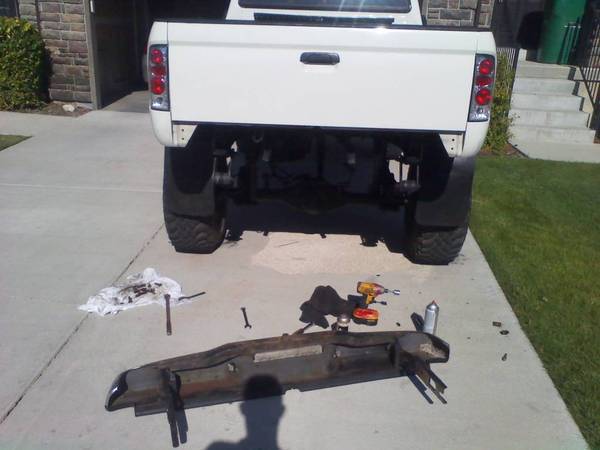 The install went fairly smooth and took around an hour from start to finish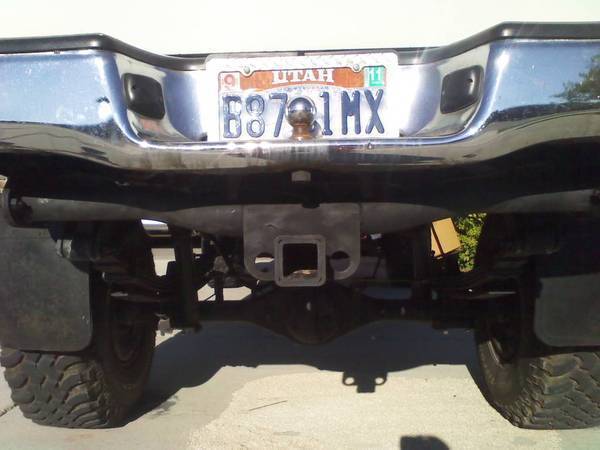 Next steps are taking the ball out of the bumper, wiring up a towing harness for trailer lights, and replacing the center support bearing. I'll buy the one from the guy with the 2001 for $10 for now, it's gotta be better than mine
*November 1st Update*
Added Roll bar with lights $175 and most of saturday to clean it up, redo lights, wiring etc...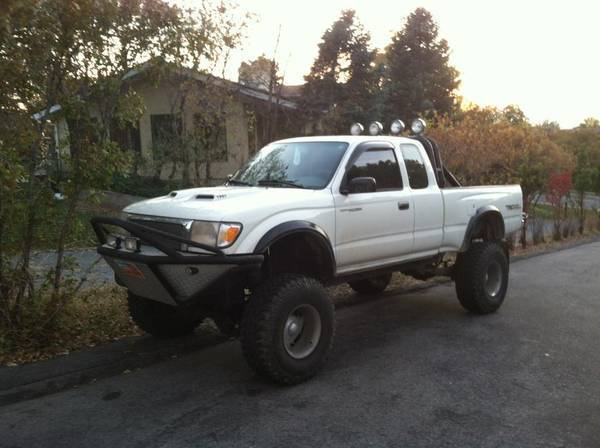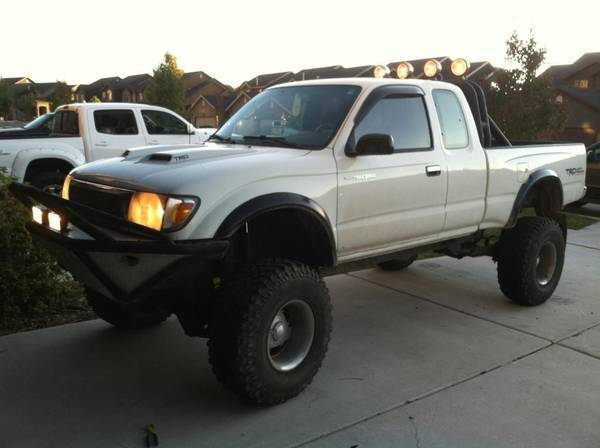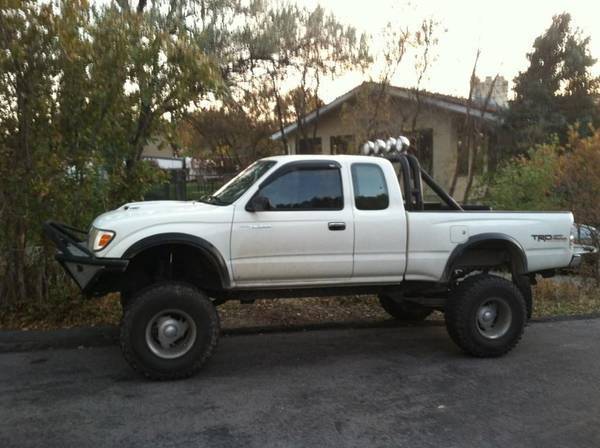 Safari Snorkel $Free took about 2-3 hours of work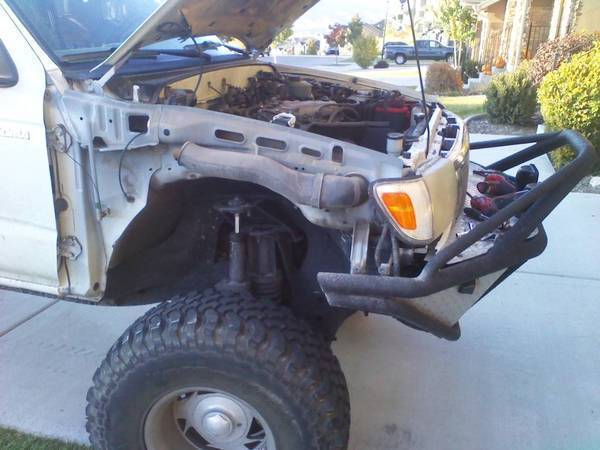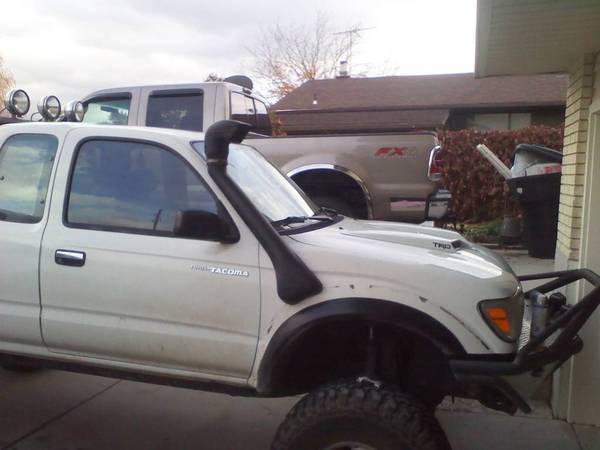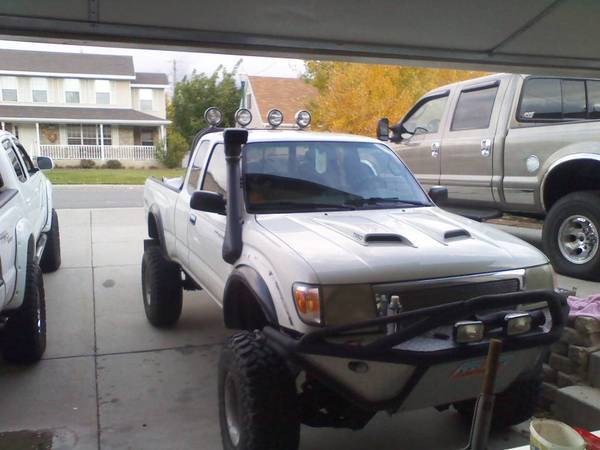 *January 6th 2012 Update*
Just passed 155,555 Miles
Went wheeling and blew my secondary strut on my Trailmaster lift.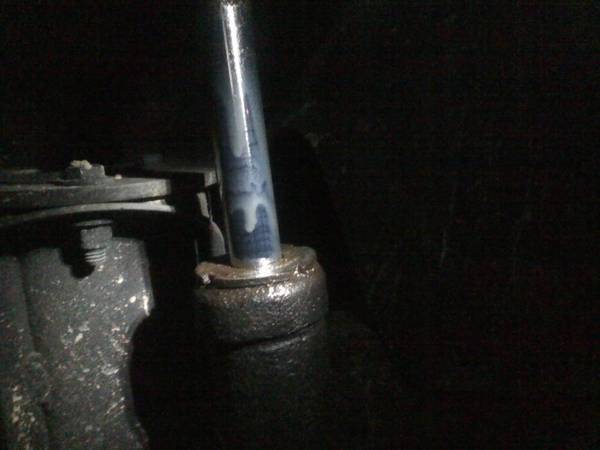 Installed my new
ebay
headlights and sidemarkers I got for Christmas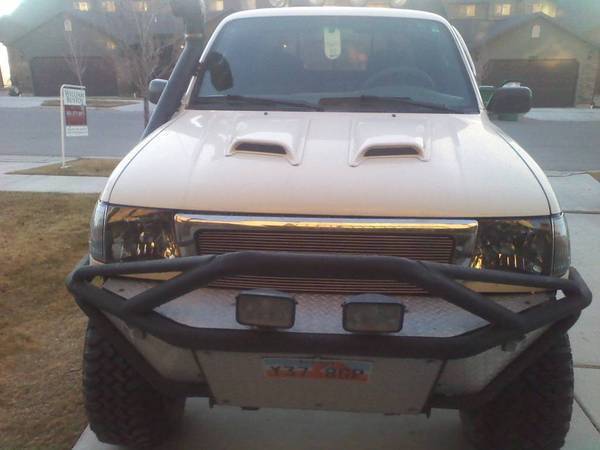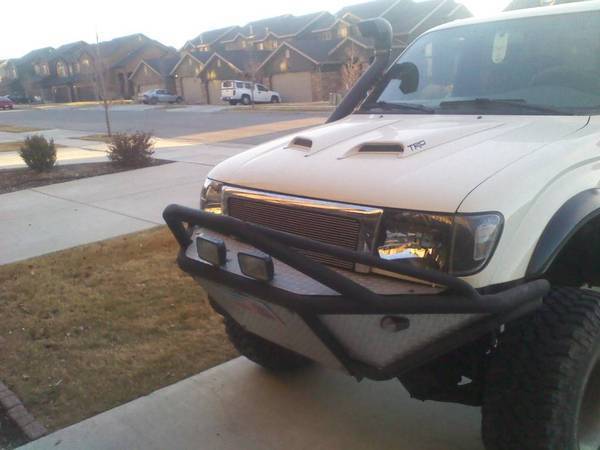 Did some research on fixing the POS Trailmaster lift, looked into the
Gabriel Inversion Mod
since Trailmaster no longer makes the struts
after checking out my lift closer, the Mod has already been done so It's as easy as replacing the struts
Bought my new struts, I'll go the cheap route for now and see how long they last, next set may be Billies!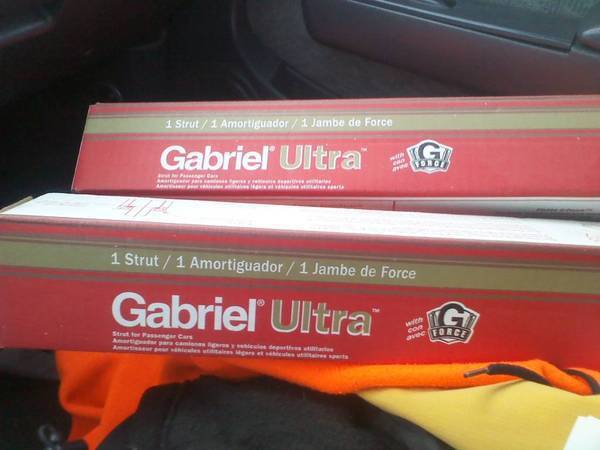 [/url]
Also removed my Subs/amp for winter (talk about HEAVY and AWKWARD! Next time I'm taking the SEAT out first), and had a full service oil change with Mobil 1 Synthetic 5w30
AND! Verified that my locker is in fact alive and well!
Also replaced my OEM Spare tire carrier that had a broken cable
*January 7th 2012 Update*
Replaced the struts on my Trailmaster Lift and did the "grey wire mod" for my locker now that i know it works. Also fixed a grounding issue i had with my
KC Lights
on the bumper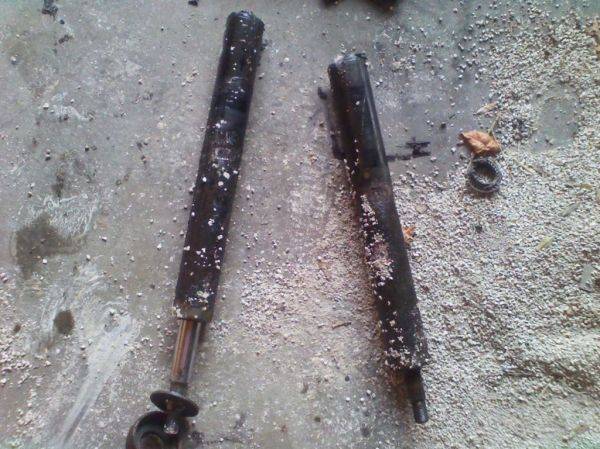 *May 18th, 2012 Update*
SOLD! Sold the truck to a guy for $8650, kept the sound system. Got $13.67 more than my loan payoff so I'm happy. Guy that bought it is from Farmington, I referred him here to the site so hopefully we will see him around here. It's been a fun truck to drive, wheel, and work on. I feel like I've given it a second chance at a good life and hope the new owner enjoys it more than i was able to.
Reason for selling? I need a 4 door, I was looking for a 4 door when I bought this truck so the search shall continue. Thanks to all of those that helped me!