Purchased around April of 2011 with 118,000km. I'm the third owner. I was originally looking for white but could not find one in good condition anywhere. Silver was my second choice. Many, many mods planned. I have a budget and usually stick to it so the mods will come slowly.
Completed
:
XD Addicts and 265/70R17 terra grapplers (Sold)
Nokian 265/70R16 Hakka 5 studded winter tires on stock rims.(sold tires)
TBC 245/75R16 Arctic Claw winter tires on stock rims (plastidipped) (sold tires)
Nokian 235/85R16 LT2 studded winter tires on stock rims. (Sold tires)
Nokian 265/70R17 hakka 7 studded winter tires on sequoia rims. (Current)
Nitto 265/70R17 Terra grapplers on 4runner trail edition rims.(sold tires)
Nitto 255/75R17 Trail grapplers on 4runner rims (sold tires)
BFG 285/70R17 Rugged Terrain on 4runner rims (current, street/hi way)
Muteki 265/75R16 Mud Hog on stock derped rims. (Trails)
BFG 255/85R16 KM2 on stick rims. (Trail tires once I get a proper lift, they rub way too much.)
Lift Right air bags
Tint (got pulled over,removed)
Sock monkey Zombie decal
Redline hood struts
Yakima Qtower roof rack
Deck plate mod
Painted rear drums black
Extended rear diff breather
Grey wire mod
6000k hi/low HID
Truxxx 3' lift/level kit (temporary)
Wet Okole seat covers
18"
magnaflow
muffler
BoxRocket bed rack
BORA 0.75" Wheel spacers
All Pro
sliders
TRD supercharger
(purchased, not installed yet. Going to add the
URD
7th injector and possibly mod the trans shift solenoids first. I also want to dyno before and after so that will cost a few bucks.)
Canopy off. I might put it back on in the winter. Not a big fan of them.
Had a thule from a previous vehicle, figured i'd try it out for camping. Can still access the bed from the sides but a little extra dry/secure storage.
New rims/tires about a month later. XD Addicts/Nitto Terra grapplers. Also sold the useless side steps for $100.
Tried with centre caps and without. Ended up going with the caps.
Got some tint on the front windows to match the rear. It turned out darker than i thought. We'll see if i keep it.
Also had them put on my sockmonkey decal.
Hood struts
Put my winter tires on.
Just in time. The roads were covered in ice, car bouncing off curbs all over the place. I had no problems stopping with the studded tires.
Did the deck plate mod. Doesn't look as nice as i'd like with the plate sticking out, but it works and i wasn't about to pay a re-stocking fee for a $20 plate. Over all it's the best mod i've ever done to any vehicle in terms of "bang for the buck". Truck sounds awesome and i think i'm getting better mileage to. Throttle response is noticeably better.
Plastidipped stock (winter rims) This pic was taken 4 months after I sprayed them. They held up well over the winter.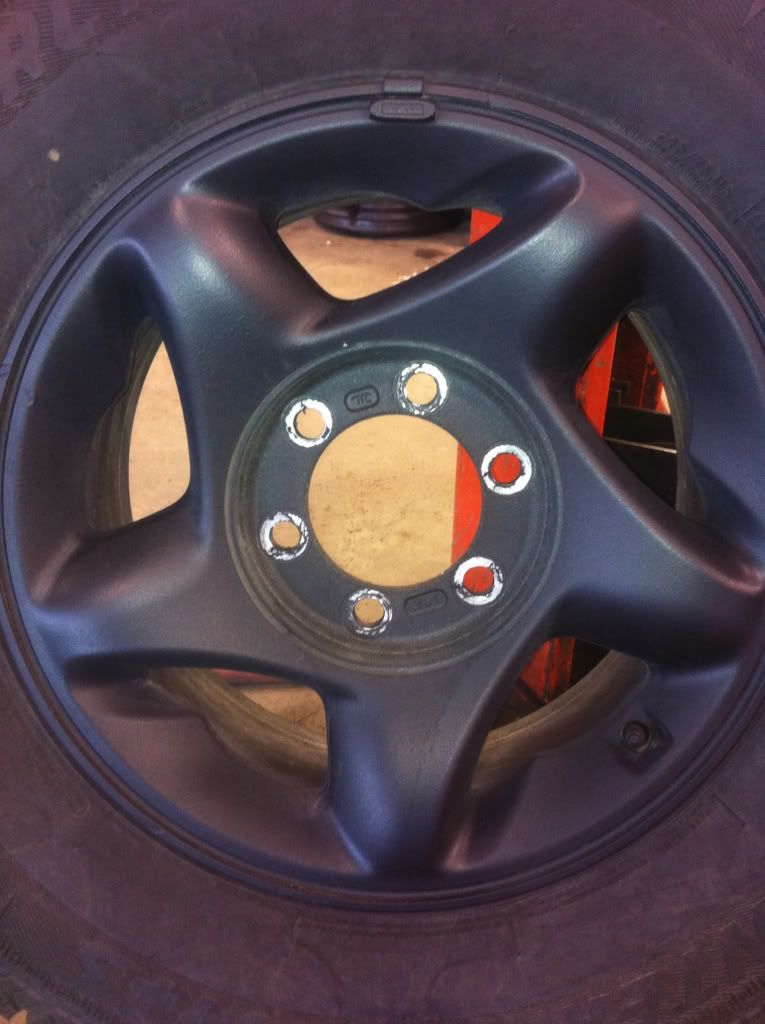 TRD supercharger