I am really excited to be 'settling down' with a truck.
My partner bought this truck for me a month ago and drove it 450 miles the first day we owned it and I found a bunch of grease hanging around the cv axle and we ended up changing that out.
The plan is to have this truck be our second home on the go while camping and off-roading. I would love to catch some air at some point! And it has always been a dream to slosh in mud and get it all over the body of the truck.
This is my very first 4x4.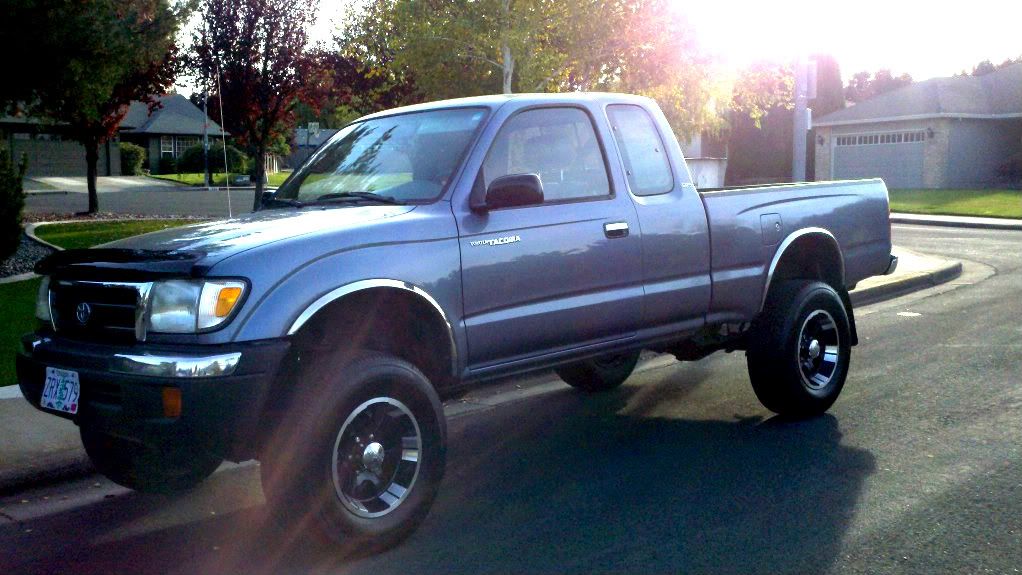 There was a beaten up toyota drop-in bed liner when I got it and a toolbox and I just took both of them out yesterday so I could get it Line-X'd today.
When I took the drop-in bed liner out I found lots of dents, especially on the tailgate. The tail gate is pretty messed up.
I was extremely surprised how the guys at the local Line-X cleaned the bed and tailgate up. I am very excited to have the spray in liner, I have always admired it in other trucks.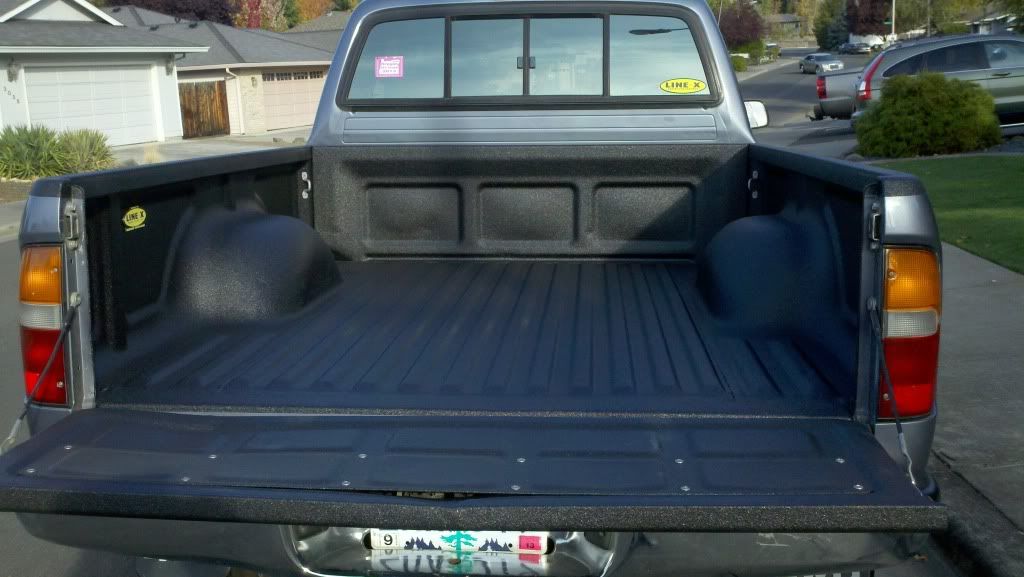 Specs:
Tacoma Extra Cab 2.7L 4Cylinder 1998 SR5 4X4 186,000*
Automatic Transmission
TOYO Open Mountain M/T Tires
Known Mods:
Redneck Drilled Holes in Air Intake Box (Instead of Deckplate Mod
)
Tuff Country 3" Lift
Mountain Ryder Extreme Foam Cell Shock
Finally Bought:
A.R.E MX Camper Shell with Windoors!
List 'To Do':
- Relentless Fab Bumpers
- Replace stock Toyota emblem with Antlers emblem
- Tint front windows
- Black Tailgate Emblems
- New Headlights
- Off-Road lights
- Winch
- New manifold and Exhaust
- Bilstein suspension
- Replace cracked windshield when it gets bad
- Solid Axle?
There is alpine speakers but the sub was taken out, wiring is still in tact I think. So I would like to make the sound right at some point when I have money to burn.
I am looking to replace tires too, this will be a first for me. I would like something bigger or knobbier.
Also, the seal holding the chrome trim around tire wells is cracked, I would like to fix that at some point.
-----
February 8, 2012
Installed new Yellow Top Optima Battery and changed out the NGK spark plugs and wires for OEM ones.
Changed starter and fuel filter.