Sold my pride and joy project of 3 years 240sx and decided its time for a change.
So i picked this up about a month ago for $3600. had 164k on the clock, 5speed, 2.7L, which is what i was looking for. the minute i saw the color i had to have it. Bought it and drove it home that night, there were a few problems with it tho. the left leaf spring had broken leafs, the power steering pump squeaks and the pulley wobbles, the oil pan seems to be leaking around the welded seam, theres a bit of rust bubbling on one rocker panel. the front bumper has a dent, and the underside looks like its seen better days. but all n all, it drove perfectly and it had everything i had been looking for at a decent price.
heres the night i brought it home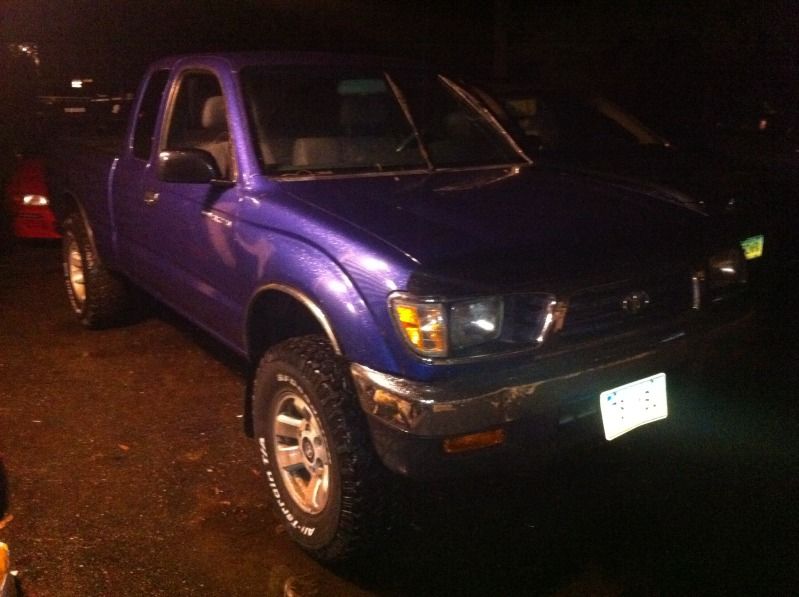 so $330 later, i had it registered (damn ct dmv)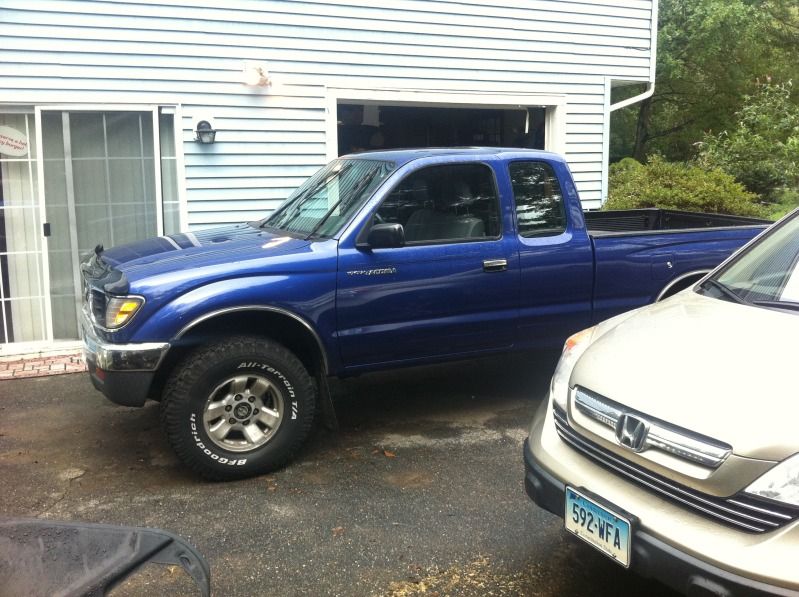 first step was to fix the suspension. after noticing all the shocks leaking and rusty i decided to just start replacing everything.
since im new to trucks in general i wanted to talk to someone about what i needed. i called wheelers and had a convo about what was best to do.
I decided to order their 5 leaf pack, the AAL, front billie 5100s, u bolts, and front diff drop. that basically left me broke for a while. luckily my buddy had a set of skyjacker rear shocks that he gave me so i didnt have to feel guilty putting the stock leaking rusted POS's back on.
Installed the fronts by myself on my day off and then did the rears with my buddy the next day
keep in mind this is about day 8 of owning the truck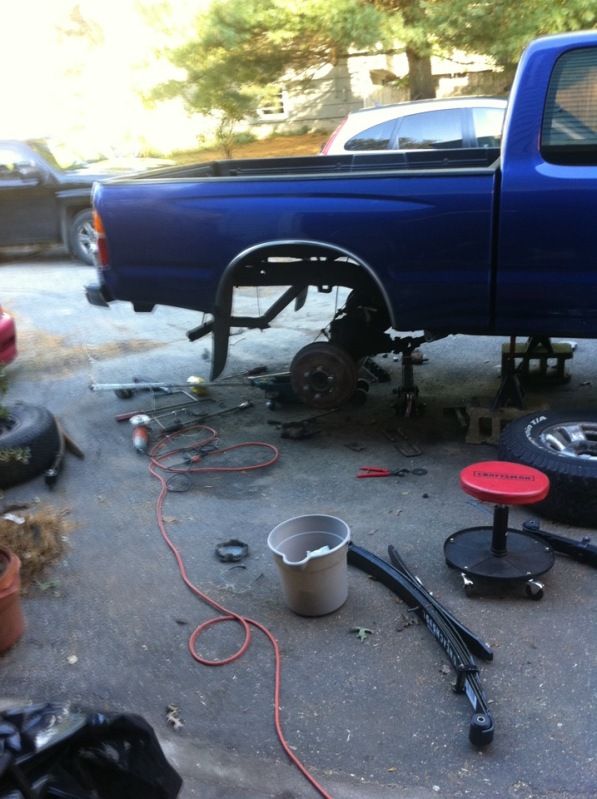 drove that around for a week and im very happy, the rear shocks are def stiffer than the front but im not that bothered by it since the ride is waaaaay better than it was before.
So a few days later i was talking to my good friend at work, who used to have a 94 with a 6 inch lift and all those do dads, and i was telling him how i was looking for camper shells on craigslist. Im glad i said something since he had one in his back yard behind his shed that has been sitting there for 3+years. he let me have it for free since he has no use for it any more. the front window is missing but free is free and its somewhat better cause now i can fit my fishing rods all the way in and have the tips go threw my sliding rear window.
we had to shim the rear of the cap with thing pieces of wood and remove the bedliner on the tailgate so it would latch.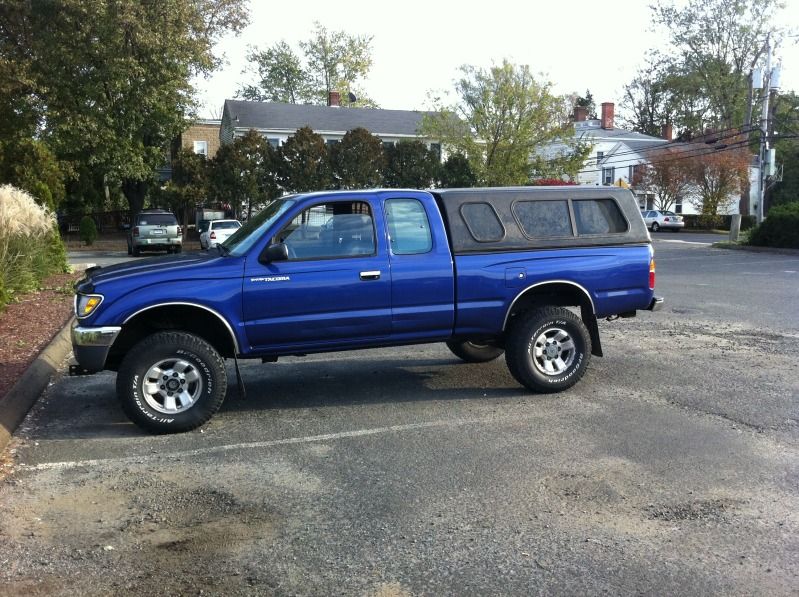 so thats how it sits now.
im thinking about purchasing the ultra gauge and that dry flow
air filter
everyone keeps going on about so i can try and up my gas mileage a bit. any suggestions on that would be appreciated.
i picked up a brush guard on Craigslist for $50 and just received my 35w dual beam HID kit. im still waiting for things to come in the mail tho. hella 500ff with Hids i bought from a member on here, led interior lights and led reverse lights. and next week im picking up a set of wheels and 33inch bfg mud terrains km2 and a used but good condition front bumper. just gotta decide if i wanna plastidip all the chrome bits or not. so stick around. this will be an ongoing build.
also if anyone would like to suggest some preventive maintenance im happy to listen. Im a Honda tech and know my way around cars. im just not familiar with the common weak points on these trucks