I figured I should start one of these and get some feedback. Well my truck is an 02 double cab, non trd, 4x4. I'm the third owner and bought it bone stock with 63,000 miles on it. Initially all I wanted was a modest lift that would acommodate a 32" tire. So I went with a 2" spacer lift: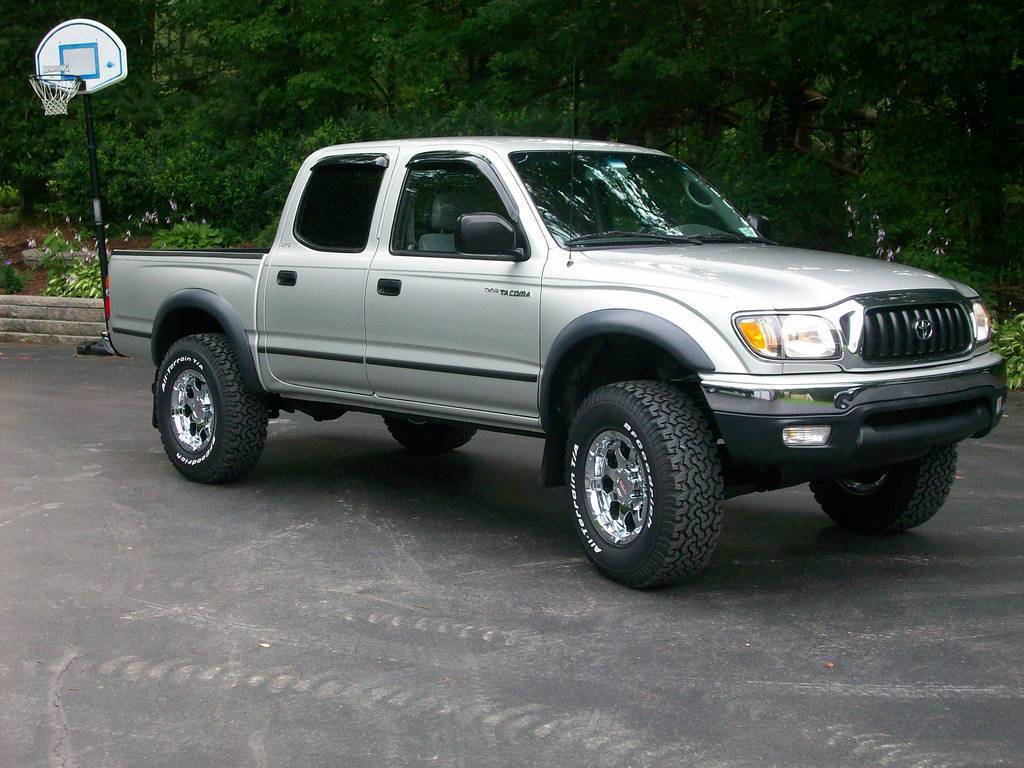 this is the truck with just a 2" spacer up front and nothing in the rear. I didn't mind the look and a minor bro lean. What did bother me was bouncing for a few seconds after every bump I went over. This led me to think I needed new shocks/struts to dampen the preloaded springs. That's about the time when I found tacomaworld.
So then I upgraded to the 5100's with an 1.5" block..I don't think I have pics. To be honest I don't exactly remember the progression of lift combinations I have had.
I believe this pic is with the 2" spacer and a 1.5" block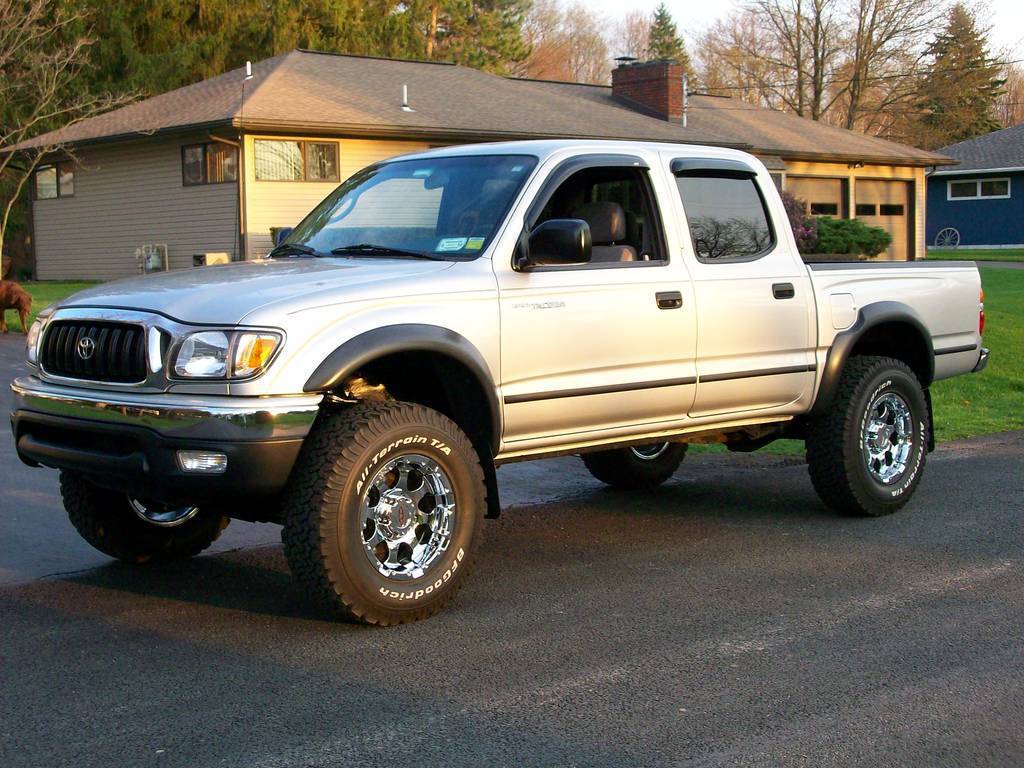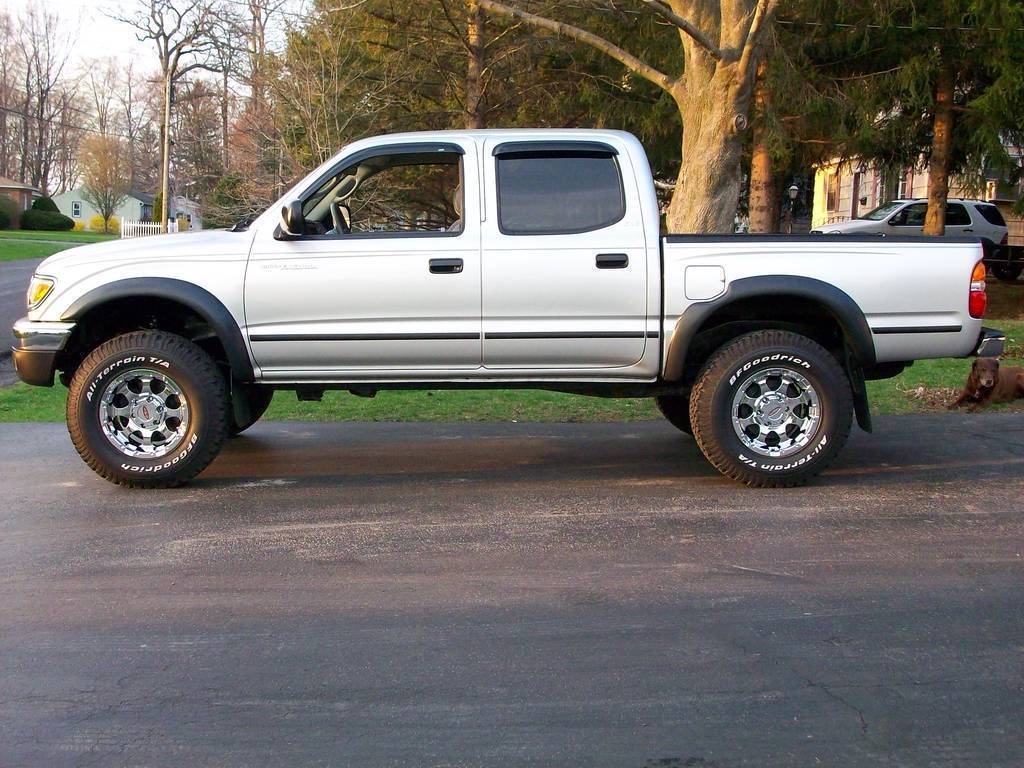 Then at some point..when I got the new 5100's I ended up stacking lifts(big no no)..I didn't know at the time. I wanted about a 3" lift so I had the 5100's set at the middle setting AND the 2" spacer in there. I also added an 1.5" aal to the 1.5" block.
This is a picture of that lift with my new cap(scored for $200) and my small winter tires(I don't run my chrome wheels in the winter)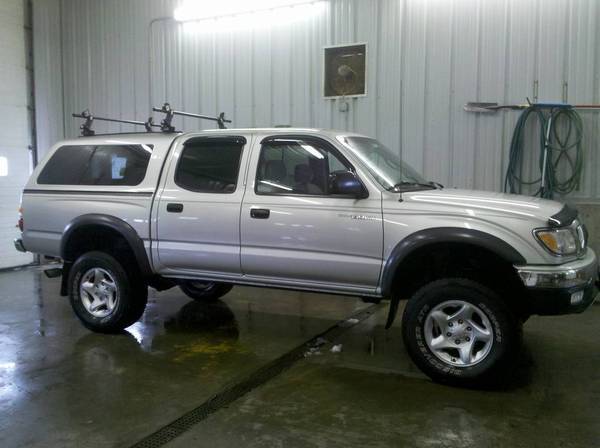 While I had that lift in I wanted to have the same size winter tire as I had in the summer (265/75/16) or 32"..so I gave my coopers to my friend and bought some Goodyear wrangler authorities off of him: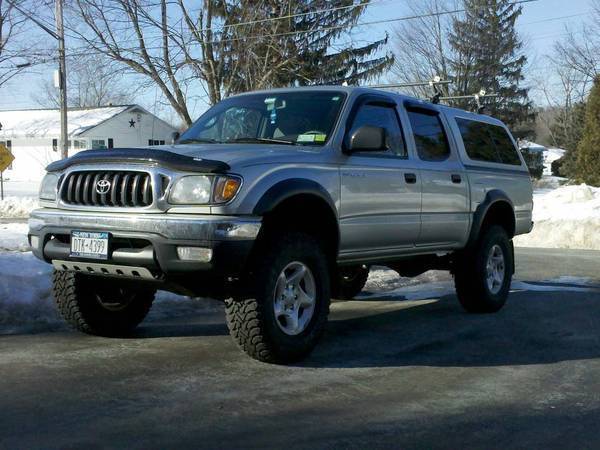 I think this is right so far..
Then I found that the stacked lift I had was not recommended(also rode terrible) so after some research on TW I upgraded my IFS to the 620lb eibach coils. I also got new bushings,strut bearing plates, and a diff drop: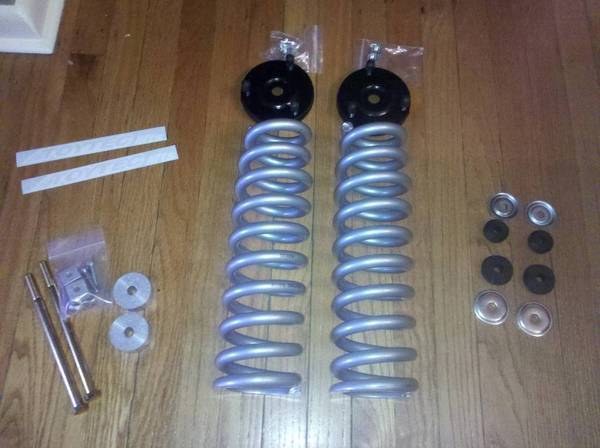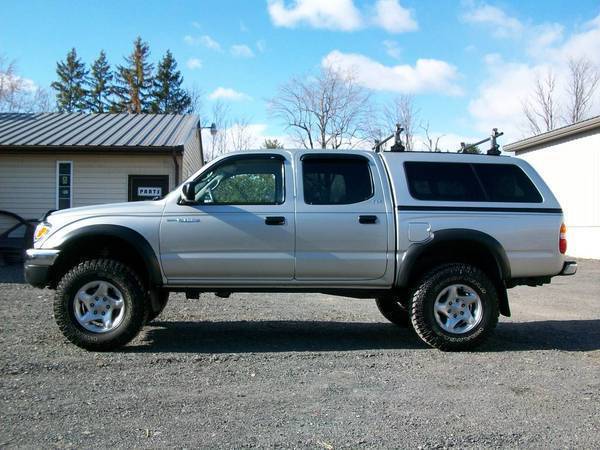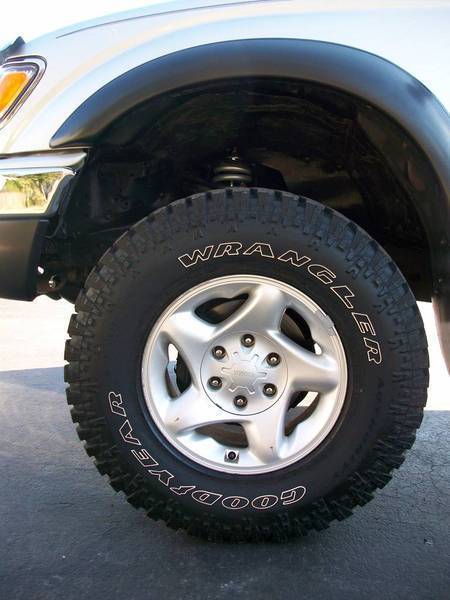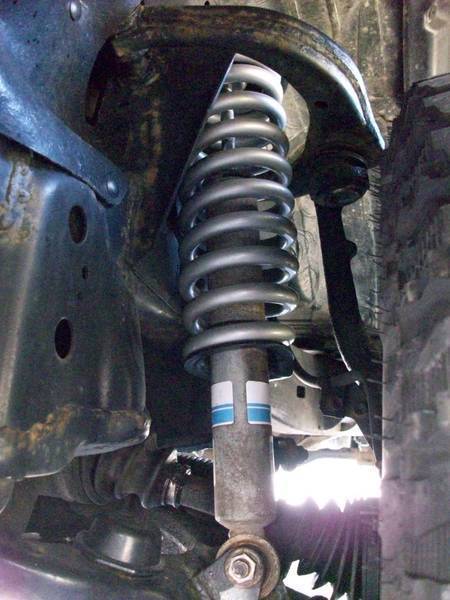 Here's a pic of that lift with my summer wheels and tires: chrome
moto metal
955's with BFG TA 265/75/16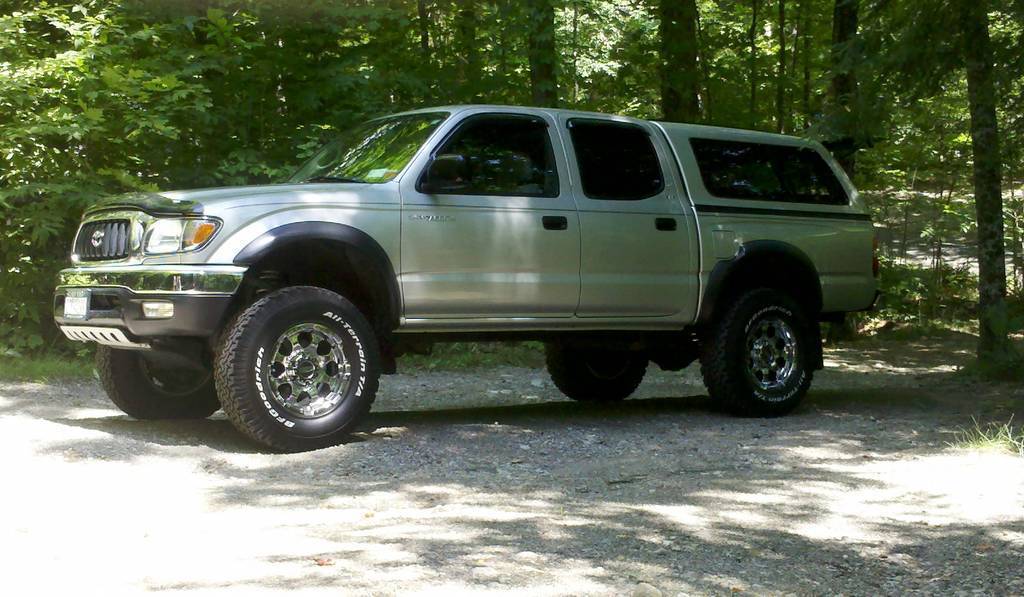 Then after having the GY authorities, I liked the look of them so much I wanted them on my moto metal wheels...So I had them swapped. After swap: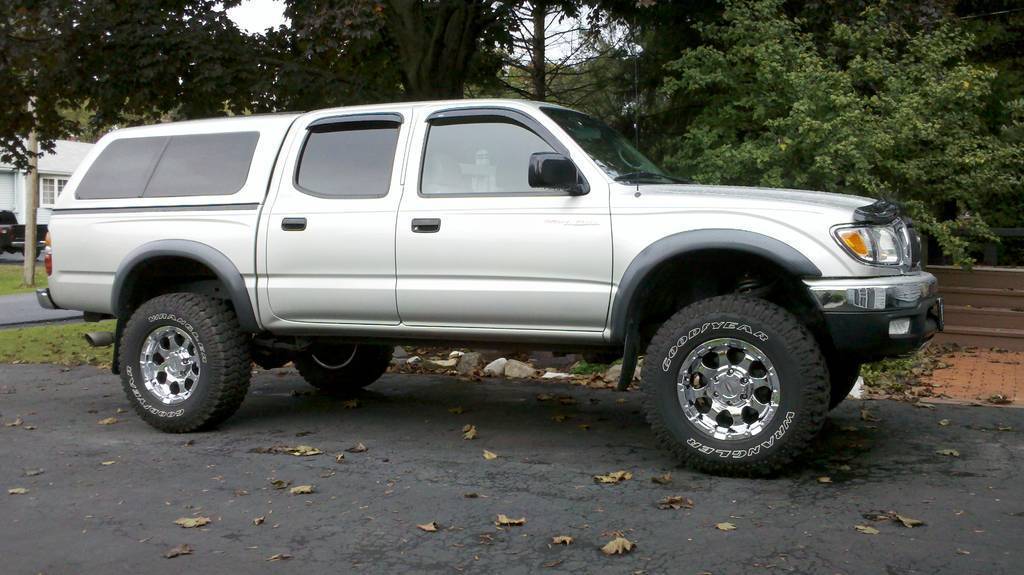 That was in the summer, I run the bfg's in the winter on my factory wheels.
Overall I am just looking for a capable truck. I wanted something with a modest lift to acommodate a larger aggressive tire. I am all about "enhancing" my toys so that's why I went for the upgraded suspension. Nothing crazy just reliable, capable if needed, and nice looking.
Current mods:
misc:
Kobalt low profile toolbox
Tinted front windows and windshield strip
avs
bug deflector
and window visors
10" kenwood sub
4 new alpine 5x7" speakers
Kenwood head unit
Raptor liner spray in bedliner
fiberglass ARE camper top(painted silver for $100)
new corner lights
Toyota front asthetically pleasing "skid plate"
husky liners front and back
wheels and tires:
summer: 265/75/16 Goodyear wrangler authority on chrome moto metal 955 wheels(16")
Winter: 265/75/16 BFG AT on factory wheels
suspension:
eibach coils/5100 adjustable strut @ 0, diff drop
Rear: Factory leafs with a 3" Tuff country AAL, wheeler's extended rear brake line. Custom made BPV bracket, Bilstein 5100 shocks.
Performance:
Deck plate mod, synthetic oil, occasional sea foam..regular maintainence
Future mods:
Light racing UCA's - Installed
energy suspension steering rack bushing kit- Installed
trail gear rock sliders-purchased
color match chrome grill to silver-Done
Some mild flexing up at my camp