2004 Tacoma 2.7L Double Cab PreRunner

Similar to what it looks like today...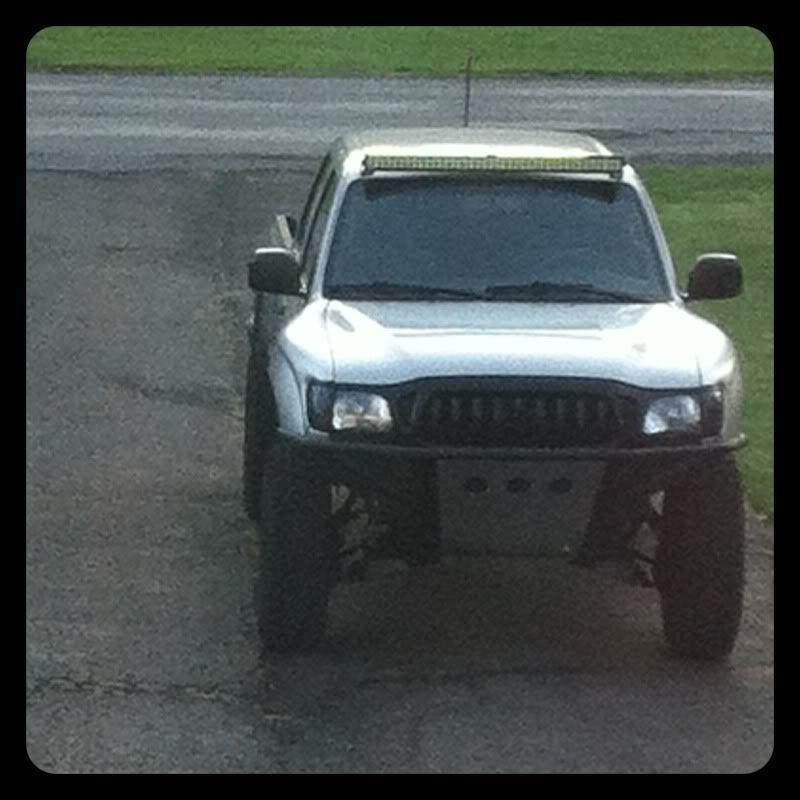 Armor and Body:
Avid Offroad
Front PreRunner Bumper
All-Pro Offroad
Rear Wrap Bumper
BAMF LCA Skids
Glassworks 4.5" Front Fenders
Wheels and Tires:
15" Stock '99 Toyota Wheels
33x10.5x15 BFGoodrich All-Terrains
2" All-Pro Wheel Spacers (front)
1.5" All-Pro Wheel Spacers (rear)
Sound System:
Kenwood DPX503 Double DIN Head Unit
600w MTX Amp
1200w Pioneer TS-SW2501S4 Shallow Mount
CarAudioFactory.com Sub Box (behind rear seats)
Kenwood Bluetooth Adapter
Suspension:
Bilstein 5100's (front and rear)
Eibach 620LB Coils
Fabtech AAL
Performance:
Deckplate Mod
AFE Pro Dry S
Air Filter
Magnaflow
18" Muffler w/ Turndown
Electrical:
Cobra CB Radio w/ 3' FireStik FireFly
6000k 55w DDM HID's (removed)
Optima Red-Top w/ Blue Torch Fab Battery Box
Raptor Mod Amber LED's (removed)
Red LED Dash/AC Panel Conversion
LED Panel Dome Light Mod
Blue Sea Fuse Block and Circuit Breaker
OKledlightbars 40" LED Bar w/ LabRak Roof Mounts
Other:
Custom Fabbed Bed-Bar with bed lights, Hi-Lift/Fork Mounts, and Full-Sized Spare Mount
Line-X Spray-In Bed Liner
Tinted Front/Rear Windows
eBay
BHLM Headlights/Corners
eBay Black/Red Tinted Tail Lights
Relocated Windshield Washer Reservoir
More Pictures on Following Pages!
Here's the day I got the new truck (July '11), next to my '99 Tacoma. And the last time I saw the '99 (stripped of most mods) at the Toyota dealership.
(frame-rust R.I.P.)
Next was to transplant the parts that I could salvage to the new truck (in a short amount of time)...
Bed Setup w/ FireStik FireFly Antenna Mount:
Installed an 18" Magnaflow w/ a turndown before the axle...
Replaced 3" Spacer Lift with Bilstein 5100's and 3" Eibach Springs...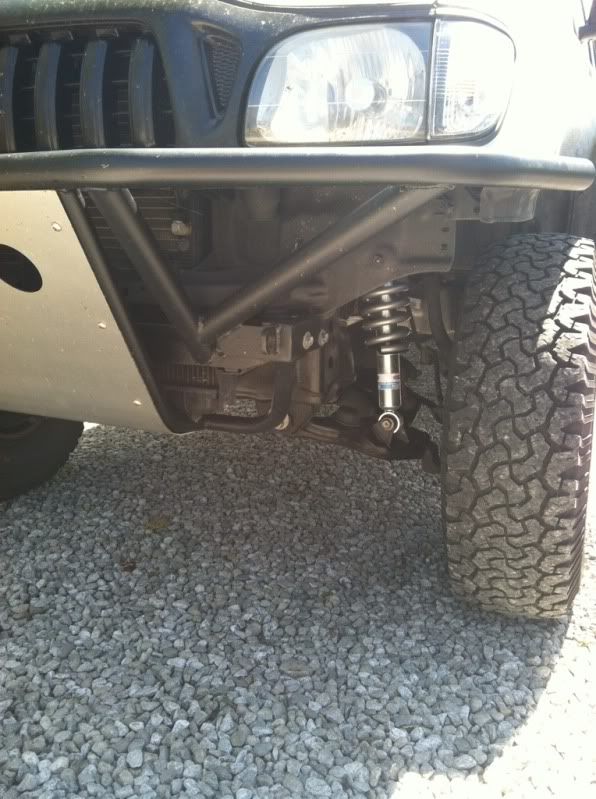 Added some All-Pro Wheel Spacers and painted calipers...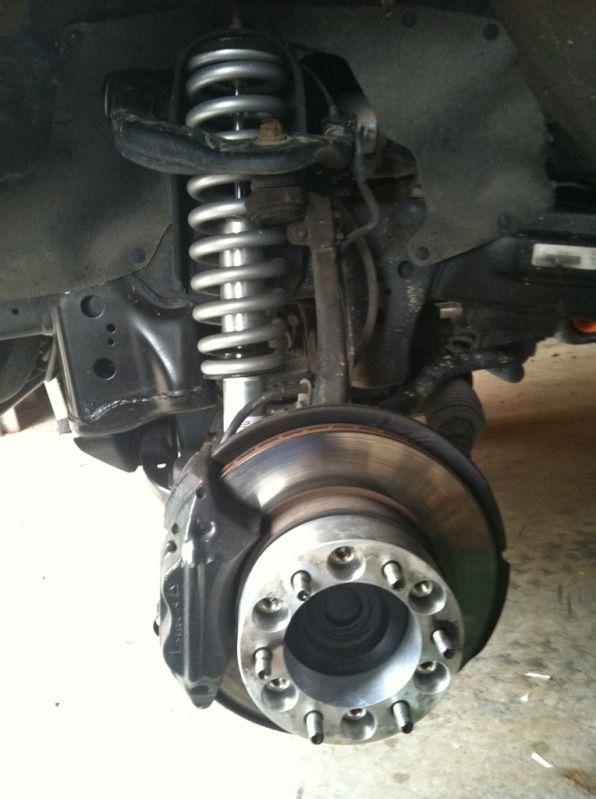 Left (w/o wheel spacer) and Right (with wheel spacer)
Added black headlights and corners...
Tinted my tail lights and then replaced them with eBay lenses...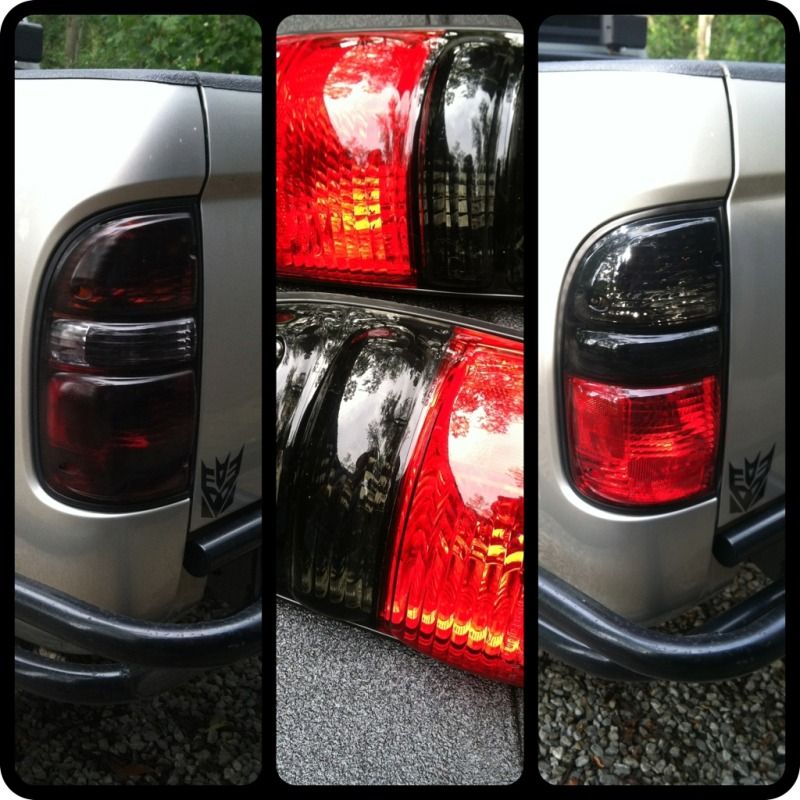 Added the "Raptor Mod" LED's...
Fabricated a Tire-Gate style tire carrier...
Painted and Installed BAMF LCA skids...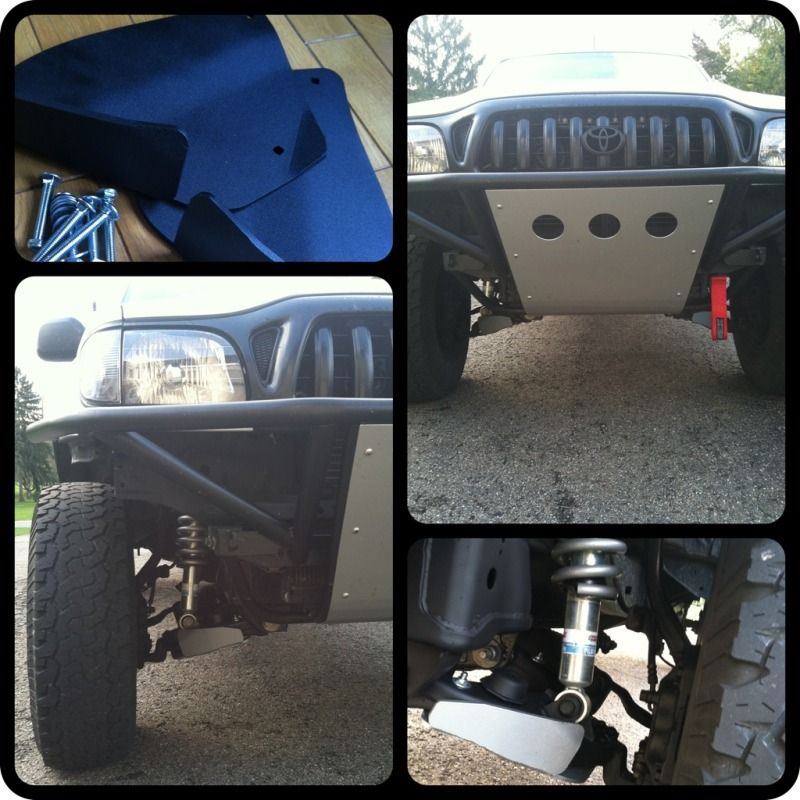 Cool Companies:
Avid Off-Road
All-Pro Offroad
DownSouth Motorsports
Toytec Lifts
Crutchfield Audio
Bay Area Metal Fabrication
OKLEDLIGHTBARS.com