2001 Toyota Tacoma
SR5 4X4 V6 3.4L 5VZFE 5-Speed, 198,000 mi
Purpose: Daily Driver / Aggressive Off-Road
Front Suspension:
Shocks – Bilstein 5100
Adjustable Coilover kit –
Toytec
1/4" Alum. Spacers –
Wheeler's Offroad
Coils – King 14" 700lb
Swaybar bushings: Energy suspension
Swaybar spacers: Custom
Front Diff Drop Kit – Wheeler's Offroad

Rear Suspension
:
Shocks – Fox 2.0 w/Resi 10" travel
Springs –
All-Pro
Expo
Rear Shackles – Old Man Emu greasable
Main Eye Bushing – Daystar greasable
Bump Stops - Timbren
Wheels:
Rims: American Racing Outlaw II
15"dia x 10", 4" Backspacing
Tires: BFG All-Terrain KO, 33" x 12.50"
Brakes:
Front Rotors: Power Stop, Drilled & Slotted
Front Pads: EBC Green
Brake Lines: Goodridge Stainless Braided (Wheeler's)
Fluid: ATE Super Blue Racing
Rear proportion valve relocate: Custom
Body:
Front Bumper: ARB Deluxe Winch Bar
Bed liner: Rhino Liner
Toolbox: UWS Gull wing, carpeted
Fenders: Bushwacker cut-out
Emblem: Devil Horns by Andre - Polished Aluminum
Bedside Decals: SR5 Off-Road/Punisher by Sock Monkey

Lighting:
Headlights: TRS Morimoto D2S HID
Philips 85122 4300K
Off-Road lights: (2) IPF 900XS, 100W Halogen
Off-Road lights: (2) ADV Monster LED Model 60, 3600 Lumens @ 28W ea.
OTRTTW switch
Reverse lamps: LED
LED under the hood lighting - engine bay on/off switch.

Air Intake:
Air Intake Tube – K&N Metal 77 Series
Filter: Afe Pro Dry S
Pre-Filter: Custom Outerwears Gore-tex

Exhaust:
Muffler: Flowmaster 817519 Cat-back
American Thunder

Recovery:
Winch: Warn XD9000 wireless
Gear: ARB Shackles, ARB snatch block,
ARB tree saver, ARB snatch strap
Shovel, Pick-Axe
Jack: 48" Hi-Lift

Electronics:
Stereo: Kenwood KDC-MP342U
Engine Monitor: Ultragauge OBDII
750W Power Inverter

Survival:
First Aid Kit
Hatchet
Fenix TK-41 - LED Flashlight
Ka-Bar - Extreme Fighting knife
Gallon water / Tin cup
Fishing pole / tackle box
Light My Fire - Fire striker / Tinder
Gore-tex Jacket / Gore-tex Wide Brim Hat
Powerbars
Cordage
Toolbox Contents:
Recovery Gear
Metric Socket & Wrench Kits
Metric Tap & Die kit
Tire Plug Kit
Spare Nut & Bolt Kit
Fire Extinguisher
Timber Choker
Hack Saw
Heavy Hammer
Electrical Wiring kit
SuperFlow Air Compressor
Spare Parts
Vehicle Fluids

Misc:
Rear Diff breather relocate: Custom
All Synthetic Lubricants: Lucas Oil, Amsoil, SuperLube
Yeti Bottle openers on back of toolbox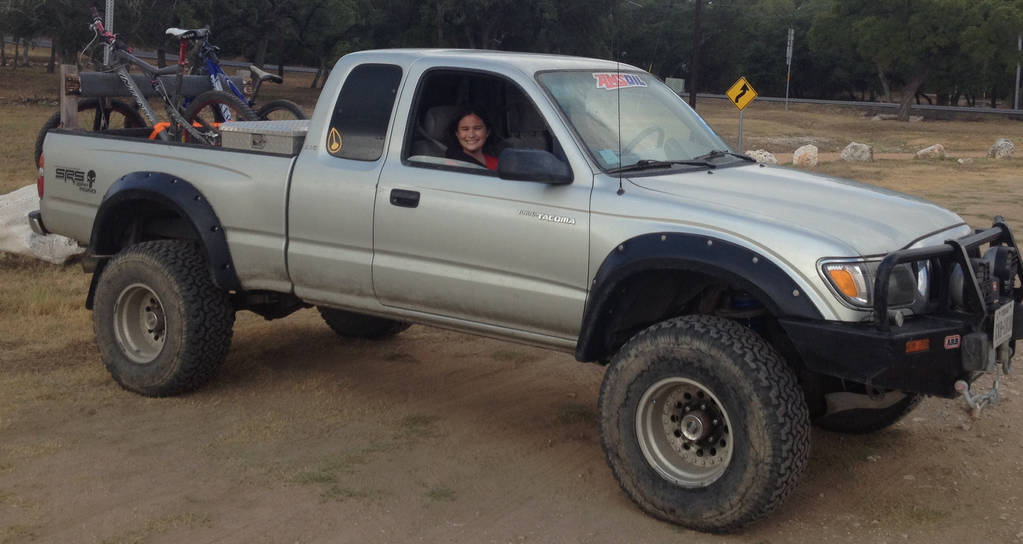 I brought this '01 Tacoma home on 11-05-10 out of New Hampshire. It had 169,145 miles on it at the time of purchase.
The previous owner had the frame replaced on 09-04-09 and it had 154,300 mi.
During the frame replacement, Bilstein 5100s were added all around. They kept the stock coils and had the front shocks set at the top notch for a 2 1/2" lift, OME Dakar leaf packs were installed in the rear. A Gibson cat-back exhaust was also installed at that time. It also included a Rhino lining in the bed. It sat on 265/70 R16 BFG AT T/A KOs
05.26.13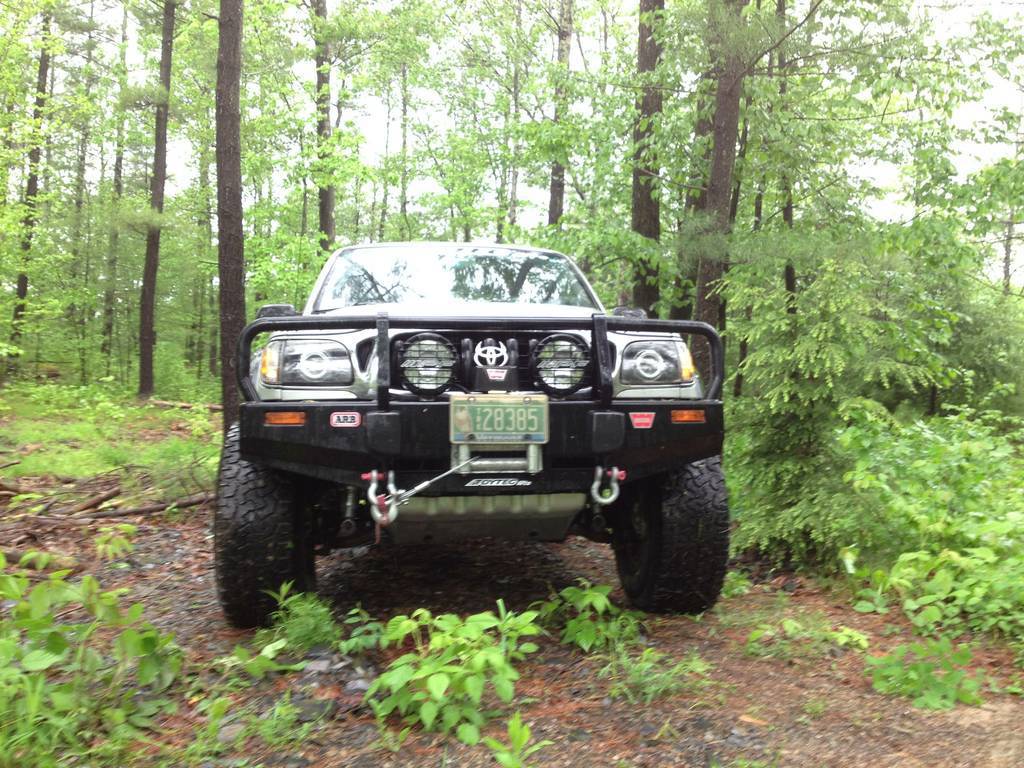 05/2012: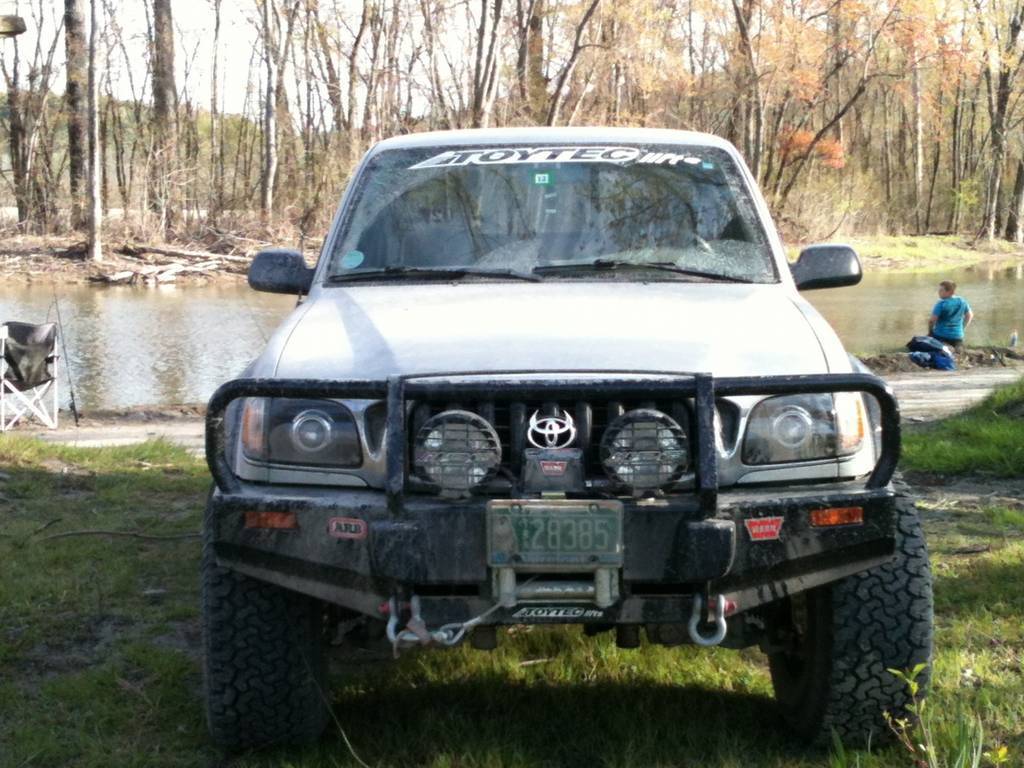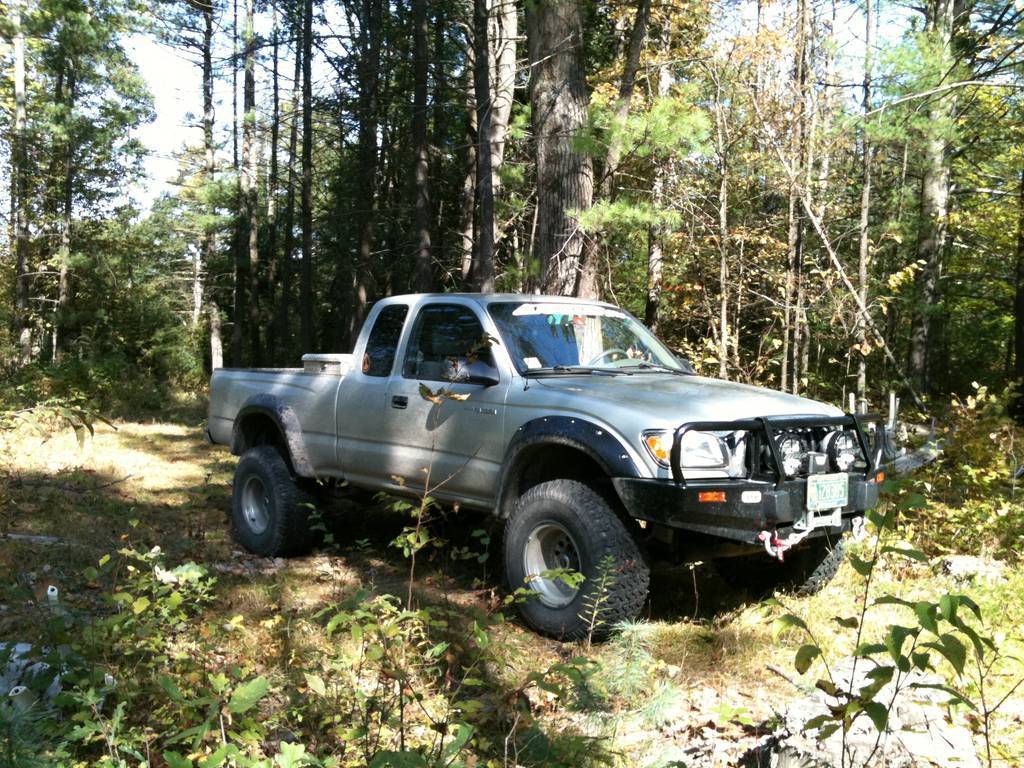 I did not take a lot of photos in the beginning as that was before I discovered TW. But this is one of the earliest photos I have: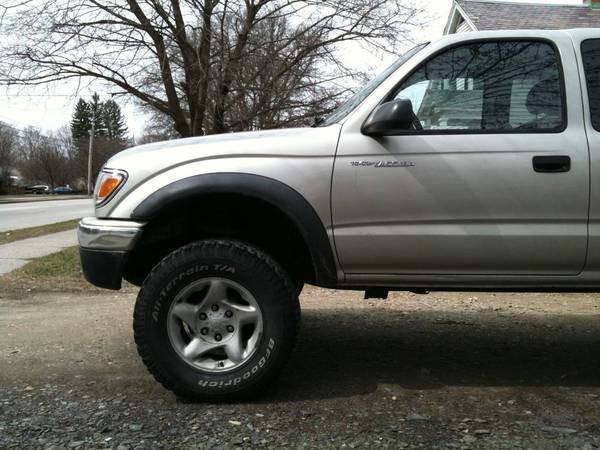 On my test drive I noticed the clutch slipping, so I got the seller to knock $1000 of the original price. A new clutch was the first thing I replaced.
My first real addition was a Gull-wing tool box from UWS. I did not want my tools to rattle around inside so I lined it with indoor/outdoor carpeting from
Home Depot
. I worked out the patterns using paper templates until everything fit just right. I hot glued the carpet pieces in place.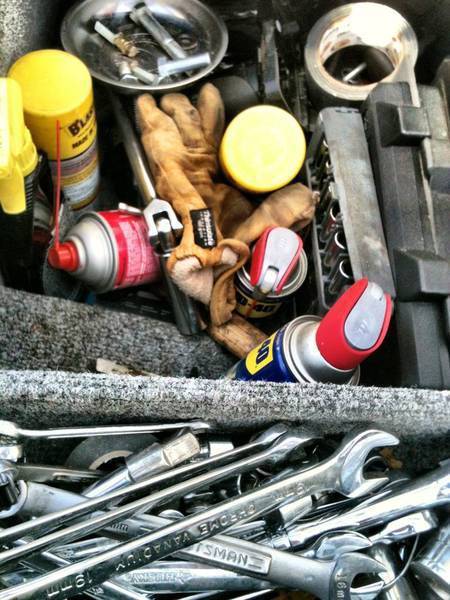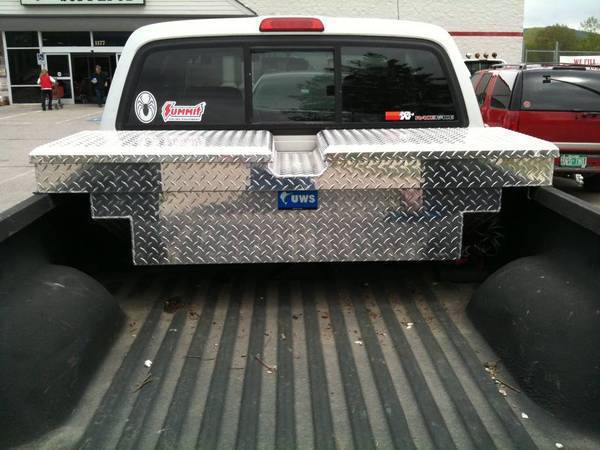 Snow Shelf Mod:
The step on the rear bumper was really rusting from the Northeast winters, especially where the hole for the receiver ball was.
I used an angle grinder to remove as much rust as possible, then primed the area. I filled all the cavities including the hole with Bondo. I then sanded it down and primed again.
Finally, I got a piece of the rubber self adhesive step material and cut the desired shape and applied it to the step.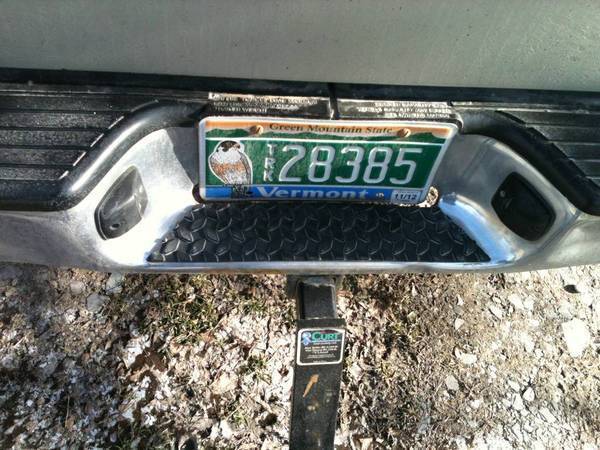 My next addition was 1.25" wheel spacers from Spidertrax and new Powerstop slotted and drilled rotors(no picts of install, sorry)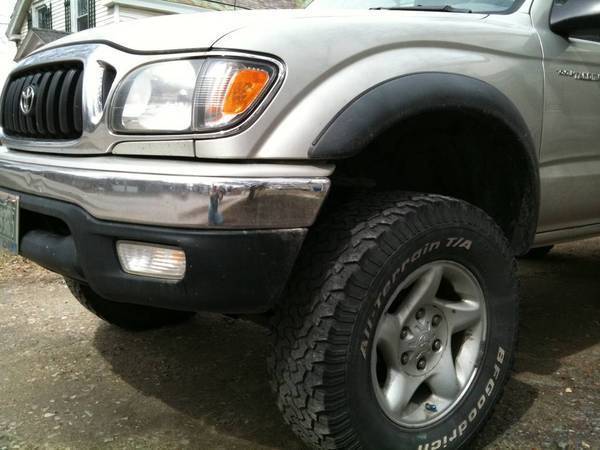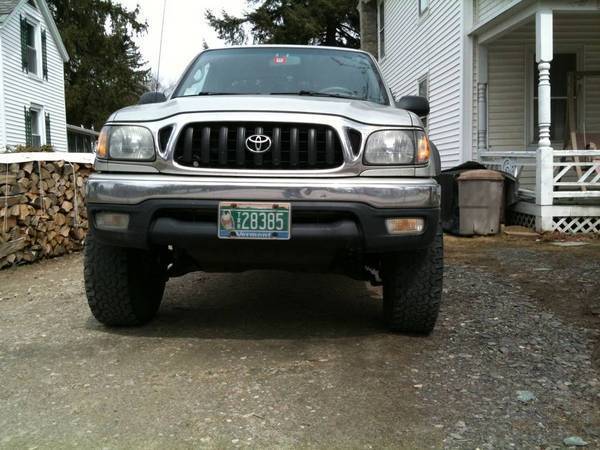 Next I installed a K&N series 77 CAI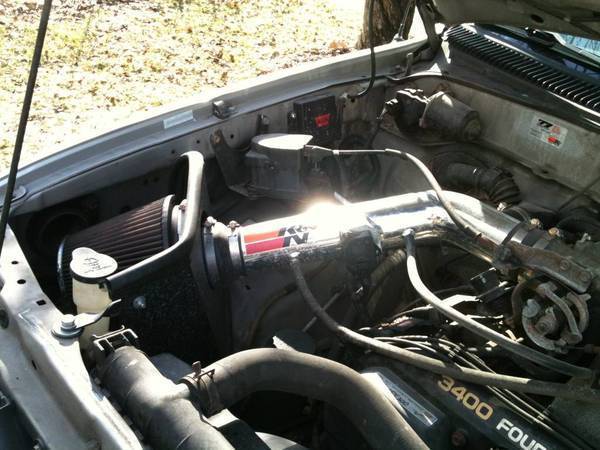 I picked up a used set of 33x12.50s on Outlaw IIs 15x10 with 4" BS from a local Toyota owner. They sat around until I picked up my Hi-Lift jack.
I secured the Hi-Lift under the toolbox with tie down straps and a padlock.
I used tire chocks to keep it off the bed.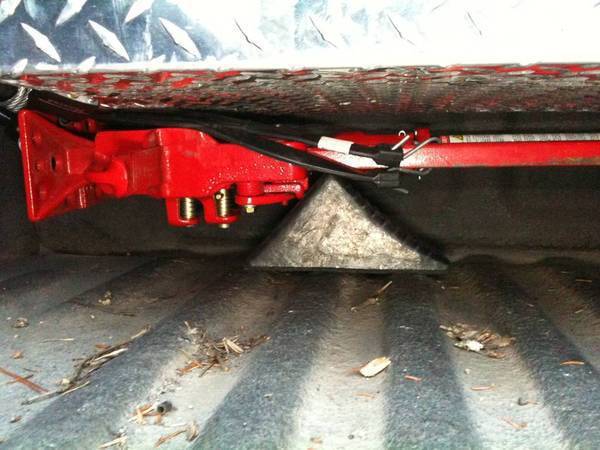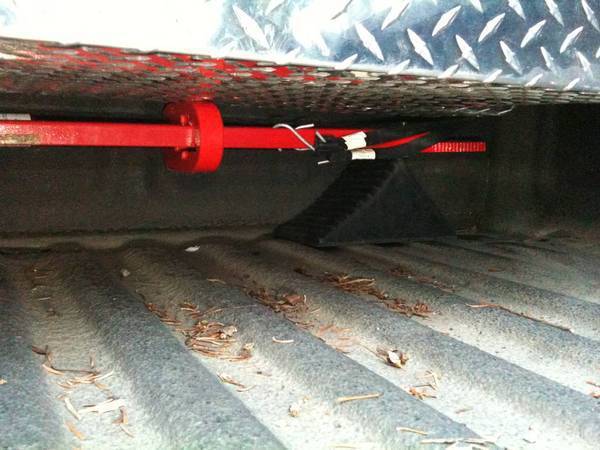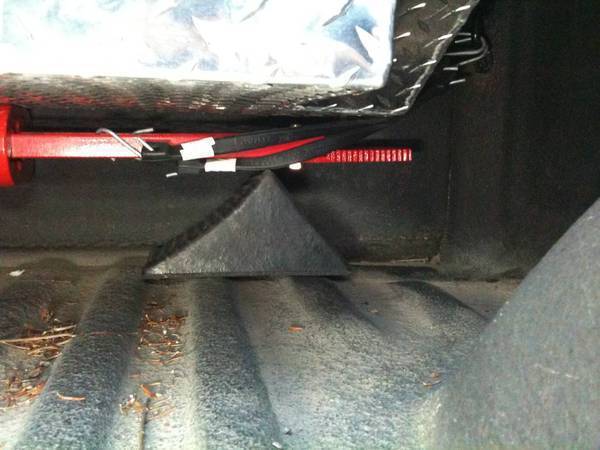 I removed the Spidertrax, as the wheels had 4" BS. Here are the wheels finally installed: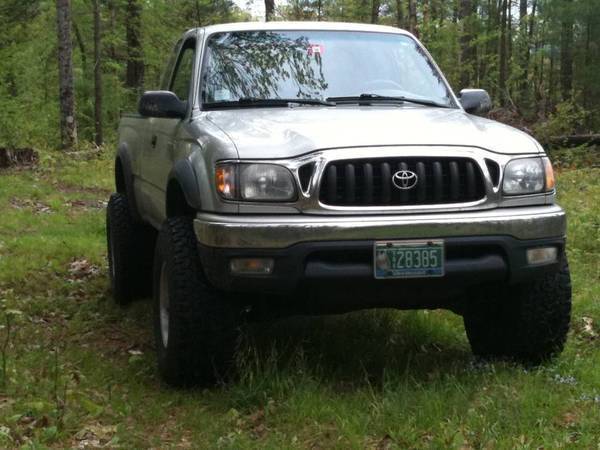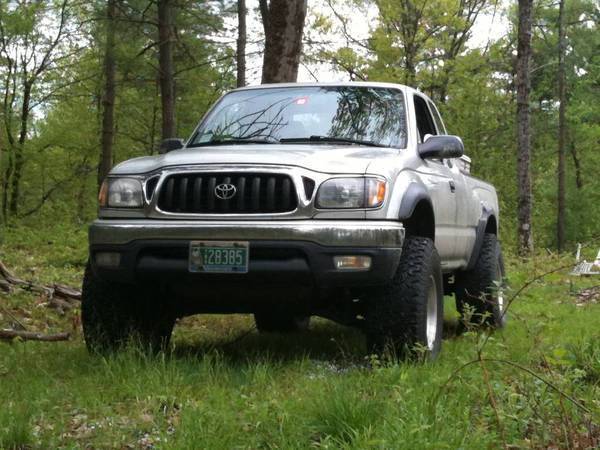 I found out real quick, I needed to trim to bottom corners of the front bumper as well as pound down the pinch weld in the rear of the front wheel wells.
I then picked up as set of Bushwacker fender flares.
This is the only picture I have of them in sequence. This was on my first outing with a used Jon boat I picked up...I loaded it like a retard..have learned since then.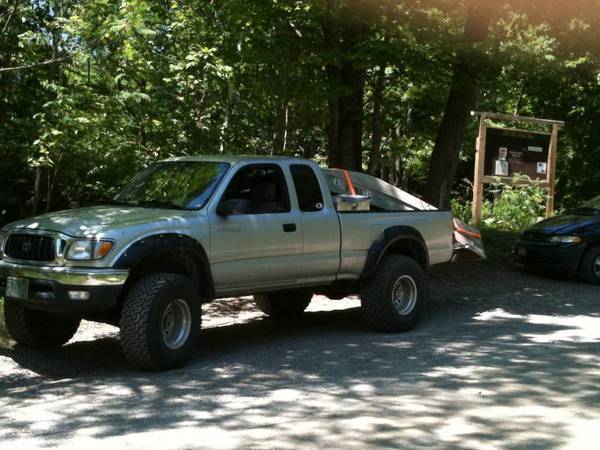 Next came my ARB bumper with IPF 900XS lights and a XD9000 Warn winch with remote control.
For some reason the holes to mount the license plate bracket were misaligned on the bumper and the supplied bracket would not work.
[insert hole picture here]
I fabricated a new license plate bracket using of a pair of aluminum "L" channels riveted together with offset holes.
[insert bracket pict here-need to take]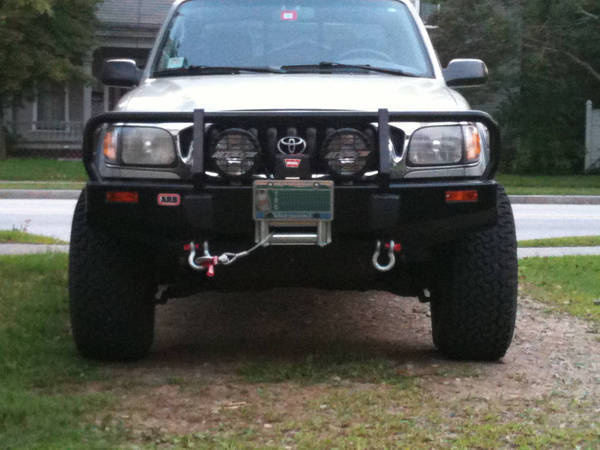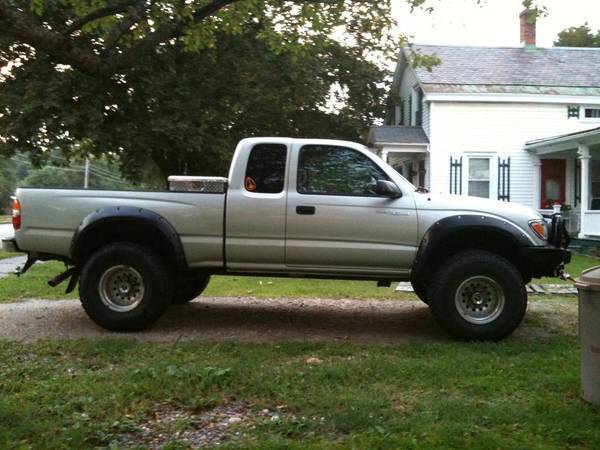 It was way too much weight for my stock springs and 33s so I switched back to my 265/70s until I could get my front suspension upgraded.
I picked up a set of Toytec coilovers using the Eibach 620lb springs.
After taking the original coils off the 5100s I realized the shocks were just too ugly to pair with the new Toytec kit..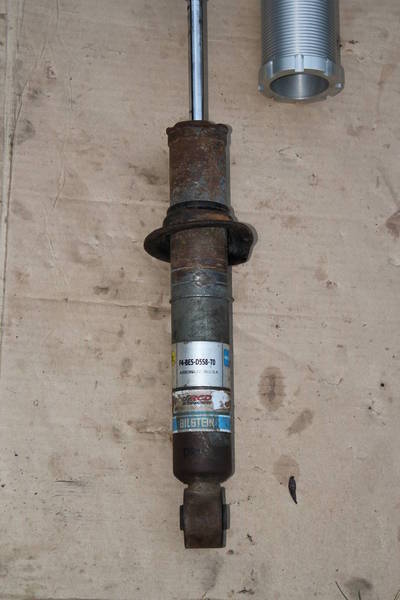 So I decided to refinish them. I knocked most of the rust off to install the sleeves, then went to town sanding, priming, painting and clear coating them. I installed new top mounts and bushings. I decided to paint them with the sleeves on as not to scratch the paint up installing them.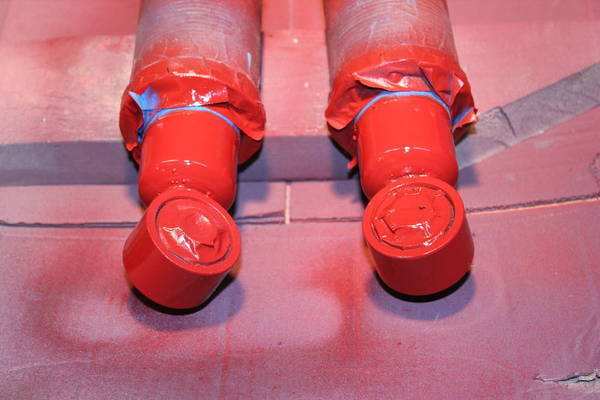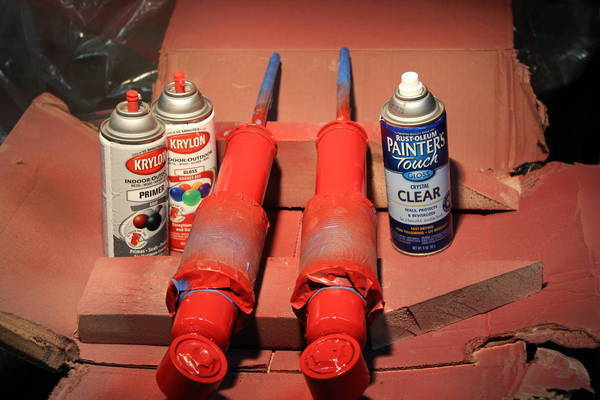 [with compressor pict here]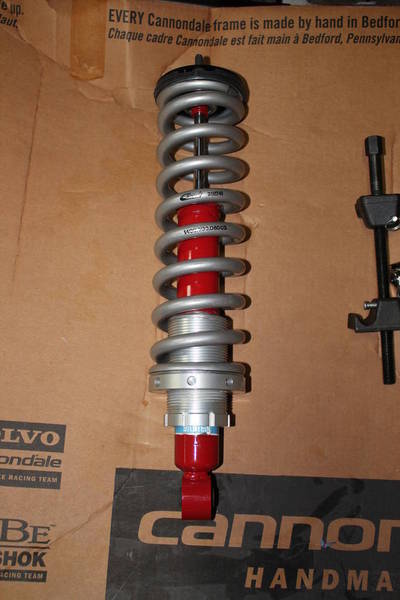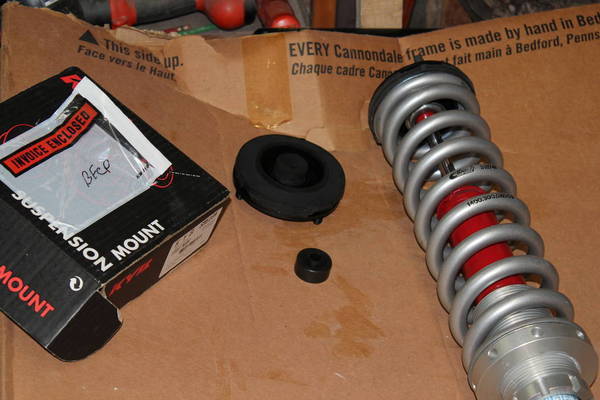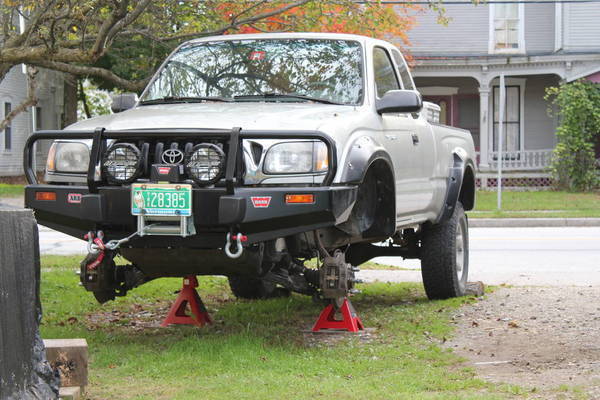 Testing levelness with new struts. I tightened the lower adjusting nut a little at a time, driving it in between. to finally level it out.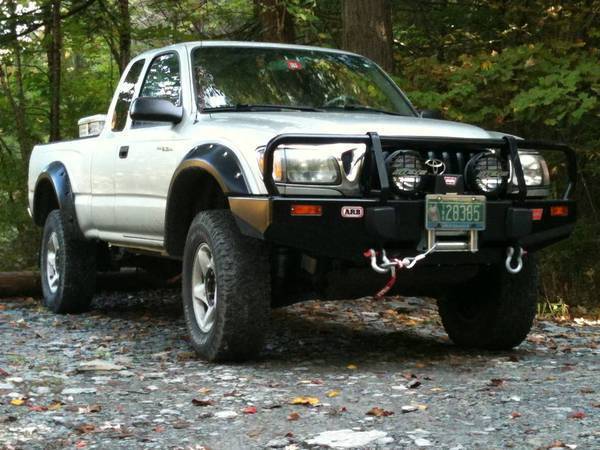 I put my 33's back on and went for a test run...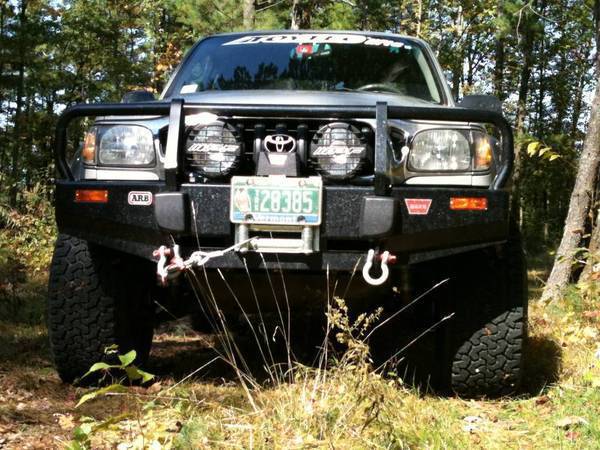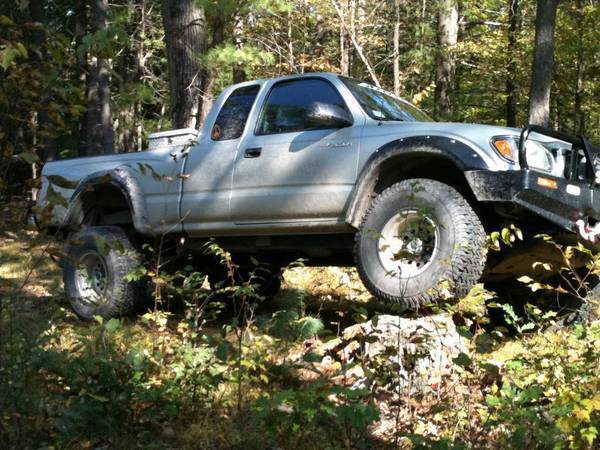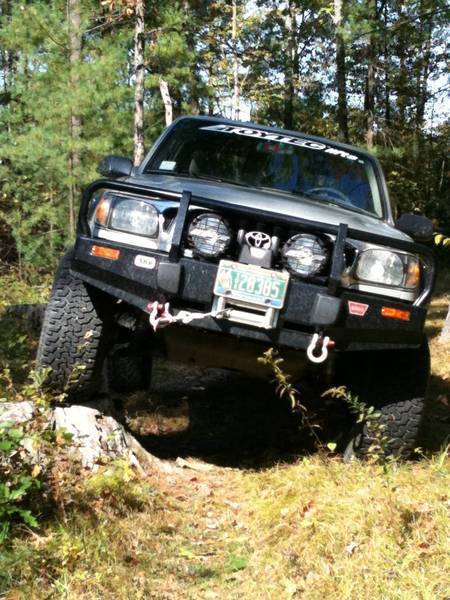 Here I am next to a stock Tacoma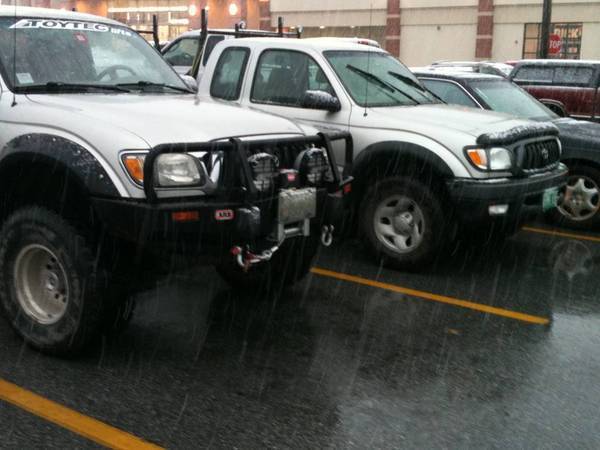 ...a poser pict: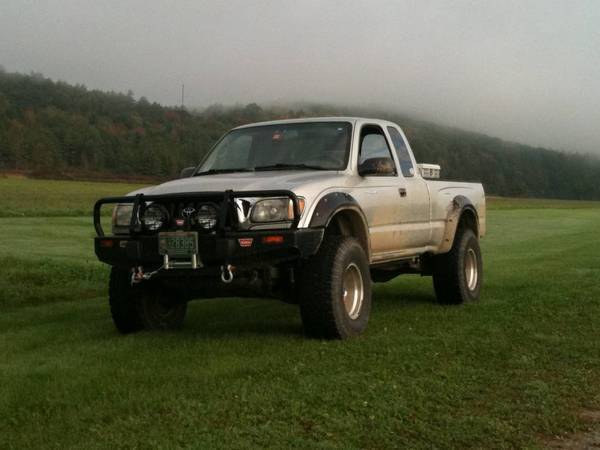 07/2014: Added Yeti Bottle opener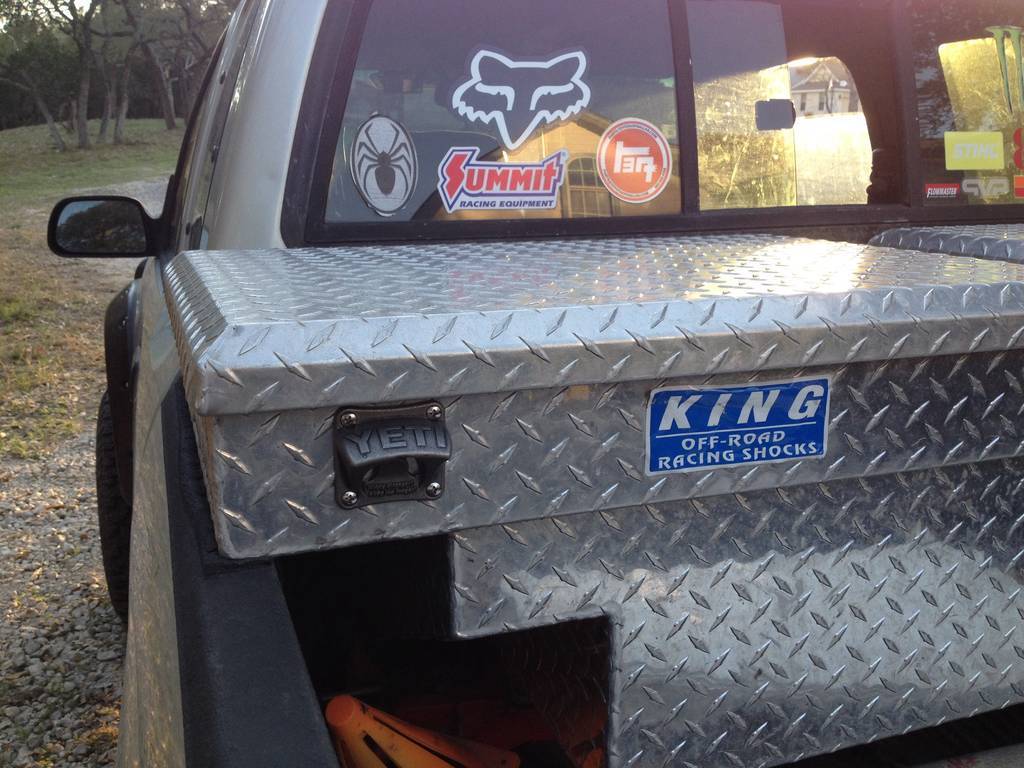 08/2014: We have herds of deer around the house