Since we bought our first toyota, a 2000 model 4runner a few years ago, a tacoma has pretty much been my dream pickup. Back in July of 2011, my dream (finally) came true lol. So here's what I have at the moment. My build will probly never be really finished. I'll always find something else to be doing to my truck. but so far:

Mod list
33x12.50 gt radial adventuro's
3" coilover spacer-$150 for the lift kit, 2" blocks are now gone.
Doug style leaf pack rebuilds- Can't get more free than this!
revtek differential drop-$25
Skyjacker nitro shocks in the rear-about $90
Monroe sensitrac shocks up front-186$! (ik i got ripped off but I got impatient after waiting 2 weeks to recieve 2wd shocks that were on backorder)
Disconnected sway bar: Just took out the bolts and flipped it up out of the way for now. If I go on a road trip or somethin' it would be good to hook back on. I don't like the roll I get when I have something in the bed, but It definitely helps the suspension flex when offroad.
Kobalt Lo Pro tool box- Unkown (it was a xmas present)
2" body lift
relocated shocks
After seeing slodghetto's build I figured it wouldn't hurt to link some of the bigger projects to make them easier to find. So here's a little table of contents.
In order starting with most recent TABLE OF CONTENTS
Shock relocation/Body lift:
http://www.tacomaworld.com/forum/1st...ml#post6223996
Roof Lights/Tires:
http://www.tacomaworld.com/forum/1st...-so-far-4.html
Hood struts:
http://www.tacomaworld.com/forum/1st...-so-far-3.html
Wheel/trim paint:
http://www.tacomaworld.com/forum/1st...-so-far-2.html
And On this page we have the Deckplate mod, 8" subs, and Leaf pack rebuilds
The day I got it.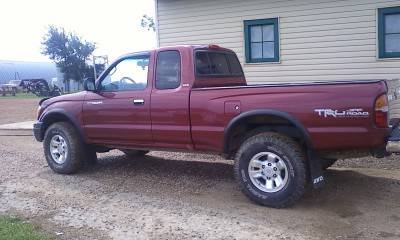 As it sets at the moment.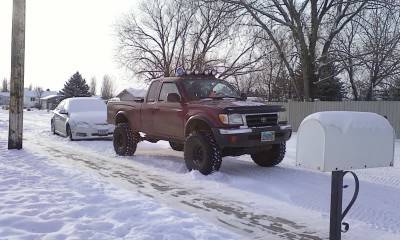 Kenwood Stereo- about $200 w/ installation
760 watt pioneer amp- $60
8" fosgate subs-$120
(note: i have since upgraded to a 15 and ditched the 8's and can still seat 4) see page 3
black brush guard-$180
fog lights-$20.00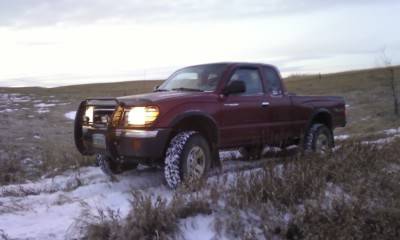 grey wire locker mod-Totally DIY FREE!!!!
billet race pedals. $20
cheap seat covers $20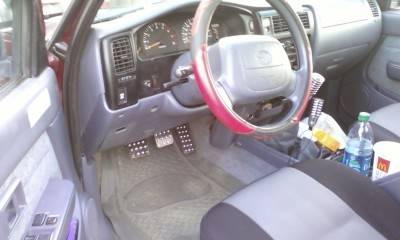 some pimpin' led's (anyone who hates how dark their 1st gen. taco is at night when ur reachin' for ur pop or tryin' to plug in ur phone should get a set) $20.00