Well, I figured it was about time I got one of these going…
This is how it sits today: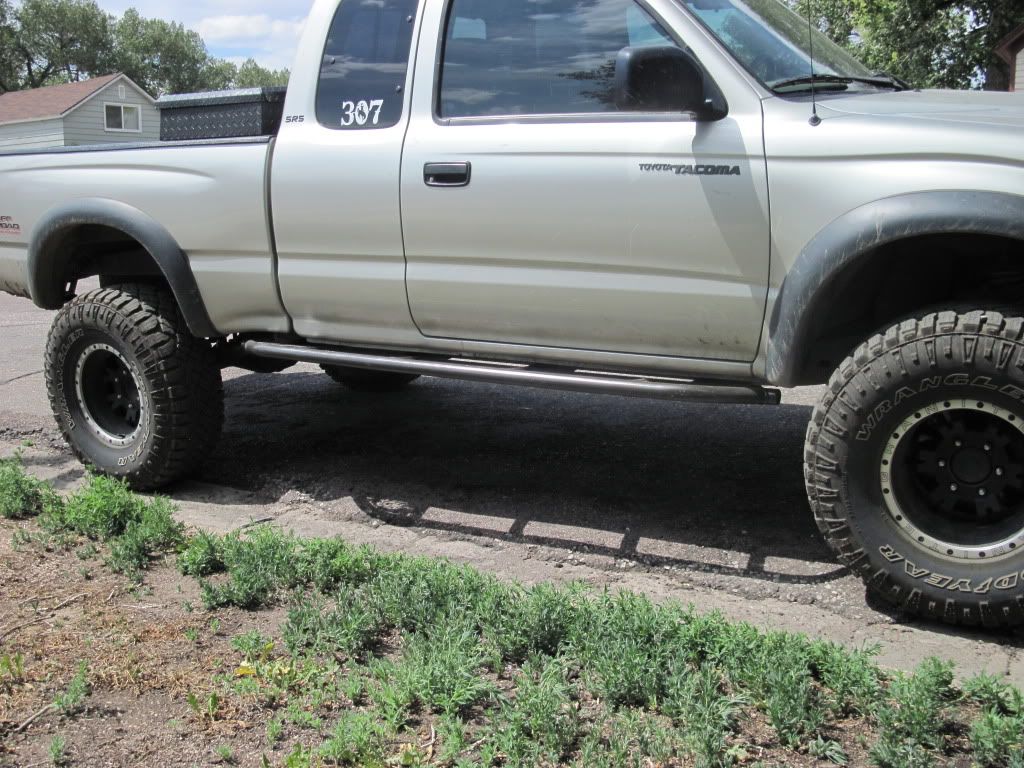 Here's when I bought it, in March 2011. It had 117,146 on the ODO. It was in mint condition, the previous owner was an elderly man from AZ. This thing is/was 100% rust free. So clean. Came with tinted windows, not sure what %.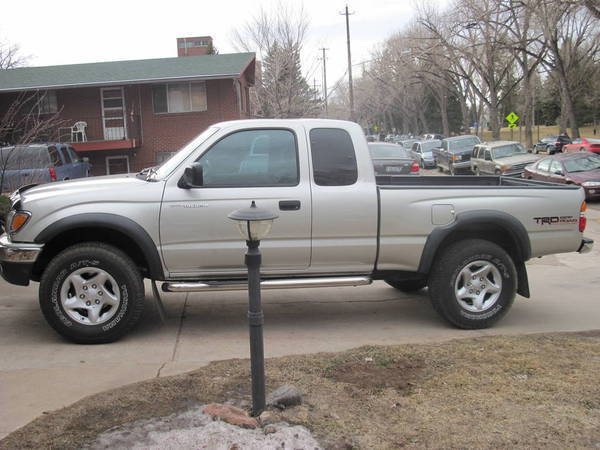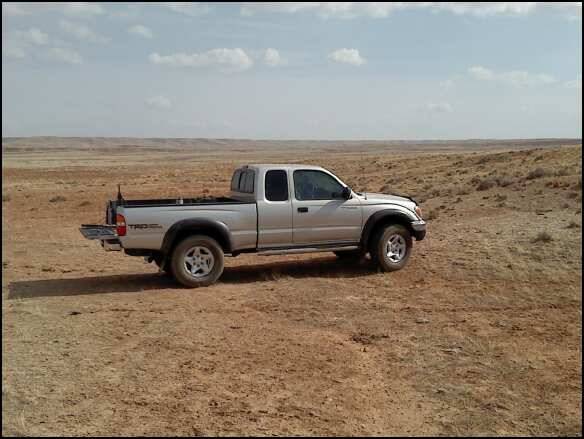 As soon as I got home, I took the front mudflaps and chrome Nerf Bars off. (If anyone wants to buy these, let me know.)
Then, 7 days after I bought it, this happened: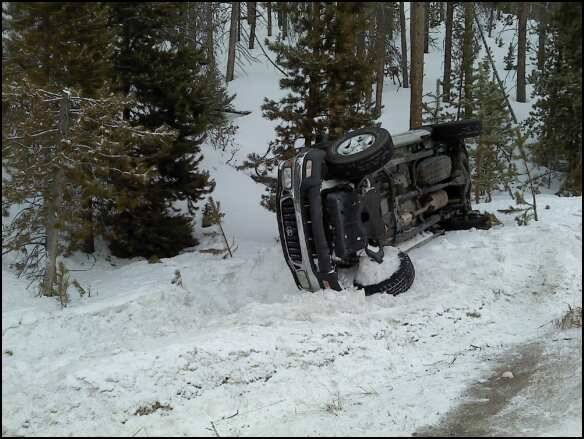 Towtruck flipped me back upright, and I drove it home. Ran like new! Gotta love Toyotas.
Got it to the body shop and the estimate was $9,875!
Laramie GM Auto Center Body Shop
did the work. They did more than outstanding body work. I cannot believe how good it looks. You can imagine how devastated I was about the accident, and they made sure their work reflected their dedication to making me happy.
Before: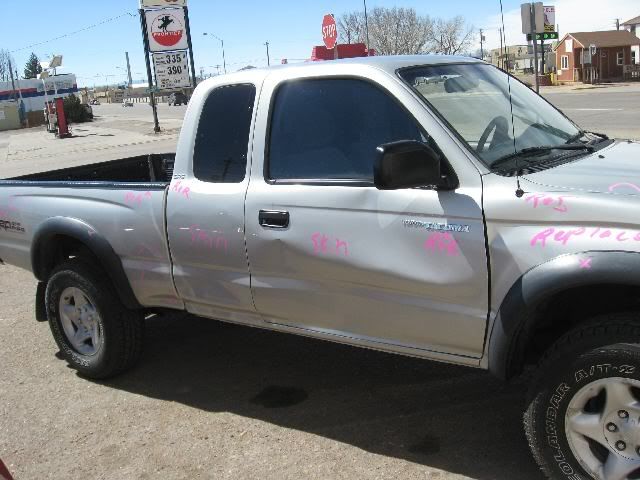 After: (Ignore the lift and tires in this picture
)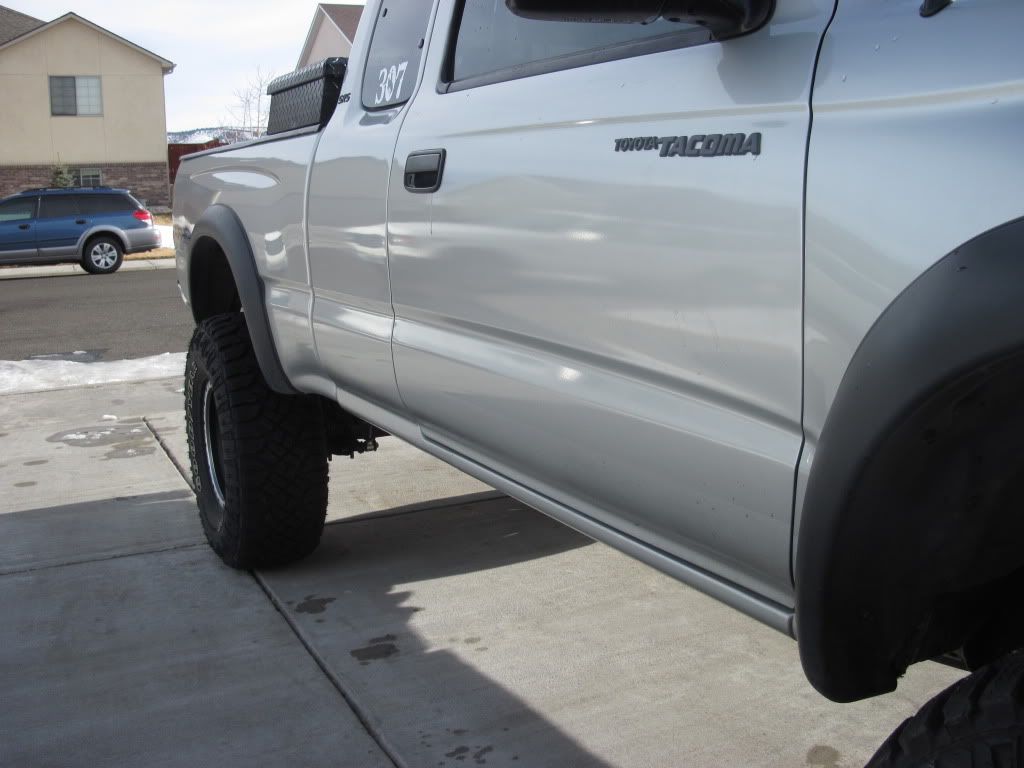 I then picked up a UltraGauge to diagnose my CEL. Found it was a dirty MAF sensor. Pulled it out and saw it had oil on it from the accident, replaced it, and it was good as new!
A few months went by while I waited for $$ to turn around, and then it was time to pull the trigger on lift and tires!
For the front, I got Bilstein 5100 Adjustable Shocks and ToyTec/Eibach coilovers from
ToyTec lifts
in Colorado.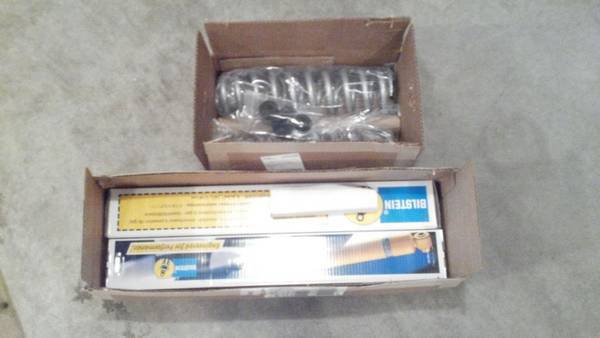 And for the rear, I ordered AllPro Expedition Leafs, Bistein 5150 10.5" Travel Shocks, and an extended rear steel braided brake line. Jon from
AllPro Offroad
personally delivered my rear setup to me on his way to go hunting here in Wyoming. Good customer service!
For tires and wheels, I decided to go with the popular Goodyear Wrangler Duratrac in 33x12.5x15. I wrapped these around 15x8 Granite Alloy GA9's. I have them set to 32psi currently.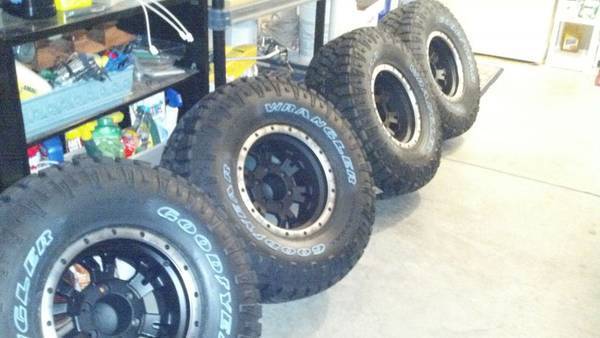 Once I got a free weekend, a couple of guys I know who attend WyoTech helped me install. Only cost me a case of beer for the install! I got 3.2" of lift in the front, and 4.15" of lift in the rear.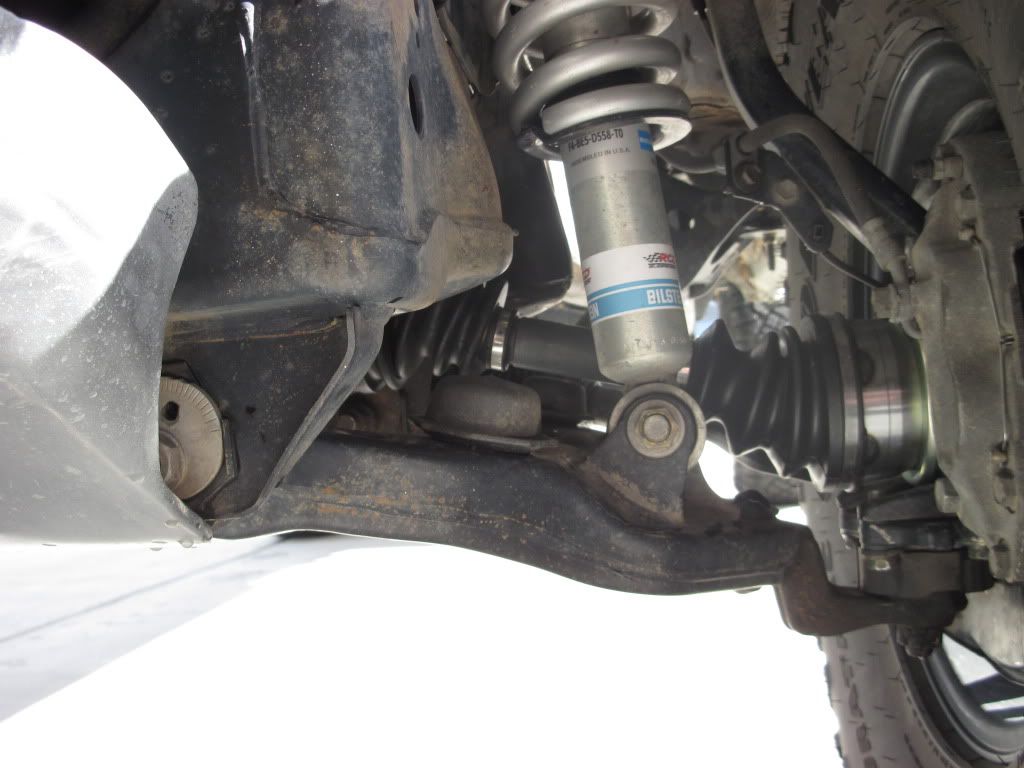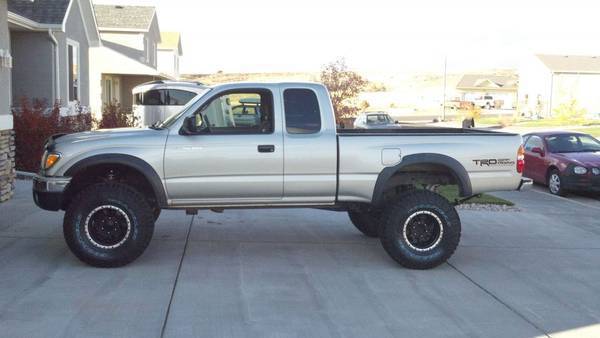 I had to do the BFH Mod on the pinch weld, thanks to 45acp for taking the picture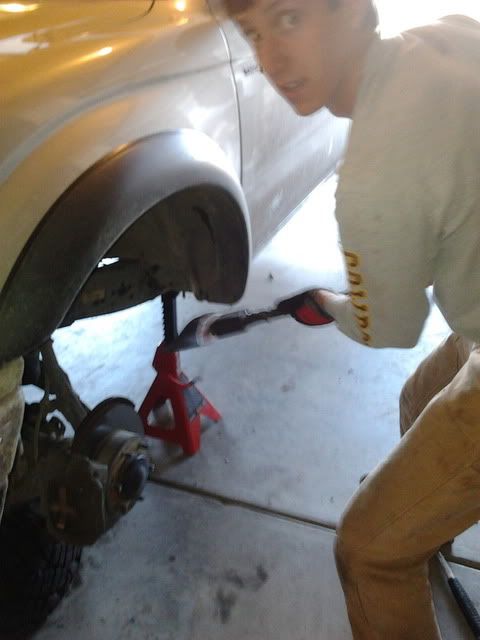 I soon noticed my brakes weren't quite normal. I consulted
JLee
, and he designed a
BPV Relocate Bracket
for me based off one he made for his own truck. These are the ones he now sells through B.A.M.F.! I would highly recommend them. Beefy ¼" plate. Made my brakes a ton better!
(This picture is the one on JLee's truck that has on his BPV Thread)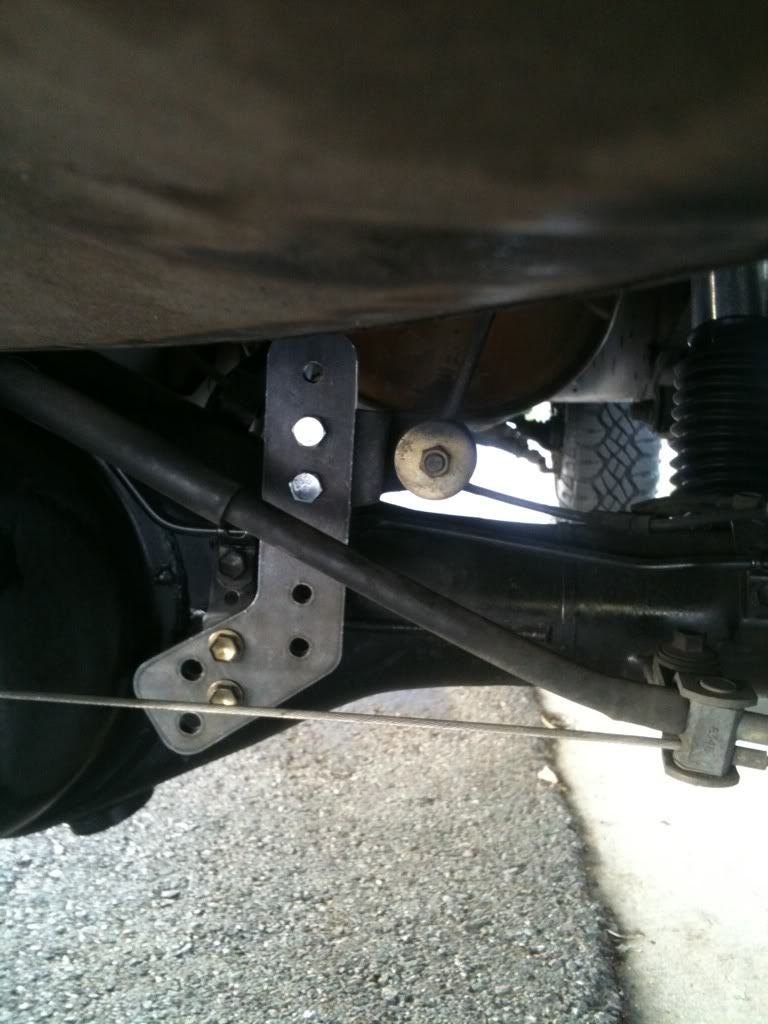 Then I decided that I needed more space to put my recovery/survival gear, so I stole a toolbox off of
45acp's
truck (thanks Jonathan)
.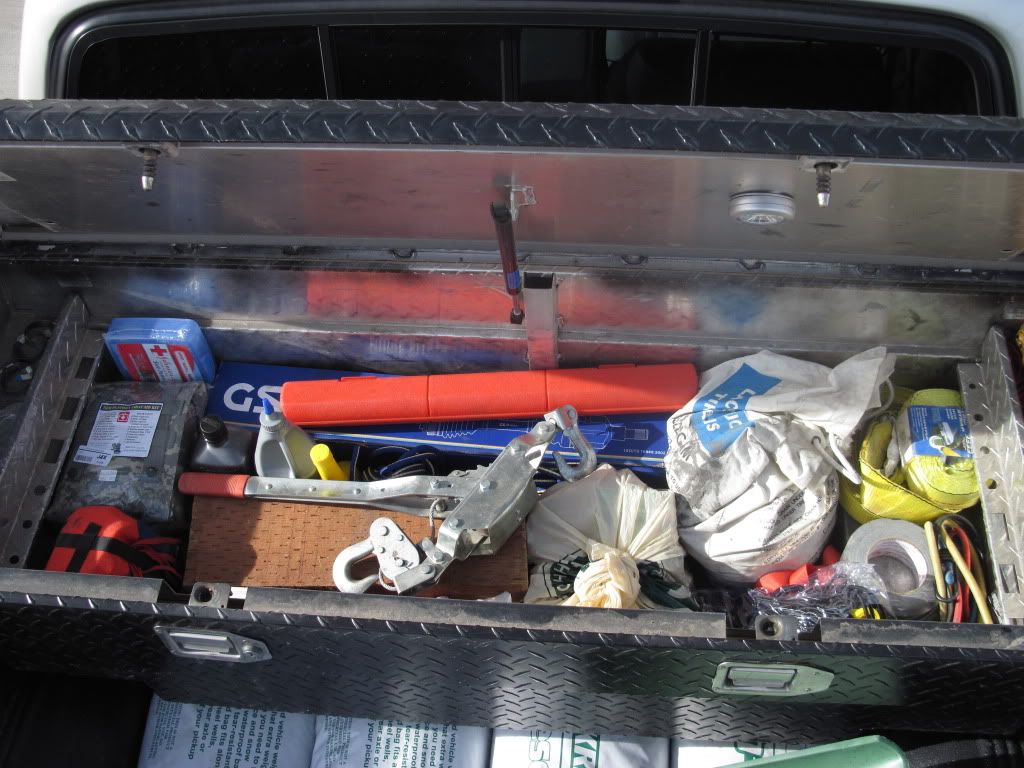 Inside, I have:
-2 First Aid kits
-Hunting Survival kit
-Tire Chains
-2 recovery straps
-Ratchet straps
-Bungee Cords
-Duct Tape
-500 ft. of multipurpose rope
-5 Climbing grade carabiners
-Wood block (for bottle jack)
-Come-a-long
-Shovel
-Torque Wrench
-Metric and Standard Socket sets
-Various tools
-Spare CV Axle
-Front Diff. Fluid
-Extra Oil
-Heet fuel additive
-4 MRE's and heaters
-Hose Clamps
-Bed net
I currently have 240lbs of sandbags in the bed to give me some weight/traction in the snow.
I then jumped on the PlastiDip bandwagon and derped my badges, and painted my skidplate silver.
I wanted to make some noise, so I ordered up a
Magnaflow
Muffer. Went with the 18" Center in/out. Had it dumped with a turndown right before the axle so it's out of the way of my leafs. I love this thing! I definitely noticed a power increase, but can't say much about my MPG, as I love hearing it roar
.
After a few months of driving and heavy wheeling, I noticed this was happening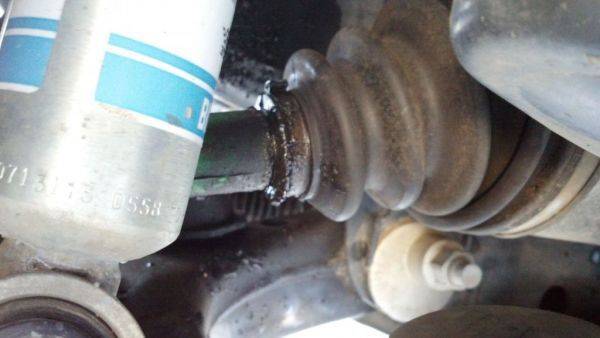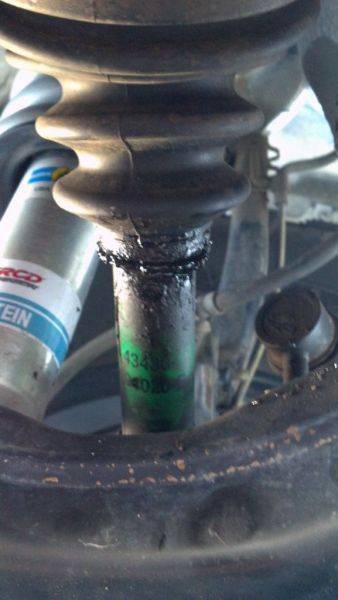 So I decided it was time to replace my CV axles. I decided to go with GSP Axles from
Advance Auto Parts
. They have a lifetime warranty, and less fins, so less rubbing. I might put on a Diff Drop somewhere down the road, we'll see how these axles hold up. Thanks again to
45acp
for the install help! You can see the replacement axles in these pictures again: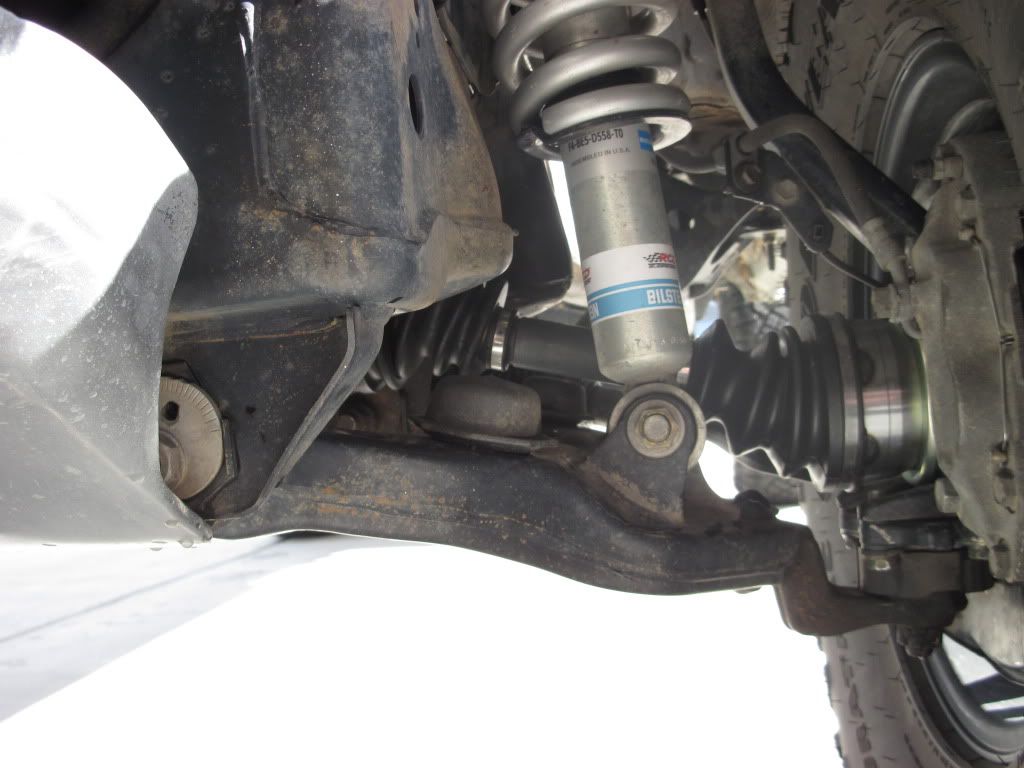 So, here's some pictures of it all put together!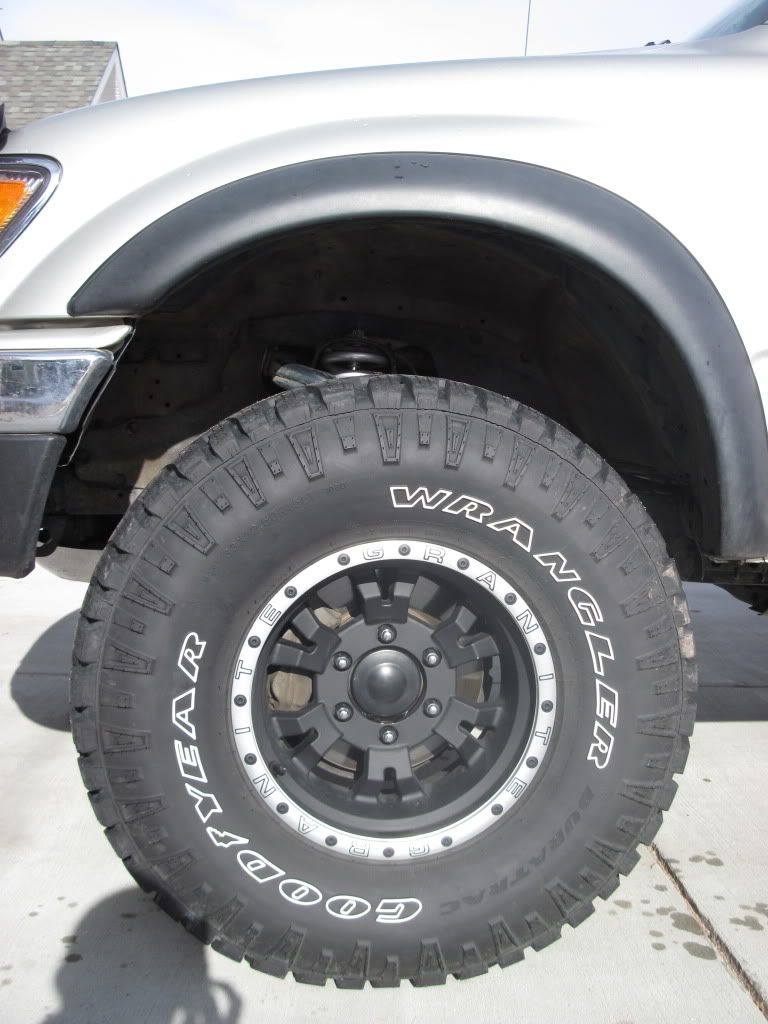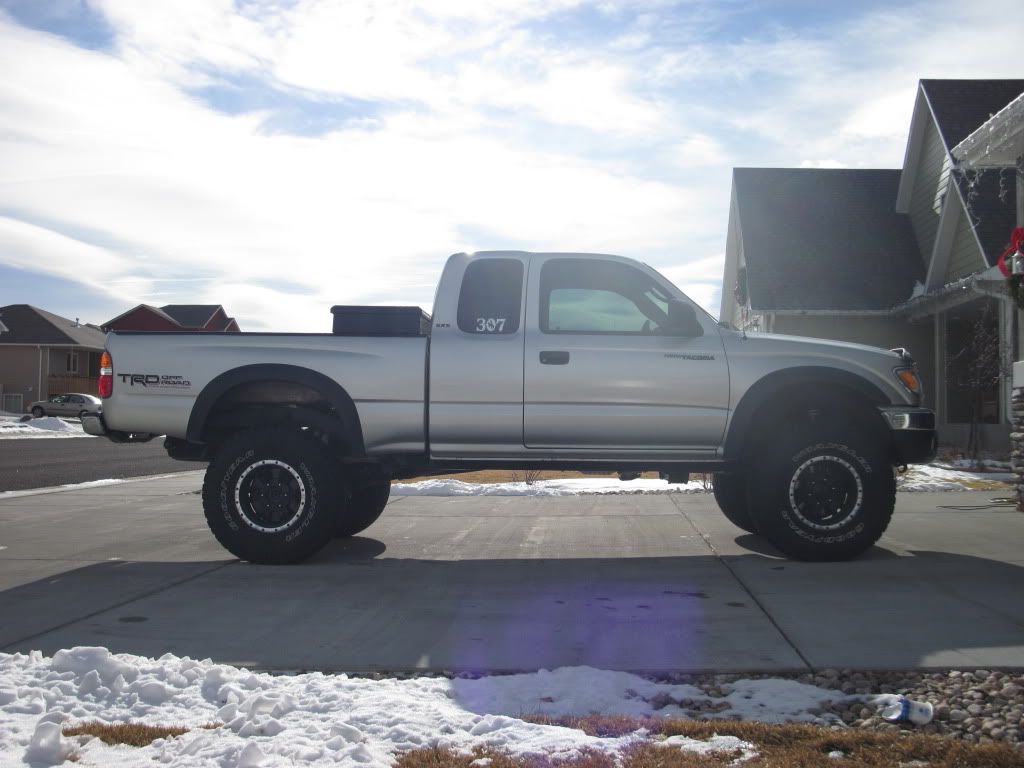 And some fun wheeling with
45acp
: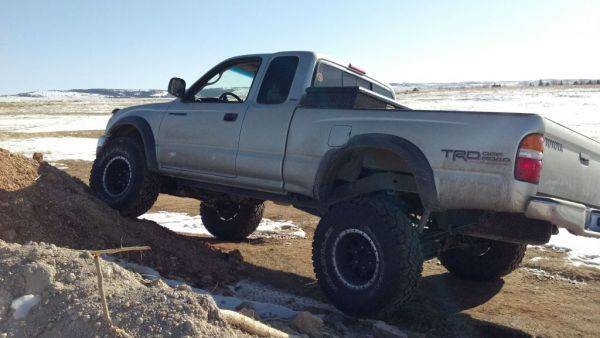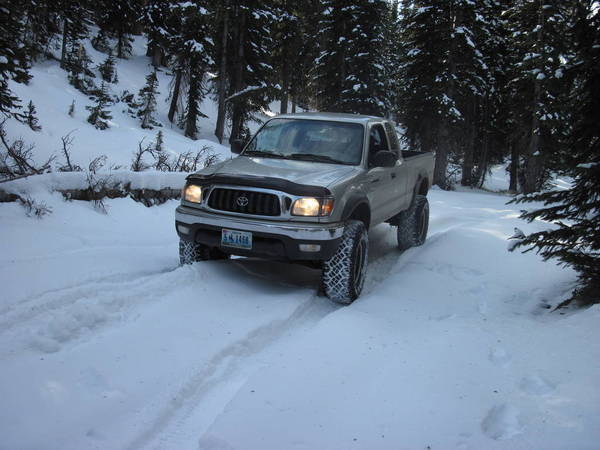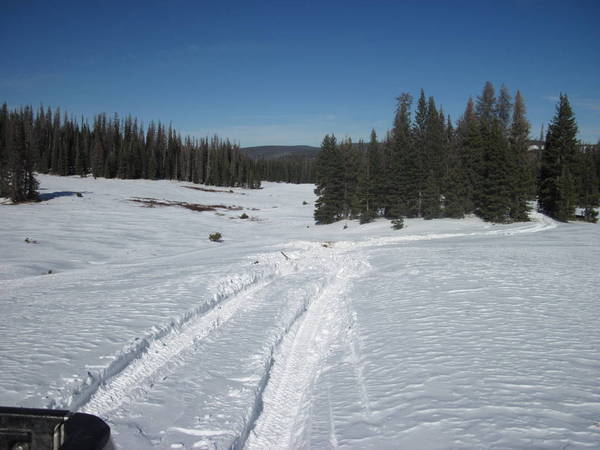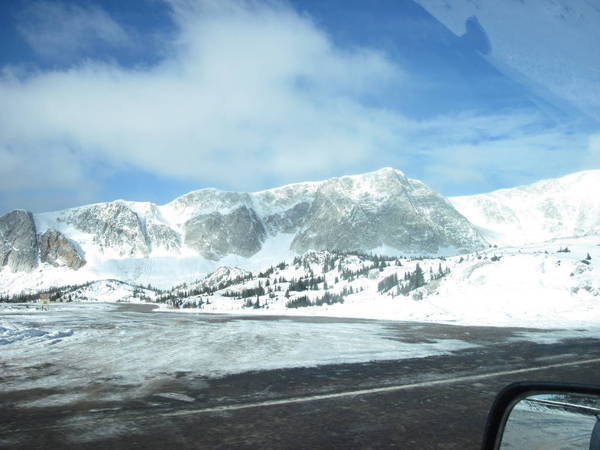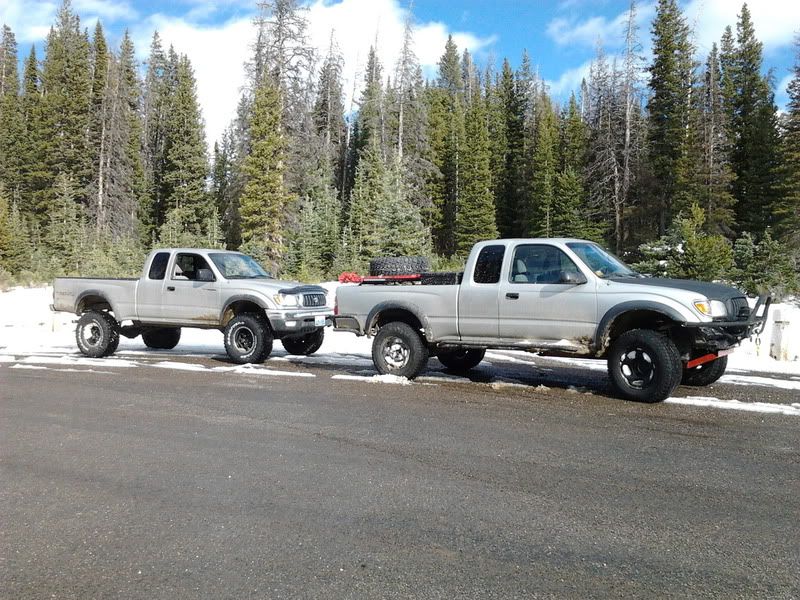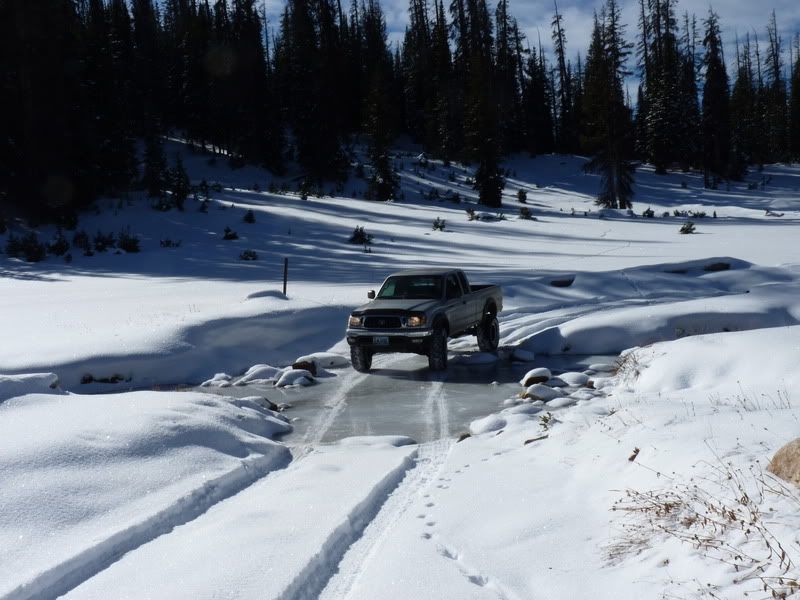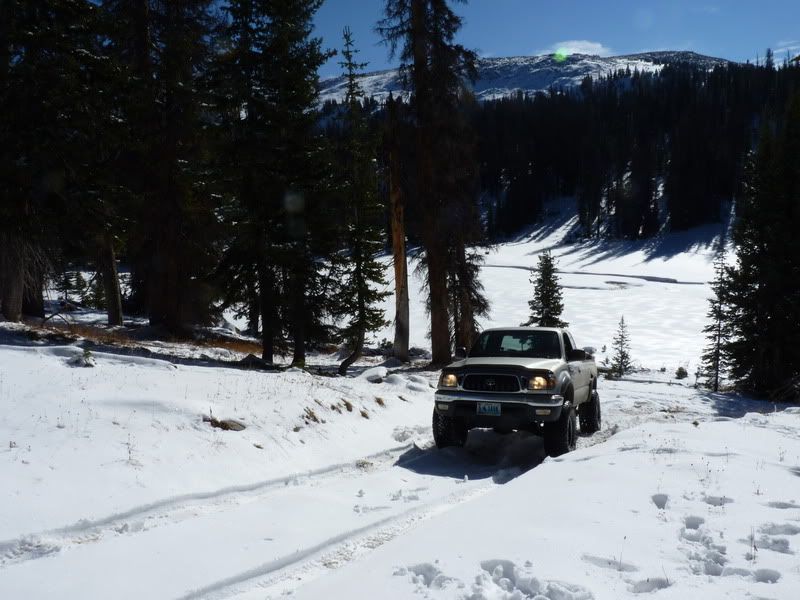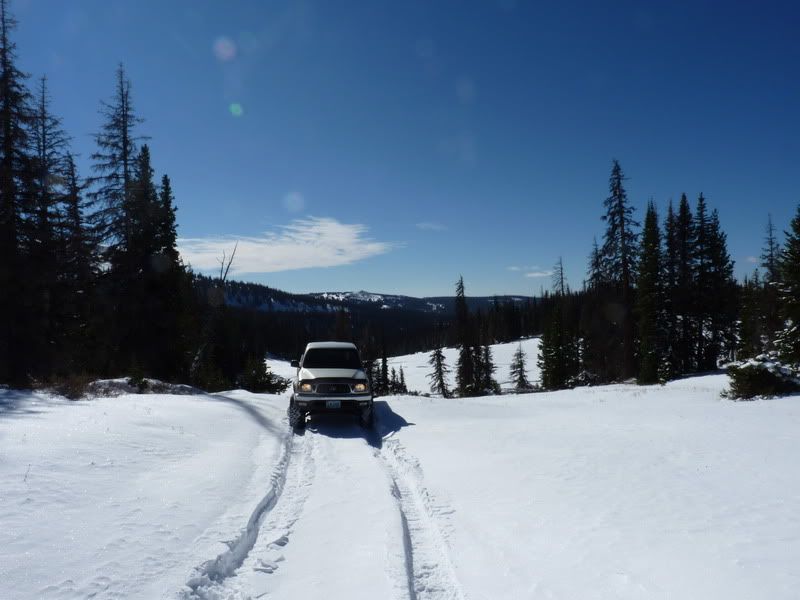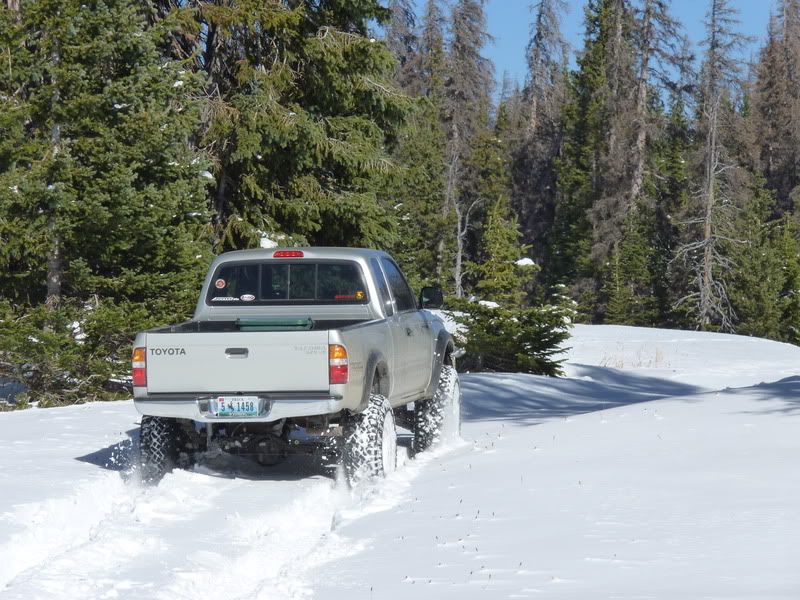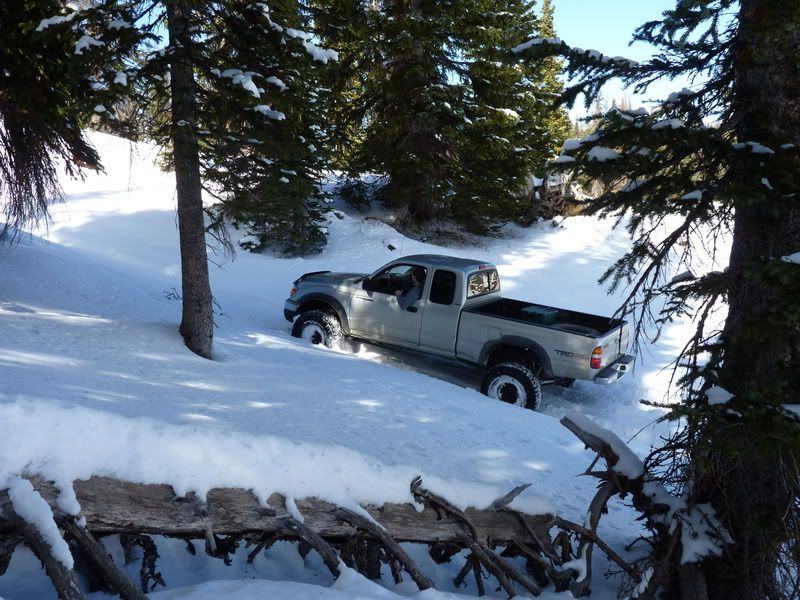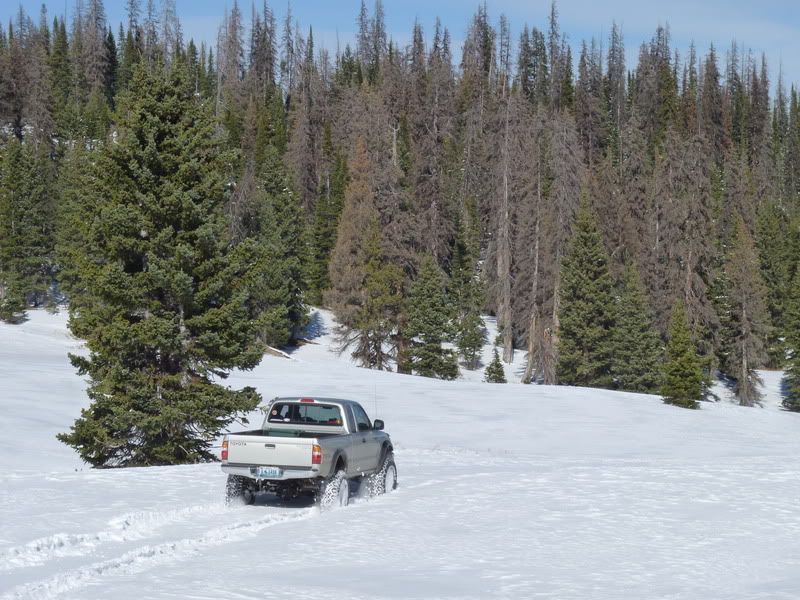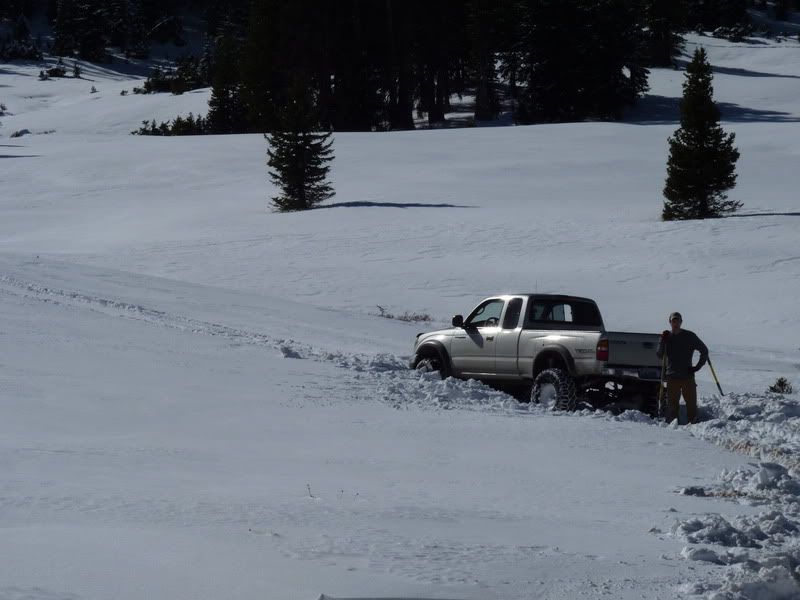 And time for embarrassment: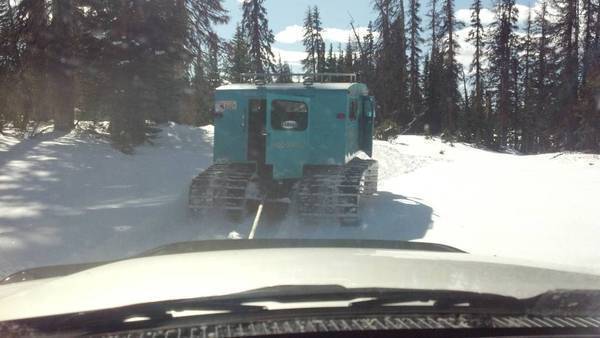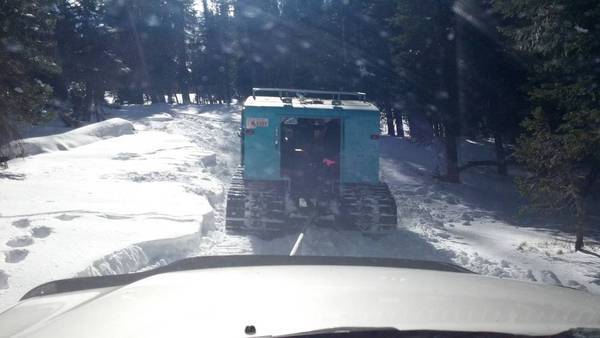 Here's a list of all my mods up-to-date:
Suspension:
-Bilstein 5100 Adjustable shocks in front
-ToyTec/Eibach Coilovers
-Bilstein 5150 10.5" travel rear shocks
-AllPro Expo Leaf Springs
Armor:

-TrailGear Rock Sliders
Drivetrain:
-GSP CV Axles
Brake system:
-AllPro (Crown) extended steel braded rear brake line
-B.A.M.F. BPV Relocate Bracket
Performance:
-Magnaflow 18" Muffler
-Deckplate Mod
-AFe Pro Dry S
Other:
-Craftsman Toolbox
-UltraGauge
-Plastidipped badges
-Painted skid plate