She started life with me in 2006 as a 1997 tacoma 4wd 2.7 on 35's w/ a 3'' spacer lift, 3'' body lift, and ~130,xxx on the odometer. From the time I bought it till TW, it was repainted and tires downsized to 33X12.5.
This thread will document from the time TW intervened and so on.
How she sits as of 2/19/13:
How it started (pre TW):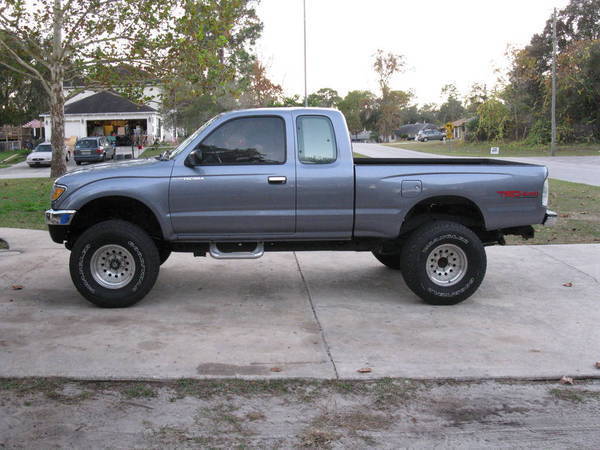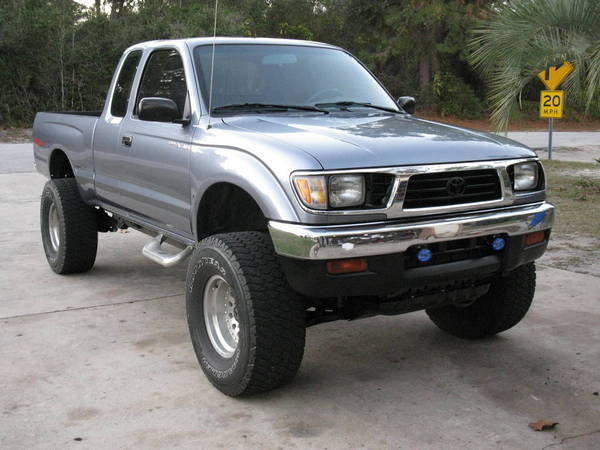 Current mods:
Armor
4X Innovations
front tube bumper with stinger
Suspension/lift/steering:
Sway Away 2.0 Coilovers
All Pro
Uniball Upper Control Arms.
Wheelers 5 pack with wheelers 1.5'' AAL minus the over load leaf.
Bilstein 5100 rear shocks
3'' Body lift
[REMOVED]
Prothane Poly rack bushings
Body/Frame:
New paint in 2008
DIY spray in bed liner
FL Tacomas sticker
Energy Suspension Poly body mounts
Electronics/Lighting:
Round Eye Head lamps
Clear corner lights
Cobra 19 DX CB, 3' firestik
Tires/Wheels/Brakes:
32X1150X15 BFG KM2 Mud Terrains.
MB TKO Rims in matte black, 15X7, 4'' Backspace
BAMF (Jlee) BPV bracket (1/8'' plate version).
All Pro Extended length steel-braided brake line (Rear)
Engine/Exhaust/Driveline:
LCE header
K&N FIPK ("Cold air intake")
Cat Co. high flow
Flowmaster 40
Interior:
Wet Okole Seat covers
"Wheelskins" Leather steering wheel cover/wrap
Husky Floor liners
Future Mods:
Limit straps for the front end
Centric Brake rotors/pads
Magnaflow
muffler
Sliders
Rear tube or hybrid bumper with rear spare swingout
Rigid Dually Flood lights for front bumper
Rigid SR series 10'' light bar for front bumper
Rear Frame reinforcement plates
Bed rack
Front Steel braided brake lines
Marlin Crawler
clutch
Rear locker or LSD
Skids