1997 Well my friends in the Alabama thread suggested I post a thread on my truck and what is going on. To catch people up to speed, on March 9th I had developed an engine missfire. I had spoken to my sister and brother-in-law whom I purchased the truck from, and they said that they had not done a tune up in at least 50k miles, so I purchased new plugs, wires, fuel filter,
air filter
, etc. I was taking care of all the maintenance items. Well during the spark plug replacement, the plug broke off inside the head (I have the 2.7L 4 cyl) and I found myself in need of pulling the head to extract the rest of the plug, and clean any metal that may have fallen into the cylinder. I was quite shocked when I found a large crack inside the cylinder bore for the #2 cylinder! Engine is toast.
Well I considered doing a V8 swap for some fun, but quickly realized that it was going to cost me much more than I was willing to put into this truck at this time. It is my daily driver, and I need it to get some decent mileage. Below you will find some pics of what things looked like at this point:
You can see at about 1/3 of the way down there is a significant crack that has developed. You can even run your finger across it and feel how bad it is. This has been developing for a long time!
So I began looking for used, low mileage engines. Those things are hard to find, and expensive! I actually ordered my parts yesterday. I got myself a totally reconditioned block, and a new cylinder head for less than the cost of an engine with 35k miles on it! So this was a no brainer. For those who do not know me, I am the owner and manager of Marion Bumper2Bumper Automotive, LLC located in Marion, AL. Full service automotive mechanical repair shop covering every brand, so we have access to all the tools and equipment needed to take this project on! I have been an ASE Certified Master Technician for almost 20 years, so I can do this job easily.
Here are a few pics of her while she is waiting for parts: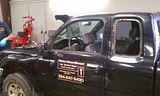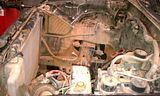 Well here I was a few weeks back looking at my truck and was thinking, she could use a freshening up....let's paint her while we are waiting on the engine! So off came the hood and front fenders (there was a lot of body work needed on them) and out came the grinders, sanders, and body tools! I am ordering the paint some time today or tomorrow. She will be Dodge Viper Blue Pearl with 3 coats of base and 6 coats of clear. A sample of her color is below:
Right now she has been stripped of all removable glass and parts, and is being sanded and all dents and dings will be fixed. After the paint is completed she will be getting a new, spray in bedliner from Speedliner (R) <===shameless plug, and soon after we will be looking at lift and tires! Comments and suggestions will be welcomed!