Vehicle
2000 toyota tacoma extracab
3.4L v6, prerunner, w/ automatic trans
2,800 miles and purchased 2012
Suspension:
FABTECH 0-3.5" Dirt Logic 2.5 Coilover System, and in the rear Fab Add-A-Leaf and Dirt Logic 2.25
Performance:
1) TRD Cat-Back Exhaust
2) K&N CAI
Interior:
1) radio & sub box not worth mentioning
Exterior:
1) spray liner (they did a pretty sloppy job compared to my '04)
2)
all pro
front and rear bumpers (with filler plates and frame end adapters for front), bought & installed 2/11
3) all pro skid plates, bought & installed 2/11
Wheels & Tires:
1) XD Revolver (12mm) 18x9 6x5.5
2) Nitto Trail Grappler 285/65/18
Future Mods:
mud flaps
install original bumpers on both front and rear - WILL BE SELLING THE AFTERMARKET BUMPERS
Install rear facing spot light/lamp so can see bed at night
get horn to work - show cars are unplugged
no interior lights
somewhat cheesy speaker box
back to stock radio?
remove hard top and recycle...get new softtop made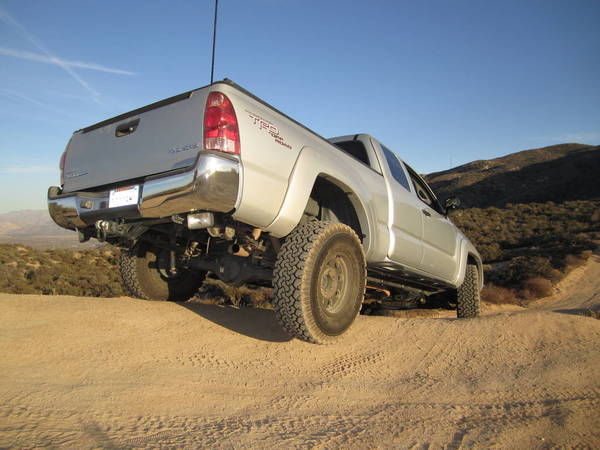 in photos the color looks horrible. the truck has "show car paint", whatever that means other than house of colors this or that, and i can say my intention was to re-paint when I bought it but over time it grew on me (quickly) and now I love it. feel free to hate on it here though, because i agree it looks horrible in photos.
Photos from when it was first built by Rod Millen:
the doors are quite heavy believe it or not. must've been a lot of structural work done.