So a couple months ago i was lucky enough to finally score an amazing deal on my dream truck...2001 Tacoma Extended Cab V6 TRD Manual w/160k....It definitely needed some work but the deal was too good to pass up...I got it for $3,400...The 4Lo would not engage and the front suspension was shot needing coils and shocks but at that price i really didnt care, i knew it could be fixed and i would still come out ahead...Plus the ARB bumper was just icing on the cake, more on that later
The Day i got her, filling her up and taking her home to "De-Cheddar" it in the A.M.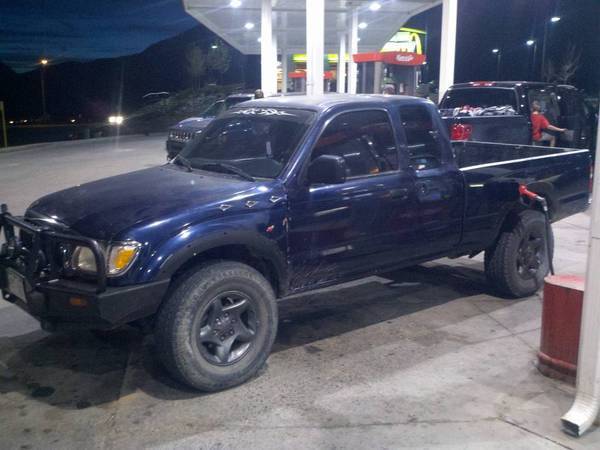 Ok thats better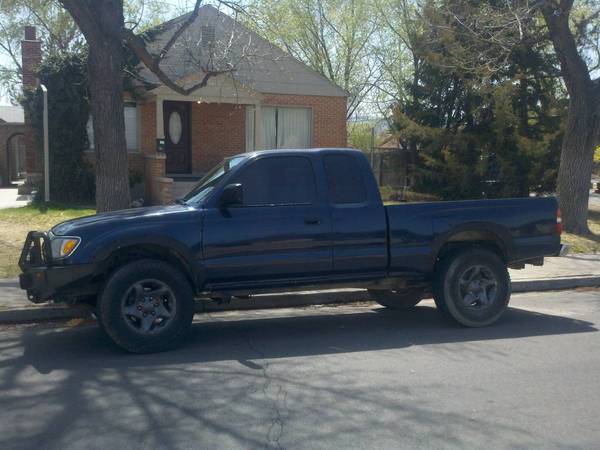 Had to take her to the Mtns for a little shed hunting trip as soon as i got her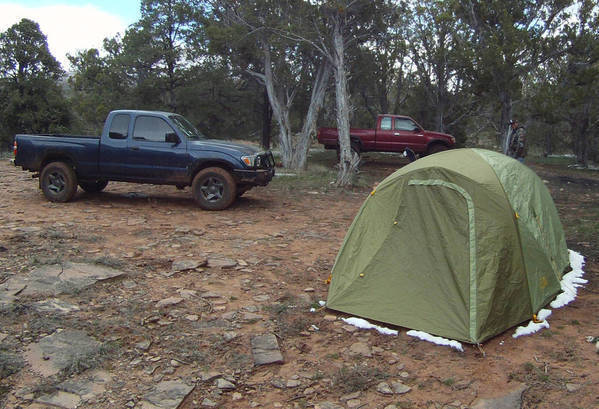 At that point Moab TW meet was fast approaching and after meeting Btnewman from TW on here he came over and we drank a few beers and he did the grey wire mod for me while i was plastidipping the front grill...Well I wasnt having any luck with the 4Lo and it was looking like it was gonna be a P.I.T.A. to get working before Moab came, when Btnewman suggested i just drive my civic hatchback to moab and ride shotgun in his rig for the weekend..Seeing as i live in Grand Junction and moab is only like 2 hours away tops i decided what the hell, the money i save on gas getting there can be put towards more beer and food for the weekend...So i left the Taco at home and zipped down to moab...I pulled in right around last light and the looks i got from the people in BFE were priceless.. Here is a picture i took hunting with it for Archery Antelope last year in Northern Colorado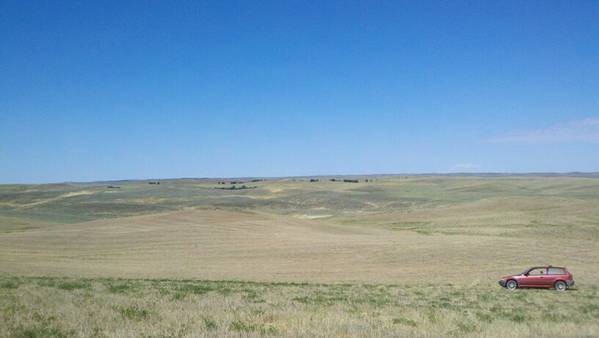 ......Then after sitting around the campfire with a bunch of the guys from here talking trucks and shooting the shit i got a call from my good friend who lives with me and he was calling to inform me that some yahoo had just absolutely creamed my truck parked outside our house and ended up in the neighbors lawn with his front drivers side wheel ripped off...ARB FTW...especially since he tried to hit and run my buddy said but he couldnt go anywhere without his wheel...stopped him in his tracks....Cops were called and they got his information, Thank The Lord...Meanwhile im freaking out in moab, and the big joke around the campfire was "Dang i hope the dude didnt mess up your 4 wheel drive when he hit you"...So nothing much i could do at that point but put a few more cold ones back and leave in the morning to go handle all the crap with the insurance etc...