2000 SR5 v6 TRD auto
Mods:
OME 882 front coils
OME top place spacers
OME Nitrocharger shocks all round
OME Dakar leaf springs, OME D6XL AAL
OME shackles
265/75/16 Toyo Open Country MT
Konig Five Star 16x8" -25mm offset
Elite front bumper
Elite rear bumper
PIAA 510 crystal white fog lights
Budbuilt front skid
Budbuilt belly/crossmember skid
BAMF kick out sliders
BAMF diff skid
BAMF BPV bracket
Diff breather extension
ARE CX series shell with win-doors
Hi Lift mounted to bed side
Alpine CDA105 head unit
JL XD200 amp
Polk dB 6501 component speakers
Rockford Fosgate Punch300 amp
2 CDT 8" subs in custom enclosures in rear speaker wall locations
Raammat and Ensolite sound deadnening everywhere except roof. Will get around to this eventually.
Warn M8000 winch
Viking synthetic line and safety thimble
Performance transmission rebuild by Scotts Valley Transmission
Custom Transmission Oil cooler
LED rock/spotting lights.
Shell roof rack coming soon.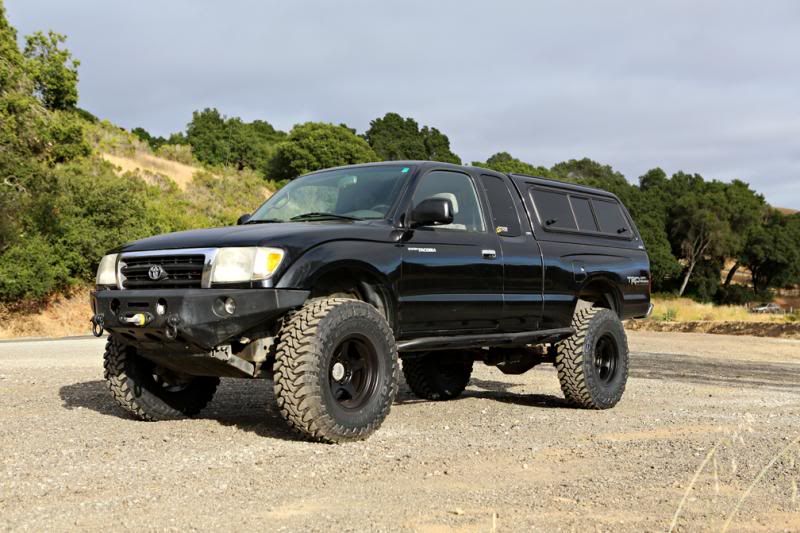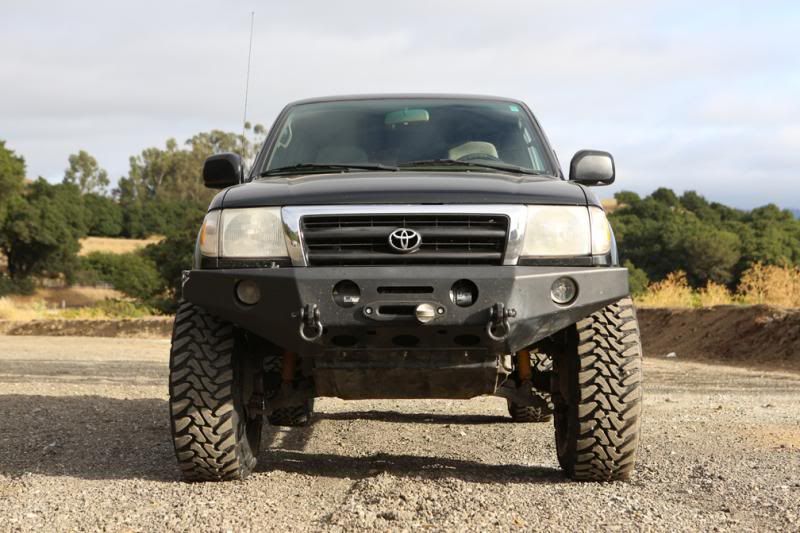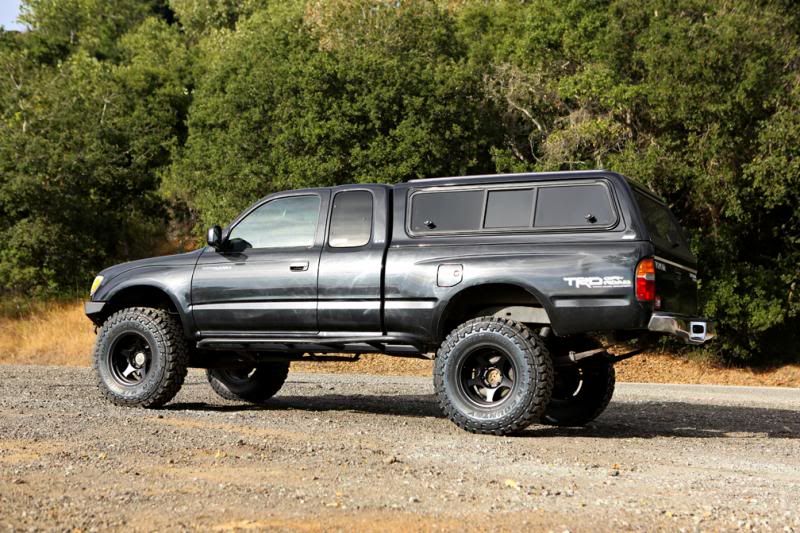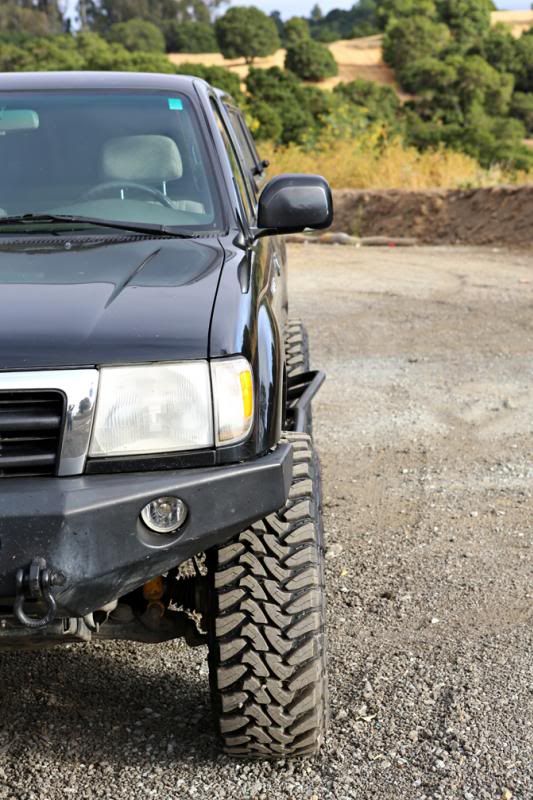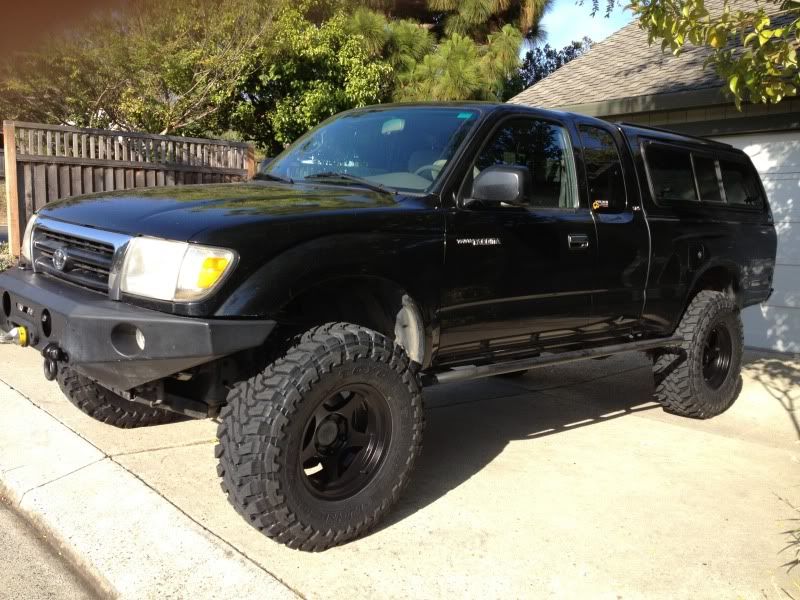 Old pics iwht 15" wheels and 33x 10.5, and 32x11.5" MTRs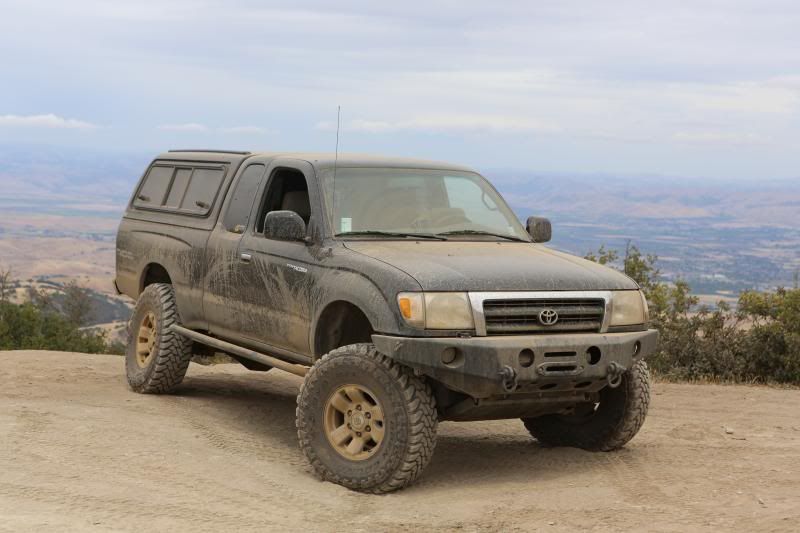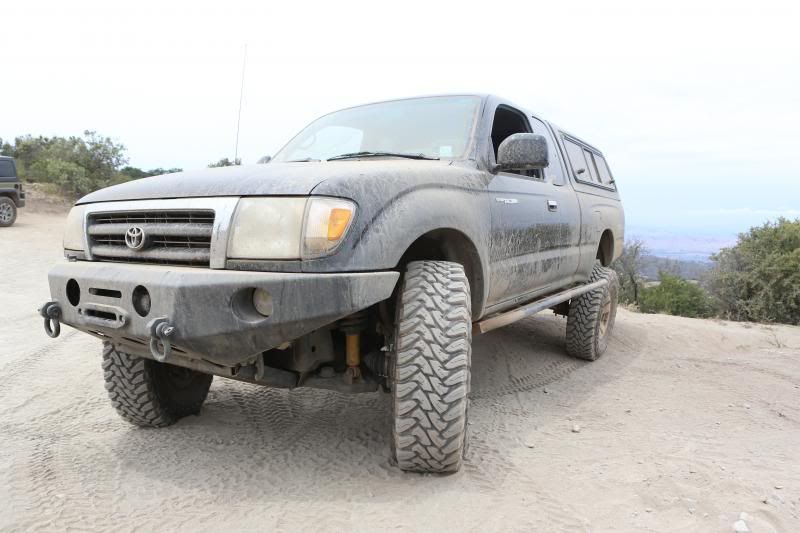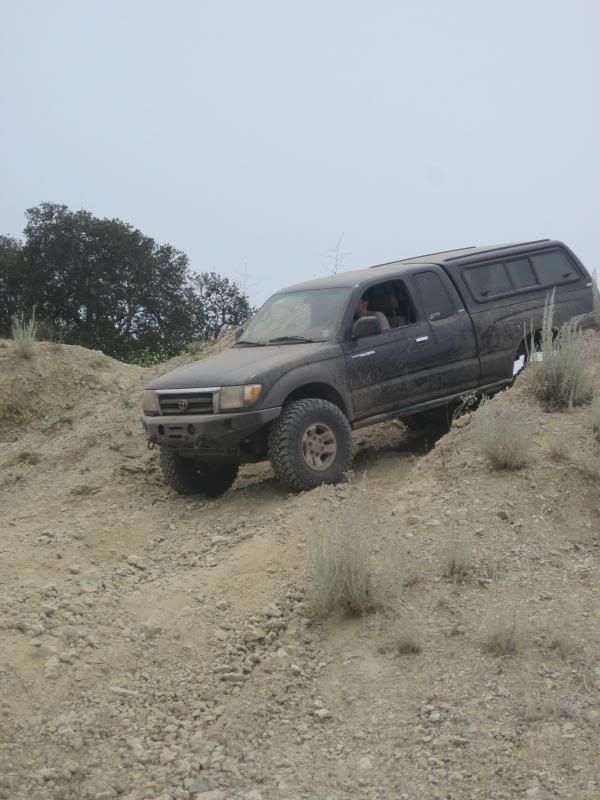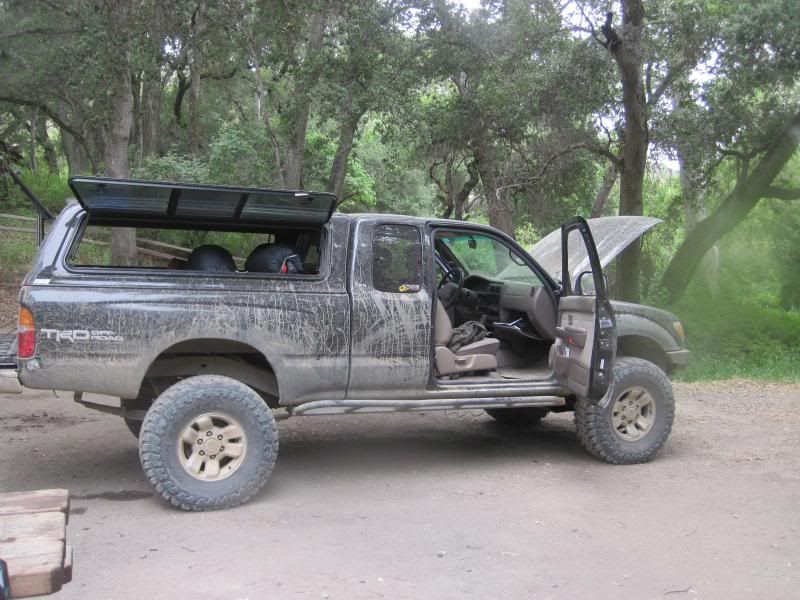 older pics...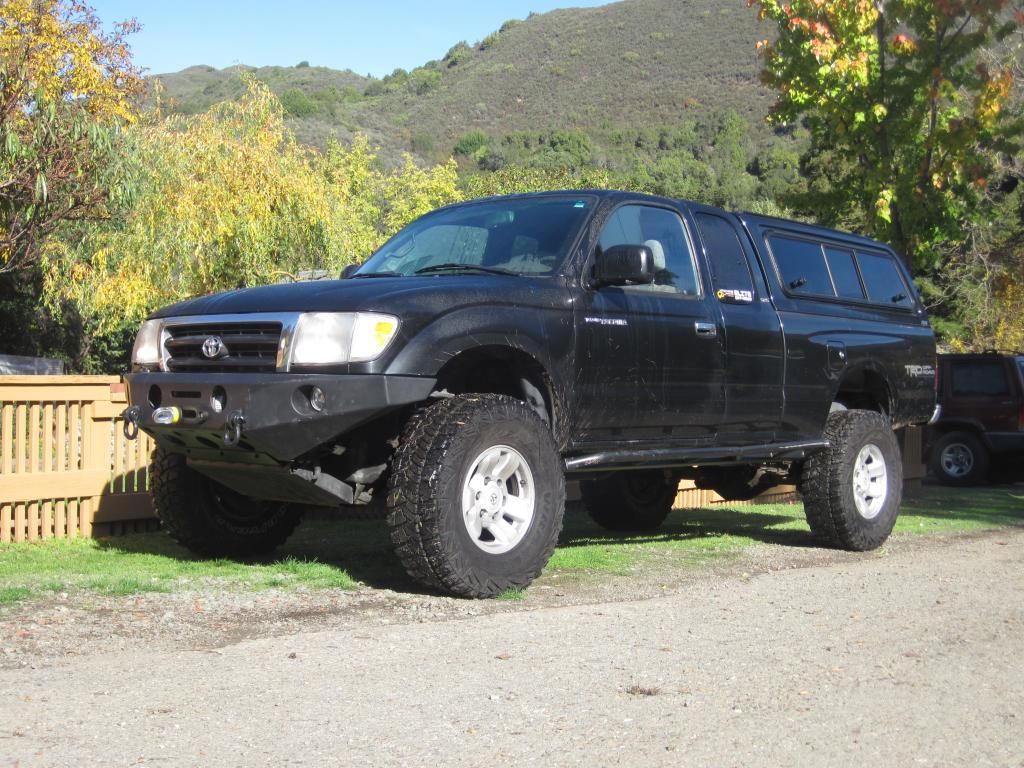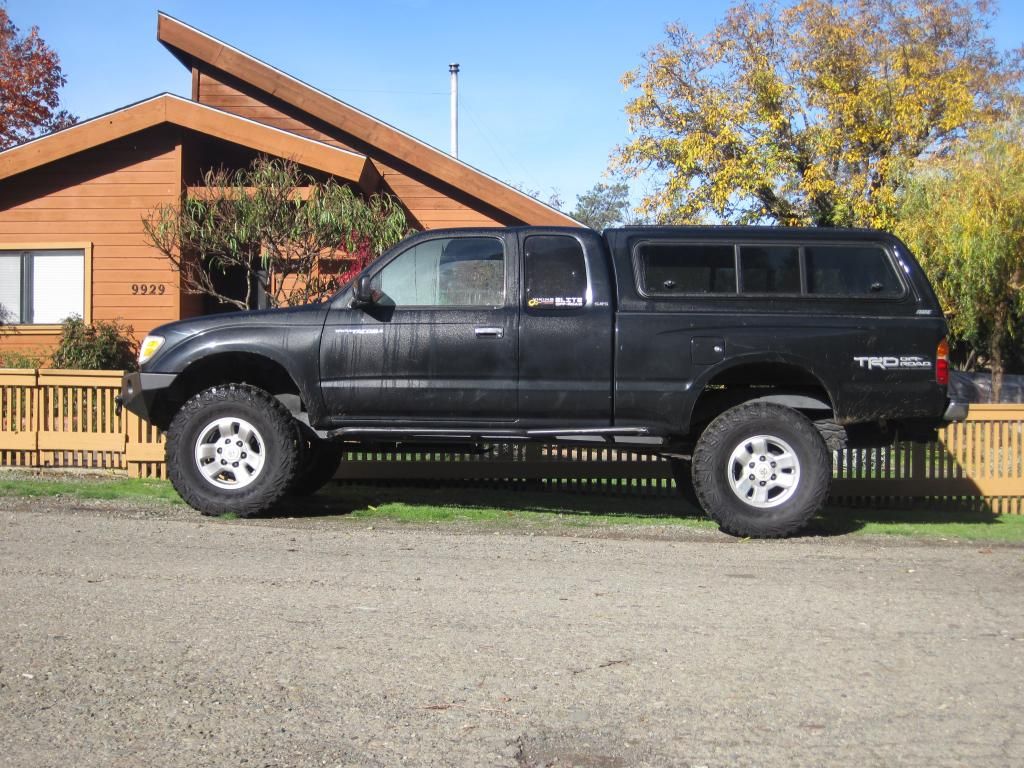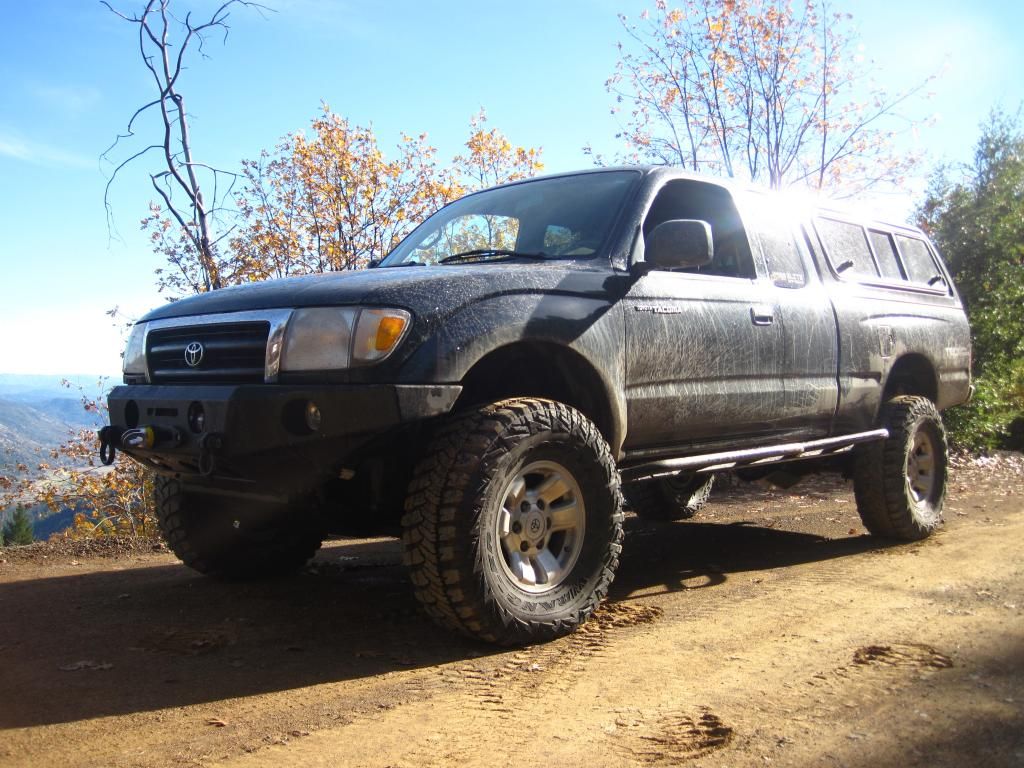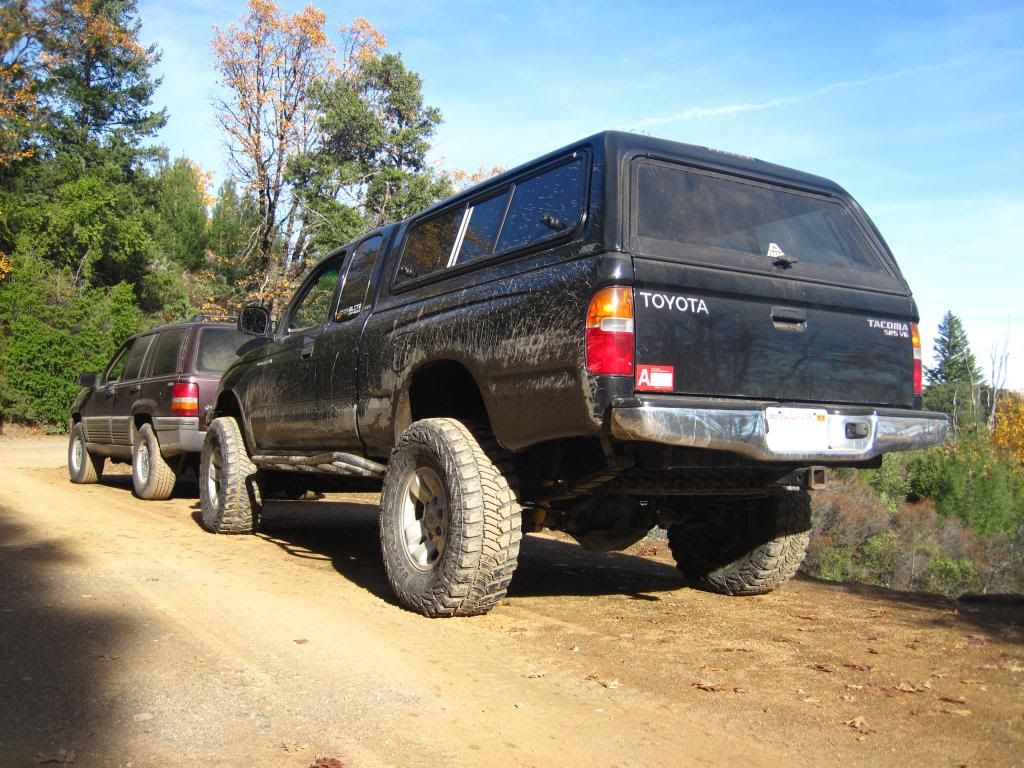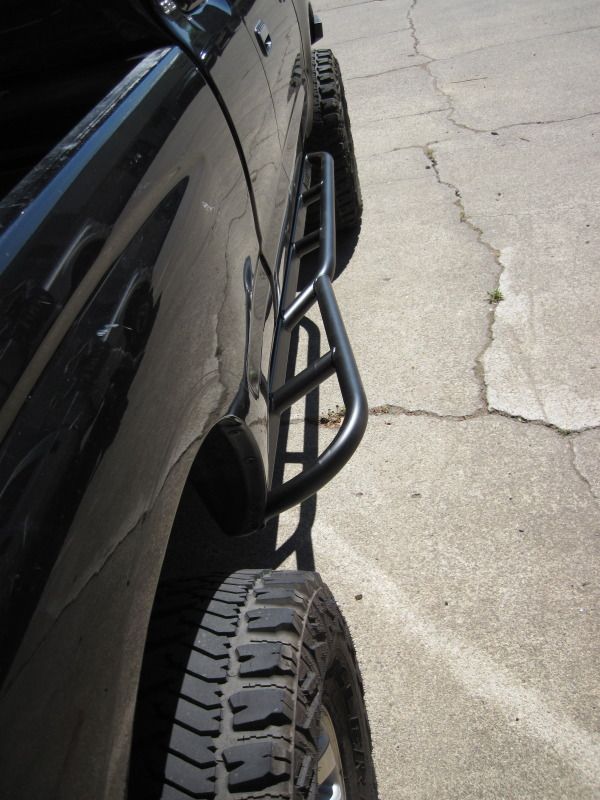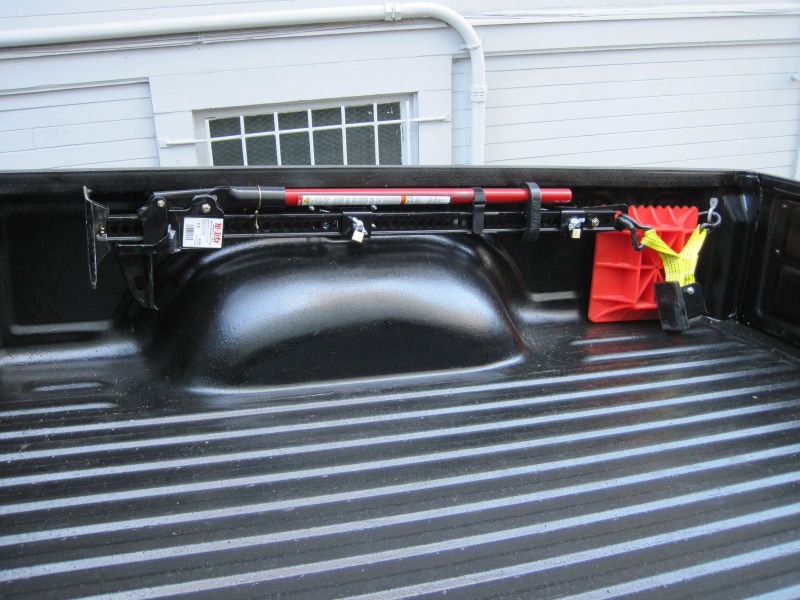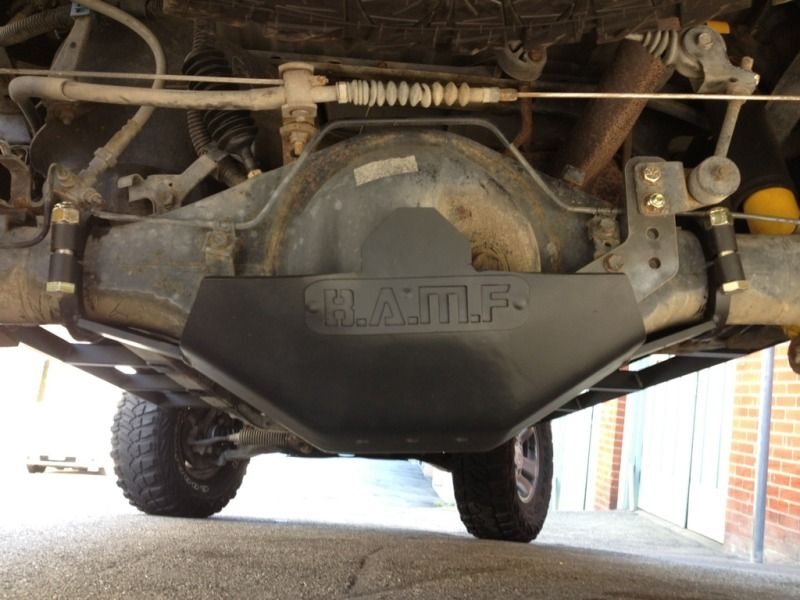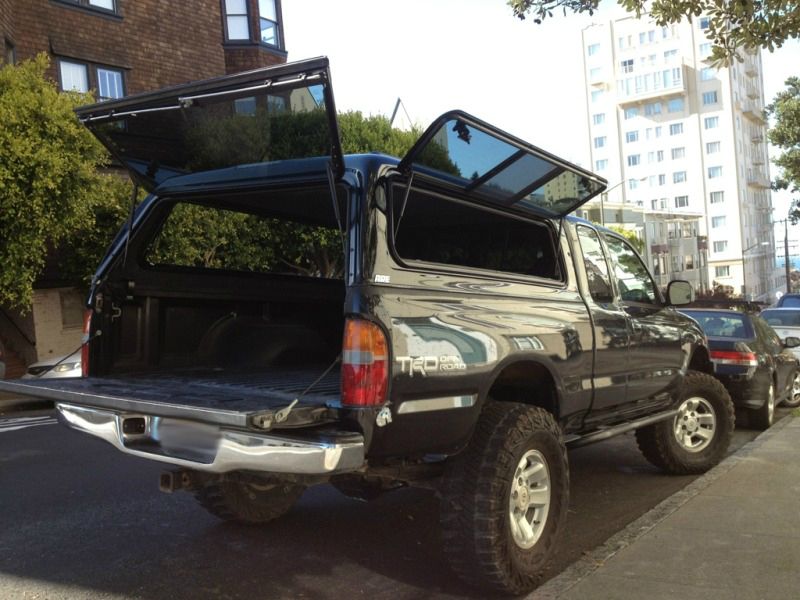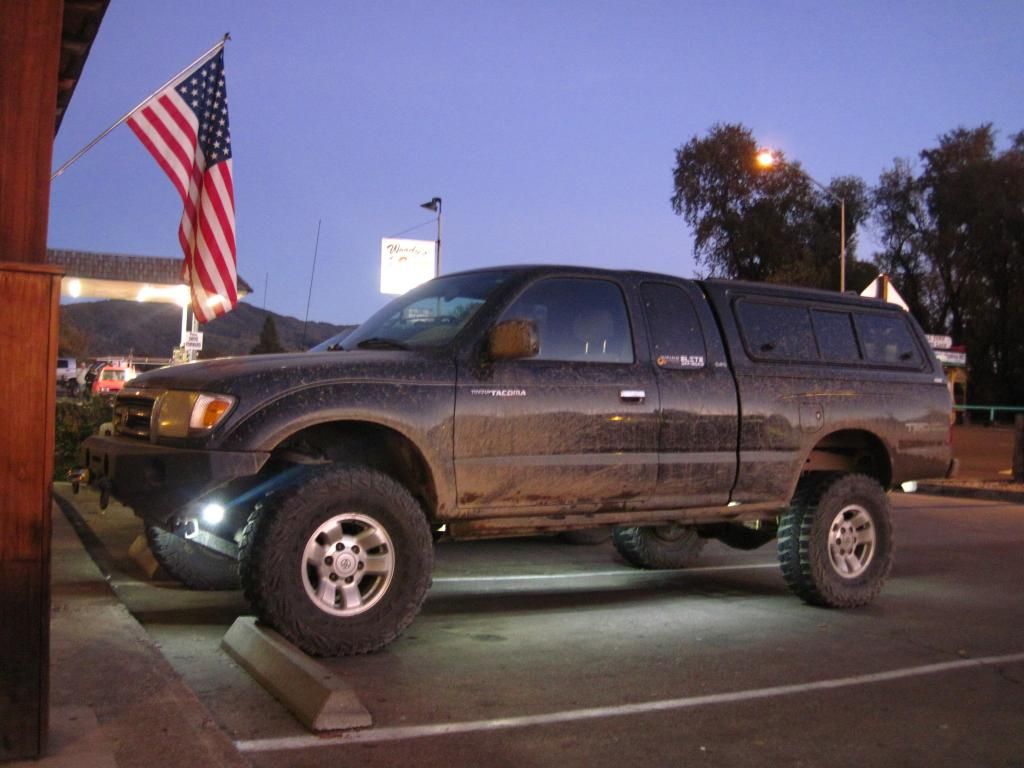 I picked up this '00 Xtracab V6 TRD Auto in August of 2010. I never thought I'd get an automatic but I live in San Francisco on a steep ass hill where parallell parking between fancy expensive cars is a nightmare in a 5spd truck, plus bad Bay Area traffic, and now I'm glad I did. It had kind of high miles (160k or something), clapped out old suspension, teeny little street tires (probably to improve MPG) and a crappy camper shell, but was plenty clean for the use it was going to see-road tripping for camping, snowboarding and surfing and once I prepared it, wheeling and exploring beautiful America
. I have always wanted a Tacoma and been interested in 4wheeling but I was too busy with fast sports cars to have a truck in addition until then.
I got it 2 weeks before I was supposed to go to Burning Man and I was bringing two friends, and I knew I would be hauling a LOT of weight for long distances for camping and snowboarding on a pretty regular basis so the old suspension had to go. So first thing I did was put on a set of OME 880s, OME shocks, Dakars, shackles, and 32x11.5 MTR Kevlars. This really transformed the truck into something more capable of hauling a weeks worth of gear and provisions for 3 people through sand, mud, and snow. I knew I was going to haul lots of weight from SF to the hot desert in Nevada and farther north to Tahoe, OR and down to LA, all in a few months so I shelled out big for preventative maintainance. New timing belt, radiator, water pump, gaskets, battery, ignition everything like that just for peace of mind.
I got sick of my shitty FM transmitter for my iPod so I installed an Alpine DCA-105 head unit.
The truck spent some time in the midwest and then by the beach in San Diego and the stock chrome rear bumper was eating itself alive with rust. I found a good deal on a Front Range Offroad plate rear bumper from a member here so I picked that up.
The 32x11.5 MTRs rubbed the frame at full lock and after piling about 25k miles on it in about 18 months I found that I wanted to widen the track for handling, stability with the lift and weight loaded and of course to eliminate the rub so I slapped on Sidertrax 1.25" spacers and bashed on the pinch welds and cut the fender liners. The fender flares had taken a beating and looked haggard so I took them off. I liked the way it looked with them on and the tires stick out a lot more with the spacers and the flares off. Hope CHP doesn't mess with me about it. I got some fiberglass materials to fix them but I'm too busy upgrading more important stuff to mess with that right now.
Then I decided if I'm going to wheel it I want armor and eventually a winch. Coincidentally I found out I could get a Elite front bumper already built right away so I pulled the trigger on that. Also got some PIAA 510 fogs on it for the Bay fog and Tahoe blizzards.
The added weight of the bumper is noticeable and it sags more so I stepped up to OME 882 coils. In the pics above I had just replaced the 880 coils with the 882 coils. I'm sure the 882s wil settle quite a bit like the 880s did. Here is a before and after comparison
Before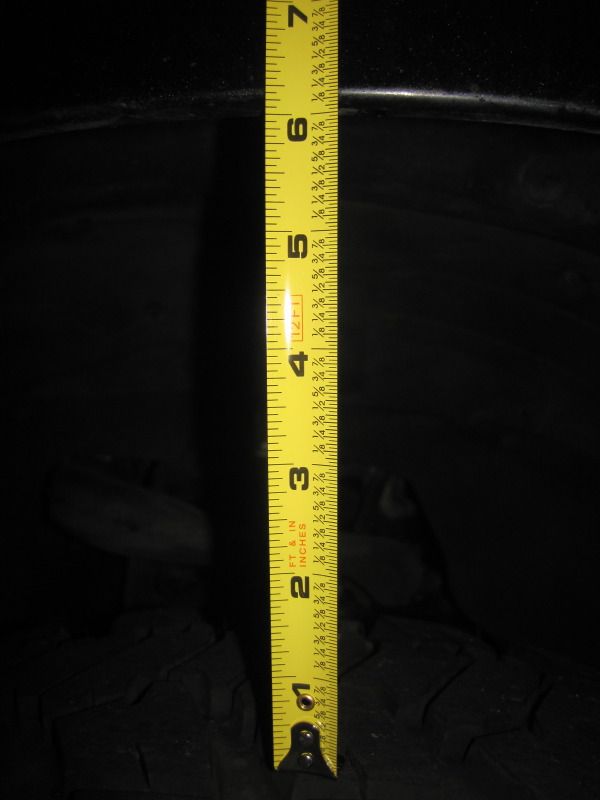 After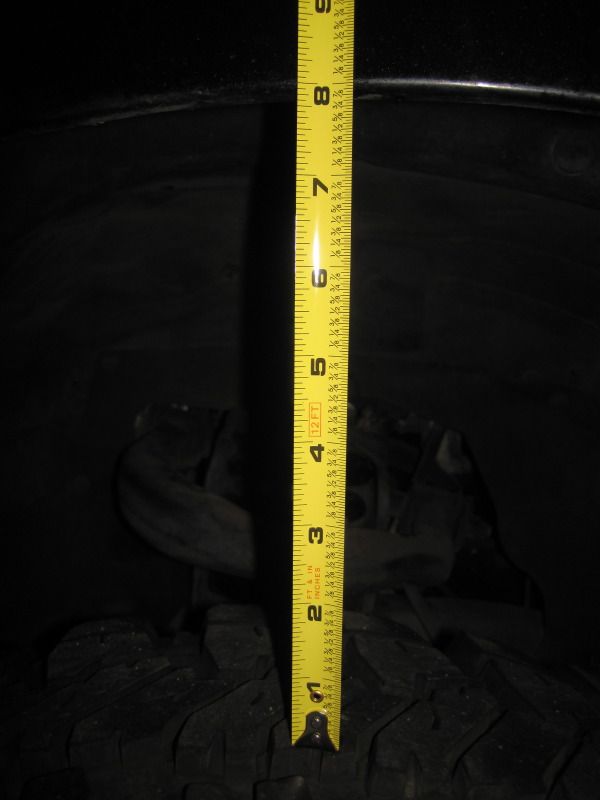 Got set of BAMF sliders made, he just finished them this week so I'll be installing those as soon as I get a chance. Can't wait! This is the mod I wanted before I started really wheeling it.
Next up is the audio system upgrade. The Alpine HU and loud music is blowing the old stock speakers, I want subs, and the road noise is pretty bad, especially with the MTRs so I'm diving in. I've had all the parts and materials for over a year but didn't have a garage to do this big project in until now. The system will consist of:
Alpine CDA-105 head unit
Polk db6501 6.5" Components
JL Audio XD200/2 75W x 2 amp
2 CDT 8" subs in custom enclusures in the rear speaker locations. I bought these and the RF amp off a member on diymobileaudio for a great deal so we'll see how they work out.
OLD SCHOOL Rockford Fosgate Punch 300amp bridged
Sound deadening the whole interior with RAAMmat and Ensolite.
I'll be starting on the sound deadening today. This is my first audio install ever!
Pics to follow...