I've been on here awhile and I thought that it's about time that I made myself a build thread. So here it goes…
Vehicle:
99 Tacoma 2.7L 4x4 5 speed manual
Currently has a cab from a 02 2wd Tacoma
Wheels and tires:
36x13.5R17 Super Swamper Iroks on 17x9 Pro Comp steel wheels
Axles:
-Front: Dana 44 from an 87 Wagoneer using Sky Manufacturing's 7" hanger w/ 4.88
-Rear: Stock 8.4 w/ 4.88
Suspension:
-Front: Rubicon Express RE1430 leaf springs, Fox 12" travel shocks
-Rear: Chevy 63" leaf springs, Bilstein 5125 12" travel shocks
-24.5" frame height
Lockers:
-Front: Eaton E-Locker
-Rear: Lockright
Armor/Recovery
-Homemade front bumper with Ramsey Profile 9500 winch
-Homemade sliders
-1/4" belly pan
-1/4" rear angle iron bumper with
Smittybilt
XRC8 winch
Other Junk
-02 2wd body
-6" oval LED lights for brakes and reverse
-LED switchbacks in the front corner lights
-Uniden 505 CB w/ 4' Firestick
-Magnaflow muffler
-Bed mounted tire carrier w/ 315x70r17 BFG All-terrain for a spare... SOON
-20" LED light bar
-15lb CO2 tank
-Line lock used to replace parking brake.
-CS144 alternator for extra power for the winches and lights.
Future plans:
-Roll cage, possibly partial Exo with a flat bed
-DIY Beadlocks
-Crawlbox or Lefty T-Case
-
Wet dreams:
Thinking about a 2JZ/2UZ swap for when this engine takes a crap.
As it sits now...
What it used to look like before the roll in Moab '14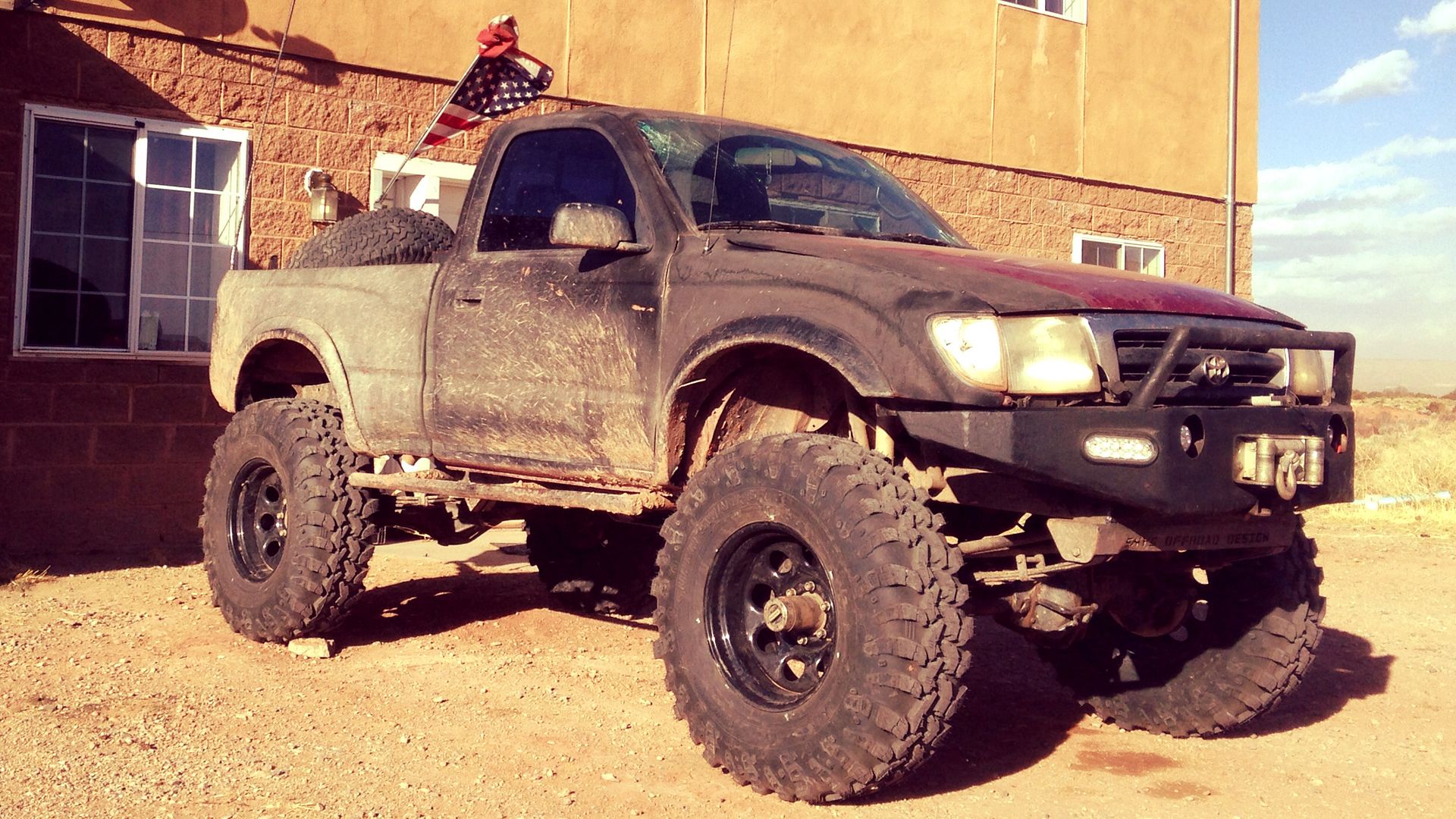 -Golden Crack T.A.Co 2013-
As it sat prior to Moab 2012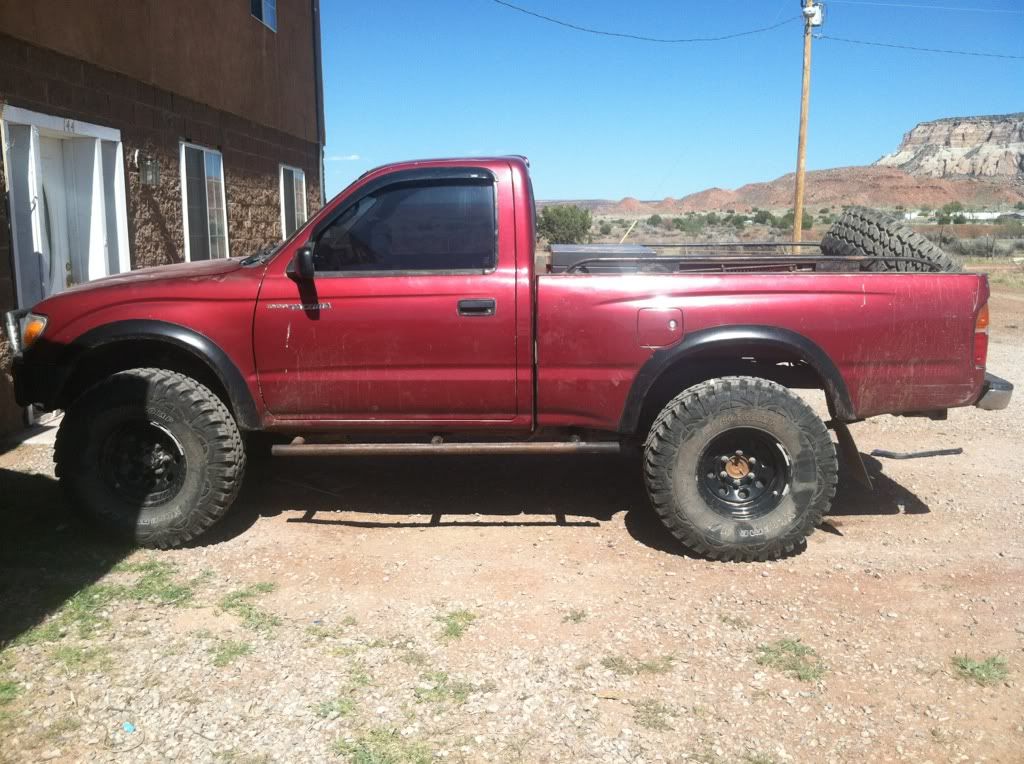 [Disclaimer: This is MY truck I did what I did because I wanted to
]
Life for my truck started out as a stock single cab that I bought used with about 86000 miles.
It came with some all-season tires that were low on tread but still had some life to em.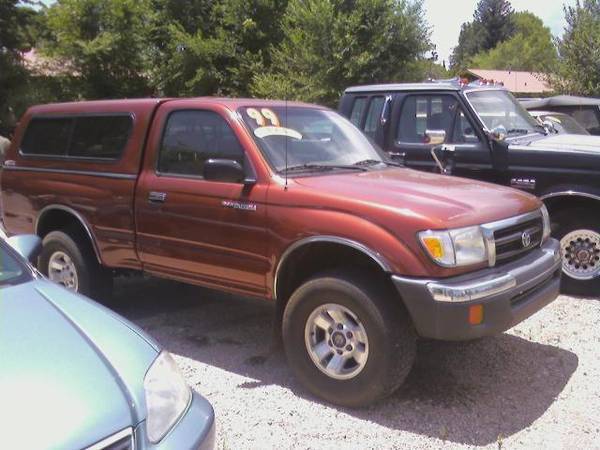 The first thing on the list was some new tires. So I waited until the "new" BFG KM2s came out with a 31x10.5R15.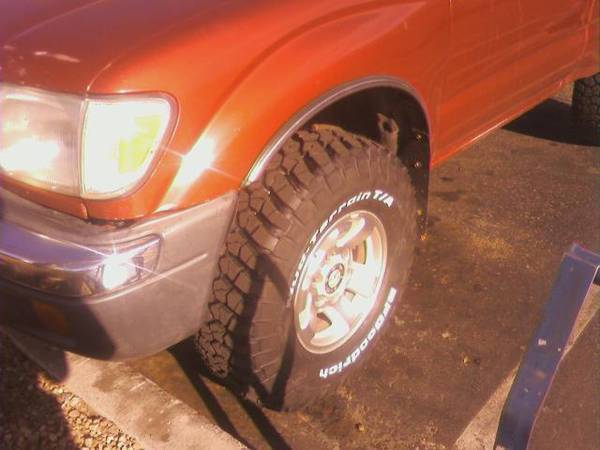 I played stock for a while then I put a cherry bomb glass pack muffler that used to be on my YJ project for a while, so the insides were broken in so it didn't sound too crappy. No pics use your imagination.
After the exhaust I decided to build myself a front bumper. I didn't take photos of the build of the bumper but through the pics you can see the modifications to the bumper. The bumper was built with metal I had laying around my house. Inside the bumper sits a Smittybilt XRC8 and for turn signals I put some LED marker lights.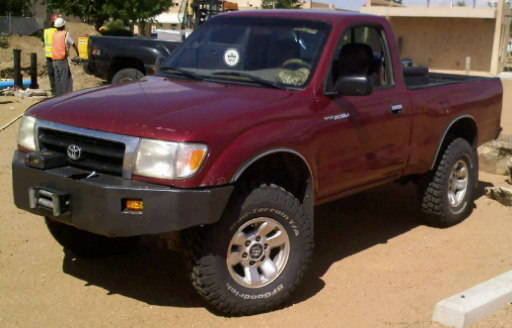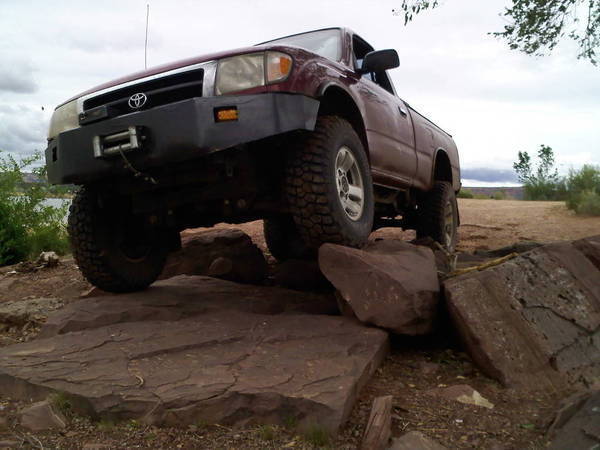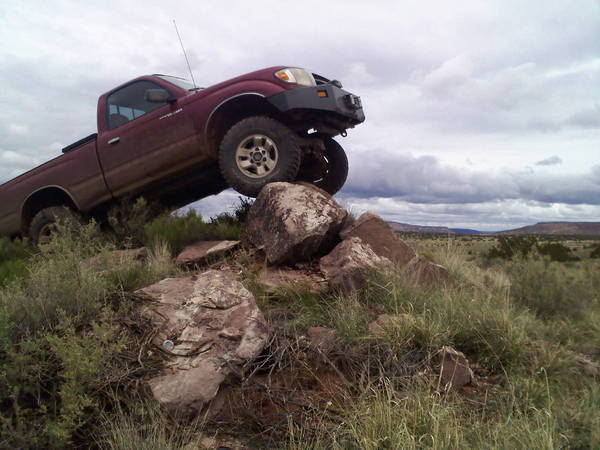 I later changed out the signals for some clear 6" LEDs that I also wired to the marker lights, some Wal-Mart el cheapo driving lights inside the bumper, and 6" knock off lights. I changed out the corner lights to LEDs but I don't remember when I did it.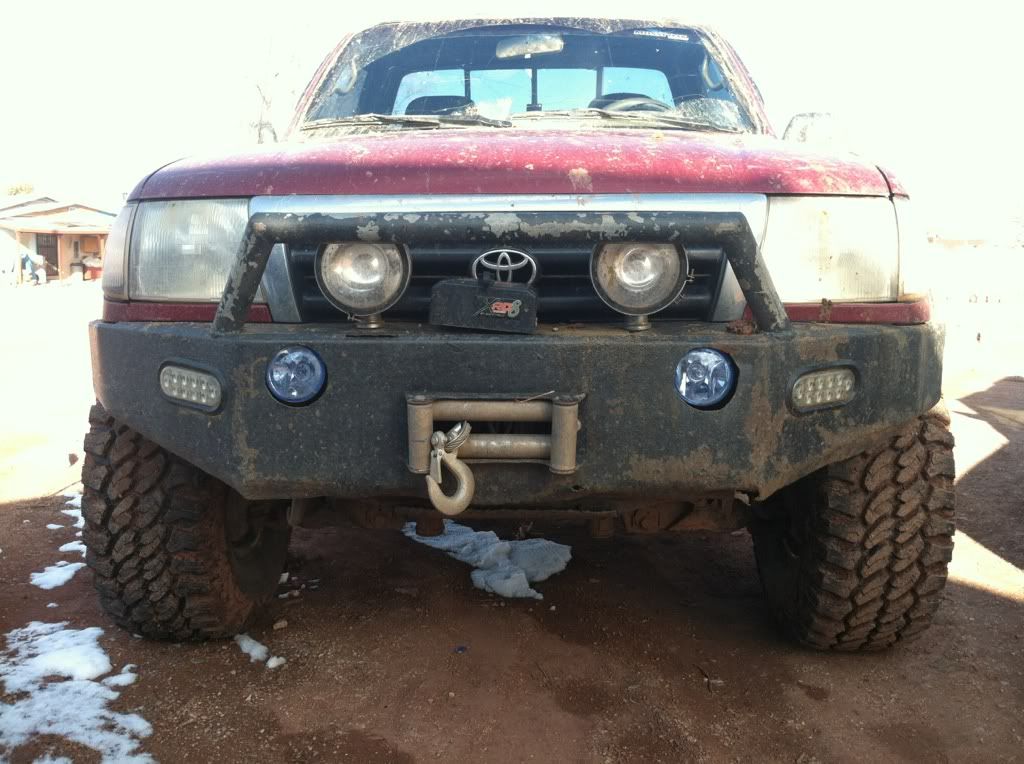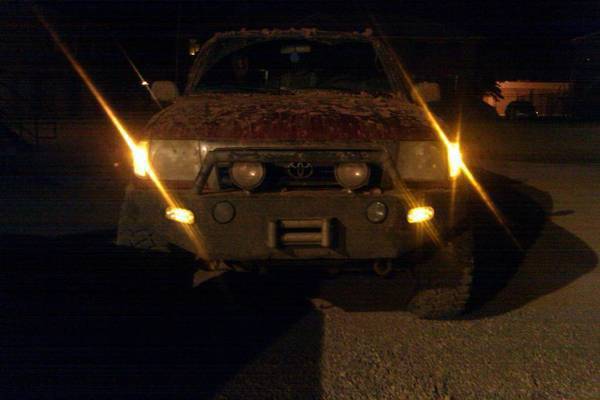 After the bumper I decided that a lift would be in order, so I could fit bigger meats on my truck. So being on a budget that I was I opted to get a spacer lift with an AAL which gave my 3 inches of lift and a slightly stiffer ride. With the lift being stiffer there was less body roll while cornering. With the lift my 31s seemed to be a little small. So I sold some cattle and bought some Mickey Thompson MTZs in a 33x12.5R15 and had them mounted on a set of Pro Comp steel 15x8 'rock crawler' wheels with 3.75" BS. Still with stock gears.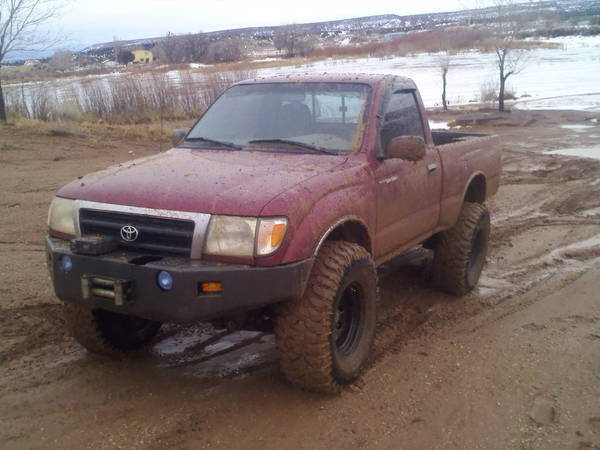 Now that my truck was a little bit higher, the wife wanted something so she could get in and out easier. So her brother-in-law who had a 4Runner had some side steps he wanted to get rid of. I took em home and cut them down to size to make em fit on my truck.
I used my truck as a truck so I didn't mind the stiffer suspension.
Tending to the needs of the cattle
Wood for the winter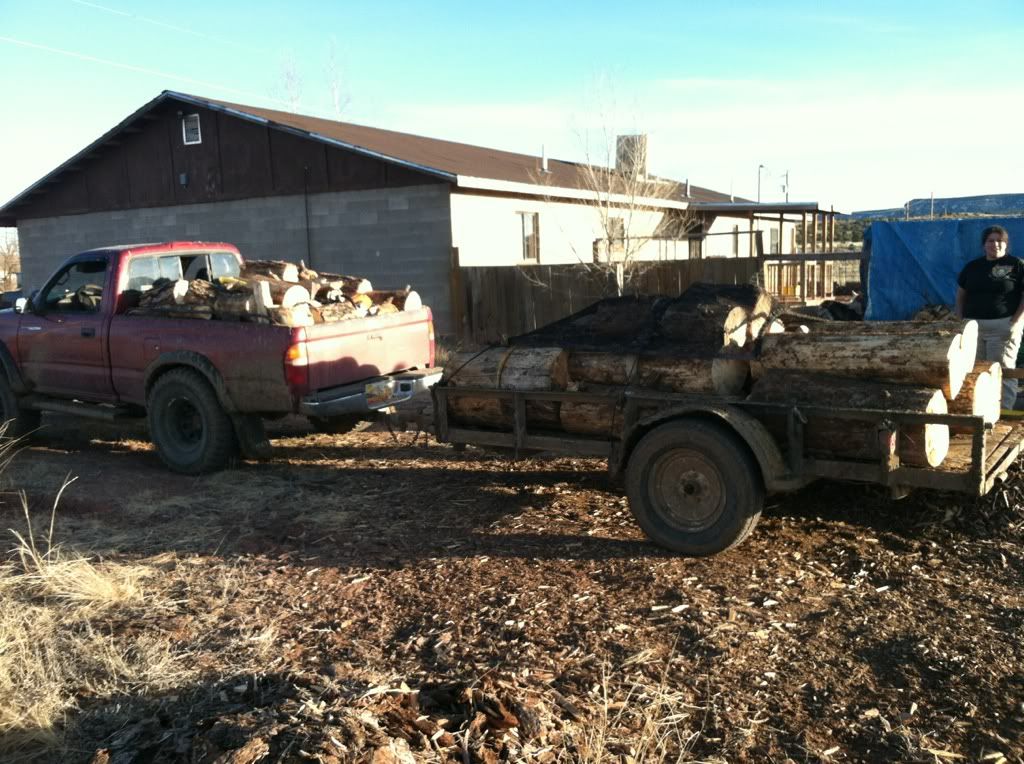 sand for my kids play area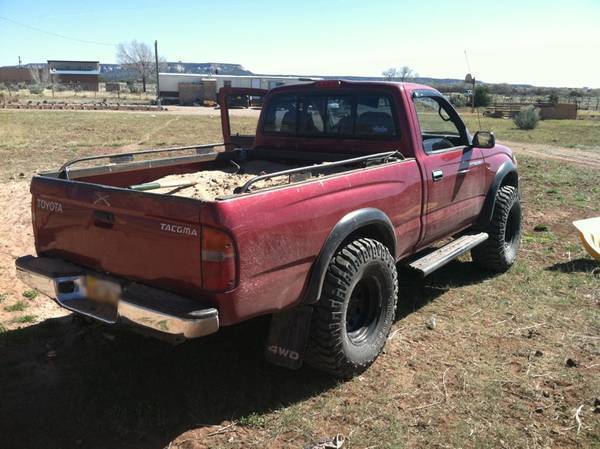 Somewhere down the line I made a mix and matched rear leaf spring set up using some Chevy leaves from a 96 S-10 Blazer. I kept my main leaf and put some of the S-10 leaves in along with a 84 Ford Ranger overload leaf because it was straight.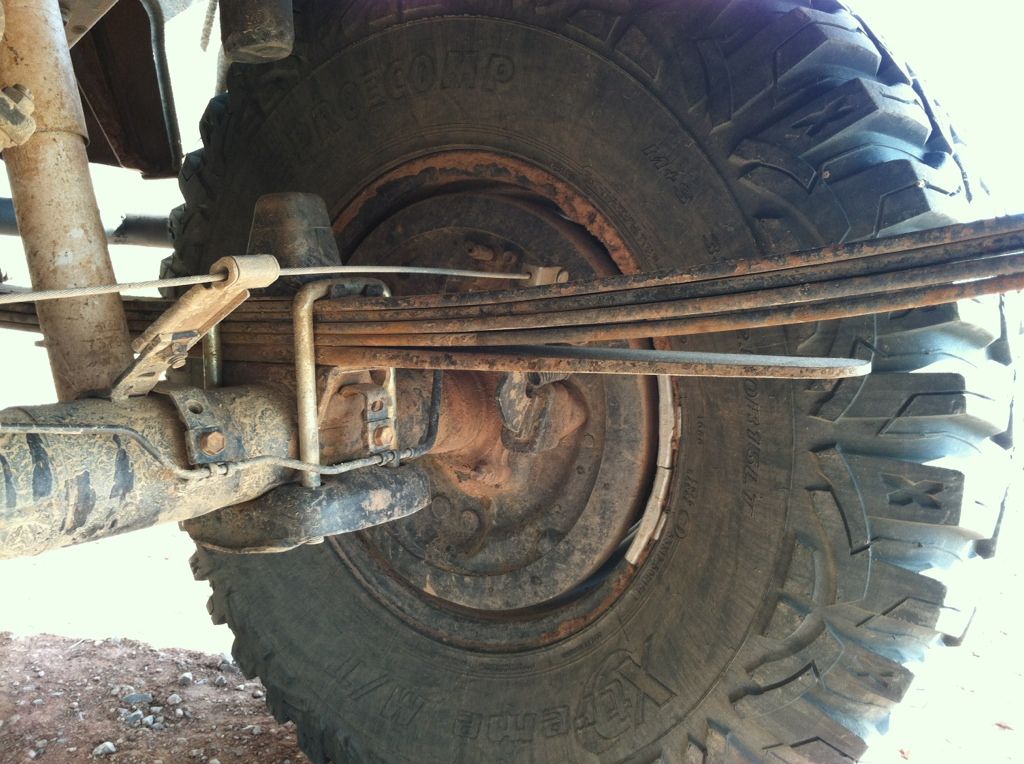 Changed out the MTZs for some Pro Comp Xtreme MTs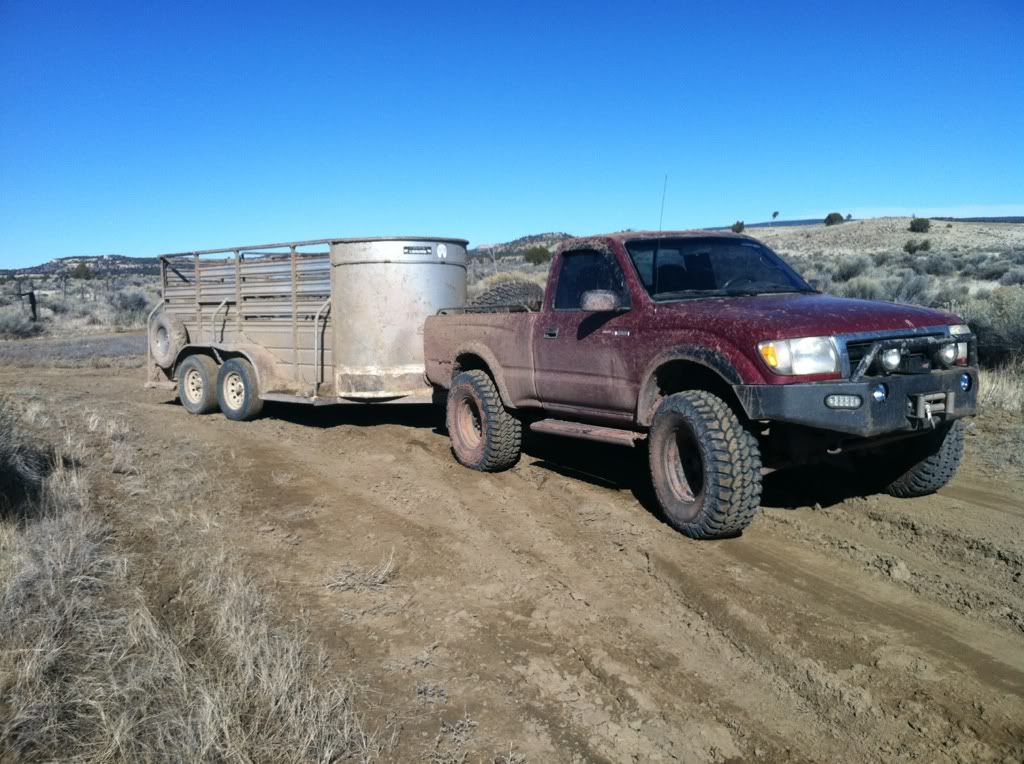 Prior to Moab 2012 I built myself some sliders out of 2" .120 wall tube I had laying around.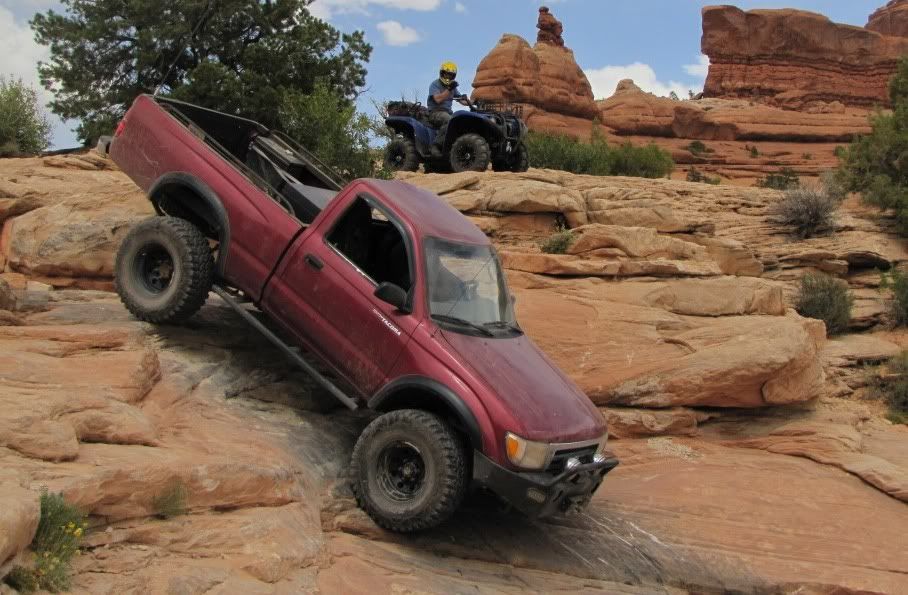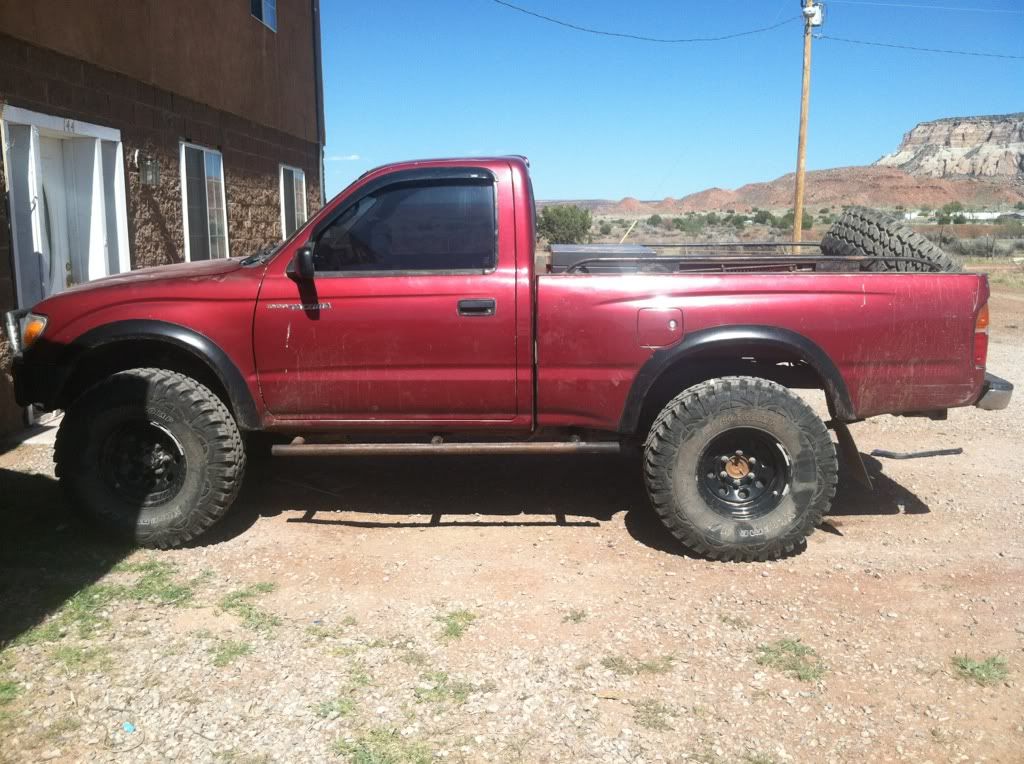 Sometime in middle of 2010, I made a tire carrier for my truck built around a 33" tire that replaced my tailgate, can be seen in the pic above. I built it so that it would swing out to the passenger side. I made it with the same 2" tubing my sliders were made of. Made around a 33" tire but can fit a 35" tire.
The mounting plate. Bolts to existing holes for the tailgate.
View of the tire carrier in prerunner style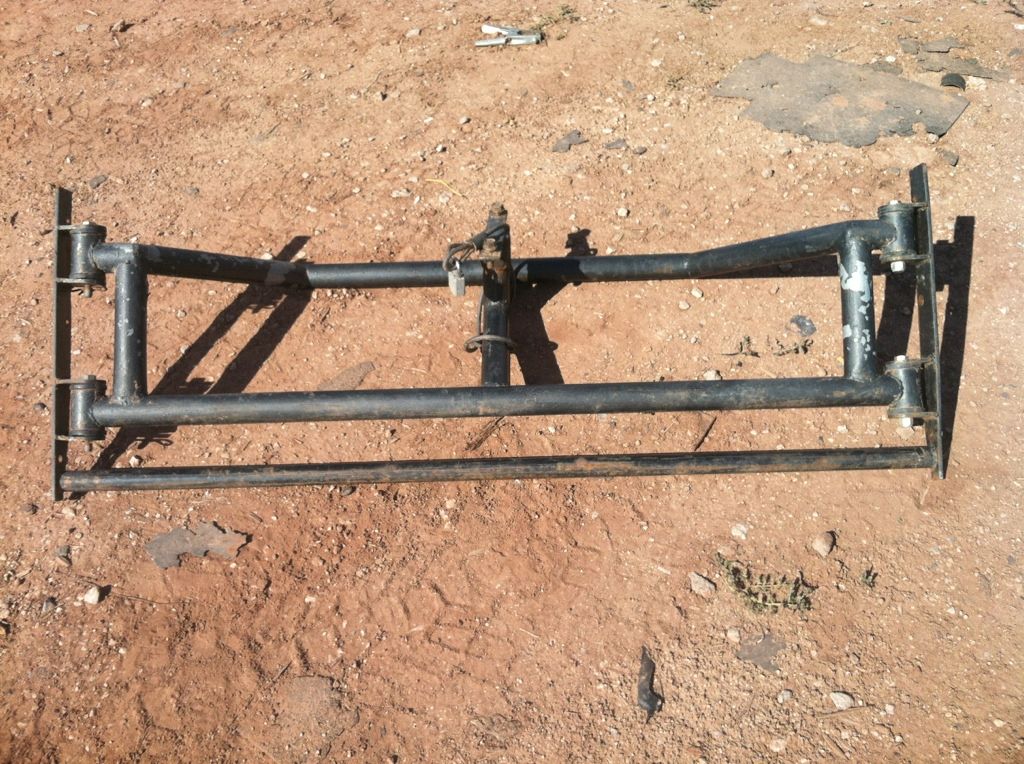 A view of the carrier from the top when bolted in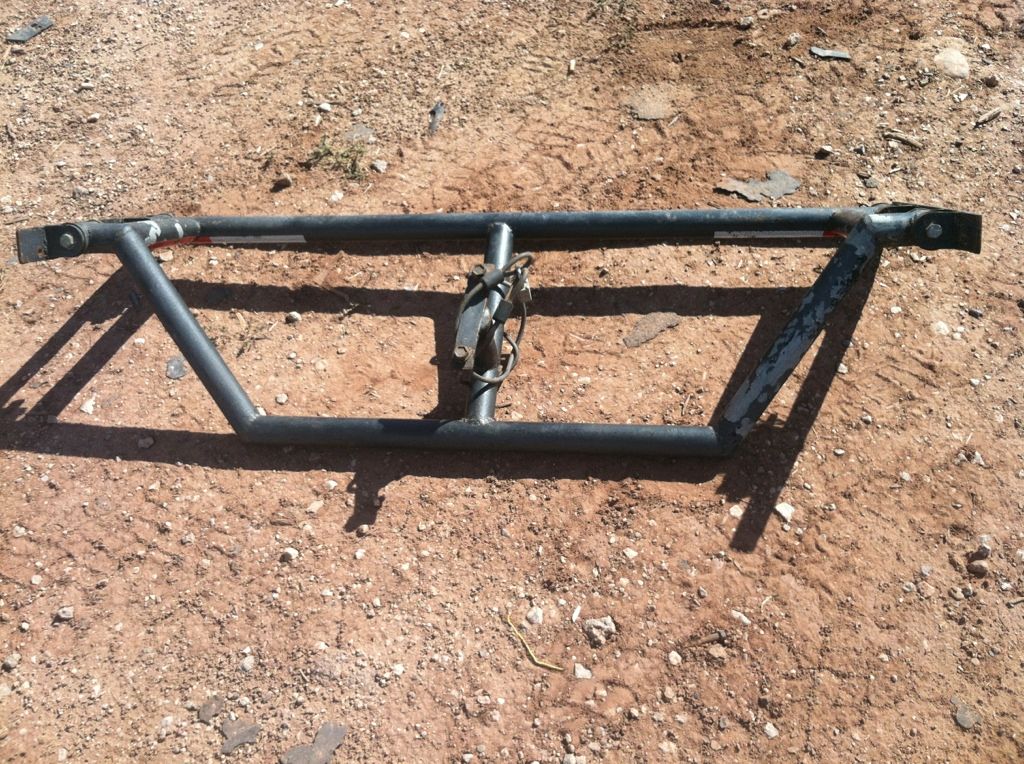 Since these pics I've replaced the tire mounting plate with a Ballistic Fab 3/8" mounting plate.