Okay so here it is
:
Sorry
wrong ride...Since you're here anyways check out my Truck
CURRENT SITTING FORMATION:
*Lift Pics start on page 3*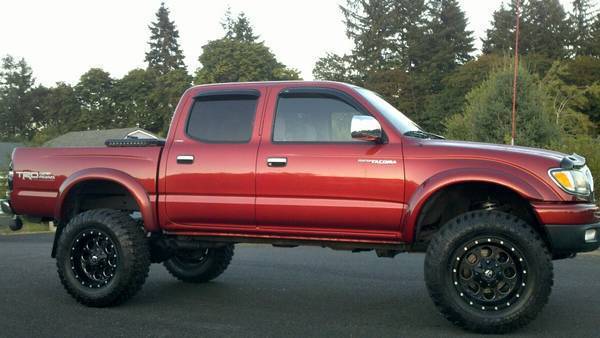 First Tacoma i bought in 2007. 1995.5 2.7L 5speed, came with a Revtek lift and i added a CB, front fog and rear lights, and tires. Drove her until 311,000 miles and sold her to buy my new truck in Sep 2011.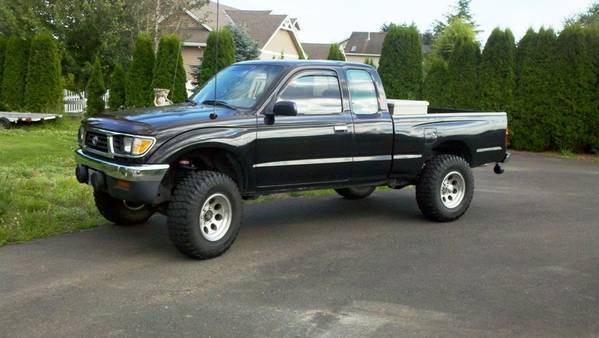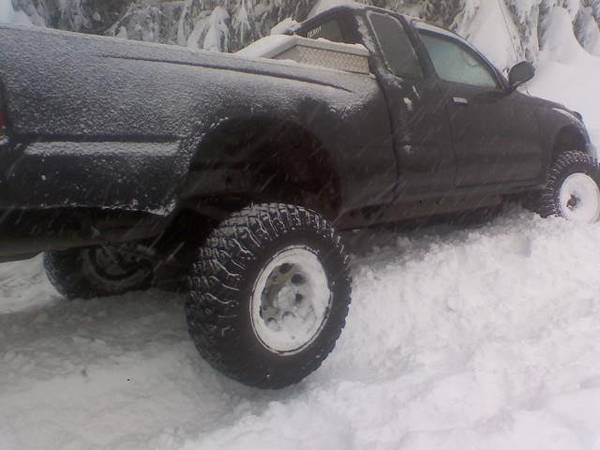 NEW2ME
2002 Tacoma DCAB TRD Limited
- this truck came 100% stock
INTERIOR/Accessories
Husky Floor liners
AVS Bug screen and window visors
Cobra CB 29LX LED
5' Firestick II Red
Delta Low Prob Box
K&N Performance Intake
Sony Bluetooth Deck
PIAA Fogs front
Tractor Lights mounted in rear
LED Switched mounted on fuse panel cover
Sony 1100W 10" Sub
Jensen 300W 1100 peak Amp
MODS
Grey Wire Mod // Blinker mod // Night Shade Rear + 3rd Brake Light
SUSPENSION
FRONT =
Eibach Coils 620lb
Billstein 5100
1" Diff Drop
REAR =
Billstein 5125 9 1/4 Travel
All-Pro
3" Leaf Pack
All-Pro Ext. Steel Braded Brake Line
Extended U-Bolts
WHEELS
Fuell Revolver 17x9, 4.5 BS with -13mm offset (Pushed out)
EXHAUST
Flomaster Original 40 Custom shorty, (1)2.5" pipe into the muffler with (2) 2.5 outputs dumping out with 3" ovaled tips, Full exhaust painted mat black
TIRES
33x11.5 D.C. Extreme Terrain
SAS PROGRESS
Waggy Axle.....check!
FUTURE
$$$
Sliders
Custom front receiver w/ welded stinger
EBC 3GD Series Sport Rotors GD7235
UCA (Camburg or T.C.)
3 Gal Tank & Compressor in box
Blue Sea Fuse Box
Custom Headache Rack w/ high lift mount
Blacked out rear bumper
New windshield (Mines spidered out)
Blacked out door trims and center console
Much more i'm forgetting....
Even Further In The Future
Waggy 44
Skys IFS Eliminator Kit (10")
37x13.5r17 Meats
4:88 Yukons
ARB Front
The day i brought her home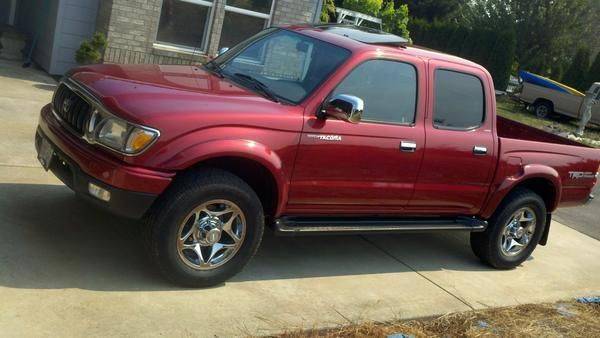 I needed another tool box as i have alot of sh*t! I knew i needed one that can clear my fender wells, i preferred a black diamond plate and low profile but they are nearly $500 new. Found one on Craiglist next morning for $130.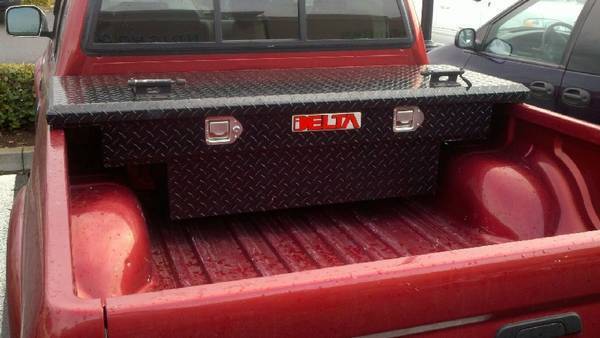 Towers tank Trap - Picked up some nice PIAAs off Craigslist for $65(Pair), wasn't sure where to mount them so i bolted them into custom L brackets underneath.(Currently in the back seat)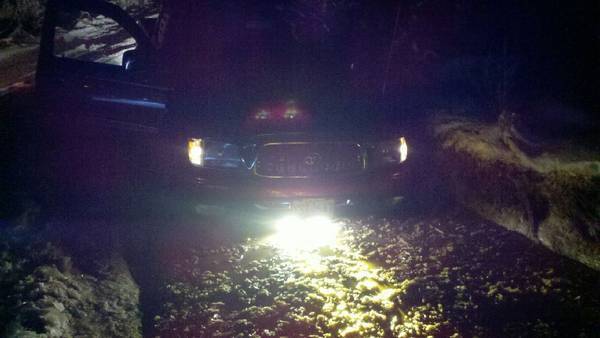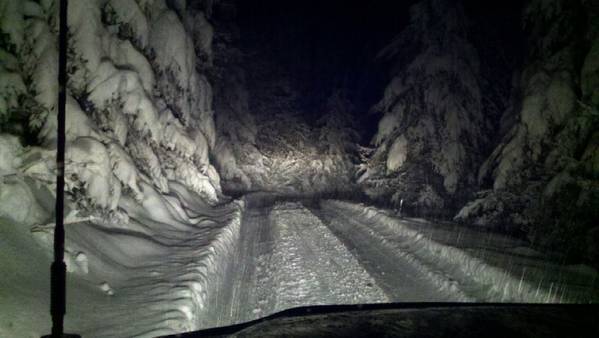 Drilled two holes into the rear bumper for my tractor lights.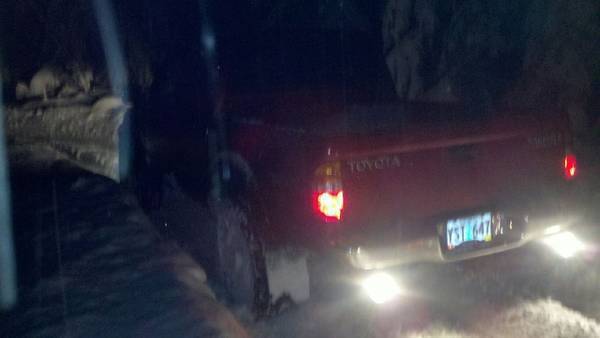 Went shooting in the hills
I let her shoot my Winchester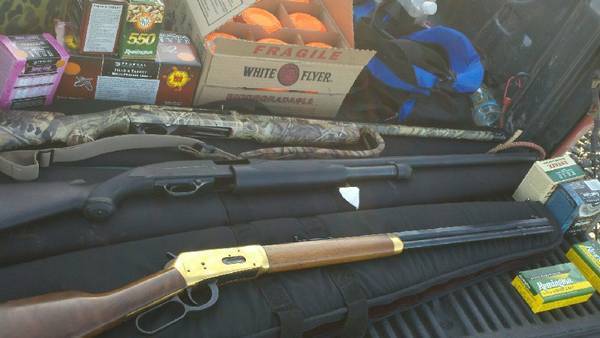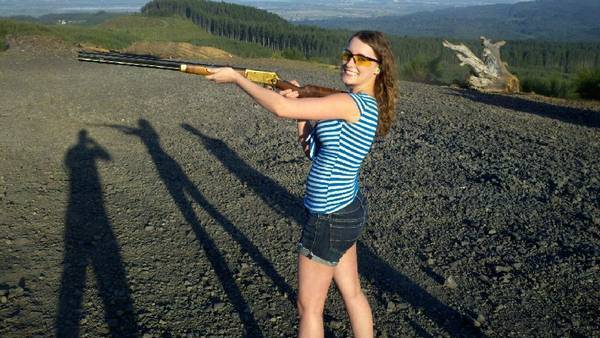 Saw a video on youtube with the blinker mod - decided to COPY! 6k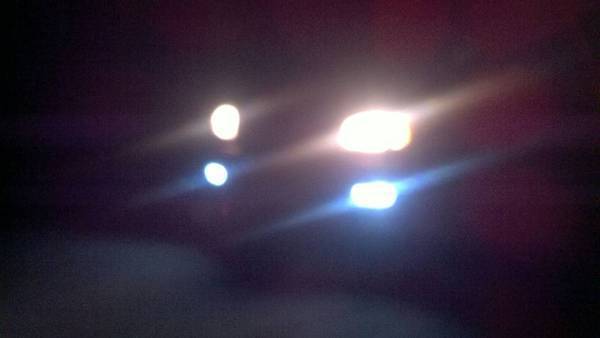 I've had the thought of ordering some kind of Visual guage for my truck - UltraGuage seemed like a popular pick so i ordered one.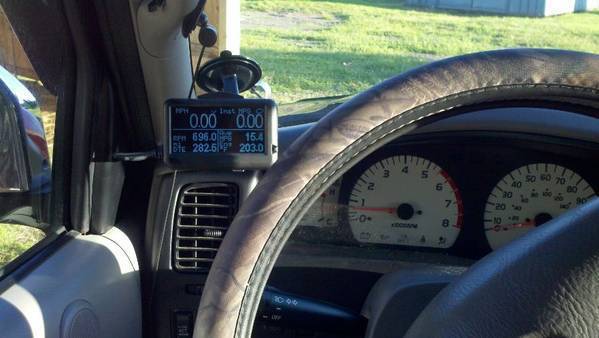 I planned on lifting it soon so i thought why not buy some new wheels! (I hated the chrome, probably why they are still for sale!)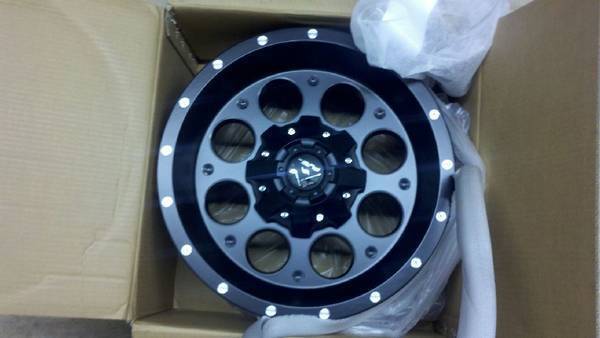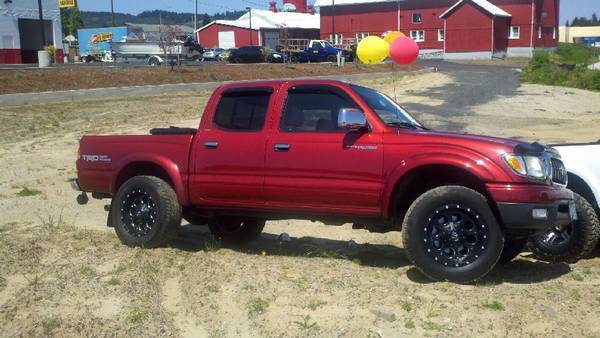 I missed my old exhaust - so i went to Advanced Muffler (Adam), i explained what i want and he made it happen for a very reasonable price.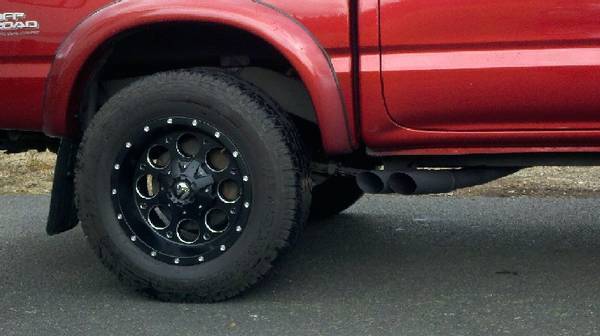 Went to the beach houses for the 4th - kept it in low and was kreeping away from the water
No Salt Thank you!