My Taco as of May 2014.
Truck:
1997 Toyota Tacoma DLX
5VZ-FE 4WD 5 spd.
Black Extended Cab
Performance:
1st Gen Grey TRD Supercharger
URD
7th Injector Kit
URD 2.2" Pulley
URD 170* Thermostat
URD Short Throw Shifter
TRD Dynamic Tensioner
TRD Boost Gauge
TRD Radiator Cap
Denso IK22 Spark Plugs
Airaid M.I.T.
PLX Wideband
ScanGauge II
AFE Dry Pro
Air Filter
Deckplate Mod
Magnaflow
18" Muffler
Brembo Blank Brake Rotors
Hawk LTS Brake Pads
Tires/Wheels:
33x12.50r15 Goodyear Wrangler Duratracs
15x8 Pro Comp 7069's
Full Size Matching Spare
Suspension:
Icon Vehicle Dynamics
2.5" Extended Travel Coilovers
Total Chaos Uniball Upper Control Arms
Icon Vehicle Dynamics 3 Leaf Progressive AAL
Icon VS 2.0" Series Monotube Rear Shocks
Energy Suspension Steering Rack Bushings
B.A.M.F. 3.5" BPV Bracket
Armor:
Demello Front Tube Bumper
RAT Products Rear Plate Bumper
RAT Products 3/16" Front Skid Plate w/ Rack Coverage
Exterior:
Dee Zee Black Tool Box
98-00 Fender Flares Painted Black
5" Rugged Ridge HID Offroad Lights
Pilot H4 Sealed Beam Conversion Headlights
SilverStar ULTRA H4 Bulbs
Eagle Eyes Corner Lights
Super Bright LED's Amber LED Corner Bulbs
Blinkers Relocated To Corner Lens
Cree LED Reverse Lights
Custom LED Strip For License Plate Light
5% Tint All Around With Windshield Strip
Interior:
Wet Okle Seat Covers
Husky Floor Liners
Round Eyes LED Dome Light
Black Leather Steering Wheel Cover
Pioneer Head Unit
Kicker Comp 10" Loaded Enclosure
Kicker DSC65 6.5" High Performance Factory Replacement Speakers
When I first got it.
So much has changed, and here's the story...
I first got my truck from my dad when I was 14. It sat for a while since I could not drive it. It had a 3" Tuff Country lift (blocks and spacers) and a brush guard on the front. I turned 16, got my license, and found TTORA. The research then began...
My first move was to ditch the spacers and go with some adjustable Bilstein 5100's instead. Set them to 2.5". I also removed the brush guard. I blew a ton of money on some Westin step bars because I thought the looked cool. What a waste of money.
Rear setup. Still had blocks and Tuff Country shocks. This is when I began saving for Alcans and rear 5100's.
Next, I ditched the step bars and got some 32x11.50 BFG AT's with Pro Comp 1069 wheels to replace my worn out 32x12.50 Mickey Thompson Baja Belted tires and Centerline Hellcat wheels. They looked much better.
Didn't do too much more for a while. Decided I wanted some fender flares though so my buddy Alex (user name AlexXx) hooked me up with his old ones off his 99 Tacoma.
SO I got into a little accident and dinged up my front bumper. I really wanted an aftermarket plate bumper but couldn't afford one. I decided to get a black replacement bumper instead to get rid of some chrome. I also blacked out my corner lights and grill emblem.
Old bumper:
New bumper:
NOW the fun began. I still planned on running Alcans and 5100's in the rear. I saw on the local forum (LATTORA) that a member was going to be doing a SAS on his 96 Tacoma (user name goofballtech). He already had 3" Alcans and 5100's in the rear but was planning on getting new Alcans all the way around for the SAS. So I contacted him and he gave me a great deal on the Alcans and 5100's. Looks like all the good shit isn't in Cali after all
.
Old rear setup:
New goodies!
All cleaned up.
Installed.
I drove around for a bit with the 5100's up front and the Alcans with rear 5100's out back. WHAT A DIFFERENCE! The truck handled much better and no longer had any bad axle wrap. The back was about 1.5" higher than before when I had the blocks. I also noticed that the rear suspension was much more stable than the front. I knew the best way to balance out my suspension was to either get new coils for the 5100's or just go all out and get fully adjustable coilovers. I decided to save up and do it right the first time. Meanwhile, I got a a great deal from a friend of mine on a black toolbox.
It was time for a good tune up. I recently had my timing belt, water pump, and front seals changed at the dealership. So I did the usual Royal Purple oil change except this time with a genuine Toyota oil filter. I also switched from NGK spark plugs to Denso. I got an AFE Dry Pro air filter to swap in also. Oh, and a can of Seafoam with every oil change keeps the doctor away.
MY DREAM FINALLY CAME TRUE!
I finally saved up enough to afford some coilovers. I saw
Demello Offroad
had a pair of open boxed Icon extended travel coilovers for sale at a discount price. I got these and installed them the day they came in!
New next to the old:
Installed:
My plans now are to get some TC UCA's and replace my lower balljoints. I also have some polyurethane rack bushings waiting to get installed. Once I get the TC UCA's, I'll crank the Icons a little more to level out my truck. The Icons put my truck at the exact same height that the 5100's did. Well, that's it for now!
Well I haven't really been doing much to my truck other than regular maintenance. I have been real busy with college and haven't had the time or space to really work on my truck. I came home for christmas break and got a nice surprise from santa!
Wet Okle Seat Covers!
The install wasn't too bad. Taking the seats out made it much easier. I got them in the taupe 100 color. It matches my oak/tan interior almost perfectly.
Next on the list is a clutch, ball joints, and steering rack bushings. The clutch is the original clutch and has 108,000 miles on it. I have also been experiencing clutch chatter. Figured it's about time for a new one. The bushings and ball joints have been sitting in the box for a few months now. Just need to get some time to install them.
Not much has been going on with my truck. Since I've had some free time this summer, I decided to knock out a few small things.
Here are a few updates:
1. The brake pedal started to feel funny and stick. While inspecting the brakes, I noticed I had a bad rear wheel cylinder. I decided to replace both wheel cylinders with genuine toyota wheel cylinders. It was a piece of cake. However, the problem is still there. Next will be a booster/master cylinder.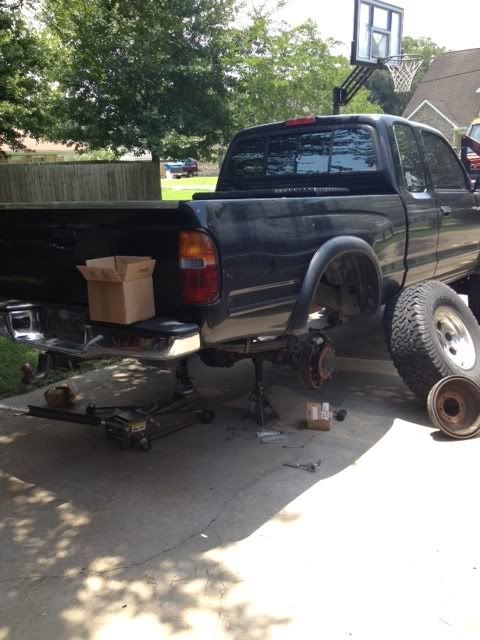 All clean and shiny!
2. I have been having polyurethane steering rack bushings sitting around for about a year now. Finally decided to tackle the job. It wasn't too hard until it came to getting the rack back into the correct position to mount. The middle crossmember mount is a HUGE PITA. The new bushings would not fit back into the mounting slot. After about an hour of fighting with it, it went back in. My steering doesnt even feel any different!
Old bushings.
3. I did some regular maintenance. Oil change and tire rotation. While the tires were off, I took the opportunity to clean up my coilovers and install these cool red bump stops I've been having.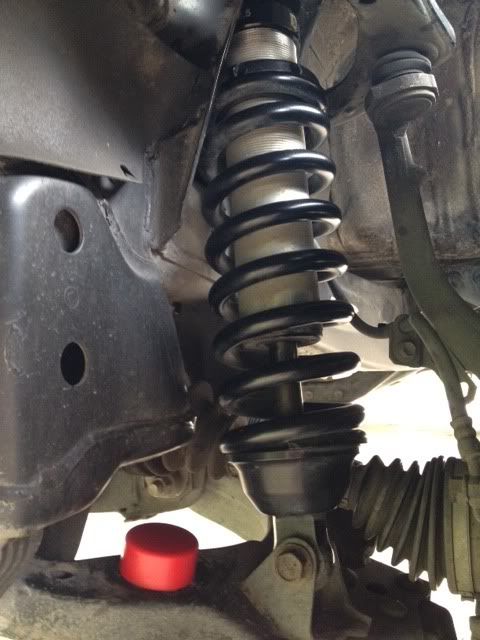 While changing the oil, I decided to wipe down the engine bay a bit.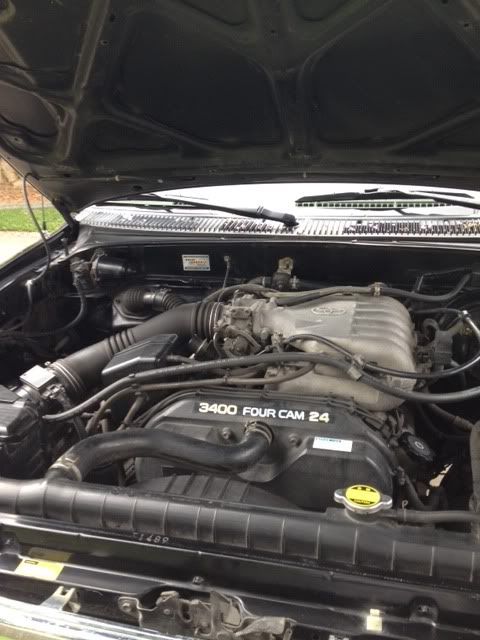 That's all for now! Next update should be when I change all my balljoints and adjust my coilovers for .5" more lift.
FINALLY got around to doing all 4 balljoints and adjusting my coilovers to try and level out my truck. They have been at the factory setting (2") for over a year now.
Not many pics of the install, but got some shots of the new balljoints installed and my coilovers adjusted!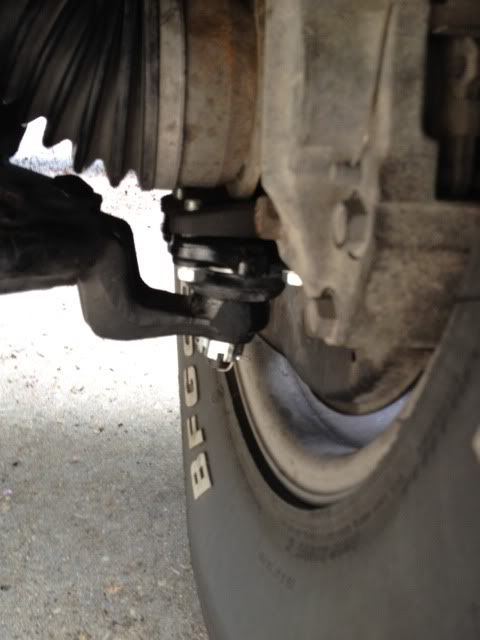 After reading numerous write-ups on balljoint installs, I was convinced all I would need was a pitman arm puller and a 3 jaw puller. The pitman arm puller worked great for the tie rods and lower balljoints, but the 3 jaw puller was too much of a pain to use on my upper balljoints. I ended up renting a Balljoint Service Kit and 4WD Balljoint Adapter Set from O'Reilly. These kits worked GREAT! I also had to get a quick fix driver side outer tie rod from
Autozone
since I destroyed the threads on my old one and could not reuse it. I normally ALWAYS use genuine Toyota parts, but in the near future I plan in replacing all my tie rods with Toyota parts.
Another note: I cranked my driver side coilover 7 complete turns and my passenger side a tiny bit less than 6 complete turns. This resulted in about 1" more of lift right off the jacks and NO TACO LEAN! However, I'm sure they will settle to about .75". This would result in a total of 2.75" of lift which is perfect. My upper balljoint and CV angles are a bit steep, but I'm expecting the truck to settle a bit. Also I have manual hubs and don't really flex out my suspension too often on this flat Louisiana land
. I have limit straps which will be installed soon to prevent my brand new upper balljoints from over extending since my Icons are extended travel. I will post pics when I get the straps mounted.
Need an alignment!
Here's a few pics of how the truck sits now. Also, I painted the entire front grill and corner light trim black! Now the only chrome I am down to is my rear bumper and door handles. This will change soon though!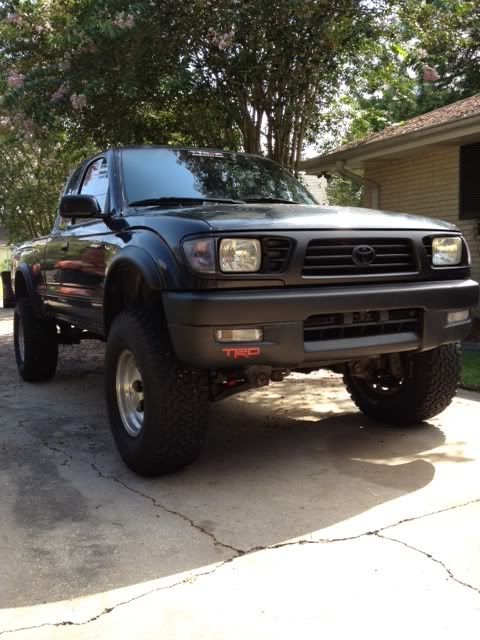 That's all for now! Next jobs are my brake booster (mentioned in previous post) and new rotors/pads (steering wheel shakes like crazy when braking). And as mentioned earlier, limit straps.