Ok so I got my current Tacoma in May by trading my old 94 pickup for it. This truck when I first saw it just got my heart beating pretty darn fast. I loved it and loved it xxxnumber of times more when I drove it. Ive always heard great things about the 3.4 and all that can be done with this engine to make it even better than it already is. Anyways, it had a 5-speed tranny which was a must have for me because I really enjoy the sporty feel and like to pick my gear and with a truck that has as high of mileage as this one, drive it my way.
So when I told the guy "yes" to trade, I asked for the title and I saw that it hadn't been notorized. He then had to drive all the way back home and get the title signed by his mom (idk why she had her name in the title) He came back and we traded. I was like "YAY!!!" Soon did I learn that I would putting the minimal amount of money that I make into this truck for the next few months. I had a new clutch installed, LCA bushings, something with the steering was off, New drums, Pads, e brake, battery, terminals, and yeah.
Ill start with some pics of my old trucks that ive owned. Got to start off young with these trucks I say
So heres my story, I was very much into dirtbikes and had been riding with a bunch of buddies around a little town called Roslyn in Washington state. We were all enjoying ourselves until I had a head on collision with one of my friends. I haden't straped my helmet on and It flew off and my head slammed onto the rocks and dirt... Thus cracking my skull, I was bleeding out of my ears during which I was having convulsions. I was more than lucky to have had a paramedic riding just nearby with his daughter (hot btw) He and her saved my life and the nearby firefighters came helped me. I was helicoptered to Harborview Trauma Center in Seattle where I was diagnosed with a Traumatic brain injury... I could go into real detail here but that would just bore all of you clowns so Ill get to the end.. I survived (obviously) But am part titanium now haha
So now I get to my first truck that I bought with a small portion of the money people donated to my family to help out with everything.. I am blessed for everything god and my family-friends and of course the what the doctors did for me.
The truck was an 89 22re that had a 4" drop bracket, 33/12.5/15 tokohama at's on black steelies, cut exhaust because I lived in a hick town, fox and honda decals for added power to turn the 33s with the automatic tranny that jerked when it was cold. It also had a CB.
Well I sold this truck because it didn't have A/C and I was moving to Arizona (again)
Soooo I bought this before another sergury so I could look forward to something after I got out of the hispital.. It was a 95.5 Tacoma LX with the 2.7 which was mated with an auto. It also had a Revtek 3" spacer lift and a K&N Cold Air Intake and 31s.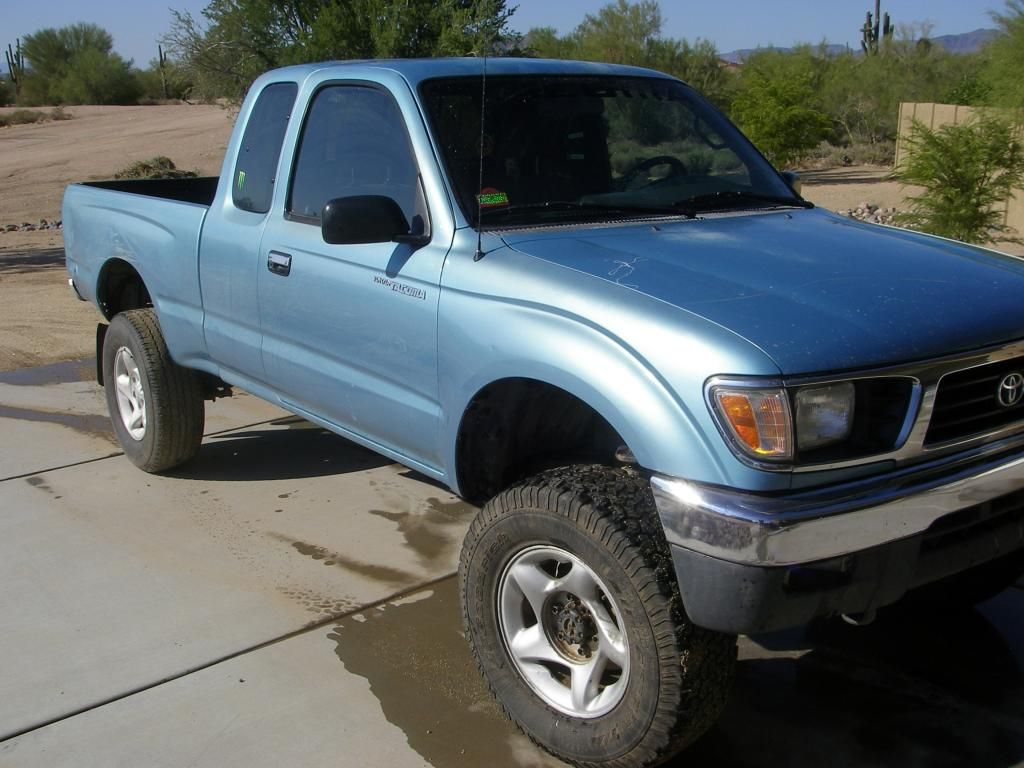 I sold this truck after a few months of owning it due to the fact that I wanted a truck with a manual tranny.
So I got this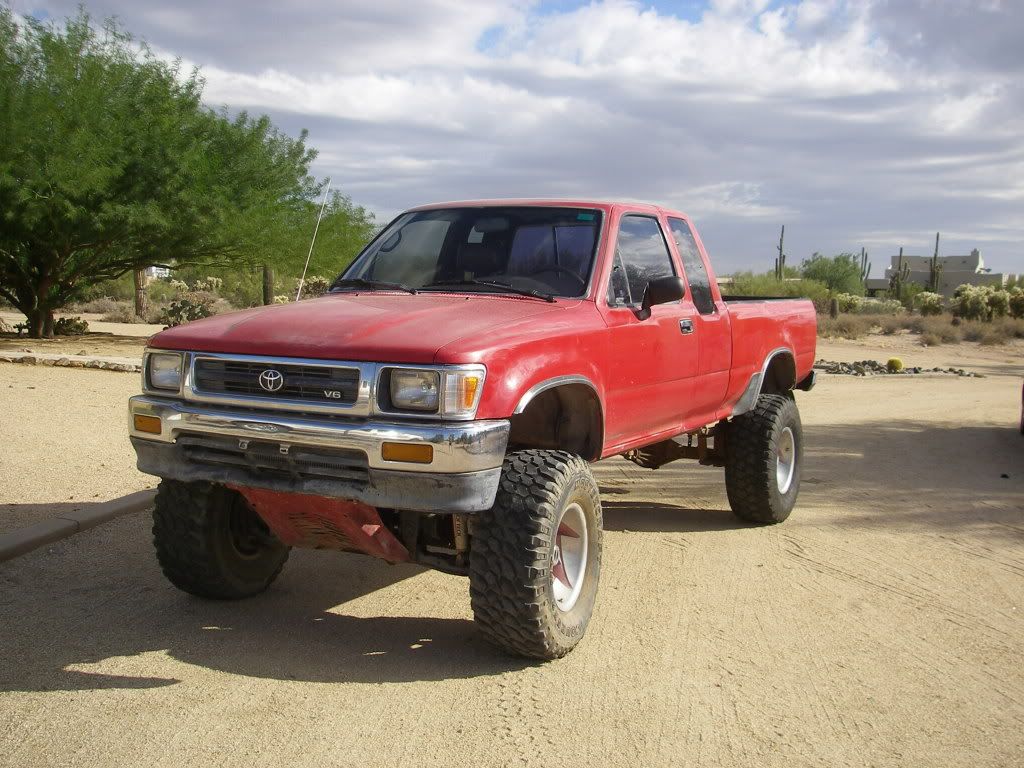 With the 31s and some awesome AZ clay
I did an SAS and a black paint job on this truck. I have a build thread on TW as well. A great learning experience and senior fun!
Now I get to my current taco.. I like tacos. Preferably taco bell.
When I first got it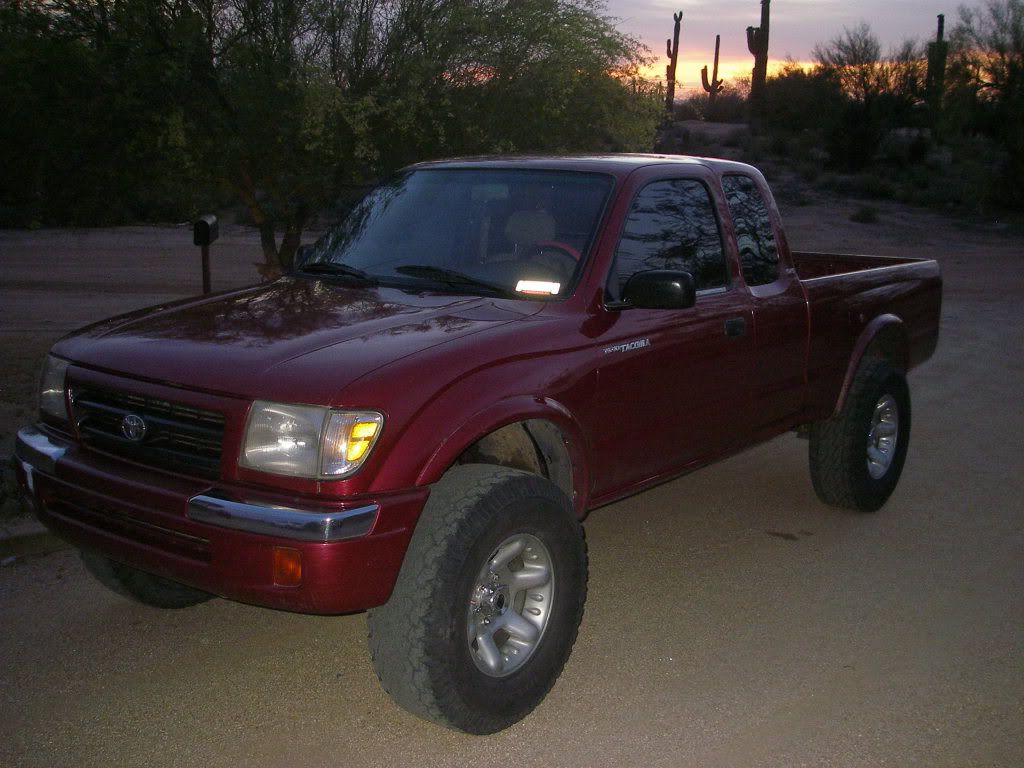 Then I bed lined it up cause it was beat to nothing. Well almost beat to nothing.. You get what I mean.
Before: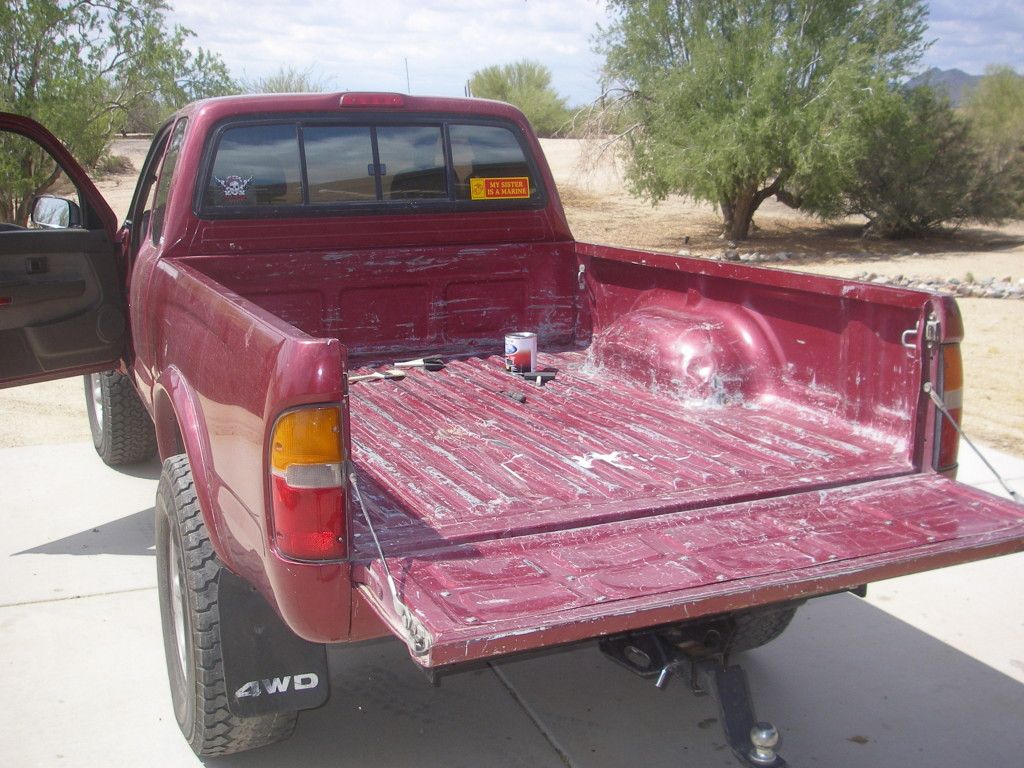 After, obviously.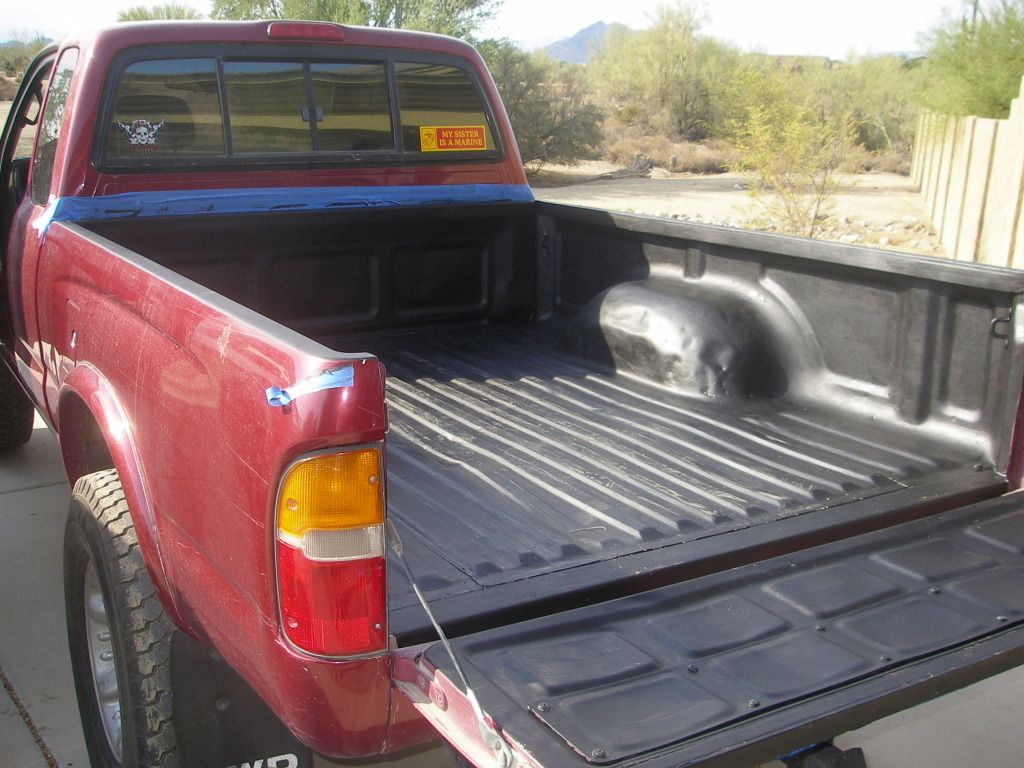 Oh yeah so then I went mudding some more because I can and I love mud. Im that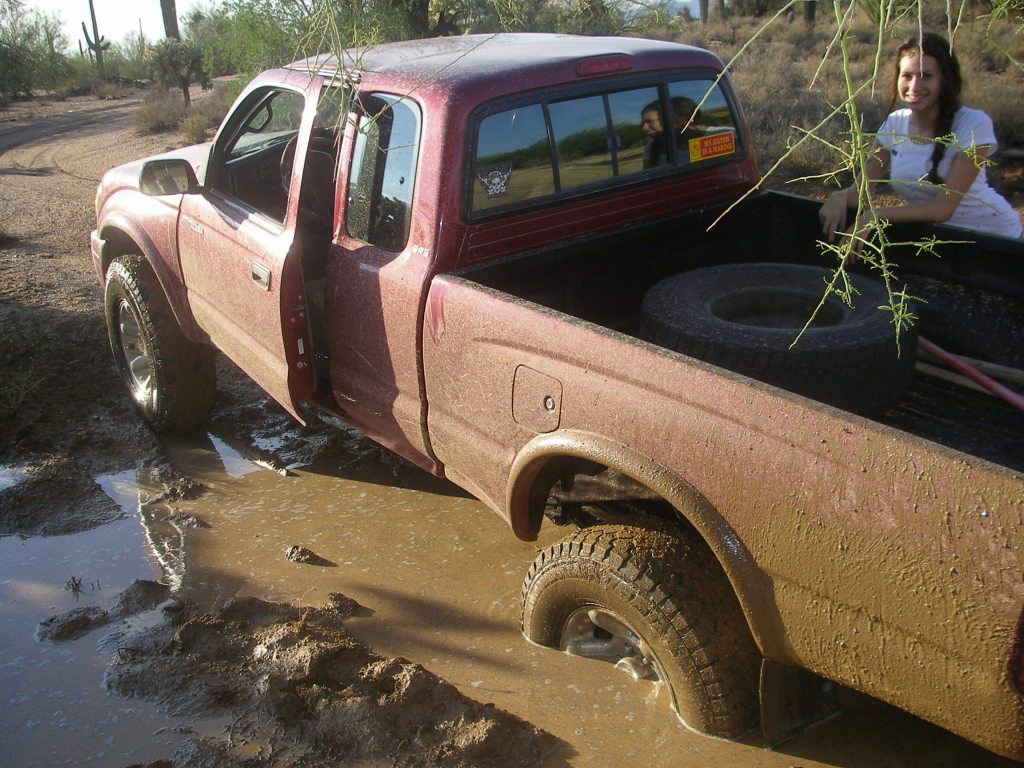 My tires were shot so I purchased these babies from a fellow TW member.
Thanks Chas!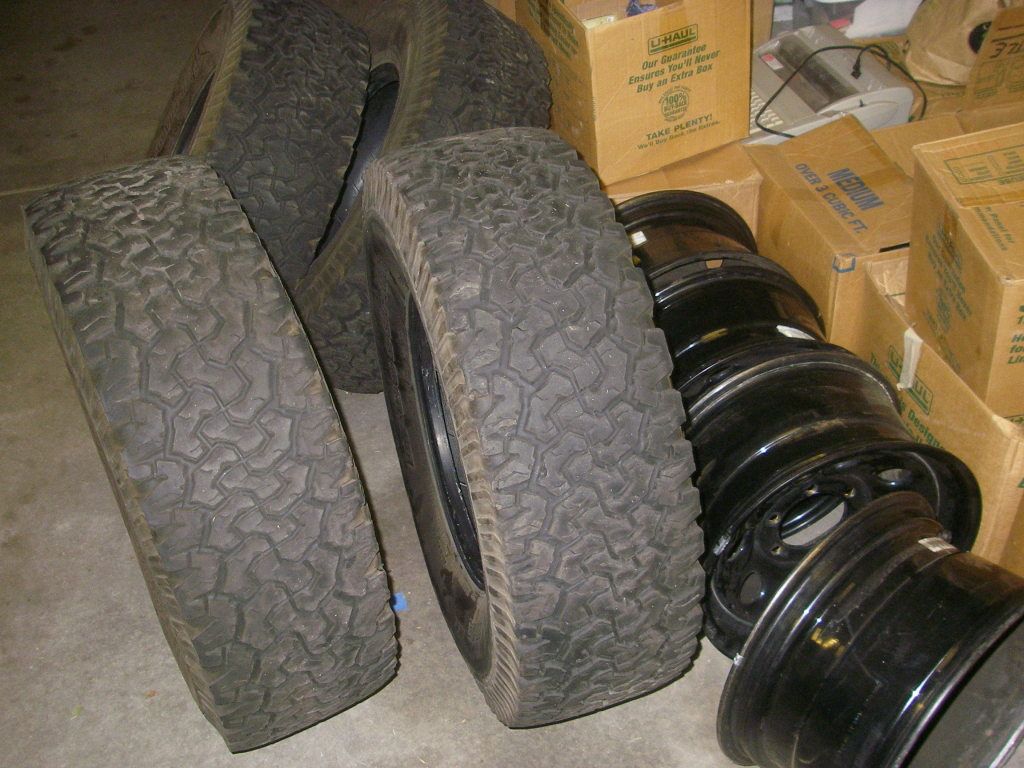 I love these tires. Bfg KO with about 85% tread left on them if not greater.
I went to discount and had these fellers installed for 80 bucks.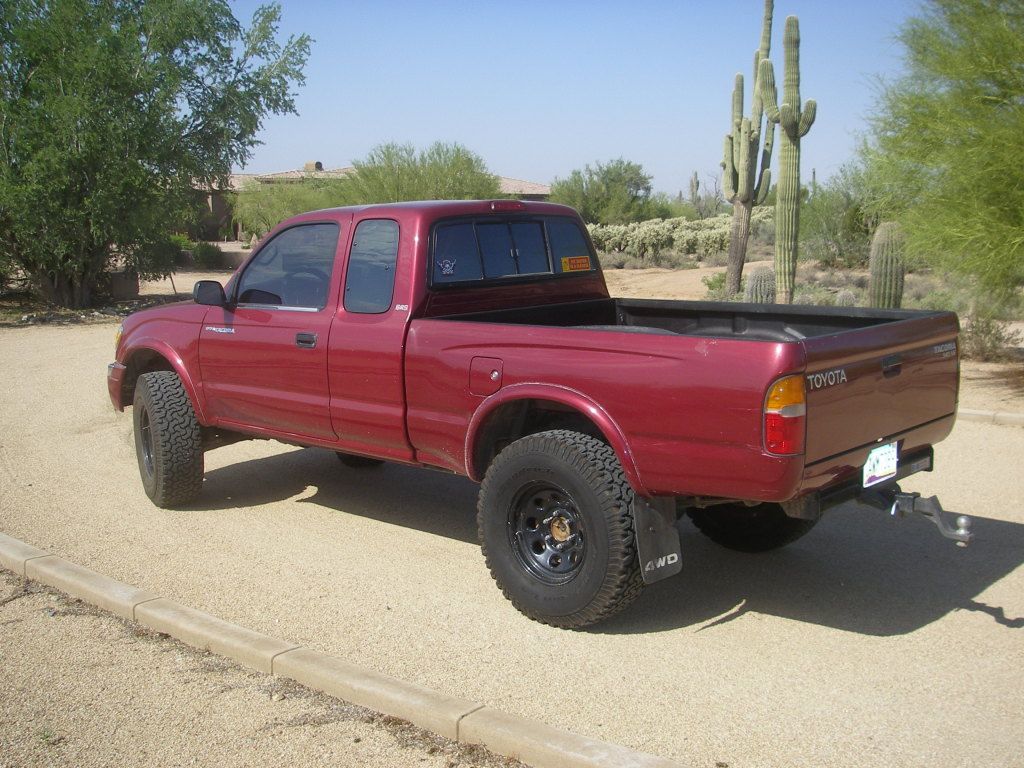 I then ditched the flares... Me likey nono
I sold my old tires and wheels at this point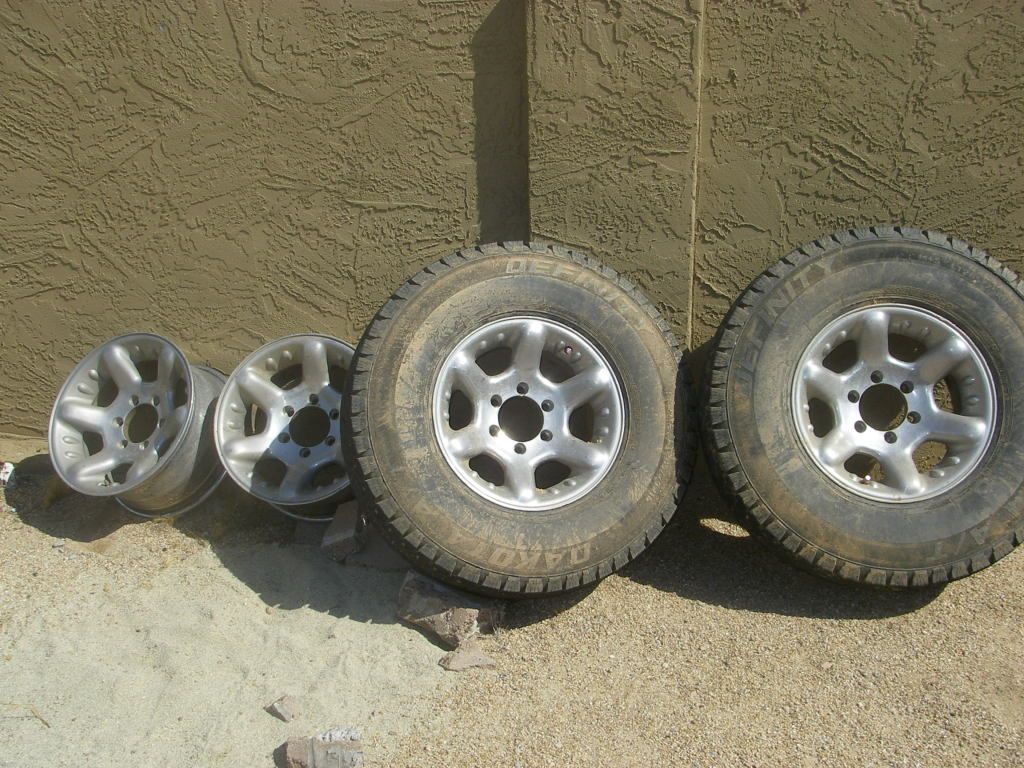 I had bought a pair of LED strips a while back because I like lights. So I went to a TW meet/mod day at some cool guys house
The pics dont show it but these things are BRIGHT! They do what I had intended to do, lighting up the floor.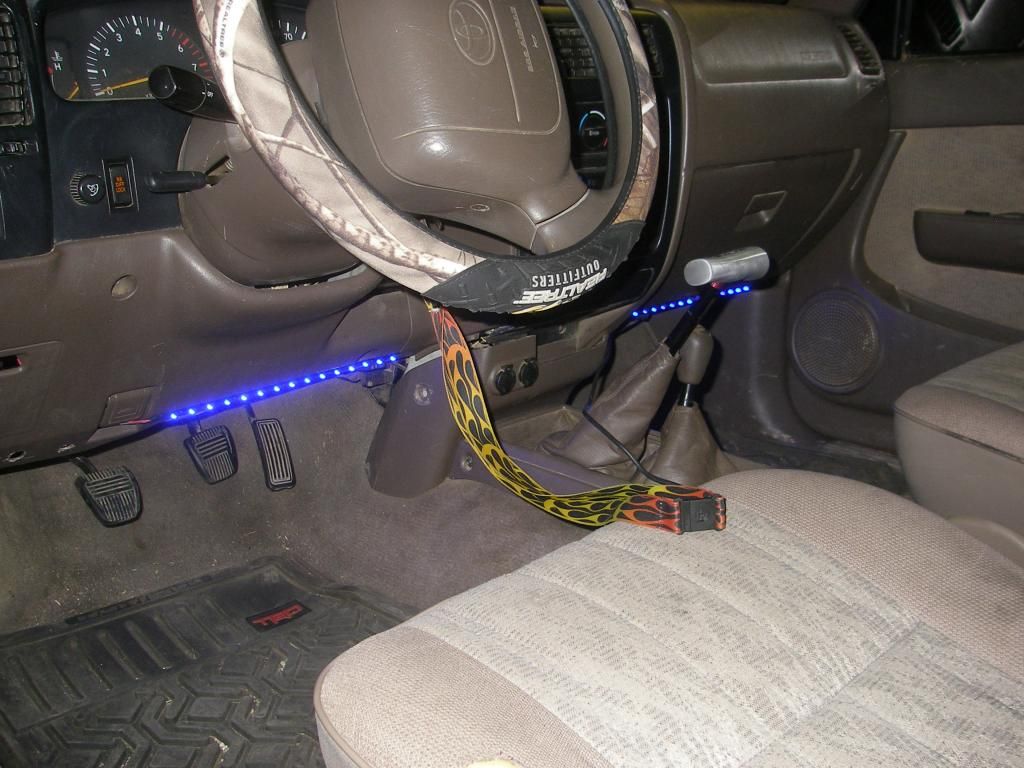 Heres a pic from my first mod day/greet day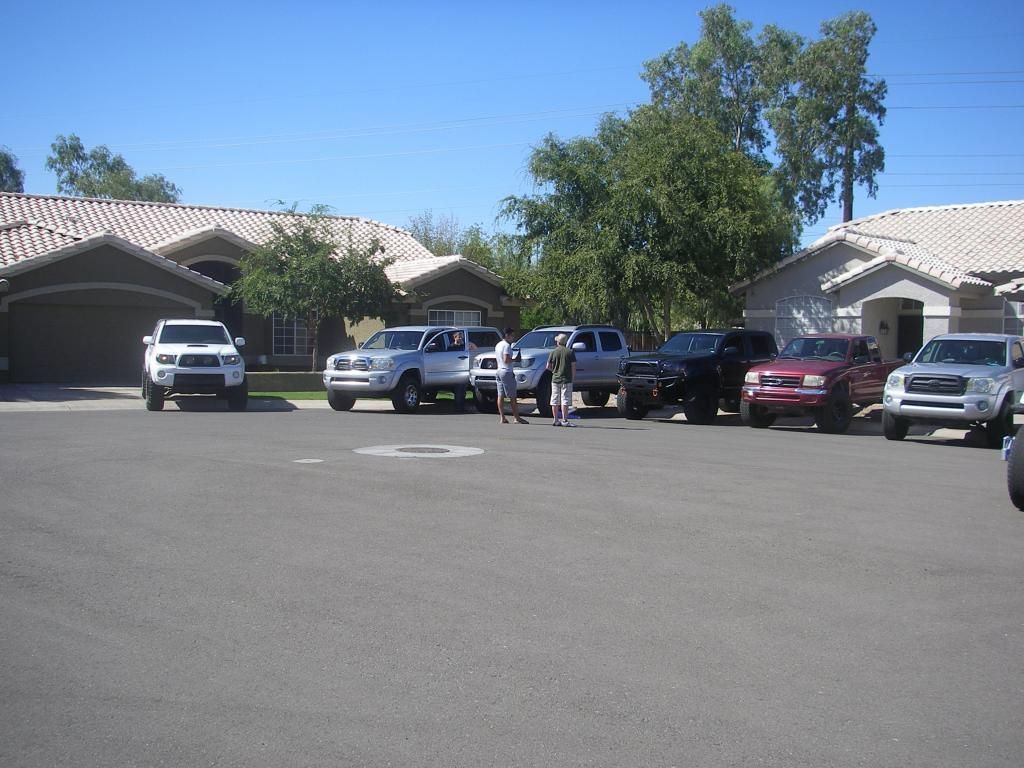 And another pic actually
And thats where Im at now basically... I am ordering my new suspension for the front tomorrow, can you say SIKED!!!!!!!!!(they were out of stock on the ones I want) Got to wait a week or two now
Thanks for looking everyone! Much much more to come whenever I can afford to upgrade.. I just had yet another head sergury (titantium plate installed) and therefore cant work for a little while so funds are minimal as of now. Thanks again!
My plans for this truck in the nearish future
-Fox Extended Travel Coilovers
-Camburg Uniballs
-Halo Projectors
-Tail Lights
-Rock Lights
-Fox Rear Shox with Resis
-Magnaflow 14" exhaust
-Bushwacker Cut Out Flares
-4.56 gears
-Elite Offroad Front Bumper/winch
-Some Kind of rear bumper idk yet
Future future Mods
-TRD Supercharger 2nd gen
-URD 7th injector kit
-35" Grabbers
-4.88's