I'll just turn this thread into everything..
All Research info is at TTORA
http://ttora.com/forum/showthread.php?t=146517
Truck:
2002
Toyota Tacoma
Double Cab
V6 4 speed Auto
Prerunner
Current Parts:
5 speed Manual Transmission - $250 Birthday Gift
J-Shifting T-Case - $75
Front Drive Shaft - $50 Shipped
Rear Front Portion Drive Shaft - $75 Shipped
T-Case VSS - $75 Shipped
J-Shifter Lever -$39 Shipped
J-Shifter Knob - $10 Shipped
5 Speed Shift Knob - $25 Shipped
Clutch Pedal Assembly - $25 Shipped
Front Diff 4.30 - $264 Shipped
Non Add Diff Output Tube - $114.50 Shipped
Master Cylinder - $67.78 Shipped
Slave Cylinder - $37.78 Shipped
Marlin Twin Stick - $199 (Plus Shipping 10.51) Bought With Trans Mount
Marlin HD Transmission Mount 85.00 (Plus Tax 25.49)
2002 Toyota Tacoma ECU 89666-04010 - $125 Shipped
URD
5vz Short Shifter On Sale - $106.41 Shipped
Manual Hubs Spindles - Package Deal $500
Manual Hubs - Package Deal $500
Manual Cvs - Package Deal $500
4.10 Front Diff - Package Deal $500
Shift Boot And Plate - $39 Shipped
2004 MT V6 Flywheel - $300
Diff Drop Bolts - $31 Shipped
Clutch Hydro Lines and Brackets and Nuts/Bolts.
31481‑04030
90931‑01112
31482‑04040
31484‑35240
90461‑12413
90468‑08046
91611‑F0812
$63.32 Shipped
Current Total Cost So Far 2592.79
After Selling some of the things I don't need $2347.88
I'll Update as I go.
Helpful Links:
Auto to Manual Swap Junglecode Write Up
Drive Shaft Measurements
Double Cab to Manual Swap, Advice and Pointers
Other Members Conversion Threads
HillBilly_Young01
Auto DC to 4x4
Tacoma4Life
- Auto DC to Manual 4x4 (5 speed Manual Swap)
Snorkie
Auto DC to 4x4 (Output Shaft Swap)
SAR_Squid79
Auto Ext to 4x4 (Using Inchworm)
Interex
Auto Ext to 4x4 (Output Shaft Swap)
iceman601
Auto 4-runner to 4x4 (Using Tacoma Trans/T-case)
FAQ
What do I need to swap to a 5 speed transmission?
R150 or R150F (4x4), Clutch, Clutch Cover, Flywheel, Transmission or T-case mount, Slave Cyl, Master Cyl, Clutch Lines, Shift Boot, Shift Cover and a few other little bolts and nuts.
Source

Would a 4x4 Single Cab front portion of the rear drive shaft work for my Double Cab or Extra Cab?
No Single Cabs drive shaft is shorter then a Double Cab or Extra Cab.
Source

Can I use parts from a 4-Runner?
For a Tacoma you can use 4-runner parts from a 3rd Gen 1996–2002.
Source
If I do a Auto to Manual swap will I throw a CEL?
Yes unless you swap out the ECU for a 5 Speed 4x4 Manual.
Source
Can I reuse my Pre-runner Transmission for the swap?
You have 2 options you can choose from. One is to swap out the 2wd output shaft for a 4x4 output shaft. Two run the Inchworm Prerunner Adapter Plate with a Gear Driven T-case or a Lefty Adapter with a Lefty T-Case. (NO Stock T-Case w/ Adapter)
Sources:
Output Swap
Prerunner Adapter Plate
Can I use my Prerunner Vehicle Speed Sensor?
No, They are different.
Source
Can I use my Prerunner Rear Drive shaft?
Yes but the front portion after the Center Carrier Bearing must be shortened 12" Inches.
Source
If I use Manual Hubs will I keep my ABS?
Only way to keep ABS on manual hubs is to press the Manual hubs into your ABS spindles.
Source
Will a T-Case from a Manual transmission bolt to an Automatic transmission?
According to
ShowStop
"input shafts are different lengths between auto and manual"
Source 1
Source 2
*Update According to js_iron "They are the exact same output shaft length and they both will bolt right up to the A340F"
Source
Can I use a 2.7 T-Case for my 3.4 Transmission.
Quote:
Originally Posted by
hytenor
I believe 2.7 T-cases are the same, manual/AT. The difference in shaft length is in the tranny, not the tcase.
Can I use ADD CV's with my Manual Hubs?
No, the ends are different.
Source
How do I wire up my clutch cancel button?
"If you want the clutch start safety feature with over ride switch, best to cut it out of the wrecked truck harness and piggy back onto your DC harness." - mattm94
Source
Post #18
First Collect Some Parts..
T-case
Transmission
Front Drive Shaft
Rear Drive Shaft
T-Case, Transmission, Rear Drive Shaft, Front Drive Shaft
Clutch Pedal From a 98
J-Shift lever
Some Shift Knobs
--------------------------------------------------------
Clutch Location
My Brothers 5 Speed Extra Cab (Mind The Grease)
My Double Cab
Cross Members Are in the same Locations for Double Cabs and Extra Cabs
Auto Double Cab PreRunner
5-Speed 4x4
Install Manual Hubs and Diff....
Broken.... =[
Bam!
Messing with the springs on the Hubs..
Done
Do Needed Mods...
Sealant part number.
Cleaning it up.
Shift Knobs bugging me... They never lined up right..
Off to modding them... little spacers...
Bam! Lined up!
Waiting for Amsoil Transmission fluid and my LCE 38lb Flywheel has not come yet...
Bam...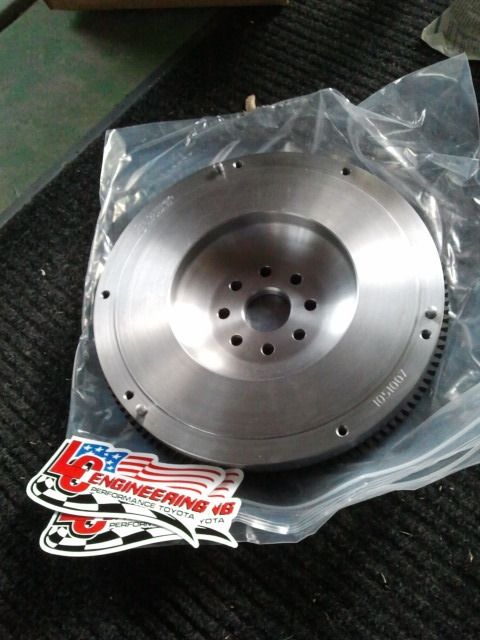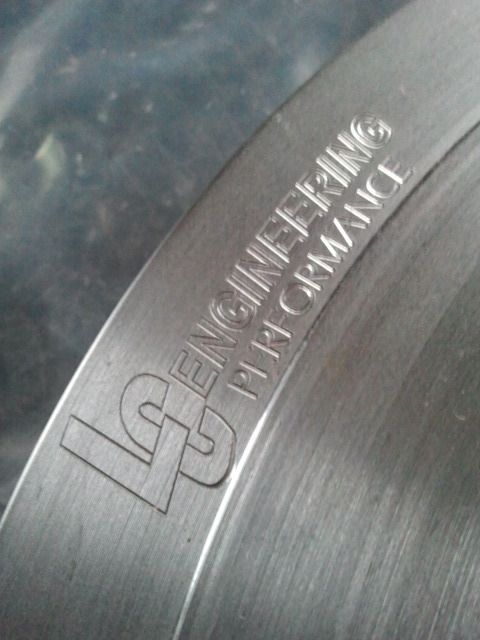 Got bored.. Eye balled it.. Luckily I got it dead on!
Cleaned the T-Case w/ Twin Sticks
Test fit, make sure I got the right T-case..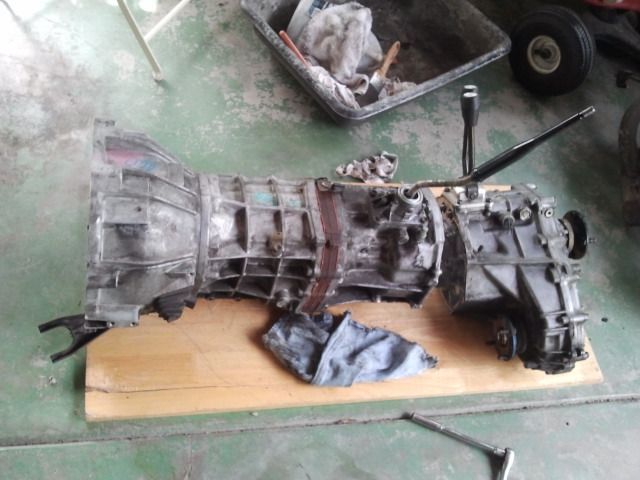 Installing URD Short Shifter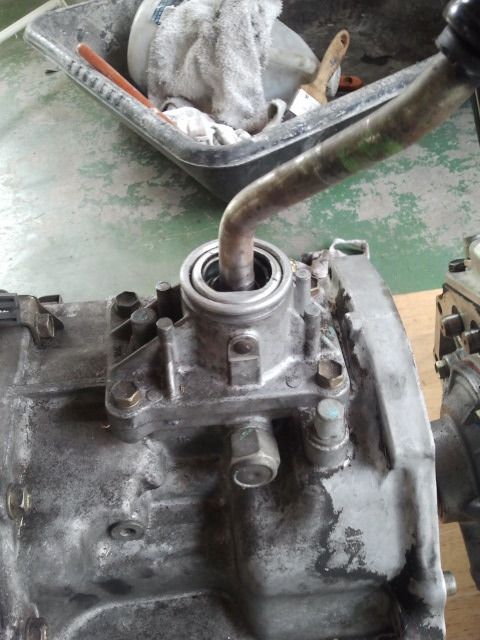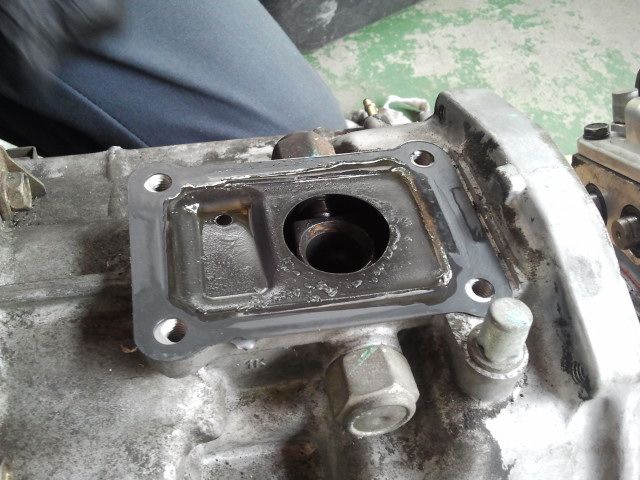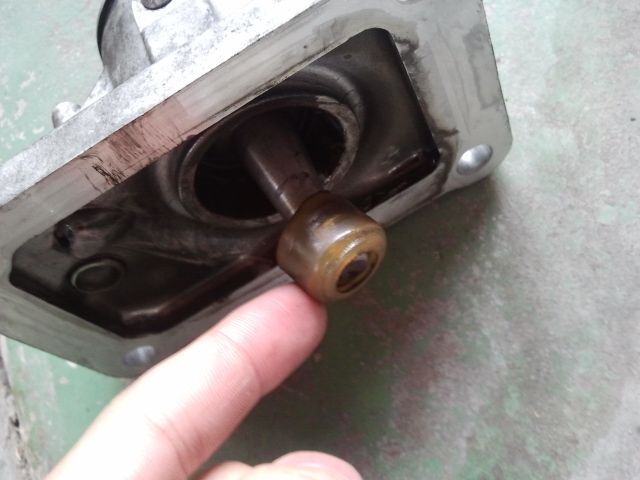 Cleaning..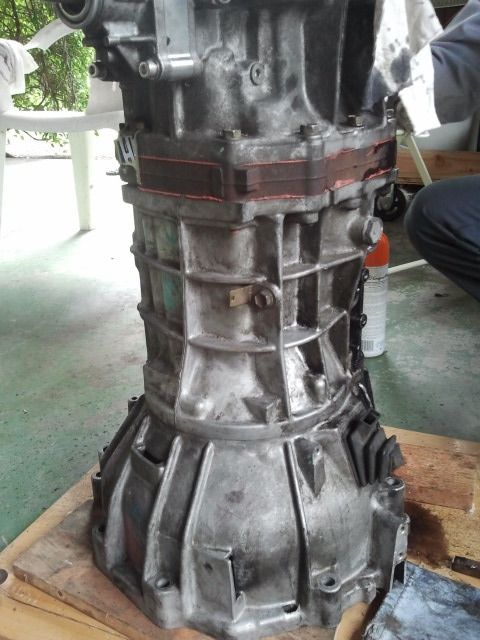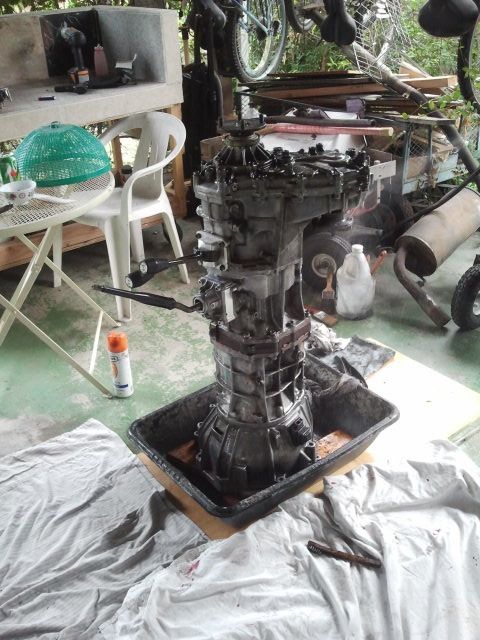 Deciding where to bend or cut the Twin Sticks
Clearance Problems in Reveres and 2nd and 3rd Gears.. In low.. or 2wd