Sitting as of 7/5/14
How she currently sits 2/17/13:
I purchased my 99 Taco V6 SR5 4X4 in August of 2010 and have absolutely loved it since day 1! I decided to start a build page since Ive finally built her up a little bit and there will definately be more to come!
Mods to date:
Performance
K&N drop in filter
Aero Turbine muffler
Marlin Crawler
HD clutch kit
Suspension
Bilstein 5100's front and rear
Eibach Coils Front
Deaver 2" AAL Rear
Other Add On's
B.A.M.F. BPV relocate bracket
Home built front light bar
Custom built Bed Mounted Actuated Light Bar
2-Hella 500ff lights with 55w DDM HID mod
4-55w
Harbor Freight
fog lights "to be converted to HID soon"
Cobra CB Radio
4' Firestik Antenna
20 LB Co2 tank (on board air)
Custom built bed mounted tire carrier
Future Add On's
Toyota Elocker (waiting to be installed)
Gear Driven Tcase (picked up out of an 85 toy)
The first day I brought her home!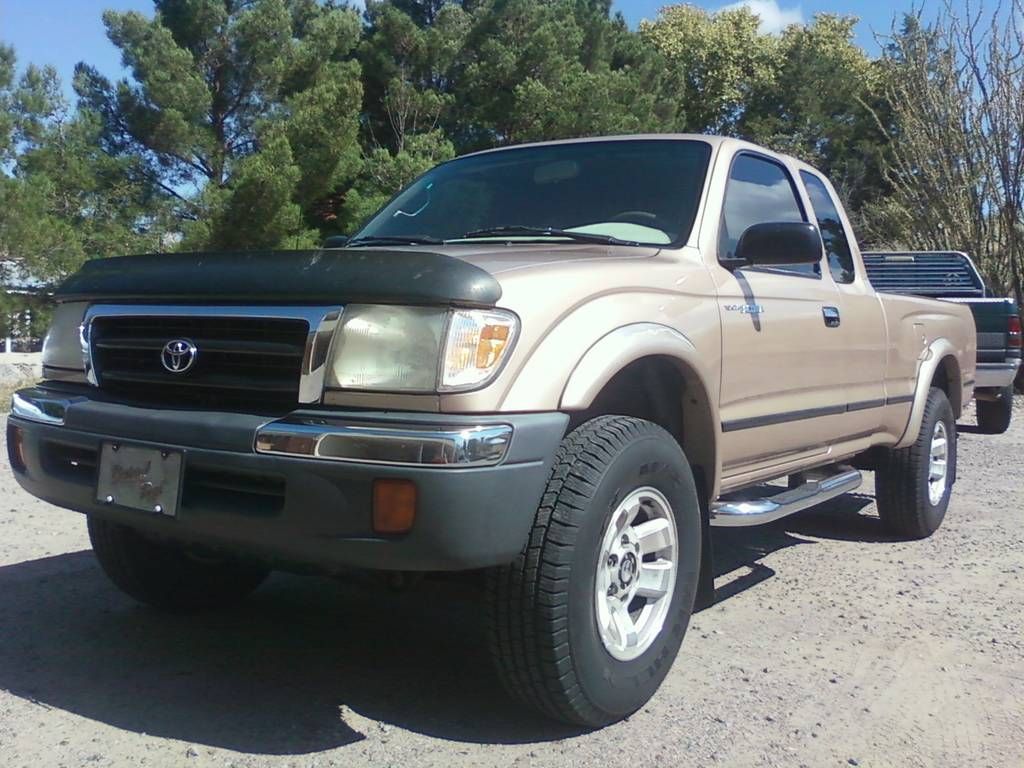 The first thing I did was put together a light bar for the front so I could mount my new Hella 500ff fog lights that I modded with DDM tuning HID's thanks to TW!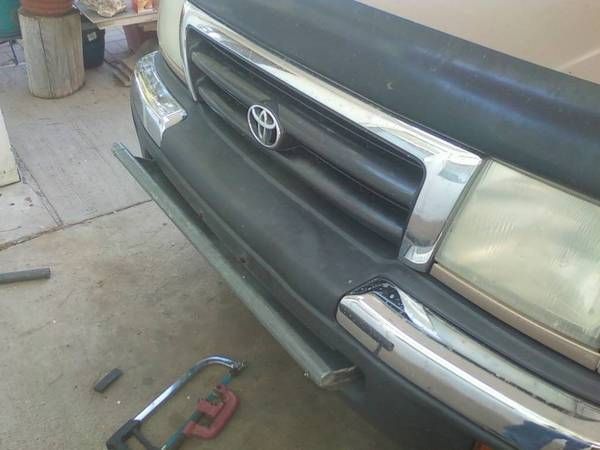 First time off roading with the Hellas. Had to pull a buddys truck out of a nice mud hole!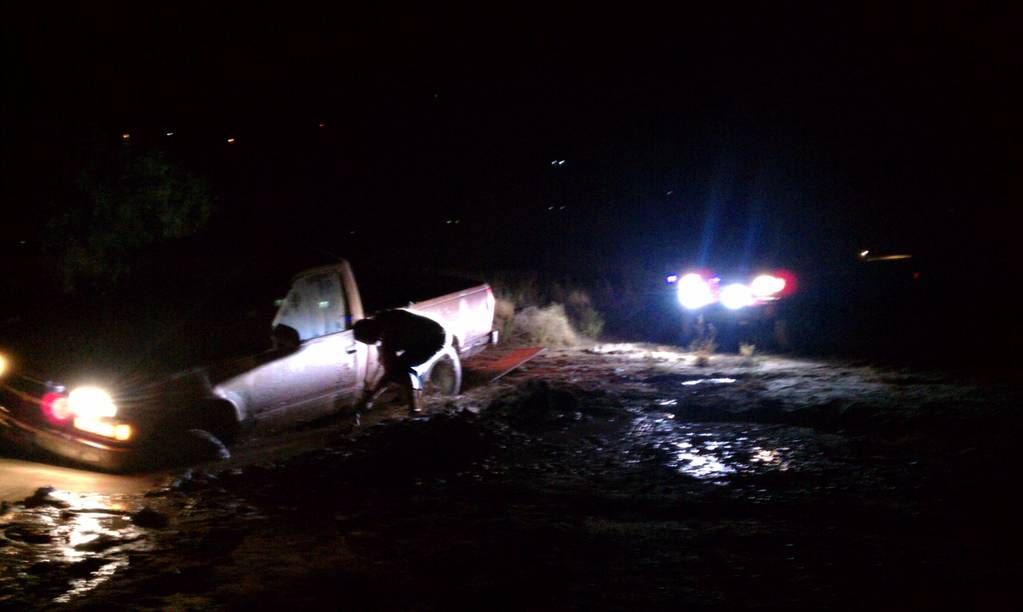 The truck stayed like this for a while so I could save up some $$ since Im on a college student budget.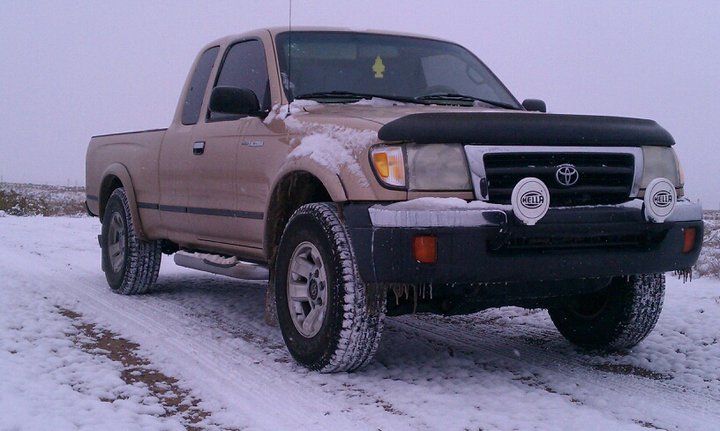 For Xmas the first year I owned the truck my wife bought me an Aero Turbine muffler! I freakin love it! Compared to most other exhausts Ive had the sound of the Aero is just cherry!
The next project that got started on the truck was the Actuated light bar for the bed. This started because a friend of mine had a bunch of scrap steel layin around and a welder. We both wanted to start welding again since we hadnt since high school and the first project that came to mind was a head rack for my truck. Long story short it evolved into a much larger project lol! I didnt manage to take many pics of the build progress but here is what I have.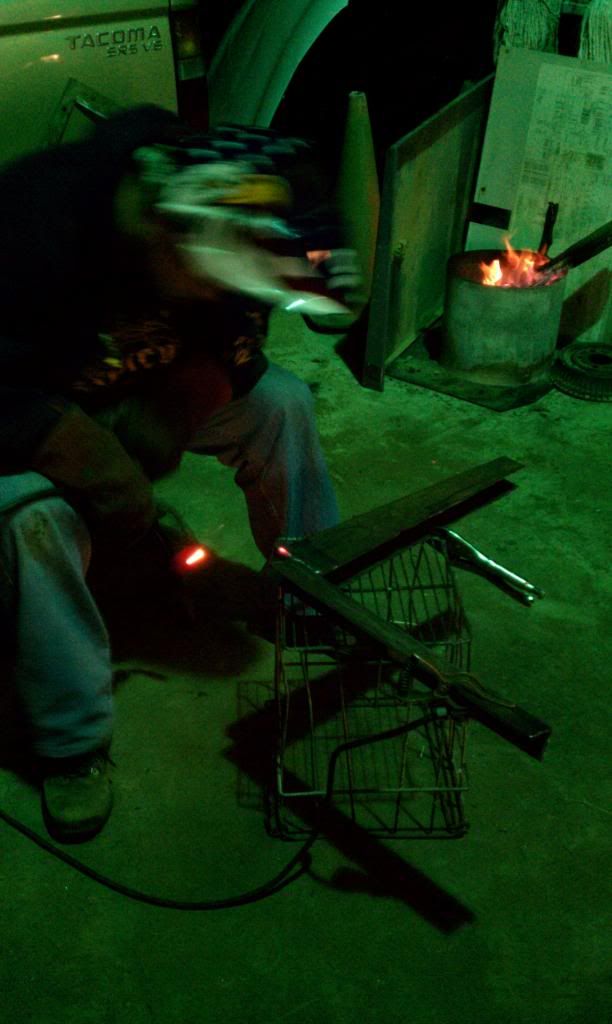 Originally I was going to hardmount the lights to the rack but for some reason Ive always wanted a light bar that folded back, which actually comes in handy for those pesky low branches. Since I was building it I figured I would make it the way I wanted it. Here it is mounted on the truck: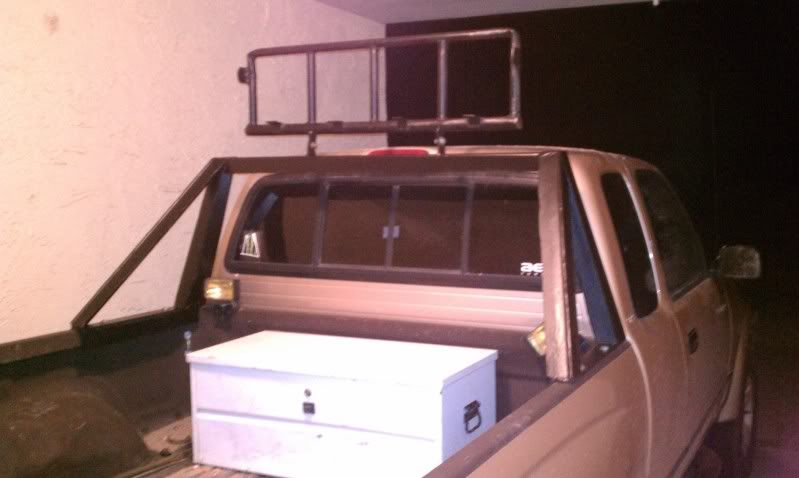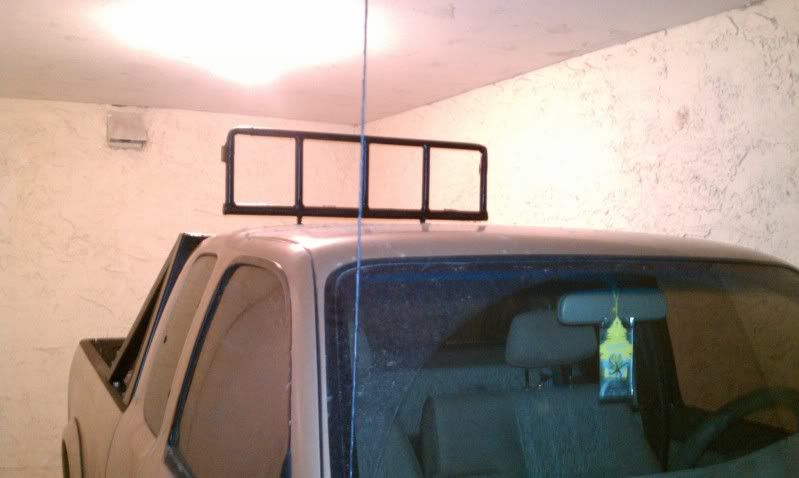 Next I had to figure out how to get the bar to stay in the up and down positions. Originally I was going to weld a bar up that I could use to bolt between the rack and light cage, but I found a killer deal on an actuator for around $70 so I went that route instead. It's been nice to be able to control the lights from the cab especially aiming them while driving. Here is the final setup with my cheapo Harbor Freight lights.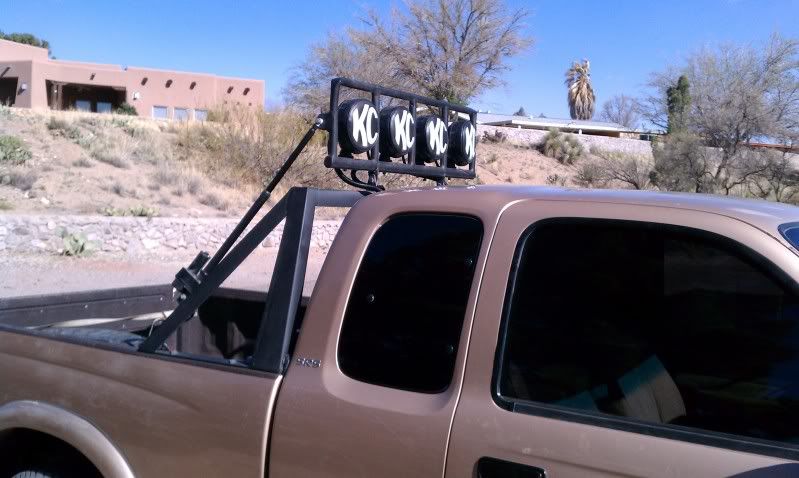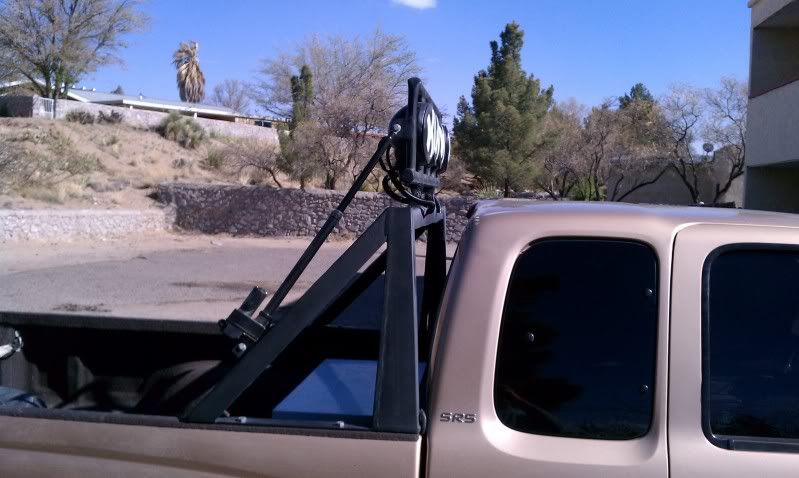 Heres a shot of the temporary switch panel I made for the lightbar switches. I plan on adding a few more switches when I remake the panel but this works for now.
On weekends I try to get out as much as I can with my wife and wheel. I've met up with a few local guys from TW and we hit some of the trails from time to time.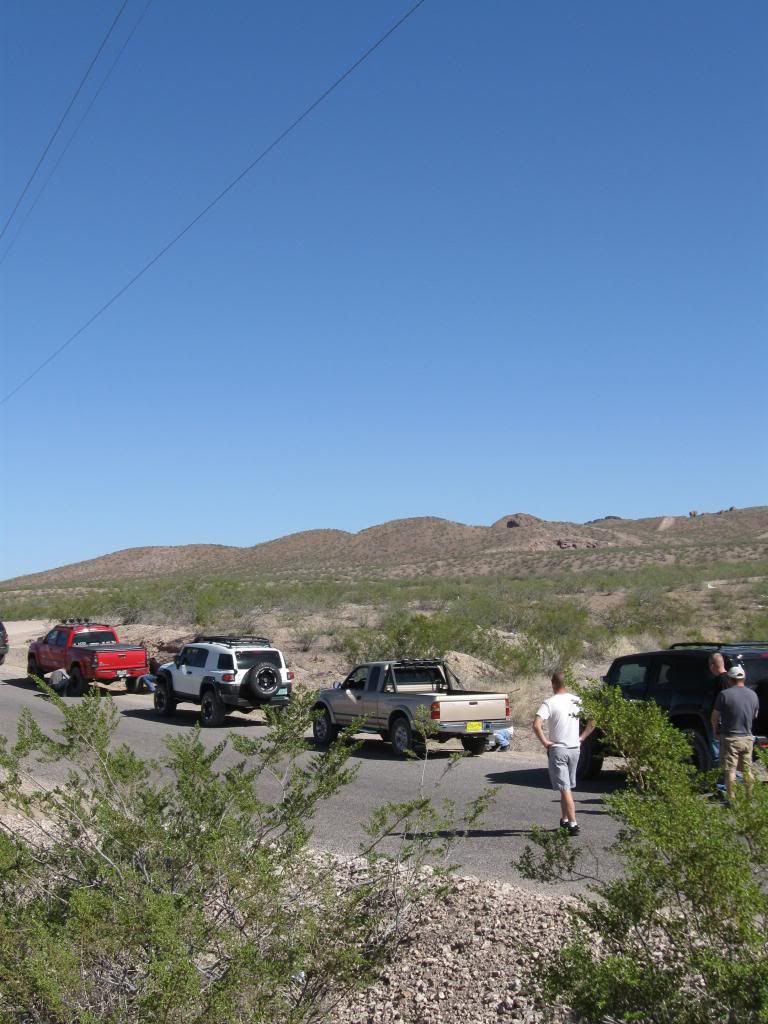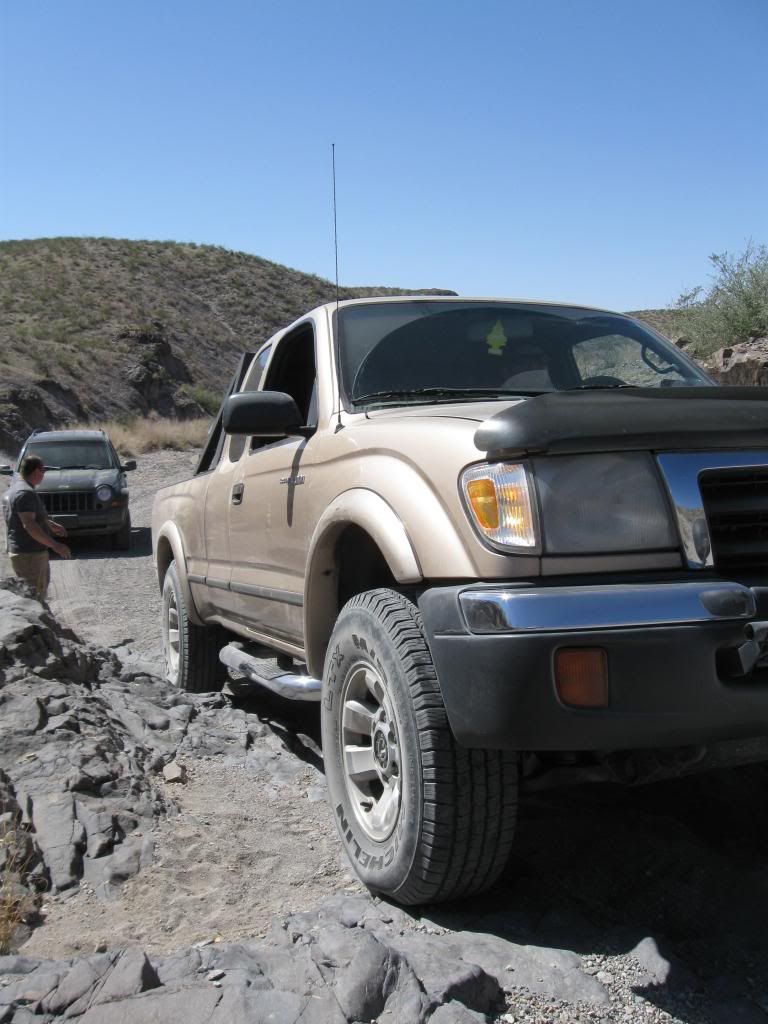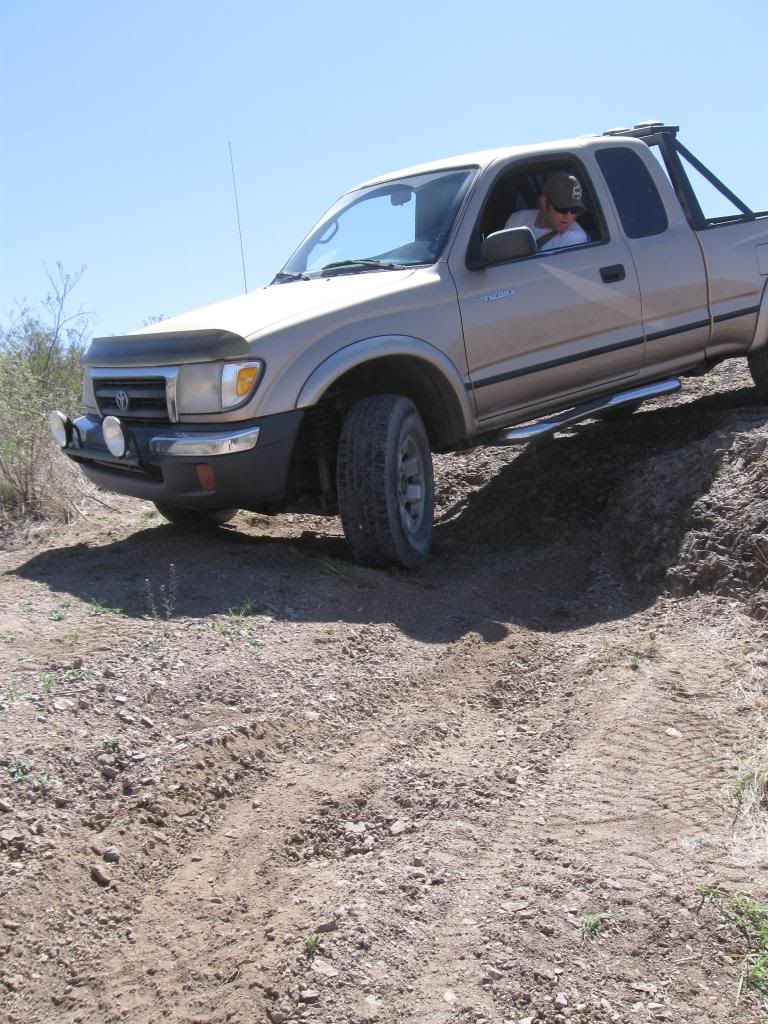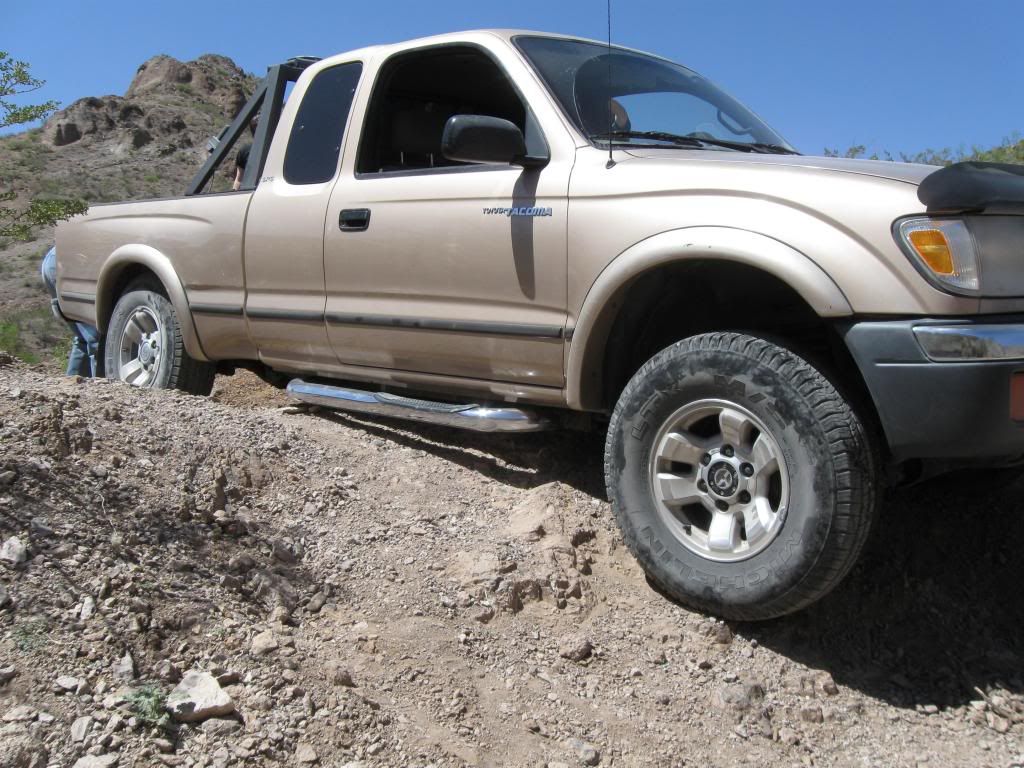 After wheelin a bunch I found the need for an on board air setup because I got tired of driving to a gas station to air up my tires after trail runs. I wanted something portable and reliable. After doing some research here on TW I found that a restaurant grade Co2 tank would work thanks to Box Rocket! After reading about his setup I managed to find a 20 Lb tank locally for $20 and its been a great add on for wheeling!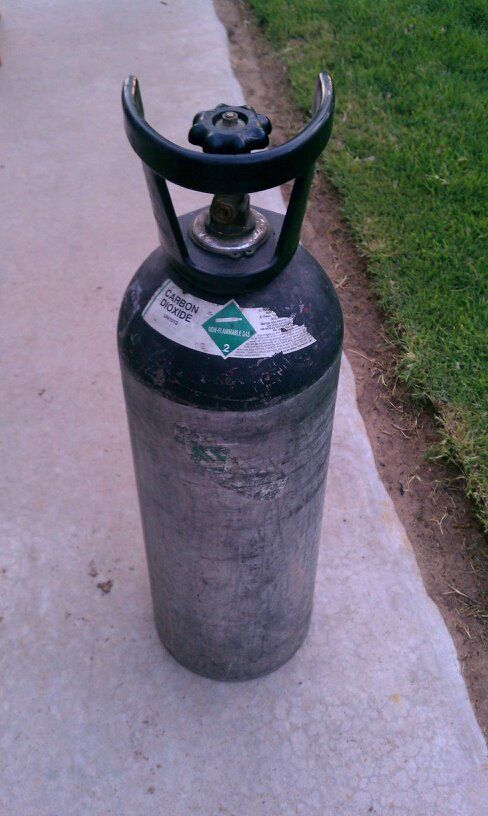 As time went on I found that the Taco's suspension was getting tired and old. After a trip to Moab for our anniversary it was decided that it was time to start looking into lift kits. I ended up ordering Bilstein 5100 adjustable front shocks with Eibach coils and Bilstein 5100 rears with a 2" deaver AAL from the guys at
ToyTec
.
Heres the truck before the lift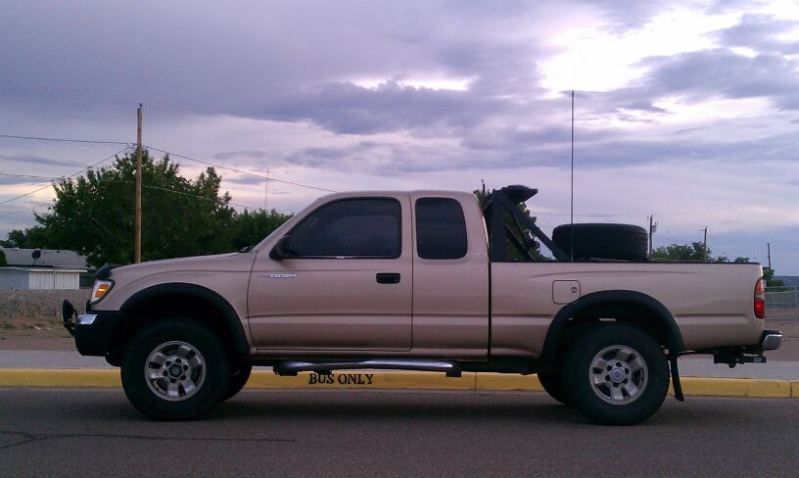 And after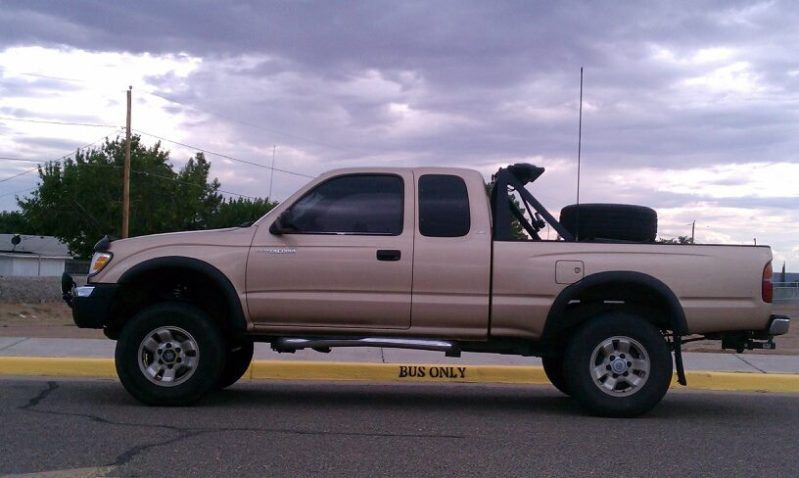 Thats all the progress I have made on the Goldie build so far and hope to get some larger tires and maybe some rock sliders for her in the near future. I still have a lot to do and Im sure this will be a never ending build! Hope you all enjoy it as much as I do! Here are some more random pics.