Figured what the hell! I've done enough to my truck to make one of these. Bought the truck in March of 2012, the PO used the truck as a commuter on the interstate between Colorado Springs and Denver, I have since sought to return this truck to its native habitat. I haven't done too much yet but were we go... I think I've taken enough pictures to make this somewhat interesting...
Rock Therapy 2014:
5/04/14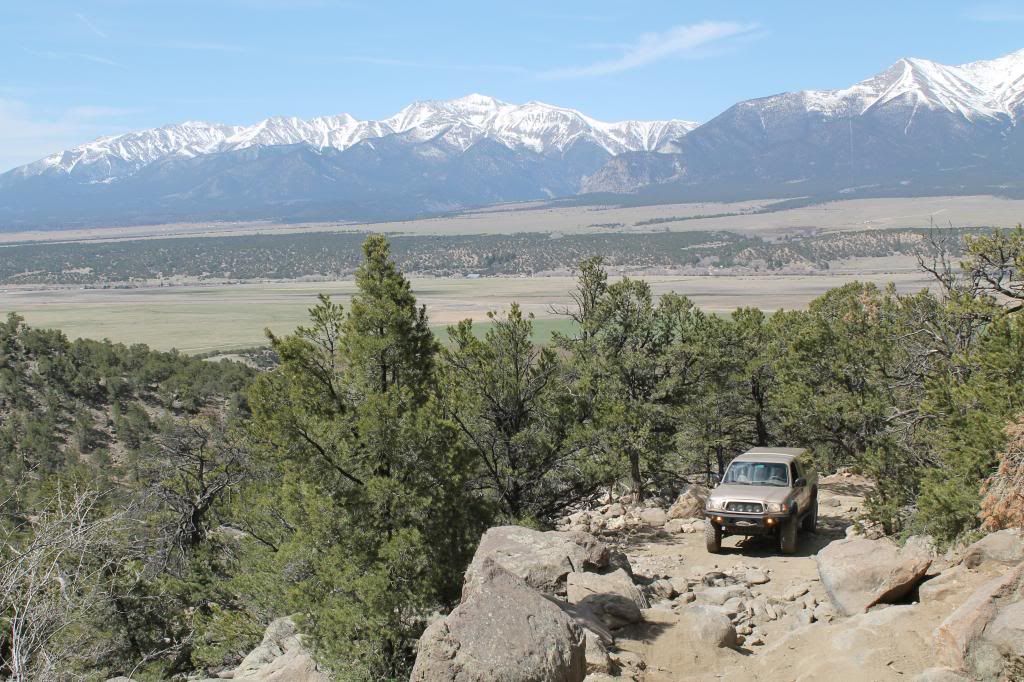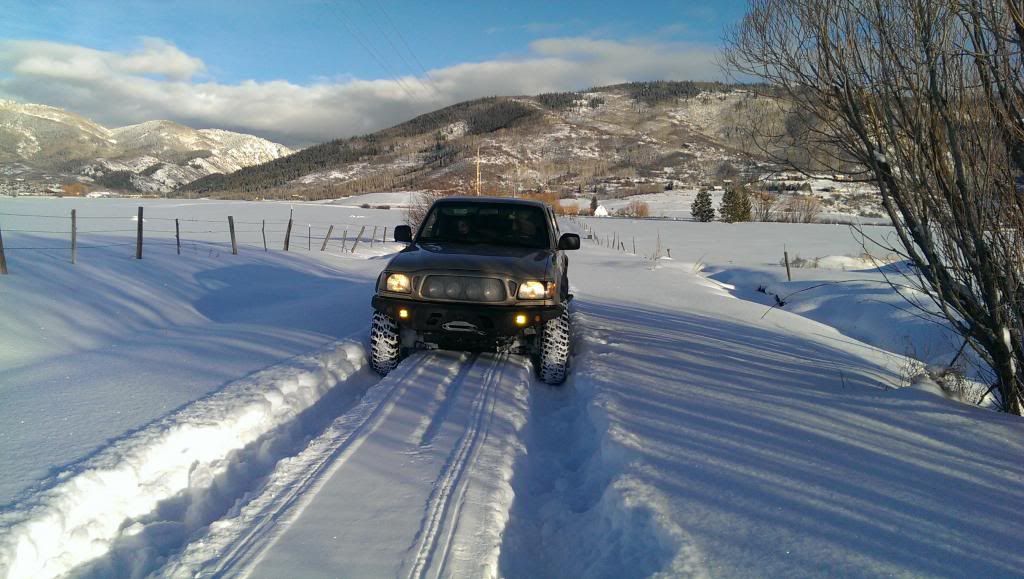 At Rock Therapy 2013: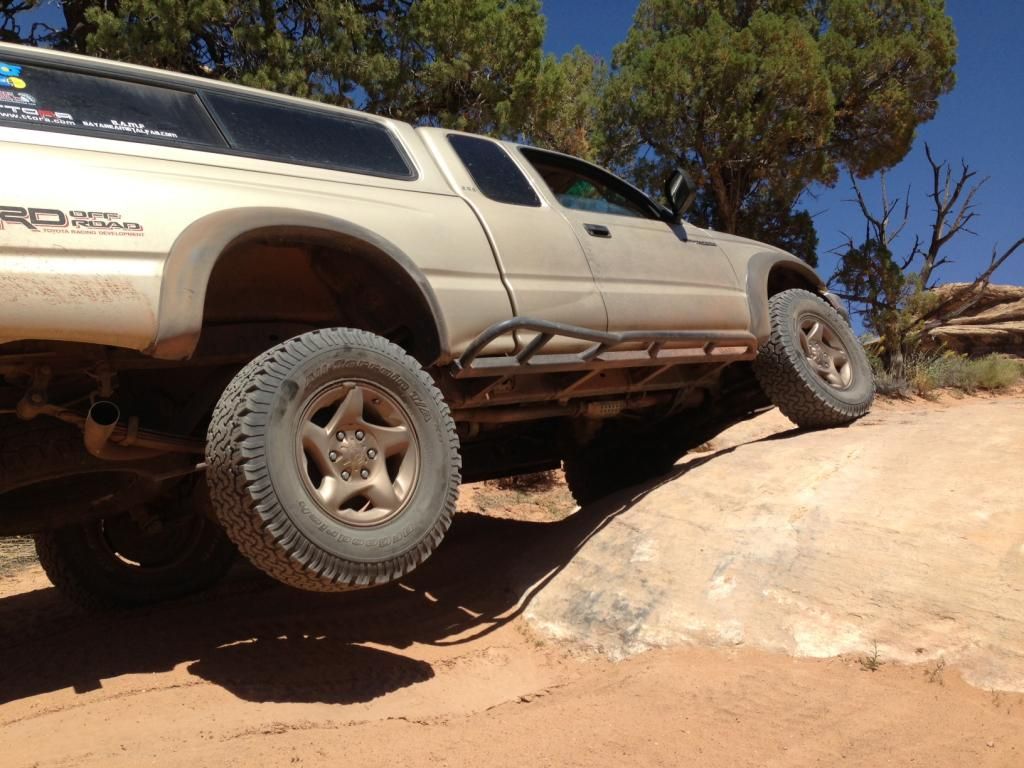 As of 9/23/13: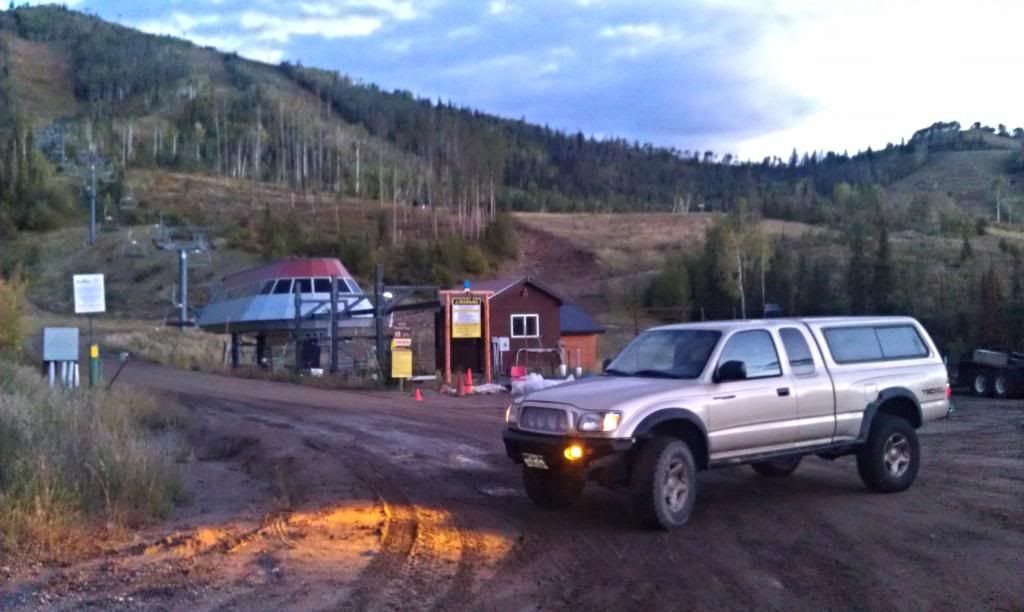 Specs:
2001 Xtra-Cab V6, SR5, TRD, Manual
Mystic Gold Metalic
Exterior:
ARE CX Topper
Homemade Satoshi
BAMF behind the grill light bar
Plastidipped Emblems
Suspension:
5100s up front
OME 882 coils
Wheeler's 5 pack leaf springs + AAL
Toytec
2" Lift Shackles
10" 5125s
Armor:
BAMF kickout sliders
BAMF LCA Skids
All-Pro
Apex Front Bumper
All-Pro IFS and Transmission Skids
Custom High Clearance Rear Bumper with Swingout and 2 2 gallon Rotopax
CBI Frame Reinforcement Plates
Lighting:
4 ProComp 55w 5" Behind the grill
OK LEDs 6 light pods w/Amber lenses for fogs
Wheels/Tires:
255/85/16 BFG Mud-Terrain KM2s
Stock Wheels painted with Duplicolor Silver Wheel Paint and Matte Clear Coat
Spidertrax Wheel Spacers
Matching spare on a 5 tire rotation
Winter Set
245/75/16 BFG Winter Slalom KSI
2nd Gen TRD Off Road Wheels painted Duplicolor Graphite Wheel Paint
Interior:
Husky floor Liners
Kenwood KDC-X395 Headunit
Cobra 75 WX ST with a 4' Wilson Flex on a BAMF mount
Polk Audio DB-571's Front & Back
Polk DB1001 Tweeters
Alpine MRP-F300 Amp
Recovery:
Smittybilt
XRC10 Winch w/Synthetic Line
Ironman 4x4 Recovery Kit
48" Hi-Lift Jack
Other:
EBC Sport Rotors and Green Stuff Pads
Diff Breather
BAMF BPV Plate
Rack Doctor Steering with Energy Suspension Bushings
Waiting Patiently:
(And at this point very patiently!)
Regear - Probably 4.56
Who Know's? This list gets finished too quickly anyways!
Notable Trips:
Rock Therapy 2013 -
Seven Mile Rim
- Fins N Things - Elephant Hill
Whishbone's Colorado High Country Trip -
8/23-8/25/2013
Chinaman Gultch 11/16/13
Chinaman Gultch 5/04/14
Rock Therapy 2014 -
Kokopelli Trail
-
Gold Bar Rin to Golden Spike
- Cliffhanger
One
&
Two
July 4th 2014 weekend by Wishbone -
Tin Cup Pass - Grizzly Lake - Mount Antero - Baldwin Lakes - Birdseye Gultch - Mosquito Pass
Steamboat Area Wheeling 8/16-17 -
Farwell Mountain - Eliis Jeep (Recovery) Trail - Elkhorn Mountain