Figured what the hell! I've done enough to my truck to make one of these. Bought the truck in March of 2012, the PO used the truck as a commuter on the interstate between Colorado Springs and Denver, I have since sought to return this truck to its native habitat. I haven't done too much yet but were we go... I think I've taken enough pictures to make this somewhat interesting...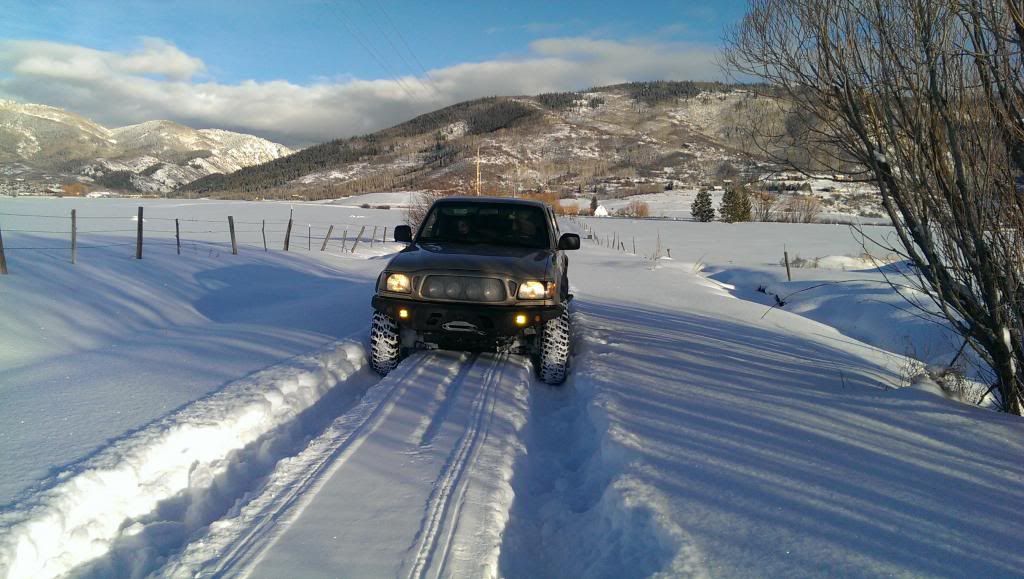 At Rock Therapy 2013: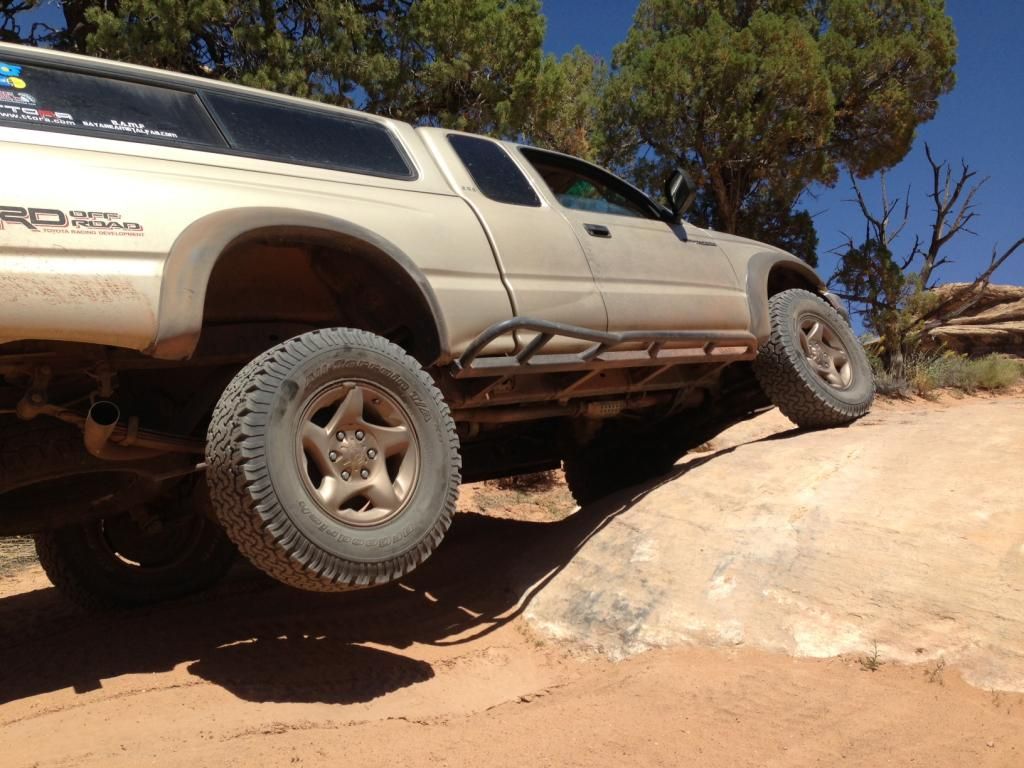 As of 9/23/13: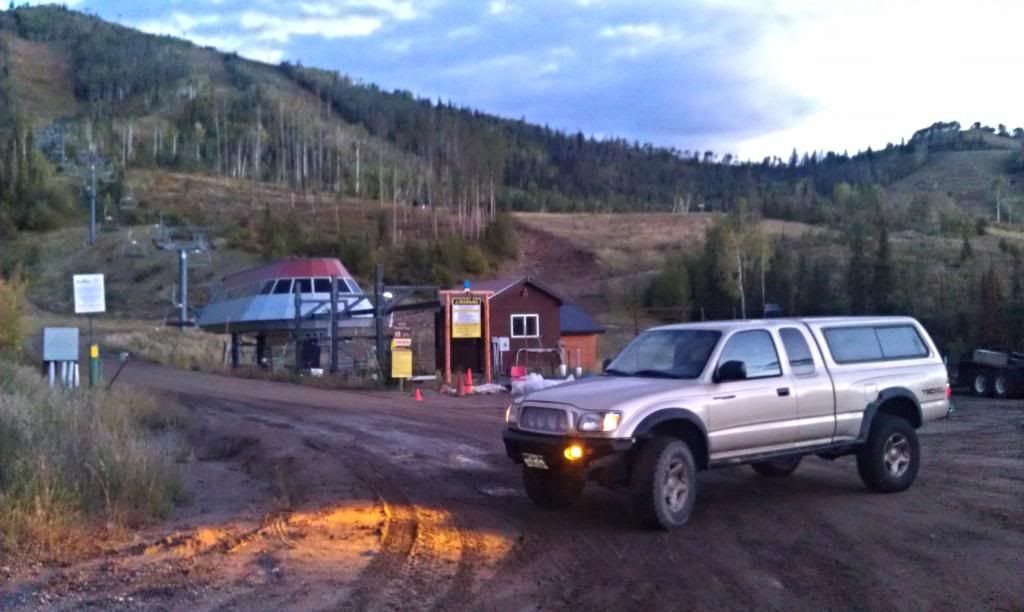 Specs:
2001 Xtra-Cab V6, SR5, TRD, Manual
Mystic Gold Metalic
Exterior:
ARE CX Topper
Homemade Satoshi
BAMF behind the grill light bar
Plastidipped Emblems
Suspension:
5100's all around
OME 882 coils
Wheeler's 5 pack leaf springs + AAL
Armor:
BAMF kickout sliders
BAMF LCA Skids
All-Pro
Apex Front Bumper
All-Pro IFS and Transmission Skids
Lighting:
4 ProComp 55w 5" Behind the grill
OK LEDs 6 light pods w/Amber lenses for fogs
Wheels/Tires:
255/85/16 BFG Mud-Terrain KM2s
Stock Wheels painted with Duplicolor Bronze Wheel Paint
Spidertrax Wheel Spacer
Winter Set
245/75/16 BFG Winter Slalom KSI
2nd Gen TRD Off Road Wheels painted Duplicolor Graphite Wheel Paint
Interior:
Husky floor Liners
Kenwood KDC-X395 Headunit
Uniden Pro-520XL CB w/ 3' Firestik II on a BAMF mount
Polk Audio DB-571's Front & Back
Polk DB1001 Tweeters
Alpine MRP-F300 Amp
Recovery:
Smittybilt
XRC10 Winch w/Synthetic Line
Ironman 4x4 Recovery Kit
Other:
Diff Breather
BAMF BPV Plate
Waiting Patiently:
(And at this point very patiently!)
Regear - Probably 4.56
Rear Bumper with swingout
Notable Trips:
Rock Therapy 2013 -
Seven Mile Rim
Whishbone's Colorado High Country Trip -
8/23-8/25/2013
Chinaman Gultch 11/16/13
You guys will laugh, first thing I did was peel off both the window visors things and the tint... So here it is pretty much stock and as I got it.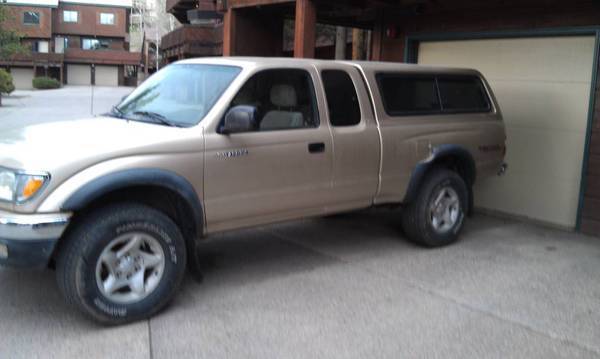 Then wheeled it some: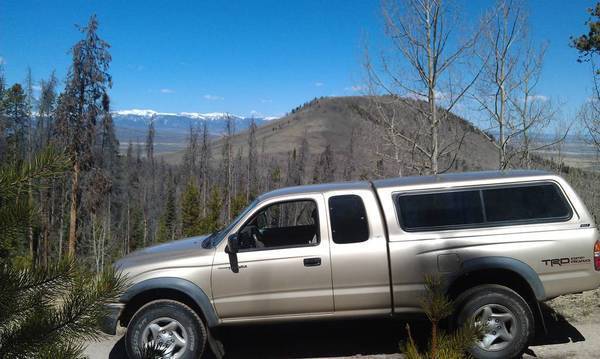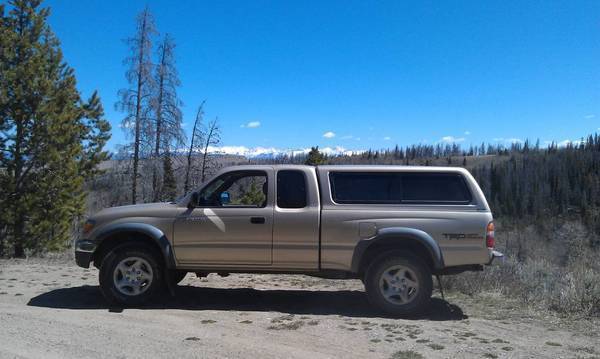 Took the topper off for a little bit, and then took it wheeling:
Teller City: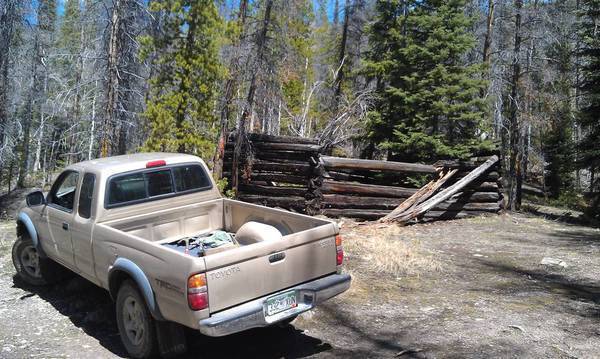 Parkview: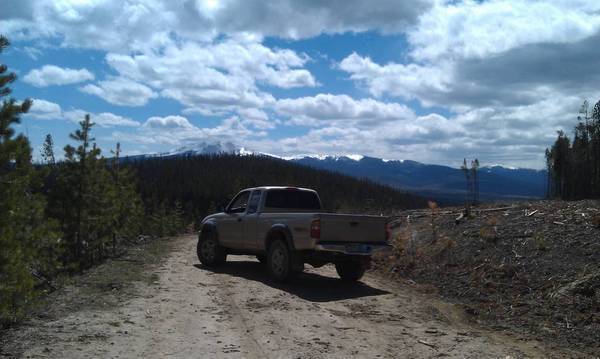 Did I mention I love the mountains here in Colorado...
Painted the valence and fender flares with Rustolem bedliner: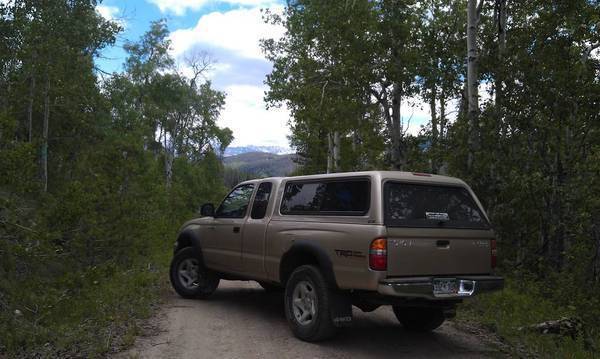 Decided my stock leaf springs were toast, and TW was a bad influence, and ordered 5100's front and rear, and wheeler's 5 packs.
Old leaf springs: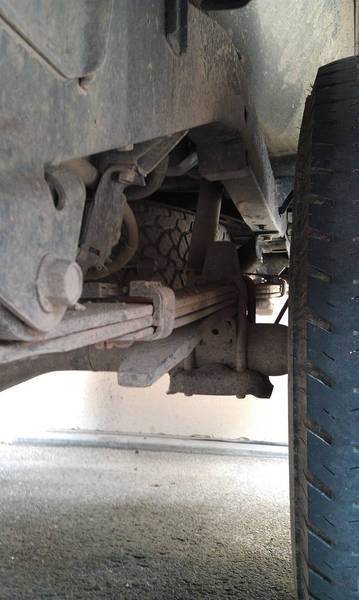 Front 5100's were backordered, so I installed the rear stuff anyways. Can you say rake! Also, note the new dent from the first wheeling trip!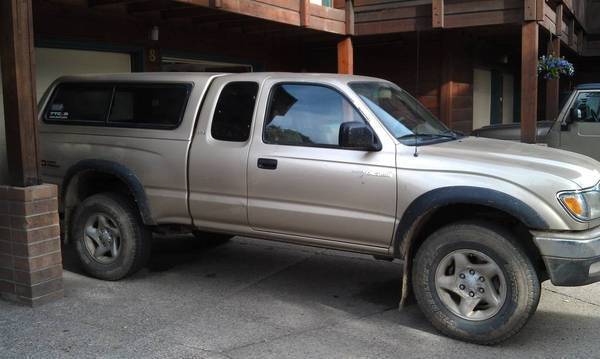 Front 5100's showed up, and I set them in the middle positon with the stock coils: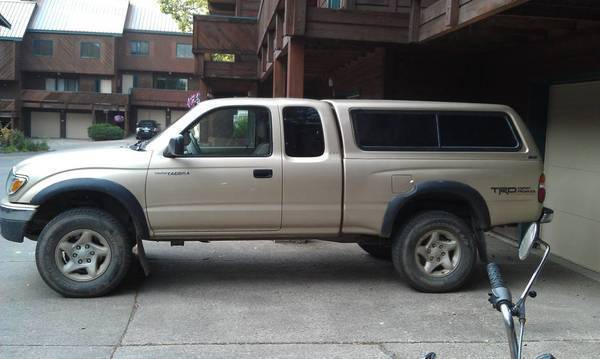 And then tested the new Billies out:
View from Sand Mountain towards Hahn's Peak:
Alignment shop made a little mistake: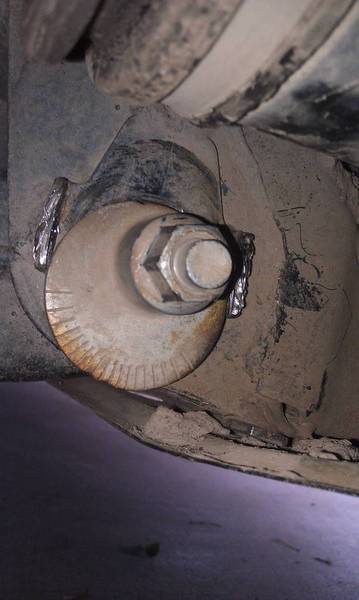 Got some 265/75/16 BFG TA KO's to fill up the wheel wells a little more. Also, somewhere just before this I tore off one of the front mud flaps, so I took off the other, backs will stay for now.
Looks pretty all washed and waxed...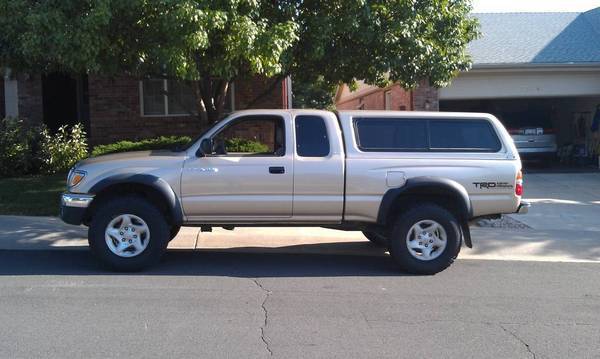 My brother helping show off some flex: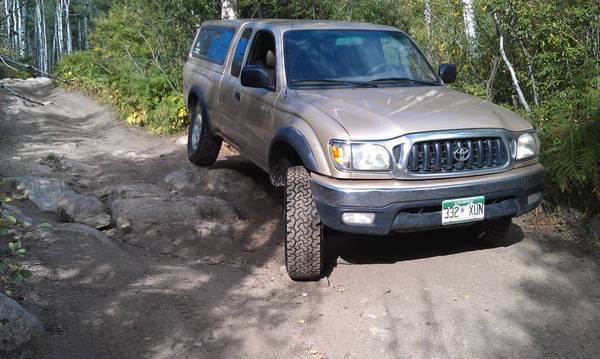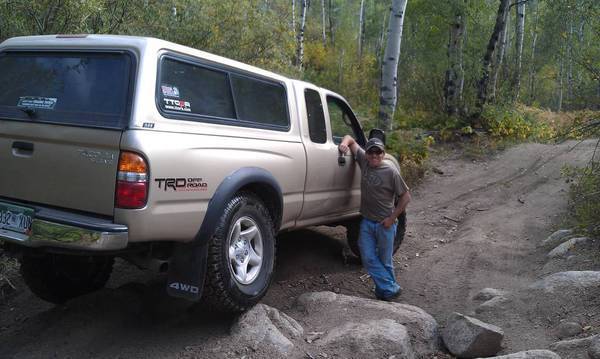 Grouse hunting: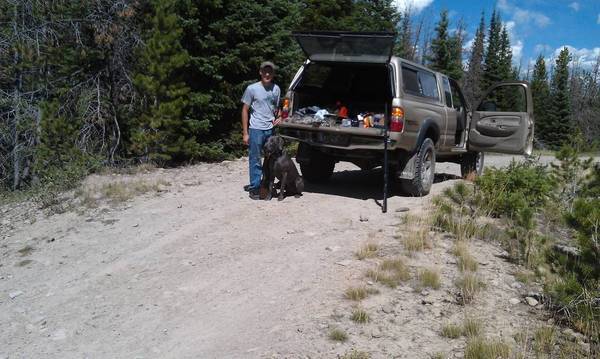 Scouting for duck hunting: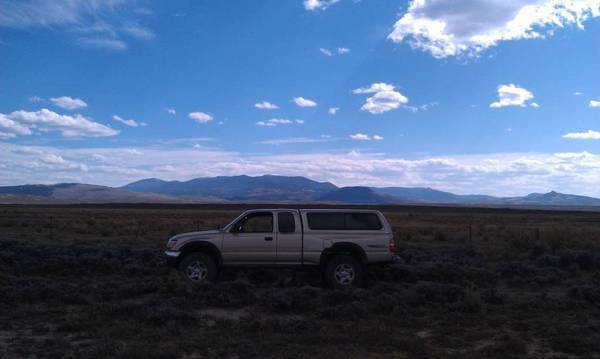 Good thing I'm short, opening of duck season;
Just recently now, I installed a BAMF light bar, 4 crappy 5" lights, and made an even crappier satoshi(ish) grill. Bought a $40 grill of
eBay
to hack up in case I want to go back to stock: