I figured I'd come up with a "build thread" but it's more of an all-purpose thread about me, outdoor trips, and the truck in general.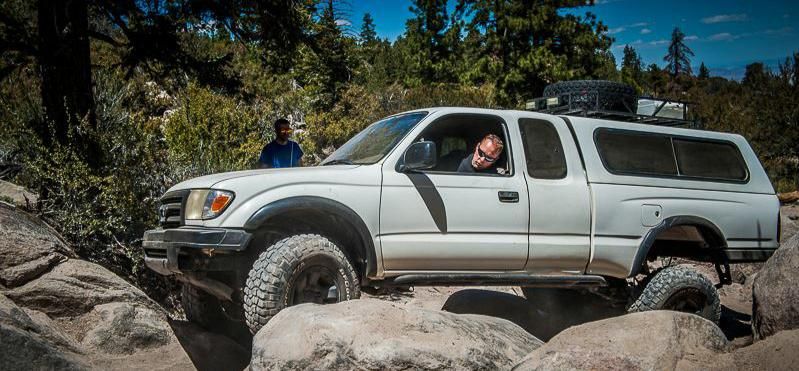 The truck:
2000 Tacoma SR5 TRD 3.4L 4x4. Bought it new in September, 1999. Current miles: 214,000 (with a shit-ton of hard, pipe-hittin 4x4 miles)
Usage:
This is my budget expo/adventure vehicle I use to get to places. This includes lots of hunting, fishing, hiking, and camping. I also do a lot of 4x4 recons into backcountry areas of the Southwest seeking out old townsites, mines, Indian remains, cool natural features… stuff like that, and the more remote the better. Naturally, I like to be self-sufficient for up to a week in the boonies. It has seen a fair amount of hauling and trailering, but those duties have mostly been transferred to my big truck.
Vehicle Summary:
I have beat the hell out of this truck. It's been down "roads" that it had no business being on and has taken it like a champ. It's seen sand, mud, water, snow, a good amount of crawling, and of course some "baja" action. It's driven -250' sea level to over 13,000', in 120+ degree weather to -20 temps. It has driven from west coast to the east coast and back. It's been everywhere from Hollywood and Vine to Bourban Street to some of the crappiest chunks of landscape in the middle of nowhere. I love this truck.
Other Thoughts:
My mod process has been slow and fairly minimal… cheap, basic, functional. The reasons are 1) I'm very, er... budget minded 2) I don't need much "extra" to use it for what I do, and 3) I can care less about looks or bling. The truck only gets used once every week or two now, but I still need to be able to travel at 75mph reliably, in comfort, and then hit a gnarly trail and not worry about scratches or getting stuck. It has not failed me. I've averaged a 4x4 trip a month for about 10 years, many of them 2-6 days long. With good, regular maintenance the Tacoma continues to thrive and should be my primary exploration 4x4 until about 2019-20.
Current Mods:
Massive pinstriping and dents galore
De-badged
Uniden CB
Pioneer/polk system
Viper alarm
GPS, ultraguage, inclinometer w/mounts
Fire extinguisher mount
Deckplate mod
Air compressor (hardmounted under hood)
4-hi e-locker mod
2.5" spacer front lift
OME Dakar 2.5" 8-pack
Camburg
UCAs
33" BFG KO ATs
"Custom" front bumper trim with signal relocation
Pinch weld mod
Trail gear sliders
Homemade roof rack with spare tire mount
External fuel cell (9 gal)
KC lights
, front/back
Custom rear swing-out bumper
Aftermarket front and rear lights
Rear frame reinforcement plates
Neoprene seat covers
…other minor misc stuff
Future Mods/tasks:
Fix big dent on side ? Nah
New timing belt / water pump
Hi-Lift mounts on rear bumper
Fresh water tank (10-12gal) with pump (someday?)
12 volt freezer (dream on)
Front steel tube bumper (in the market)
Partial list of semi-recent trips:
Agua Fria
3/15
Kofa Survey
1/15
Elk Mountains
7/14
Turkey Hunt
5/14
Mojave National Preserve
3/14
Elvis
1/14
Sierra Anchas
1/14
Harquahala Mountain
11/13 (Ram 2500)
Various quail hunting
10/13 - 12/13
Mogollon Rim cast and blast
10/13
Eastern AZ Strip
7/13
Humphrey's Peak
6/13
Big Bear, SoCal
5/13
Death Valley
3/13
Agua Fria NM
2/13
Punkin Center
2/13
Upcoming Trips:
Red Creek Day trip- March 2015
4x4 day trip- C-Gap, BattleAxe, or Gisela: ~Spring 2015
4 night summer "mega-trip" to Utah- Escalante area
Other Truck:

2004 Dodge Ram 2500HD 4x4
She's used mainly to haul heavy loads and tow the travel, horse, and boat trailers.
A few previous mods:
Early on I knew I needed air so I could air-down for comfort and traction. I scored a Master Flow for $50, darn thing still works. I exchanged the crap hose connections with my own universal, fabbed a mounting plate, and stuck it in. I relocated my alarm horn and snipped the alligator clips to permattach to the battery.
Here we are airing up. You can also see my KC 26 series lights. The two front are long range and the two rear are flood. I got them because they are small and rectangular, like my roof rack. They are good for the price, but if I had to do it again I'd probably get bigger ones for the front. Maybe I'll put two more up front someday.
This pic shows the rear lights and "external fuel cell," which is my low budget auxiliary fuel tank. It's a 9 gallon boat tank, painted and secured. All I do is attach a fuel hose to the tank, squish the primer bulb a couple times, and it gravity feeds into the main tank. Right now my max cruise range is 600 miles; 18 gal tank, 9 gal fuel cell, 5 gal jug.
I never planned on a winch so a heavy front bumper didn't make a lot of sense to me. I did want a better approach angle for the tires though so I cut the sides of the bumper! To do this, I had to move the blinker light into the corner light... ghetto, but pretty easy. I might eventually get a tube bumper but it's not a priority.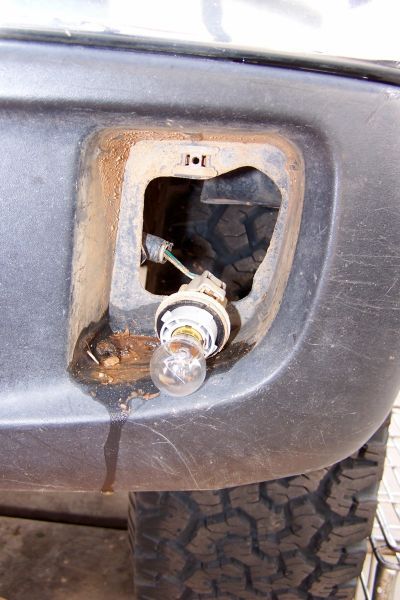 This shows the cut bumper pretty well:
I bought the camper shell off craigslist for $125. Scuffed it, primed it, and rattle-canned it for about $50. Is the paint an exact match? Nope. Does it matter? Nope!