Tacoma Belle
(current, as of 07/02/14)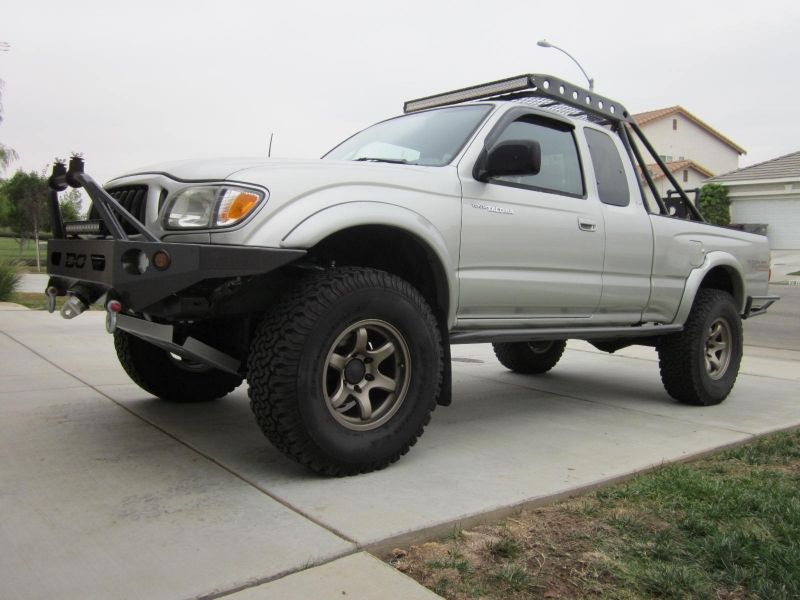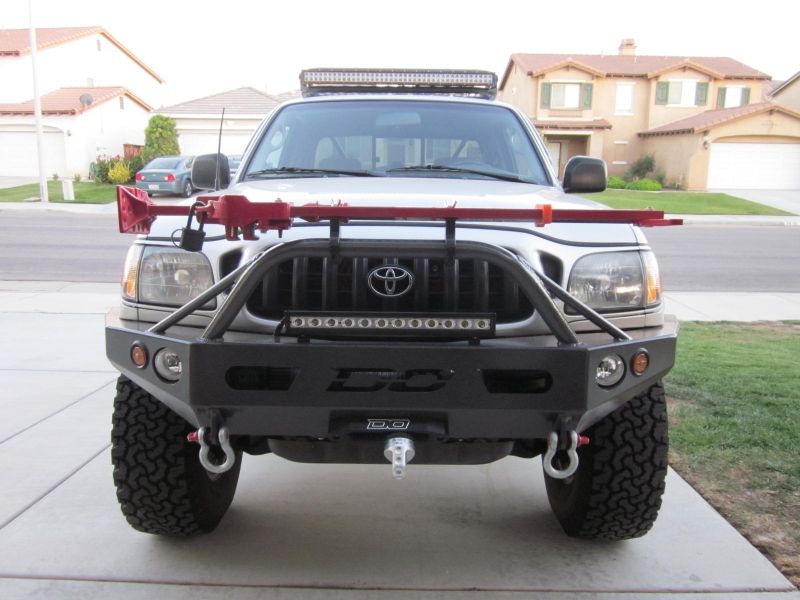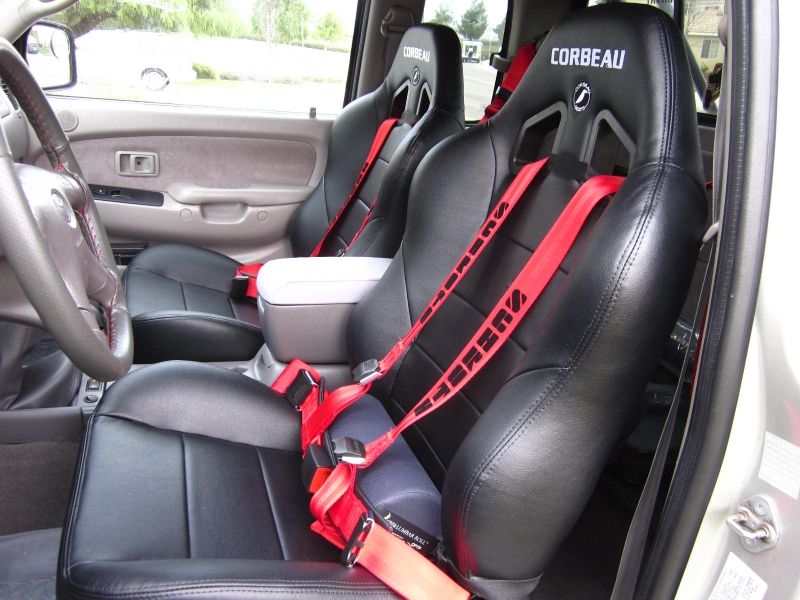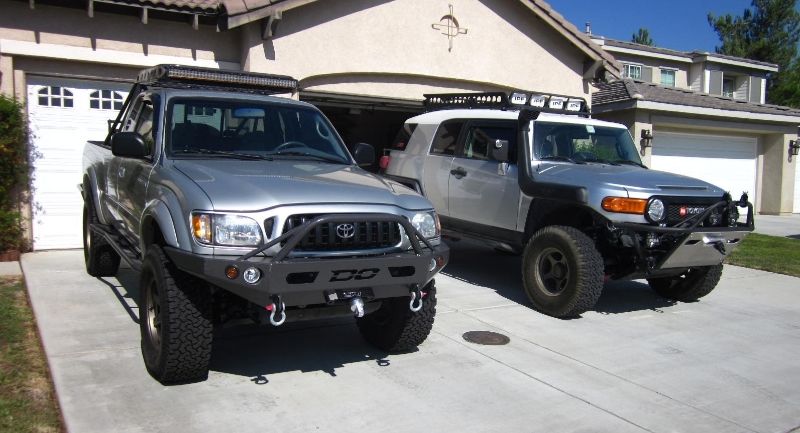 Mod List
(current, as of 12/17/14)
Engine/Transmission
-
AFE Stage 2 ProDry S air intake + K&N DryCharger filter wrap
- TRD billet oil cap
-
URD
short shifter kit
-
Magnaflow
11226 muffler + OEM exhaust
- Fumoto F-103 oil drain valve
-
4x Innovations
Transmission Mount
Front Suspension
-
Icon Vehicle Dynamics
2.5 extended travel coil-overs
- Total Chaos 1" uni-ball UCAs
- Total Chaos gusseted spindles
- Total Chaos gusseted upper coil buckets
- Total Chaos gusseted LCA cam tabs
- Total Chaos steering rack bushing kit
- Moog Greasable Front Sway Bar End Links
- Energy Suspension 9.5162G Greasable Sway Bar Set
Rear Suspension
- Icon v.2.0 rear shocks
- Deaver J59 8-leaf springs
- Deaver J59 bushing kit
-
Demello Offroad
rear frame reinforcements
-
All-Pro
extended rear brake lines
- BAMF BPV relocate bracket
Armor
- Demello Offroad aluminum Baja front bumper + D.O. Fatty fairlead
- Demello Offroad rack with swing-up tire carrier + (2) removable Jerry can carriers
- Demello Offroad rear wrap-around tube bumper
- All-Pro kick-out sliders
- RAT Products IFS skid plate with steering rack coverage (1/8" steel)
Illumination
- 42" ELS Atlas LED

-
(1) Ironman4x4 20" LED
- (2) Rigid Dually flood LEDs + smoked covers
- (1) Rigid Dually diffused LED + amber cover
- (2) Acro A3840 LEDs
- (2) Amber LED blinkers
- (2) 10W reverse LEDs (750 lumens each)
- (2) VisionX 1W LEDs (under hood)
- (1) VisionX 1W LED (winch)
Electrical

- Dual AGU fuse block [60A fuses]
- (2) Blue Sea Systems 5025 6-circuit fuse blocks [inside engine bay and cab]
- (2) 40A SPDT Relays [for Acro 55W and Ironman4x4 LED]
- 20A TE micro SPDT relay [for Rigid Dually flood LEDs]
- (3) OEM LED rocker switches [for ELS Atlas LED, Ironman4x4 LED and Acro 55W]
- (2) LED mini rocker switches [for Rigid Dually flood and diffused LEDs]
- (2) Waterproof pushbutton switches [for hood and winch LEDs]
- Tridon EP35 Flasher
Interior
- (2) Corbeau XRS seats + sliding seat brackets
- (2) Schroth Rallye 3 ASM 3-point 2" harness belts
- Alpine CDE-143BT CD/USB/Bluetooth receiver
- MB Quart FSB213 5.25" components (door)
- Infinity Kappa 682.9CF 6x8" 2-way speakers (rear)
- Kicker Hideaway 11HS8 compact powered sub (8" 150W)
- UltraGauge
- Husky floor liners (front)
- (2) Blue Ridge Overland MOLLE seat panels + various pouches
- Midland 75 handheld CB
- Yaesu FT-60 handheld Ham radio
- Hi-Lux shifter console
- Momo shift knob
- Wheelskins leather steering wheel wrap
- Razo aluminum pedals
- Blueinstinct center console cover
- GunVault NV200 NanoVault
- Tinted front windows (35%)
- Amerex Halotron Clean Agent Extinguisher [2.5lb] + H3R Universal Exiinguisher Seat Mount
Misc
- TJM Stealth 9000lb winch + 100' of 5/16" Dyneema synthetic line + Factor 55 Loaded ProLink thimble
- (5) Konig Countersteer Offroad wheels (16x8" in Matte Bronze)
- (5) BF Goodrich T/A KO tires (285/75/16) + Gorilla splined ET lug nuts (Black) + NoLoss captive tire valve caps
- Line-X'd bed
- Gobi Stealth Tool Box
- AMP Research BedXTender HD
- AVS vent visors
- (2) ARB 3/4" Bow Shackles
- Comet SBB5 146/446MHz dual band antenna + Comet 3D5MB 5m coax cable
- CB Firestik FL4 + ProComm HS818TNKT 18' coax Cable
- Ellis Precision Billet Hi-Lift Mounts
- (2) Sickspeed 118dB Horns
- SSM Billet Folding Whip Mount
- Hi-Lift Jack [48" Black] + WabFab Wabbit's Foot
- Rear diff breather mod
Queued

-
Redline Tuning
Hood QuickLIFT Elite
- Powertank Bracket (tube-mounted)
- (6) KC Cyclone LED rock lights
- Quick-Fist shovel/axe mounts (tube-mounted)
-------------------------------------------------------------------------------------------------------------------
History
Belle is my second 1st Gen Taco (and third Toyota), overall.
My very first Toyota was a 1st Gen Taco - a
2003 Lunar Mist Metallic V6 TRD SR5 Xtra Cab 4WD 5-Speed
(from 2002-2007). The only photo in existence below: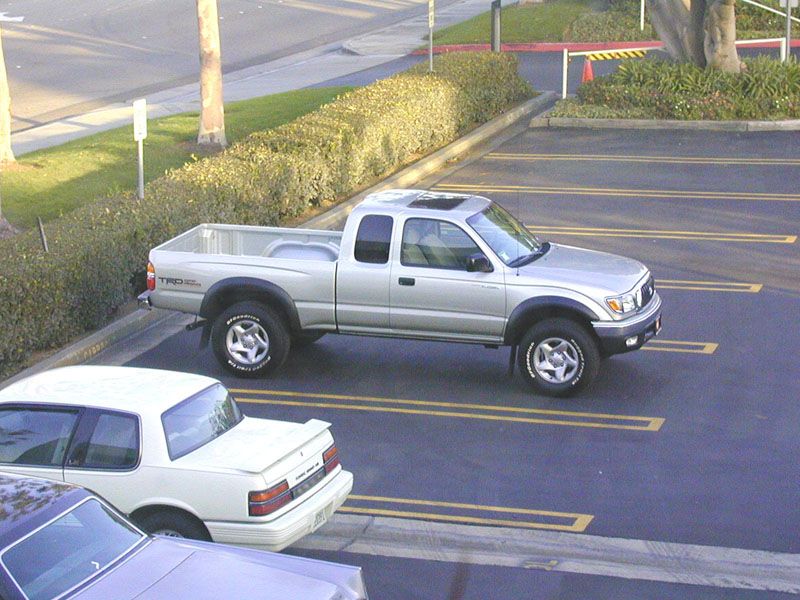 Nearly identical, minus the color-keyed package. That Taco served me well for 5 yrs and sparked my love affair for 4-wheel drive. Every vehicle since then has been 4WD.
After a few years, I was considering a Jeep Wrangler 4x4 instead, for more serious off-roading endeavors. Until I happened to catch the Toyota FJ Cruiser (production-version) debut at the NAI Auto Show on TV. It was love at first sight. Screw the Jeep. So in 11/2007, I eagerly traded the Taco in for a 2007 FJ Cruiser 4WD A/T.
As much as I love my FJ, I missed my old Tacoma (and manual transmission)! After the latest round of FJ mods, I realized she was no longer a suitable daily driver. Since I now I needed a second vehicle, why not another Taco?
With this in mind, I set out to find another 1st gen V6 SR5 Xtra Cab or DC in 4WD. After a 4 month search, I finally found her last week (2/02/13). I really wanted a DC this time around, but an Xtra Cab will do. Beggars can't be choosers...
2002
Lunar Mist Metallic V6 TRD SR5 Xtra Cab 4WD 5-Speed
Belle - before her extreme makeover.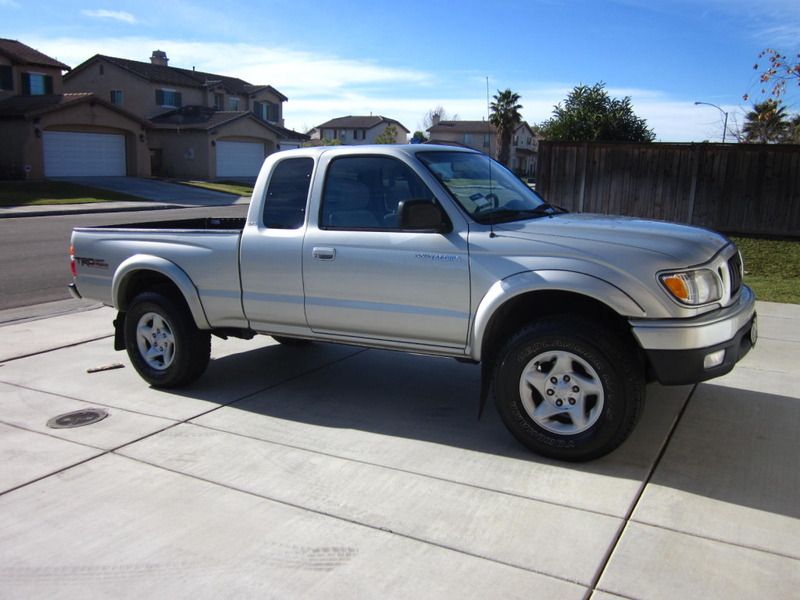 102,7XX miles from one previous owner. Engine runs great, smooth idle. Clutch is good. Nothing broken, no electrical or mechanical issues. Everything works as it should. The obvious blemishes were a missing TRD Off-Road Decal on the driver side and a small crack in the driver seat side panel (where the recliner lever is). No biggies.
Otherwise, in super clean condition for an 11+ yr old truck. No accidents, no rust. No stains, rips, tears, or cig burns to the upholstery. And, a clean title.
Also, completely stock. No upgrades or mods, except for a Rugged bed liner. The liner looks pretty new, no weathering and zero scratches/gouges. I doubt I'll keep it though. I don't think it will work with a bed rack I plan to get eventually.
Update - sold locally on craigslist.
Tires are Yokohama Geolandar H/T-S 265/75/16s. These and the wheels definitely have to go, along with the suspension.
Update - sold locally on craigslist.