How she sits now: *edit- waiting on updated pic so until then, this is how I got her at ~140K miles
Looks like new. Previous owner was an older gentleman, surprisingly TRD supercharged at 30K, but didn't add any fuel/timing mods- picked her up at 170K
Goal: I've modded rides for a little while now, enough to have had "that car" where you go teenie-bopper overboard on everything and you end up with a big pile of rice- yep I'll admit it, I had that phase. With this nice condition daily I didn't want to go "overboard" and make it a "project car". In fact I bought this so that I could go crazier with the "project car" I already had... Buuuut of course we can't keep our stuff stock right?! Trying to avoid anything more than a mid-travel build (edit 12/2/14, now I'm drooling to go mid travel), and tire sizes that require a huge amount of cutting, welding and pounding- here I go.
** please bare with some of the info posted here as I am also using this thread as a note-pad for all the research I'm doing, no thanks to this site (sarcasm, this site is filling me with too many ideas and wants), on future mods **
** Just a shout out, I'm thankful for this site and all the knowledge shared in these build threads- that said I recently closed escrow (7/26/13) in SoCal and now build funds are nuked- hope to pick back up soon though **
-3.4L
-TRD Edition SR5
-TRD S/C
-4x4
-rear diff lock
-stock 4.10 gearing
MODS N STUFF
suspension:
front:
- 5100s, OME 880 coils (should have gotten 881s).
- Camburg UCAs
Note for my own self as I keep forgetting- 1st gen 5100s have 0, 1-1.25, 2.5" perches.
- Stearing rack ES poly bushings. Might do more bushings as they are all in pretty bad shape.
rear:
- OE leafs with Wheelers 3 leaf AAL, minus OE overload.
- 5125s
- Bud Built powder coated blue traction bar with bearing boots- F U axle wrap!! And F U mud trying to ruin my spherical bearings!
- fixed E-locker!!
body/armor:
-working on it, just have OE skids for now.
Elite parts looking gooood
interior:
- JL 300watt amp
- JL 10" sub inside stealth housing
- Weather 3D floor mats
- larger rear view mirror with compass
- Dual gauge pod A-piller with TRD boost guage, AEM air/fuel
exterior:
- new headlight housings
- LED 2700 lm headlights
- Brake lights and reverse lights LED
- TBD, installing switchback LEDs for front blinkers
engine/trans:
- TRD 'black' supercharger, rebuilt by Magnuson
- AEM FIC made PNP- full closed loop air/fuel control
- Fiveo 625cc drop in PNP fuel injectors.
- DW200 LPH to keep up with the E85 days.
- 2.2 pulley
- Water/meth (currently in a disabled and in a dilapidated state as E85 rocks so much)
- Map rocker switch to switch between AEM's two map option- Map a) 87/91 octane, Map b) E85
- Denso IK20
- HKS DLI
- Vacuum/boost block for distributing vacuum/boost references with HKS line vacuum line filter
- Stupid big hayden trans cooler plumbed to avoid overcooling (hayden -> OE cooler)- Needs a shroud to gain effeciency. Going up a mountain without weight, spirited driving, I saw temps go up to around 220.
- TokenSolutions spec SM single catch can
- Mishimoto magnetic drain plug
- OBDLink MX bluetooth with Torque App- shows ignition timing, MAF, calculated boost, A/F, coolant, trans temp(!), fuel trims, MPGs etc. Has plug-ins to track on google maps, video with phones camera plus add G-force meters, mapping, track time etc.
electrical:
- Viper Alarm, keyless entry and autostart.
- gray wire mod
- Aux cig lighter ports full time power mod
- Apexi voltage stabilizer
- The "big three"
- Hardwired battery trickle charger plug
brakes:
- Goodridge 2" extended S/S lines
Fluids:
- The good German "super blue" DOT4 racing brake fluid
- Mobile 1 0w30 (200,000 miles and still doesn't burn oil)
- Amsoil ATF (50K miles still looks new)
- Royal purple 75w90 in front and rear diff and trans case
** Intend on switching all fluids to Amsoil.
- Toyota OE coolant
miscellaneous:
- tint including doing 50% (hardly noticeable) on the windshield- the UV protection keeps a lot of heat out amazingly- totally worthwhile mod.
- CARB legal. Something damn nice to have living in Cali.
- Best Topper canvas shell
- Samsung S2 mount near center A/C vent. No need for an ultragauge- smart phone has OBDII bluetooth connection, torque app and GPS app.
future mods (not necessarily in order)
- diff breather mod
- Sliders- looking at
beefed taco
and many of the other vendors.
- Power might be killing the tranny- TransGo SK 340, 340-HD2 (possibly plus 'blue' clutch packs) with rebuild.
- Aftermarket front and rear bumper- plate not bar, monstaliner (supposedly does not fade) or rustoleum bed liner (cheap and easy)- elite offroad w/ OE turn signal mounts/holes.
All-Pro
Baja or Apex looking really good as well (requires their skid plates but my OE skid plate mounts are fubar anyhow, and the Relentless Fab DIY bumper or NWTI DIY bumper would save me some serious $$ as I have a MIG.
- Wheels/tires- going for flat black- 265/75/16 mud tires
or bigger
if I can (maybe 285/75/16)
- Either Parrot Smart or some other Android based double din
- Magnefine in-line tranny fluid filter
- Revamp the water/meth system
- 5160s for the rear, custom softer compression, stronger rebound valving.
Just a few snap shots of some of the things done to my DD since getting her at 140K miles. Have to put it out there, some shameless plugging here as most of this stuff is off of "the shelf" here at TokenSolutions
Tranny cooler and water/meth pump going under the bumper.
The prototyping of making an AEM FIC PNP. Production harnesses much much cleaner haha.
FIC goes behind the kick panel pretty good
FIC tucked in
FIC allows you to install an external switch to switch between two different maps. Found an OE looking and fitting switch
Tapping OE wiper tank for teh meth.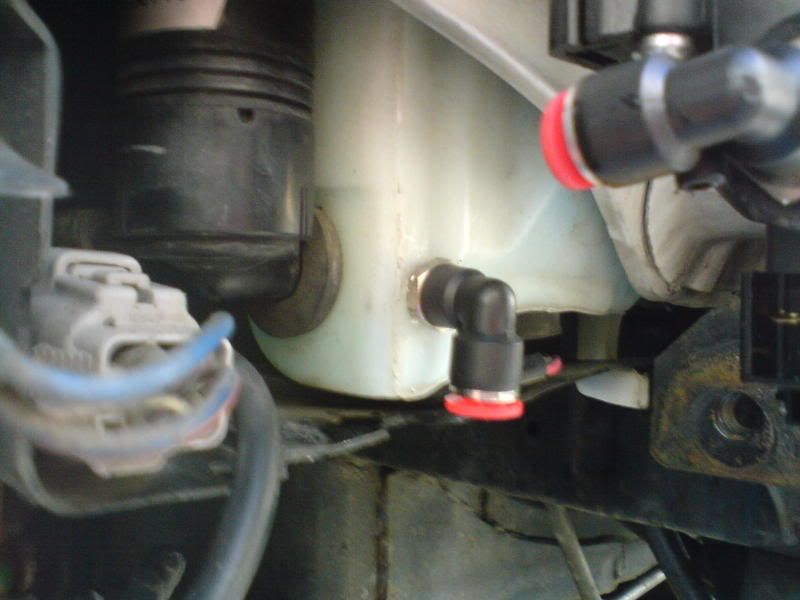 Dropping off S/C at her creators for a rebuild
They had this beast on display
And another of a number of displays
Later in the game, using a programmable 12vdc on/off from the FIC control a 2nd water/meth nozzle.
Installed a catch can that has high quality baffling inside
GROM action so I can play and control the ipod through the OE head unit, control a flash drive with MP3s on it, blue tooth cell phone talking, play audio through blue tooth with the tablet.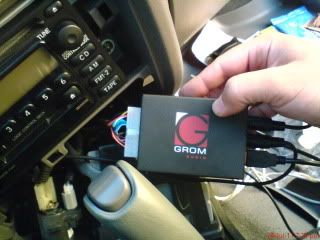 Too many "T" fittings where piling up off of the limited boost/vacuum sources with the TRD S/C setup, so in goes a vacuum/boost manifold
Then later a filter for it's feed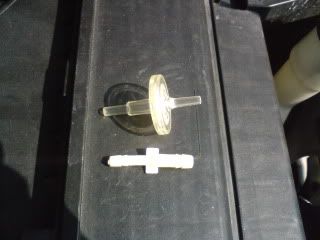 More spark and CDI second spark strike? Yes please. HKS DLI slapped in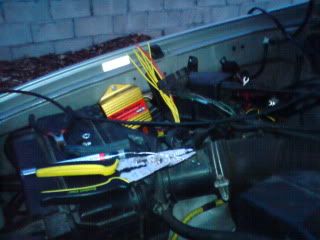 A plug and play ECU replacement MegaSquirt being built up for a buddies AE86- just felt like throwing it in here.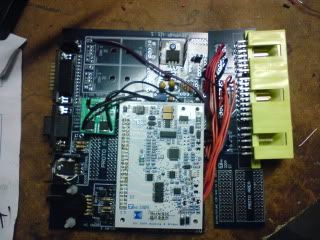 A lot of stuff I don't have pictures for, rear axle seal fixed, Billy 5100s slapped in. 2.2 pulley on the charger. Dual gauge display w/ TRD boost and AEM wideband installed. JL stealth box and amp installed and other stuff I'm probably forgetting. Try to get those pictures in eventually.