Here's How the Volcano Taco sits today. (Sliders welded up, bull bar removed, hells behind grill, pics taken 5 June 2013)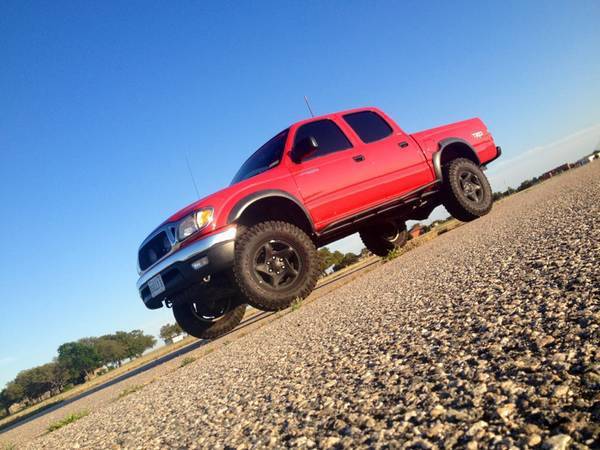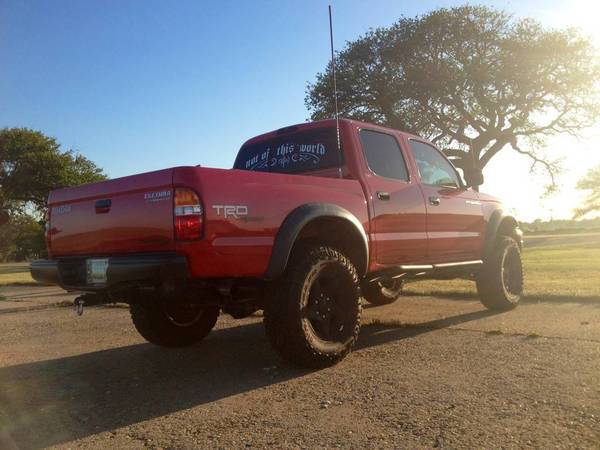 Current Mods:
Performance
:
-Magnaflow Cat-Back Exhaust
-AEM Brute Force Cold Air Intake
Lift/Suspension/Wheels
:
-3" Skyjacker Lift w/ rear AAL's
-Stock alloy wheels (plasti-dipped)
-LT265/75R16 Goodyear Wrangler Duratracs
Exterior:
-B.A.M.F. Rock Sliders
-Hella 500 Driving Lights
Interior:
-CB/Ashtray mod
-Red LED's behind gauge face and temperature control face
Audio:
-Kenwood DPX-503 Head Unit
-Kicker ZX1000.1 Amplifier
-(2) Kicker CVT8 Subwoofers
-Cobra DX 19 Ultra III BC Radio
-RadioShack 25w PA Speaker
-Firestik II 4' CB Antenna
Stickers/Graphics
:
-Sockmonkey Bedside Decals
-Sockmonkey 3rd Brake Light Cover
-Sockmonkey Windshield Banner
-Not of this World "Timmy" Sticker
Story time!
Now before I get started, I have to give a special thanks to my mom and dad (Sullyman). This truck was my 18th birthday/graduation gift and I couldn't be happier. Mom and Dad jump through hoops helping me and my brother out with everything and without them not only would I not have my truck, but I wouldn't be the person I am today, and of course I am not being conceded, but I'm happy with who I am as well as my accomplishments so far in life. Again, I just couldn't have done it without Mom and Dad.
Time to get on to the fun stuff!
Here she is the day I first layed eyes on her at Carmax. Bone stock.
First thing I did after the first car wash was personalize the taco with my stickers. They came off later on to clean up her up a bit. The only sticker still on the truck today that is in this picture is my Not of This World sticker.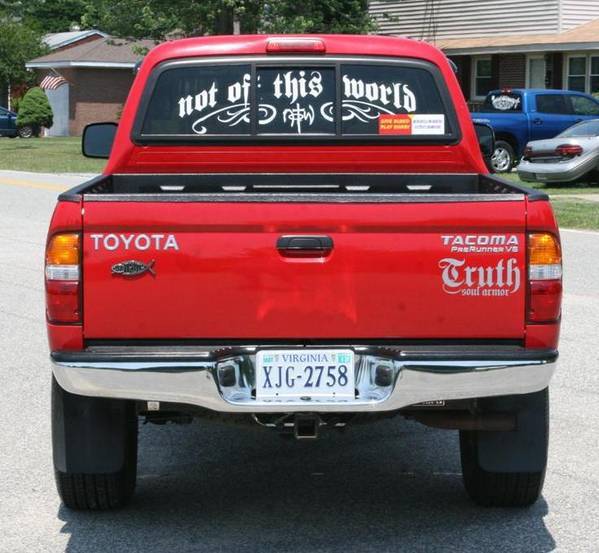 Then after taking off stickers, I went and got more from Sockmonkey! I got a TRD windshield banner, a TRD 3rd brakelight cover, and TRD PreRunner bedside decals. Also picked me up a Westin Bull Bar for $50 from Matt, a used to be local to me Tacomaworld member.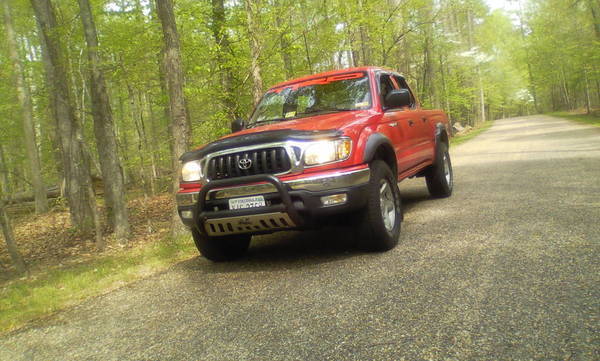 Also picked up my
Magnaflow
Cat-Back Exhaust and the AEM Brute Force Cold Air Intake.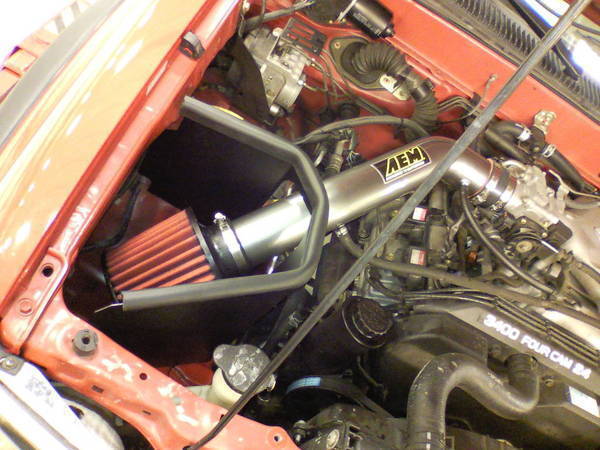 Didn't do much for a while after that except for my audio and smaller boring mods, but I did go out to a couple meets. One to the Outer Banks with a bunch of TW guys, and the other was to Shoe Creek with Bandit and Fennywald.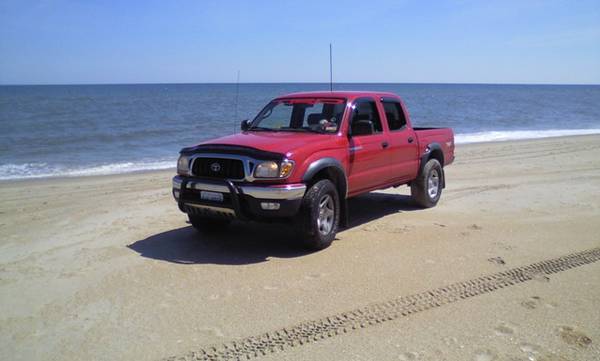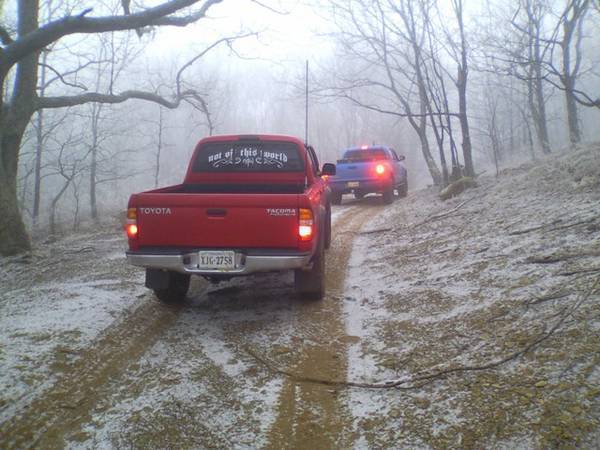 Finally, I got my lift. 3" Skyjacker kit. Also plasti-dipped my rims after getting my Nitto Terra Grapplers. Unfortunately I got my tires before the lift so I've been running stock sized tires on my truck since.
Before the lift...
After the lift...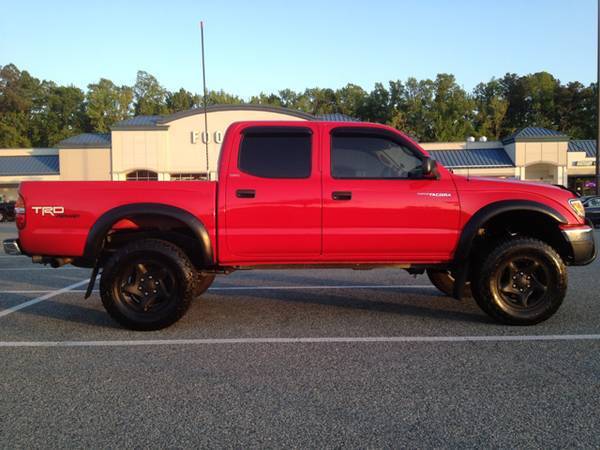 My next two mods/additions were influenced by a couple accidents I had. I'll tell you what, the stock bumper is a champ, and I could have kept it on the truck because there was such minor damage after both accidents on the same exact bumper. Only reason I did was because insurance paid for a new one for me. I had money from the accident left over after buying the bumper so I scored me a Hi-Lift as well...
Accident #1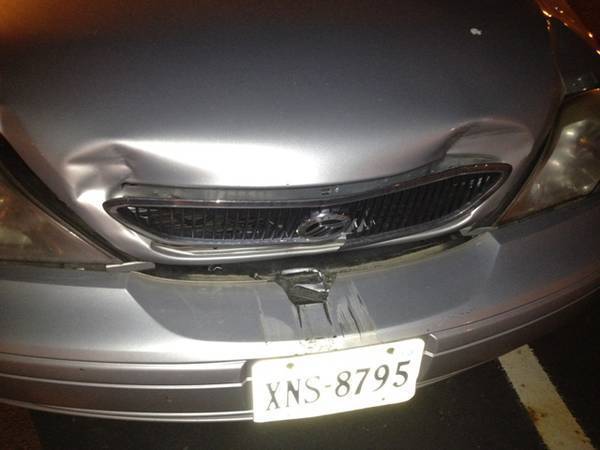 Total damage to my rear bumper after being through both accidents...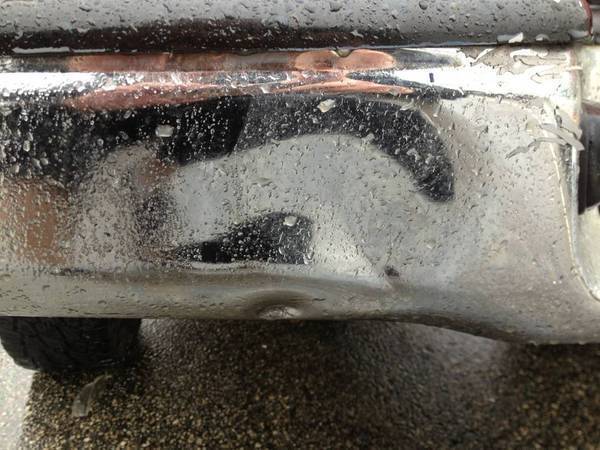 I've only done some smaller cosmetic mods since then such as the red LED's behind the gauges and the Wink Panoramic Mirror. Here's a pic of the mirror installed, and before you judge, I too was under the influence that it was just a trendy thing for the annoying Honda kids these days. But with this thing there are no blind spots! It's like magic!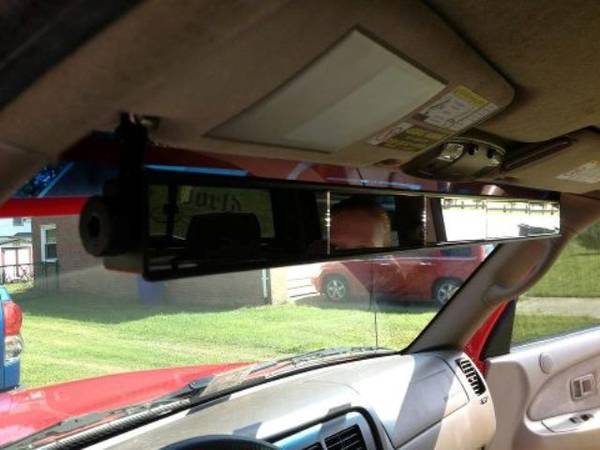 That's all I have really done as of right now, but I'll tell you this truck has a long way to go before I'm done with her. Anyway, here are the next few things on my priority list:
-B.A.M.F. Sliders (already have 'em and just waiting to be installed)
-Back to factory airbox with the Deckplate Mod and TRD
Air Filter
-4WD conversion
Thanks for reading my build thread y'all! Subscribe for updates!