Haven't had much time to mod Cargo cause the past few weeks the wife moved out of an older Sienna minivan into a -new to us- 2010 Blizzard Pearl Highlander Hybrid (HiHy)
Let me tell you this "SUV like" hybrid is FAST!
I was able to get from 0-60 in 6.5 seconds with all 2 electric motors and a gas engine.
This was not what I was expecting out of a hybrid!
Front shot of our newly acquired HiHy:
sportin 19 inch wheels:
Blue tint lens (hybrid style):
Wannabe Prius badge:
I don't have to hide my face anymore while driving.
LoL!
OK, so back to Cargo...
Today I did a long overdue drain and fill using 4 quarts of genuine Toyota fluid that I bought online for decent price..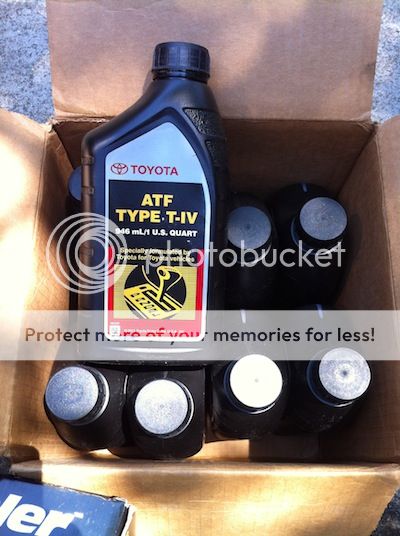 Draining the nasty ATF:
Wow, looks like a dirty brownish clay color
:
It's super hot in Cali right now so I'm gonna delay my transmission cooler install for another weekend. That will give me another 4 quart round of another ATF drain and fill.
Time to watch some fireworks! Happy 4th everyone!!!