Howdy!
How she sits right now (Not really, Will update this thread soon!)
Exterior
3 Inch Level Kit
Statoshi Homemade grille
Bull Bar
Plasti Dip Stripe
In Vent Window Visors
Plastic Bed Liner
Toolbox
Stickers
Lighting
eBay
Headlights Behind the grille (Only 98-00 I've seen with it done)
Clear Blinker lights
Interior
Aftermarket Alarm System
Audio
FHX700BT Pioneer double din radio
Bluetooth
Rims and Tires
OEM 2013 Toyota Tacoma rims
P245/75R16 Dunlop AT20 Grand Trek
Well to start things off here is how she sat when my dad pulled up in her on my birthday!
2 wheel drive
TRD
Rear Dif Locker
Basically all stock.
Named her Carrie. Get it? Trucks carry stuff
... No one? alright
And because Carrie Underwood is very pretty. Anyhow...
I soon realized that the front was ugly and wanted to change the truck to make it into my own
First thing I did was buy a couple of mudflap country girls for my... well mudflaps
Now was time to start working on the front.
I bought some mesh off of Custom Car Grilles and dremeled the crap out of my front grille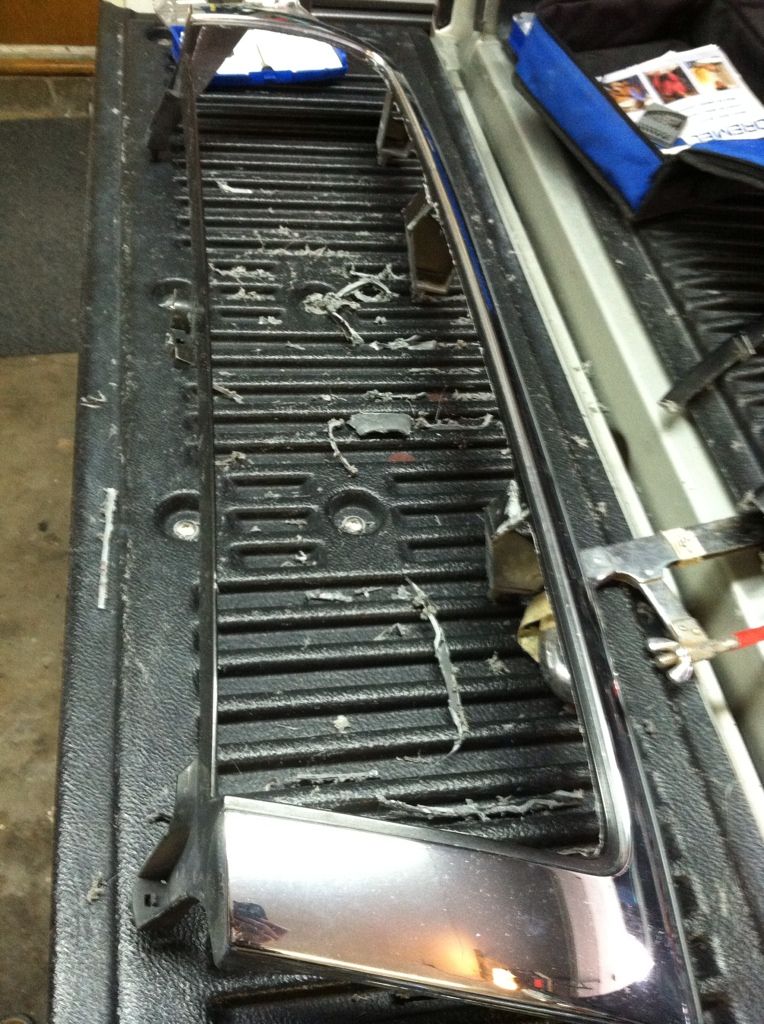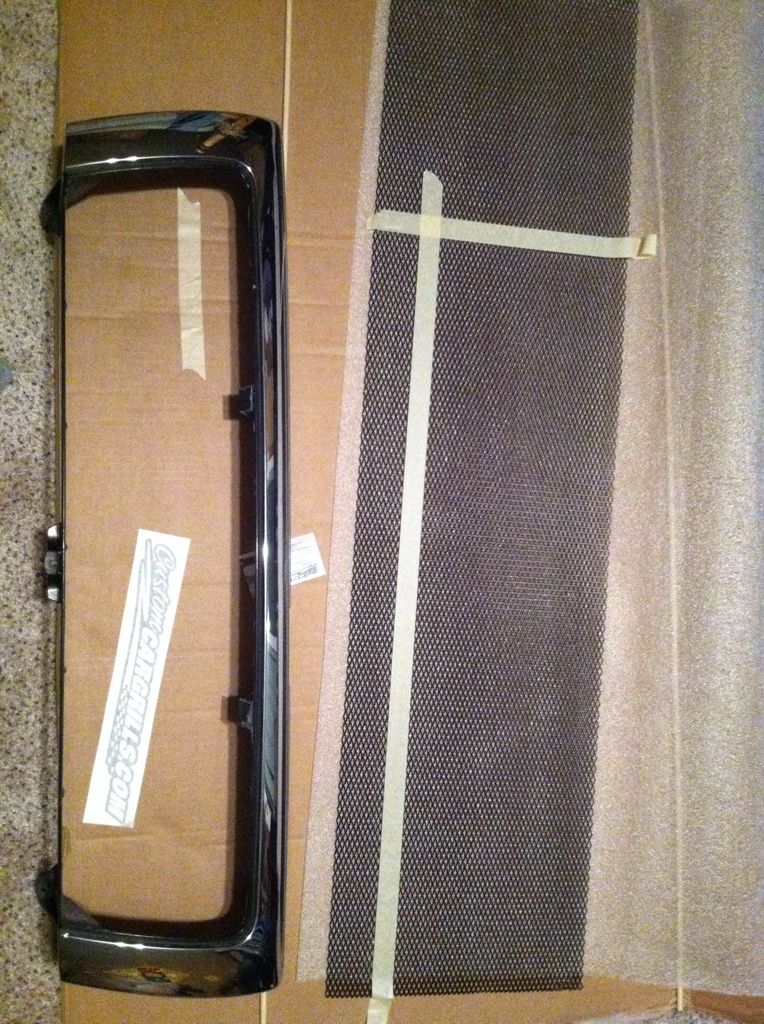 And it was a PITA shaping, cutting, and securing it to the frame of the grille. But all in all got it in and installed.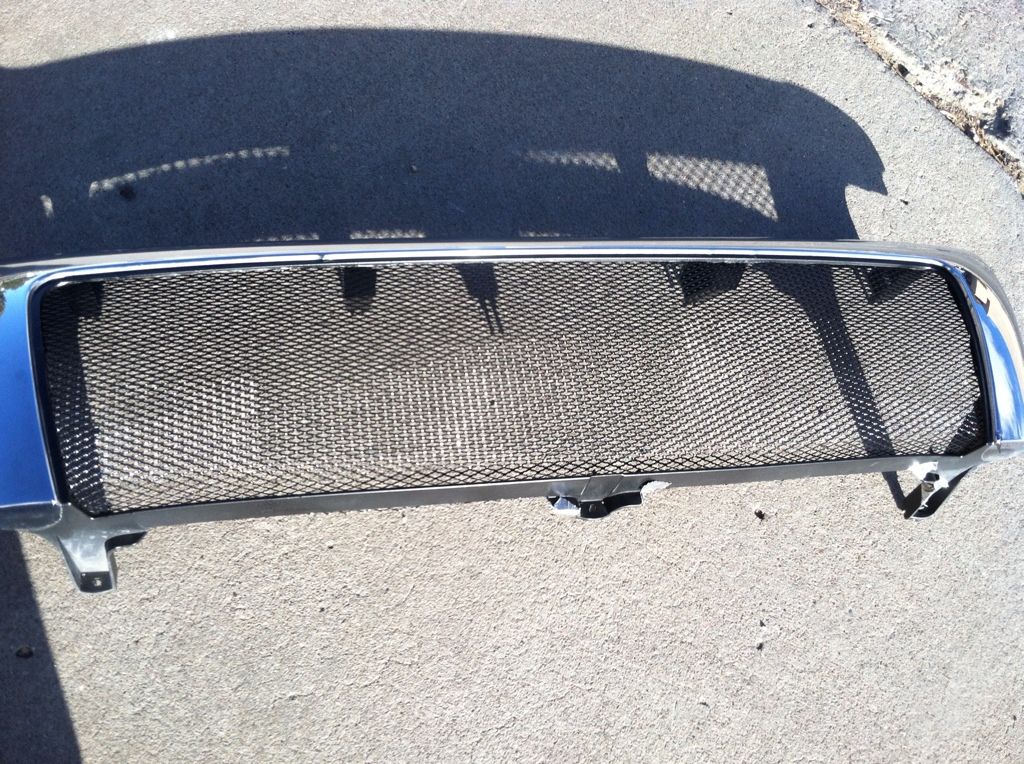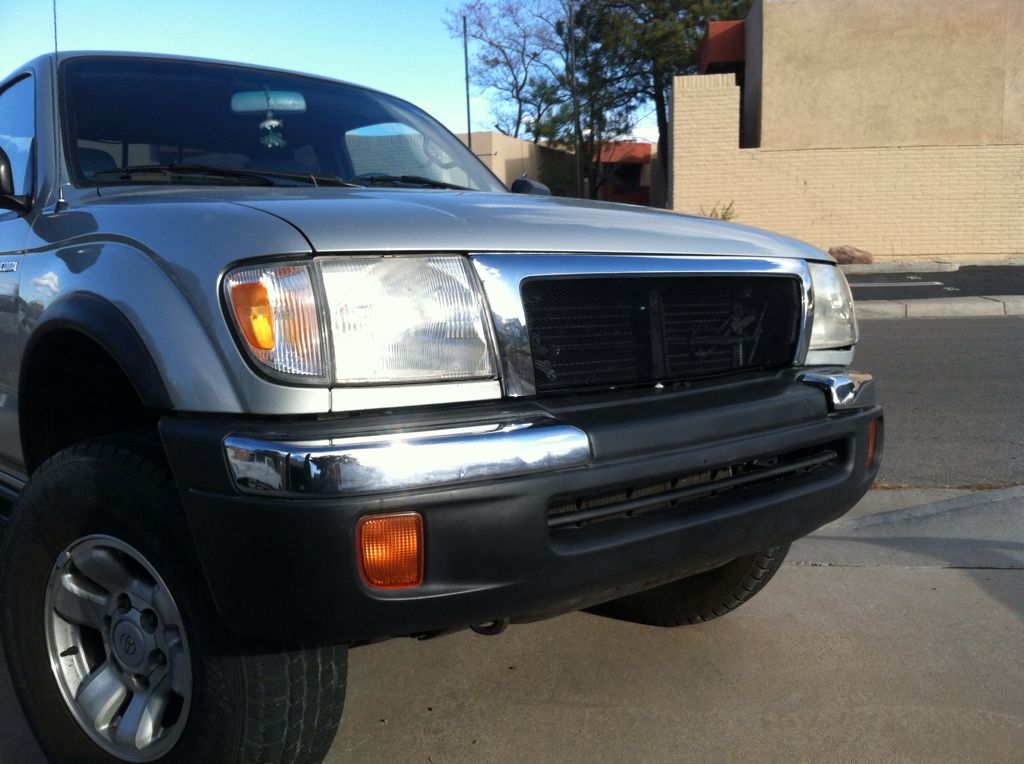 Then added the chrome symbol from the original grille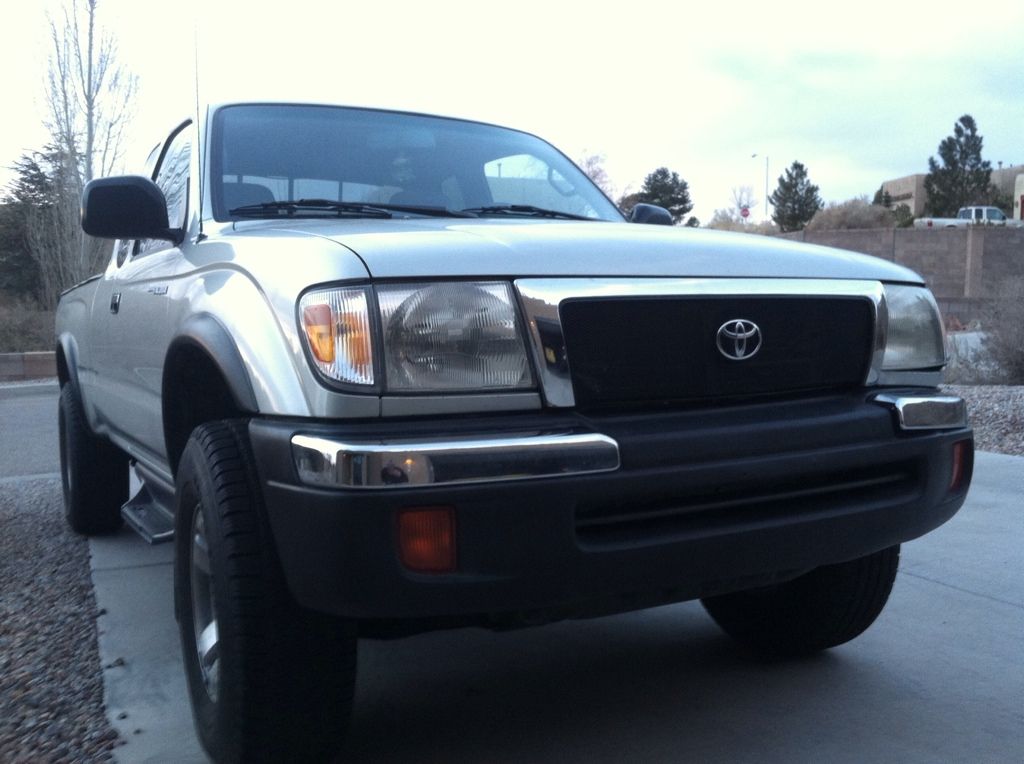 I sent a picture to Custom Car Grilles and the guy gave me a
full refund
because I was the first to use and make a Satoshi for my year truck with his mesh! SO a new grille for free!? Worked GREAT!
I then added some screen mesh behind the metal mesh because you could see right through the metal and looked really trashy. Now with the smaller mesh behind it it helps block some of the view.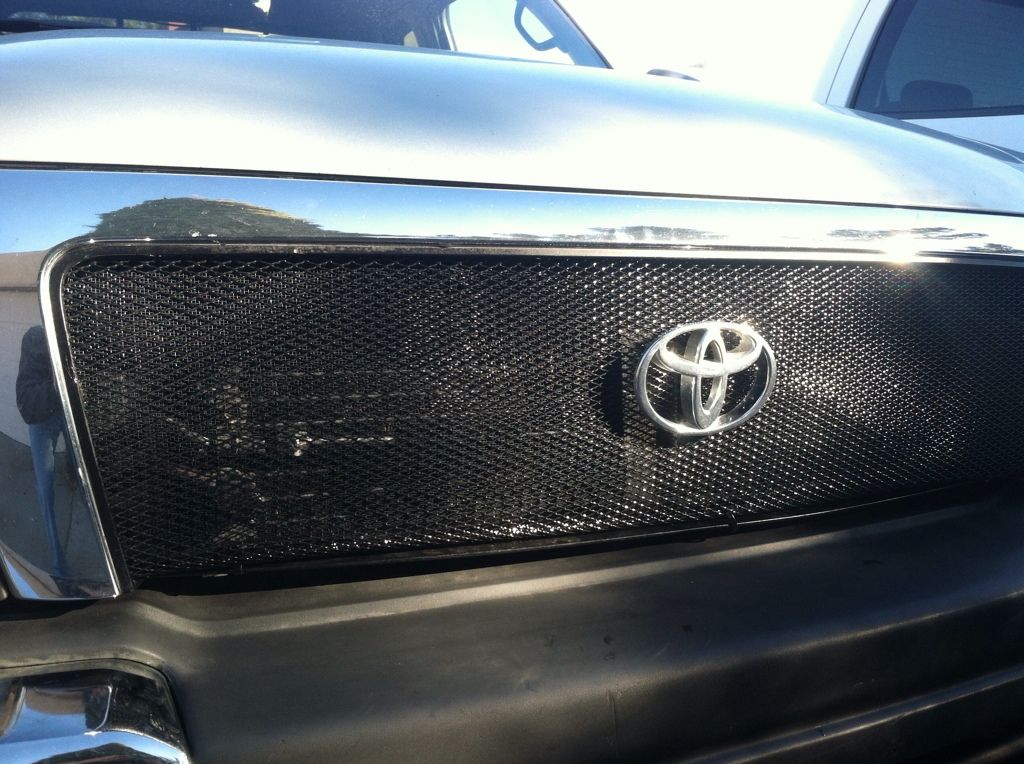 Now here is where I will throw a lot of people off. Everyone told me not to get a bull bar / black out the chrome... Well I went and bought a chrome bull bar instead... Haha I needed something to break up the front of the truck from the big gapping hole of black plastic it has for a bumper! And not being able to afford a plate bumper (and not wasting time with it because I don't have a 4X4) this was the best option!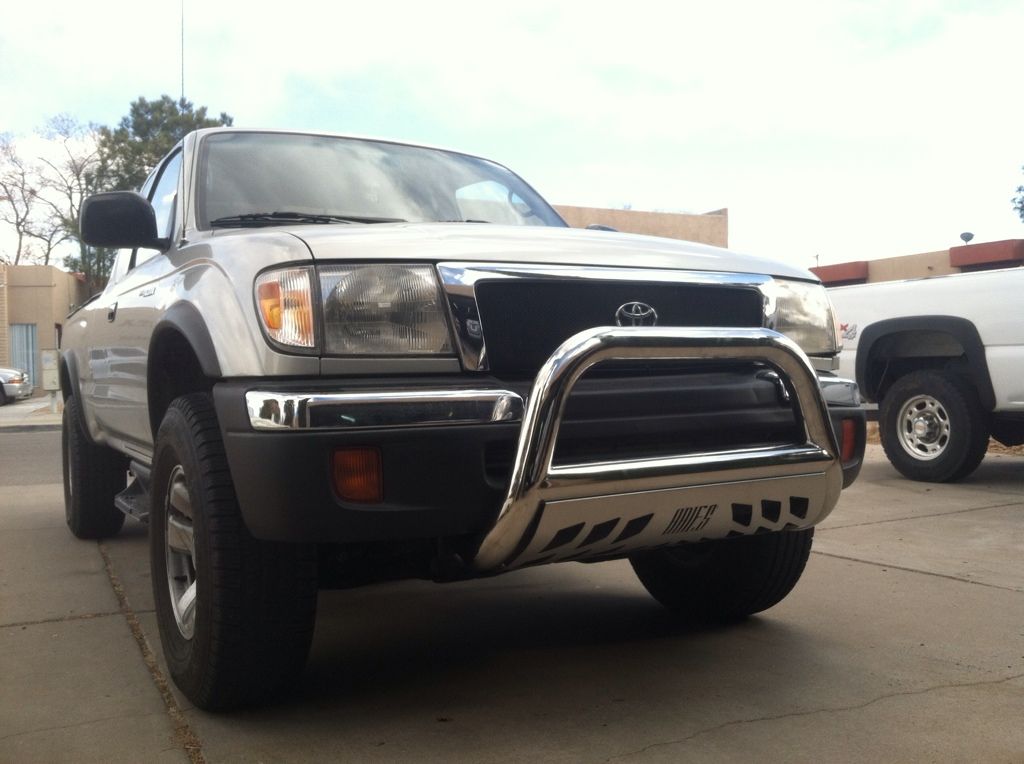 I loved the way it looked and stood out but wanted to do a couple more things to the front.
So I bought some off road lights that were a 3 inches thick and found out there is only
~1.75
inches to work with. So sold those on craigslist (got my money back) and bought the shallowest lights I could find that were 1.5 inches and $30. They are eBay (probably chinese) lights, but they were the only ones that would be able to work
So a buddy and I got to work on them (of course on a freezing cold night) and found how little freaking room there is between the grille and radiator with all the little pipes and whatnot too. But we managed to drill holes in the radiator mount and plopped them in the only spot that could house them.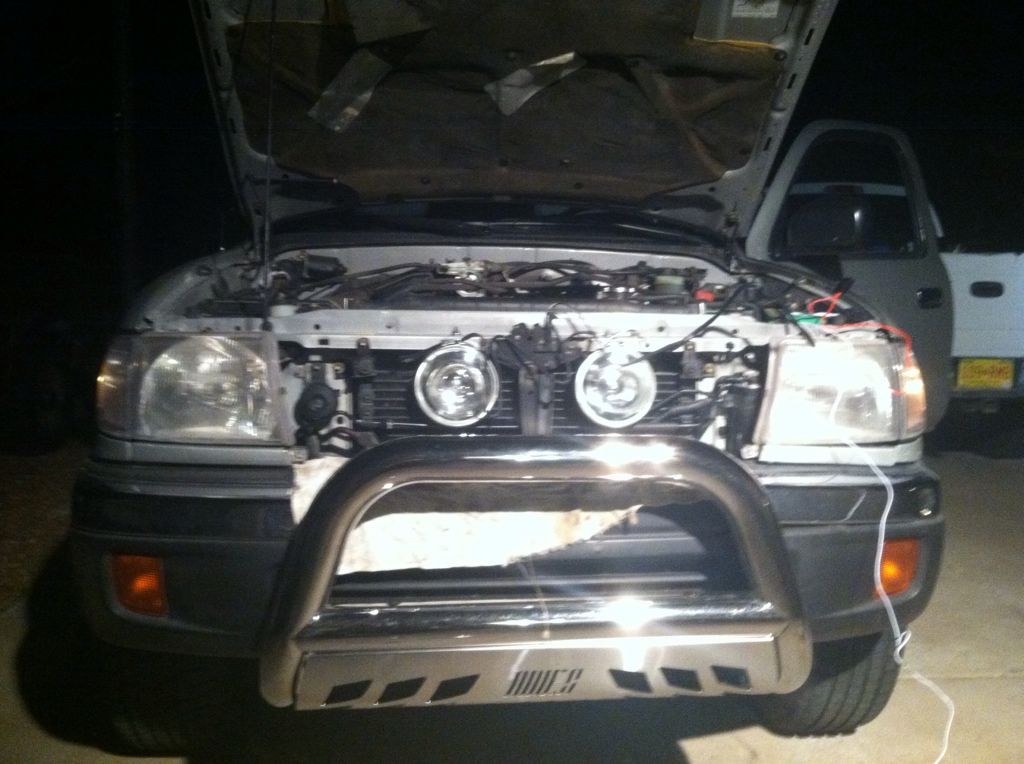 Also while he was wiring a few things, I put in new clear corner lights on the bumper. Looks so much better than that orange!
Then for a test... YAY I didn't get screwed with non working lights!! This is the only 98-00 I know with lights behind the grille!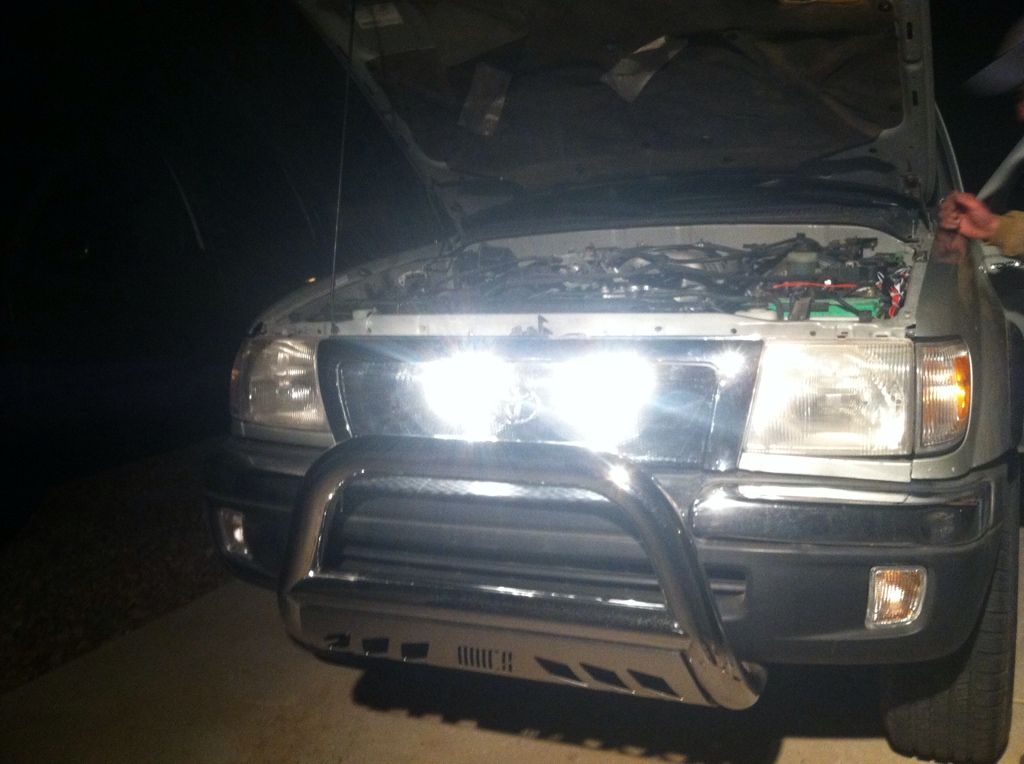 And that was it for awhile until I got my TW sticker in
And this is how she sat and all that I done to her until I found some plasti derp at
Home Depot
...
Duh duh dunununu
(suspenseful music)