What it's looking like as of right now.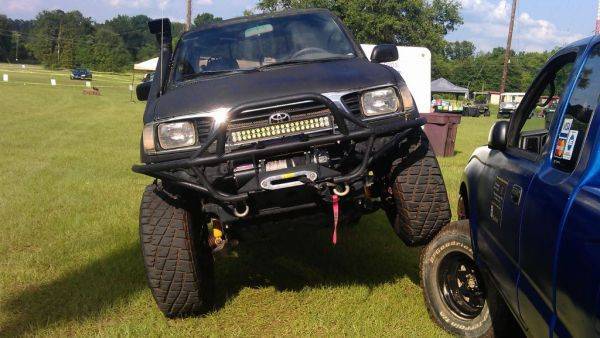 Suspension (rear).
OME Dakars
Toytec 2" lift Shackles
10" Bilsteins
OME poly bushings
Marlin crawler steel braided brake line

Suspension (front)
OME 882 Springs
OME NitroCharger shocks
Light Racing Upper Control Arms
MOOG Lower Ball joints
Marlin Crawler steel braided brake lines
Sway Bar Delete
Drivetrain
3.4L v6 w/179,000 miles
AFE Pro Dry S drop in air filter
Optima yellow top battery
Mobile1 Synthetic fluids
No AC compressor If you were as cool as me, you wouldn't need one either
ARB Safari Snorkle

Axles
Complete rebuild
Replaced all bearings and seals
Heavy duty Yukon 4.56 R&P's
ARB Air Lockers
Viair Ultra Duty on board air
Mobil1 Synthetic fluids
WARN Heavy duty hubs
Wheels&Tires
Pro Comp Black Steelies 15x8" 3.75 Backspacing
General Grabber Red Labels 35/12.50/15
Armor
Stubbs Welding HD-SKO sliders w/kickout
Addicted Off-Road Winch Bumper
Custom tubed bed
6"x6" square steel bumper
Recovery
Recon 10,500LB waterproof winch
Synthetic Winch line
60" Hi-Lift Extreme
WARN Tree strap
WARN Snatch Block
30' WARN Snatch Strap
Lighting
High density LED Tail lights
20" LED Lightbar fog/flood
Interior
OTTRW Switches
Cobra CB in ashtray hole
Second Gen Rubber Floor Mats
AutoZone shift Knob with a compass in it (awesomness)
RPM, Oil Pressure, Temp, Air Compressor, air/fuel ratio, and battery level gauges
Cracked windshield
Bare metal floor (no carpet)
Mud and dirt
Exterior
Dents
Scratches
Gouges
Crushed Body Panels
Rustolium bedliner paint job
Mud and dirt
Very expensive stickers (the parts were free)
The day I bought the truck. It was pretty trashed, but it was cheap and ran great.
The pic is crappy, but the only one I have. This is the pic the seller sent to me.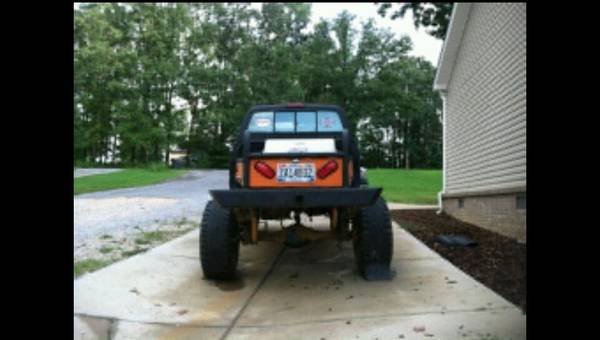 It had Pro-Comp coil overs in the front (cranked up to the max), and a 2" AAL and 3" block on it already. It also had 4:56 gears installed, and what I was told to be a front "locker". And of course a "truggy" type bed.
This is what I found under the hood.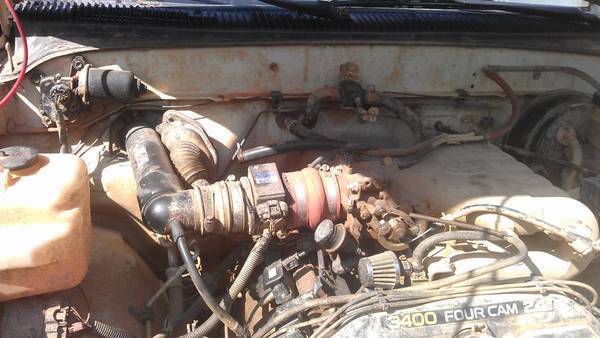 I drove the truck home knowing that it was making grinding noises, had many leaks, the steering was shot and the brakes only worked about half the time. Damn this truck was noisy.
The first thing I did was take it to Bill (BamaToy1997), who started pulling it apart.
The hubs were shot, and only engaged now and then. I ordered a set of WARN hubs to replace them.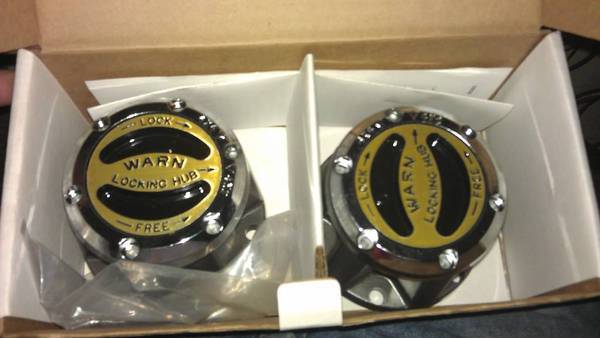 The rear end was leaking pretty bad. We ended up replacing all of the bearing, seals, brake pads, and brake components. Don't have any pics of this because I wasn't there while Bill was rebuilding it.
The tires were bald, so that was my next order. Got a set of General Grabber red labels for pretty cheap. 35/12.50/15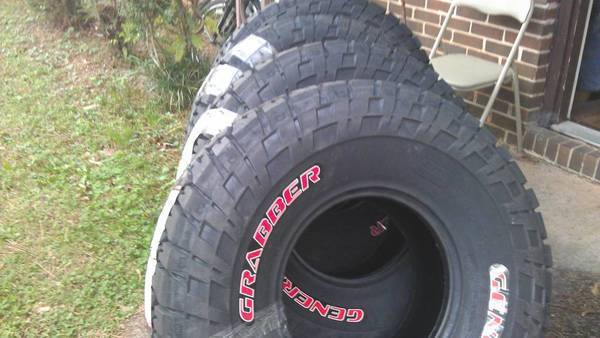 Mounted.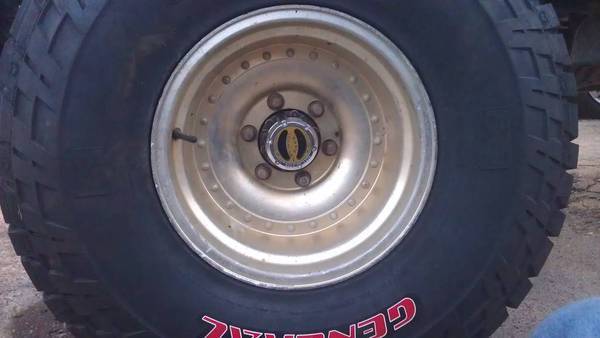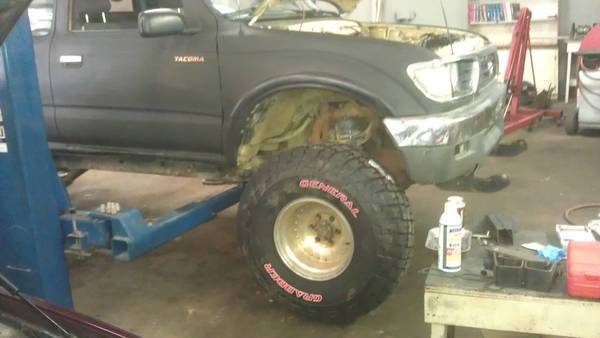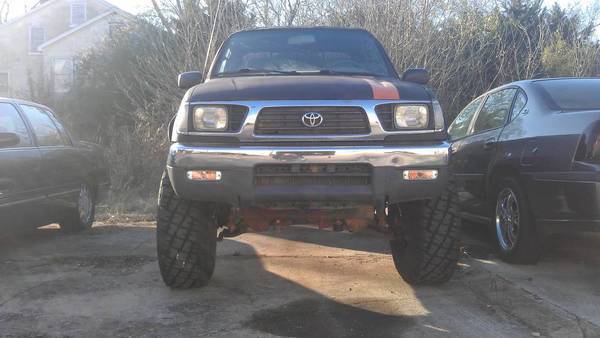 Playing with one of Bill's lifts when he's not looking.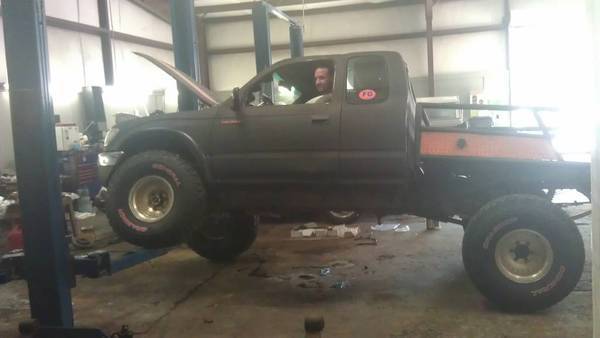 After all the rebuilding. I came and grabbed the truck, hoping I wouldn't find any more problems. I was headed to a meet we had set up. On my way, one of the old and abused front brake calipers decided to explode and destroyed the inside of the front passenger wheel, cracking it bad enough that the wheel was no longer usable.
After much searching to find one of those wheels, I gave up and ordered a set of Pro-Comp steelies.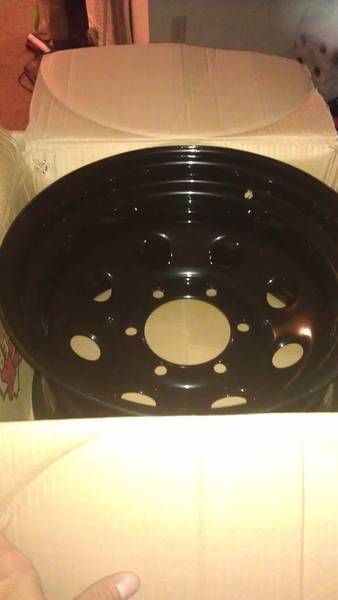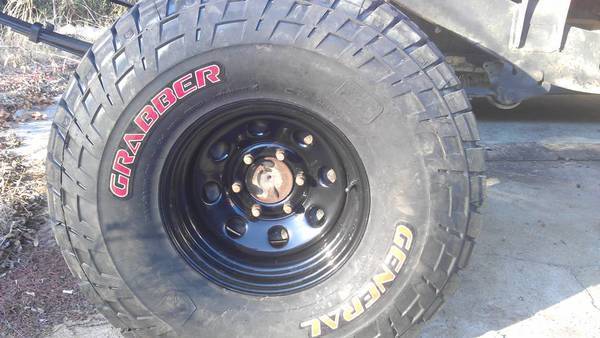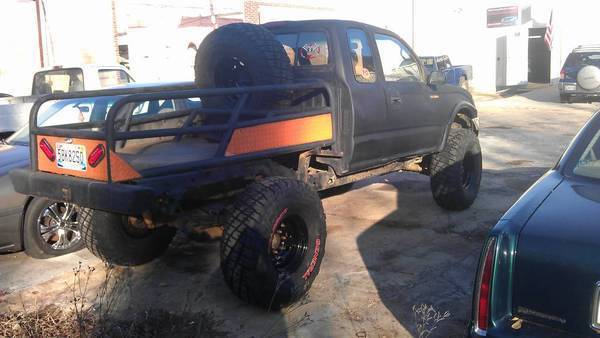 At this point I started wheeling it. My first wheeling trip, I snapped a CV. I went ahead and ordered two brand new CV's, and kept the one good one on the truck as a spare. These are the CV's that I ordered from Autopartswherehouse. Both of them came in bent up. Luckely I was able to straighten them out.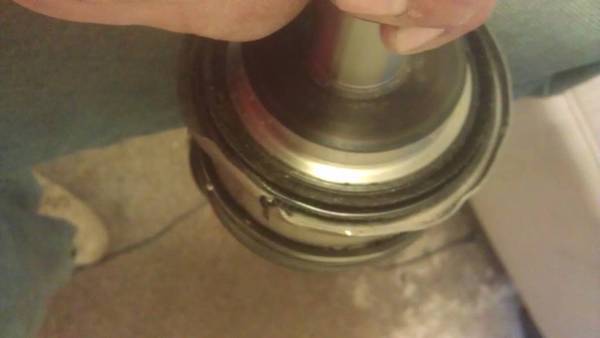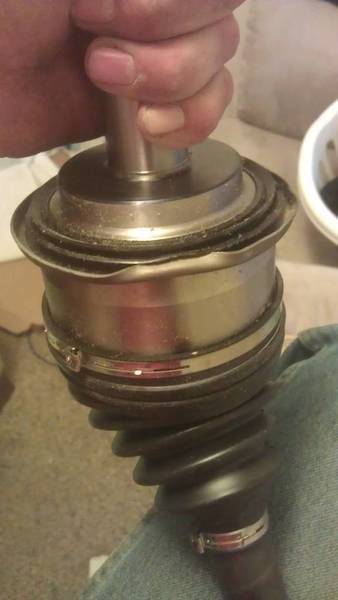 Next was a money spending spree.
Dakars, and Recon 10,500lb waterproof winch w/synthetic line arrived.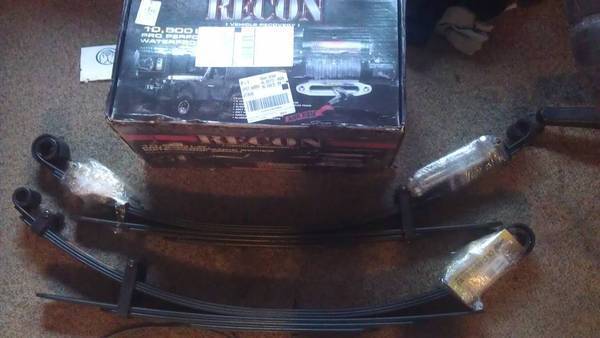 Stubbs Welding sliders w/kickout.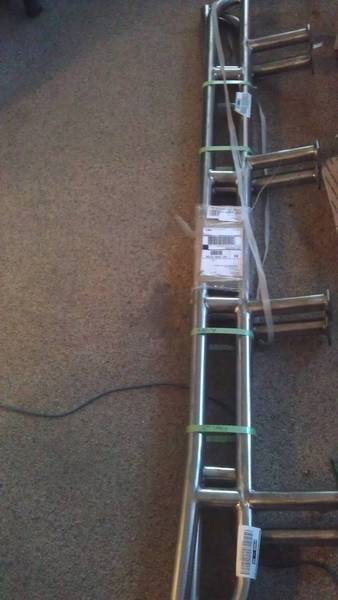 Hi-Lift Handle all.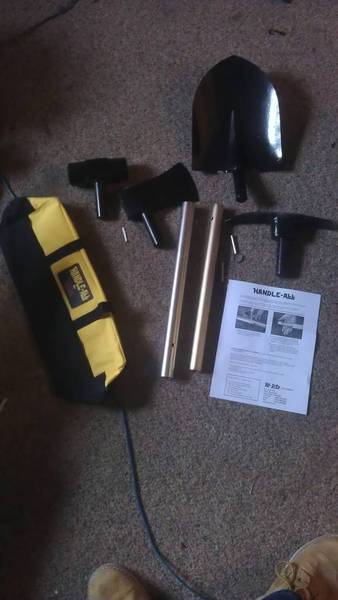 60" Hi-Lift Extreme.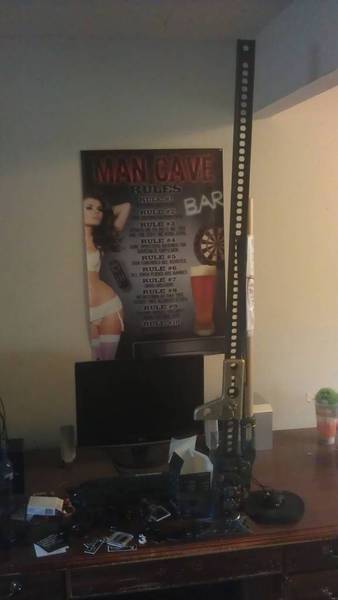 ARB safari Snorkel.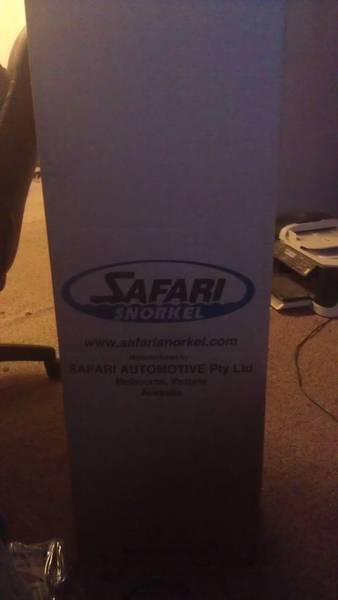 GoPro
Hero3 Black Edition. (from another member)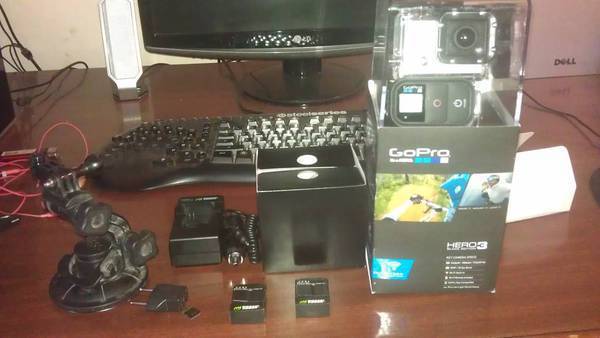 Dakars installed.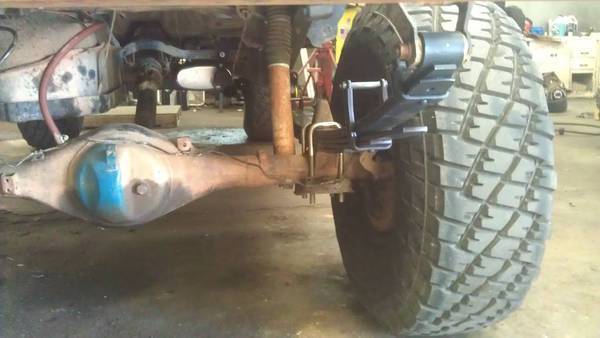 20" lightbar. (from another member)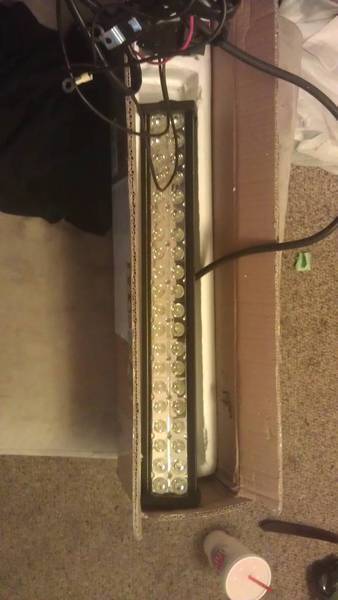 2" lift shackles from ToyTec.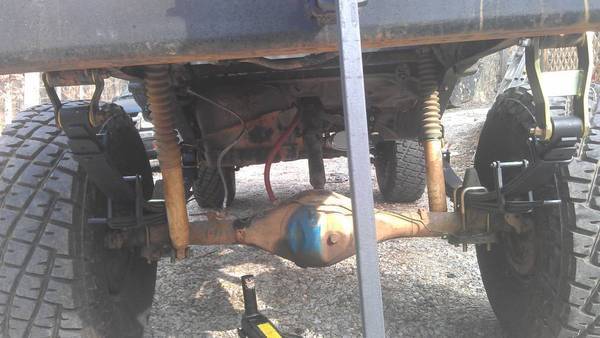 ARB Snorkel installed.
10" billies to replace the old rear shocks.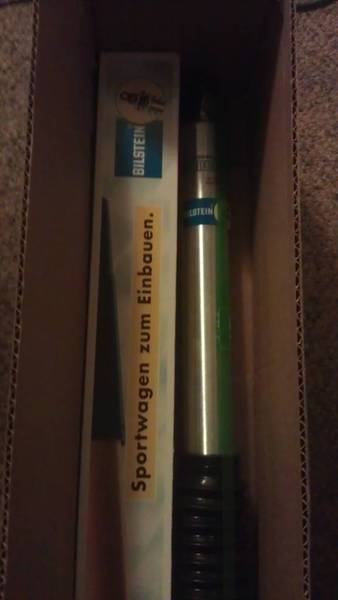 Many items sat around a while, while I waited for Addicted to get the bumper to me.
In the process I purchased front and rear ARB air lockers and a Viair Ultra duty OBA.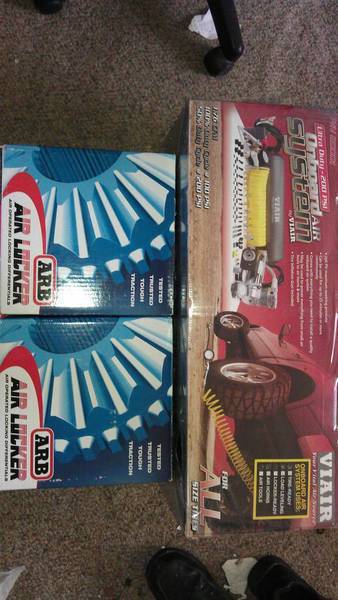 Sorry, don't have any pics of the install that I can find. Except this one.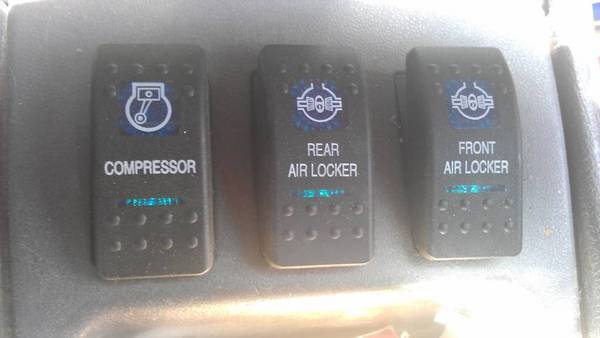 OBA. With my home made tire carrier.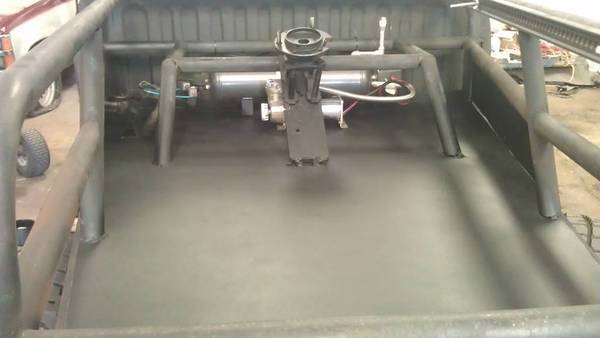 Found a ditch to try out the ARB's. Drove through this in 2WD.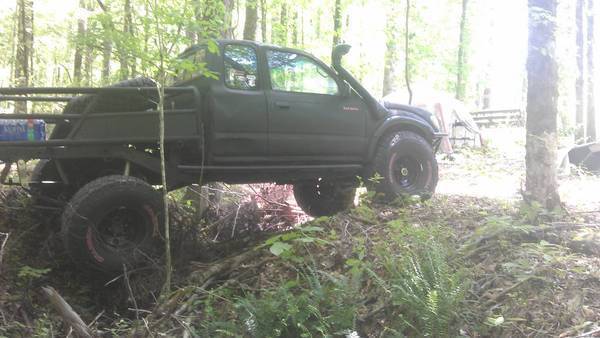 Replaced the Pro-Comp coilovers with OME 882's, nitrocharger shocks and LR UCA's.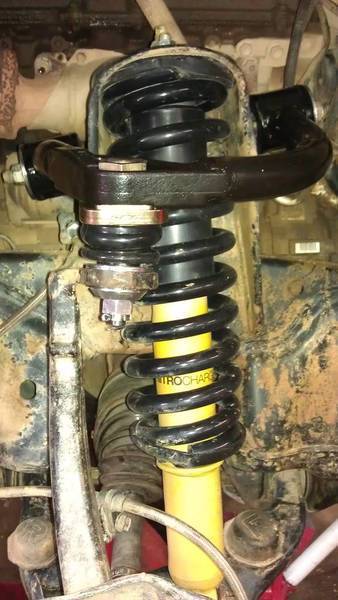 Got my Addicted bumper installed.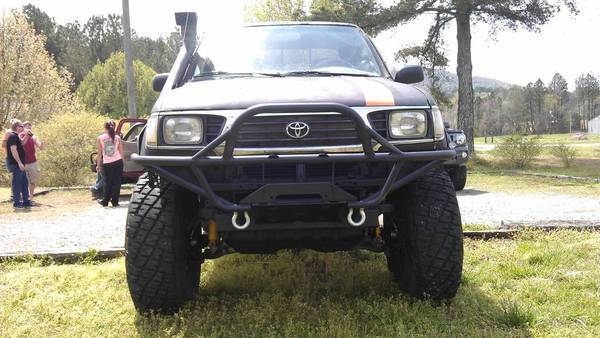 Winch installed.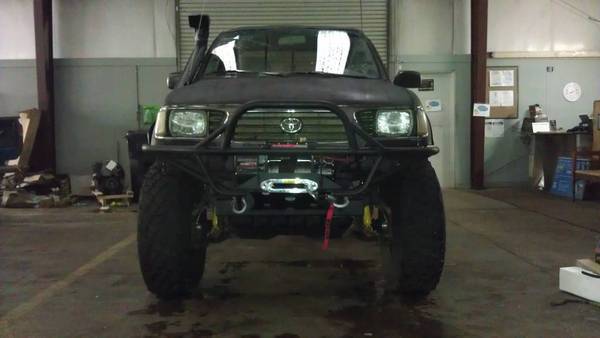 Light bar installed.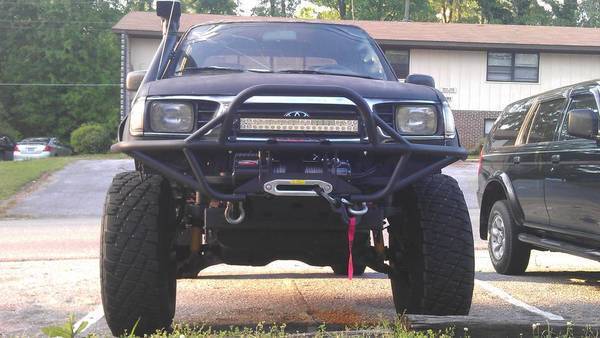 Installed a Optima Yellow Top to run everything.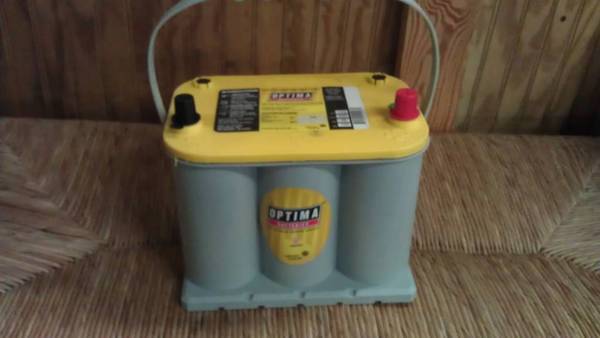 Also painted all the orange with black bedliner.
Some random pics.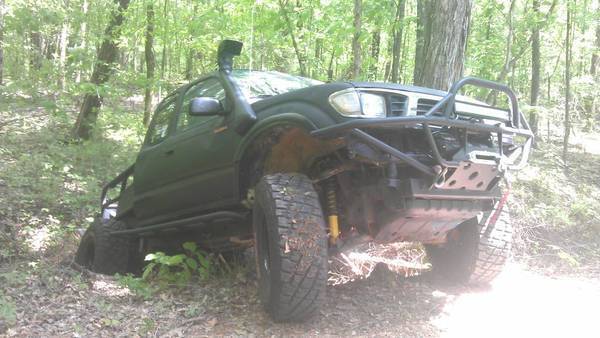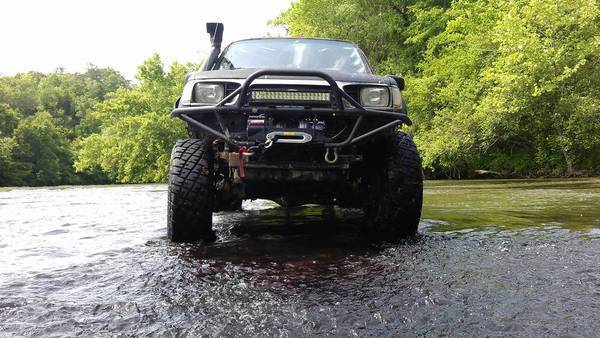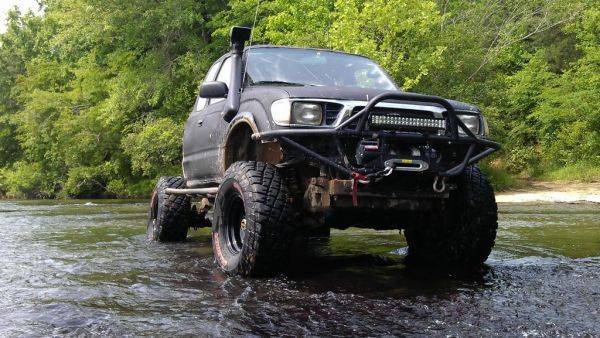 I'm sure I'm forgetting a Lot. I'll edit as I remember shit. I'm also sure it's in the wrong order, but oh well, you get the idea.