Well I guess it's about time I start a build thread. I've been doing small things here and there since I bought it in 2011, but figured I might as well start my own build! I'm sure I'll forget some things, but oh well.
So I bought it in June of 2011 with just over 47k on the odometer. The previous owner was a doctor working in the village of Nome, Alaska. It was there for the first seven years he owned it, then he had it shipped back to Anchorage where his wife drove it for a few years. It has a lot of scratches and a few dings in the paint, but nothing major. You can definitely tell he was using it away from civilization. The interior is in great shape though.
The main purpose of this truck is for exploring. I don't do any extreme off-roading, but I enjoy camping in places that not everyone can get to. Eventually I will take a drive down to the "lower 48" and it has to be equipped for living out of for extended periods of time.
Most up to date pictures.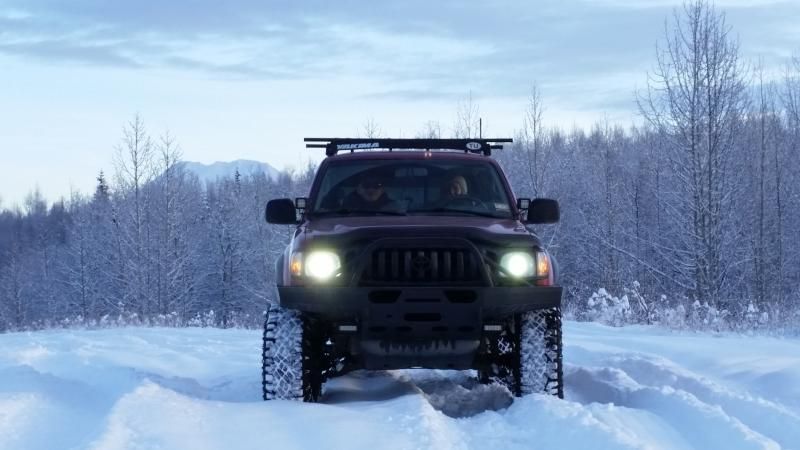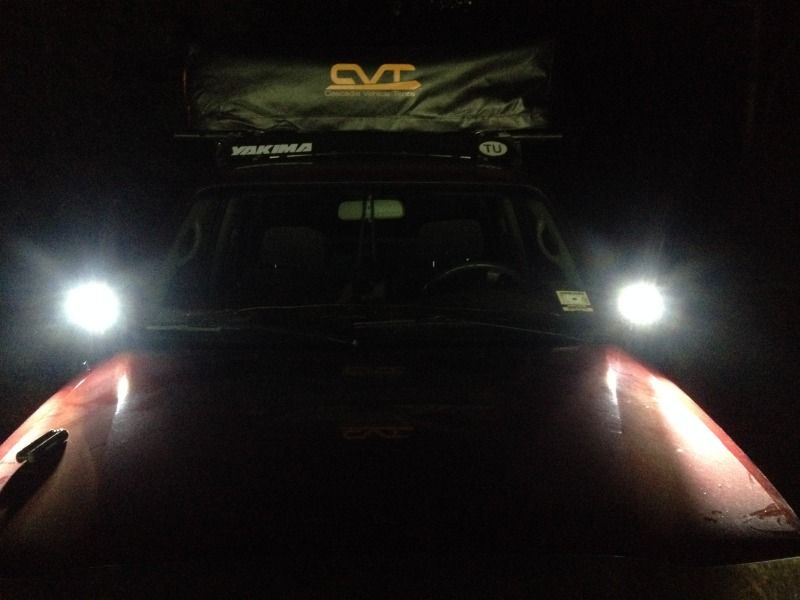 Here it is the day I bought it.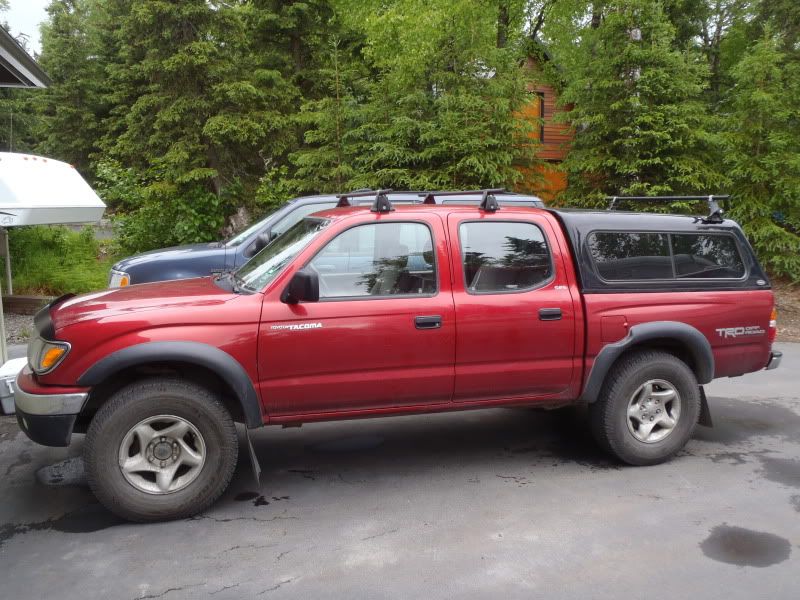 After it's first wash/wax. Took the shell off in preparation of getting the bed rhino lined. That was my first priority for this truck. I hate things sliding around in the bed.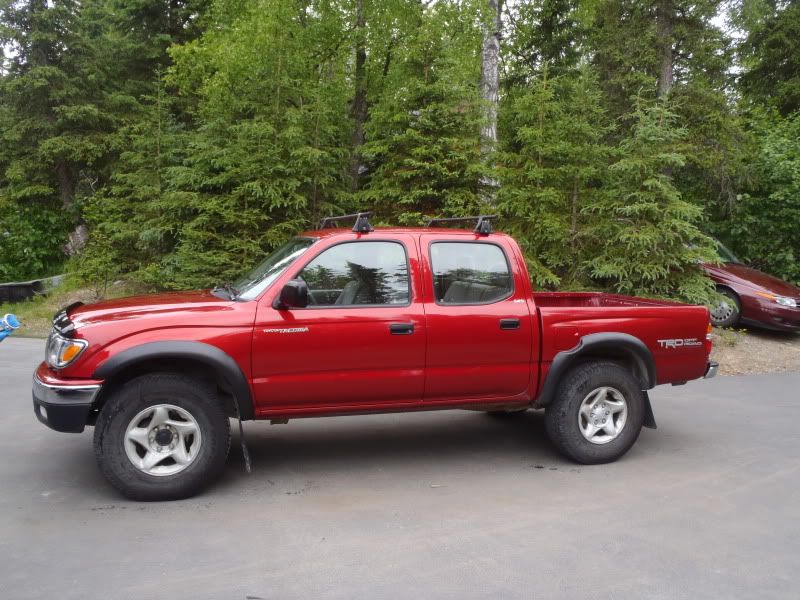 Fresh rhino lining. I love this stuff. My dad has had it on his F-350 since 1999 and it only has one chip in it. And that's from a really hard hit from shoveling gravel. It's held up great so far. I've not used line-x but I don't care for the texture of it compared to rhino lining.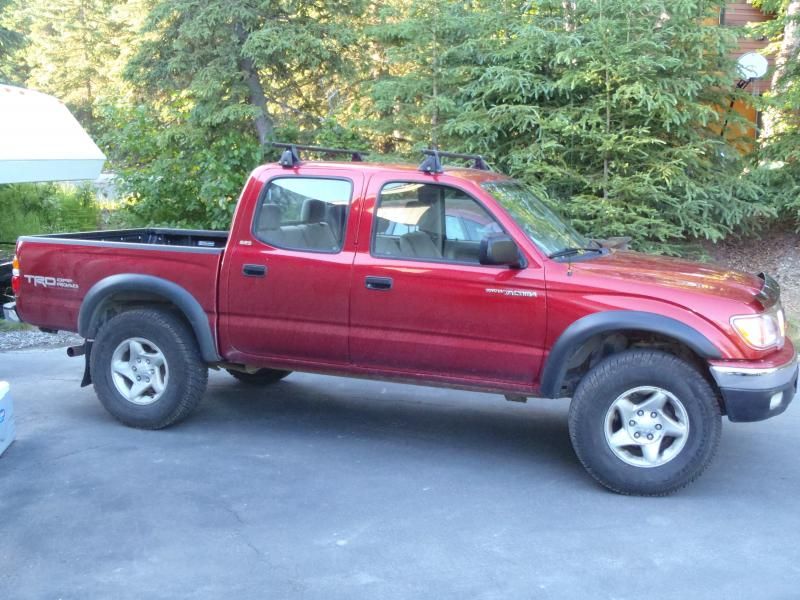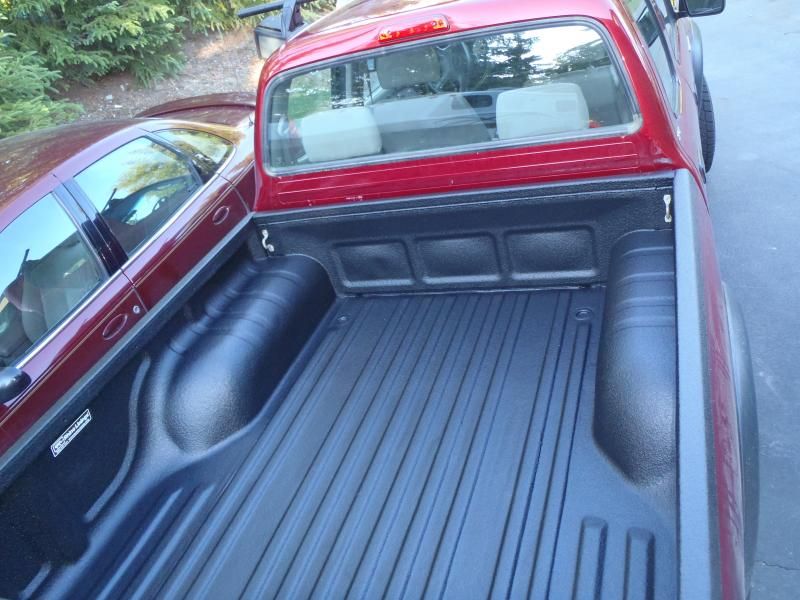 My second priority was a remote starter, but I didn't have the money for that just yet. So I put that off and installed an LED dome light in my caper shell. It has a high/low switch on it and works great.
Disconnect for the light if I ever have to take the shell off.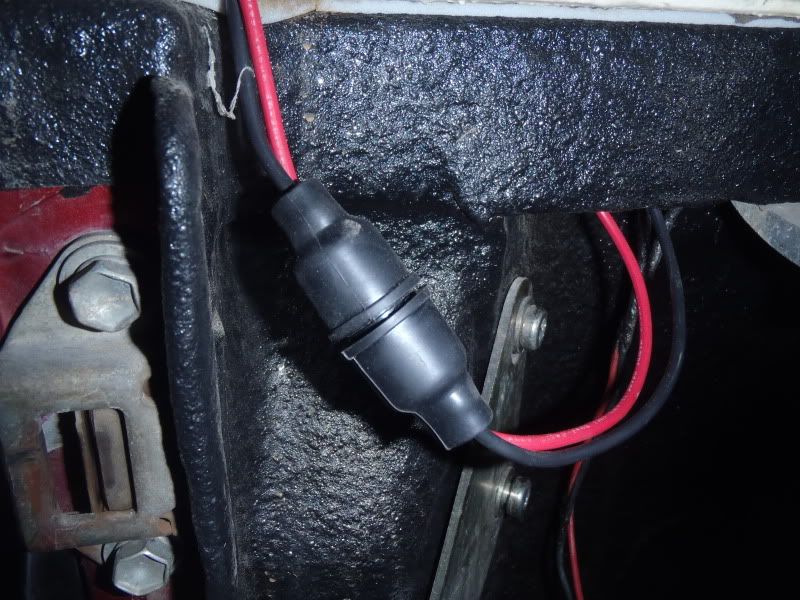 After those mods I really didn't do anything to it. I did end up getting a compustart 2-way remote starter w/ 1 mile range. I love it. But I pretty much called it quits for mods until the summer of 2012. And all I did then was plastidip my badges. I wanted to debadge the tailgate but I was worried it would look weird. My tailgate is really banged up from the previous owner, and I think the badges make the scratches less noticeable.
Here's the truck next to our yard full of snow...badges blacked out.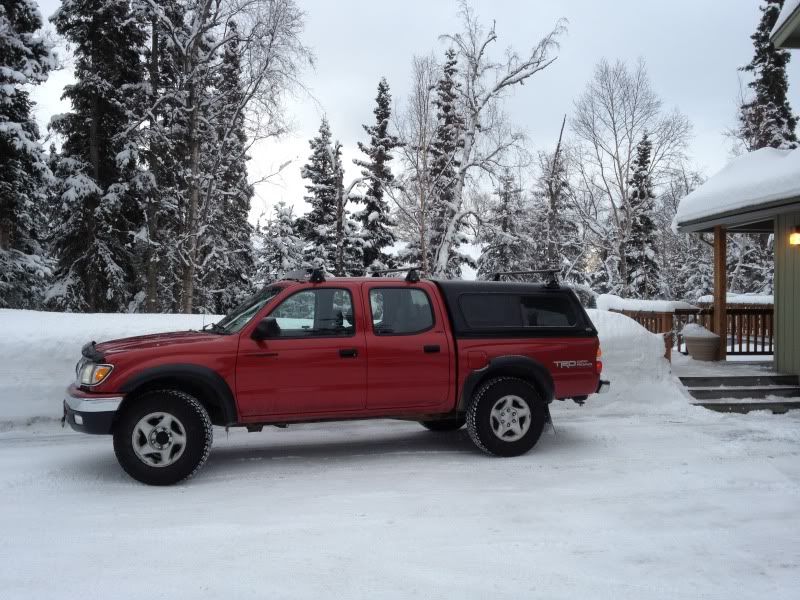 I did the grey wire mod at some point that summer to. If you guys haven't done it yet, I highly recommend it! Took be about 15 minutes total to do and it's come in really handy.
This past winter (2012) was when the mods started more often. I did a retrofit with a mini H1 kit from TRS. 5000k xb35 bulbs. Then I added a 21'' blitzpro LED bar on my bumper and two 6'' Bliztpro LEDs on my camper shell facing backward. I have both wired to a separate switch. The ones on my shell I use as reverse lights and flood lights when camping. Probably the best mod I've done at that point.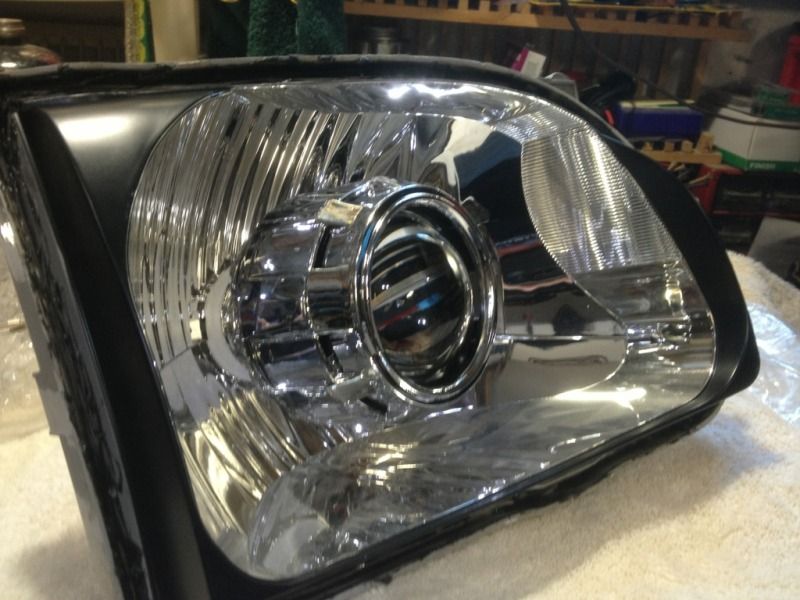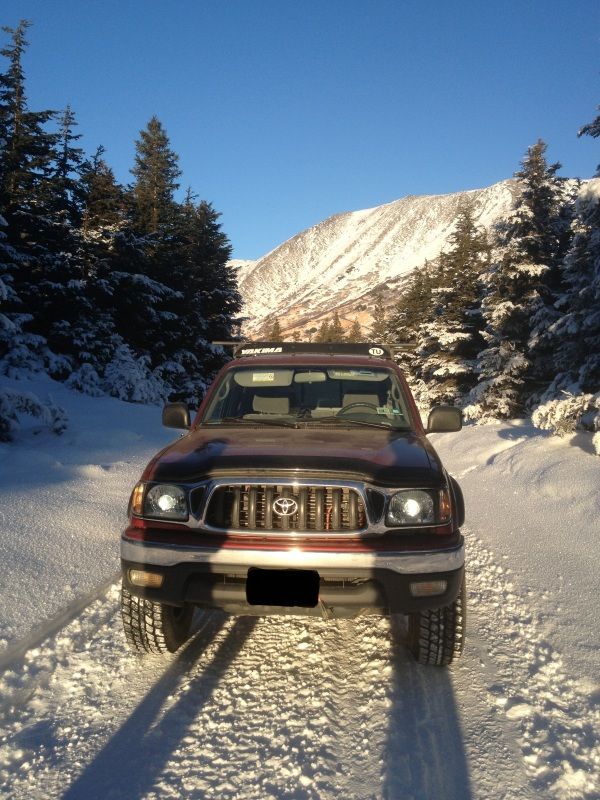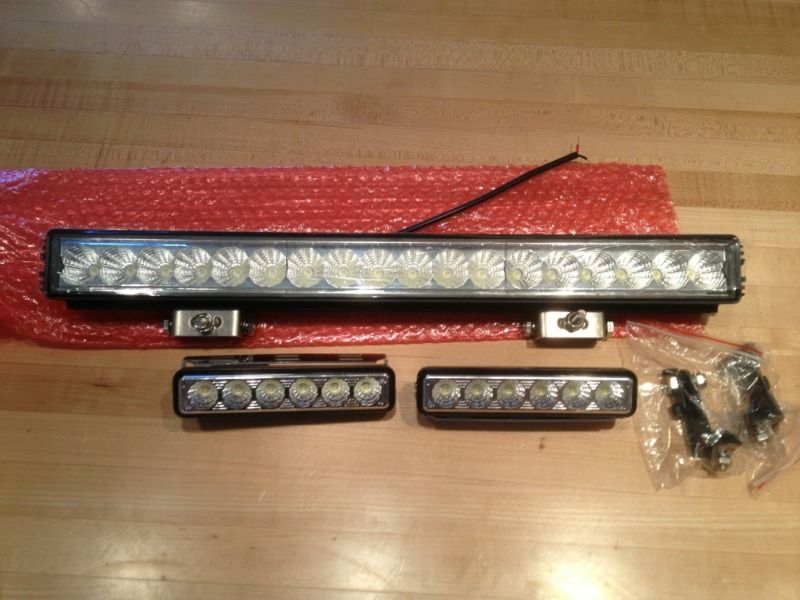 Switches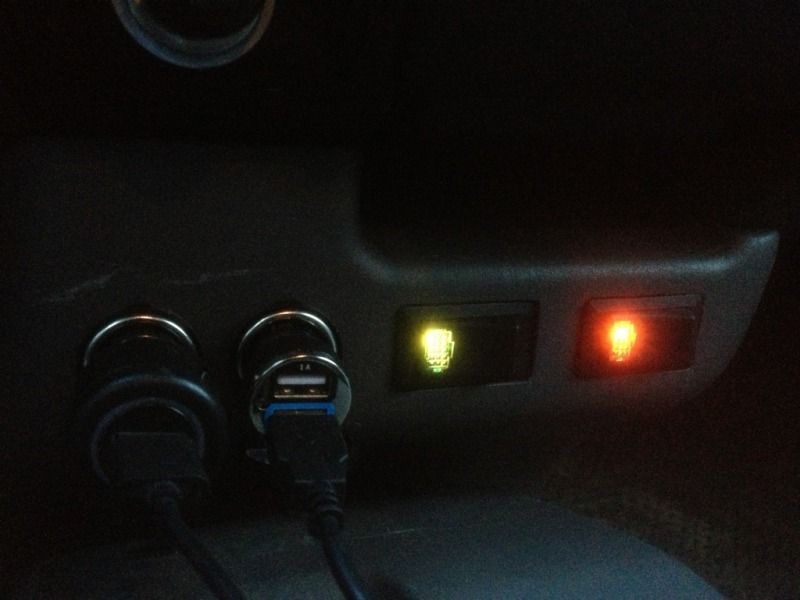 I also did my front brakes around the same time I did my headlights. I don't have pics, but I went with centric premium rotors and Hawk pads. Easy job and no more warped rotors!
Only got out one time over the winter to do any exploring. I'm limited anyway with my stock suspension and tires that don't do great in snow.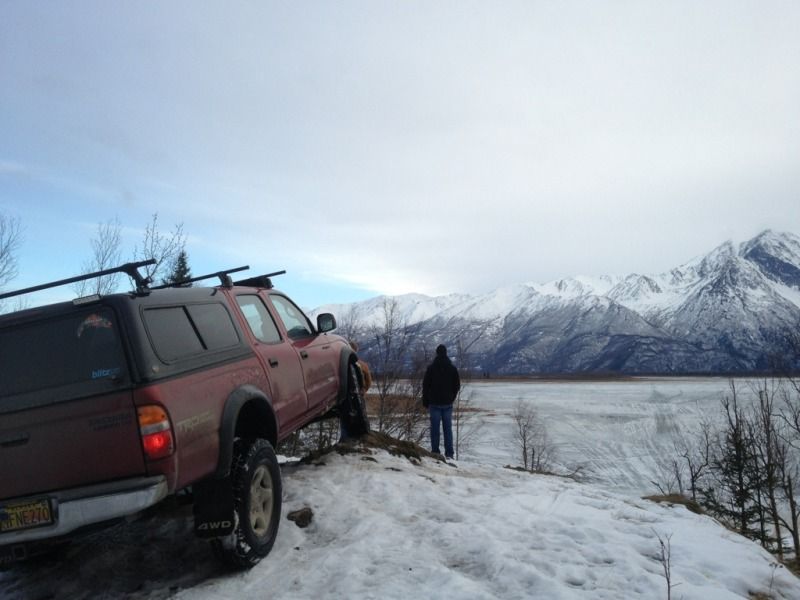 My current wheeling buddies. That subaru is an amazing vehicle. I get stuck before he does usually. Unless he gets high-centered.
Upgraded my deck to a Pioneer AVH-X4500BT. Absolutely love the thing so far. No complaints.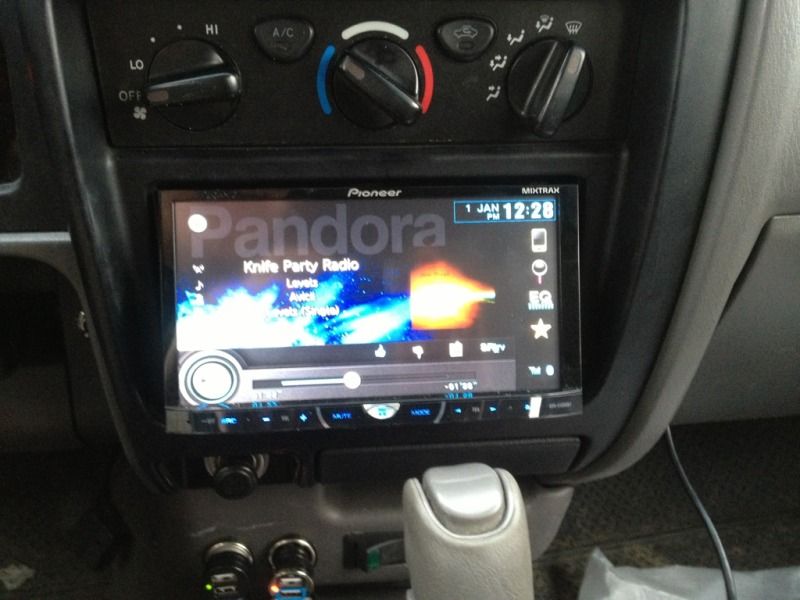 My next biggest mod yet has to be suspension. I knew I needed new suspension about a week after buying the truck. The stock stuff worked OK and did the job for two years, but enough was enough. I had been reading about every thread on different types of suspension for those two years and finally settled on a full OME kit with 883s up front, Dakars with AAL in rear, and nitrocharger sport shocks all the way around. My main requirements for the new stuff was to have a larger load capacity. Next was extra ride height for fitting larger tires. After that, I wanted a coil up front that could handle an off-road bumper if I chose to add one later. Which I do...
I could have chosen a less expensive route, but I wanted to do it "right" the first time. I don't wheel a TON, so I really just wanted a nice riding suspension that will last a very long time. And I just kept coming back to OME. Thanks to Box Rocket and a few others who steered me in that direction.
Here's the stock leaves with just a camper shell on them. Clearly they need replacing...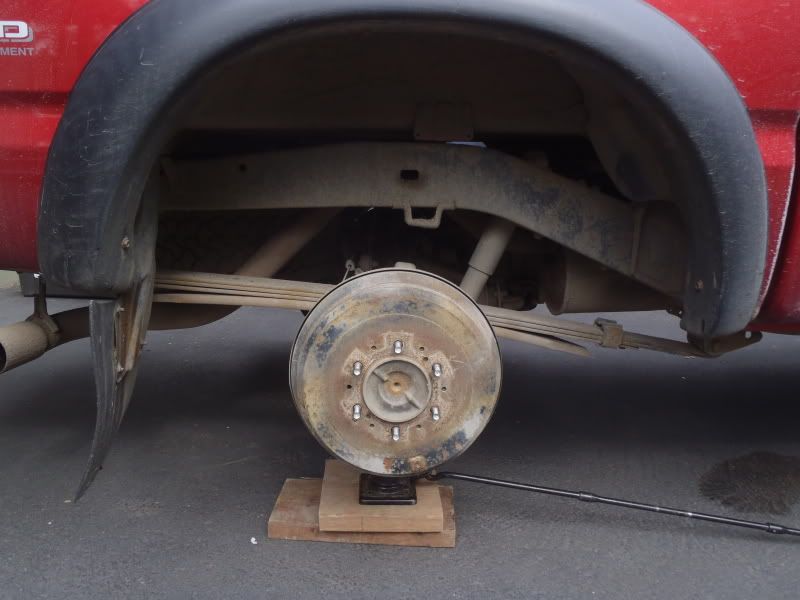 In case you forgot what it looked like stock, here it is again: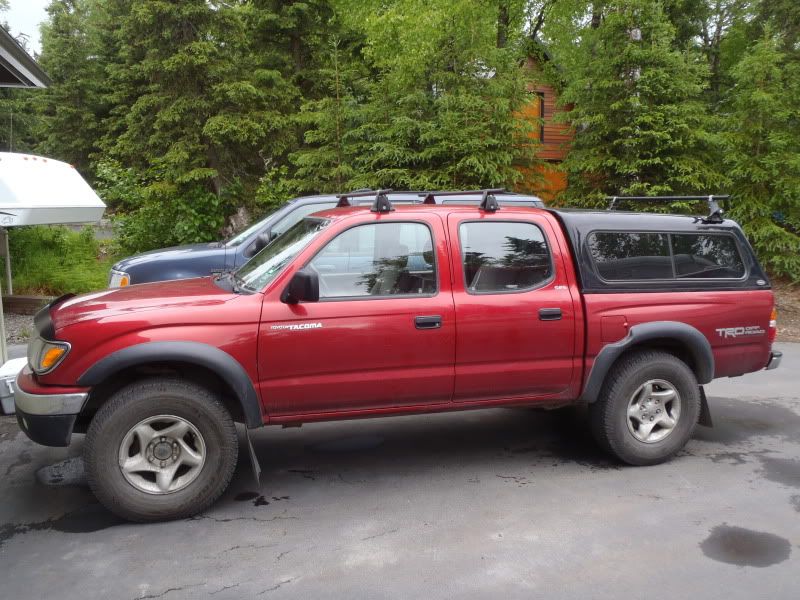 After the OME install (Note: I don't have my spare under the truck yet. That leveled out the ride a bit.)
The rest are with the spare and my old suspension parts in the bed. So probably 300-400 pounds counting my camper shell.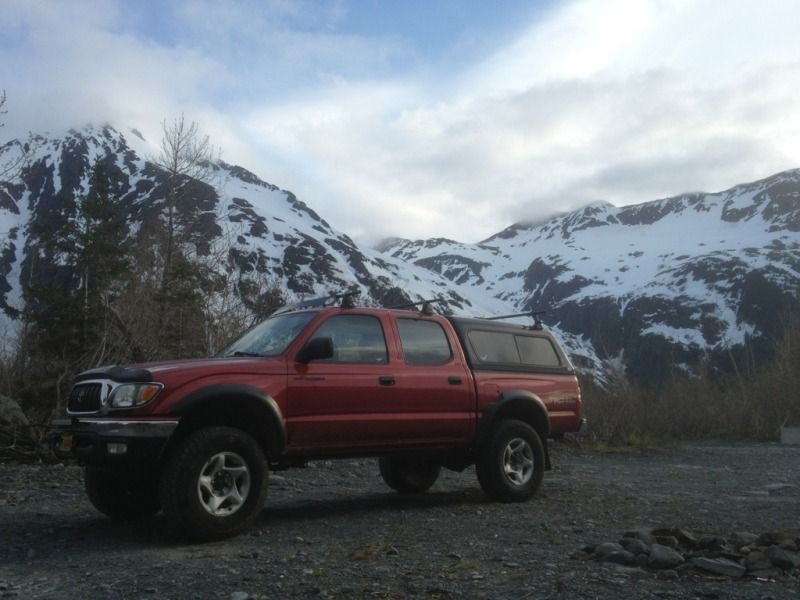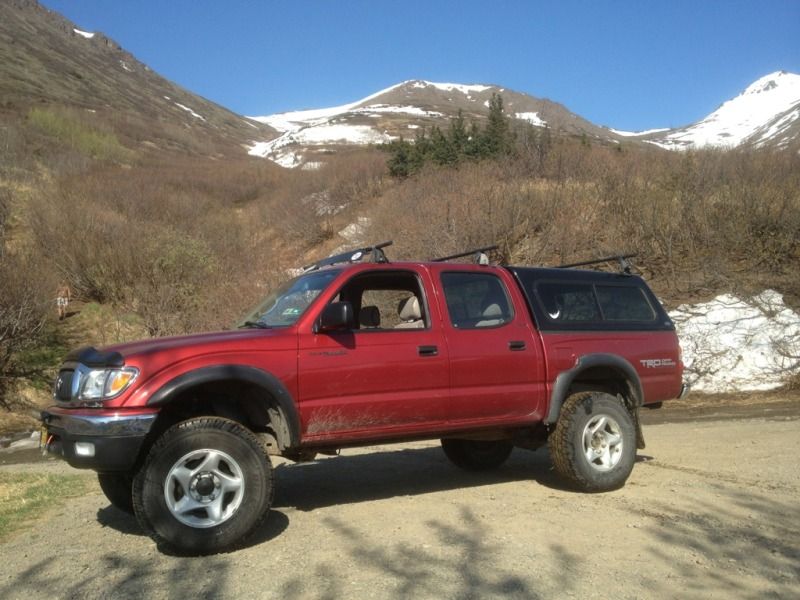 Testing out how these springs will flex with the AAL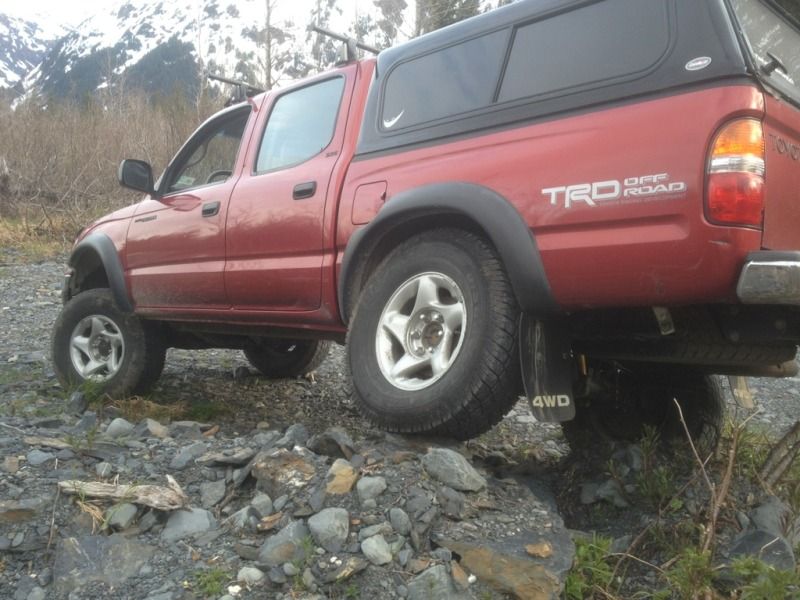 Rear tire at full stuff. I think the shocks are limiting droop a little, as the other tire is off the ground here. But the tire is pretty damn even in the wheel well, which I did not expect. So 33's may not be as much as a hassle as I originally thought.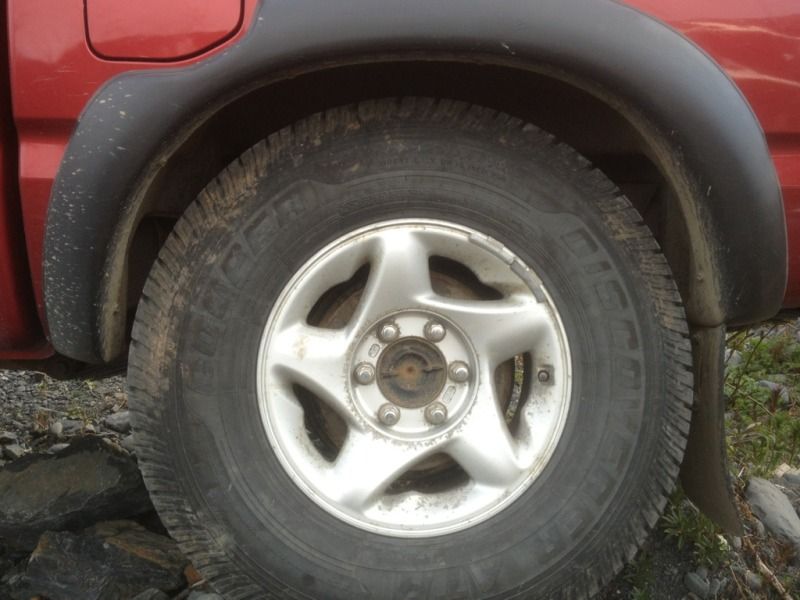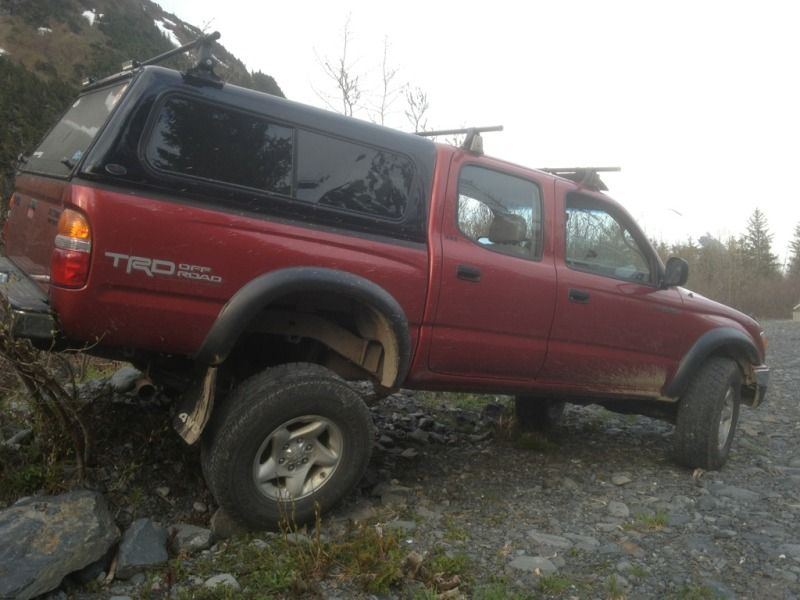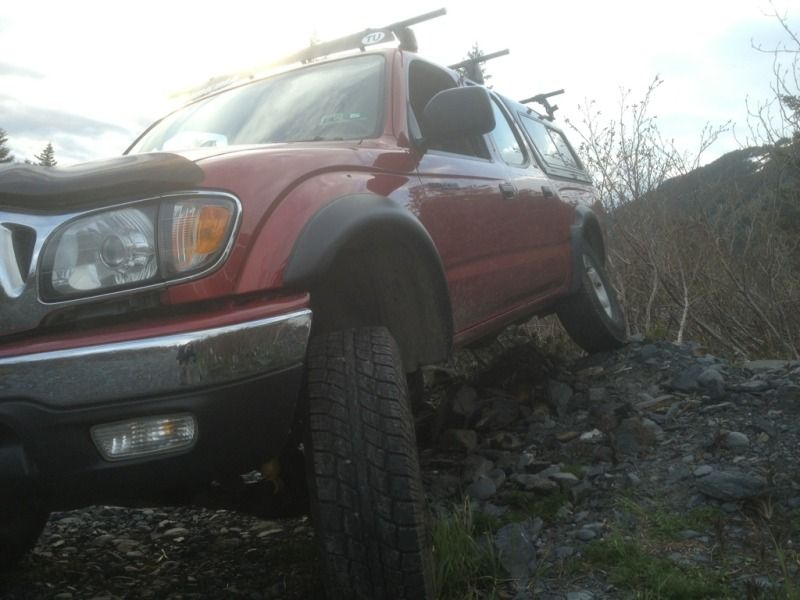 My first impression of the suspension has been great. Way better riding than I thought it would be. The front is stiff, but I expected that with 883 coils. It's making me want to get in on the elite bumper GB going on right now...The rear is super nice. Way better than the stock rear suspension. Stiffer but rides better. The stock stuff would bottom out on speed bumps. Not anymore
Here's a list of things I want to do in the future. In no particular order:
- Offroad bumper - Bruteforce Fab plate bumper -
Ordered October 2013 - installed June(???) 2014
- Lightforce or Rigid Q2 Spots up front
- 33'' tires -
285/75/16 Duratracs installed December 2014
- 15'' wheels -
Went with 16" instead. July 2014
- CB radio + antenna -
Completed August 2013
- CVT Mt. Shasta RTT. -
Ordered March 2014/Installed August 2014
- Maybe another LED bar up front as well. Or a couple LED fogs. I'm all for all the light possible up here. It's DARK in the winter. -
Added Dually D2s October 2013
-
Toytec
adjustable lift shackles. -
March of 2014
- Winch, probably the Smitybilt X2O 10k
Sorry if this is a bit unorganized, but at least I have pics, right? ...Right?!