Well I finally decided to make a build thread. Tacoma's are my all time favorite truck and have been since I knew about them. I bought this truck off my old man and it had 222k miles on it. He owned it since 160k so I know all the maintenance history back to then. It was exactly the truck I wanted when I was looking for my first Tacoma so I just had to buy it. I hope you like my truck as much as I do.
How it sits now as of 03/22/14
Specs:
2000 TRD SR5 3.4L Auto 4x4 241k miles
Interior:
Alpine Head unit
2 10" Kicker cvr's
Rockford Fostgate 400w 4 channel
LED gauges, hvac, map lights, and dome light
Smoked lights on the door handles
Exterior:
Mini H1 retro, halos, 35w 5000k, Mini gatling shrouds
Dipped badges, grille emblem, and door handles
Painted Grille
Dyed bumper
15x8 Mickey Thompson Classic ll's painted black
31x10.50x15 Yokohama Geolander AT's
Ventshades
Bug Shield
(Removed)
Ebay
black housing headlights and corners
Smoked turn signals
Bedlined UWS toolbox
Suspension
5100 fronts
Eibach coils
Removed sway bar
63" Chevy swap
12" 5125's
Custom U-bolt flip
Boxed rear frame
Future Mods:
Hybrid Front Bumper
Sliders
Custom Rear Bumper
DONE
Creeper Joint rear hangers
33's or 35's
Bed rack
Snorkel
And because I'm a picture whore, the Truck that started it all. My old 96: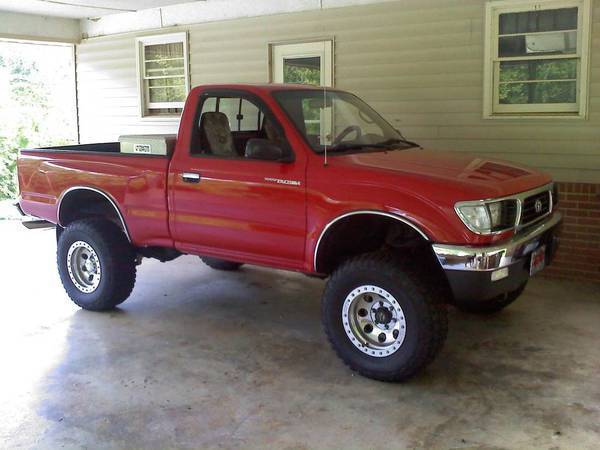 Now back to my current. When I bought it..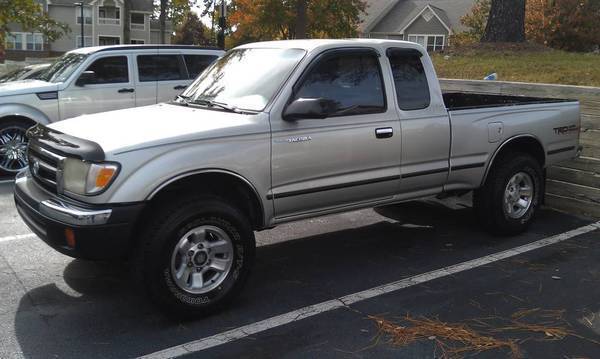 Bought some Mickey Thompson wheels with four mud tires for $170. The tires were on my red tacoma when I totaled it and they had a flat spot from locking it down so I put the wheels on my truck and sold the tires for $200.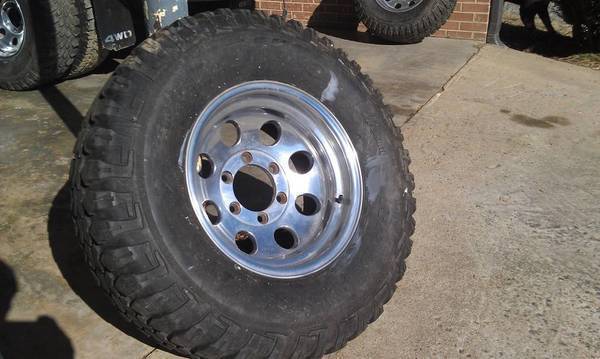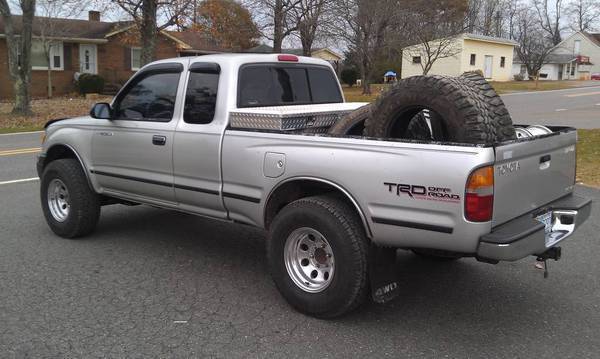 The wheels have a really low backspacing so they rubbed. Bent the pinch and trimmed the fender liner.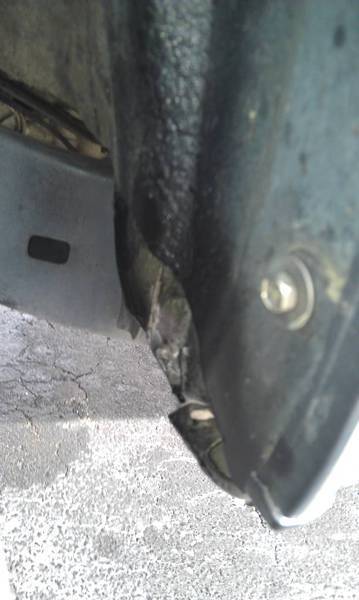 Had DRL's (daytime running lights) and hated them so I disabled them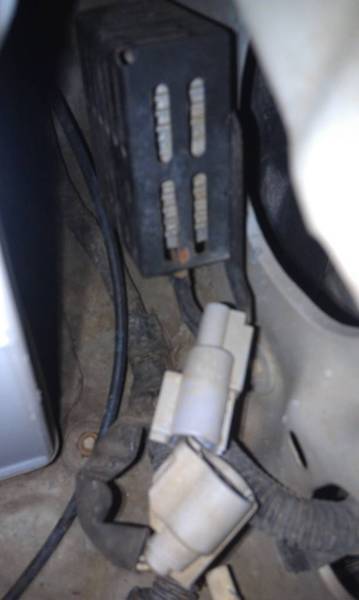 Scored a UWS toolbox off Craigslist for $100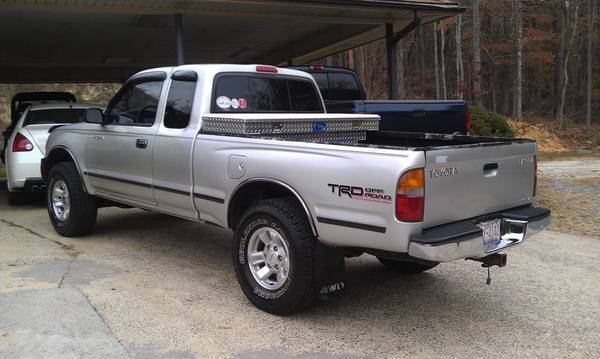 Picked up some ebay headlights and corners to get rid of the god awful stockers. Also dipped the grille emblem.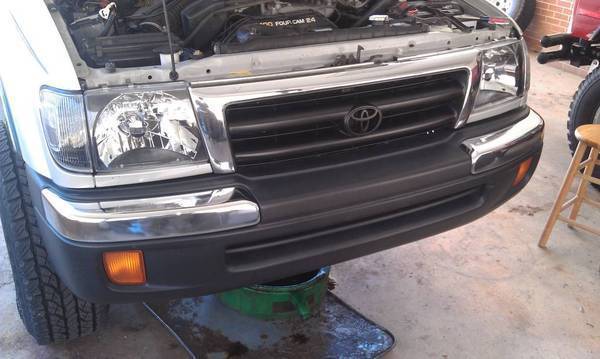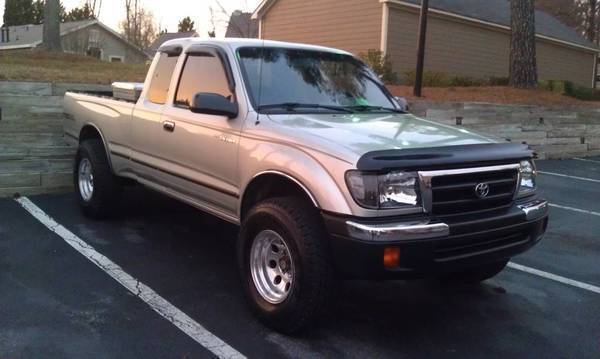 Was leaking oil since I bought it so I did valve cover gaskets and rear main seal.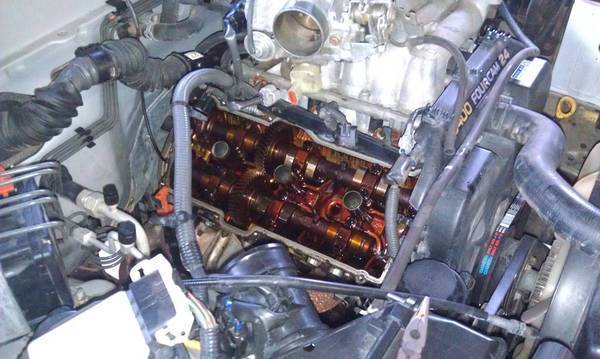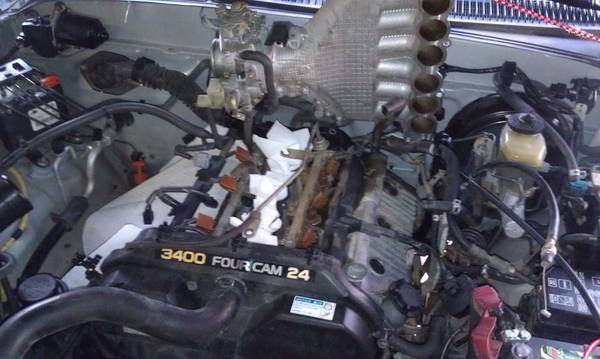 Painted them gloss black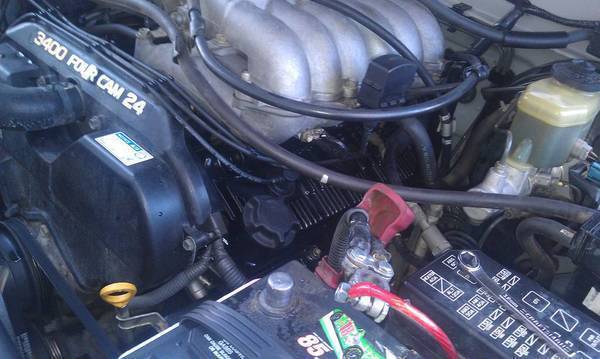 LED's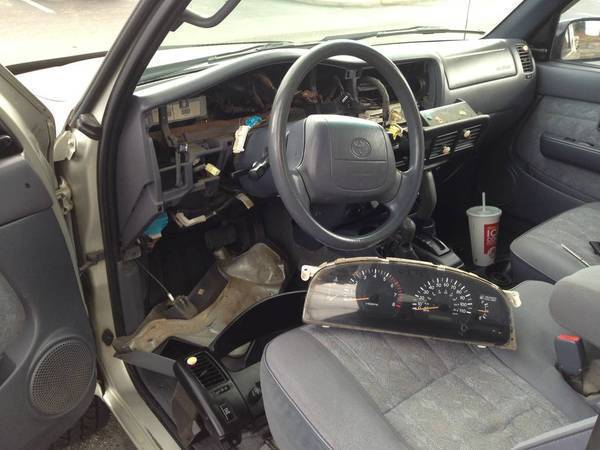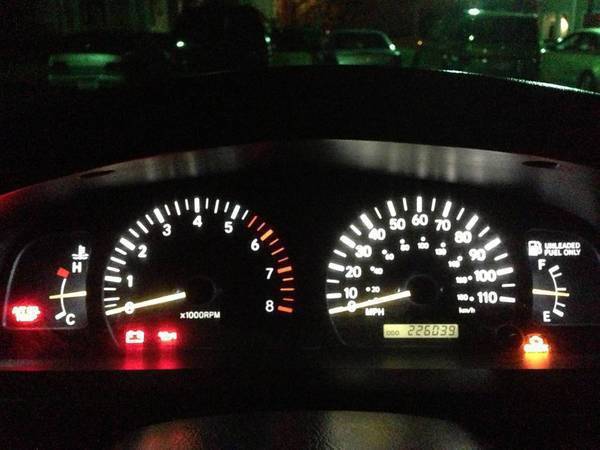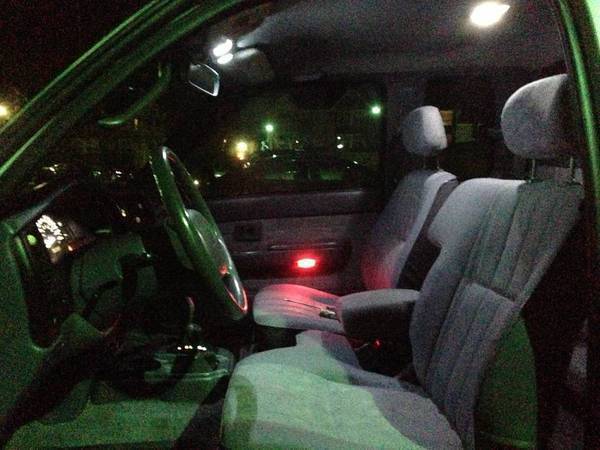 Dipped my wheels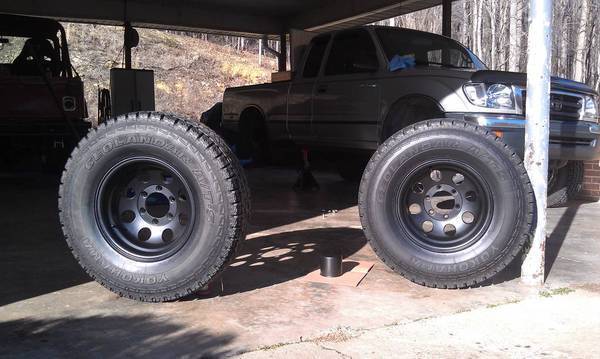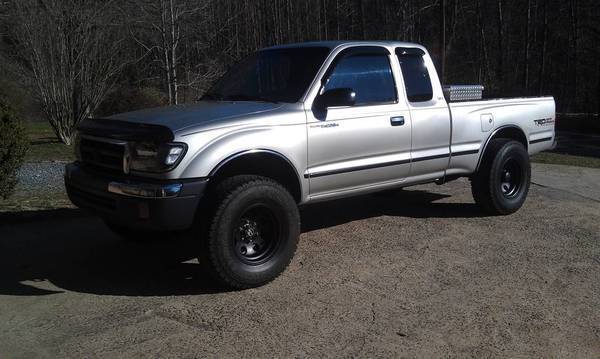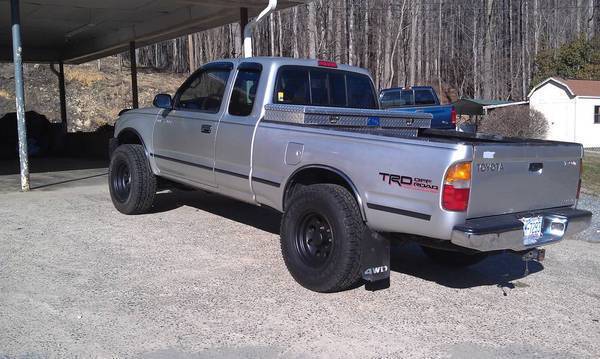 Dyed my bumper with Duplicolor Trim and Vinyl dye and smoked my turn signals with VHT Niteshade. Also dipped emblems and door handles.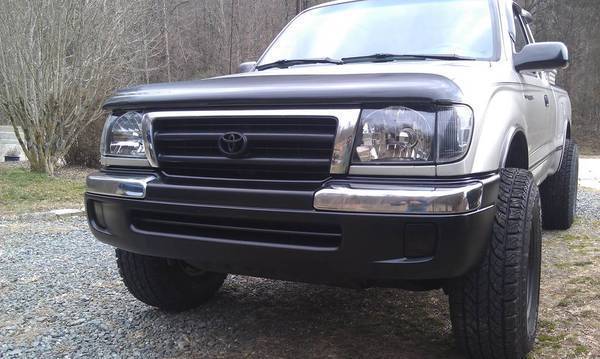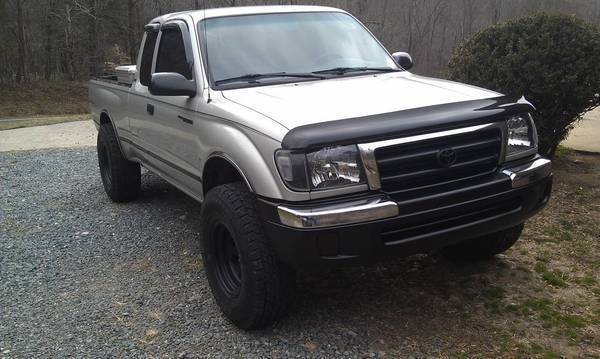 Needed MOAR black so I bedlined my toolbox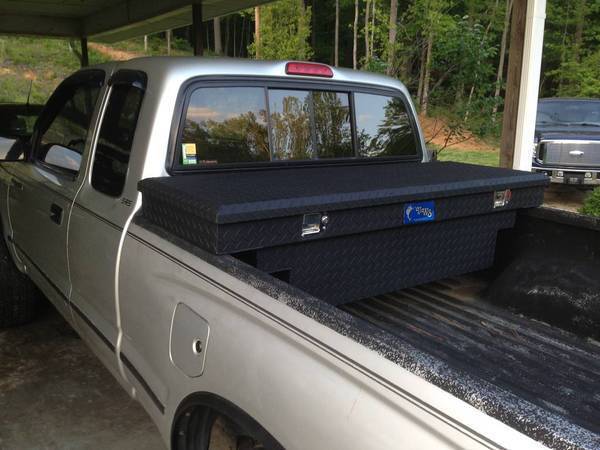 Picked up a Sony 1000w amp, Rockford 400w 4 channel, and 2 10" kicker CVR's for $180 and sold the sony for $60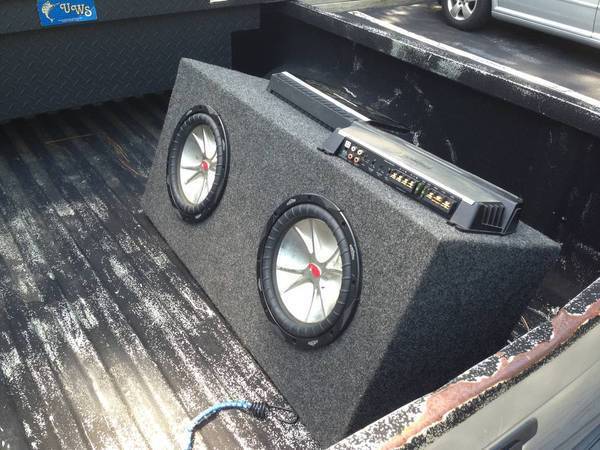 Started gathering parts for my lift. Billy 5100 fronts, 12" 5125 rears, Chevy 63's. Bought my 63's and took them apart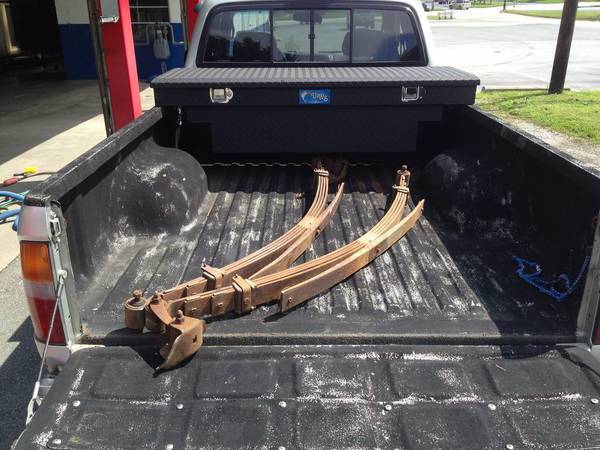 Sorry it's sideways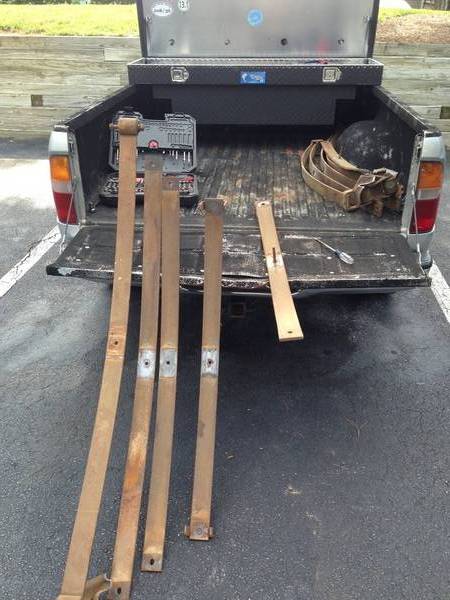 Made some hangers out of cardboard. Going to a friends house Friday to use his plasma cutter and welder and get these built.