Well I decided I would go ahead and make a build thread for my truck, its been a long ways from what she started as.
A short intro:
My truck and I go back, way back. We were both born in the month of may and I am only a year older than her. It was love at first sight too.
My grandpa bought her brand new in the year of '96, but I was too young to remember that. Around the age of 3 or 4 is the earliest I can remember, and I just loved that Yota so much I wanted one just like my grandpa's. So he ended up buying me a black "little tikes" pickup that I thought was so cool cause I know had a black truck just like his.
Fast forward to later on in elementary school and middle school, I was growing up in the back seat of the Tacoma. During the summers back then, I stayed a few houses down at my grandparents while my parents were still at work. So I got to ride in the rear jumpseat to go to town almost every day while my grandparents went to Walmart, lunch, or wherever. I got to sit up front when just me and Grandpa would go to
Lowes
at least once a week!
So I literally grew up in my truck, I remember how as I got older that backseat got more and more cramped. But I still loved the truck! At 14, me and my dad started looking for my first car, I was set on getting a K5 Blazer or a Ford Bronco. But I was still young and the ones we looked at were not in good condition. Little did I know, my grandpa had something else planned for me! He let my parents know before me, and then told me it was gonna be mine to drive when I turned 16!
He handed me the keys a little before turning 15 though, so I got her early!!
So me and her go wayyy back. And I love this damn truck because it has so many memories.
Wheels and Tires:
BFG AT 33x1050r15
15x7 American Racing Baja rims
Suspenison:
Bilstein 5100 shocks + Eibach Coils
Wheelers Offroad
5 leaf pack + Wheelers AAL (6 Leaf pack now0
Lights:
Clear corners, clear turn signals, sealed-beam to H4 conversion headlights, Spyder LED tail lights, Super Bright LEDs in everything but the turn signals
Also Rigid D2 Duallys for aux lighting
To do list (all completed, so nothing to do):
Regear to something better than these current shitty 3.91s (done)
Bigger tires (done)
Window tint (done)
Exhaust relocation (done)
Added height in the rear (done)
etc.
To the build!
How she looks today: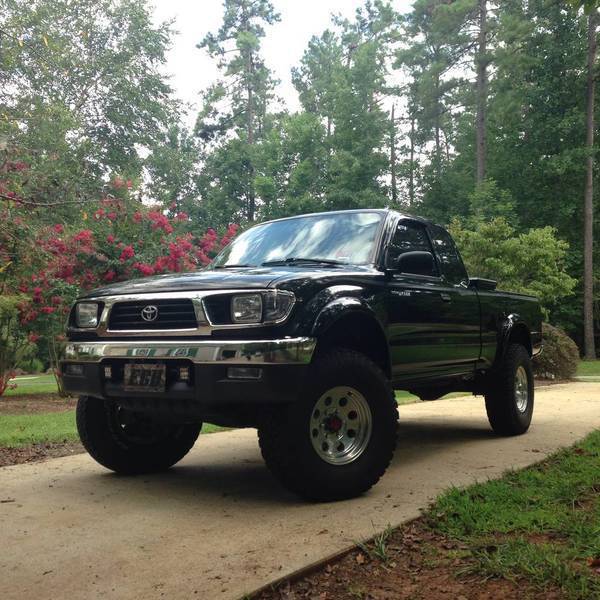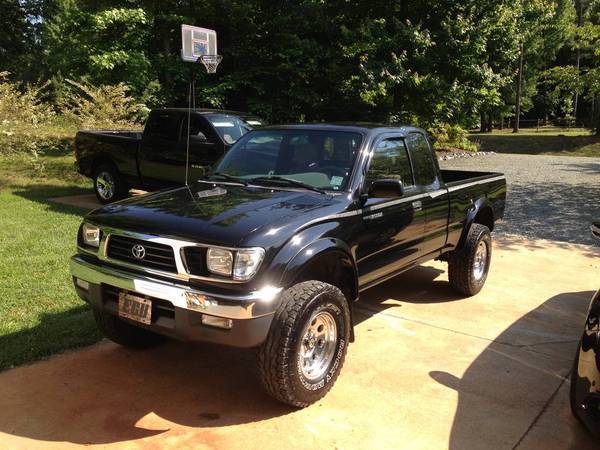 She started out looking like this when I first got her a few years ago at a young 75,000 miles: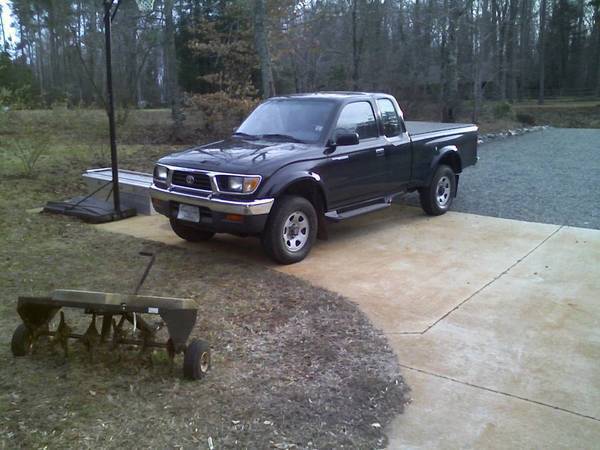 Stayed like that for a while, my first "mod" was replacing the drivers side mirror while it was still under grandpa's ownership. I was young and couldn't drive for shit at 14, so I ripped it off on a tree backing out of my driveway.
She remained relatively mod-less while I was still learning how to drive her sophomore year. About the most expensive thing was a dashmat. Then for my 16th birthday (or was it 15th
) my dad bought me the rims I wanted!!
Some American Racing Baja rims: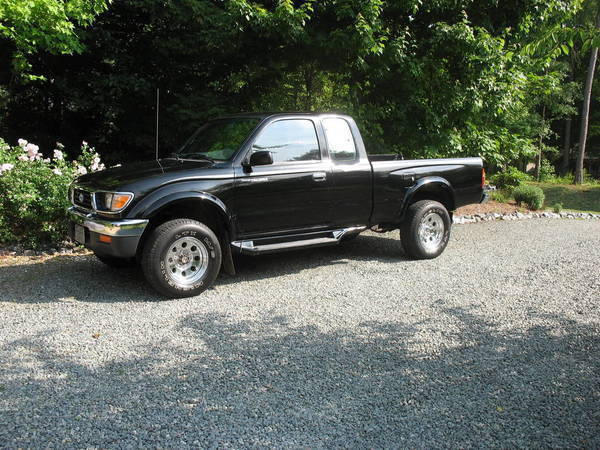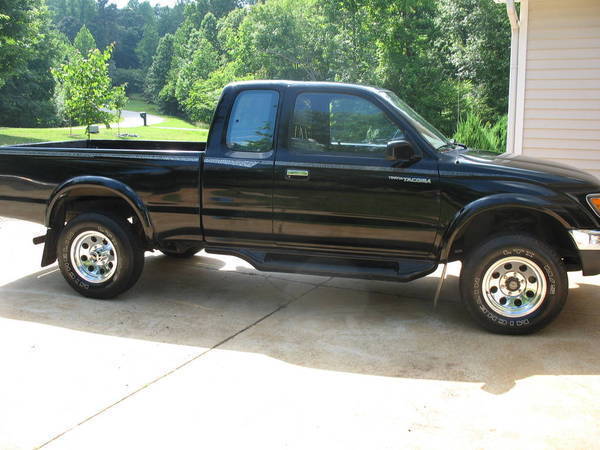 I loved it, those old steel rims were just ugly, but now my truck looked amazing.
Button fell off me stock radio, glued it on with super glue but that wasn't a good idea. So I bought a new one: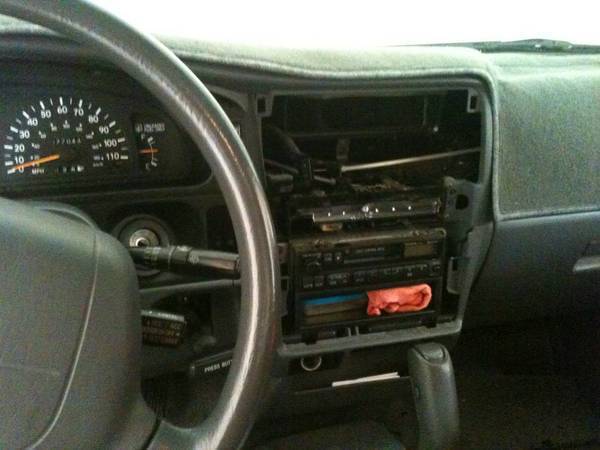 Then it came time to ask for something for Christmas...that's right, flowmaster 50 series single in dual out: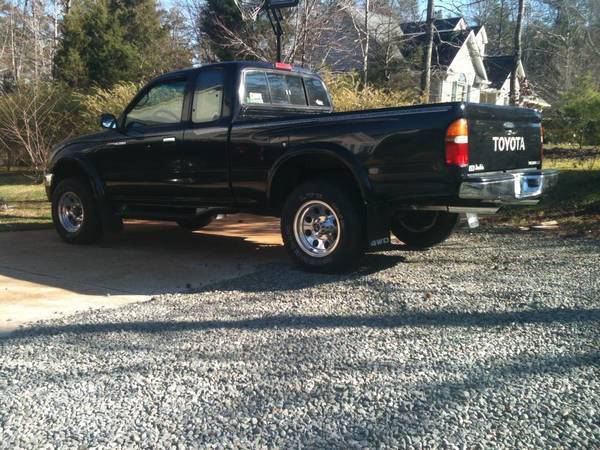 Started it up at the muffler shop when they got done and jizzed everywhere
My truck sounded amazing...
Offroad time in the back yard
How to park like a boss at highschool: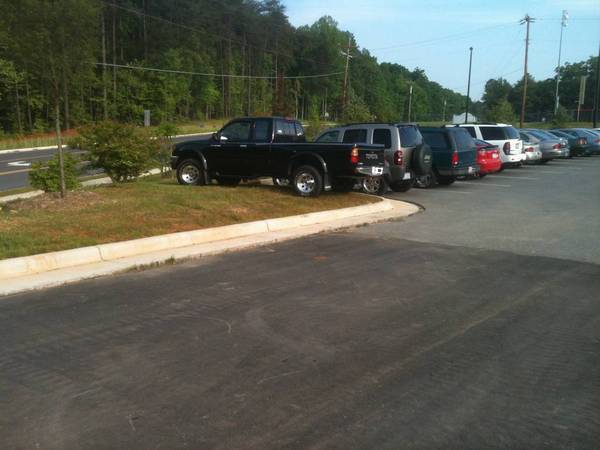 Introduced to dads new 2012 Ram: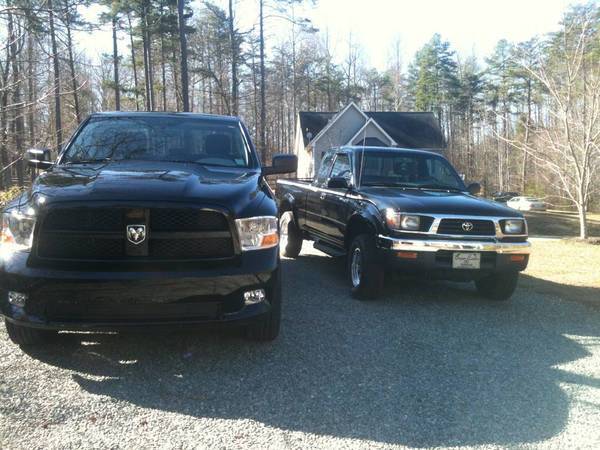 Clear corners and signal lights:
New headlights: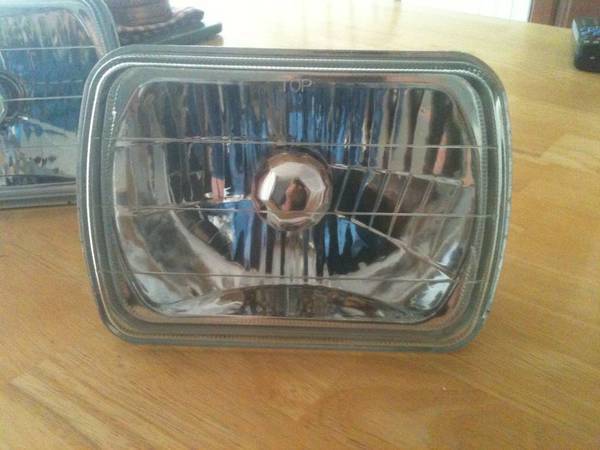 Sealed beams vs. new
ebay
H4s: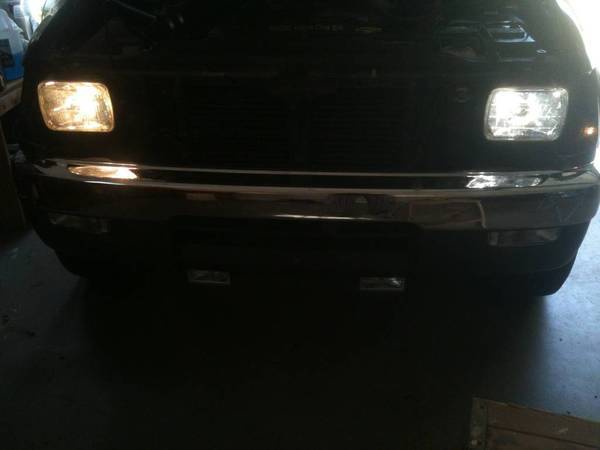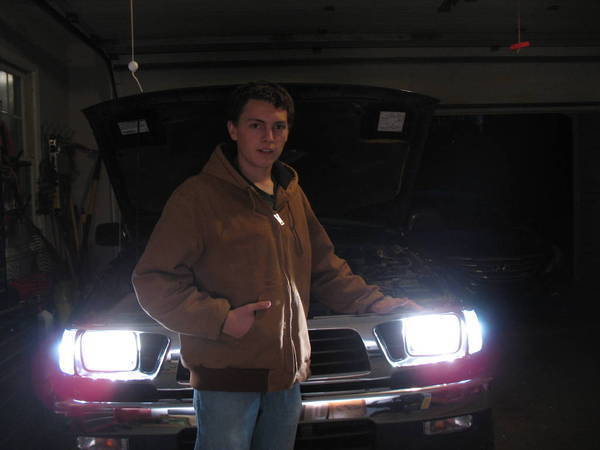 Non slip pad for pocket below radio: