I'm just getting this thread started because, well, to tell the truth I have been really busy at work, and didn't expect that I would have gotten the Tacoma disease so quickly. It is spreading faster than I expected and I am not sure how much longer I have left! (Or how much money!!!) So while I get all of the bigger details ready for the nitty-gritty, here is a before and an after photo as far as where she sits now.
She earned her nickname 2 years ago around February when we had a big Alabama mods and meet at Brian's house in Huntsville Alabama. She is a little 4 banger 2.7, and was running 100% stock, on street tires. She wasn't scared though. She ran the trails with the big boys and had a blast. When a bigger, lifted Tacoma got stuck in a mud hole, she was the little engine that could, and snatched the truck out of the hole....on street tires! Ever since she has been affectionately called "Lil Beast"!
This is her shortly after I got her, and shortly after I opened my shop!
.
This is the truck that was stuck, which she pulled out, thus earning her name.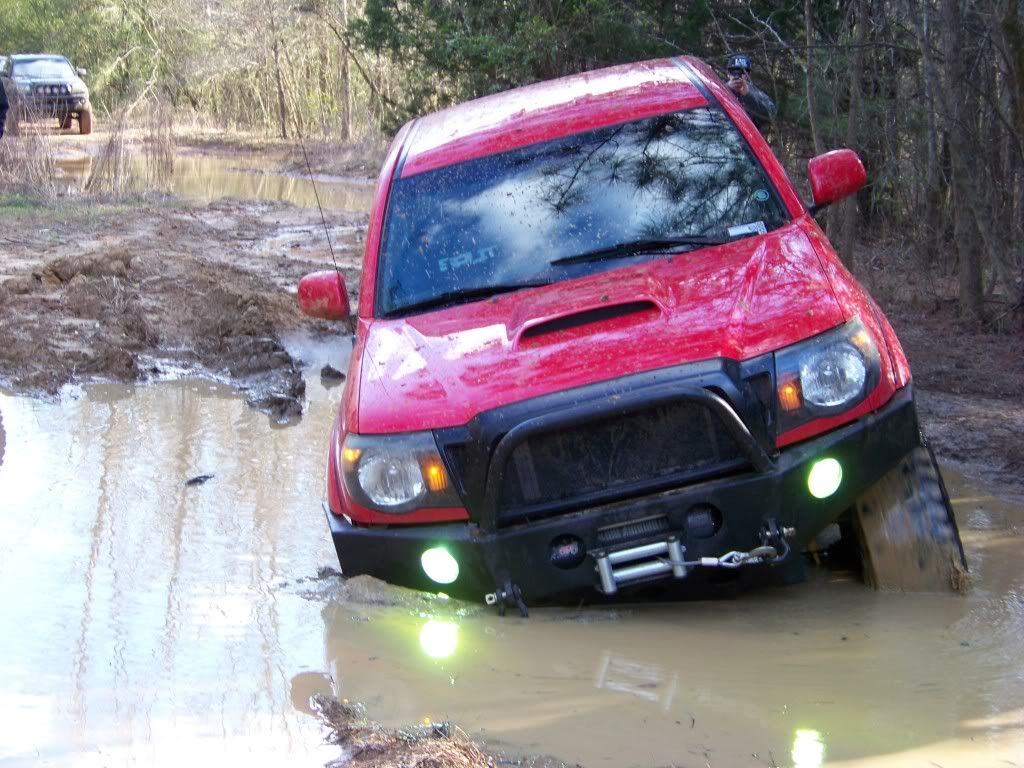 And this is what she looks like currently (Note this picture will change periodically as mods are still being made)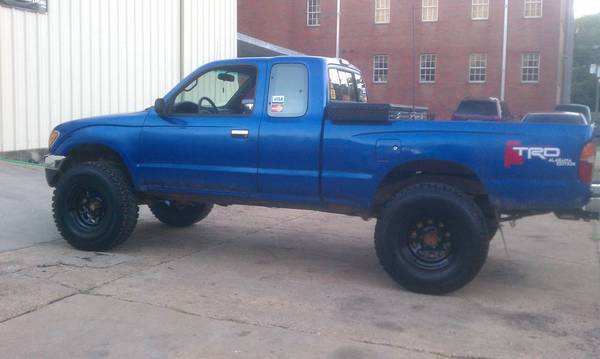 To date the following changes, modes have been made:
Body work performed to remove dents from side-rollover (done by myself, and my nephew)
New, custom paint (done by me)
Engine was replaced due to abuse from previous driver. New 2.7 3RZ-FE.
Engine bearing failure (#1 rod bearing) after 1 year, rebuilt with replacement donor crank.
Fabtech 2.5 coils and springs in front
Dakar leaf pack in rear (3 inch) with Bilstein rear shocks
Spartan locker installed in front differential
CARR Rota-light bar on roof with 32inch LED lightbar.
285 85R16 Treadwright Warden AT tires with new 16inch steel D rims.
LED bedlights
complete LED conversion on interior lights, including cluster
Exterior lights converted to LED
Reverse lights converted to 7watt CREE LED bulbs.
More mods of course are on their way, including a new bumper and winch. Shortly after I hope to get some sliders, underbody armor, and a bed rack for a future RTT.