So ive been a lurker on this site for a long time now. Figured i might as well start a build thread, so i can show off my rig, and get advice. To start My truck is a 2004 Regular cab 2.7l. My dad bought it brand new, put 240k miles on it, an handed it down to me. Now its at 280k still running strong.
Currentish: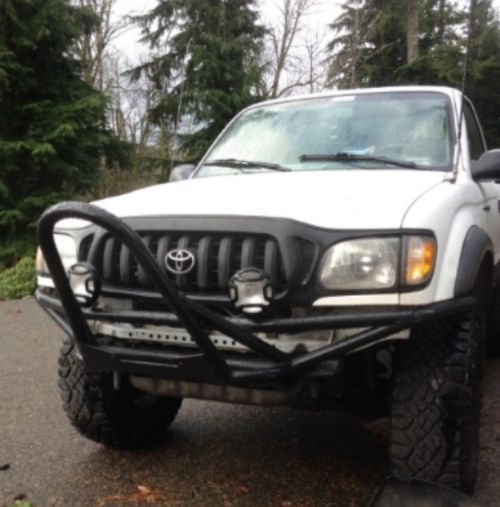 Stockish: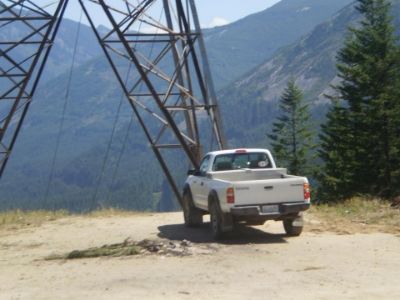 Current Mods:
Bilistein 5100s up front at 2.5
2in AAL in rear
Blacked out Taillights (and third) (VHS niteshade)
Blacked out rims
Blacked out emblems
Blinker relocator
285/75/16 Duratracs
No-name 5in foglights up front
Custom stinger bumper
Herculined Bed/Toolbox
Blacked out Rocker Panels
Uniden CB with 3' firestik
Aftermarket deck
Blacked hood with Toyota logo (In progress)
Custom Rock sliders (simple square tube, still need to be welded on)
Future Plans:
4.88s
LED dash
Bucket seats up front
Roll cage in bed
Bench seat in bed
eibach coils up front
bilstein 5100s in back, stock rears are still on haha
Tinted windows
Sub
1 in body lift
Ive had the truck for about 2 years now, and slowly its starting to come along. First few things i did was blacking out the rear bumper, all the emblems, and the wheels. Then i threw on the lift and got some new tires. I havent dropped much money in this truck, but a little time with a rattle can has really made it a unique truck.