my build:
how she sits today as of (2/03/14):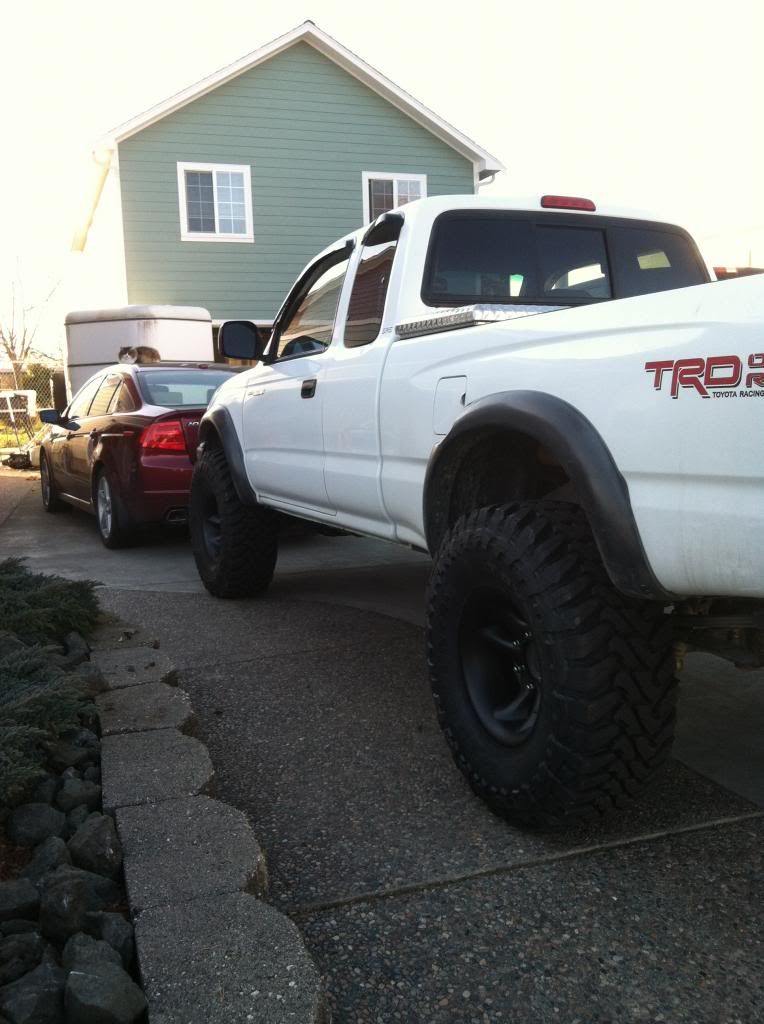 Engine:
-3.4L V6
-125,xxx miles
-stock to dual out exhaust
Body:
-door ding mod
-red TRD decals (right one is sideways a little)
-grill
-2 different delta toolboxes
-spray in bedliner
-Leer camper shell
-BFH to pinch weld mod
Wheels/Tires/Brakes
-33/12.50r15 toyo open country mt
-15x8 American racing ventura (3.75 bs)
-wheels painted matte black
-stock brake pads and rotors
Armor:
-2" ball on hitch
Recovery:
- n/a
Drivetrain:
-5 speed manual
-1" diff drop
Suspension:
-bilstein 5100's set at 2.5 with stock coils
-tough country AAL (2")
-RMX Monotube stock length rear shocks
Inside:
-browning seat covers
-stock radio
-kmart steering wheel cover
-form fit plastic floor matts
Other: jdm weather guard window visors
--------------------------------------------------------------------
So I was waiting until I had enough done to my truck before I start my build thread so it didn't seem so boring, so here it is
I got the truck 5/09/11, few days before my birthday(5/15/xx)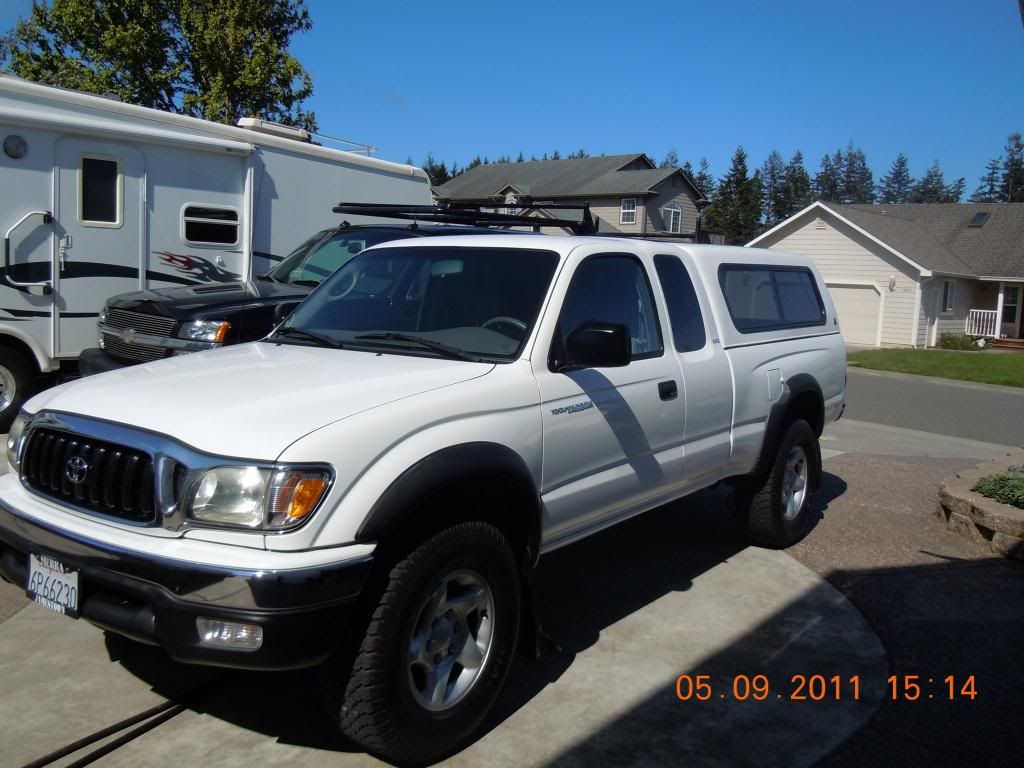 she was 99% stock except for the rear shocks which where and still are rmx monotude stock length shocks(junnnnkkk!) IMO worse than stock. but anyways, no scratches, dents, or problems. hell of a deal for only having 96k on it.
immediately after I got it, it got me my first job at well known feed store around Humboldt. I say it got me my job because the owner of the store asked me more questions about the truck then he did about me, and then hired me. I worked for about a year and then finally decided I wanted to start doing things my truck. so I went on
ebay
and bought 200$ worth of grills, seat covers, cb antennas, and decals and put those on.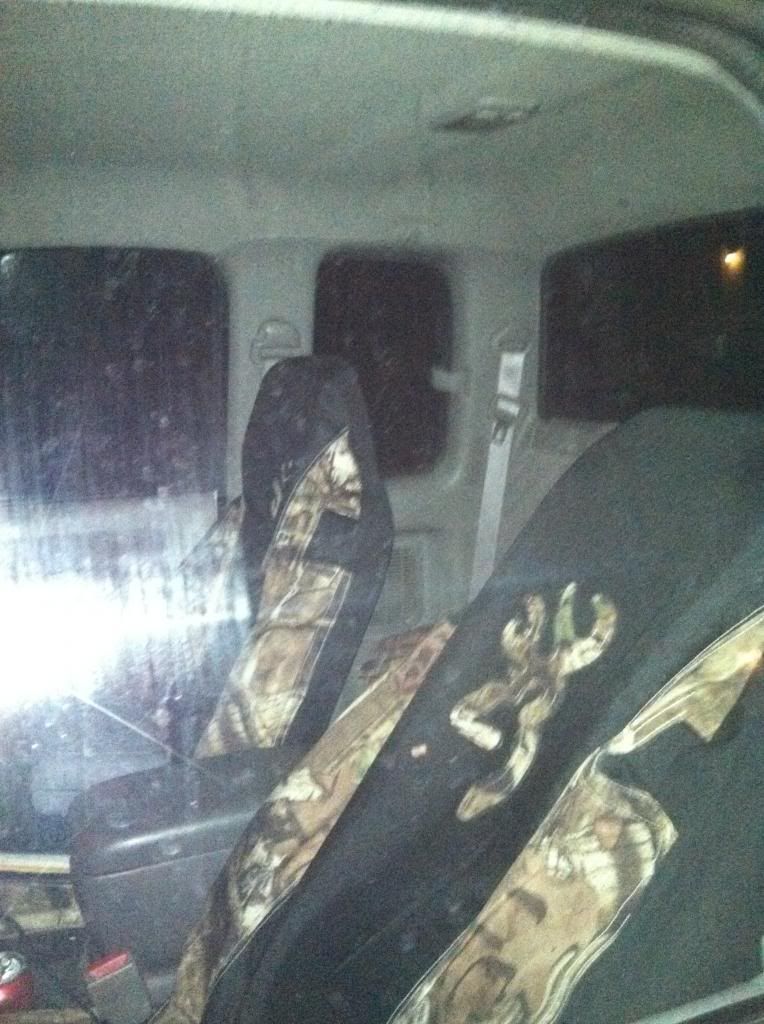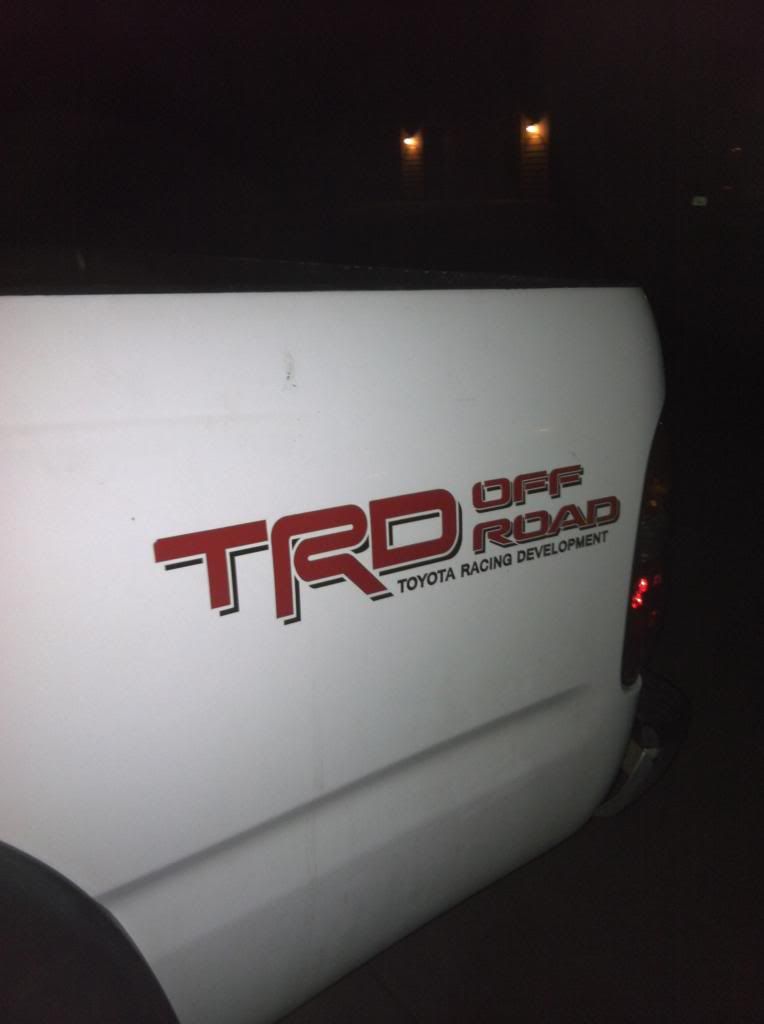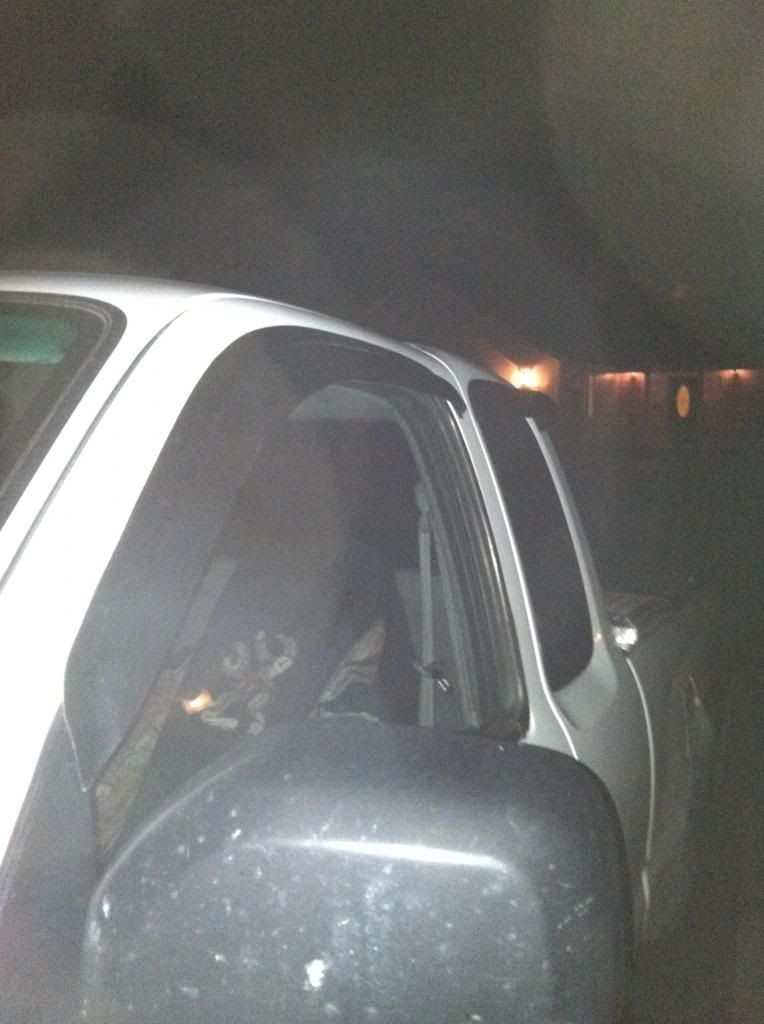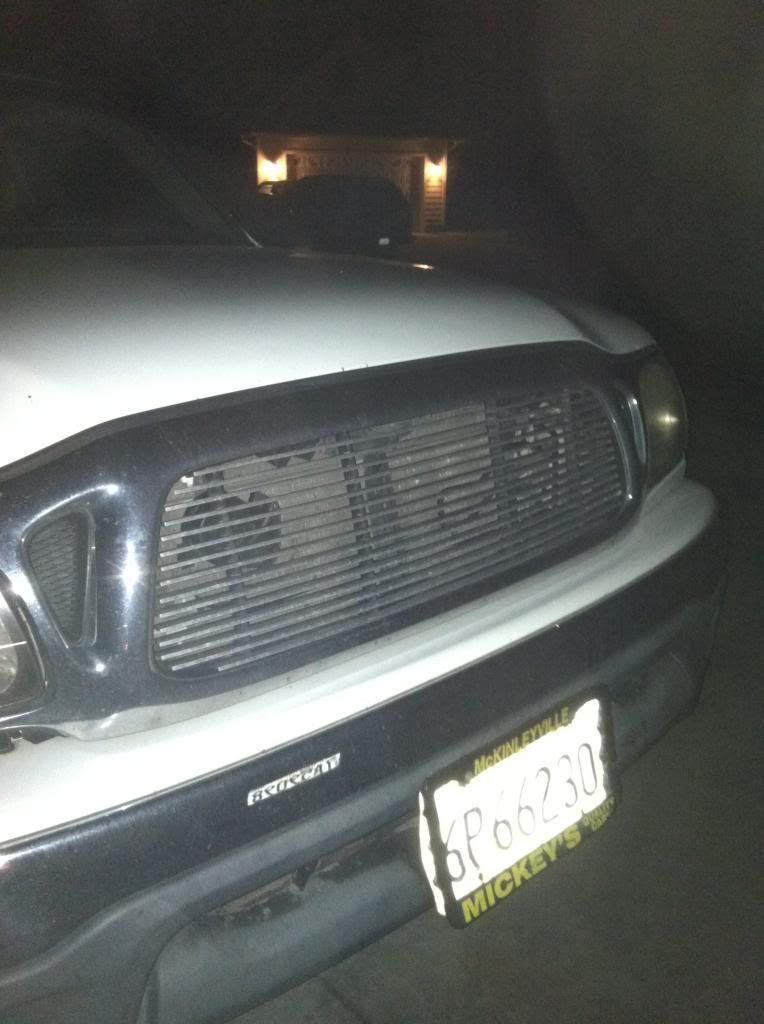 then looked around for a toolbox on CL and found a regular delta raised toolbox, so I decided to buy it, not being in that bad of shape, especially for $45. and then took the rest of my toolbox fund and welded on an expansion. $250 including materials and toolbox. and there's a shot of my 4ft cb antenna.
I just recently started to buckle down and save a little more. I saved enough to start out by buying adjustable 5100's and a tough country AAL, having in mind I wanted 33/12.50's. I got hung up on bfg, toyo, or goodyear mtr's when It came time to ordering, I ended up buying toyo's because they were the best bang for the buck and I have allways liked them. meanwhile I inherited some 15in wheels from a buddy at a local 4x4 shop.
and then the toyo's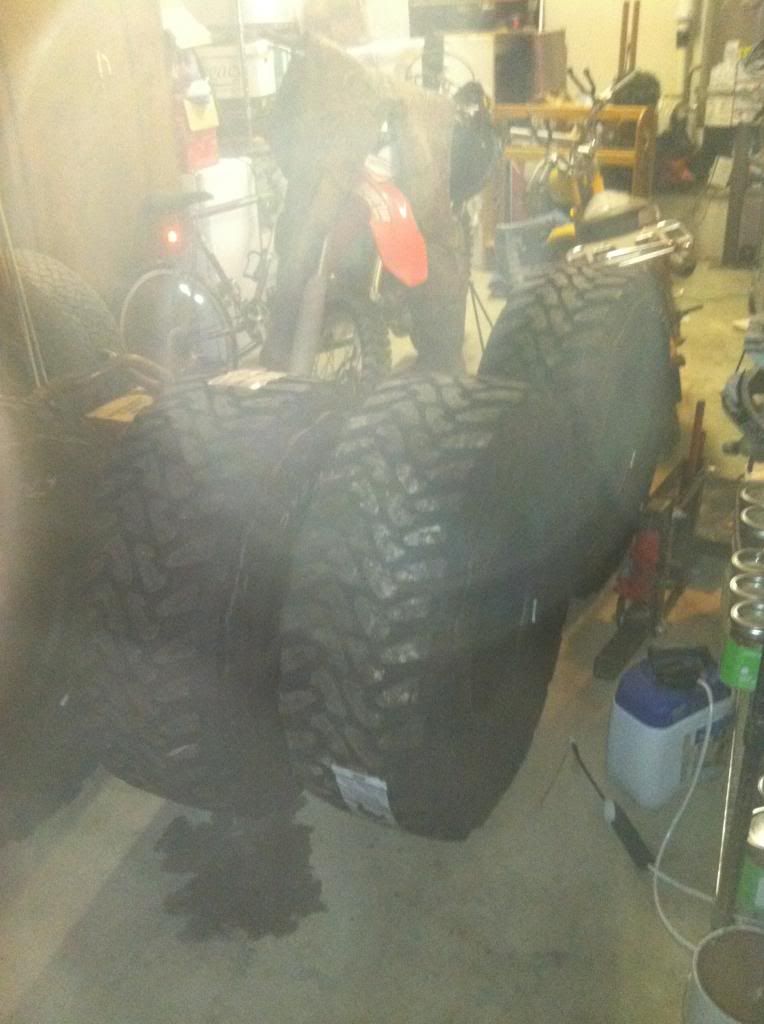 as soon as my lift came in the mail I installed my 5100's at 1.25, to level it for now because I didn't quite have everything together. and just for shits and giggles I mounted one of the toyo's on the leveled truck to get a good idea of where I needed to be, lift wise. and to see if these wheels would clear the calipers and UCA's. they did.
then one night I got bored so I decided to paint my wheels. I really wasn't into the white and chrome look. black and white looks better IMO.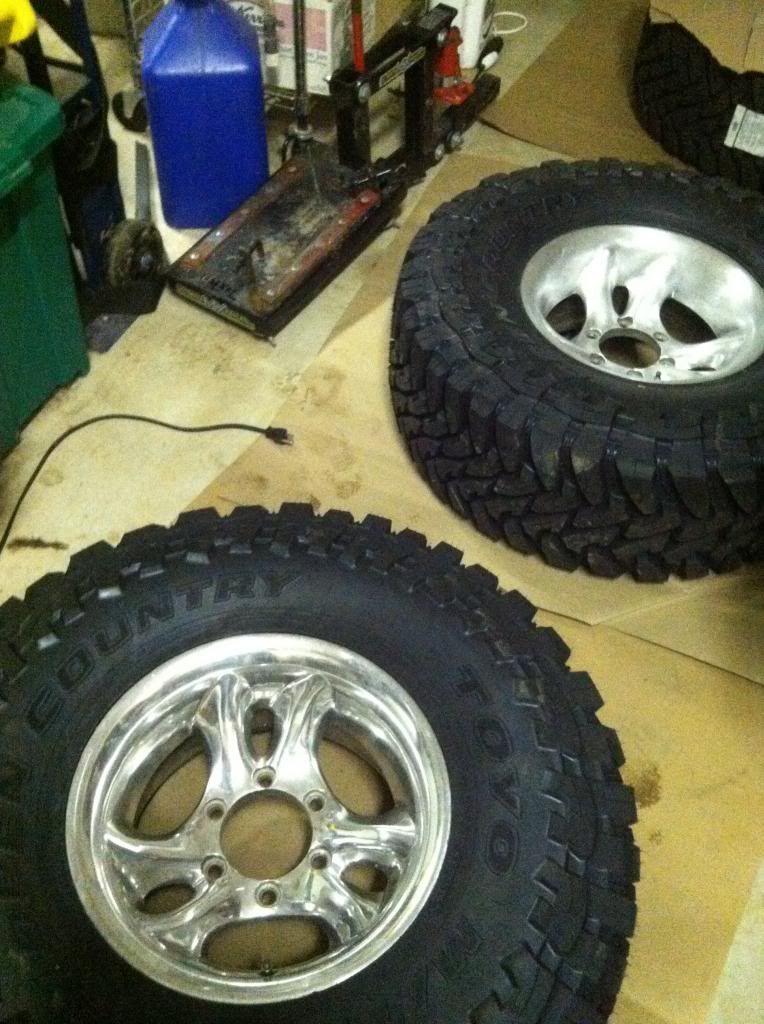 scuffed and ready for alcohol and paint, and then the other two already had 2 coats.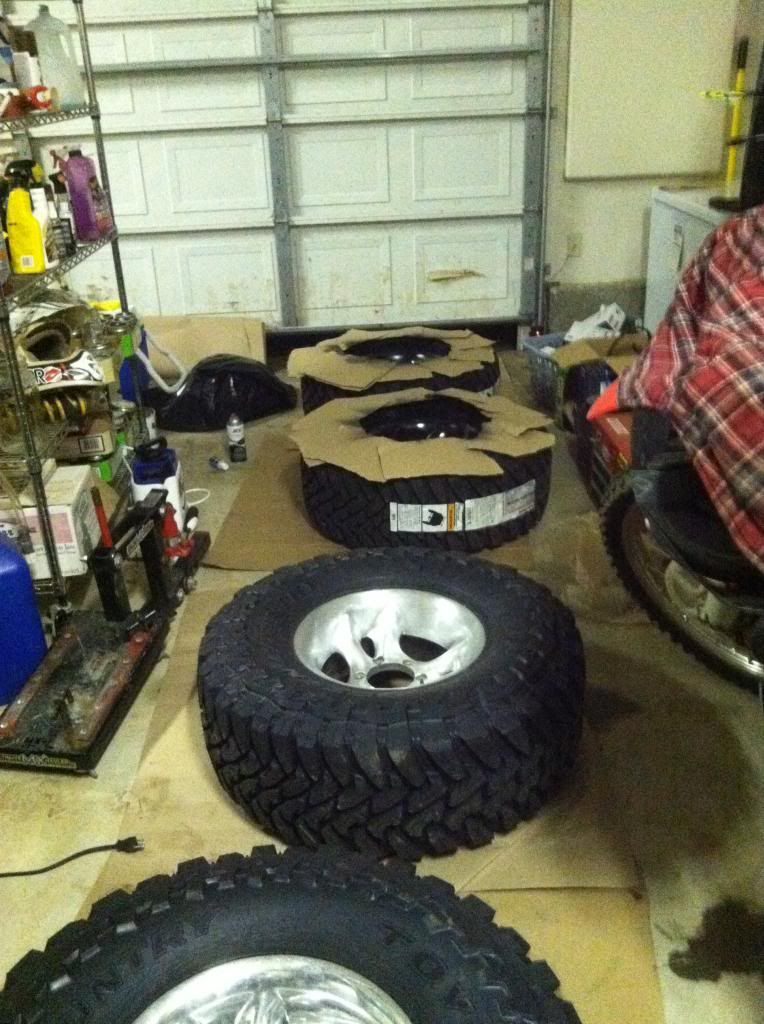 Here Is the finished product. not bad for spray paint I think. especially for me lol. if I like the wheels I will eventually do a textured powder coat.
I used an ace hardware matt finish enamel.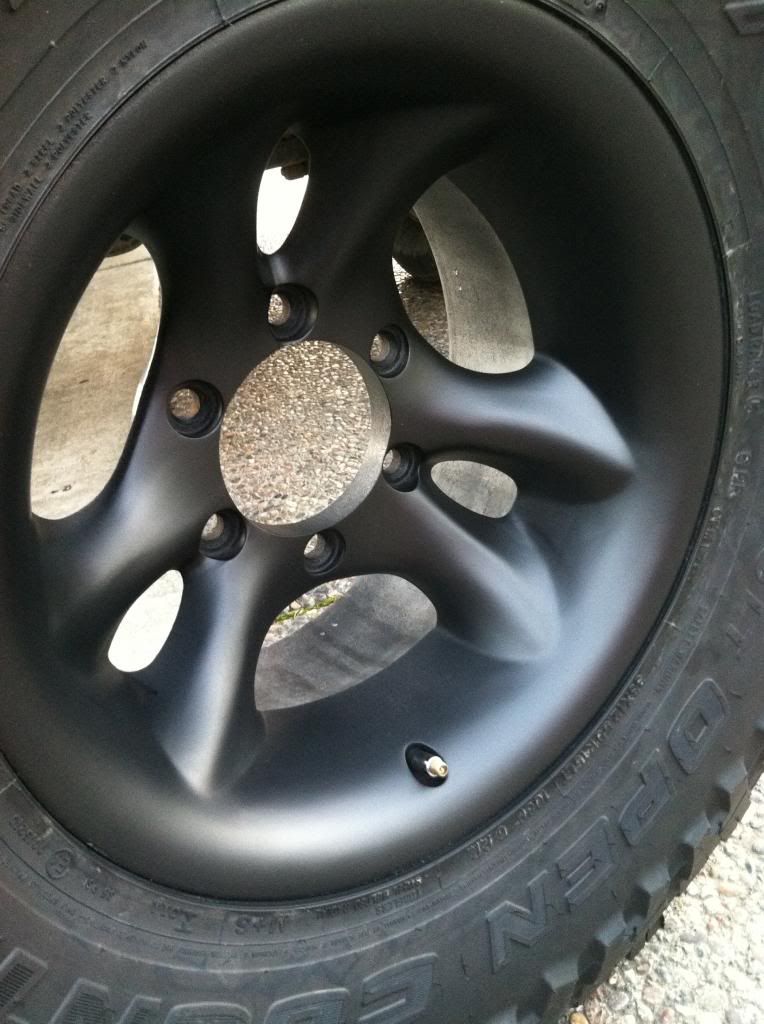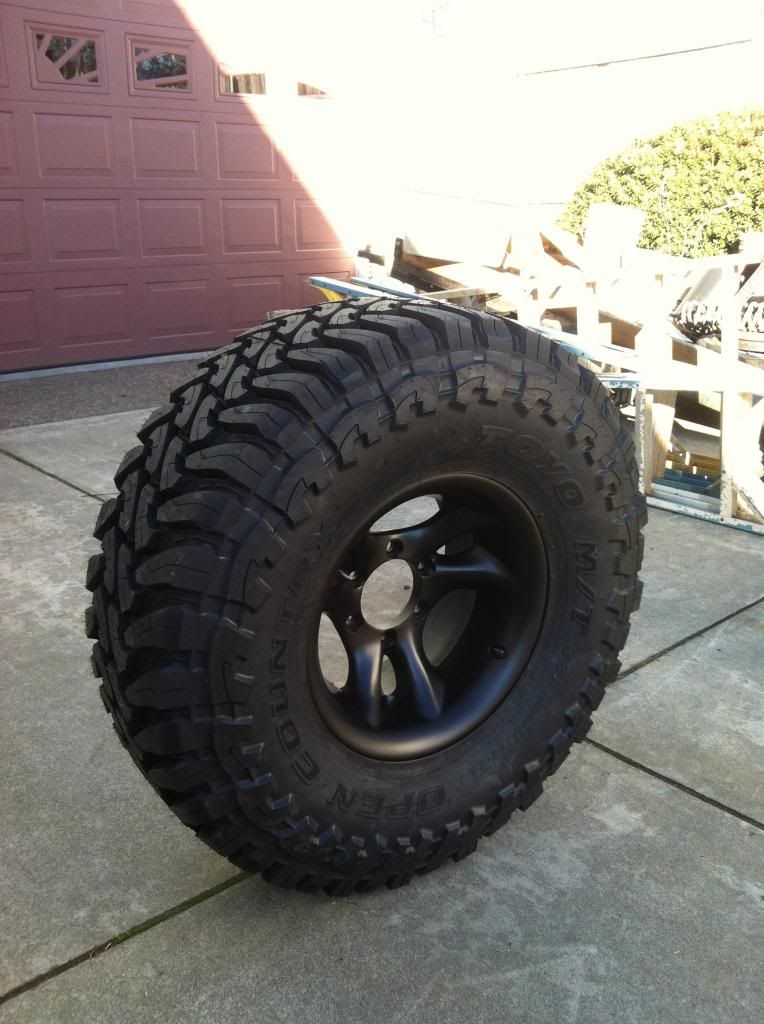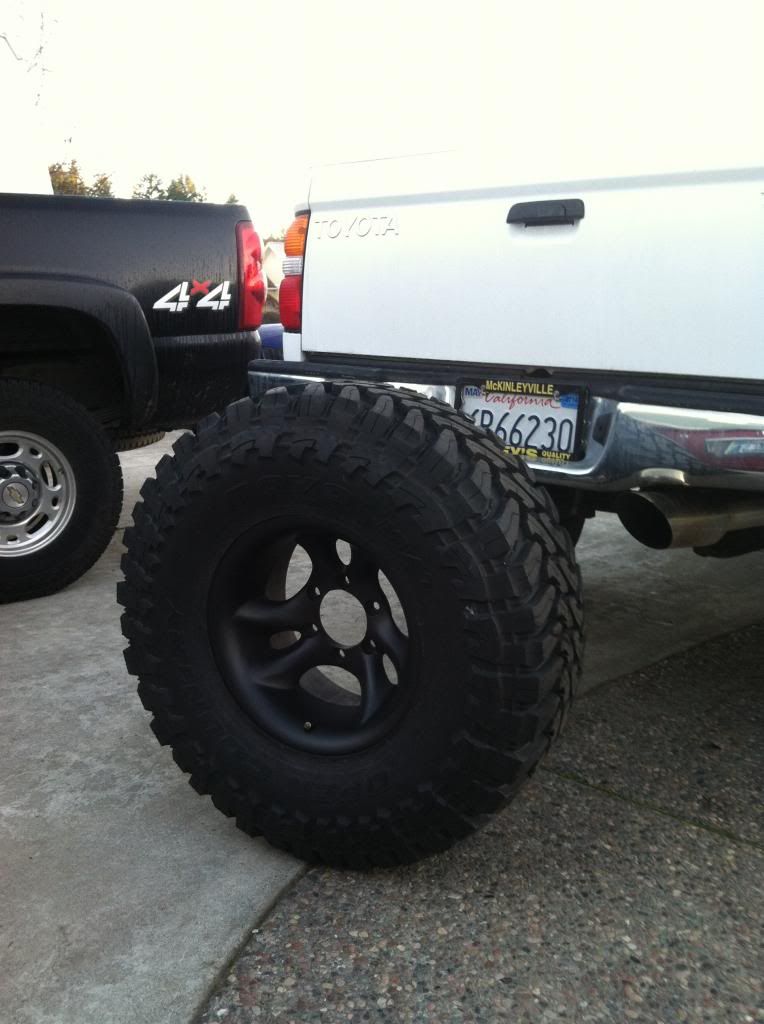 So to backtrack a little. when I first installed my 5100's, it was me and 2 other buddys at school in auto shop, we skipped a few periods to install my lift. so anyways we pull out the factory strut, compressed it and disassembled it. I went to put the bilstein in and noticed when I went to put the top collar on the there was a gap between what bilstein calls the shaft stop and the top collar. you can see the shaft stop in the picture below. its a little grooved bushing on the shaft. it stops the shaft from going threw the top of the strut into the wheel well on impacts.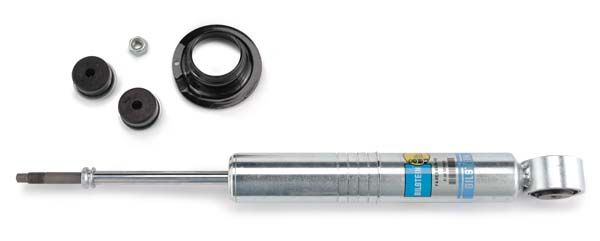 so not knowing what went between the gap but realizing what it was for I called les Schwab and they said to go buy washers and put them in there. so I did so and it was extremely difficult to make it so there was no gap. I installed my struts and for a 1 week and a half every bump sounded like a key ring full of keys shaking.
so a week and a half after installing my bilsteins at 1.25, I had everything I needed to lift my truck and put my tires on. so me and the student teacher at my auto shop, which happens to be a good buddy of mine, arranged a sunday where a couple of us students could come in on a weekend and do what ever we wanted to our vehicles. we started at 9 am and me, and 2 other guys worked on our trucks, me hustling away at the AAL being interrupted to demonstrate how to seat a bead with ether, got done around 1:30 pm. which was pretty good timing considering those kids that I showed the ether trick to blew a tire so high off the tire mounting machine it almost ripped out the air line that was attached to the shredder valve on the tire, so after redemonstrating. I was able to focus. so here is the truck lifted with my wheels and tires.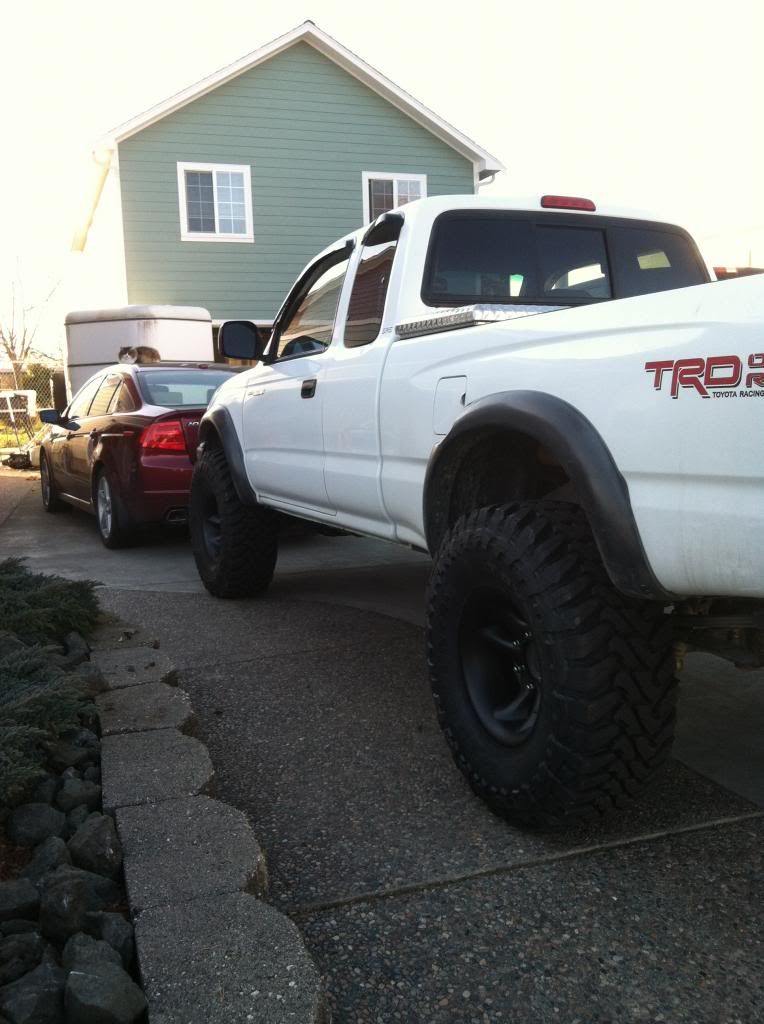 some tiny flex pictures, nothing to be proud of here.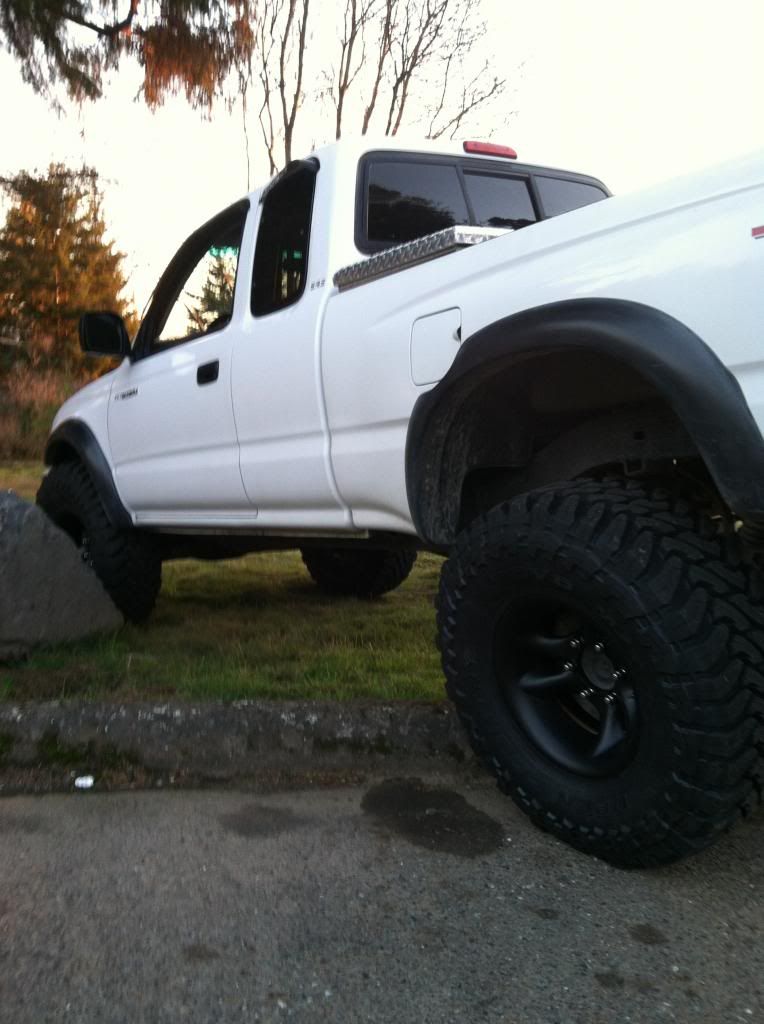 immediately realizing that I have to take a BFH to the wheel wells and trim back plastic. I used a dremel to trim plastic back, and then I get busy beating the living shit out of them with a regular contractors hammer. I fixed the problem temperarly, I would like to tub a little, but not to much because it is a 5 speed and I do have a clutch peddle lol.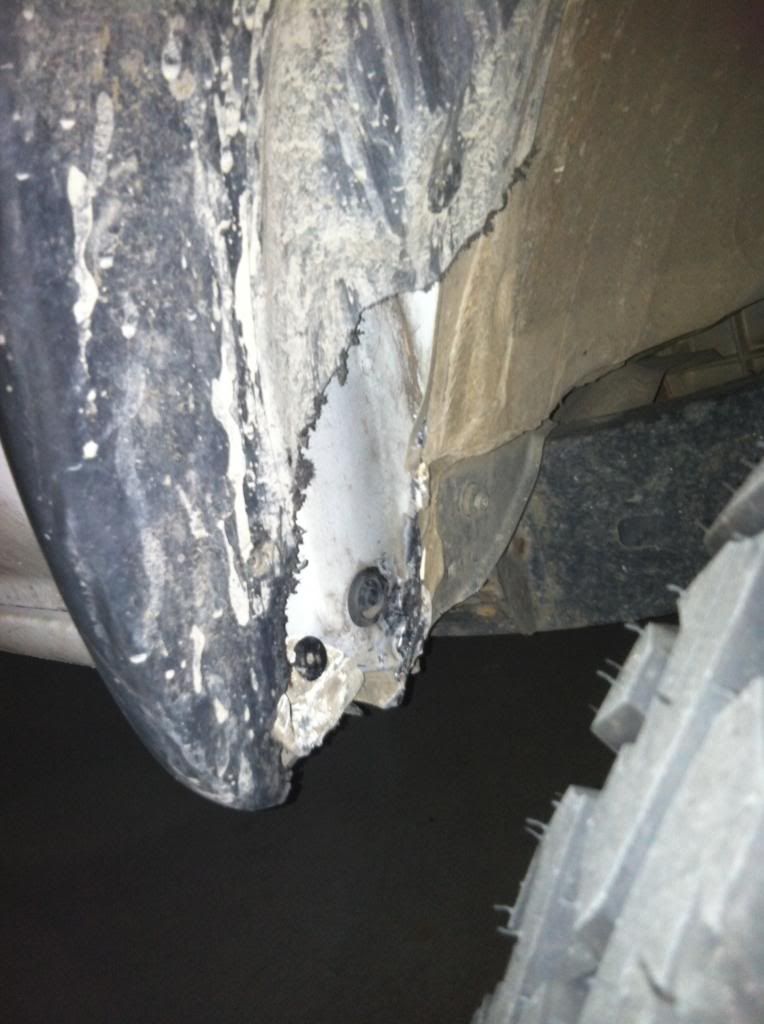 I'm looking to do:
-hi-lift with toolbox mount
-maybe a spare tire bed rack w/ hi-lift mount
-1" body lift
-15x8 3.75 bs Daytona series 152 steel wheels
-u-bolt flip kit
-brakeline extension
-ome 885 w/ nitro chargers all around and dakars
-mesh grill
-
35w Bi-xenon Morimoto Mini D2S retrofit
such as pcbuilder14's
-sliders
-B.A.M.F. BPV bracket
-plate bumper w/ winch (xeon12)
-carrier barring delete
-tint
-plasti dip badges
-supercharger w/ rebuild
-dual t-case
-regear to 4.88's
-air lockers
-in the way future sas
-rear plate bumper
- alcan orbit eyes
-CAI
-flowmaster super 44 with cutout back to stock muffler w/ dump
-multiple LED light bars for reverse and forward
-weld chains on sliders for steps
-dual firesticks
-ETC.