grettings, this is my small build. just gonna copy it from TTORA since i made the thread 2 years back. added updated stuff at the end of post.
Greeting folks, figured i show some pictures of my Double Cab to 4WD conversion using a inchworm lefty single case conversion. some price numbers for some that are interested in using lefty instead of stock.
Air vacuum A.D.D front diff from 99
4Runner
w/hubs and axle. $250.00
new front wheel bearings . $120.00 or so can't remember.
Inchworm lefty with adapters, shift knob etc, etc. $2700.00
Bud built cross member w/skids and diff mount. $450.00
Drive shaft shortened and balancing. $250.00
front Drive shaft from ebay. $50.00
1" drive shaft spacer for front shaft. $40.00
U bolts, nuts and washer for cross member. $60.00
New front console. $40.00
solenoid, rubber transfer case boot, misc. $60.00
Total . $4020.00
probably a little more. i could have went with a stock donor trans with transfer case and save a bunch but i my truck only has 80K miles and i am the original owner. i wish that i had gotten a 4WD from the get go, but i just couldn't afford it then.
had a bit of trouble with the transfer case coupler, so that delayed the install for 2 weeks, but hell. i had just started the install after a year of buying most of the parts. everything went in smooth and it does look beautiful underneath the truck, lol. i'll have to get pictures of the inside later, for the untrained eye, this truck looks stock from the inside, with the front j shifter toyota style
tail housing off getting ready to install adapter.
front diff. i had this installed for like 9 months head, so i was driving around with a front axle with no center diff for a while, lol.
the output shaft coupler that was not the right size for some reason. it was a 23 spline but was too small for my V6 trans output shaft,
fit the T-case perfectly, had to send it back to inchworm to widen i guess.
spacer and adaper installed. getting ready for lefty to mount up.
drive shaft shortend and balanced. ready to go in.
adapters and lefty installed. budbuilt cross member installed using U bolts. initially the case and the cross member hung too low as i though the cross member would meet with the frame. took around 3 days to think of something to use as spacer, and i found these hard rubber blocks that was just the size i needed. good thing i got them for free,lol. plus, they should help resonate with and vibrations.
mounted up, with double cross member, lol.
almost done.
some interior pic + driveshaft installed.
4WD engaged!
console w/shifter. initially the shifter was straight, had to do some bending since a stock yota shifter cost an arm and a leg, and
Ebay
did not have one listed at the time.
4Runner
t-case shift knob from
ebay
, 4WD button activates the front A.D.D
spacer for front shaft. i may get the front shaft extended in the future.
small trail run testing the 4wd.
Mocked up some 33x12.5 x15 waiting on wheels and full Lift kit from
Toytec
3" OME package.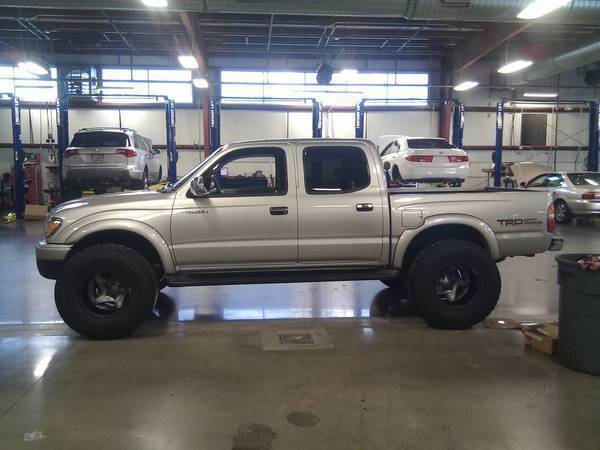 as it stands now.