This is the first time I've ever had a lot of parts to put on a vehicle at once rather than just putting things on as I can afford them so I figured I would do a build thread. I hope to be updating this quite a bit in the next few weeks but I just got back from a 14 month deployment so the house and all of our vehicles need a little TLC. Because of this, I haven't had much time to work on the truck yet.
About 2 months before I got home (Feb 14), I bought my '01 Tacoma Xtracab. It's a 4WD, V6 manual and I bought it bone stock except the radio head unit.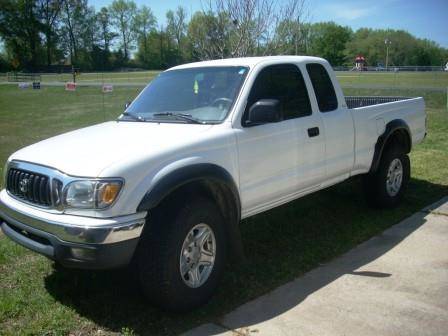 I'd been wanting one of these for 3 or 4 years and every time I saw one I liked, I didn't have the money for it. Thanks to my deployment, I had the money for this one and it was too good of a deal to pass up. I bought it from my sister-in-law's boyfriend who was a shop supervisor at a dealership (Chevrolet?). He had already done a lot of maintenance on the truck including a new clutch and master cylinder. He had Krank 17X9 wheels and Grabber AT2 tires on it and while they weren't terrible, I preferred the 5-star OEM wheels so I put those and some Goodyear Wrangler AT tires on.
While I was deployed, I had a lot of time to figure out what direction I wanted to go with this truck. There is a lot of off-roading near where we live but it's mostly rock crawling or mudding. I didn't really want to go either of those routes but ultimately decided on trying to build an all-around off-road truck with an emphasis on overlanding. My wife has family in Phoenix and there are some really beautiful places not too far from us where you can drive old logging trails for days without seeing anyone else.
As it sits now:
See post 2 for a build sheet. Here's the general info:
EXTERIOR:
Century bed cap
Diaz Fabrication emblem
ruggedT 'SR5 Expedition' decals (
Post #28
)
ENGINE & DRIVETRAIN:
All OEM
3.4L V6
Manual transmission
Stock Gearing
Rear diff breather extension
Safari Snorkel
SUSPENSION:
OME Nitrocharger front shocks with 882 springs (
Post #8
)
Light Racing upper control arms (
Post #8
)
OME Nitrocharger rear shocks and springs with AAL (
Post #9
)
Crown Performance extended brake lines
Self-fabricated BPV bracket
WHEELS & TIRES:
Toyota OEM '5-star' wheels
Goodyear Wrangler A/T (265/75R16)
ARMOR:
All-Pro
front bumper
All-Pro IFS skidplates
CBI rear bumper
CBI DOM sliders
BAMF rear diff skidplate
LIGHTING:
40" Zeus Lighting dual color light bar (Post
#34
)
iJDMtoy.com Toyota OEM-style amber LED fog lights (Posts
#19
&
#20
)
Star DLXT reverse lights (Posts
#7
,
#19
&
#20
)
Coupe Concepts 3rd brake light pulse module (bed cap 3rd brake light)
40" low profile LED bar for bed cap light (Posts
#28
,
#33
&
#35
)
COMMS:
Cobra 18WSXTII CB with Radio Shack Magnetic Antenna (
Post #17
)
INTERIOR:
Hard-wired 12v outlet in XtraCab space for ARB fridge (
Post #19
)
Weather-Tech floor mats
RECOVERY:
Warn ZEON-10S w/ Factor 55 Pro-link (
Post #14
)
Warn recovery kit
Hi-Lift Xtreme 48" jack with 'Wabbit's Foot' and slider adapter
MAXSA traction mats
MISC.:
PIAA dual tone horn (to make it sound like a truck instead of my DD Civic)
Go-bag (
Post #4
)
Weather-Tech window visors
ARB 37qt fridge/freezer