How it sits today: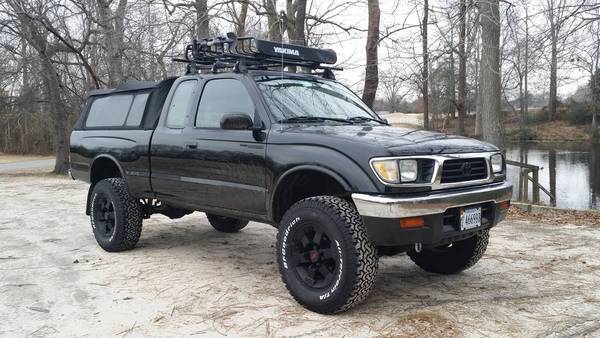 Well I've been lurking here for a while and had started to do more and more to the truck so I decided to make a build thread, I realize it's not the biggest build, but I still wanted to make one to inspire/help/entertain anyone who may be interested! Feel free to comment
Interior- red led dash, ac panel, gear shift lights. JL 8" subwoofer. Kenwood xr400-4 amp. Kenwood dnx570hd head unit. Rockford Fosgate punch p165s component front door speakers powered by amp with tweeters custom mounted in top of door panel. Husky floor mats.Hertz ecx165.5 rear speakers. Midland handheld cb transceiver.
Exterior- black emblems (spray paint) black fender flares (plasit-dip). Rear frame swap (more info below). Yakima sst towers and crossbars. Yakima loadwarrior basket rack, Shovel mounted. Yakima sst stretch. Arb shackles. FJ trail team rims w/ 265/75/16 bf goodrich all terrain. Custom bed bar (similar to the relentless bed bar) hi lift jack and firestik 4' cb antenna mounted. Bestop supertop. Old man emu 881 coils. Nitrocharger sport shocks front and rear. Wheelers 1.5" 3 leaf progressive add a leaf.
Future mods
Front and rear bumpers (arb,
all pro
)
Trail gear rock sliders
I purchased my 1996 toyota tacoma lx 4x4 with 58,000 original miles from Baltimore Maryland in November of 2013.
First picture when I got it: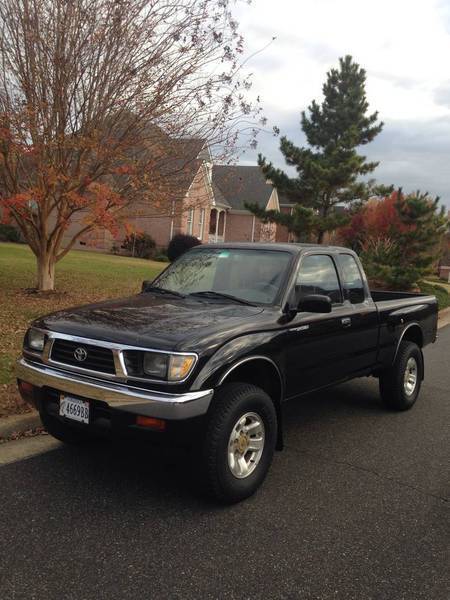 First thing I did was put on a set of yakima sst towers and crossbars i got on craigslist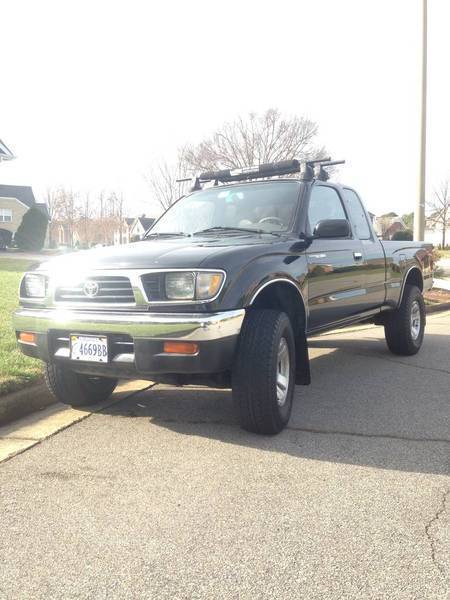 Not a modification, but next thing I did was plasti dip black the front and side emblems, and the factory chrome fender flares. (Ended up removing the plasti dip on the side emblems due to pealing)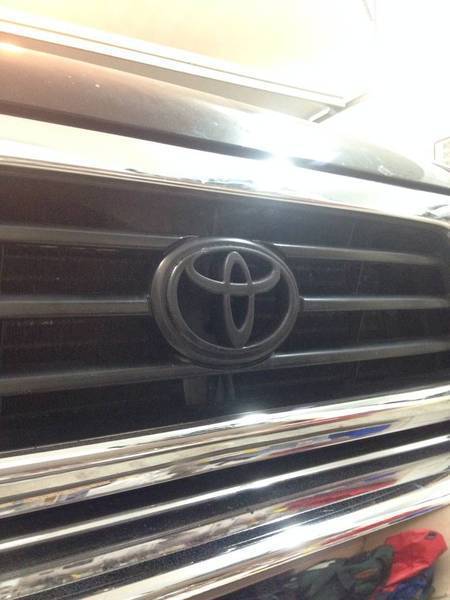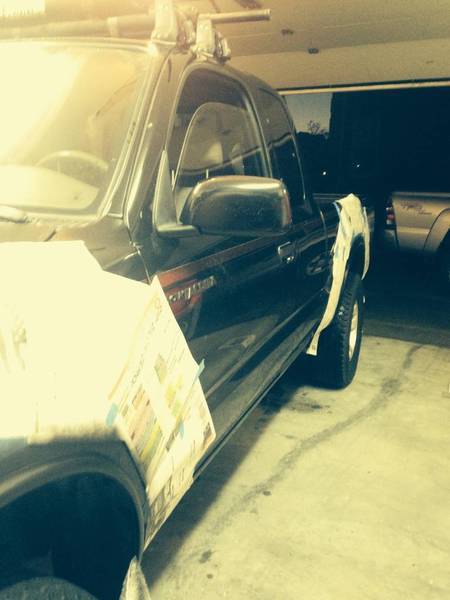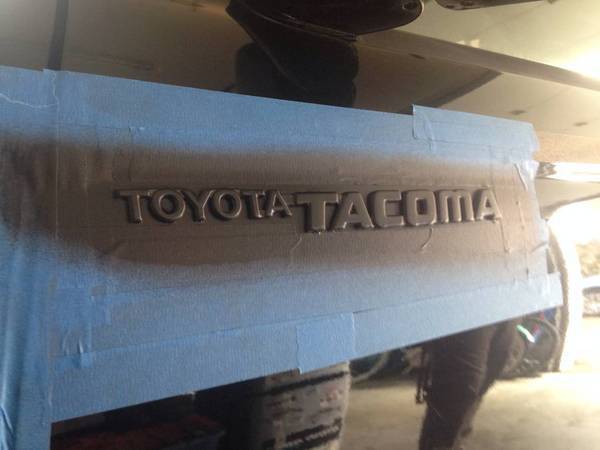 I then came across a great local craigslist find: yakima loadwarrior rack, brand new!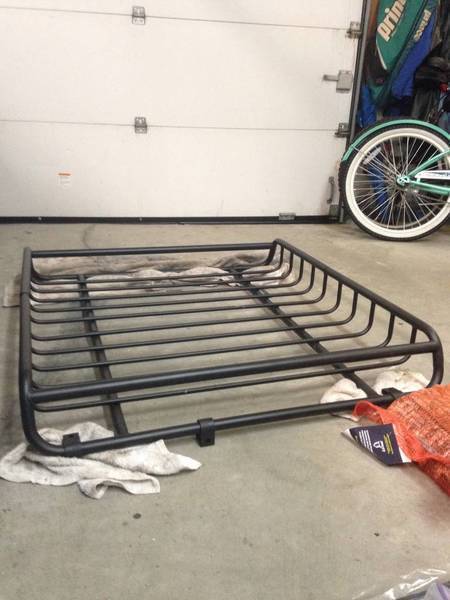 I mounted it using a used sst stretch kit I found on
ebay
for cheap.
I also threw on a pair of kc long range lights I had (but didn't wire quite yet)
url=http://www.tacomaworld.com/gallery/showphoto.php/photo/402373/cat/500]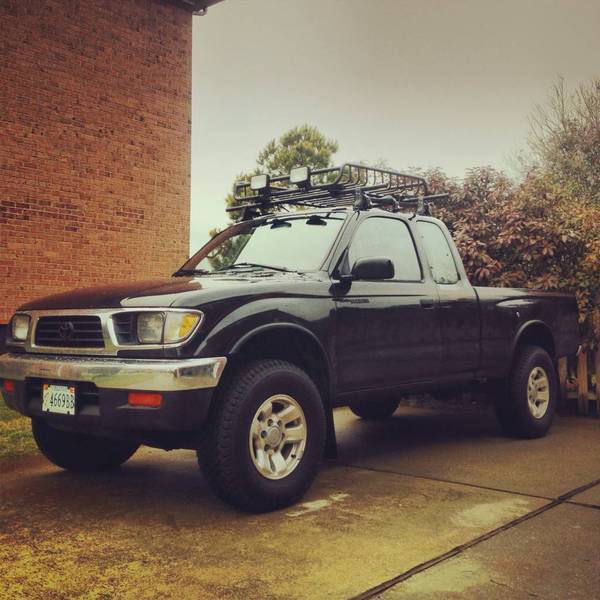 [/url]
Next thing I did was swap my dash, gear shift, and ac panel lights to red LEDs ordered from superbriteleds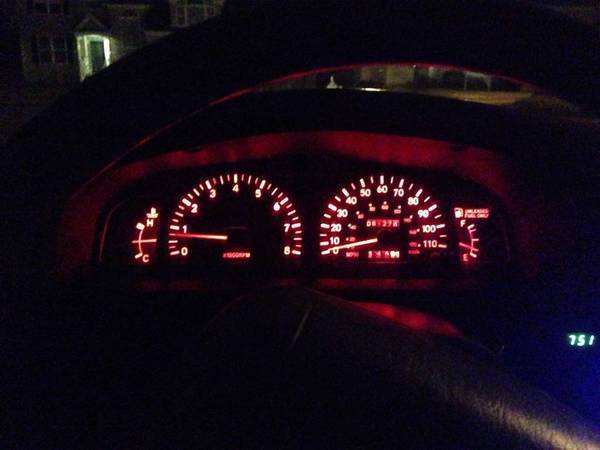 I then got the sound system hooked up. Jvc head unit, kicker door speakers, and alpine 8" type r subwoofer (from audiosavings and crutchfield) (completely different now)
Finally wired up the kcs, very bright. although there is a pretty bad glare.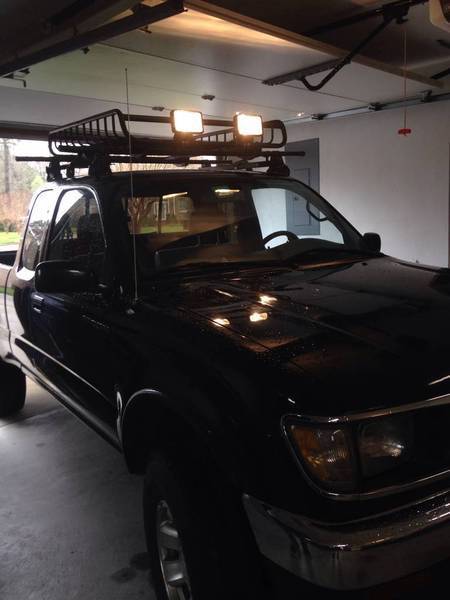 Then came the big fix. Due to frame rot on the rear of the truck, we replaced the rear portion of the frame (from the cab back) and a ton of new parts (leaf springs, shocks, brake sensing valve, u bolts, and all kinds of misc. bolts) the new frame was yet another local Craigslist find. The old frame was cut in half from the cab back and the new half of the frame was mounted up, welded, and reinforced.
Next I painted my factory 15" rims gunmetal with dupli color graphite wheel paint I picked up at
advance auto
.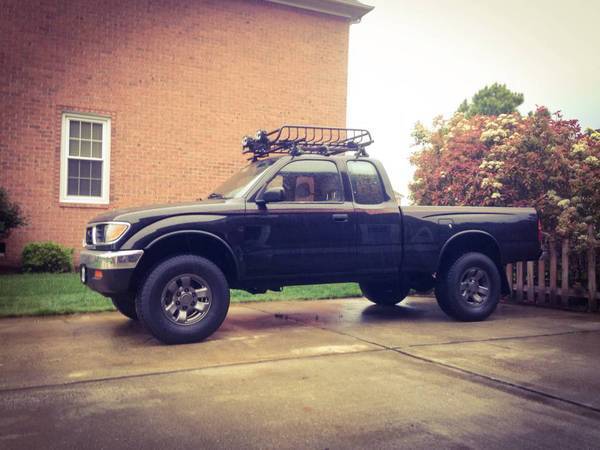 Arb shackles for the front tow points.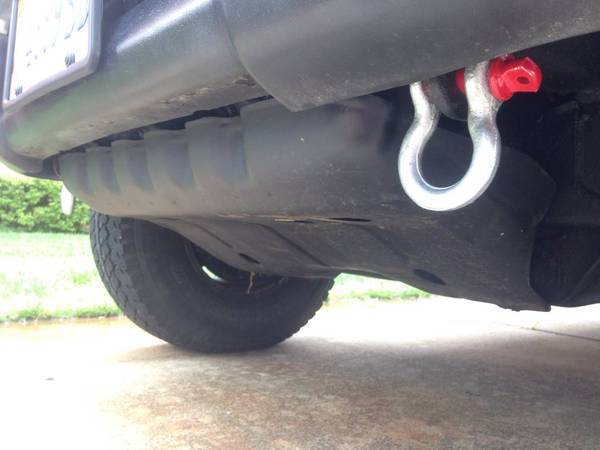 Hella 200mm headlight conversion with 65/55 xenon bulbs from rallylights.com, ended up very happy with them, plus no more sealed bulbs!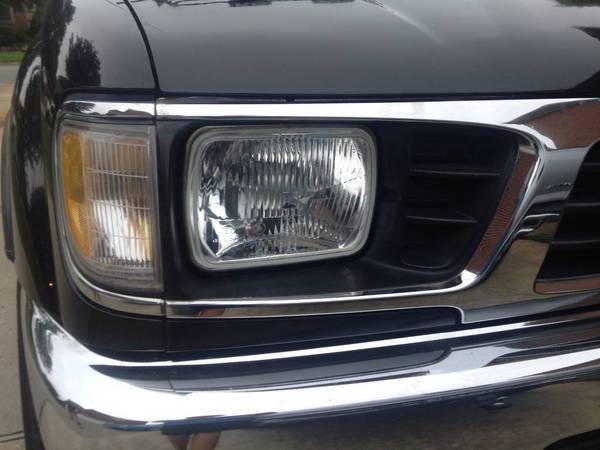 I then picked up some 2nd gen trd offroad rims with some pretty bald Dunlop radial rovers.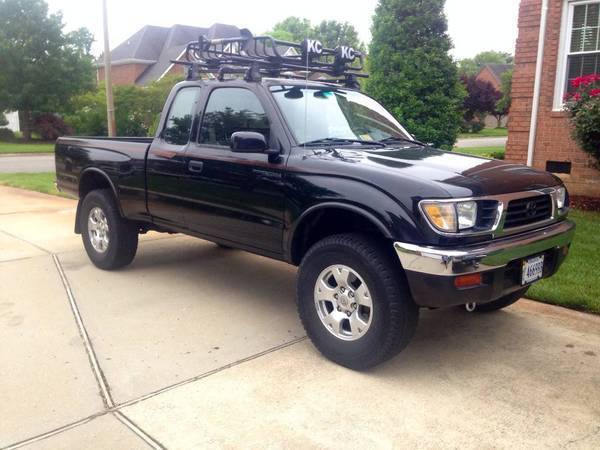 Decided on a set 265/75/16 bf goodrich all terrain tires. Happy with them so far all though there is a slight rub on the drivers side frame at full cut left.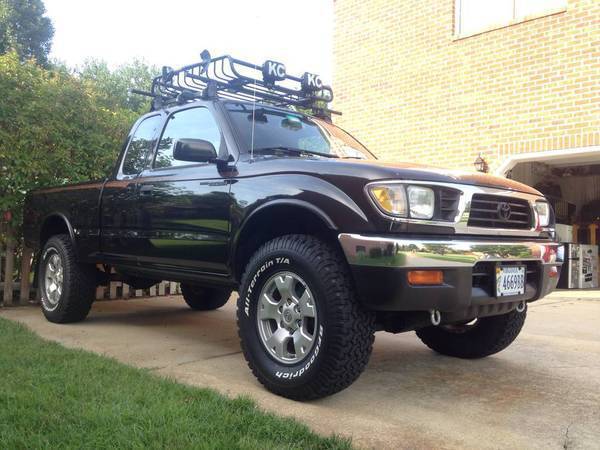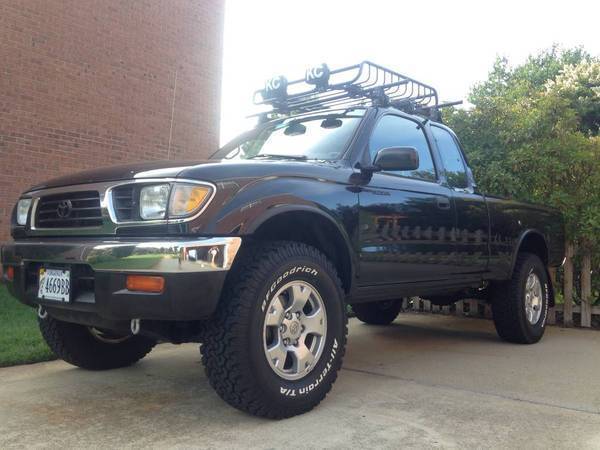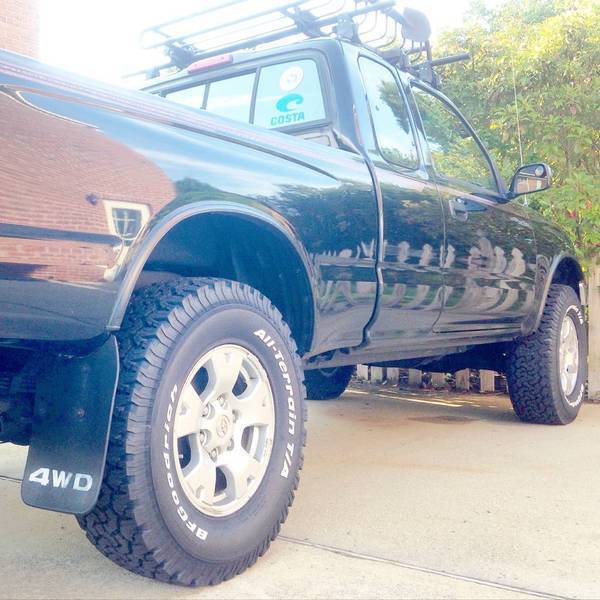 Also purchased a new kenwood excelon xr400 4 channel amp to power the alpine 8" type r subwoofer as well as the kicker door speakers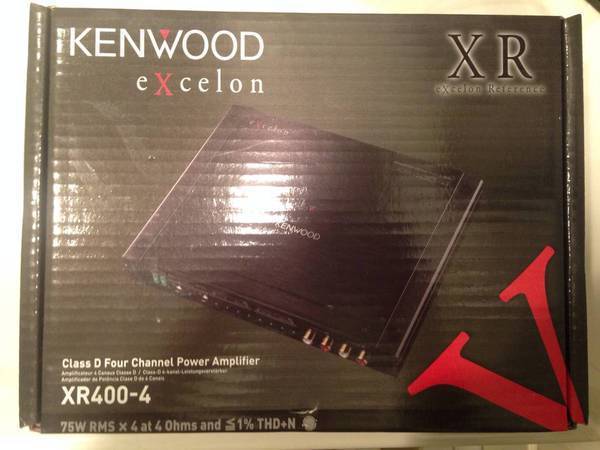 I ended up wanting to upgrade my head unit and rear speakers as well so I went with a kenwood dnx570hd and hertz ecx165.5 speakers., and everything turned out great. And sounding amazing.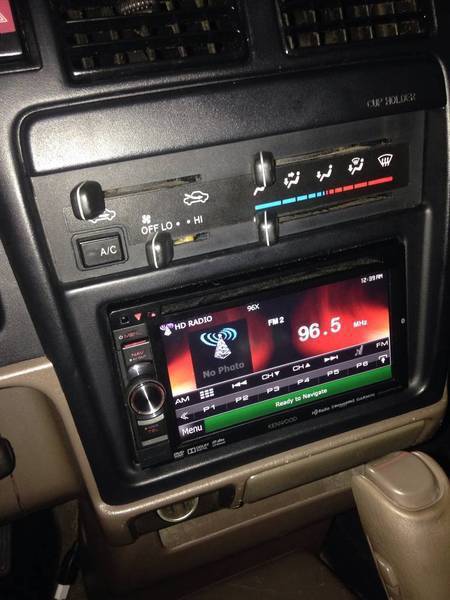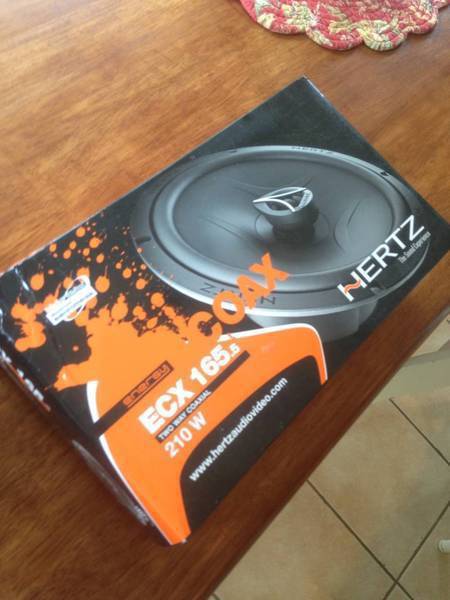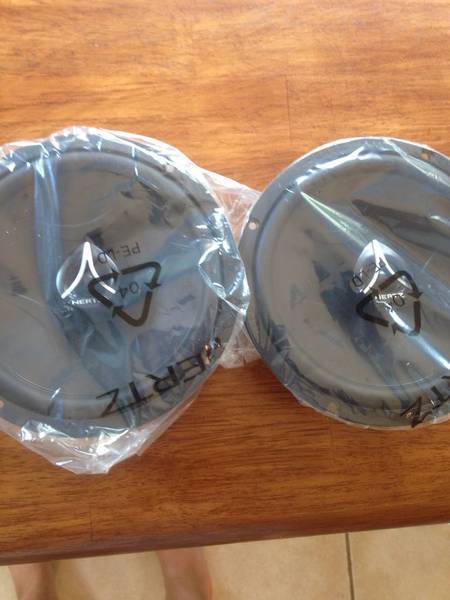 Plasti dip eventually began to annoying me peeling everytime I washed it so I removed the emblems , painted them with matte black rustloleum, and put them back on with 3M adhesive glue.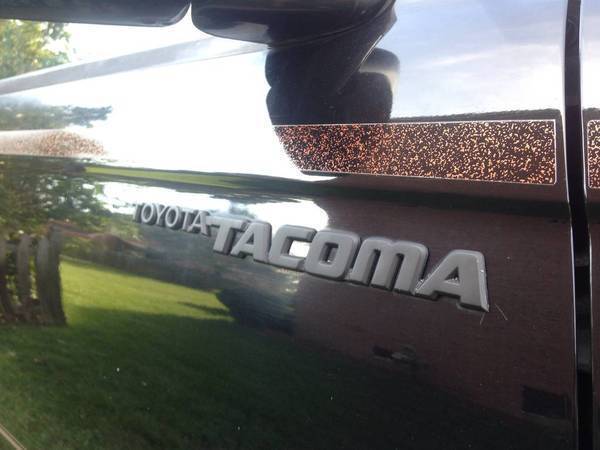 After 3 hours of work, two plastic scrapers, and a bottle of goo gone the ugly orange stripe is gone.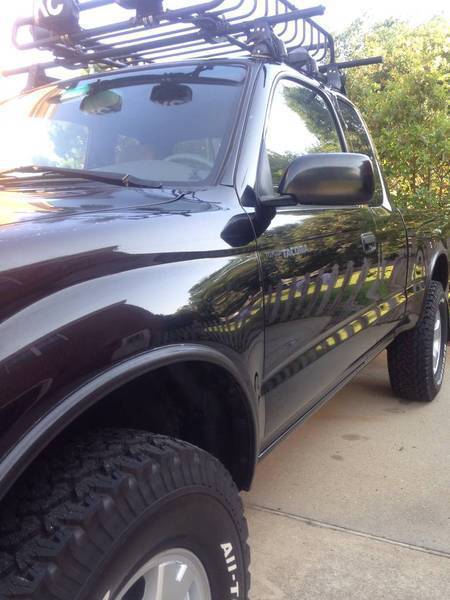 Added a yakima shovel bracket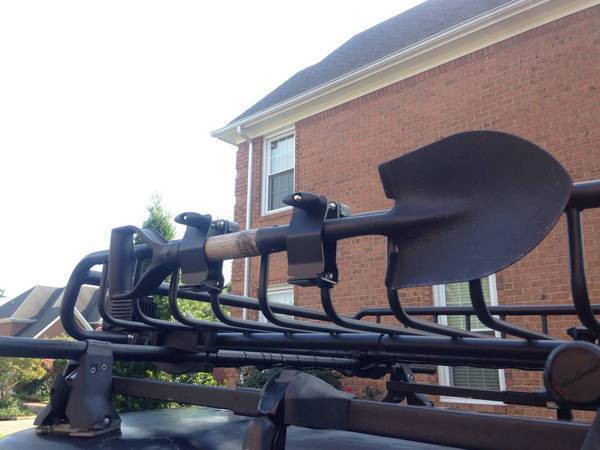 I mounted two 3" led pods by outlaw lighting off the back of the rack. I mounted them using hose clamps for the time being. But they actually worked perfectly and hold the lights on very well.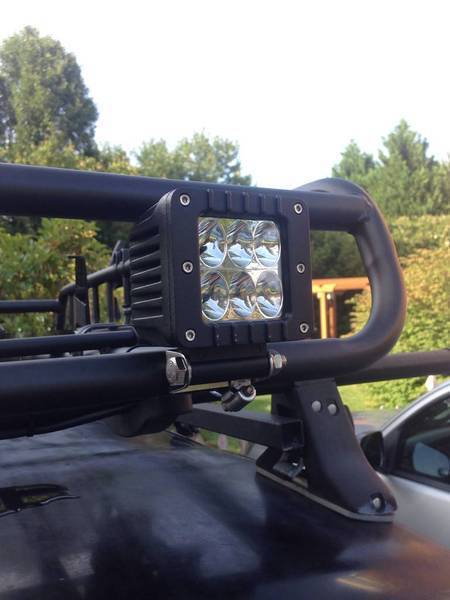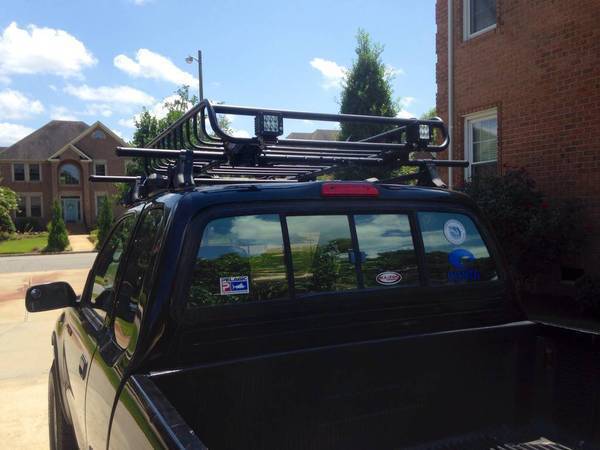 The picture doesn't really do it justice, but the pods are very bright.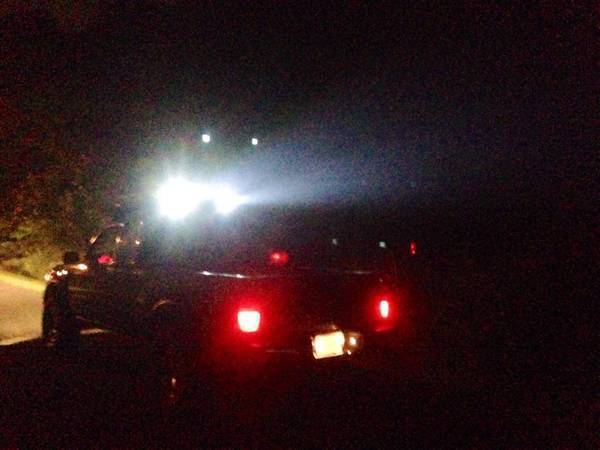 I also bought two 3" KC led pod covers to avoid any possible problems with the law.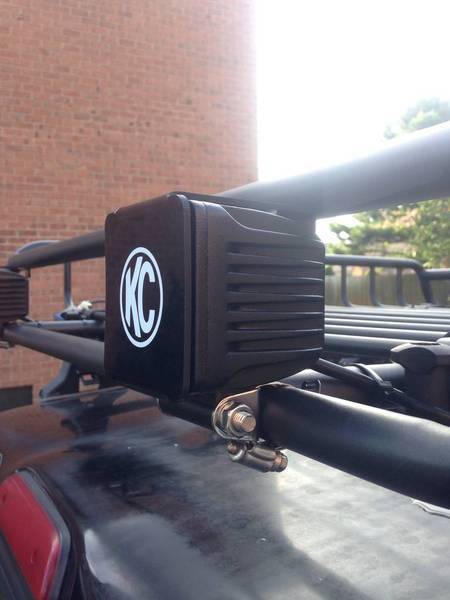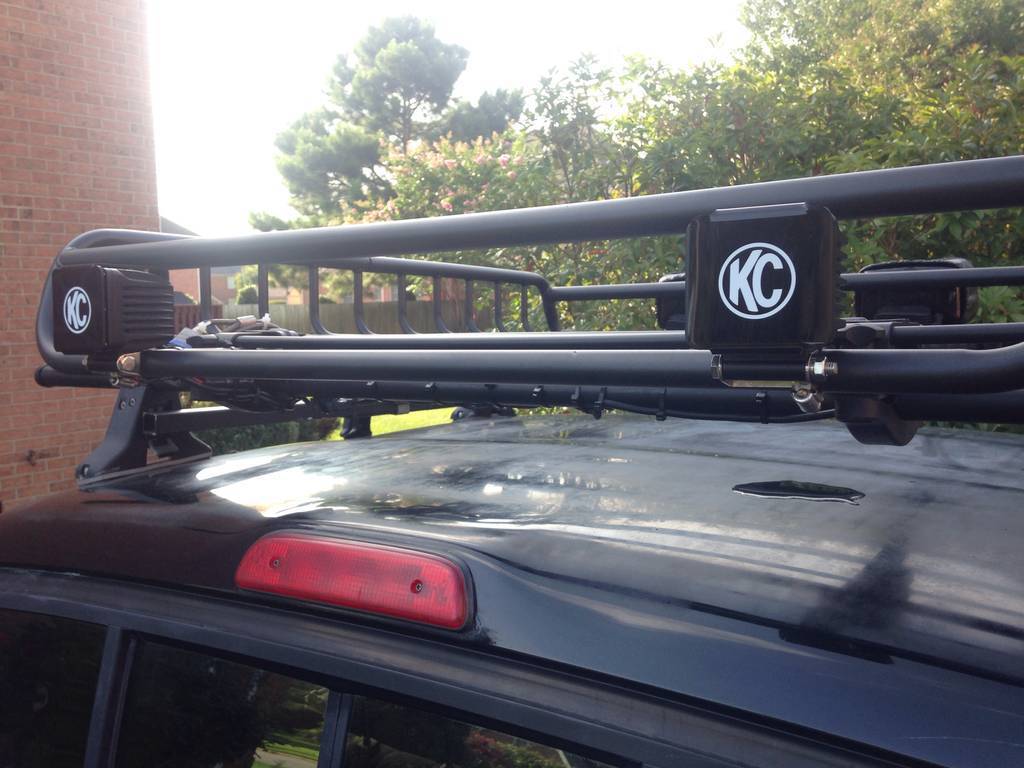 Corolla, NC trip 8/16/14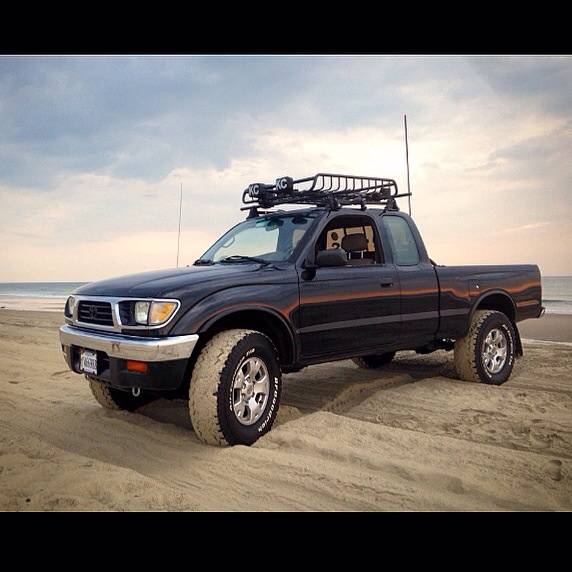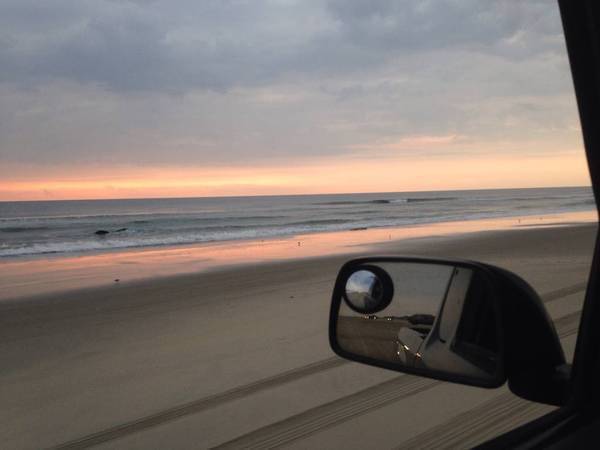 Purchased a custom bed bar (made to look and function like the relentless fab bed bar) from a local TW member. I then added a 4' firestik cb antenna and midland handheld transceiver. Also picked up a used 48" Bhi-lift jack locally for cheap. It needed to be sanded down and be repainted, but functions perfectly-
Hi-lift before: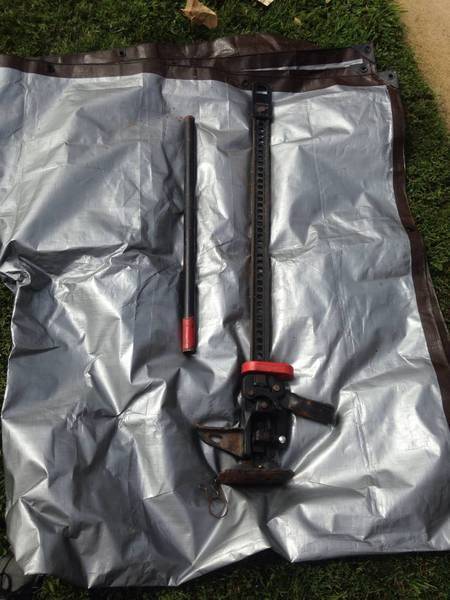 Hi-lift after: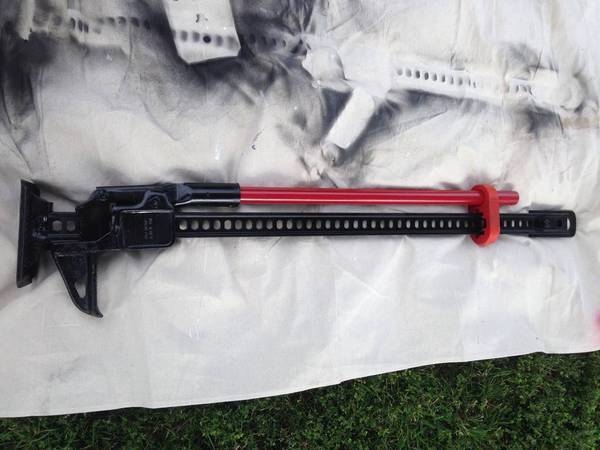 Firestik 4' cb antenna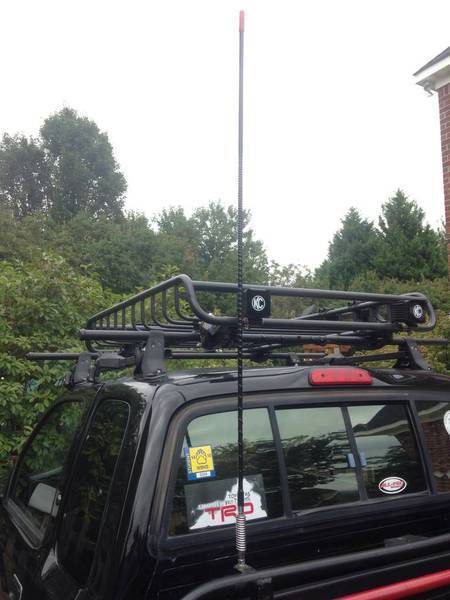 Bed bar, cb antenna, and hi-lift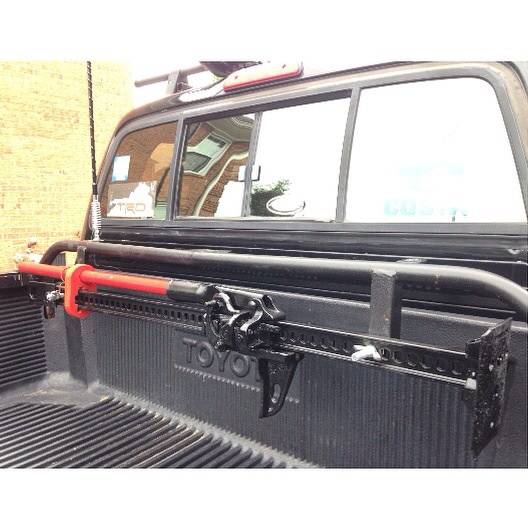 Midland cb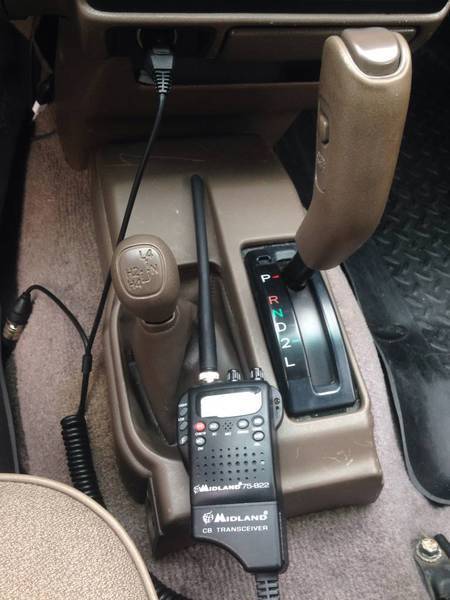 31" light bar and bestop supertop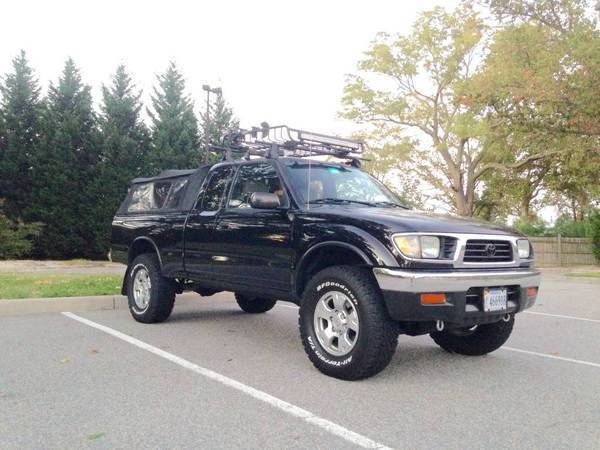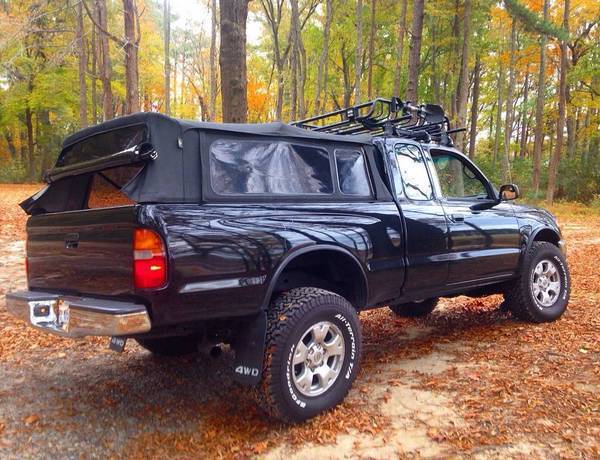 Picked up a set of used fj trail team wheels with a few scratches from a fellow TW member earlier this month and got them touched up and mounted. Before-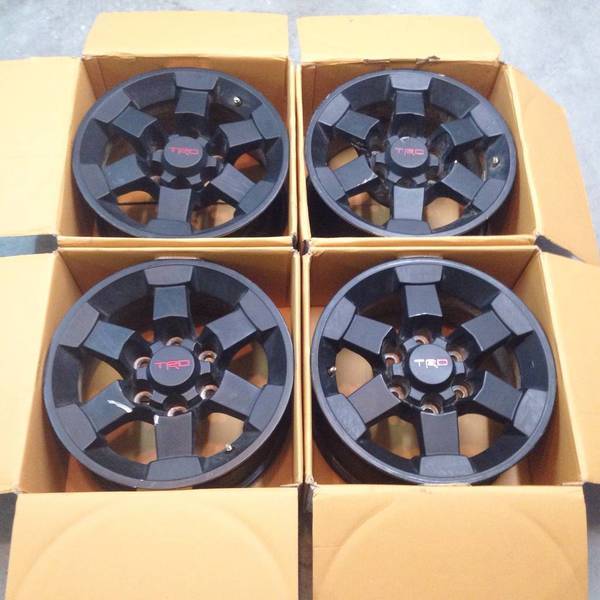 After- I used testors matte black model paint for the rim itself and outside of the center caps, and testors flat red for the Trd lettering on the inside of the center cap. Both colors matched very well and turned out nice.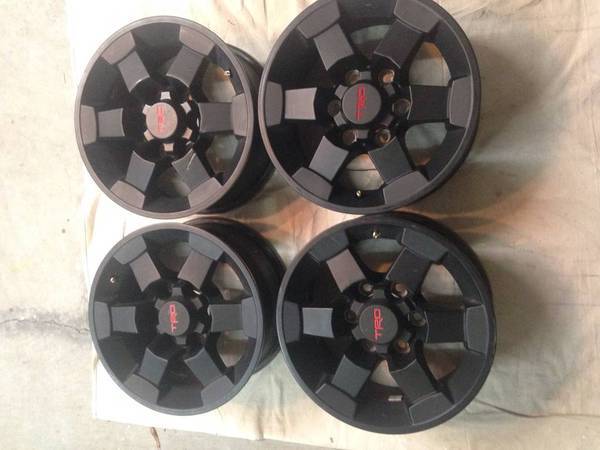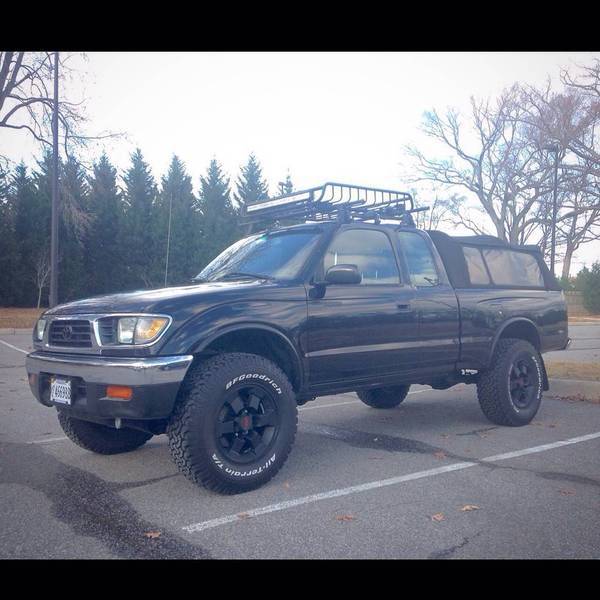 Finally installed old man emu 881 coils, wheelers 3 leaf progressive 1.5" aal, and Nitrochargers all the way around.
Very happy with the height and look, and ride quality on and off road is much better.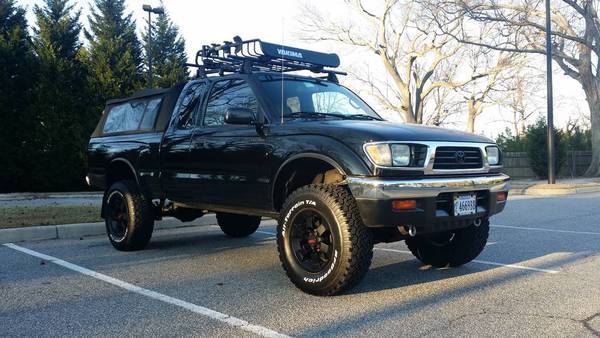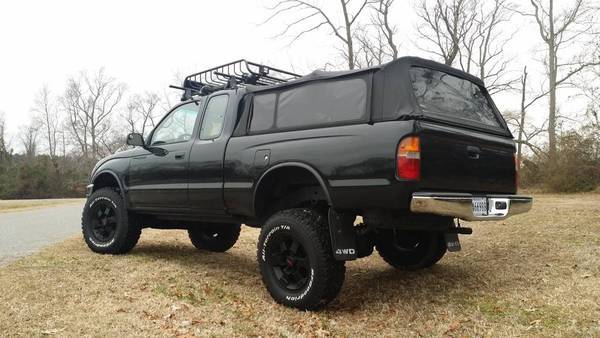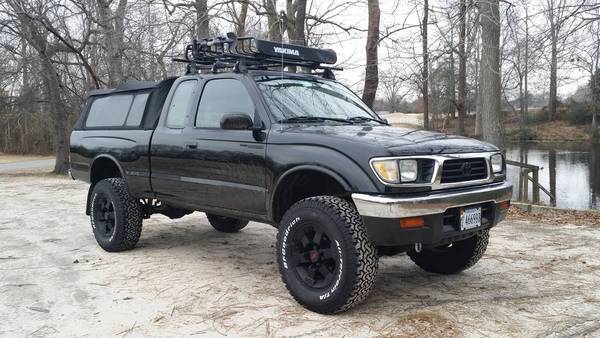 more pics to come
Swapped the blown front kicker speakers out with Rockford Fosgate punch p165s component speakers and mounted the tweeter in the top of the door panel. Used a 1 3/4" hole saw bit to cut through the panel and the tweeters fit perfectly although I had to cut a 2" hole through the metal behind the panel to allow the tweeter to have enough depth and get the panel back on properly. Sounds great and I'm very happy with the way they look.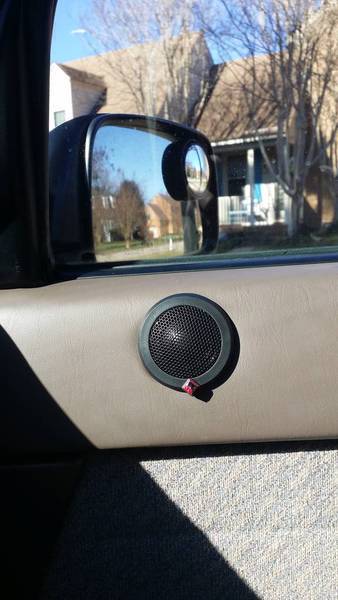 It's a work in progress, so much more to come!