Hey guys, just thought i would make a build thread on my truck. Im a little late because i already have the truck running with the turbo on and tuned so my first post will be mostly everything but i figured i can help others with turbo setups and questions and such. A little background on the truck. I bought it 2 years ago with plans to keep it stock and just drive it around. truck was in mint, i mean mint condition, owned by an older guy, completely stock and dealer serviced when i bought it. All the work on the truck is done by myself.
Created an account on this forum and kind of started looking at the off road trucks and setups and really started looking into it. I dont have a lot of pics of this stage of the truck because i lost my old phone which had the pics saved.
But i did the usual, billstien 5100 with
toytec
springs and custom leafs in the back, 33s,
all pro
plate bumper with warn winch, rigid lights, all the usual mall crawler stuff lol.
i took it offroad a couple times and enjoyed the truck. until one time i went into the wrong hole and snagged a brake line, exploded p/s pressure hose due to extreme mud and trying to steer away from trees and still managed to dent the bedside and rf fender. needless to say, i was extremely pissed that i was destroying the truck and decided that was the last time i would take it offroad.
i drive 20 miles one way to work and started to think about the 33mt's vibration/ noise and the poor mpg and that i wasnt planning on offroading anymore and decided to part out the truck and return it to stock for street driveability. here is how she looked. i loved the way she looked.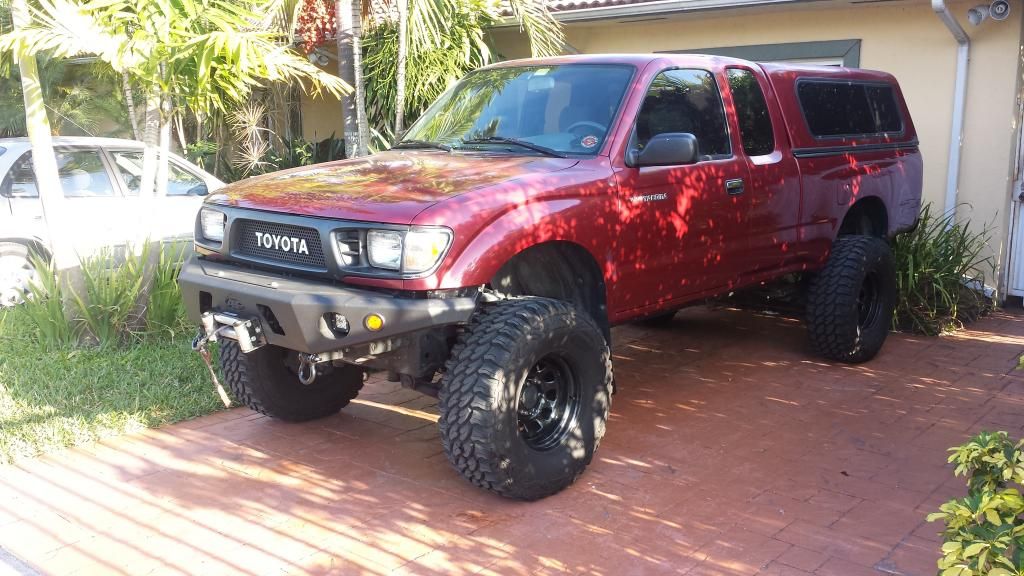 I drove it stock for about 1 month before i got bit by the bug again. this time i decided i wanted to turbo the truck (previously owned a turbo car and really missed it, and recently installing a trd supercharger on friends tundra at work didnt help either lol). i decided i was gonna try out the cxracing manifolds and piece everything else together as i have pretty good knowledge towards turbos and just mechanics in general, im a toyota tech. here is the manifolds when they arrived at my house.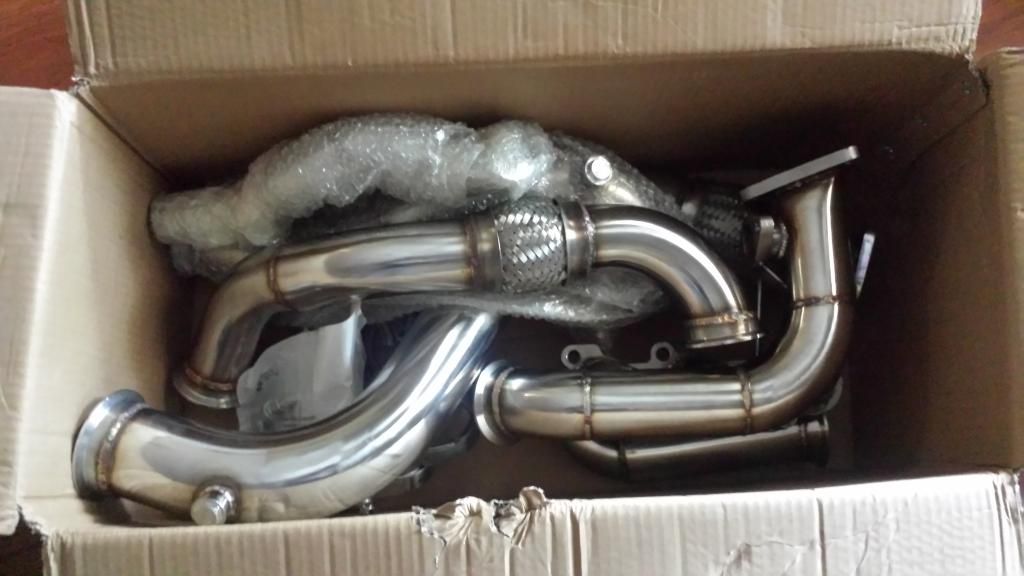 Ordered some gauges to keep my build safe at all times. i atleast wanted to monitor afrs during the whole build. this truck is my daily so i didnt want to risk anything. went with an aem wideband and a cheap autometer gauge. i really hate pillar pods so i went for the steering column cover pods. bought one for an evo and kinda modded it to fit.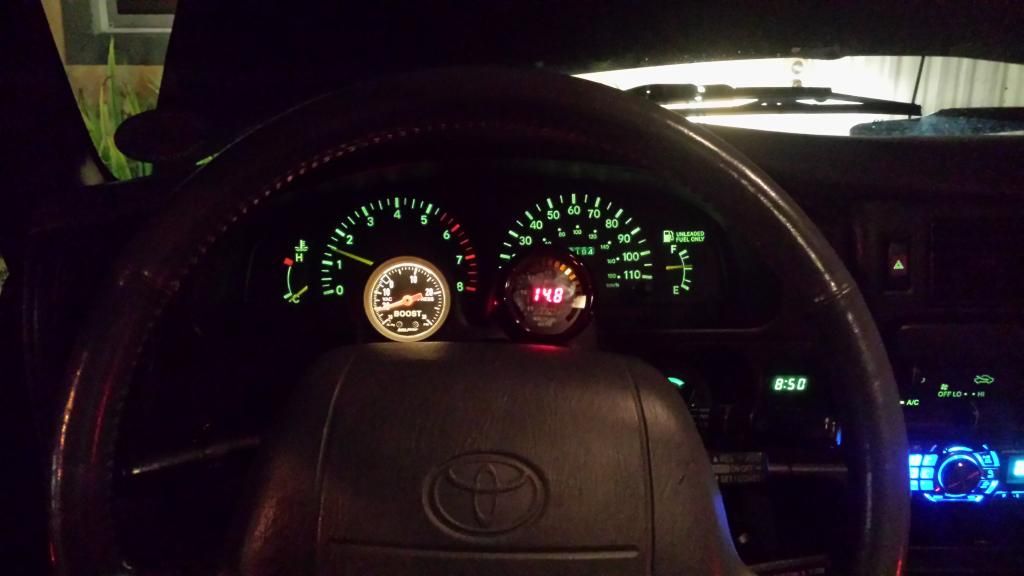 finally decided on what turbo i wanted to run and went with a borg warner s362 fmw. got a smoking deal locally and was really excited lol, hence the silly pic. i peiced together my oiling for the turbo, went with a t fitting at the oil pressure switch for feed and -4 oil line. running a tial 38mm wastegate and tial 50mm bov.
Went ahead on my day off and dropped my front diff and oil pan and drilled and welded the drain fitting for the oil return of the turbo. just ran the hose off the fitting to the top of the motor while i got all the feed fitting and all that in order.
finally had everything ready for the turbo install and stayed late one night at work and installed it. keep in mind, i dont have infinite funds and this is my daily so i had to build it while driving it. the turbo was just open, obviously had oil through it but no boost. still didnt have the fmic or any of the fuel system so i just drove it with the turbo on, no boost for about two months. i would like to also say that i was really impressed with the cxracing manifolds fit and finish. i was a little hesistant at first due to online reviews but i bit the bullet and again, very impressed. they went on with no trouble at all and didnt have to modify anything to bolt them up along with the crossover pipe. no exhaust leaks, nothing. i was extremely excited to have the turbo on the truck, even without boost.
ill follow up in a new post.