How She Sits Now




The Story
I bought my 2004 Tacoma Double Cab SR5 TRD a month ago for 10.5K. I was looking for a daily drive that I could use in the mountains of Colorado. I work at Cabela's so to say I live in the outdoors would be understated. The Tacoma was the cleanest one I could find. I wanted one that had not been modded. It took about 6 month to find the right one. The one I found was a Arizona truck with 224k on in. It is in 90% condition and the Car-Fax showed one owner. He had done every scheduled maintenance on time at a Toyota dealer. I had a pre-purchase inspection done and the owner of the Toyota garage said it was the best Tacoma he had ever seen with that many miles. He said it could pass for a 50k mile truck and the last owner must have been super anal LOL. He did suggest I do a full tune up, new shocks and do the timing belt before the end of the year. The Dealer I bought it from did the tuneup and took $500 off the price to help with the rest. Not bad for a truck that blue books for 15k.
Day I picked her up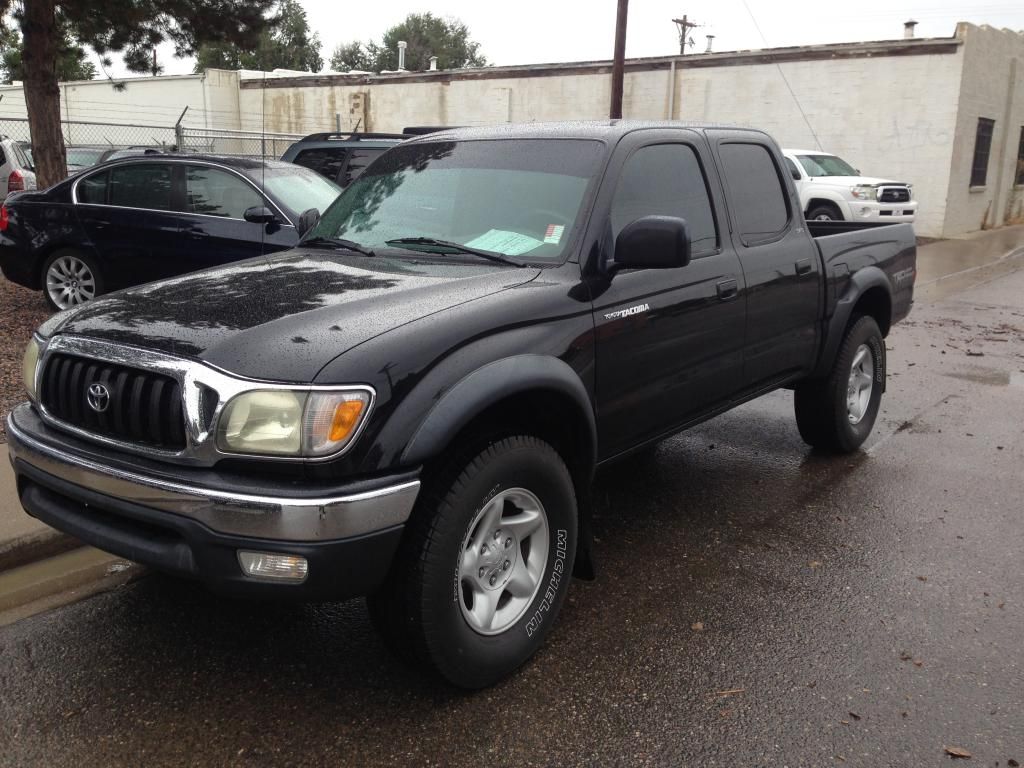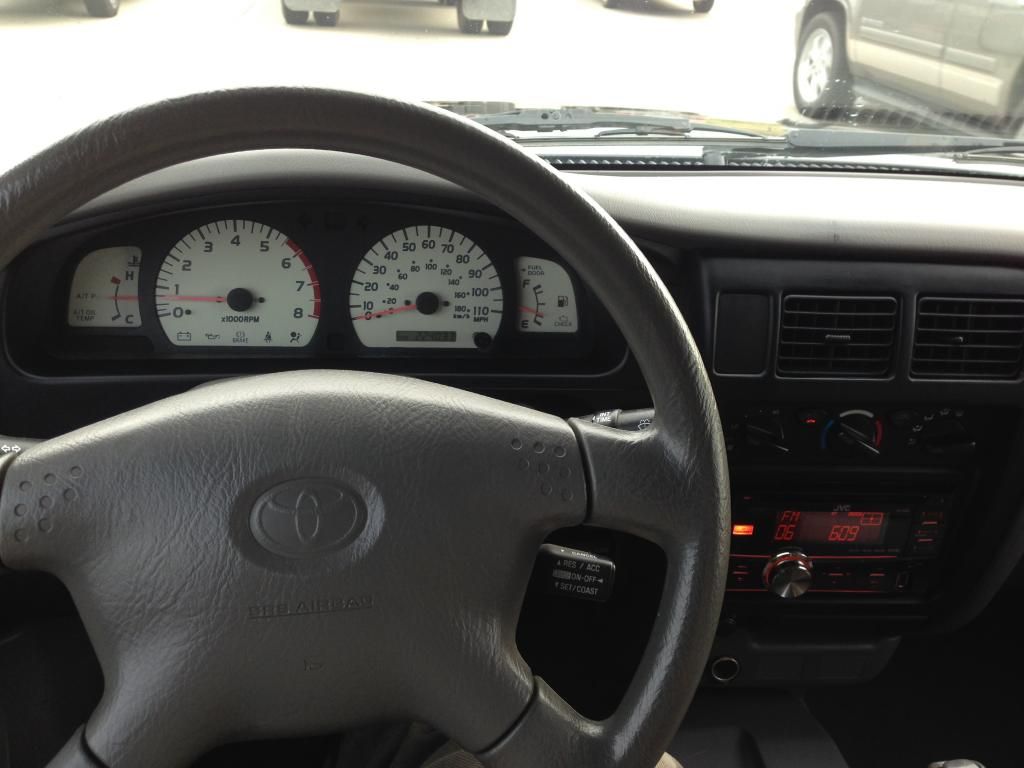 The Test

I took the truck right after I bought it Elk hunting for a week and really beat the crap out of it. ATV, game and rocky muddy trails. Banged the crap out of the bottom of it on rocks and put a ton of small scratchs in the paint from pushing though over grown trails. She did amazing. I could not beleave how good she 4x4's in stock set up. All this with 17.17 MPG and most of it in 4x4. The best I have done was 28.5 on the way back but most of it was 60mph down hill. Only thing that broke was the bad roads and vibrations loosened the P/S tensioner bolt and I lost it. I just tightened the set bolt up and it worked till I got back from the hunt. I did find out coming back down trough Eisenhower pass with a 7% grade that the brakes did have a small pulse to them when at high speed and pressed hard. After I cleaned detailed and waxed 40lbs of mud out of her, I only had a very small dent in the front skid plate and the scratches buffed right out. Also buffed the yellow out of the front lenses.
Getting dirty CO,UT and WY state line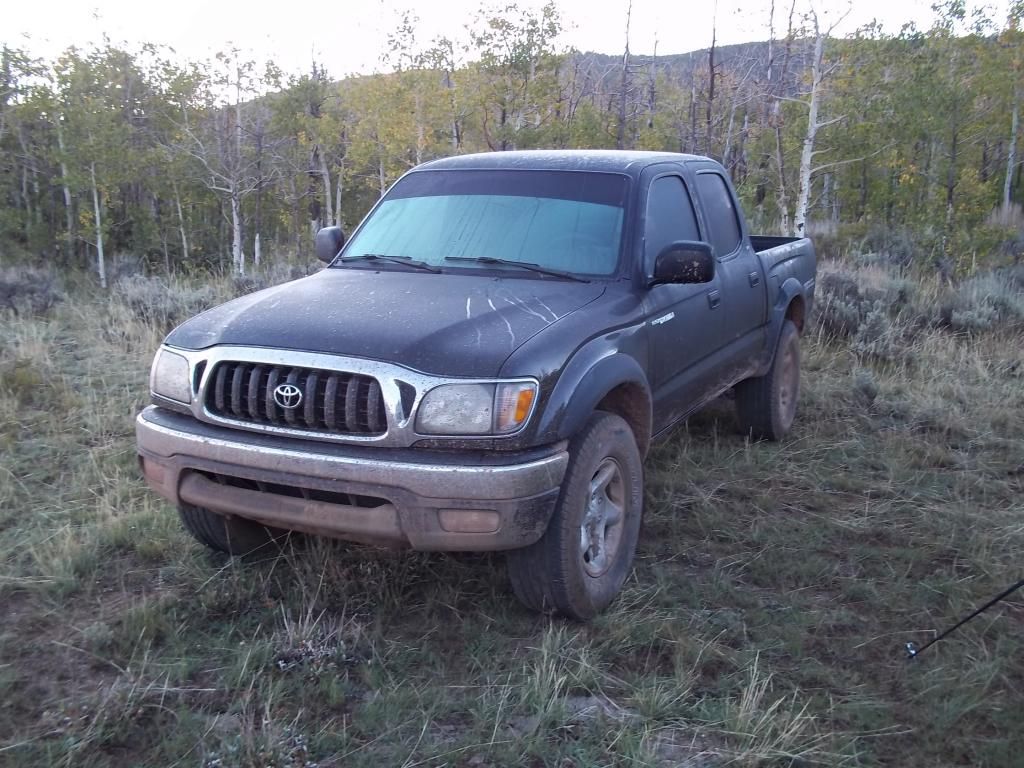 The Start
Thanks to this sight and its "How To" tread here is were I am at.
The Build List
Here is were I would love some input from you all. I do get some stuff like Warn, Cobra, Engel and Rigid for industry pricing so I will use them.
Suspension, wheels and tires.
Level 8 16x8 MK6 gunmetal rims

Goodyear Duratac 265/75-16

Bilstien 5100 F/R

Eibach coil springs

Light Racing UCA
ToyTec Differential drop

ToyTec 2" add-a-leaf

PowerStop Crossed drilled and slotted rotors and truck and tow pad kit.

Topper and rack.
Snug super sport $2200
Cabela's TrailGear II roof Rack $100
Bumpers, sliders and armor.
Relentless front plate bumper w/D2 cut outs (not sure maybe tube style)
Relentless rear plate bumper w/D2 cut outs (not sure maybe tube style)
Relentless Rock sliders (not sure maybe different one)
T-case skid plate
Front skid plate
Fuel tank skid plate (maybe)
Curt 5000lb hitch and wiring harness kit

Winch, lights and misc.
Warn VR1000
Rigid d2 flood F/R
Rigid E-20
Cobra CB
Engel 34qt
The Finish
(someday)
Something like this