So I bought the truck in September of 08 off of craigslist from a guy near Keene, NH. It came with a Rough Country 2" lift and 32" Mickey Thompson MTZs on 2nd gen 17" alloys.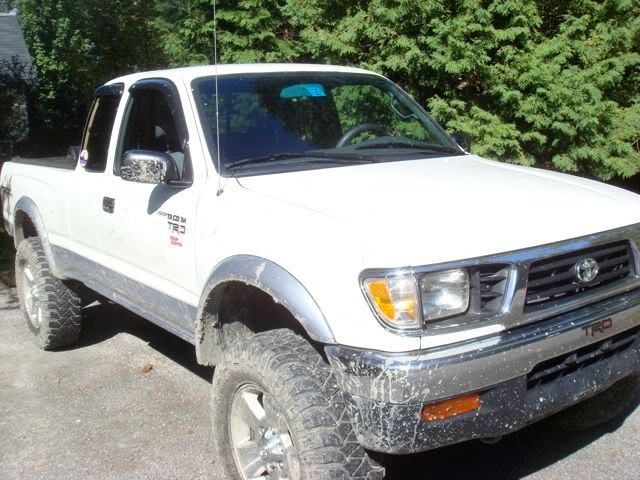 First mod was tires. The mudders would kill me as soon as the snow fell here in VT, so I bought some 32" BFG ATs and put them on the stock 1st gen 15" alloys. I also bought a cap from someone who walked up to me at a gas station and admired the truck. He gave me the cap,
bug shield
, and a bedliner that goes under the bed rails for $100.
Then I took it on a few class 4 roads in a neighboring town.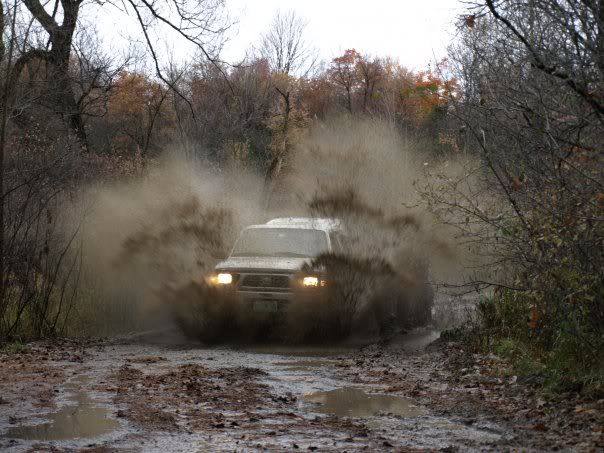 And turned it into a brown truck at the Milton sand pit. I had also just thrown a Flowmaster 40 series delta flow on the truck with no tailpipe. Very loud. It quieted down after I put the stock tailpipe back on.
I also replaced all 4 brakes at some point in the winter. This was the entire system: Calipers, rotors, pads in the front and shoes, drums, hardware in the rear.
The cap that I bought didnt stay on the truck for very long; I really didnt like the wedge-style so it sat under a cedar tree for most of the winter, until a girl with a 00 regular cab taco bought it for $300. Good deal for me, I made $200!
In the spring is when the build really took off. I first purchased and installed OME 881 coils and N91S shocks. took a little longer than expected but was a real fun learning experience.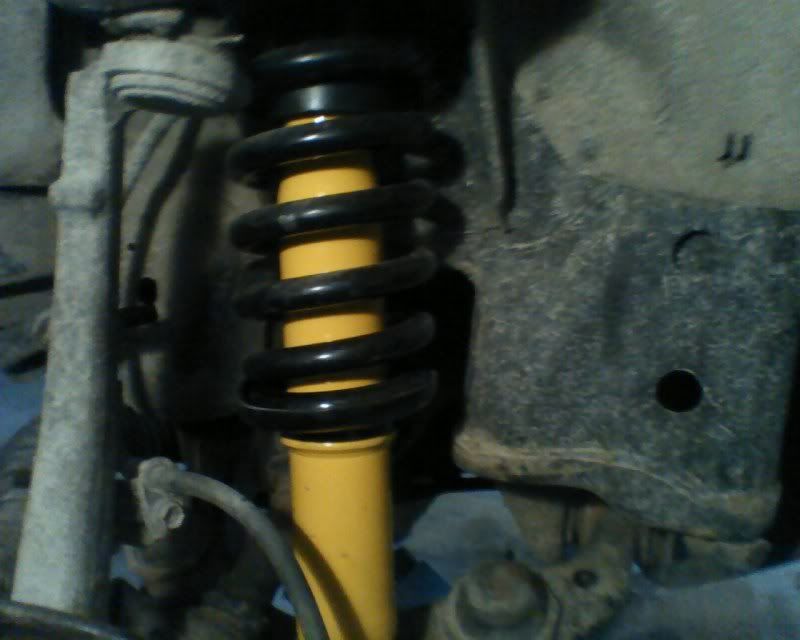 I found some time on a warm day to do the deckplate mod. It definitely helps out the 4cyl engine. This is a hole for a 4" deckplate, which is the largest that can fit on a 4cyl air box.
Next thing was the ARB Bull Bar. This was something I had wanted to get for as long as I have wanted a 1st gen Tacoma. It was worth every penny and also a pain in the ass to install because the front tow hooks were so rusted onto the frame. It gets 2 pictures because I like it so much.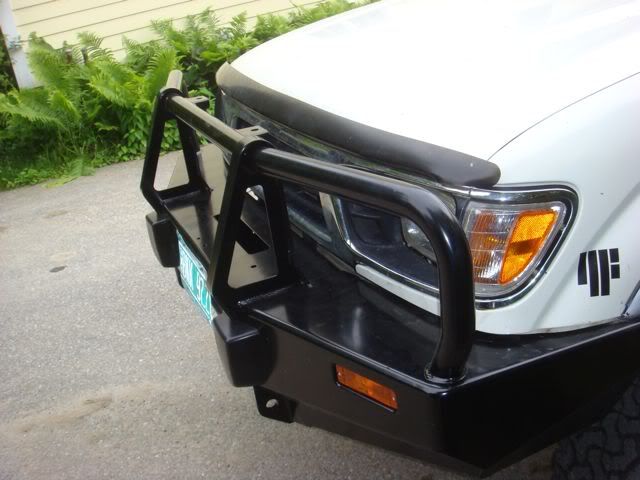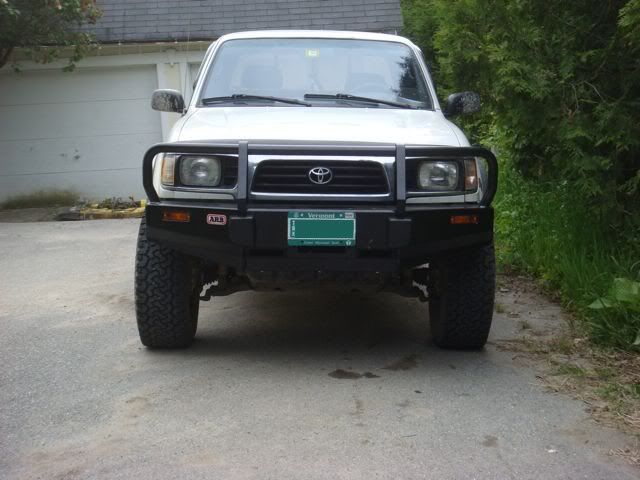 Next I found another fiberglass cap in NH. Even though it was for a Pickup, the bed dimensions are pretty much exactly the same (76.5x60), so it ended up fitting quite nicely.
A friend of mine also built me a rear bumper. I helped, but hes the welder not me (I suck at that
), so i did a lot of the grinding and finish work and he did everything else (aka most of the work). Its not completely finished at this point, but its getting there. He is willing to make one for anyone out there who wants one (he is trying to start a little fab shop called Neu Horizons Off Road) so just PM me for a price. Tire mount optional.
I recently broke a leaf spring hauling a few loads of mulch, so I have upgraded to OME rear suspension. I will have pictures of it up sometime soon. Also recently did the Dif breather extension mod. Very easy. I recommend it to everyone.Toy4life did a great write-up.
Next up is ARB air lockers, or a full power- and drivetrain swap out of a 98-04 TRD tacoma, which ever one is cheaper or more available.
So theres the expedition taco so far. Shes not bad, but she'll need a new frame next year or the year after that..stupid rust. Hope you enjoyed the write-up. Sorry if it was kinda long. Comments/suggestions are much appreciated.