now: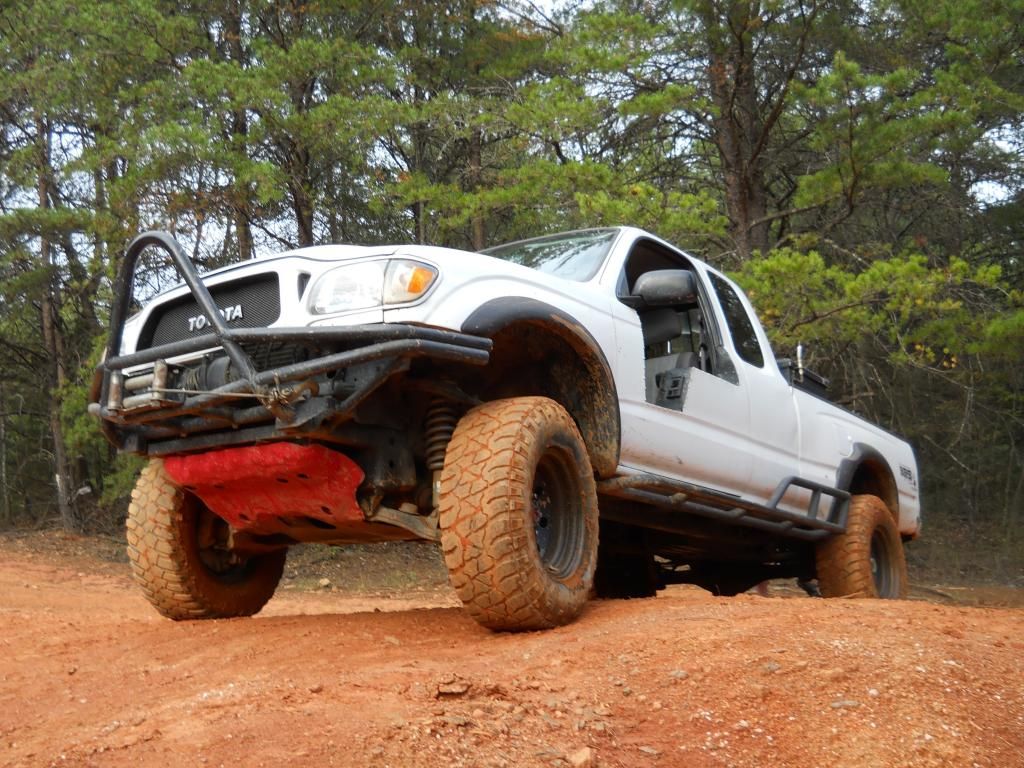 everyone else has one
so why not me
start out with a completely stock (other than the bfg AT ko's, tool box, and 4' firestick anntenna) 1998 toyota 4wd
no pics of it when i bought it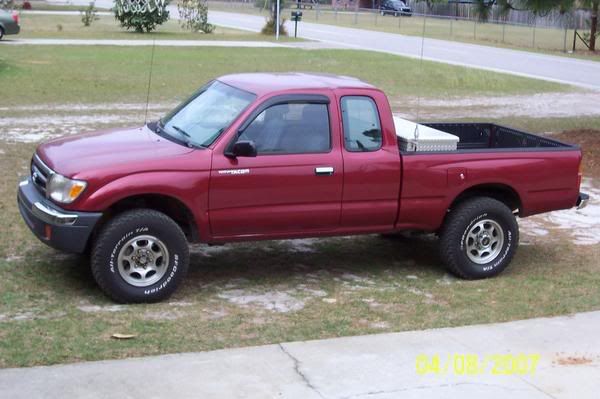 first mod was move the cb from just wedged between the seats to under a new pioneer deh-1900mp cd player and a new whip cb anntenna (cuz i broke the firestik
)
cost 135$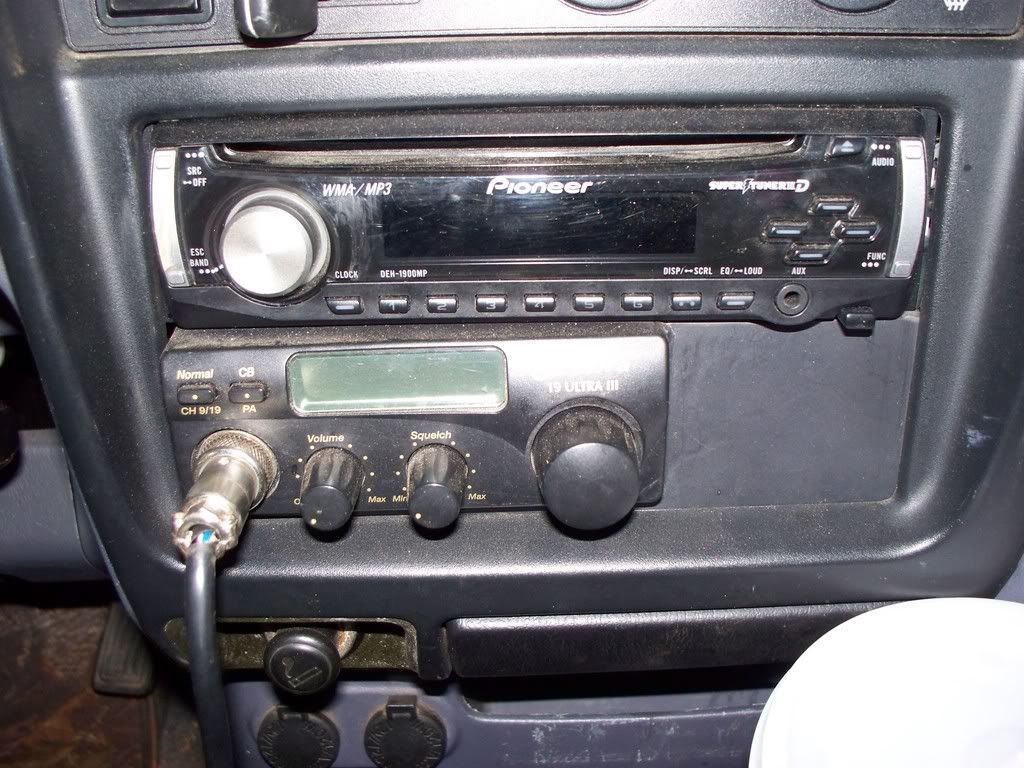 next was a class 2 reciever hitch i got from my mom as a birthday present
it was destroyed on jan 22 09 by a white lincon going under me in my first wreck ever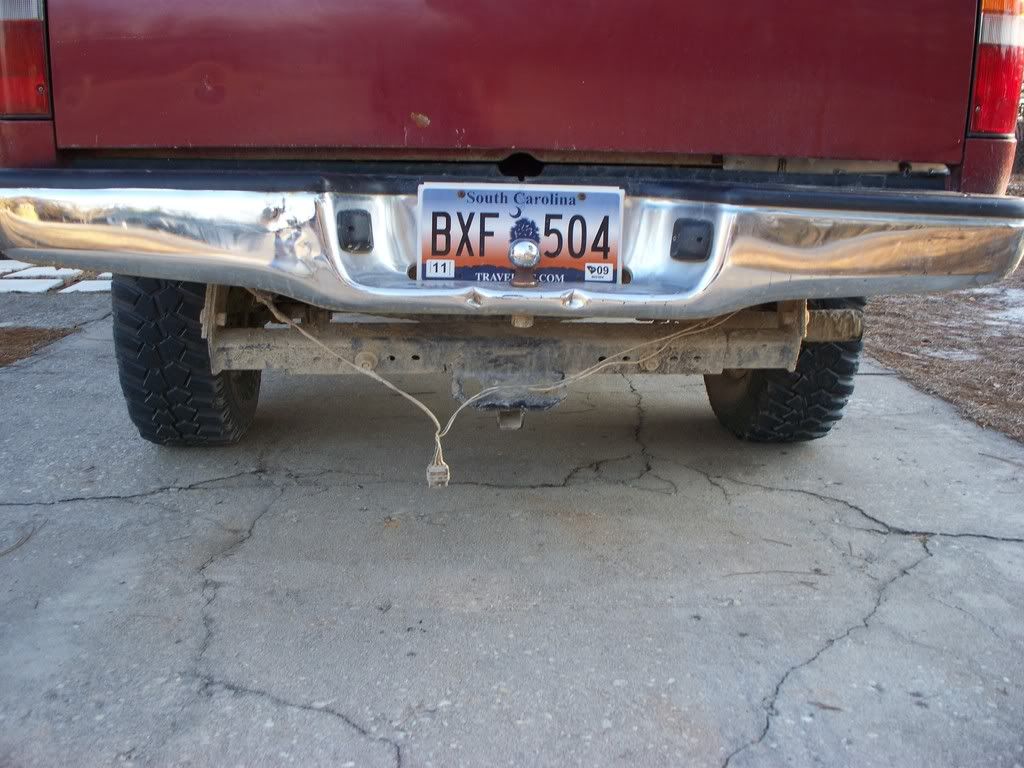 drove it around like that for about 6 months intill i got some new 31x10.50xr15 defenity dakota M/T's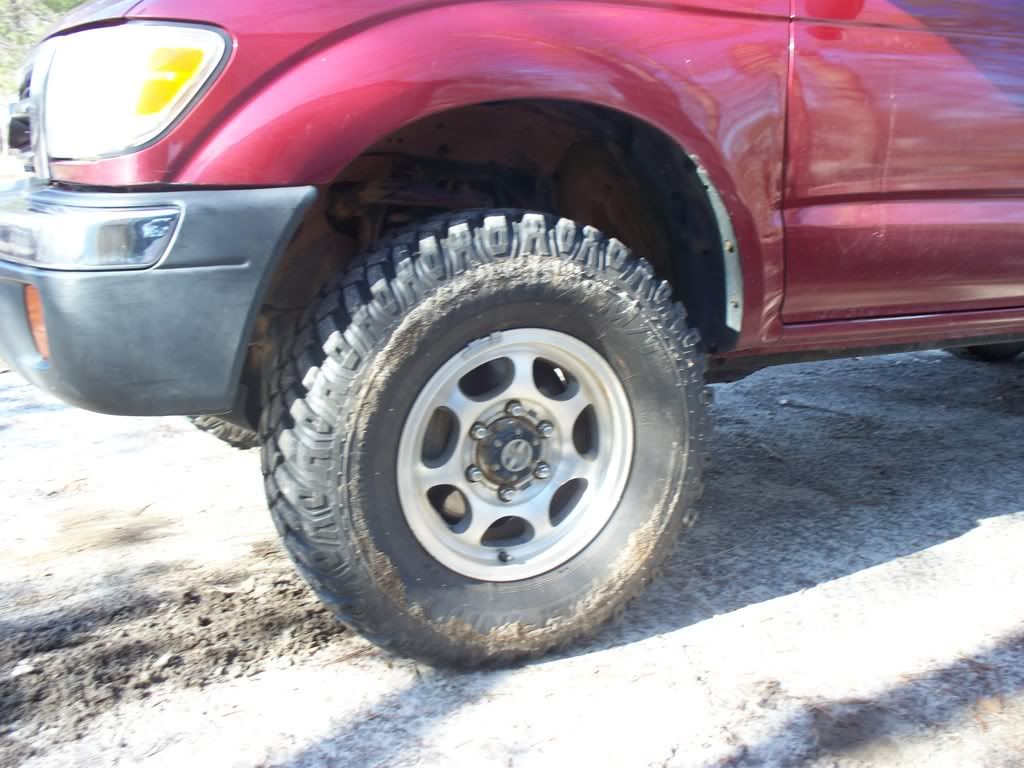 then shortly after that i made a 1/2 inch body lift (front) and 3/8 inch body lift (rear) to help get the tailgate off the rear bumper and to level out the body lines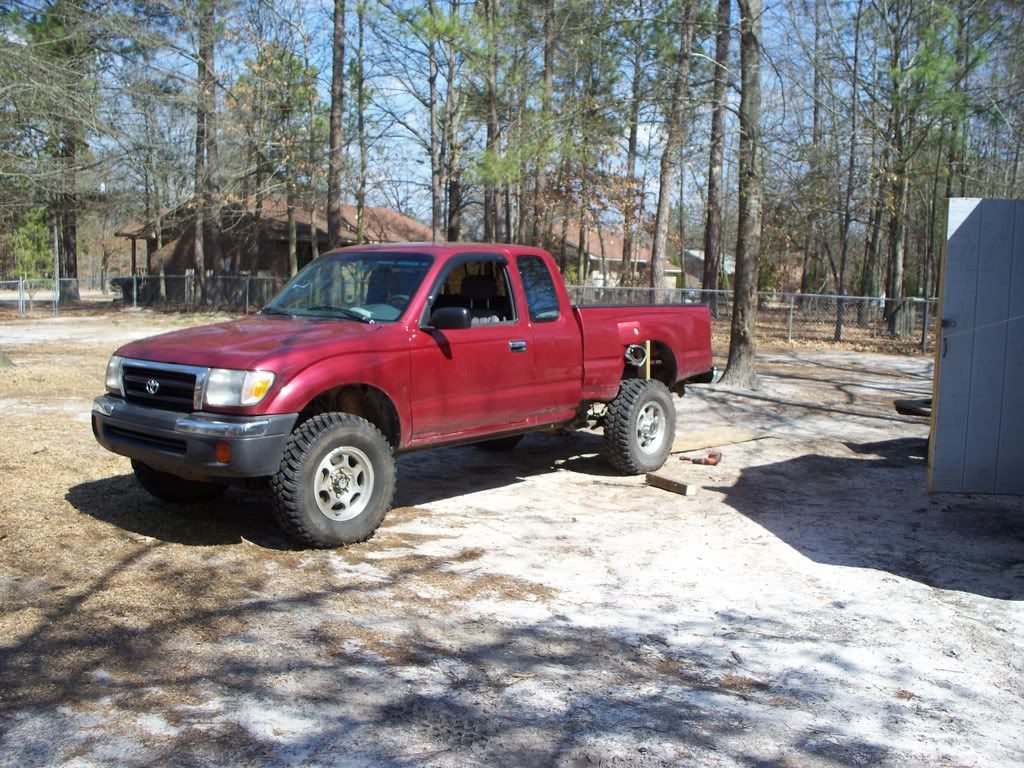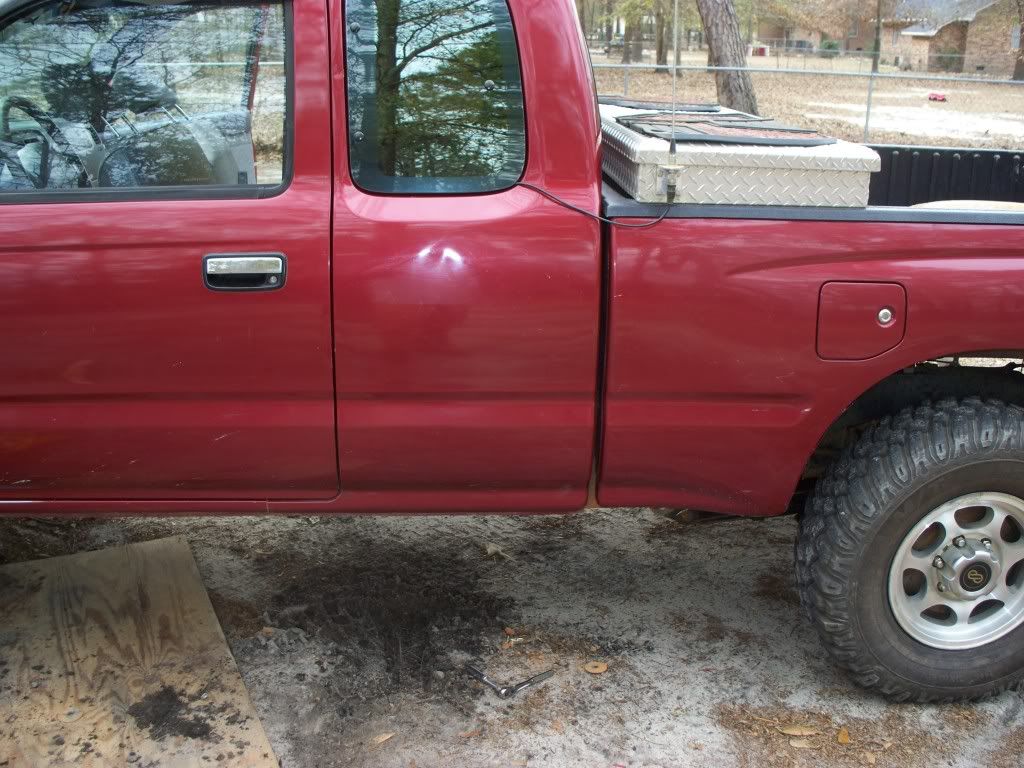 wreck 1/22/09 3 car collision lincoln ls rear ended me and pushed me into a 89 ford mustang
(sorry no pics)
had a custom black SR5 decal made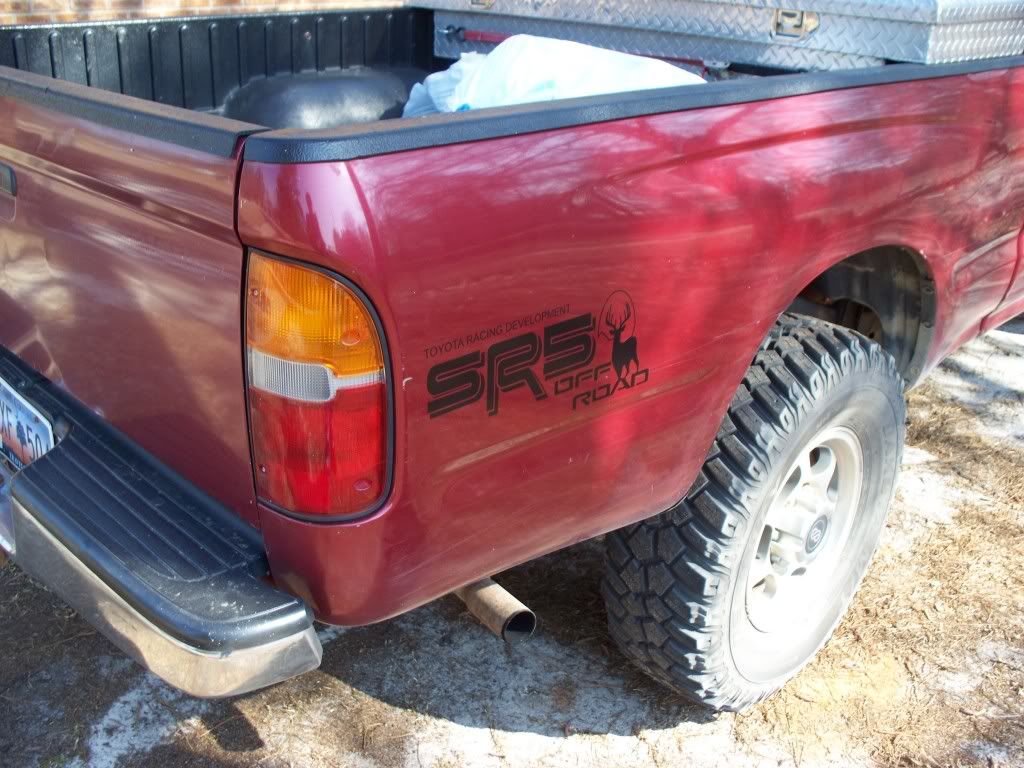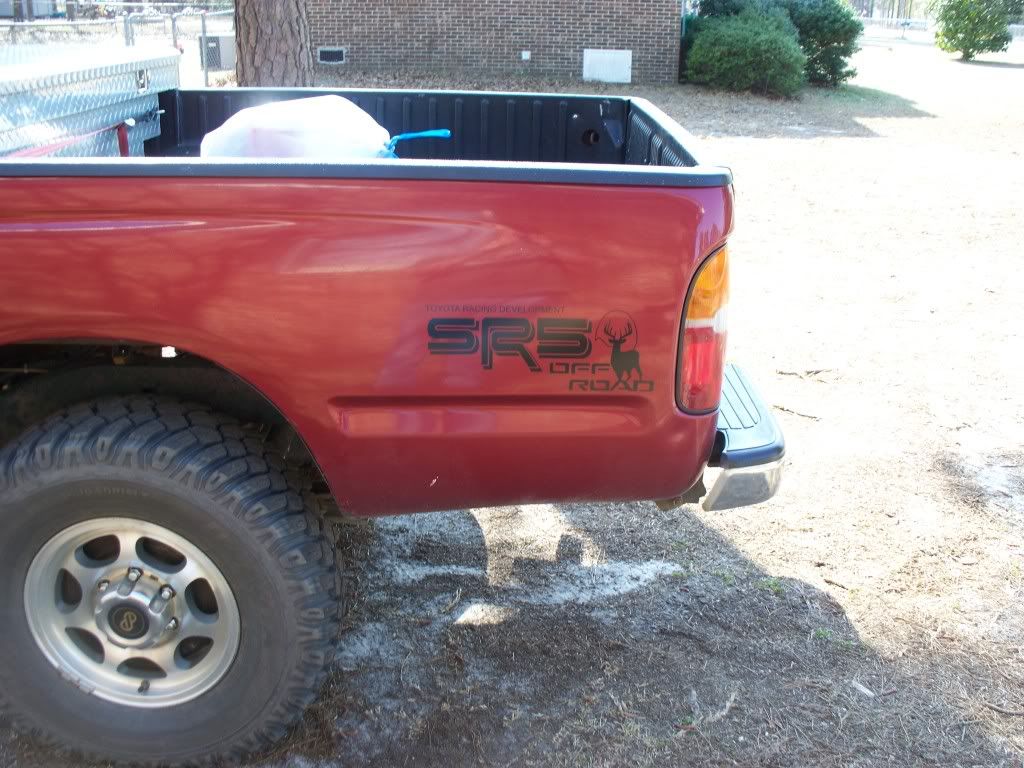 then bought wheelers type b black powercoated rims (used) cost $150 from tigerfan00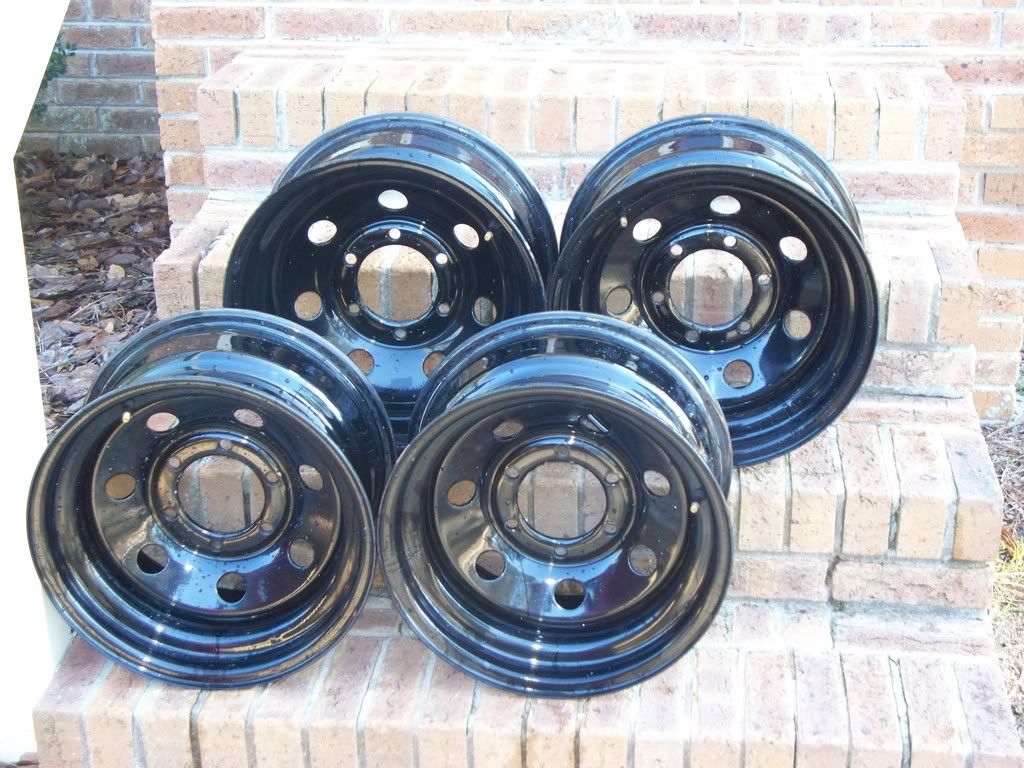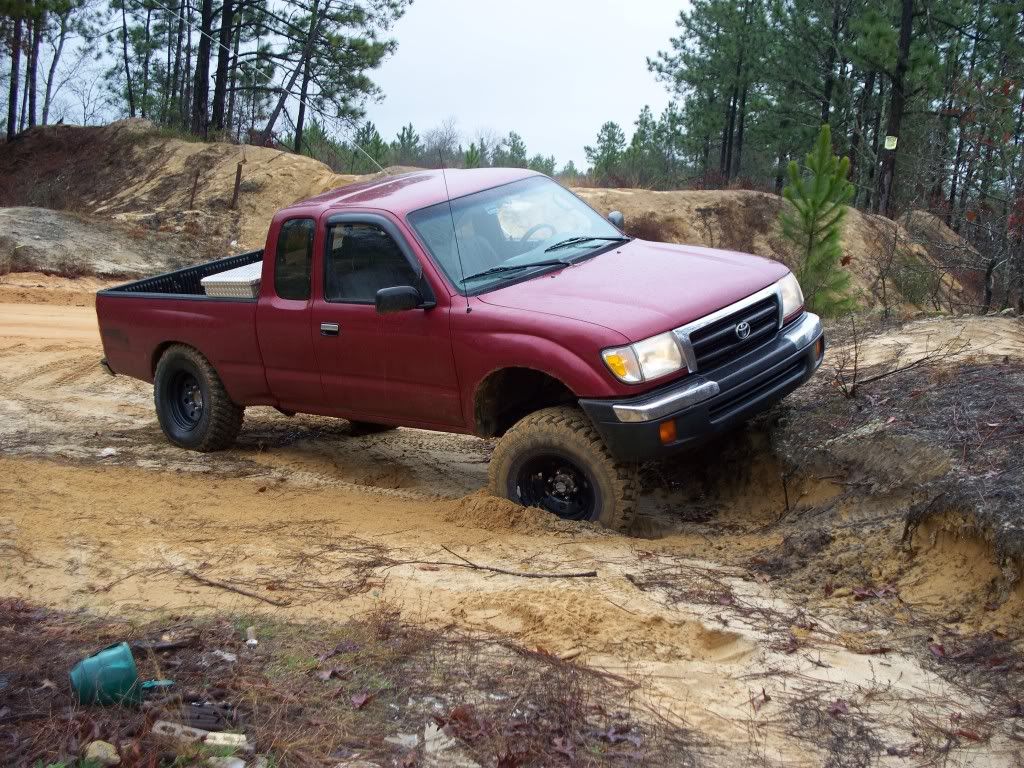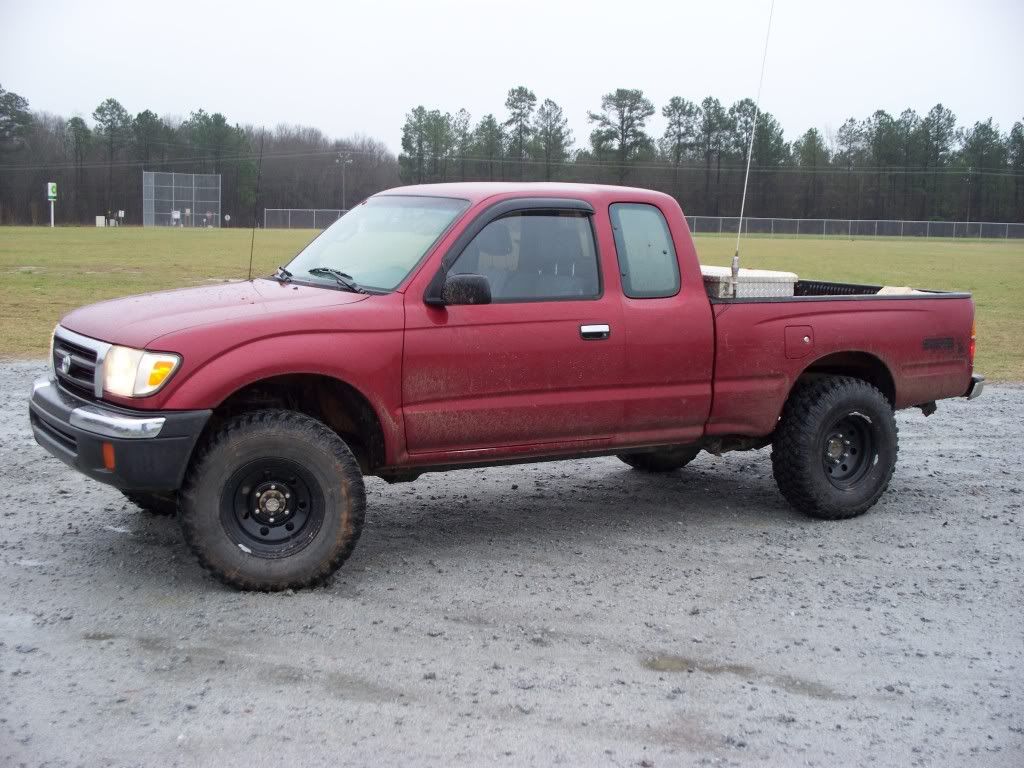 cont. tomarrow
.
.
.
.
.
.
.
.
ummm what was next??
oh yea deck plate and rear dif breather mod and valve cover gasket replacement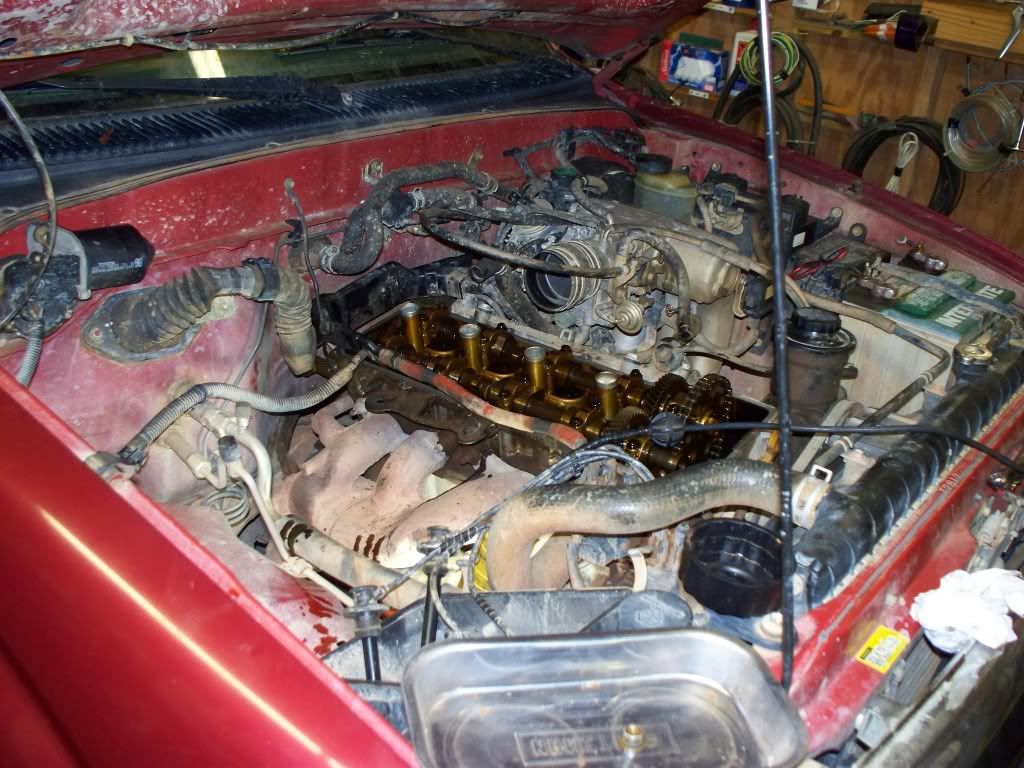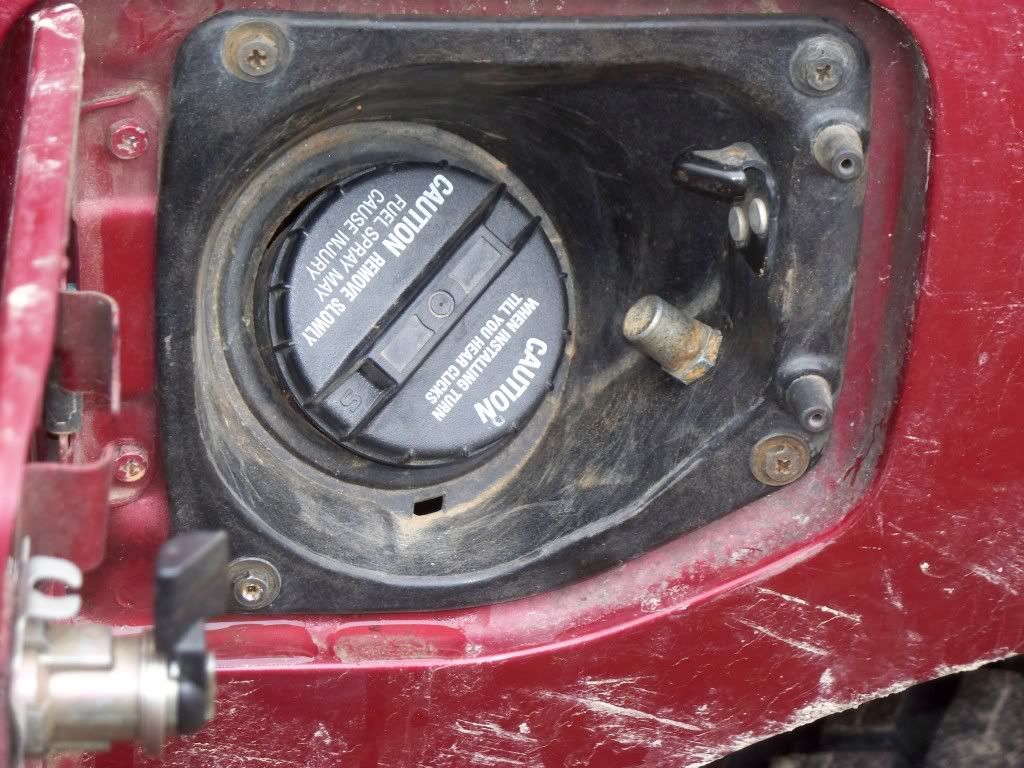 then a warn transformer brushgaurd (kinda wish i got a arb instead)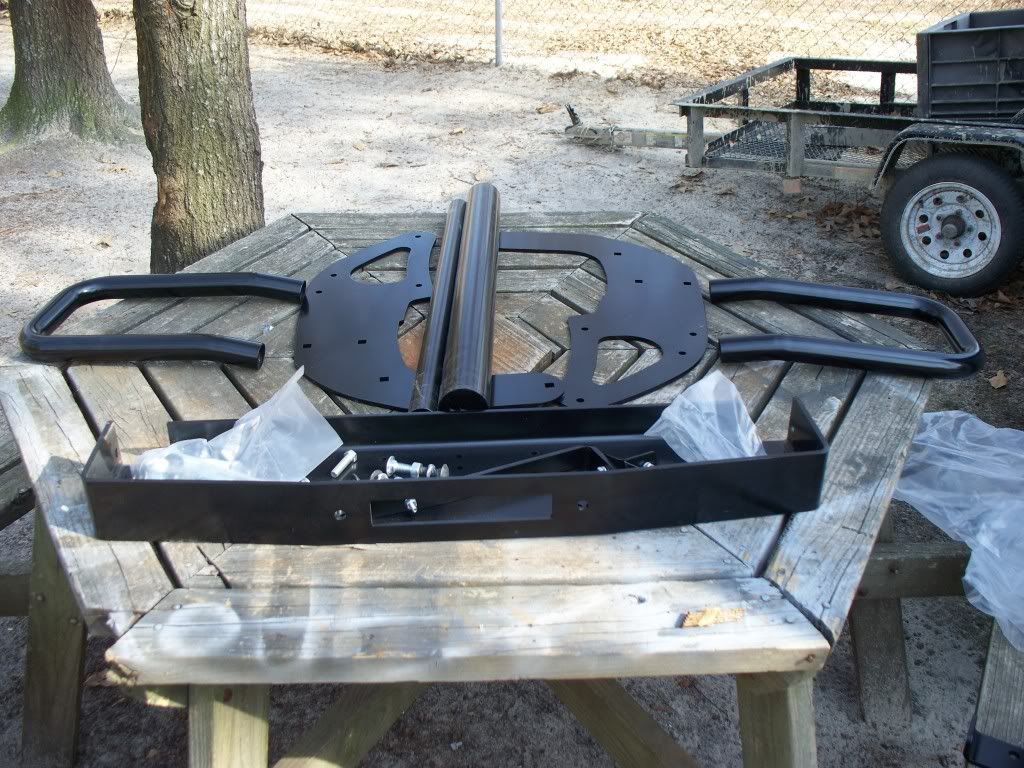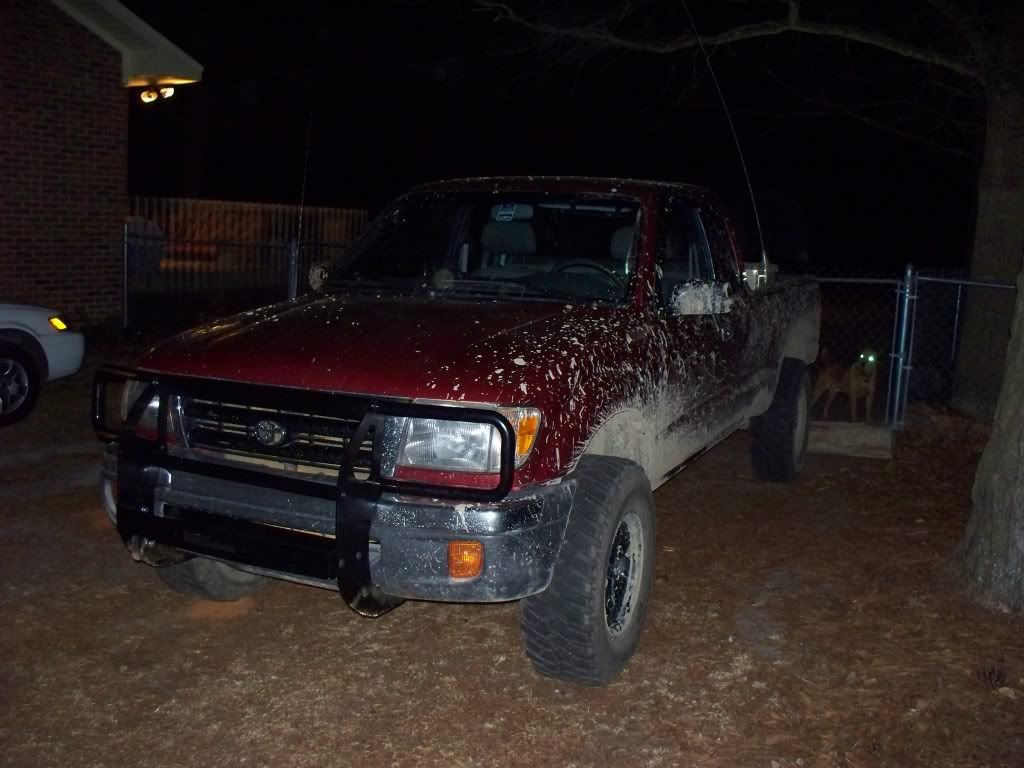 the next day i skiped school and bought some cheapo 25$ lights for it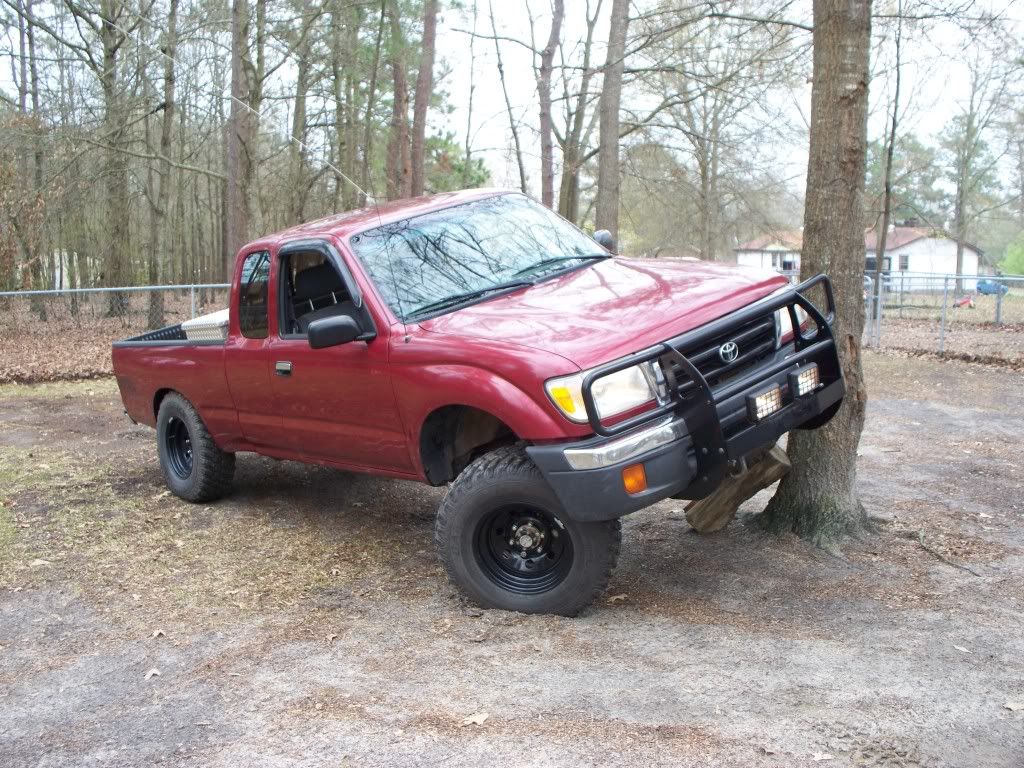 black taillight mod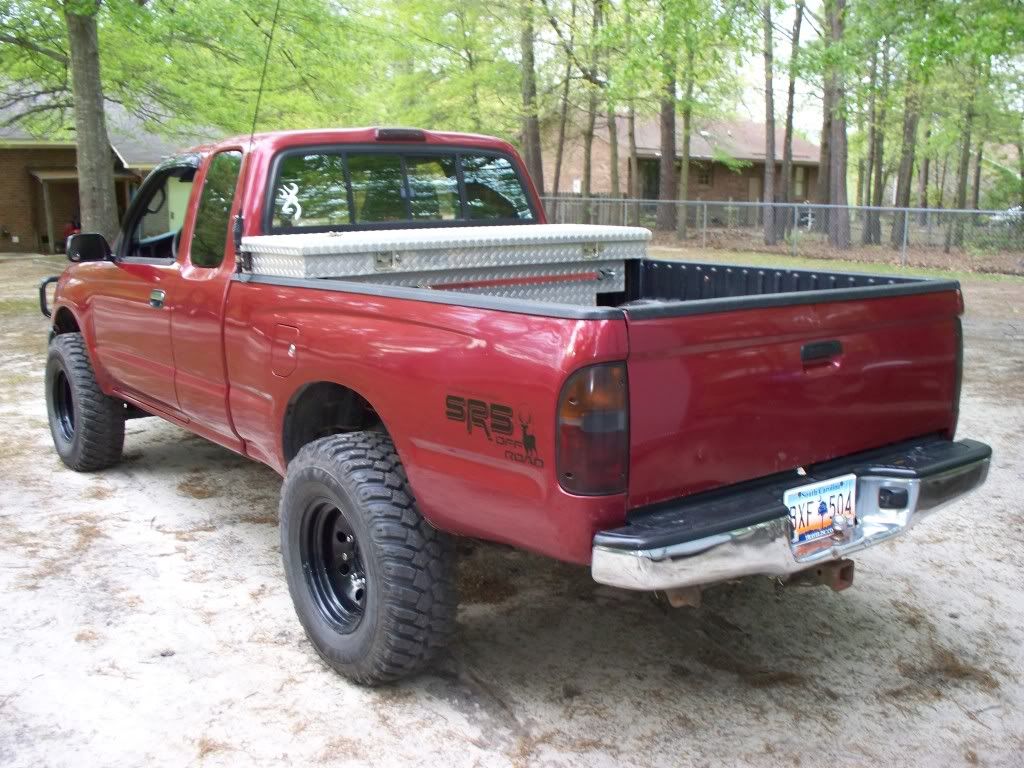 ruined the cheapo 25$ lights doing this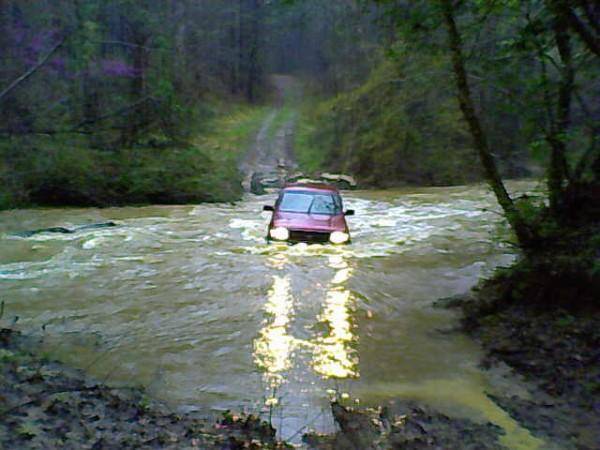 had to drain out all the water and rewire the lights so they will work again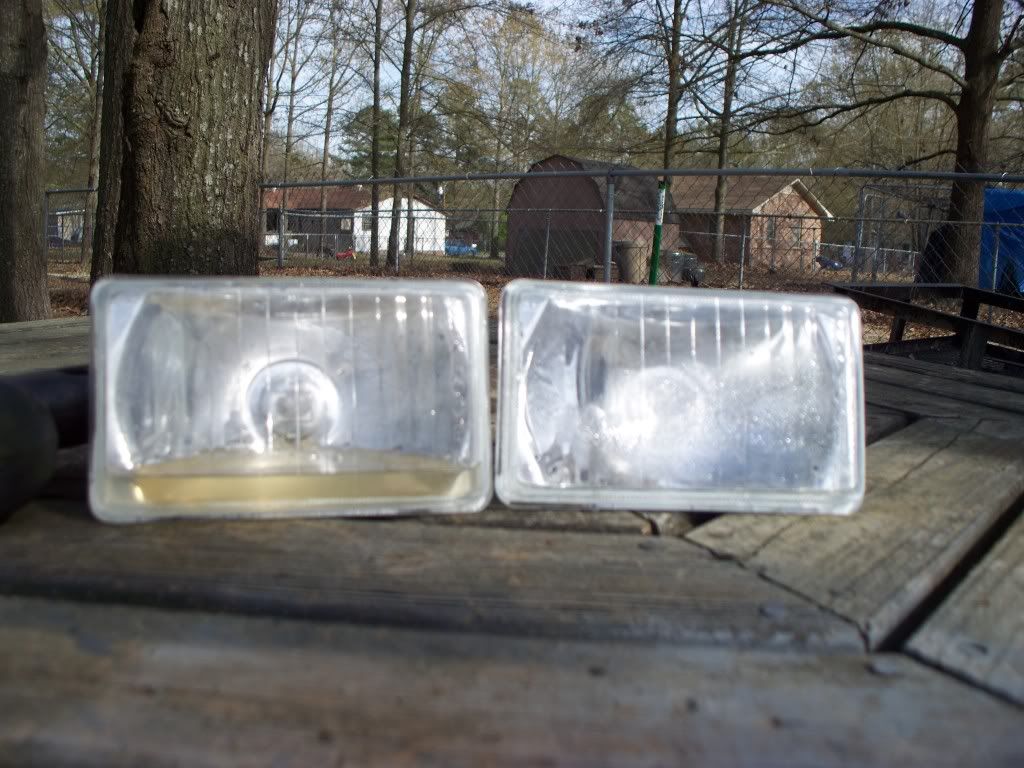 then i got a package from automatcentral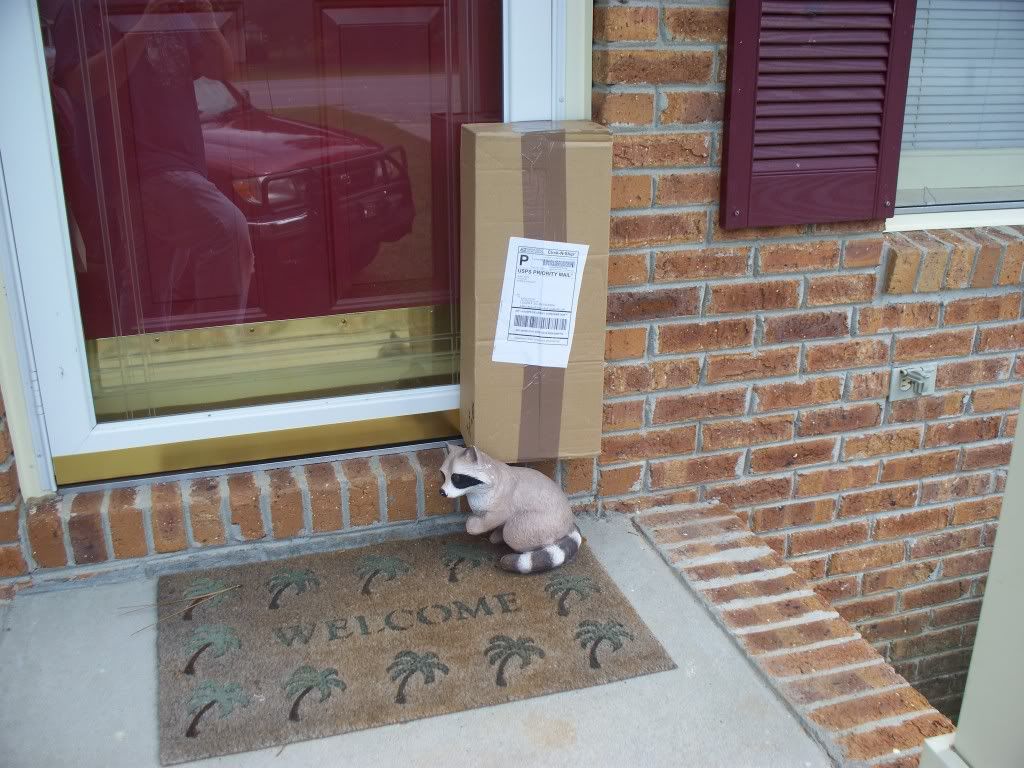 55 watt lights, sweet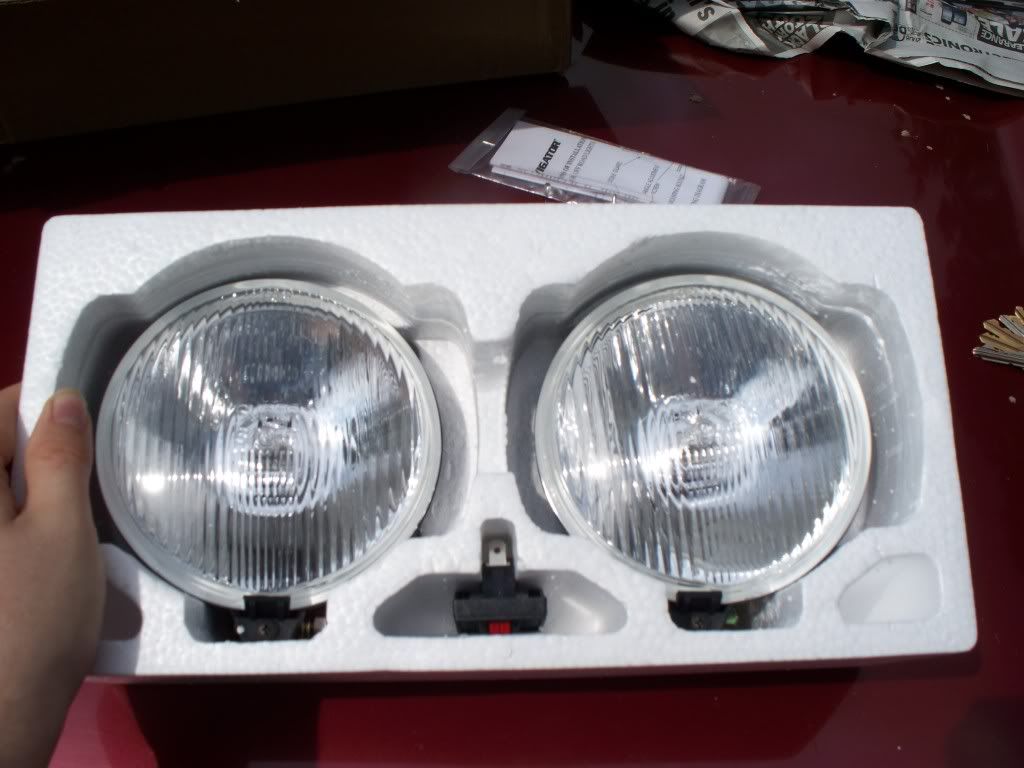 installed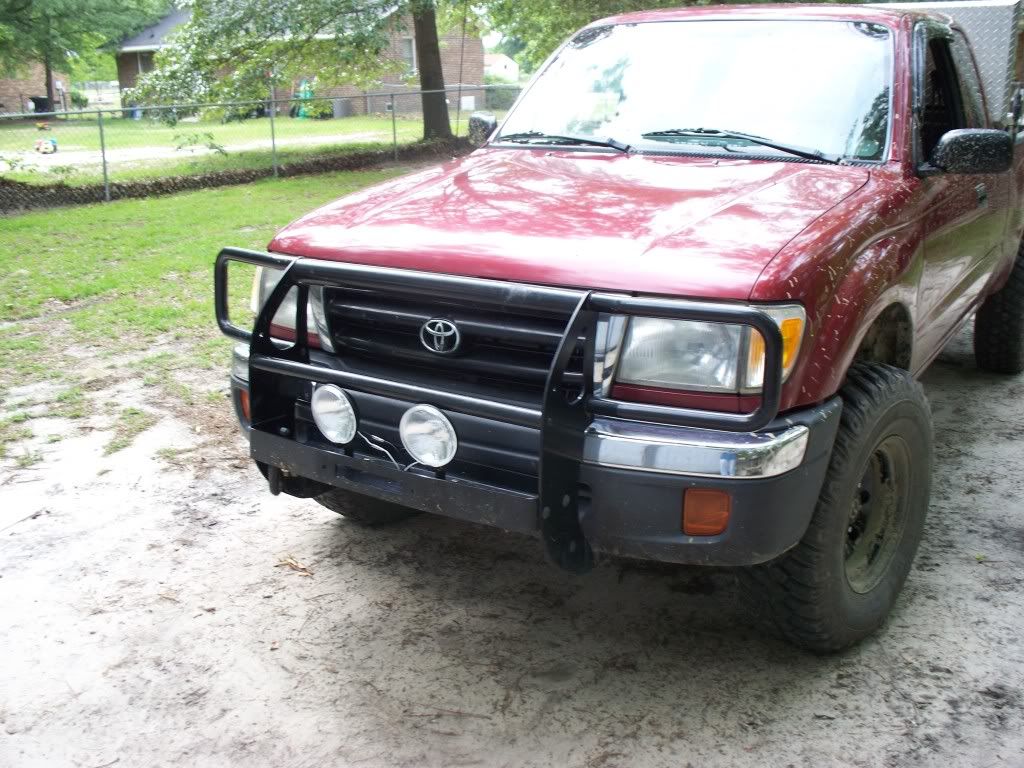 went out and bought 9 cans of black spray paint and scraped the crap off from my frame and painted the frame, wheel wells, rear axle, and front skid plate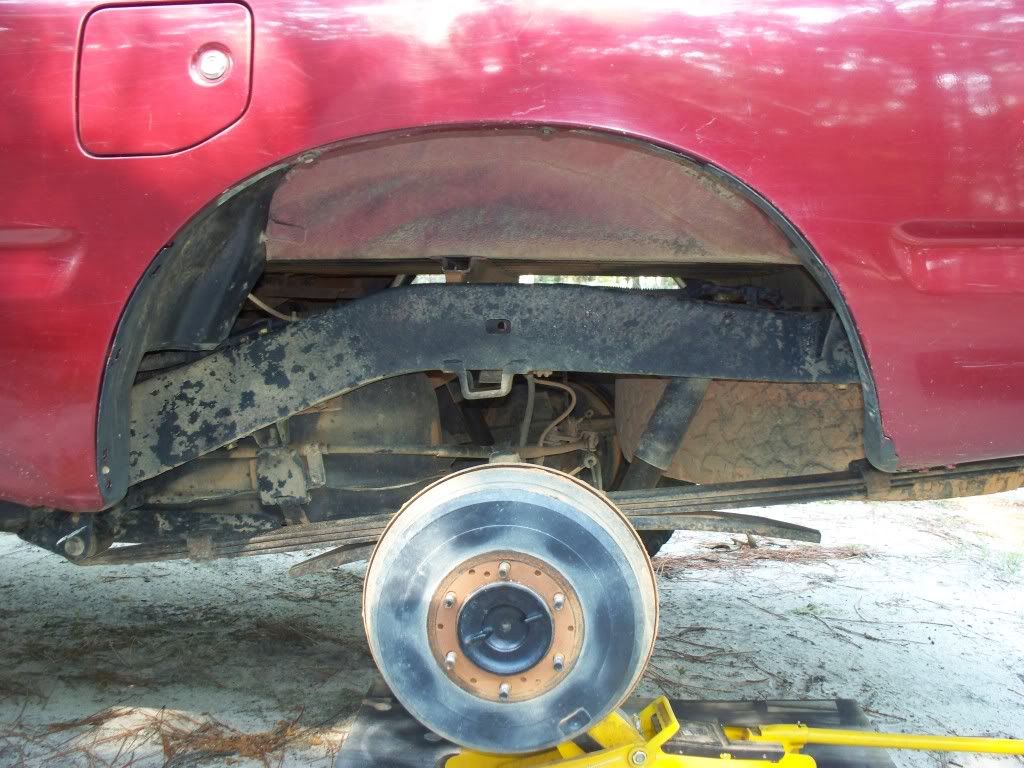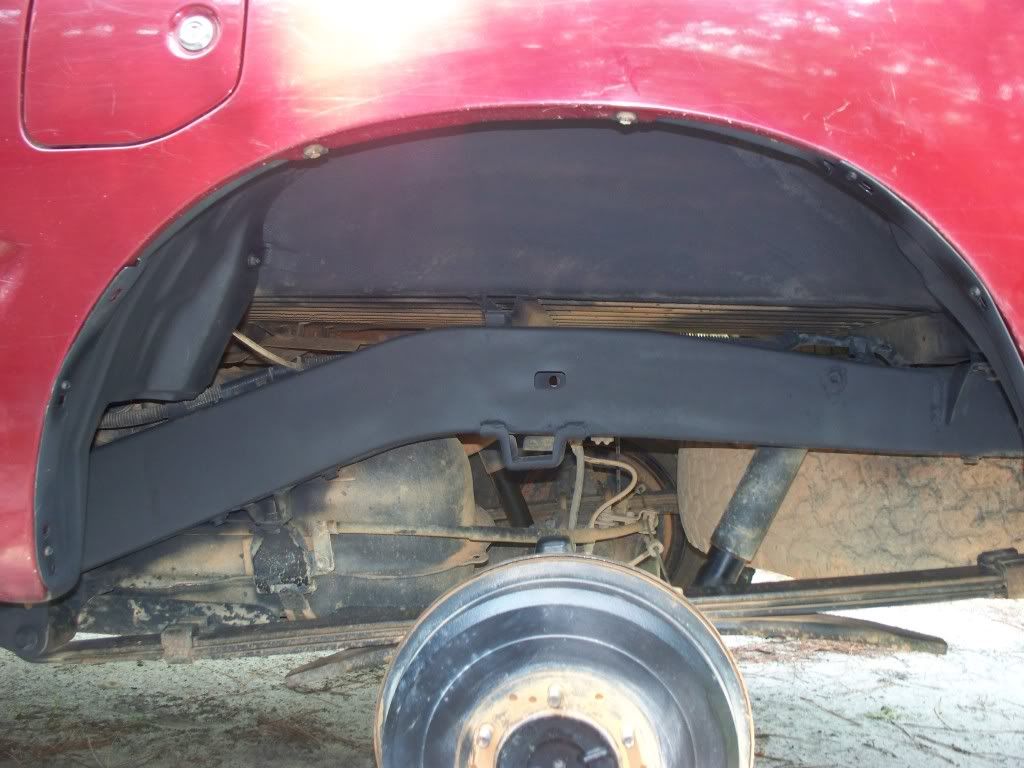 and what paint i had left over i did the BHLM (yes on a 98) and blacked out my corner lamps to mach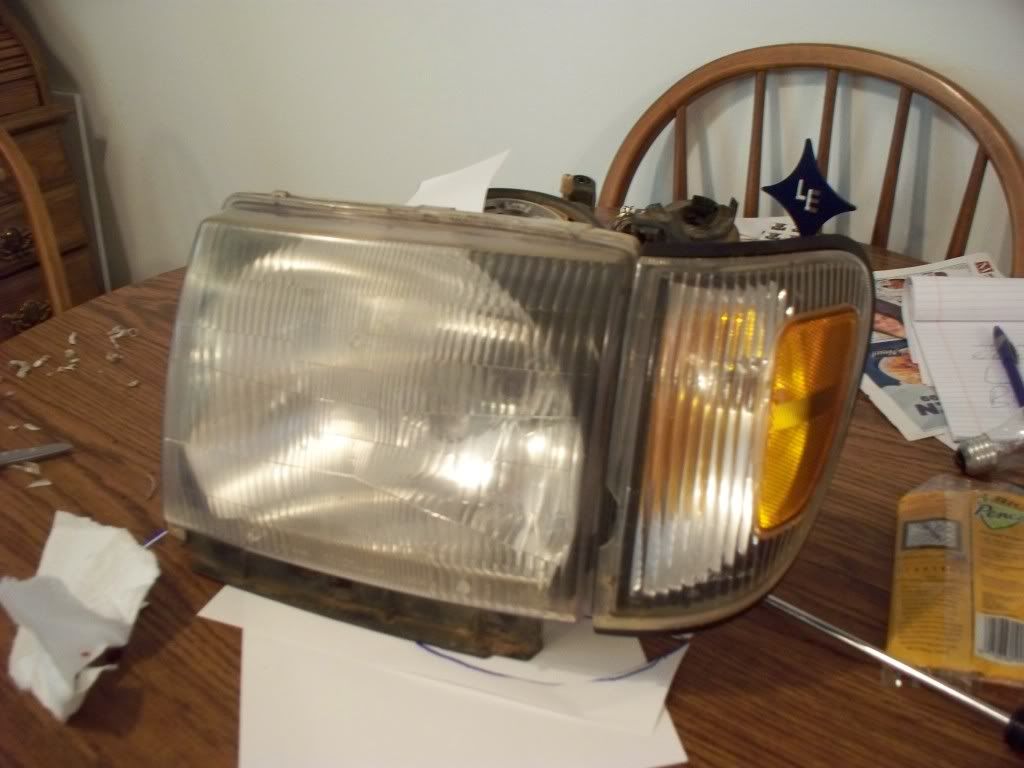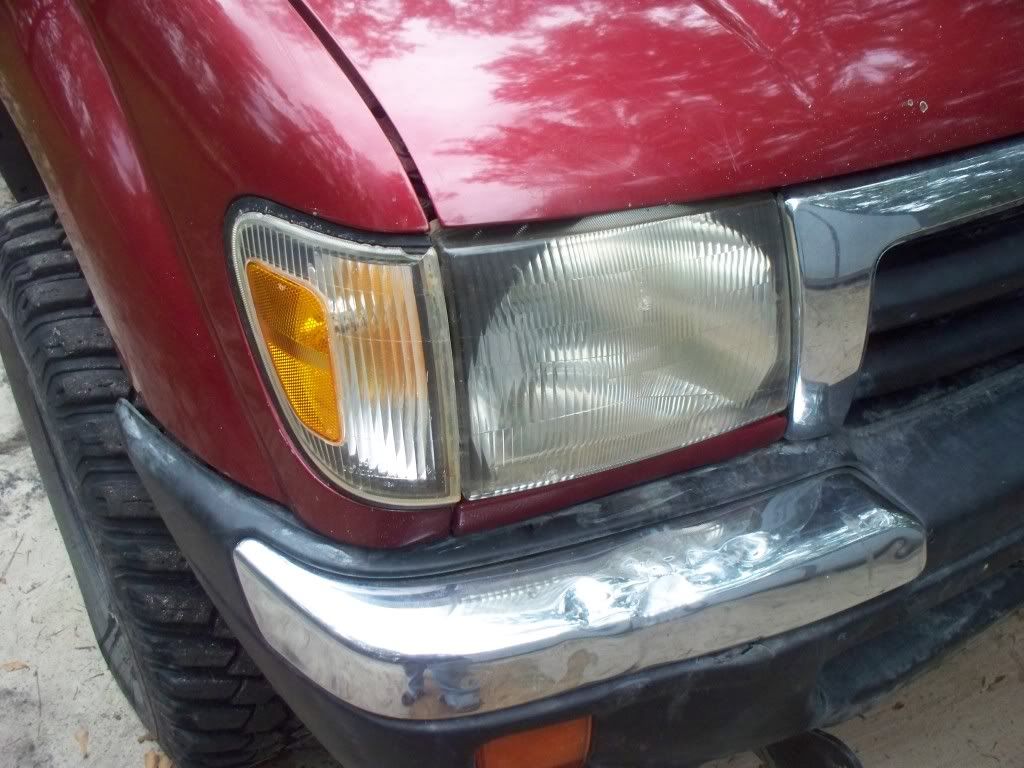 (not shure if i like the BHLM yet i might take it back appart and sand the black off)
painted the front toyota symbol completely red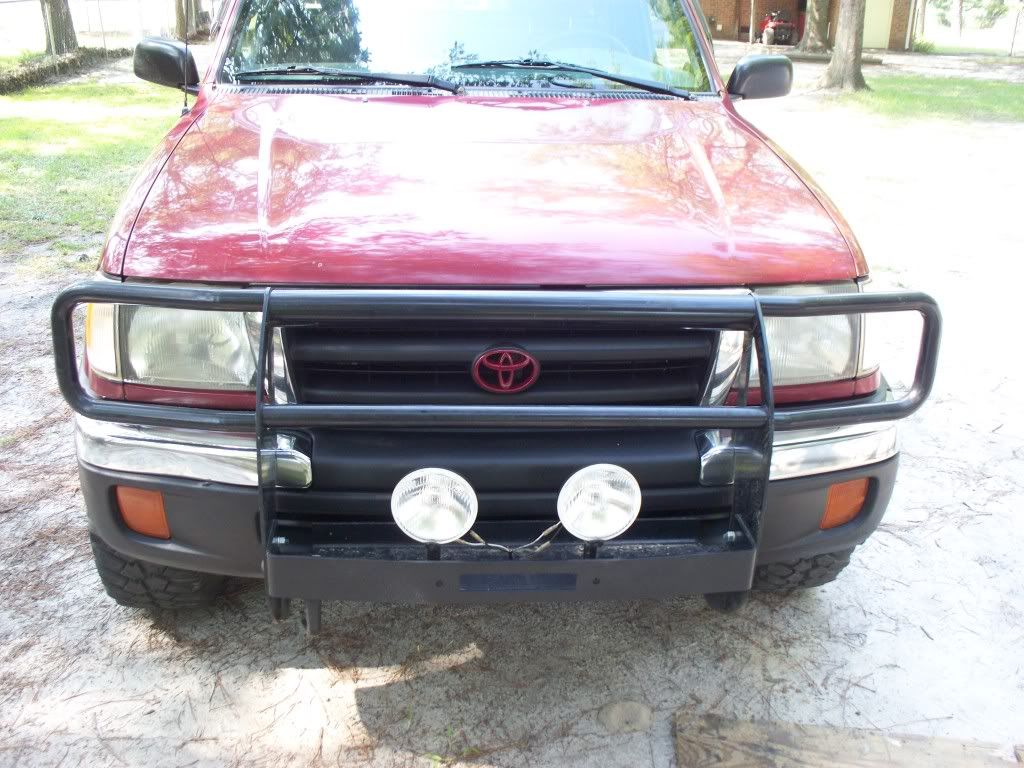 didnt really like it like that so i went red and chrome (much better IMO)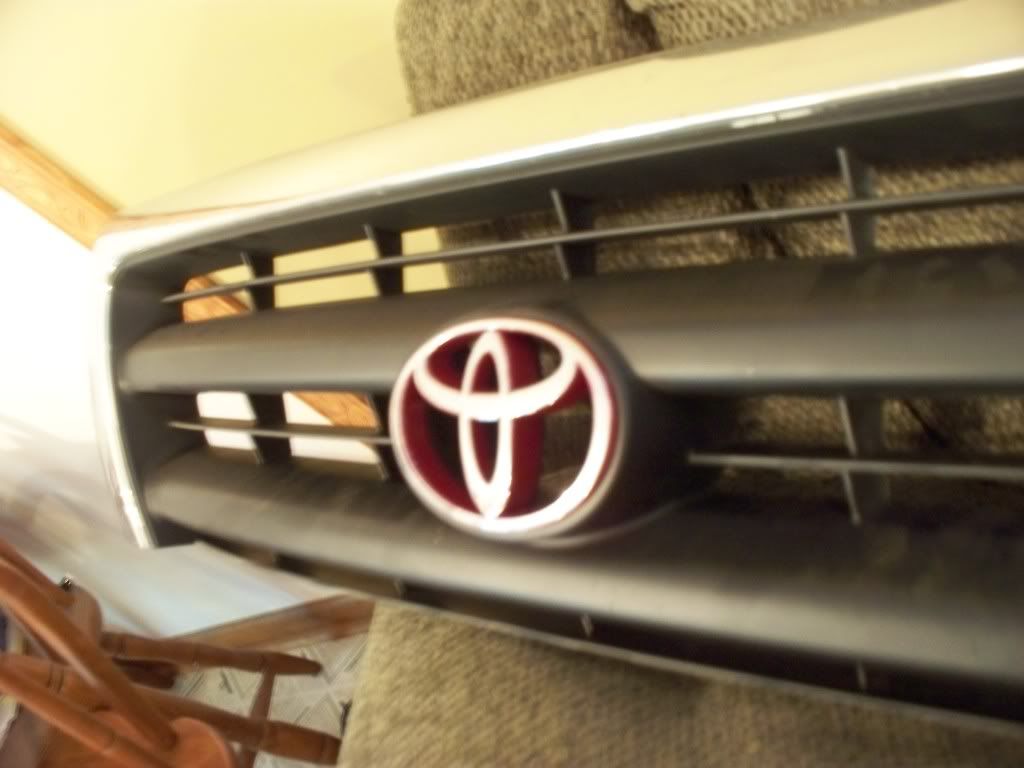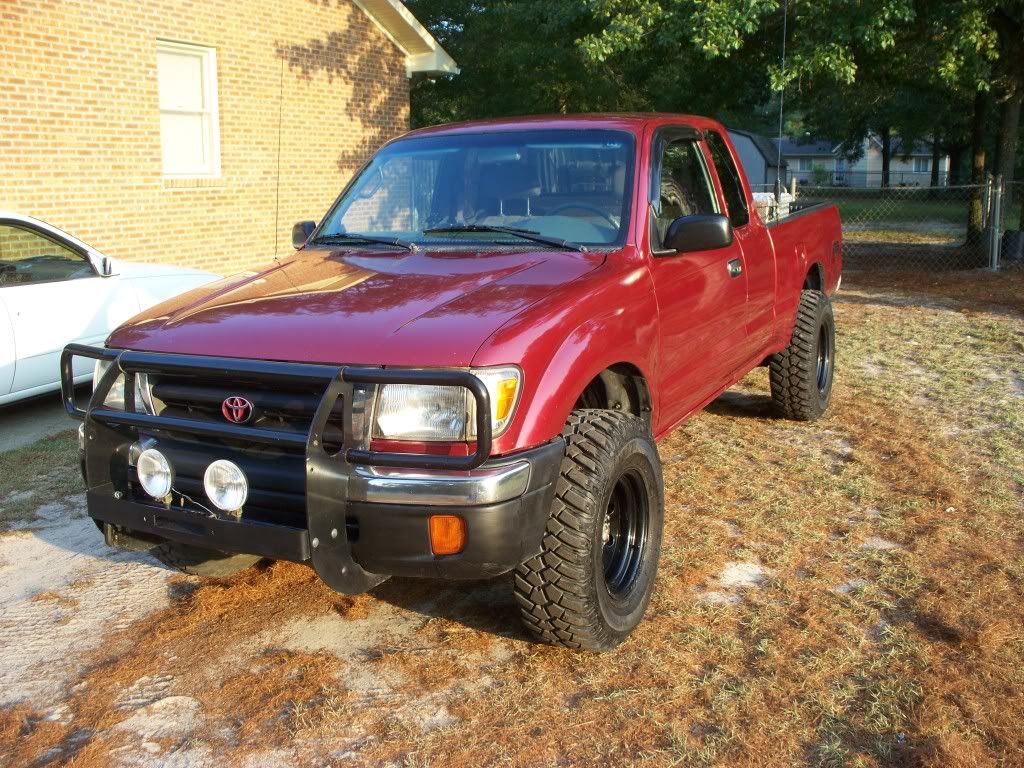 ***wreck #2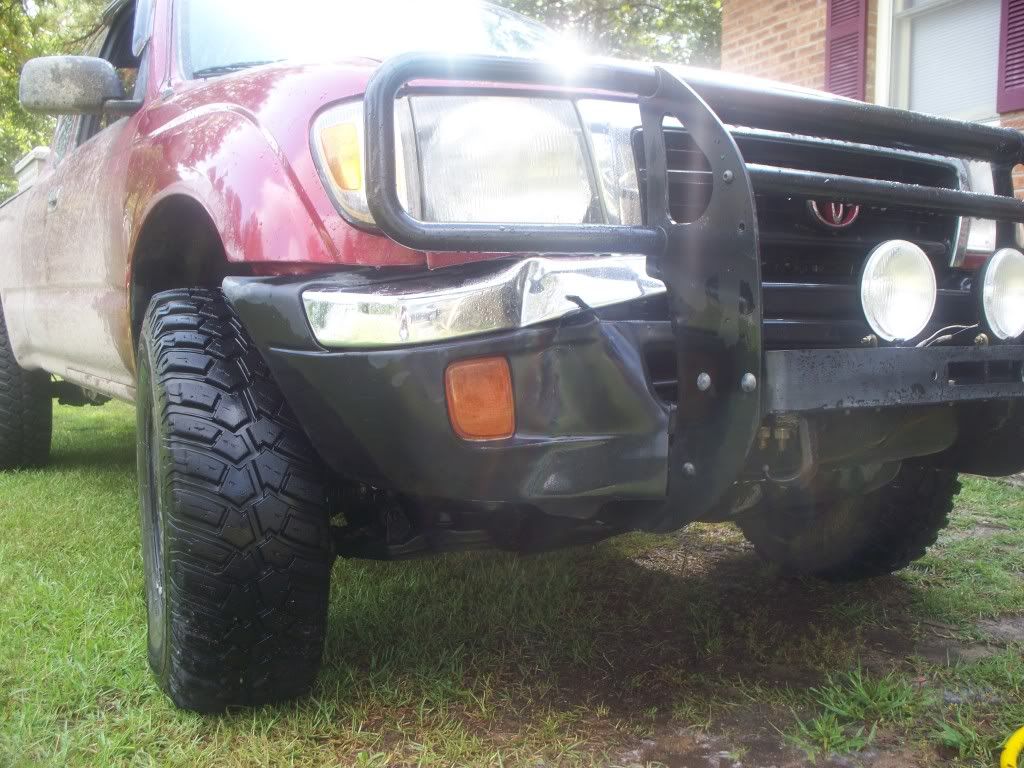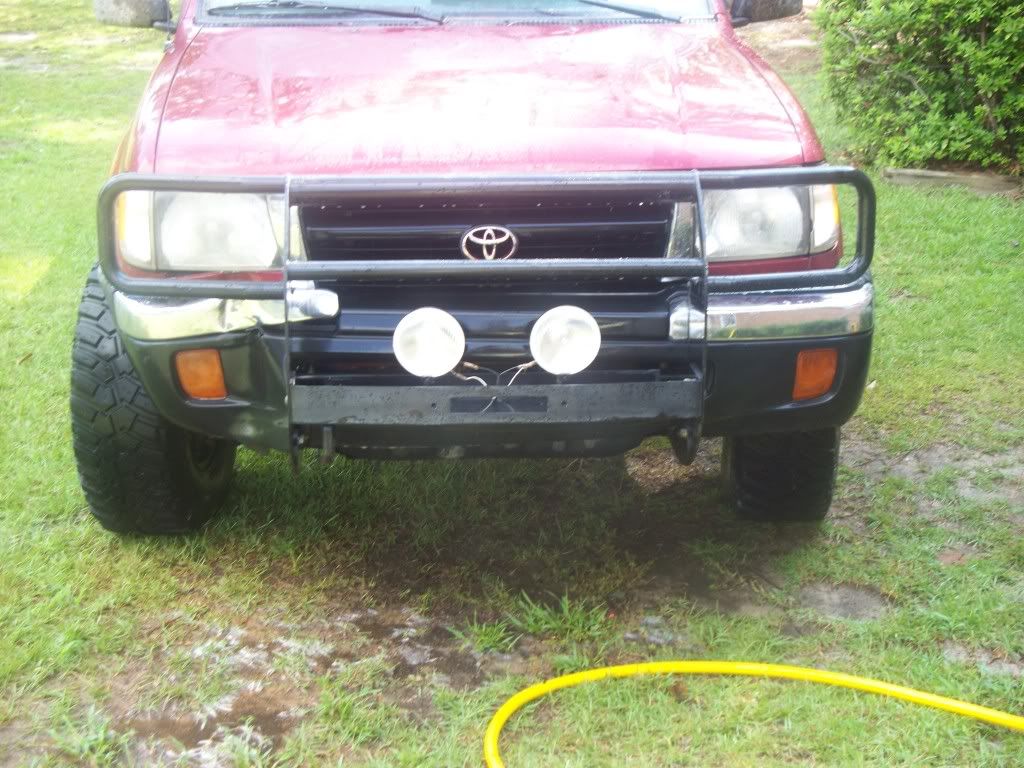 easy fix for me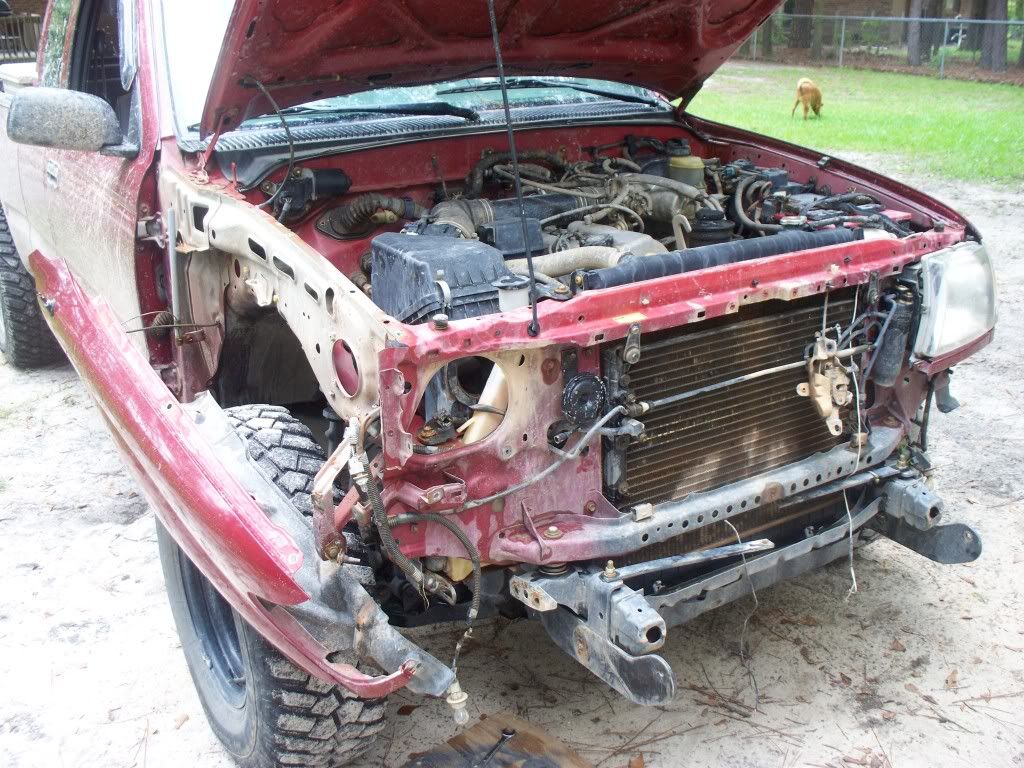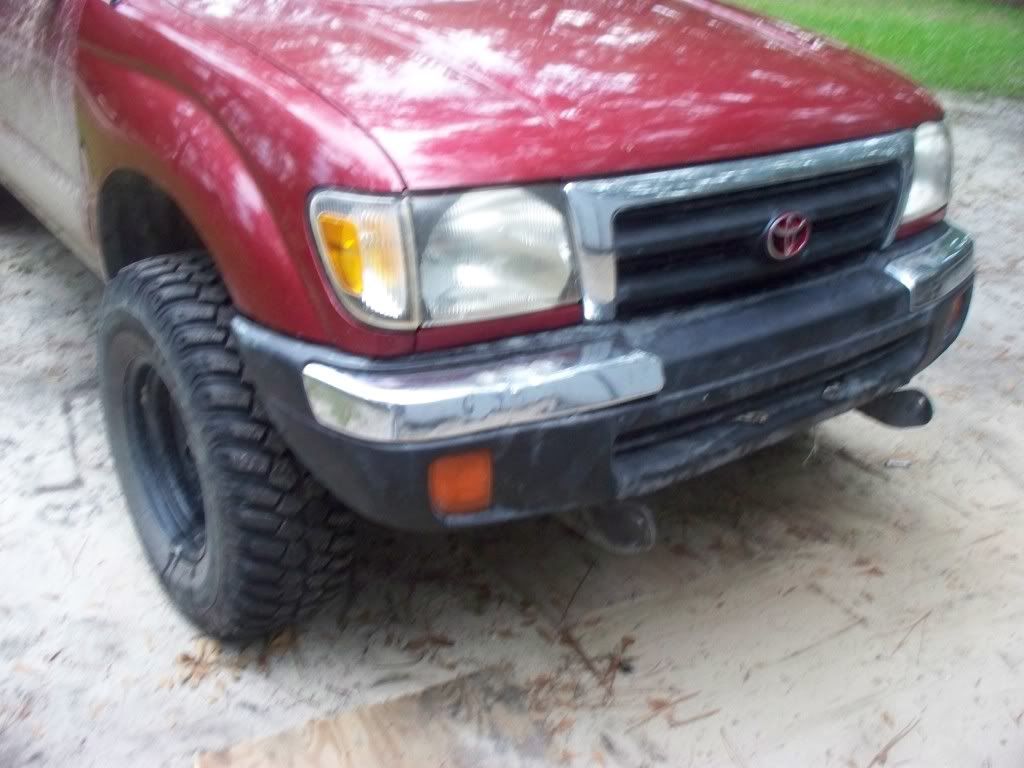 while i had the bumper off i decided to "trim" it up a lil for more ground clearence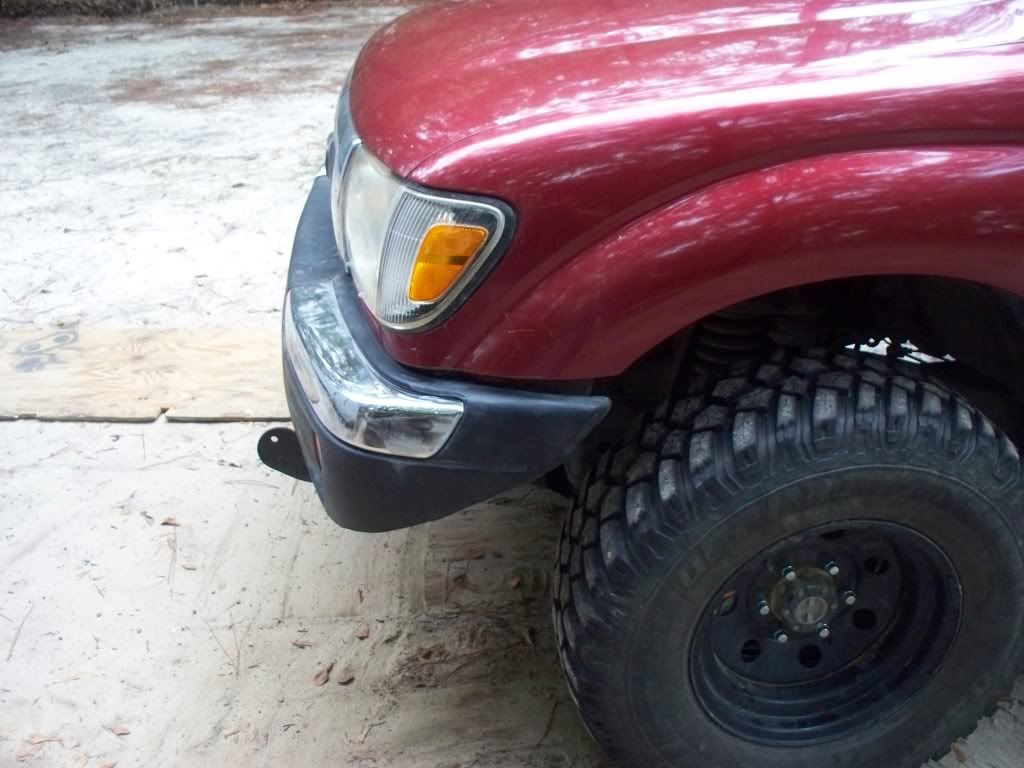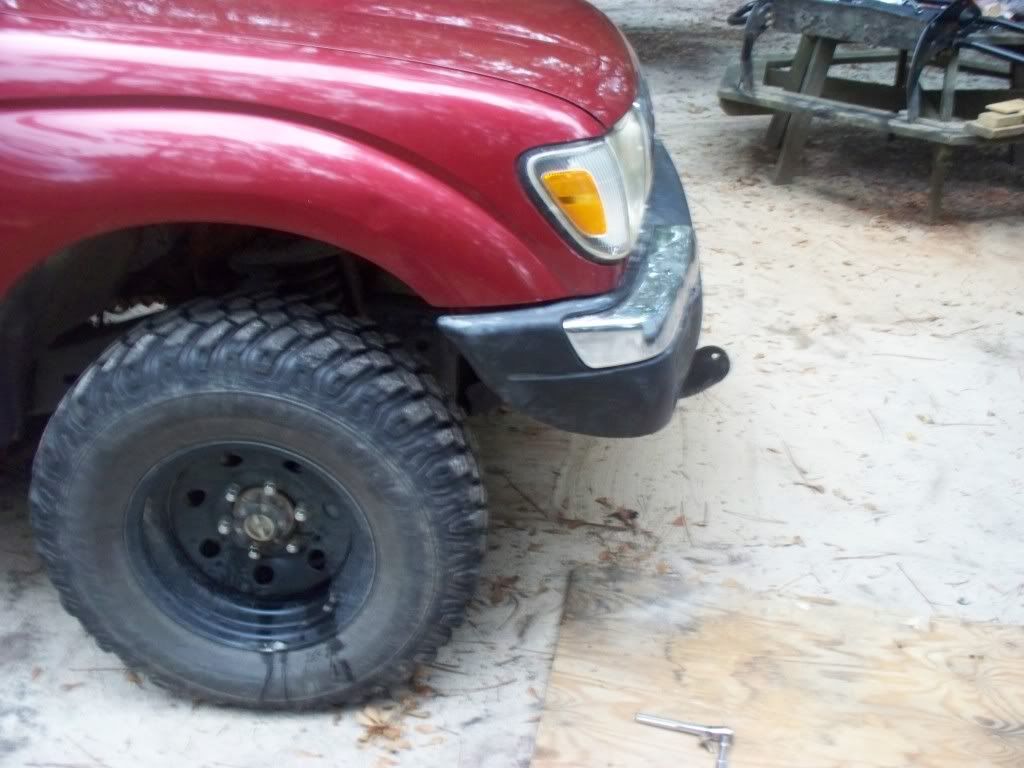 and thats it for now
will add more when i add more mods to her
.
..
.
.
.
.
notice somthing new???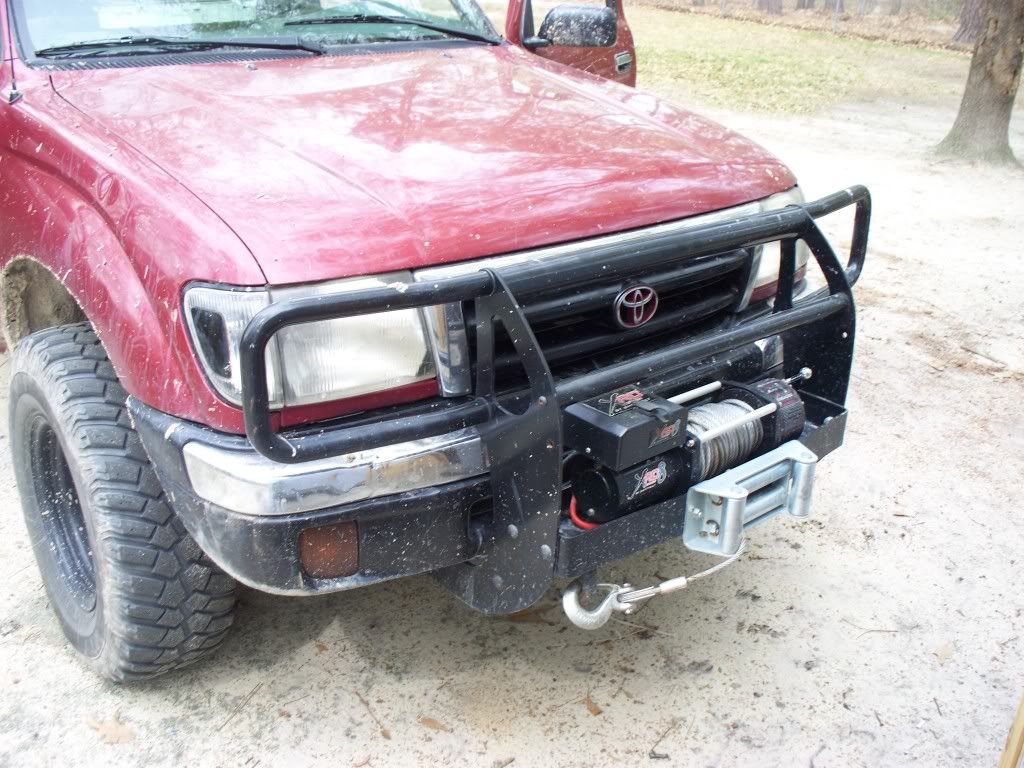 you can also see i blacked out the amber lendses on my corner lamps and tinted my turn signals
audio upgrade:
from this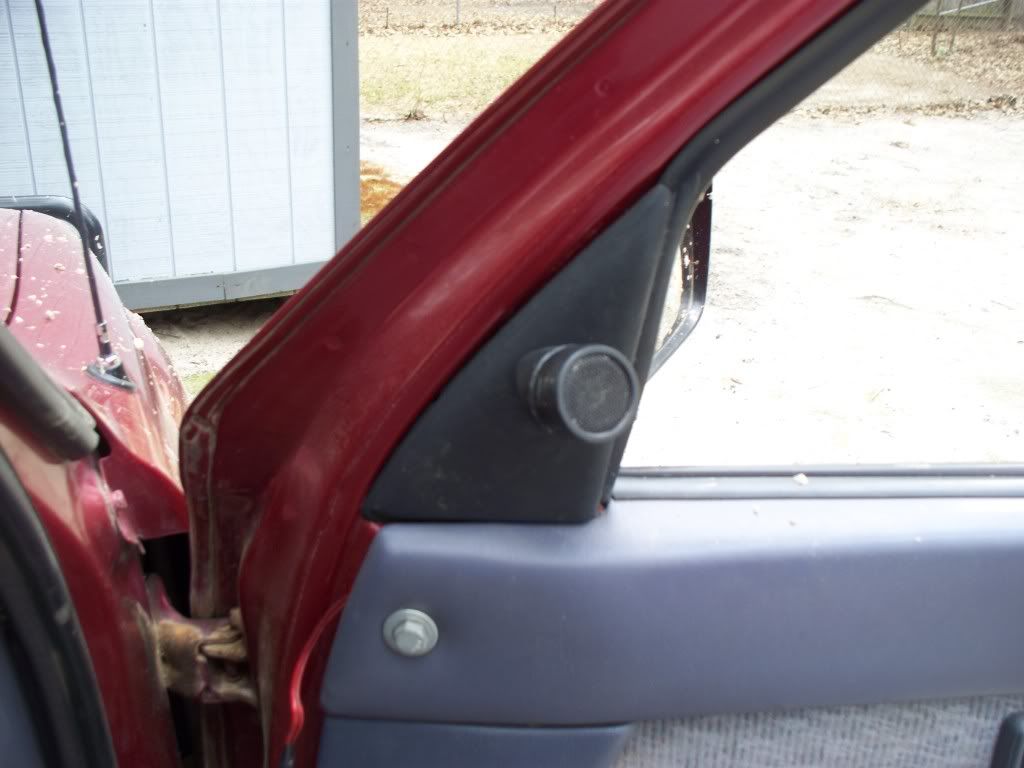 to this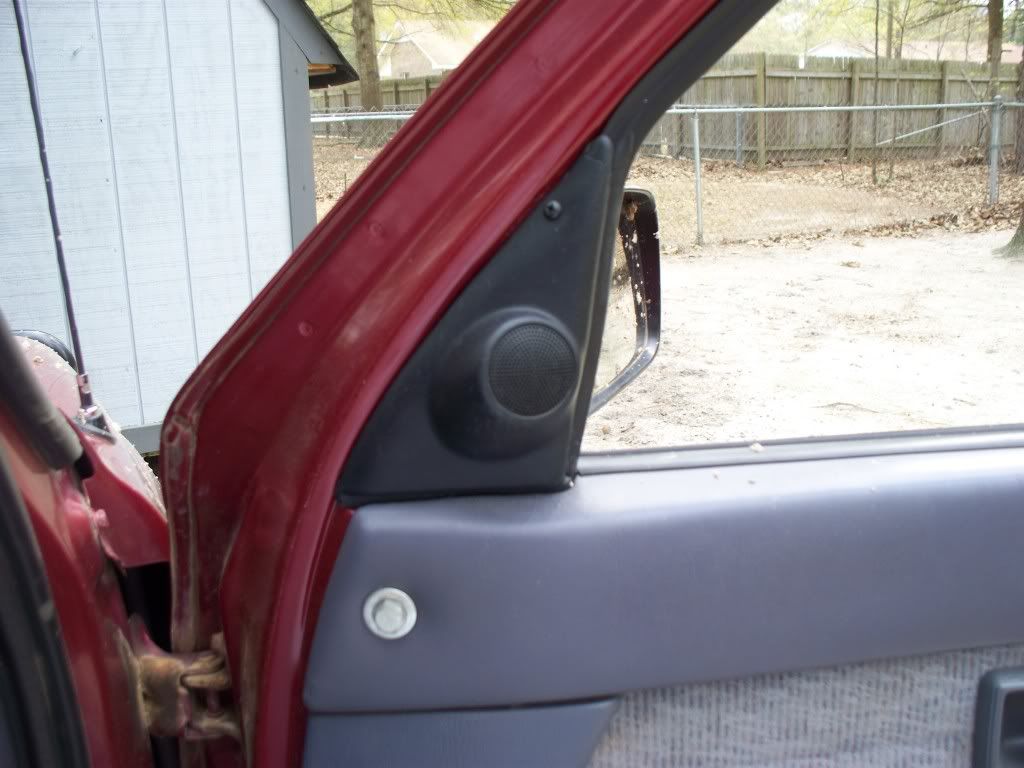 and new pioneer 6 1/2 door speakers no pics
.
.
.
.
.
.
.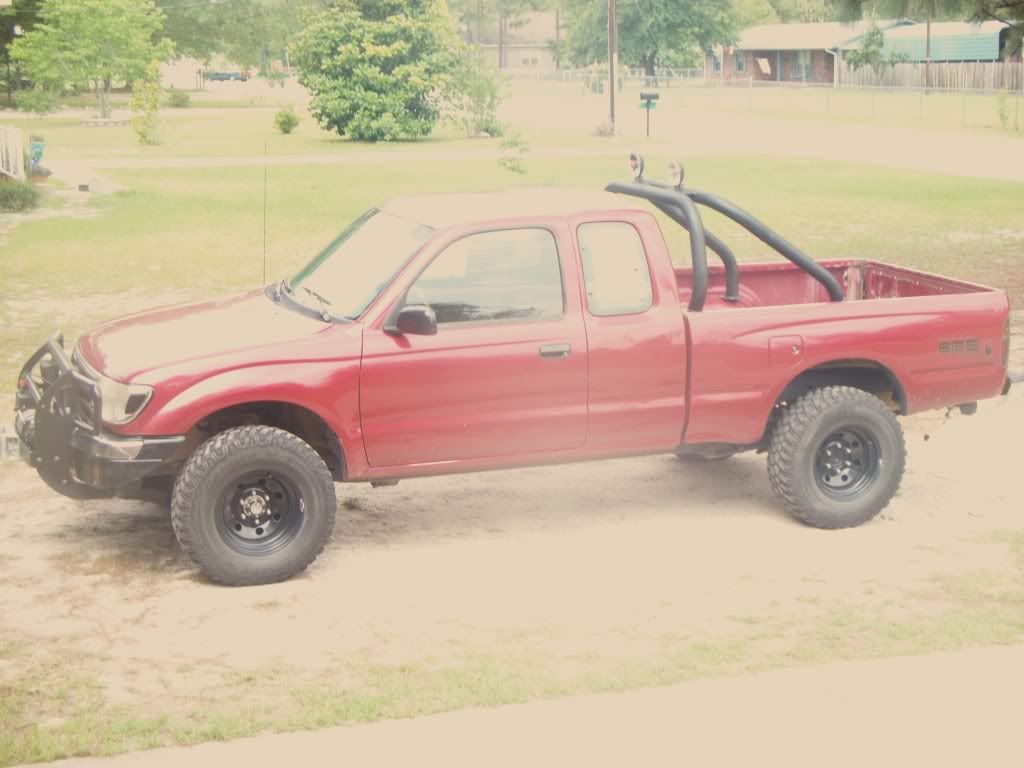 .
.
.
.
.
.
.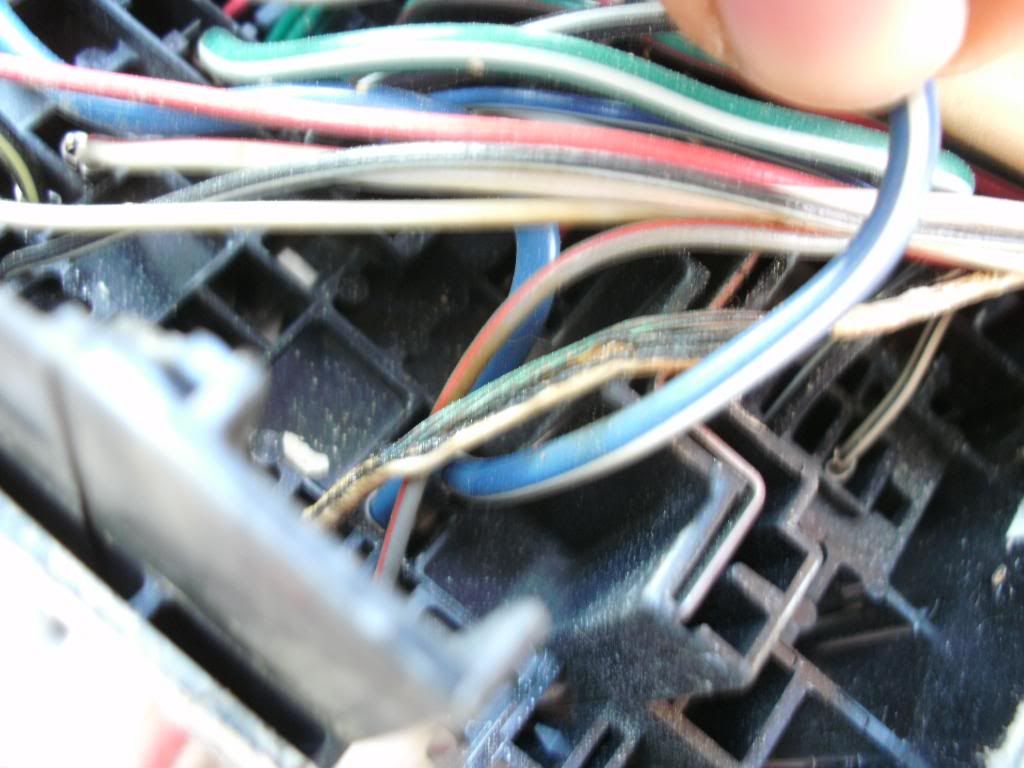 damn
thats what happens when you forget where the wire goes for the aux plug hot all the time mod
so i redid it the right way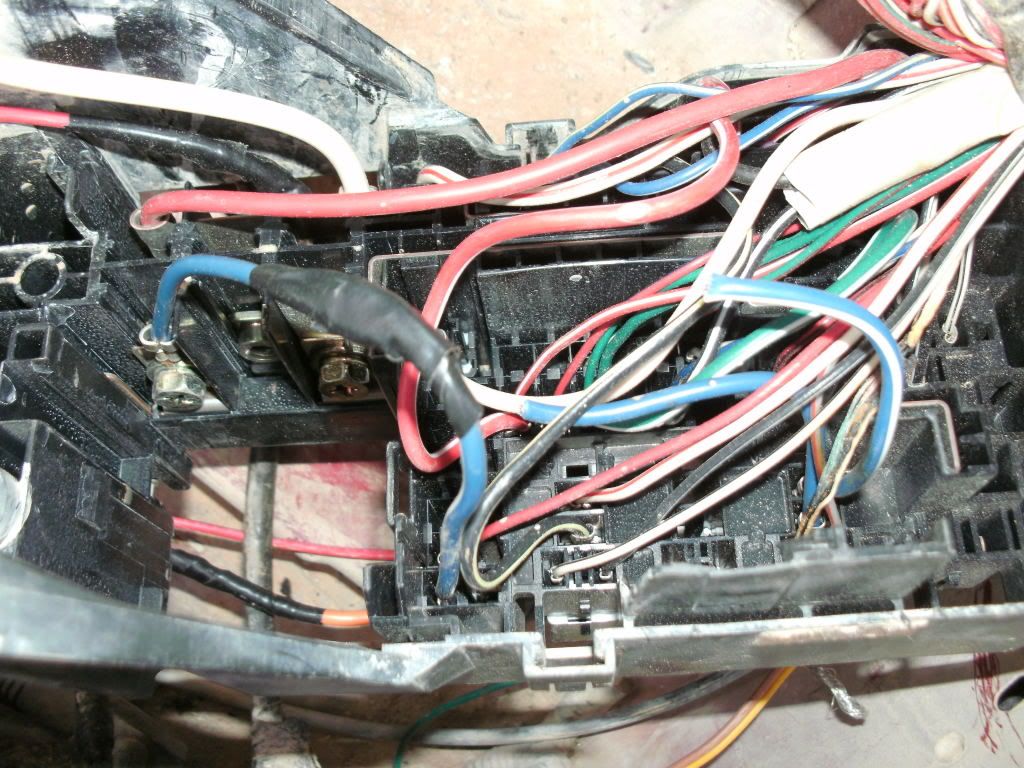 don't worry i didn't leave those wires exposed ,thats where the relay was for the aux plugs and it is now the relay for my lights i have on my bumper. (i have 2 switches for them) one switch is the hi-beam switch with the headlight and the other switch wired parallel to the high beam switch so i can run my high-beams without the lights.
a more up to date pic of my taco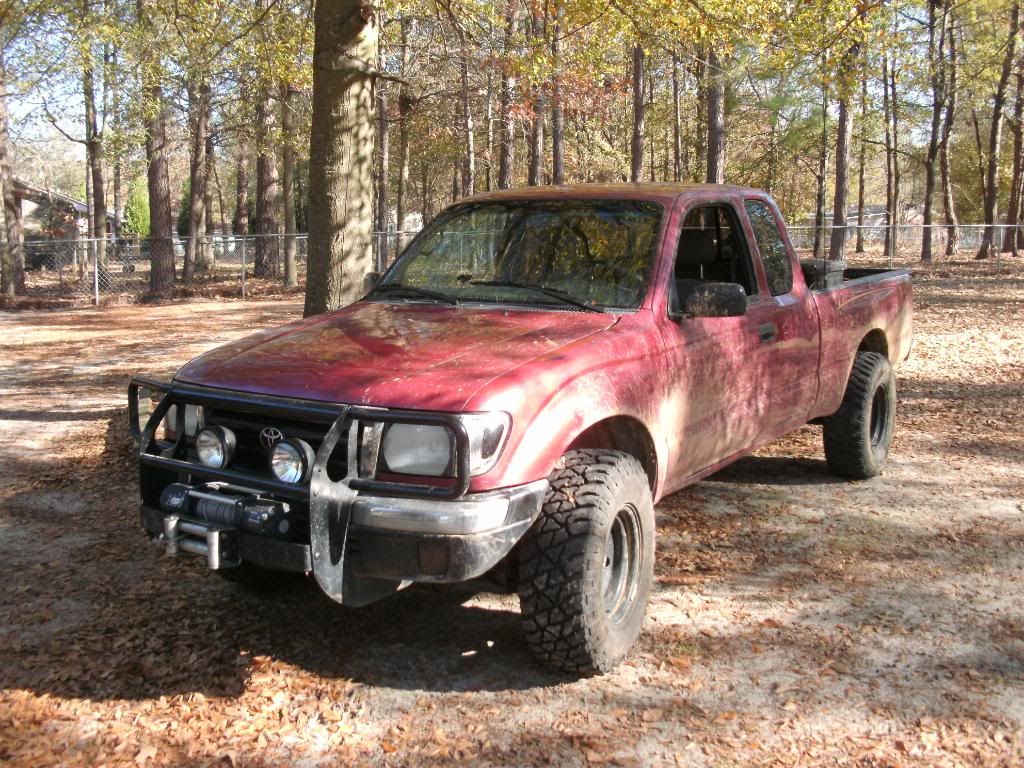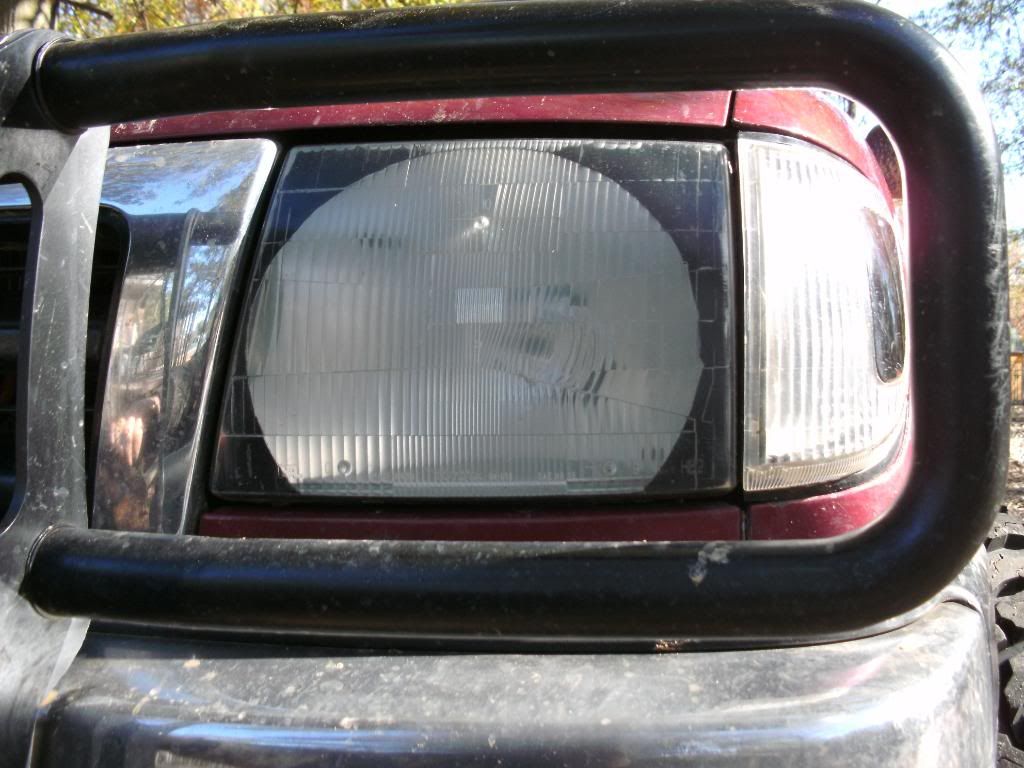 and yes that is a BHLM you see ,and yes it didnt turn out so hot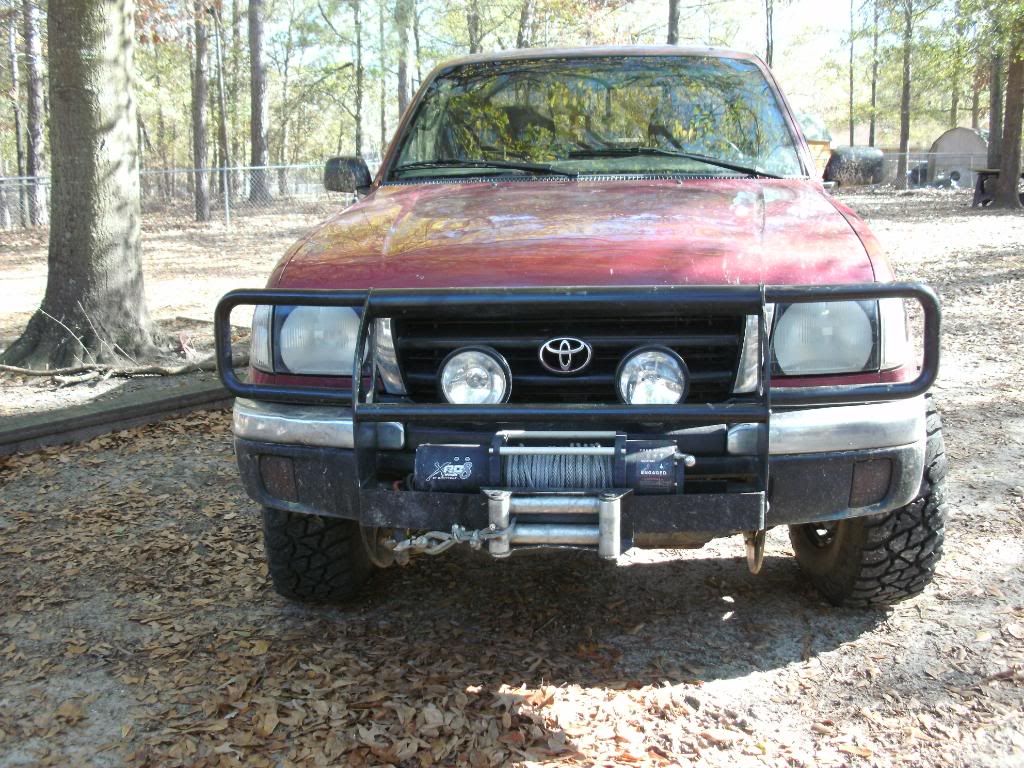 but it's kinda growing on me
.
.
.
.
.
.
.
.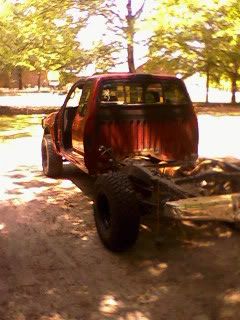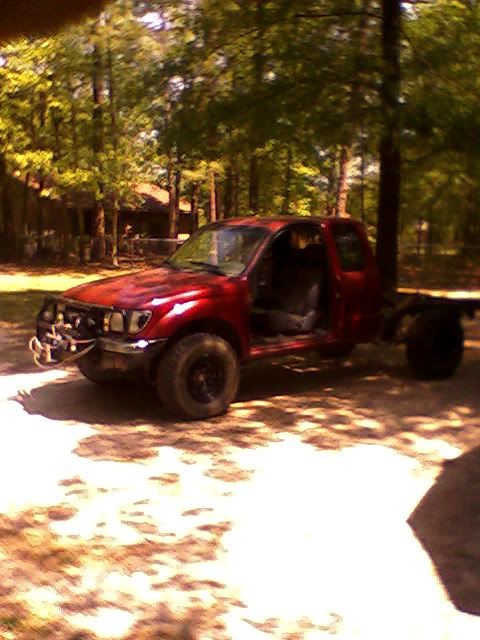 OH SNAP!!!!!!!!!
nah just doing ALOT of body work and painting
teaser
it defiantly doesn't look professional but it looks 100X better than it did
from this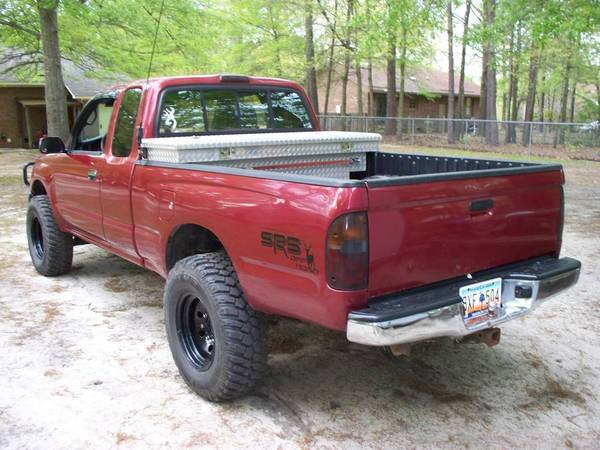 to this
and then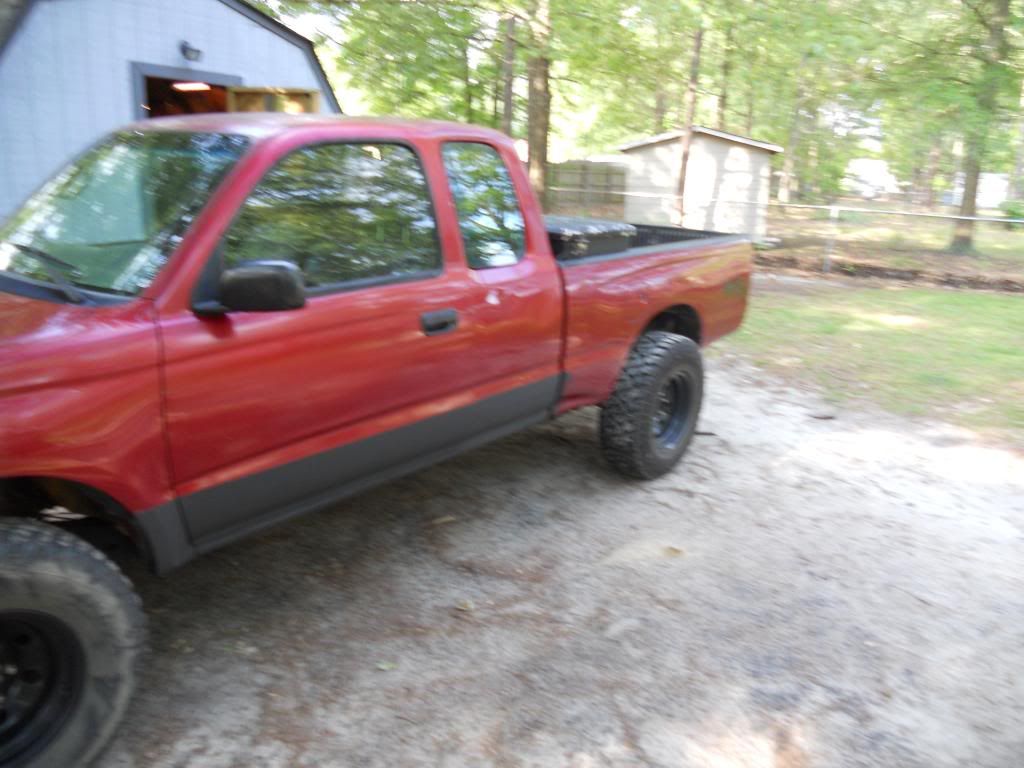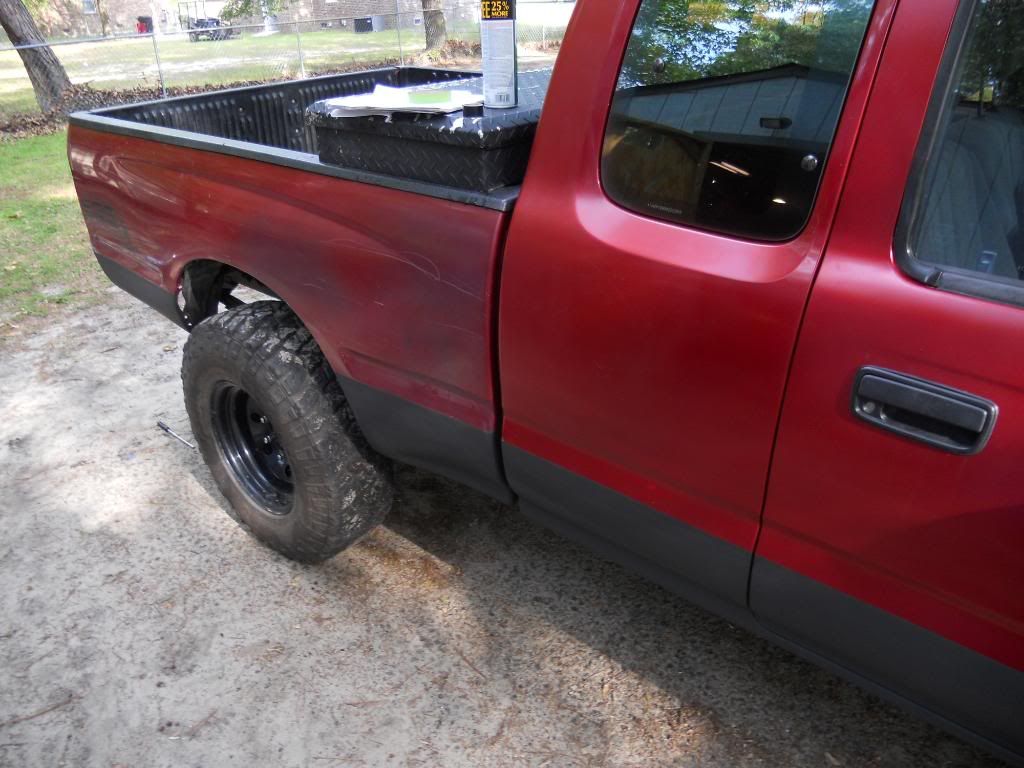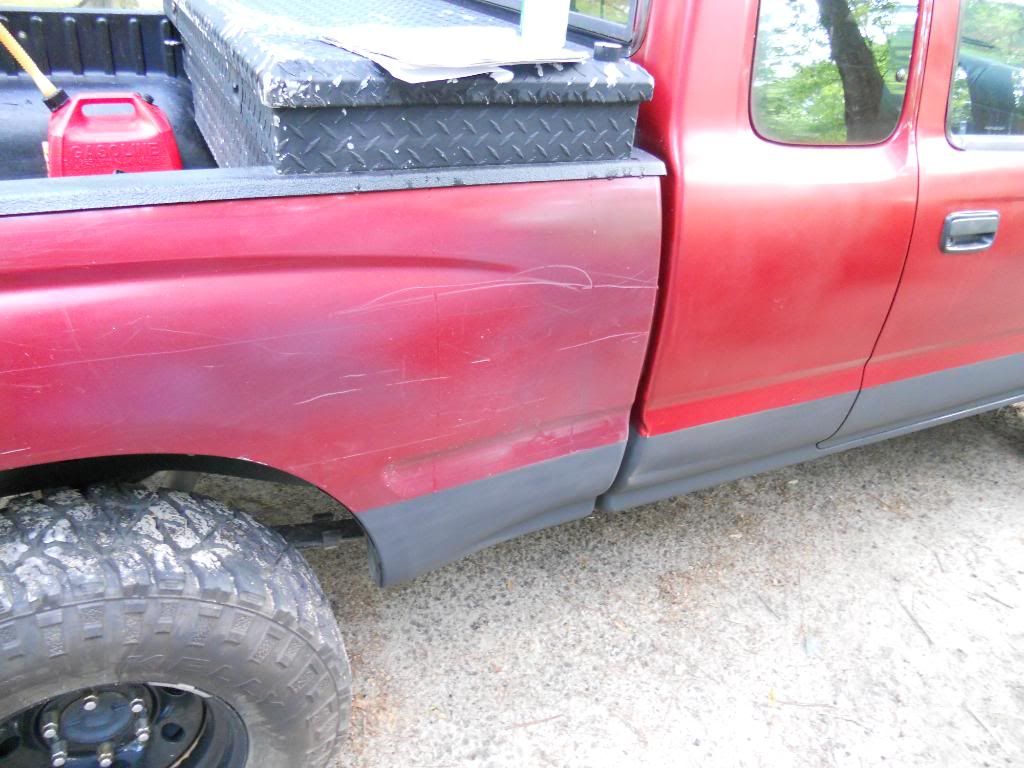 yes i did the cab first and kept it like that for a week because of business and weather and yea those are purple spots on the bed and they were on the cab and pass side door and tailgate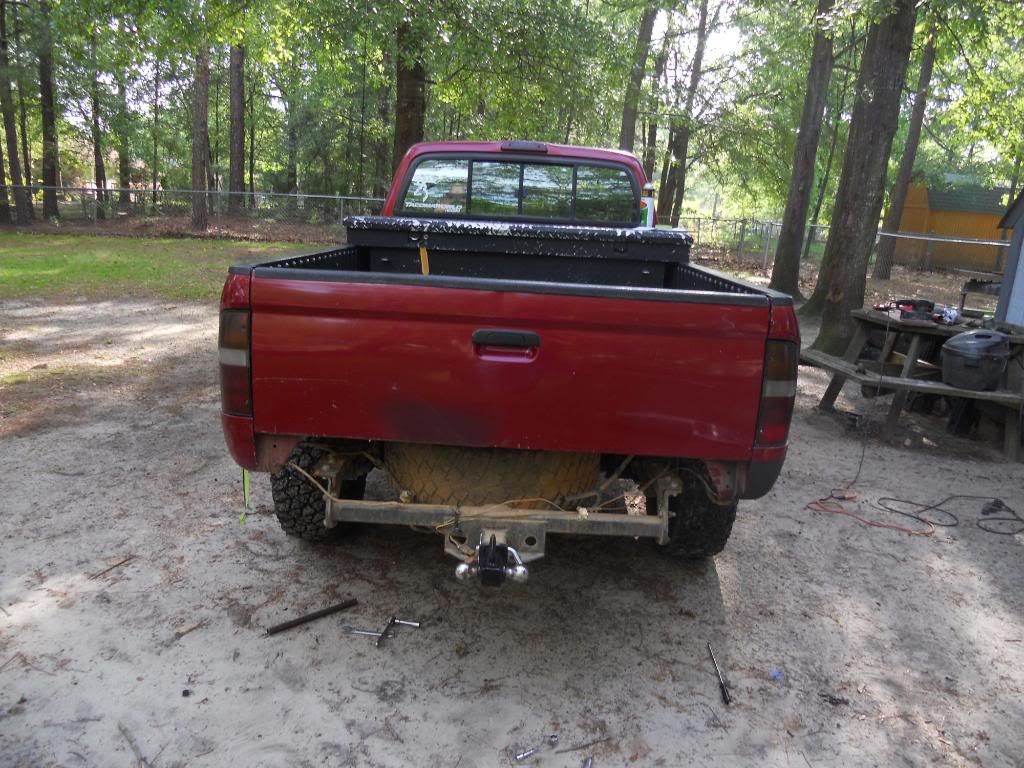 the paint i used to cover it up did a great job i think any way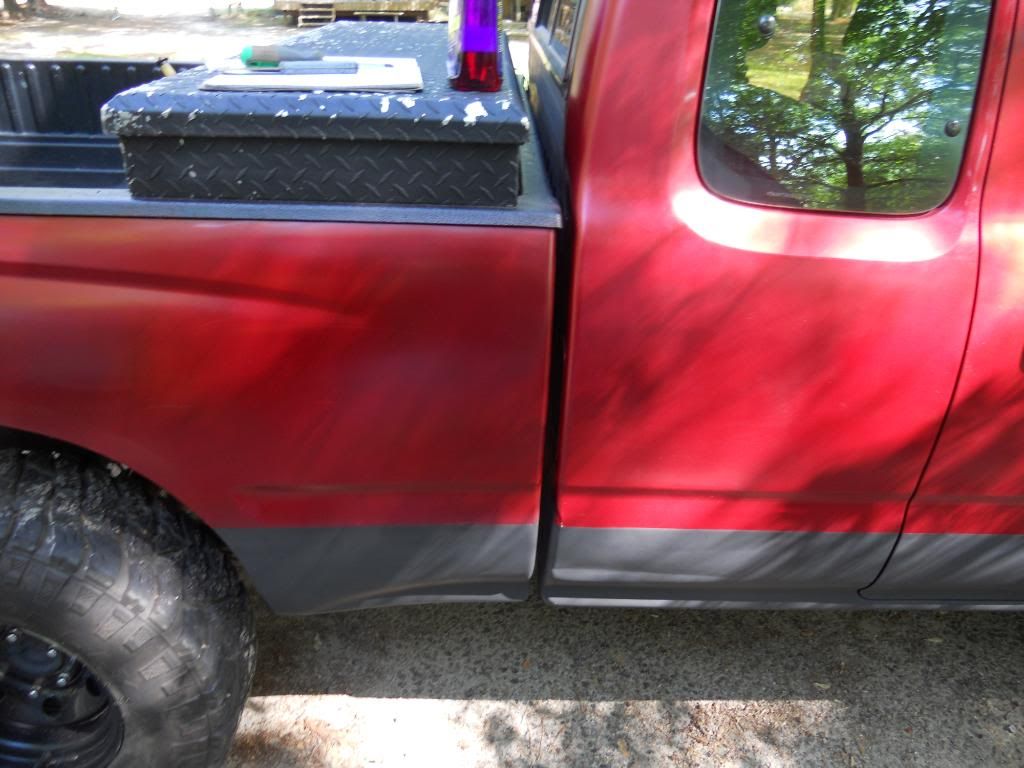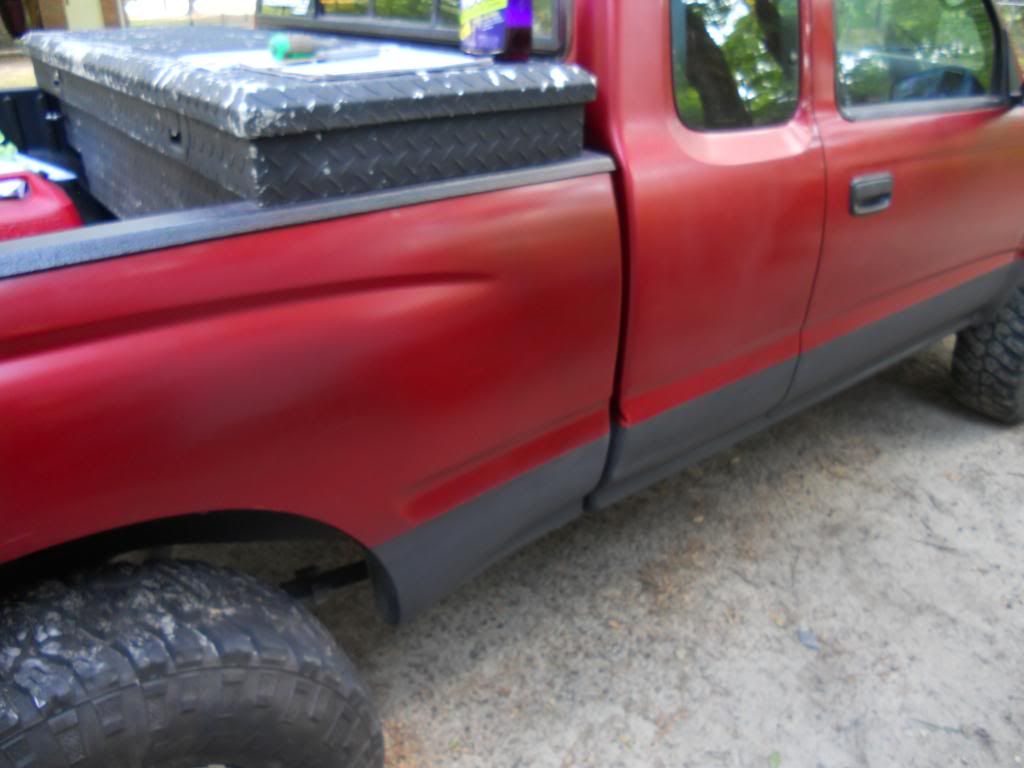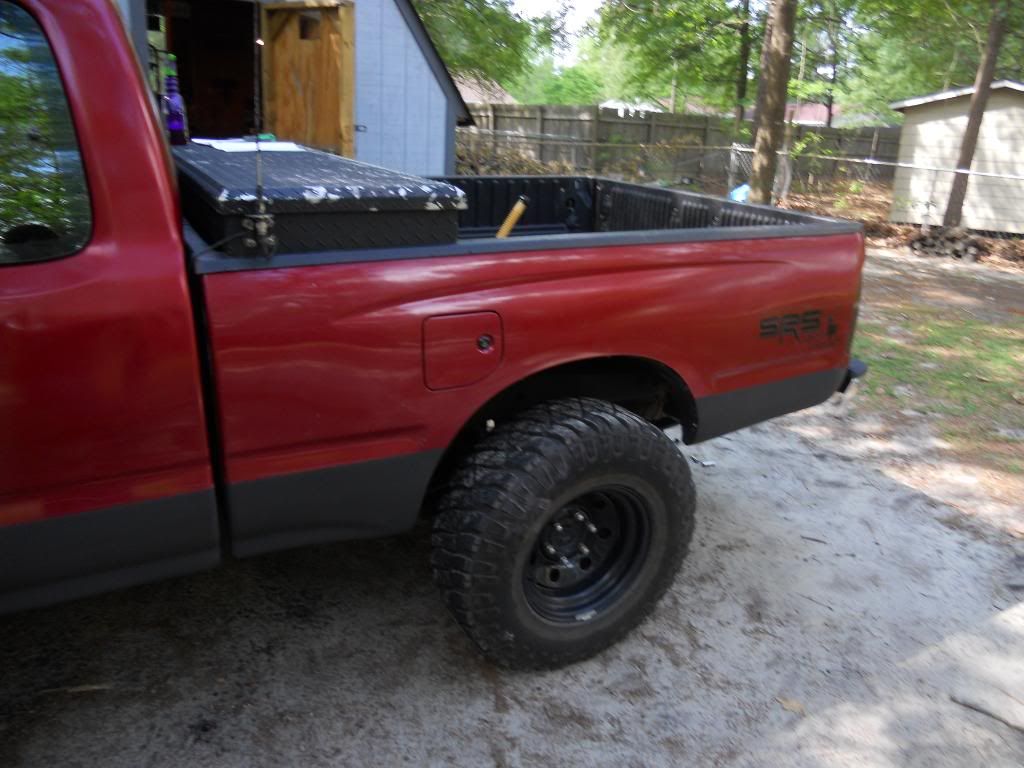 like it?
.
.
.
.
.
.
.
.
.
.
.
CRAP!!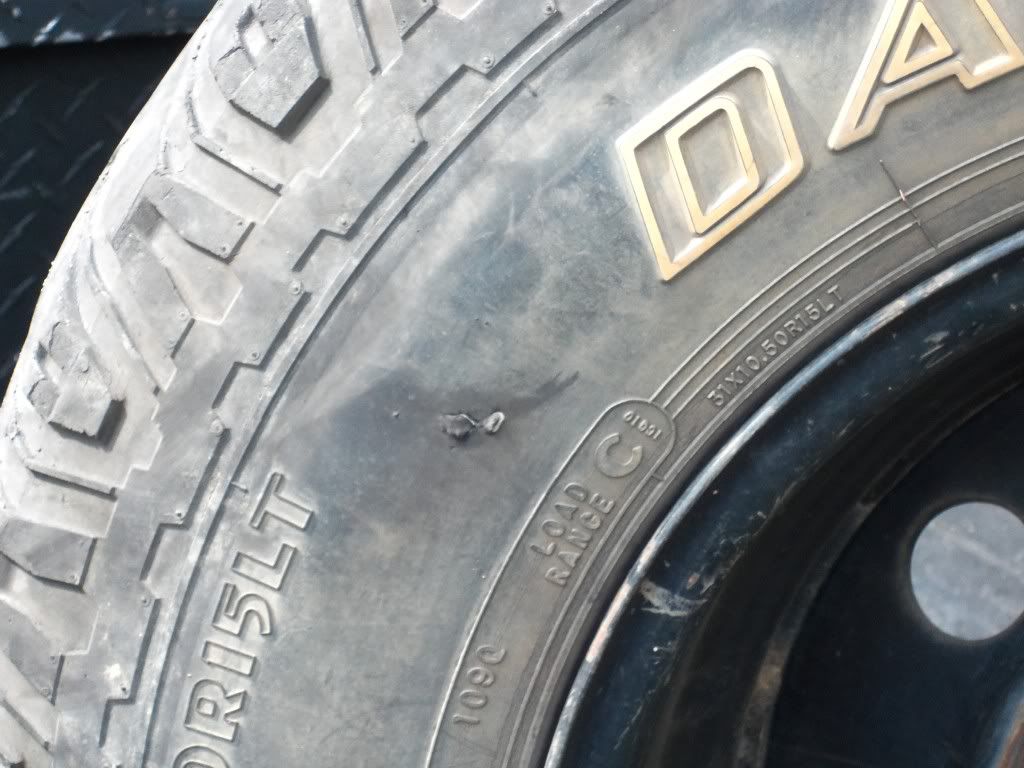 at least it happened on this tire and not one of the new ones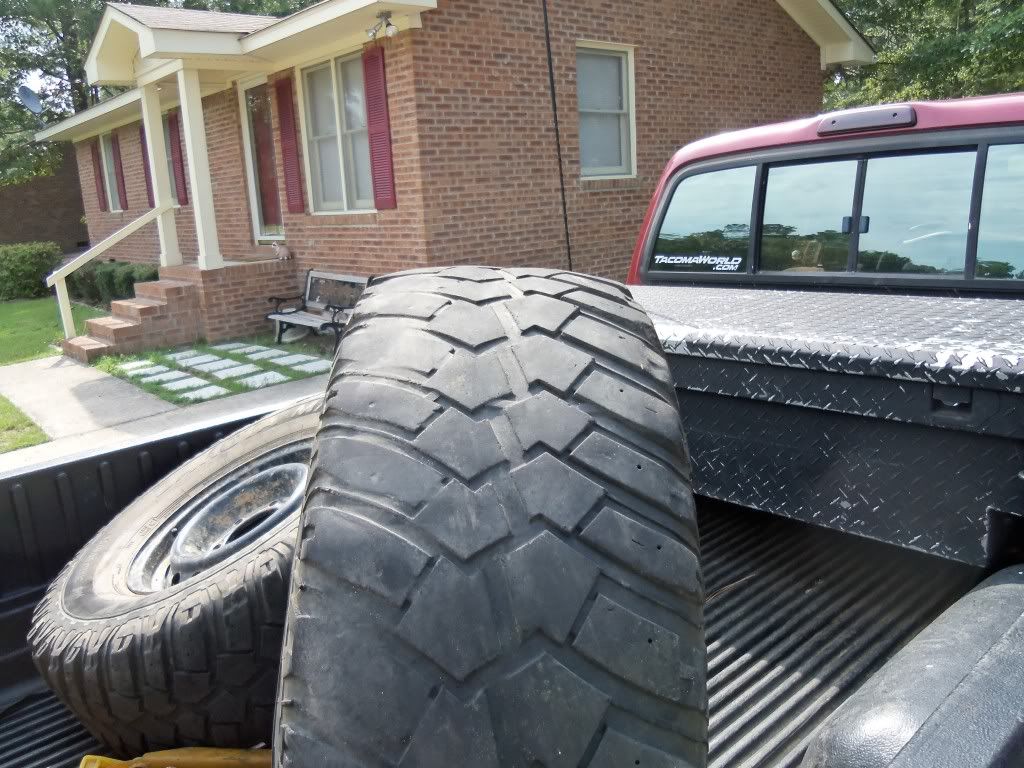 the other Dakota tire started leaking around the rim the day before , i guess its time for some new tires and a alignment
had to rob 2 tires off the 86 (you get a little sneak peek of the freshly painted rims)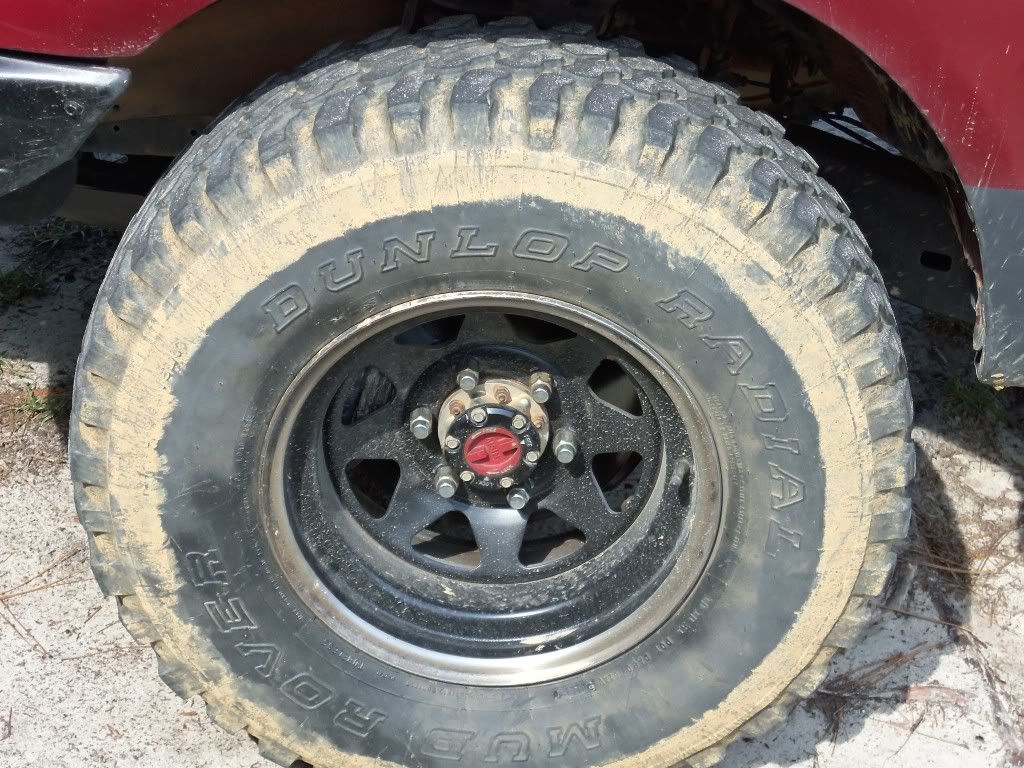 and to cheer myself up i went and did a lil wheelin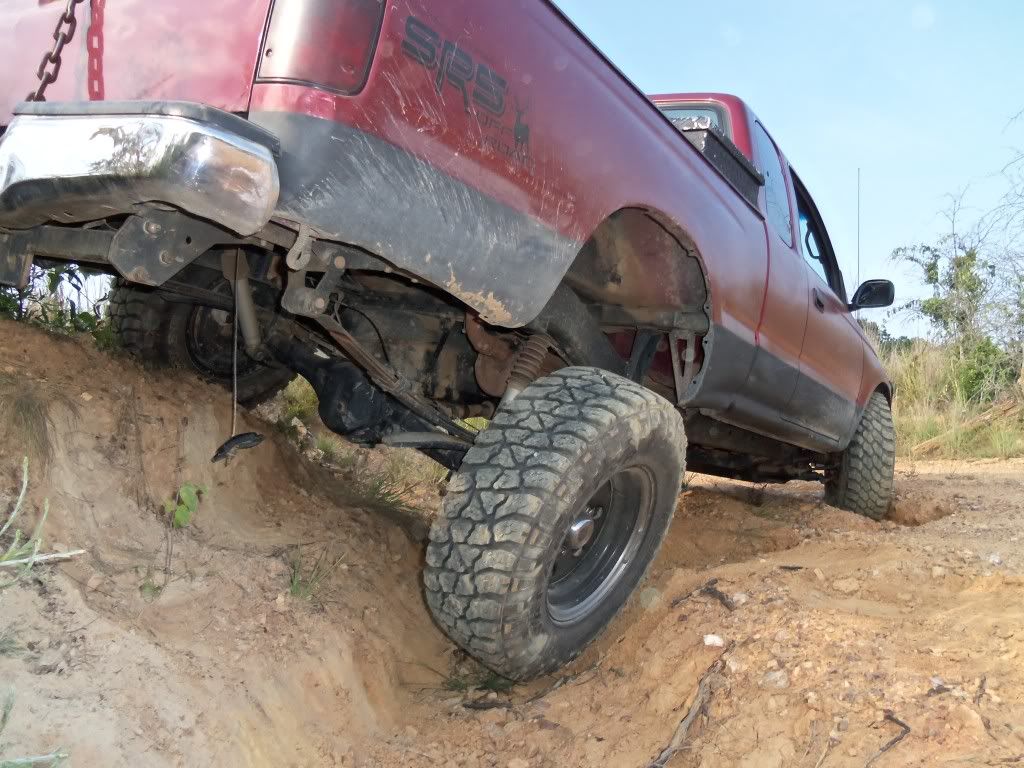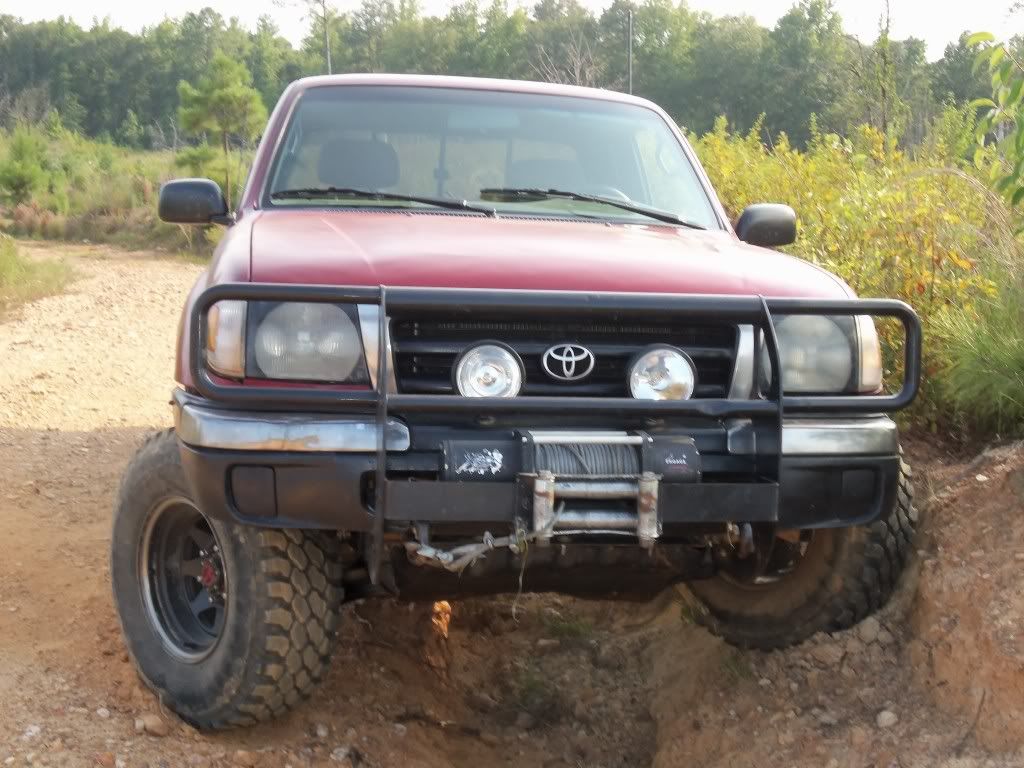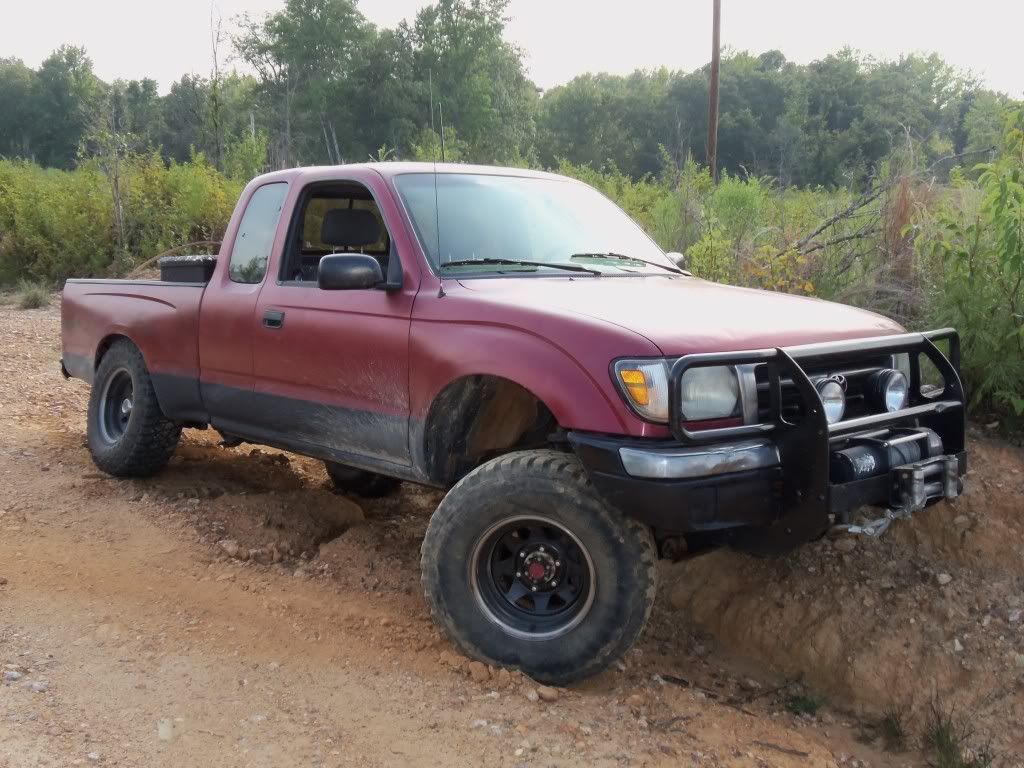 and who says IFS cant flex???
stuffed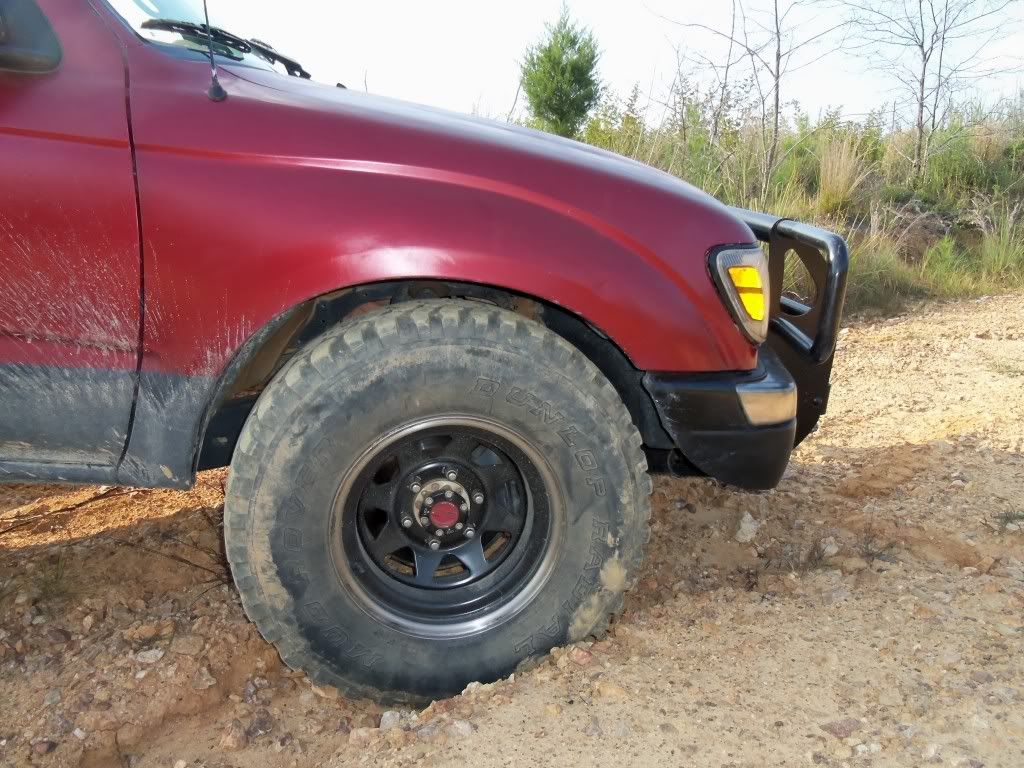 full droop (actually off the ground)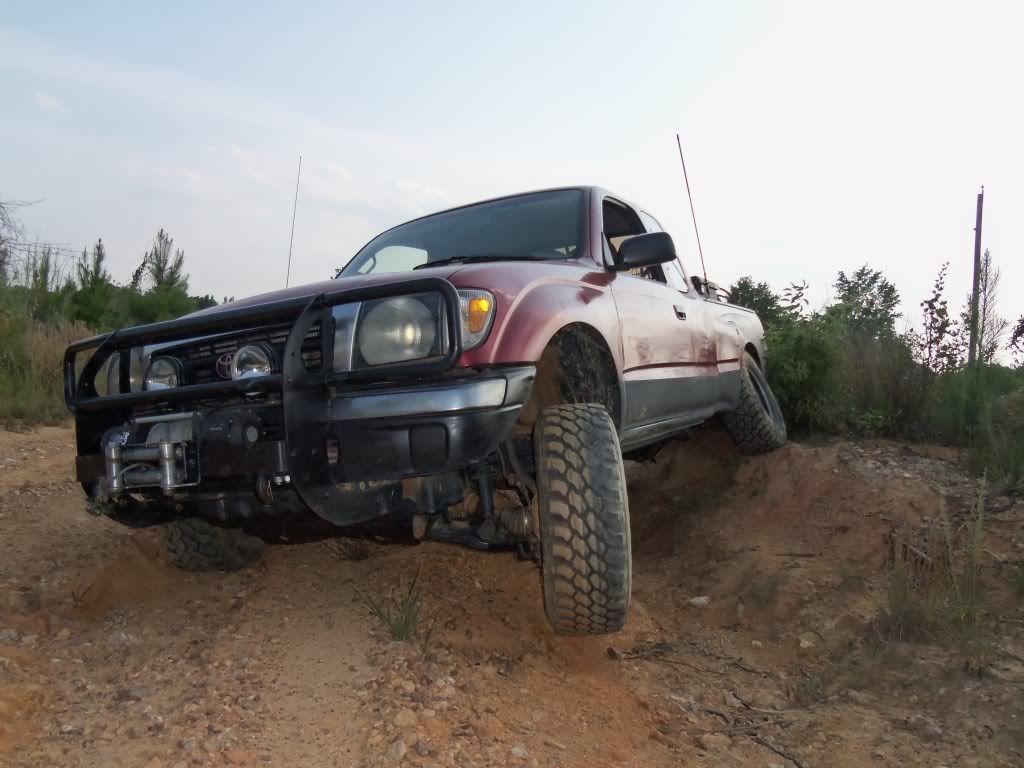 .
.
.
.
.
.
.
.
MAJOR (and minor) updates
BIGGEST!!!!!!!!
lost this crap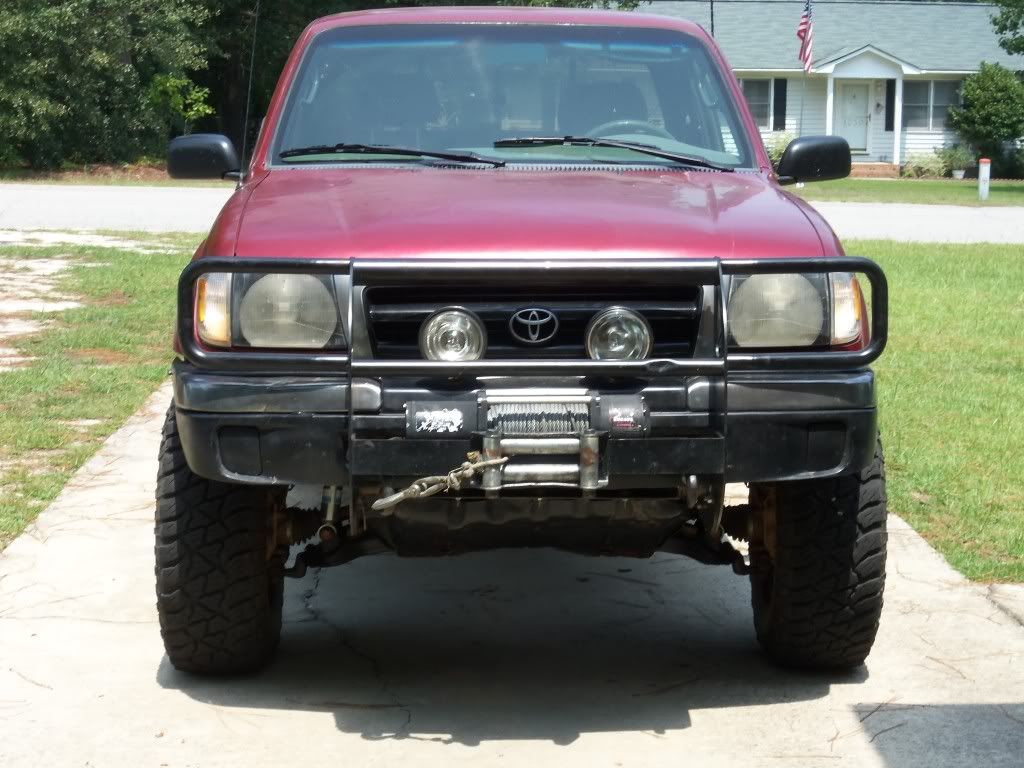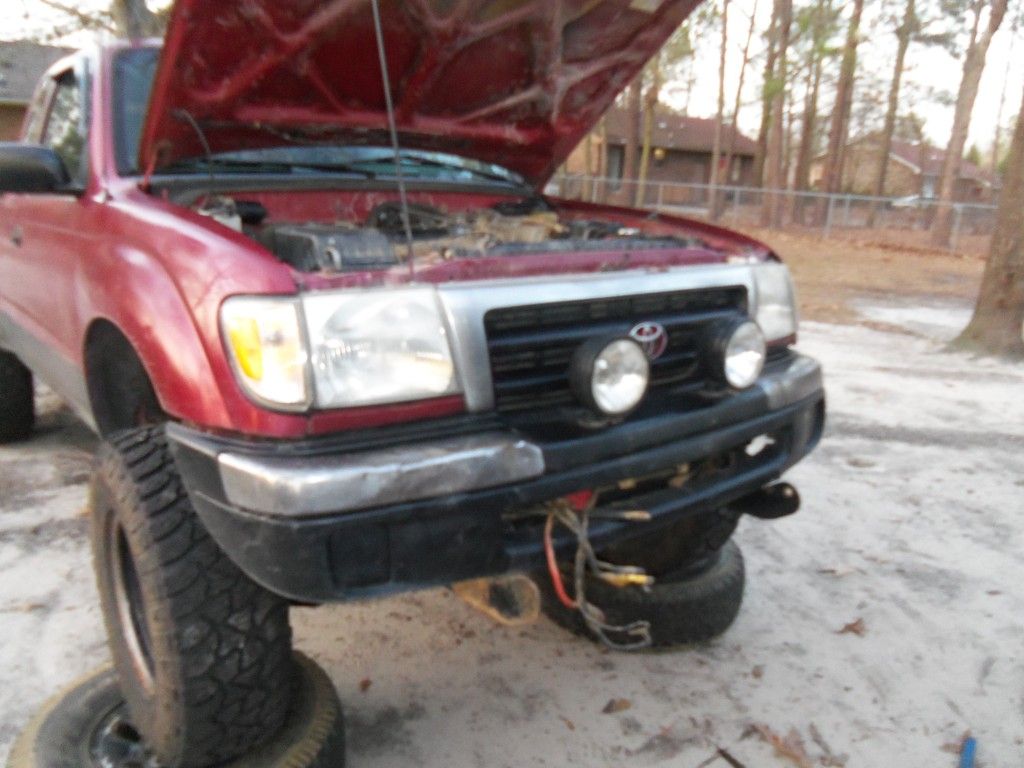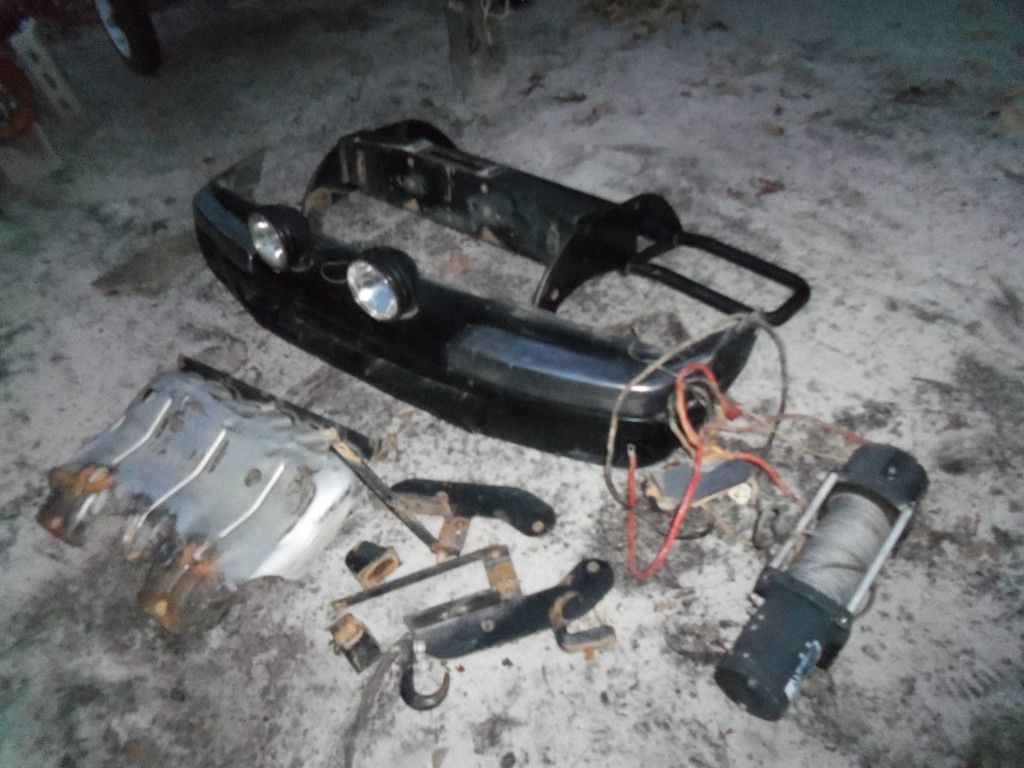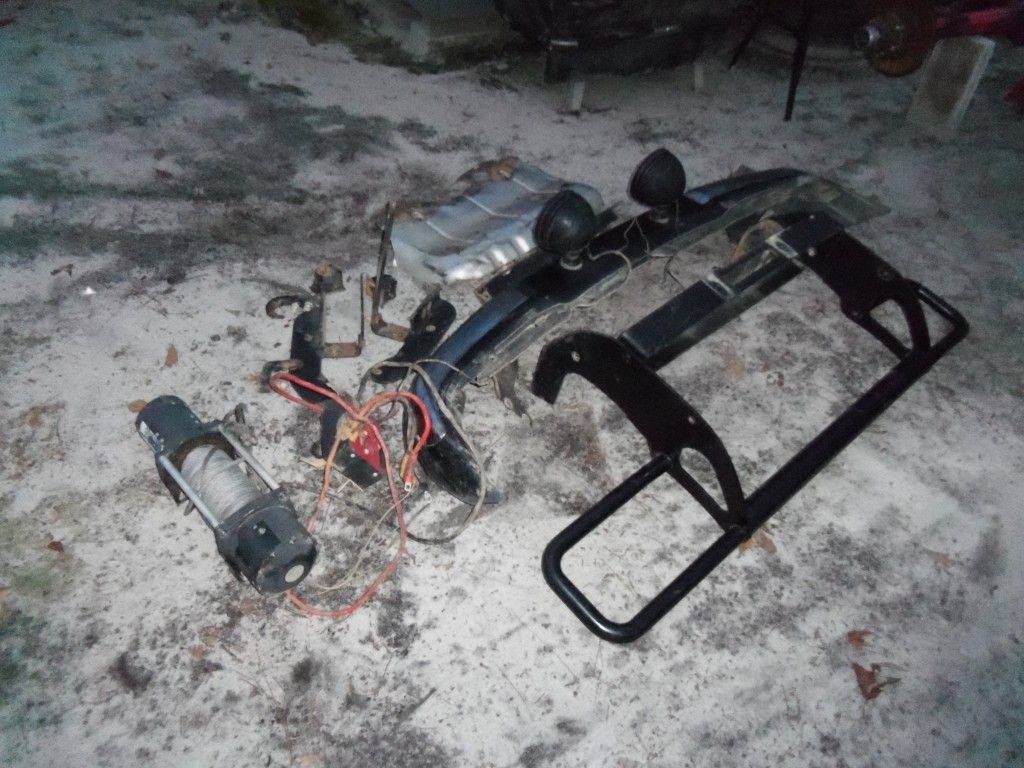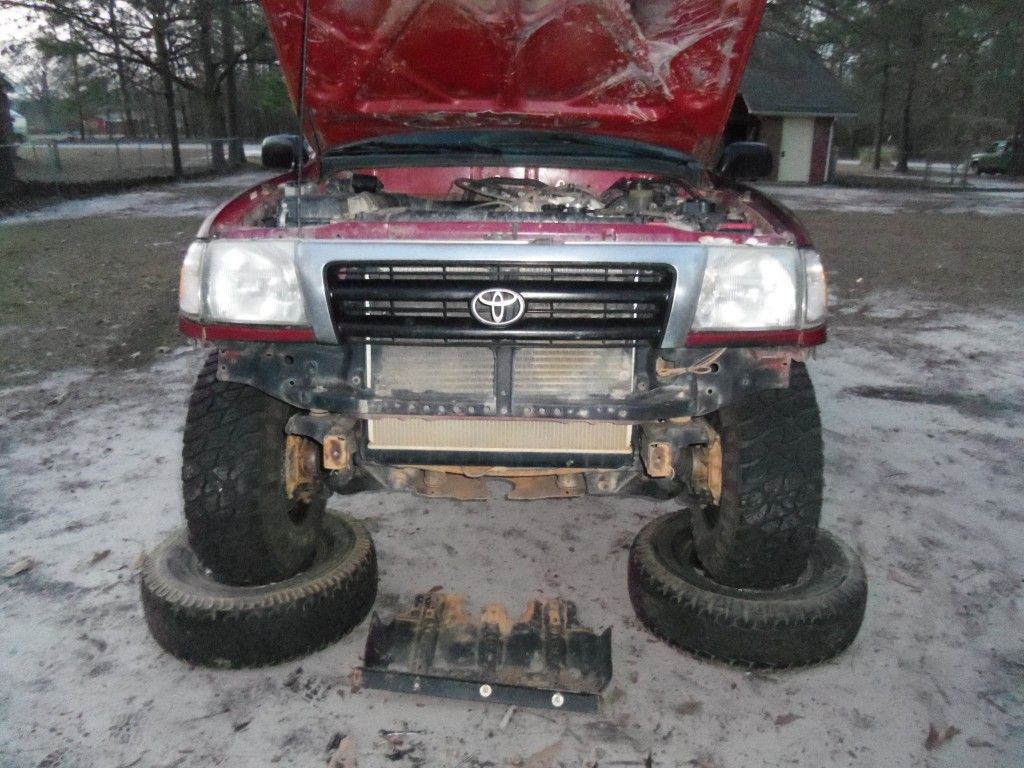 (note my awesome car ramps)
and on with this (when i picked it up from 07NavyTaco i raced home and put it on which was at like 10pm?)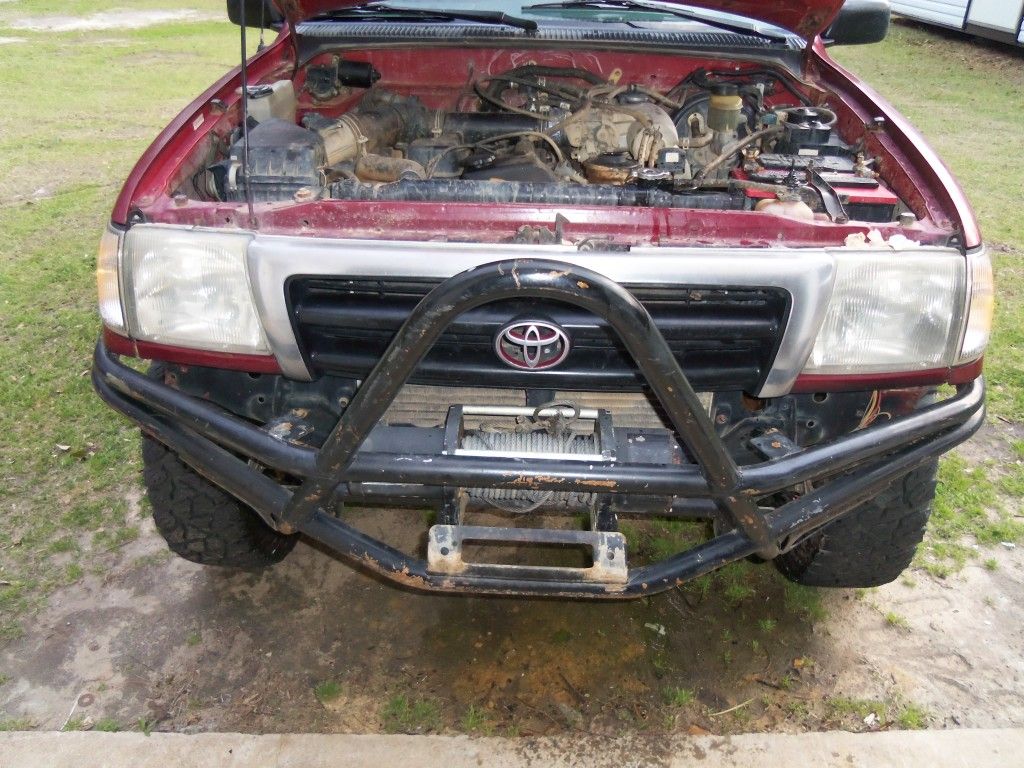 it looked like that for a few days until i picked up some bed liner and some new mounting hardware. i took it up to my dads place (pretty much a fully equipped shop) and took it off and bed lined it, reinstalled the winch with grade 8 bolts (you can never overbuild, a great rule to go by
),relocate the winch control box on the firewall beside the piper motor, installed my off road lights and fixed the bent flair lead mount.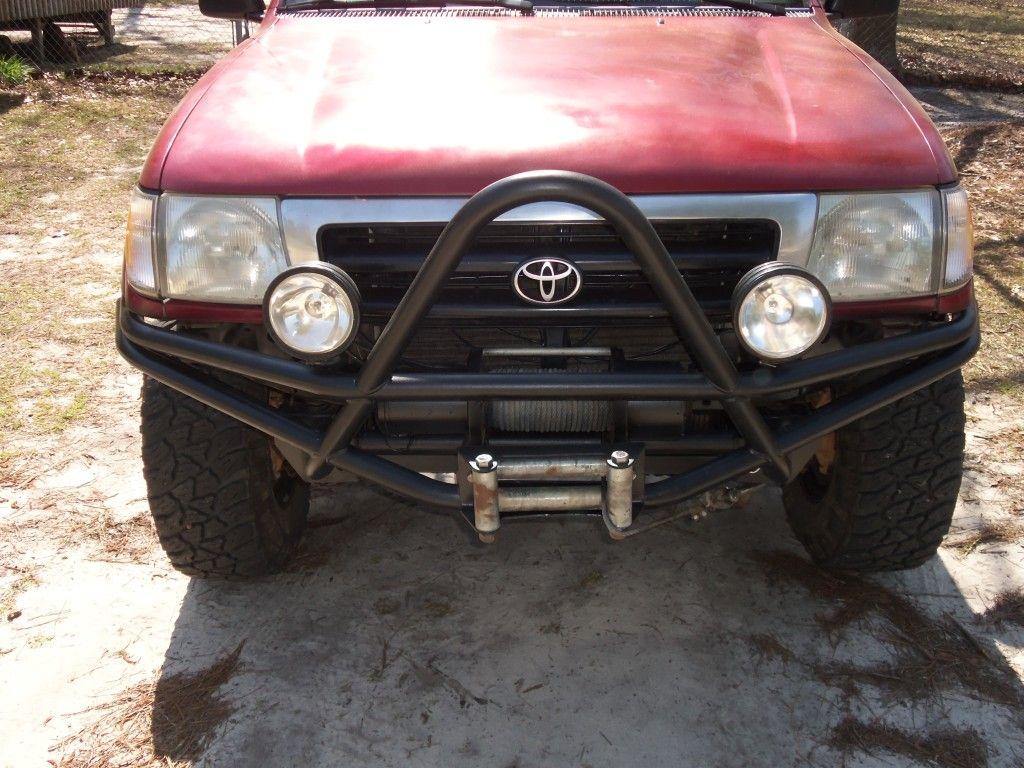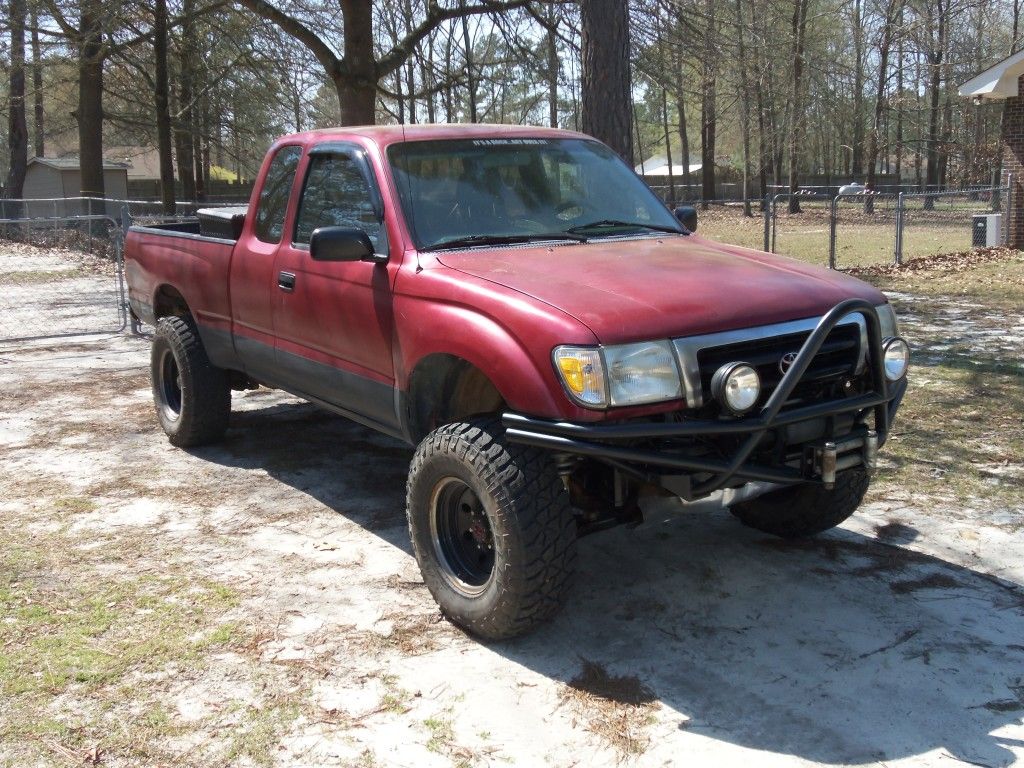 also while i was at pops shop i redid the front cross member (for the skid) my first one didn't hold up too well. its just a piece of angle iron bolted to the frame, nothing special, but should be documented.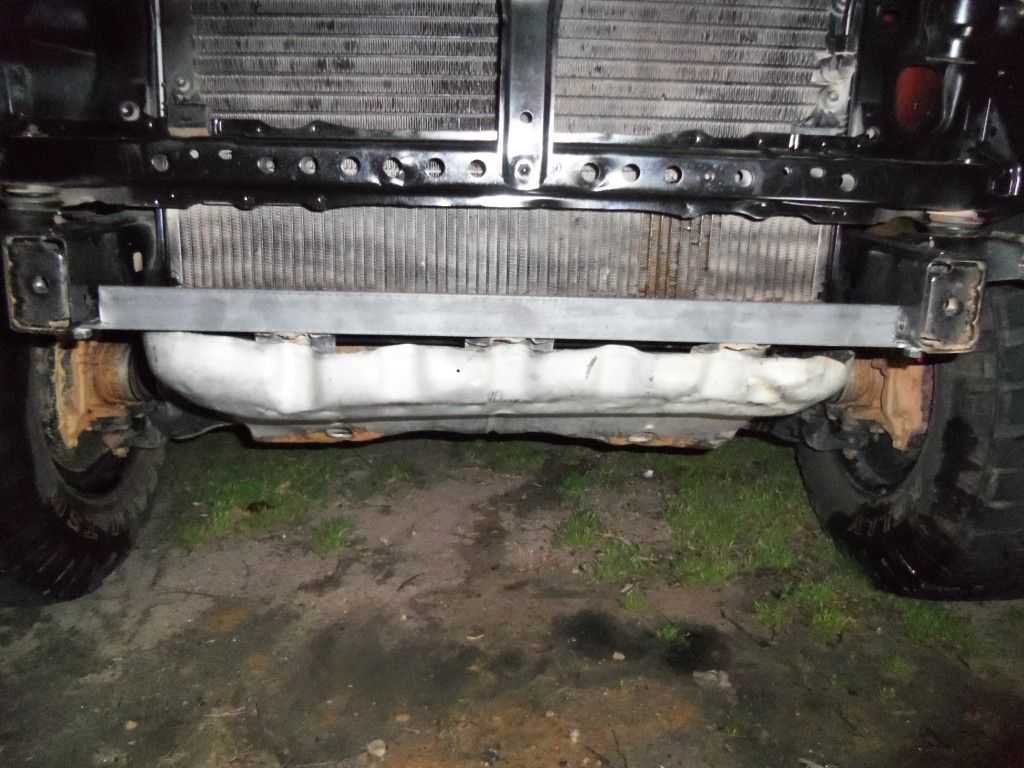 new to me power steering pump because i was tired of no power steering
(thanks yoda1999 )
new to me 01-04 tacoma tail lights (thanks MMyota)
rebed lined my tool box
rebuilt passengers side locking hub (now i need the drivers side done)
new to me headlights (thank you XxTHe FioLOxX)
new to me plastic bumper things (thanks jrich44)
new to me a/c control and cables (junkyard)
new clutch master cylinder (old one died)
..
.
.
.
.
.
.
.
test fitted the 01 hood and damn it looks good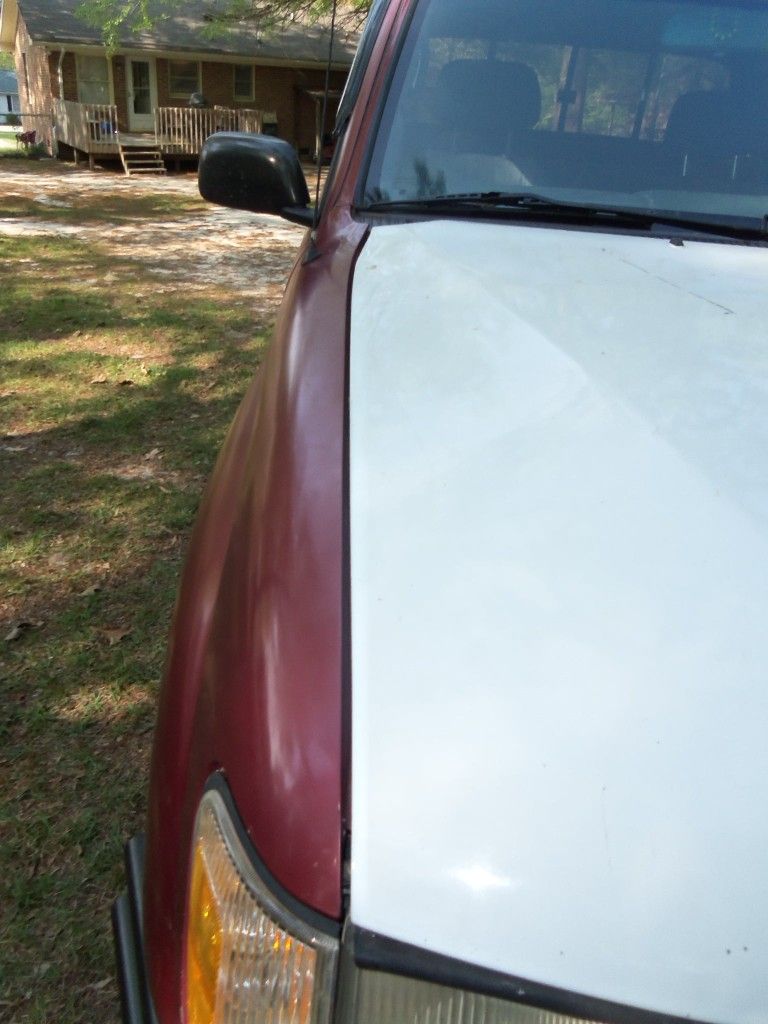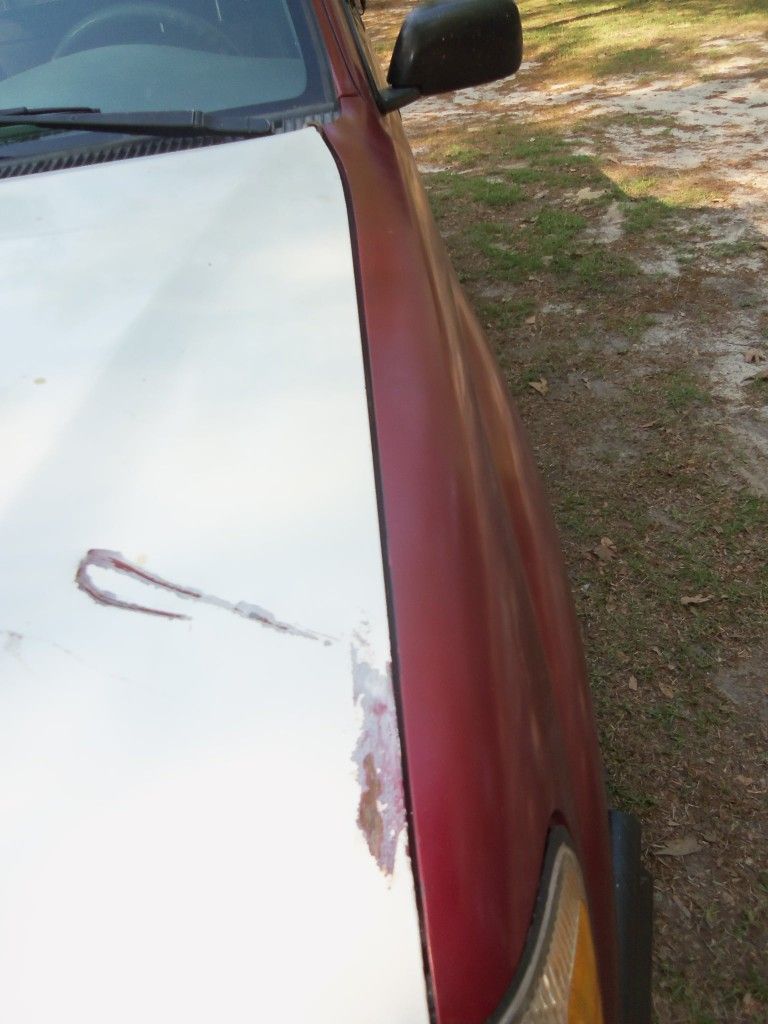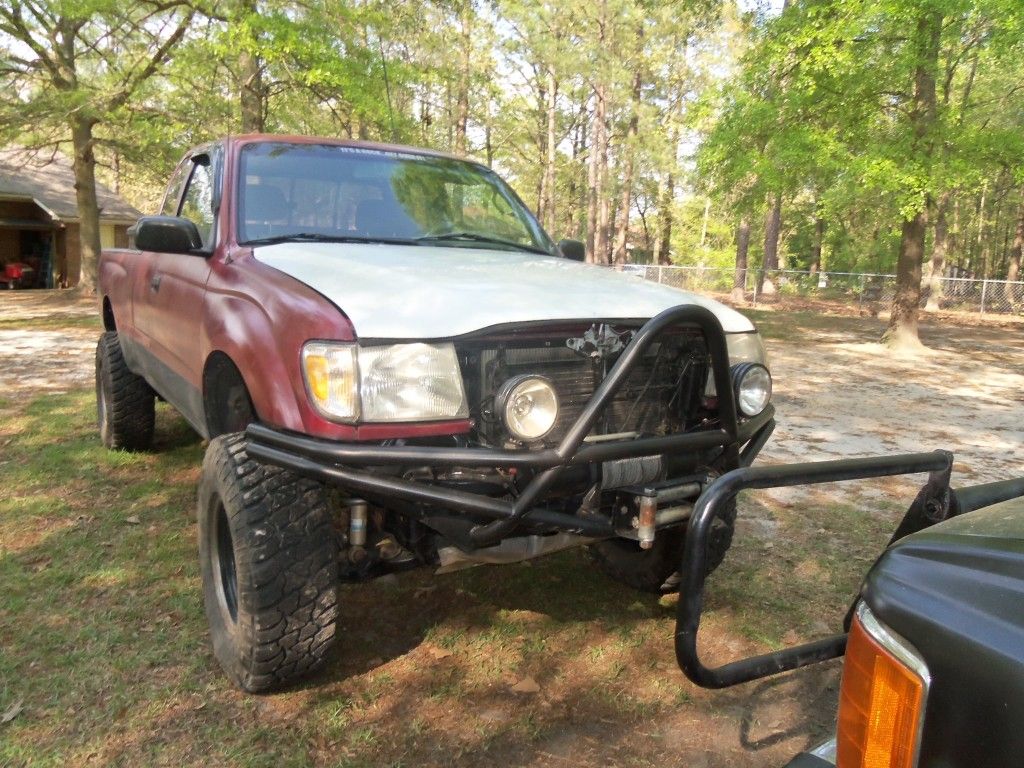 shit i wish it fit that good
no gap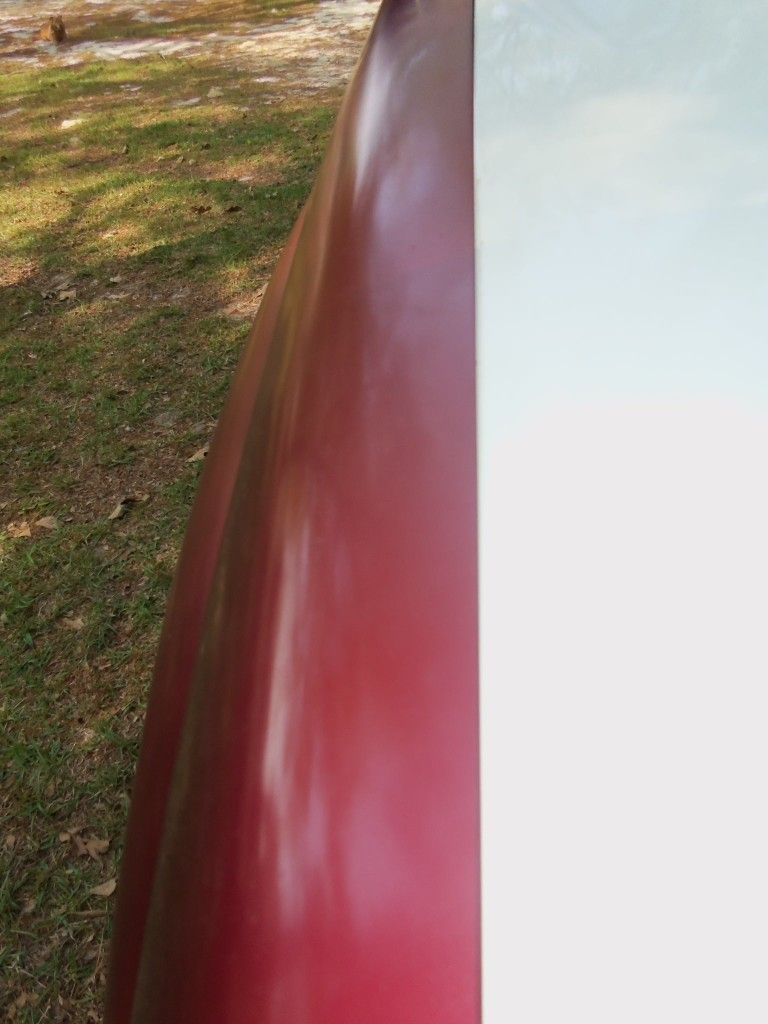 a good 7/16th gap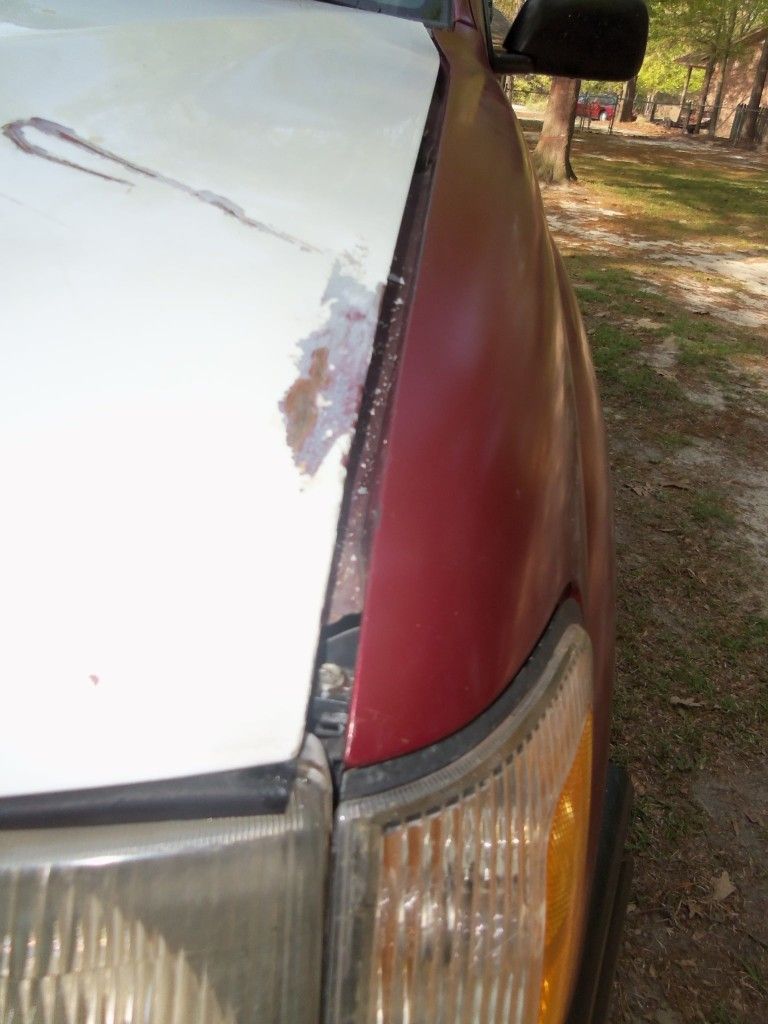 the 86 was a good table though