OK, so here is the story... My wife and I purchased some undeveloped property, and I started clearing it off so we can build at some point in the future. I was working my a$$ off carrying things up and down the hill. So, I decided I wanted a John Deere Gator. After several weeks of looking I realized that I did not have the extra cash for one... 15 years old and they still want $5k...
So I picked up this 97 Tacoma 4cyl 4wd off a co worker. It was wrecked in front of their house about 4 years ago, hit a F250 head on. The changed out the frame, changed the cab and got all the front end parts new from Toyota. They put the truck on the back burner for several years now, and this is how it sat the day I purchased it. I have no plans to make this truck nice and clean. It will be mechanically sound and reliable, not pretty, but usable.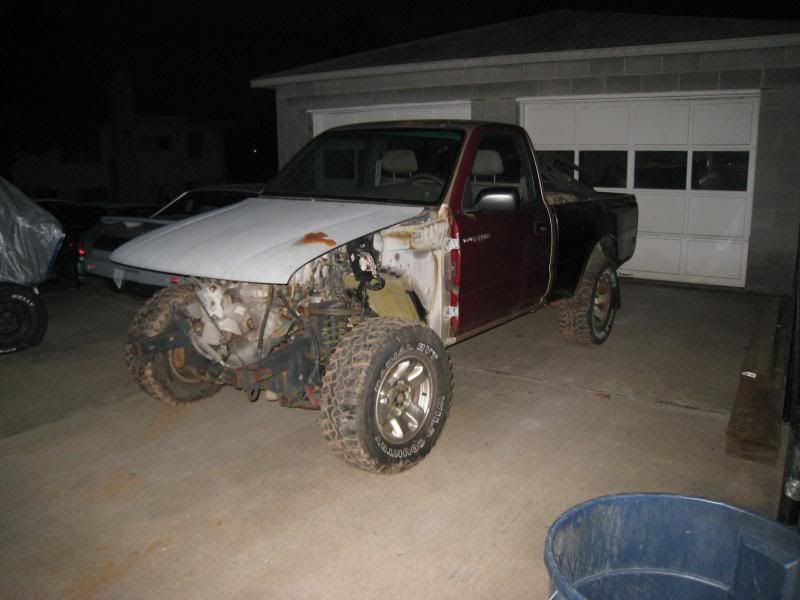 A good friend of mine works at a local Chevrolet Garage in the body shop. He does excellent work for a great price on the side. So I had him put the front structure together.
$200.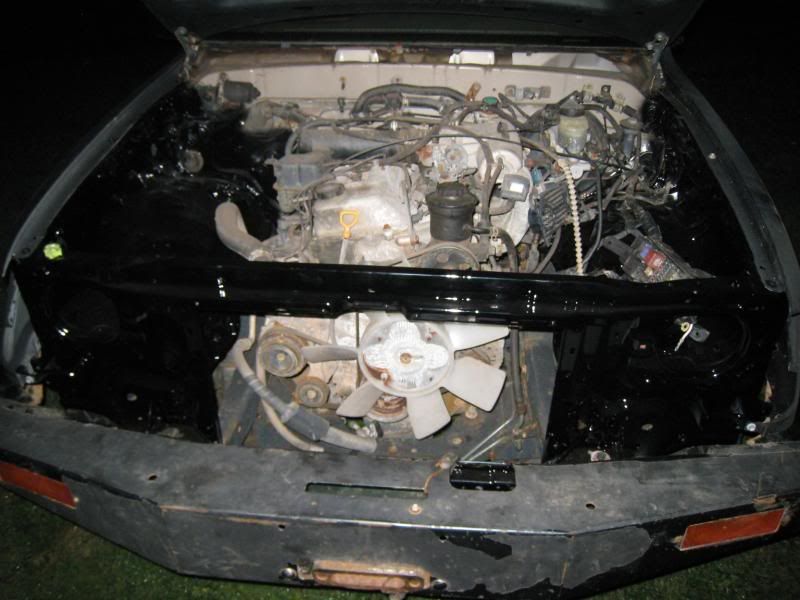 This is where it was at once I brought it home...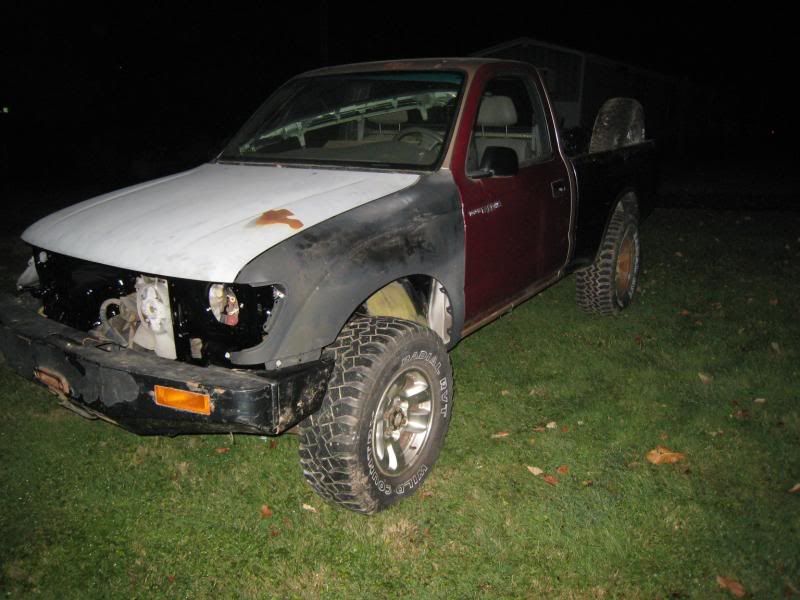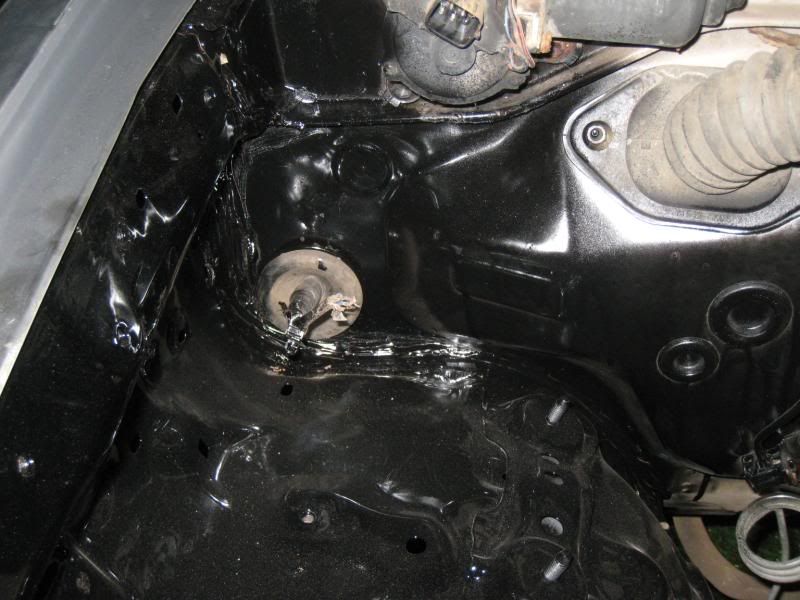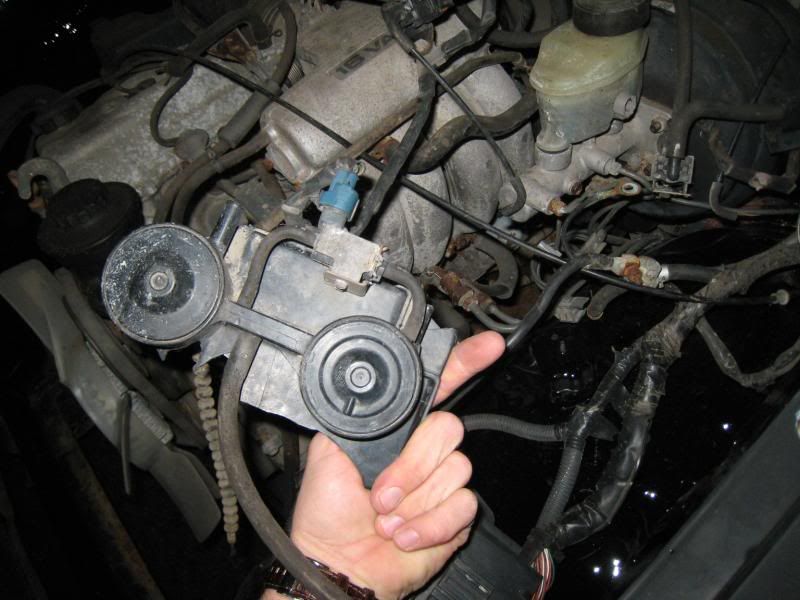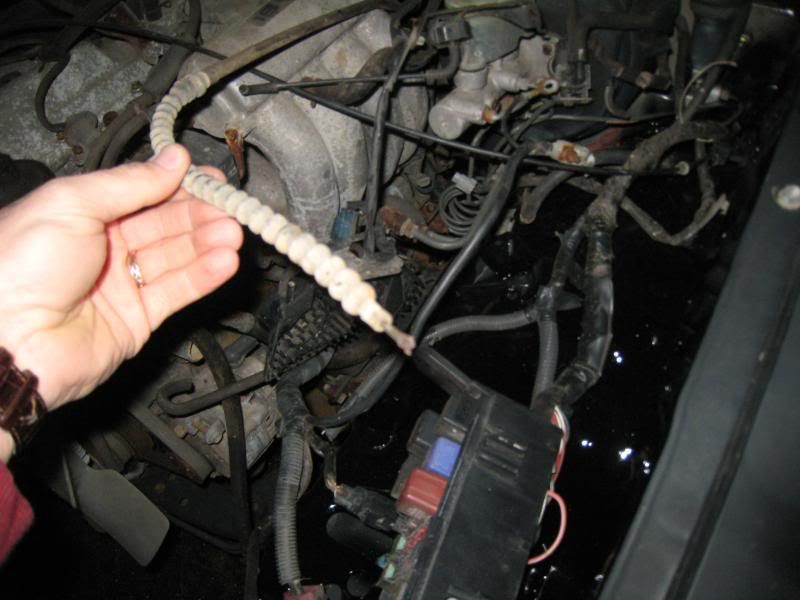 I had one aluminum wheel missing and I realized the steel wheel that was on the truck had a deeper offset and set out a lil bit. So I checked it out, its a 7 spoke off the 93-95 Toyota Pick-up's and 4 Runners. I found a set on Craigslist for $50. I also found an almost new (500 miles) set of BFG MT1's in the local trade paper for $400. Wire wheeled and sanded them down, and Flat Blacked them... (anyone looking for 3 aluminum wheels?)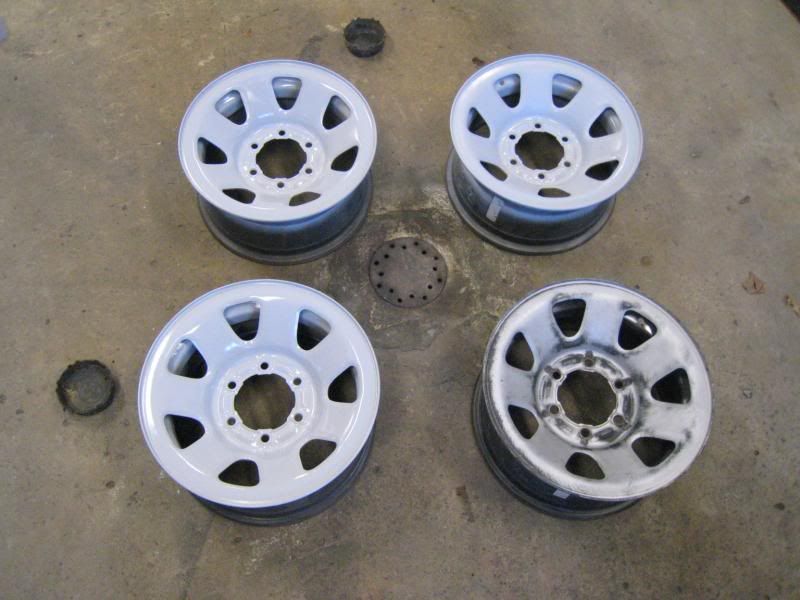 I like the way they sit on the truck...
Not the best pic, but they sit out past the fender about an inch.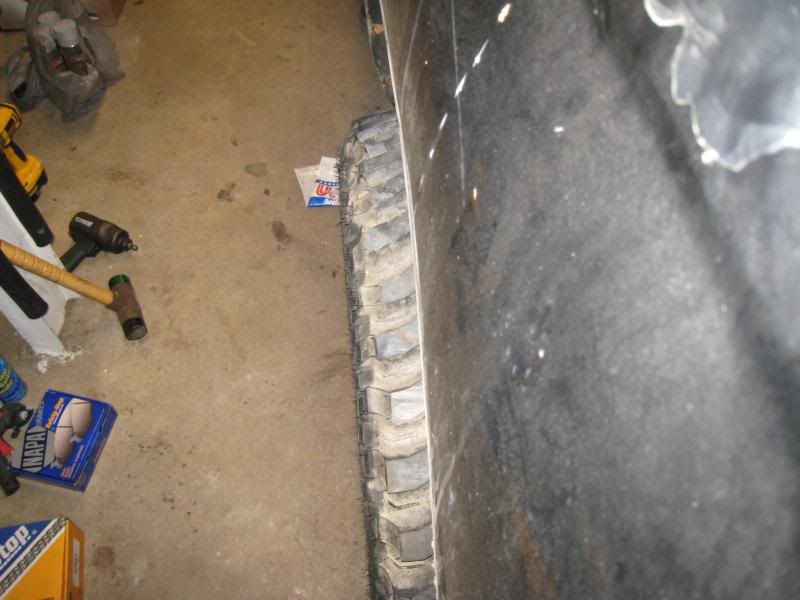 Took the bed off to make things easier. the tank had gas about 4 years old in it. So we siphoned it out, fixed the emissions vent, and ran the taillight wiring the correct way, put the spare tire cable mount on the frame, and sat the bed back on, and flat blacked the back of the cab since the entire truck will be flat blacked in the end. Had a lil fun also...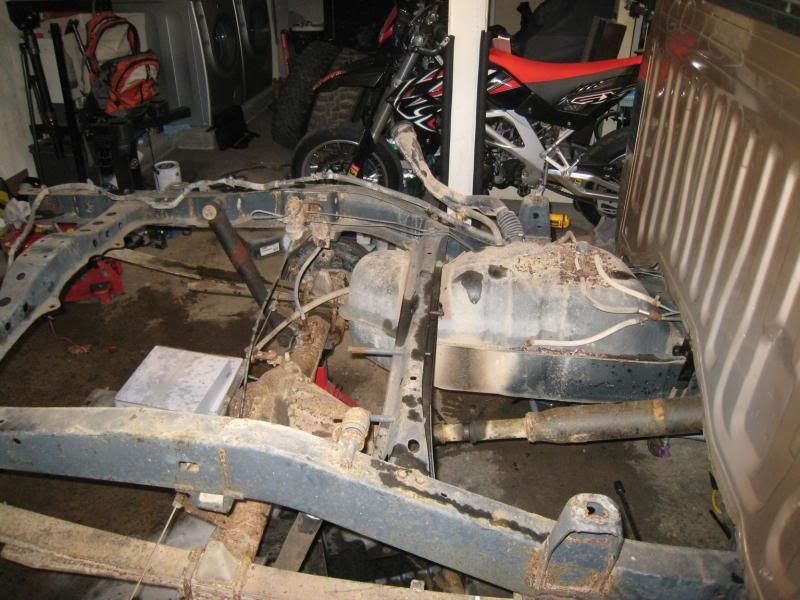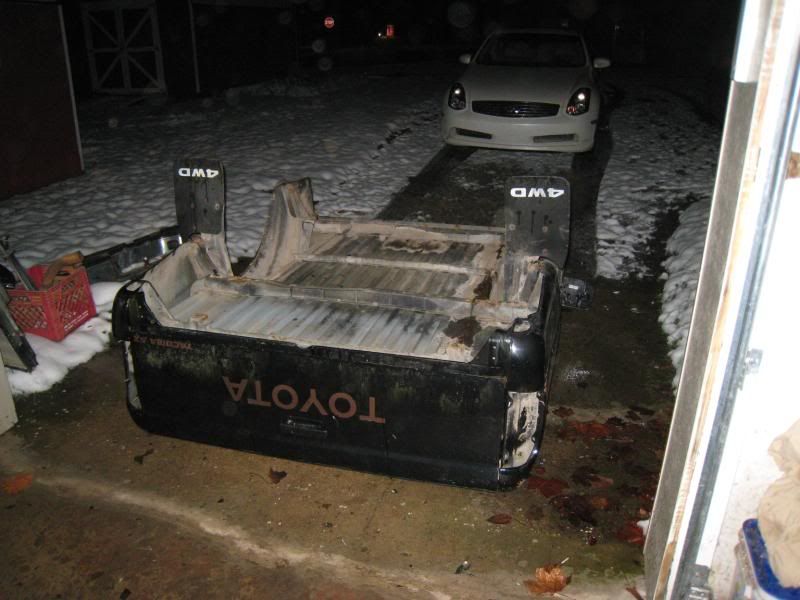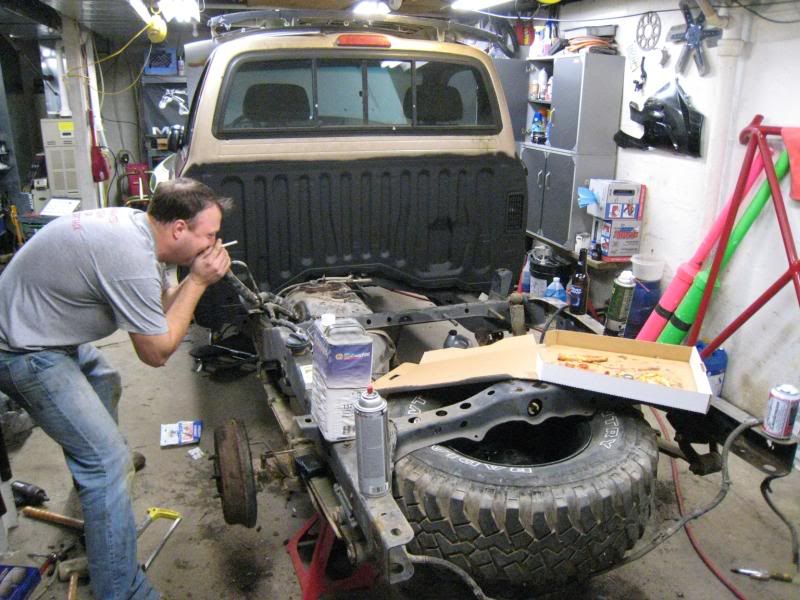 Here are some of the deals I have gotten so far...
$60.
$65.. Lots of wiring and just odd and end stuff. Some I forgot to snap a pic of.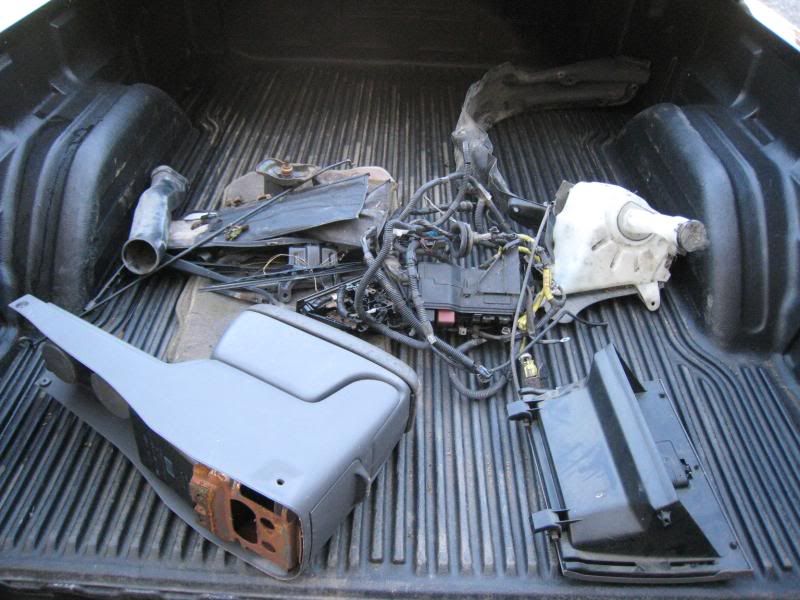 Here is the dash as it sits right now...
Under the hood for now...
At this point we have done new rear brakes, e-brake cable, front end is apart... new wheel bearings, rotors, pads and one new caliper.
I will post more pics, as I make progress. Been working on the truck for 8 days now. I should have all the parts by mid week that I am waiting on, and I hope to have it done over my Christmas Break. (teaching has nice days off).