So I have had my truck now for about 7 months and I have been slacking on a build thread so her it is....
Motor
Suspension

Camburg UCA's
Camburg 2.5 Coil Overs
5100's (Rear)
Custom 8 leaf Deaver pack
Extended Rear Brake Line
Apperance

Sockmonkey stickers
Micky Thomson Classic Locks
General Grabbers
Limo tint is the rear with 20% up front with Limo eyebrow
Grill Craft Grill
CB Radio
Future Mods

Color match the chrome around my grill
Long Travel
Prerunner Bumper
Glass Fenders
Prerunner Tire Gate
Stereo
Solo Motor sports Spindles/rear shock hoops
How she sits as of now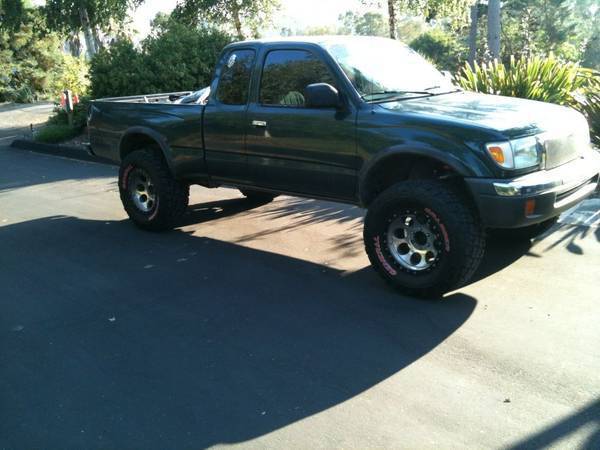 Bad Pic but it was the only one I had of When I first Got Her (AKA Tina
)
Bored around town... With the Sock stickers
Some stock flexing
Deck plate mod
Camburg 2.5's came
The rest of the goodies at the beginning of a LONG! build day...
Drivers side is out
Passenger side is out
Front end out
Stock vs 2.5
Driver side installed
Passenger side installed
Different angel of the drivers side
Stock tires on for a few days...
Rear end dropped for the Deavers
Deavers are almost in
5100's are in and rear is done!
The night I got the rims and tires installed
Different angel
How she sits today!
A little bored thought i would put up a few new pics...
More recent shots...
More mods and picks to come! My Taco is a never ending project...